Hi Foodies, today I have a very special recipe for you. I have literally spent the last three weeks baking tray upon tray of Coconut Macaroons, all in the search of the perfect combination of Ingredients and flavors. After the first two recipes it was clear, I had to open a chemistry book and take this to a completely different level. I had a very specific flavor and texture in mind and all I needed was the secret ingredients to achieve the perfect recipe. I am pleased to say, I HAVE found it. Try this recipe and you will never need another Macaroon Recipe ever… Enjoy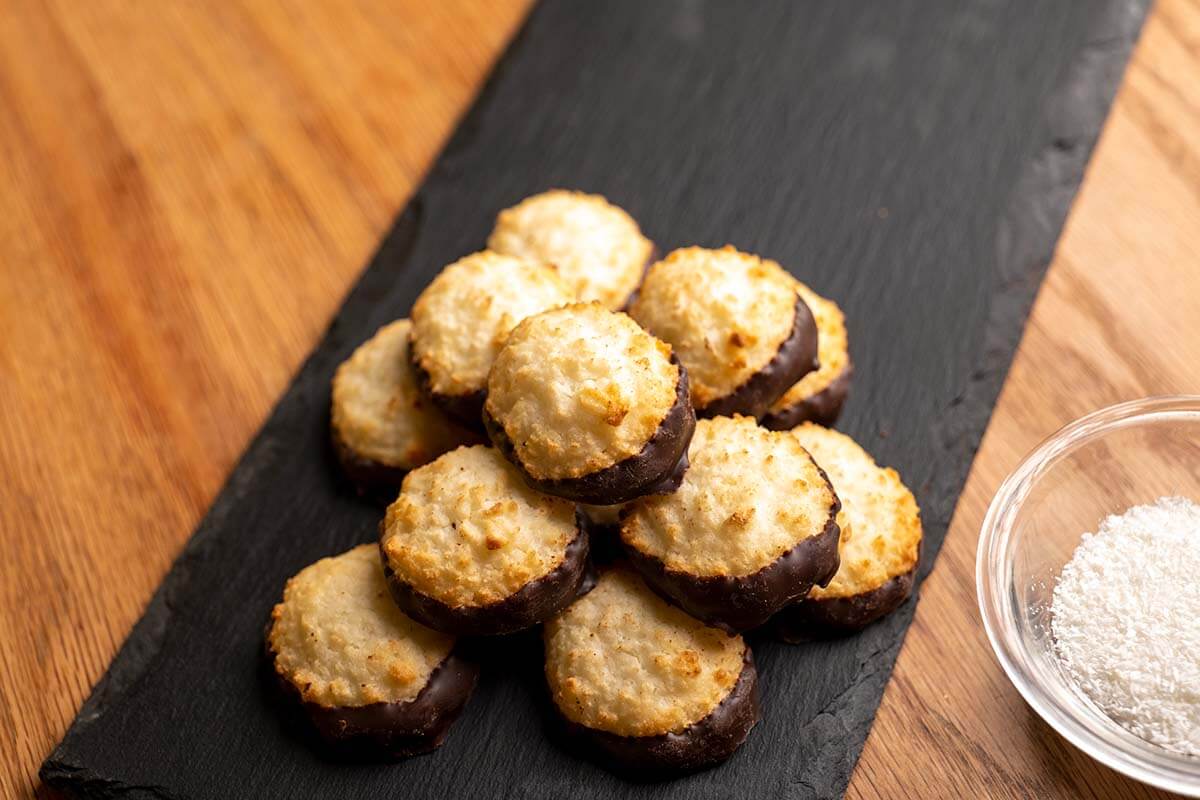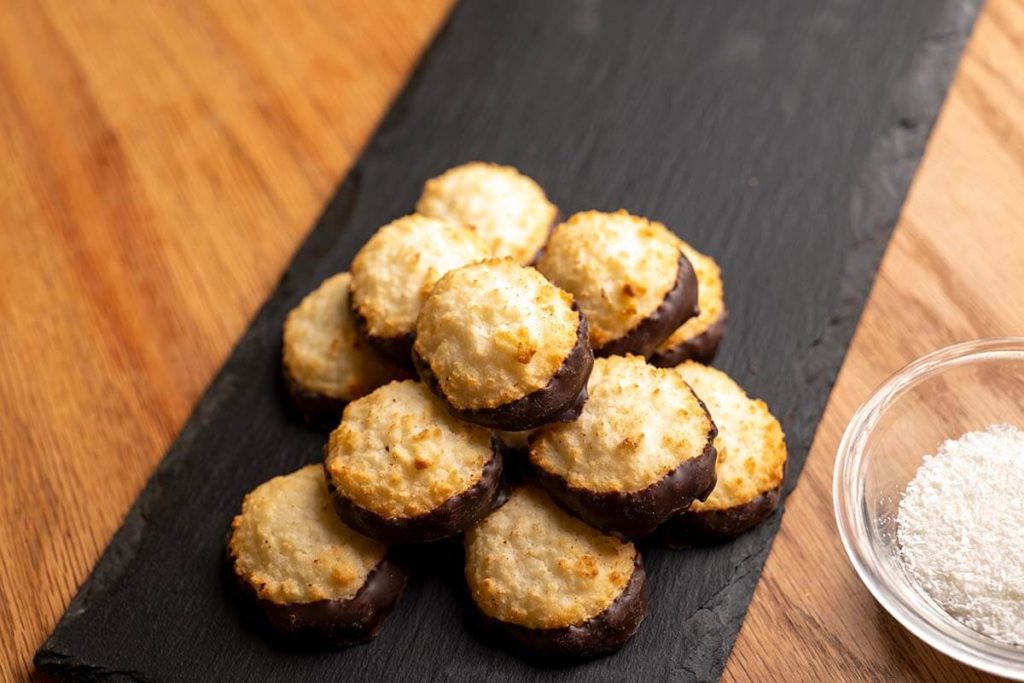 Macaroons vs Macarons
While these delicious snacks share a similar name and whipped egg whites as a main ingredient, they have a very different texture and taste entirely different. Macaroons are an Italian recipe that can be traced back all the way to the 9th century. Macarons on the other hand are a French adaptation of the Italian recipe. They appeared much later in the 18th century. In his 2015 book: The Language of Food: a Linguist Reads the Menu, Linguist Dan Jurafsky describes how the Macaroon and Macaron share a similar name that is somehow related to the Macaroni. No, not the pasta hehe, Macaronis where 18th century Hipsters in England who wore tall powdered wigs as a political statement. The names Macaroon and Macaron derive from the Macaronis, dare I think it's a mockery? You would need to read Dan Jurafsky's book to find out which you can find in the link here: The Language of Food. Note that this is an affiliate link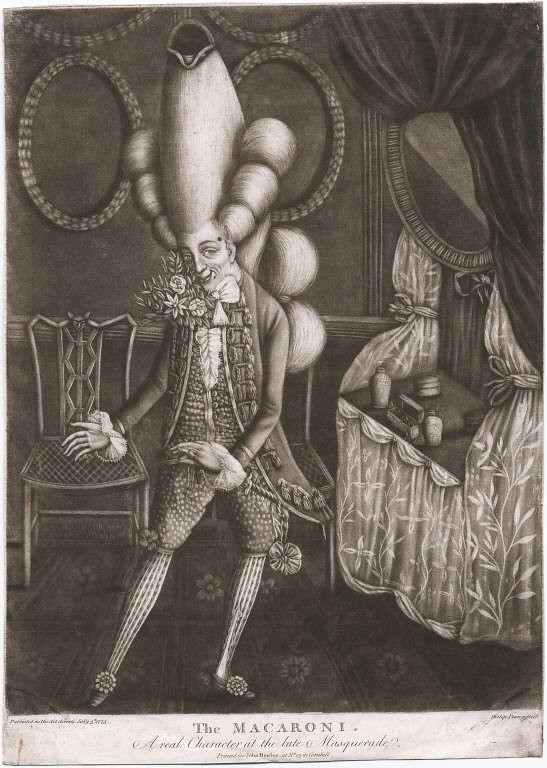 Ingredients
No doubt, there are a ton of Macaroon recipes on the internet and I have tested a a lot of them. Some were great some good and some not too bad, but, I didn't find a single one that checked all my boxes. So I did what I usually do, a ton of research into the ingredients. What would make a macaroon a little crunchy on the outside but still soft and spongy on the inside while maintaining a rich flavor? And after 2 weeks of testing and tons of attempts I can honestly say these are the BEST ingredients for Coconut Macaroons.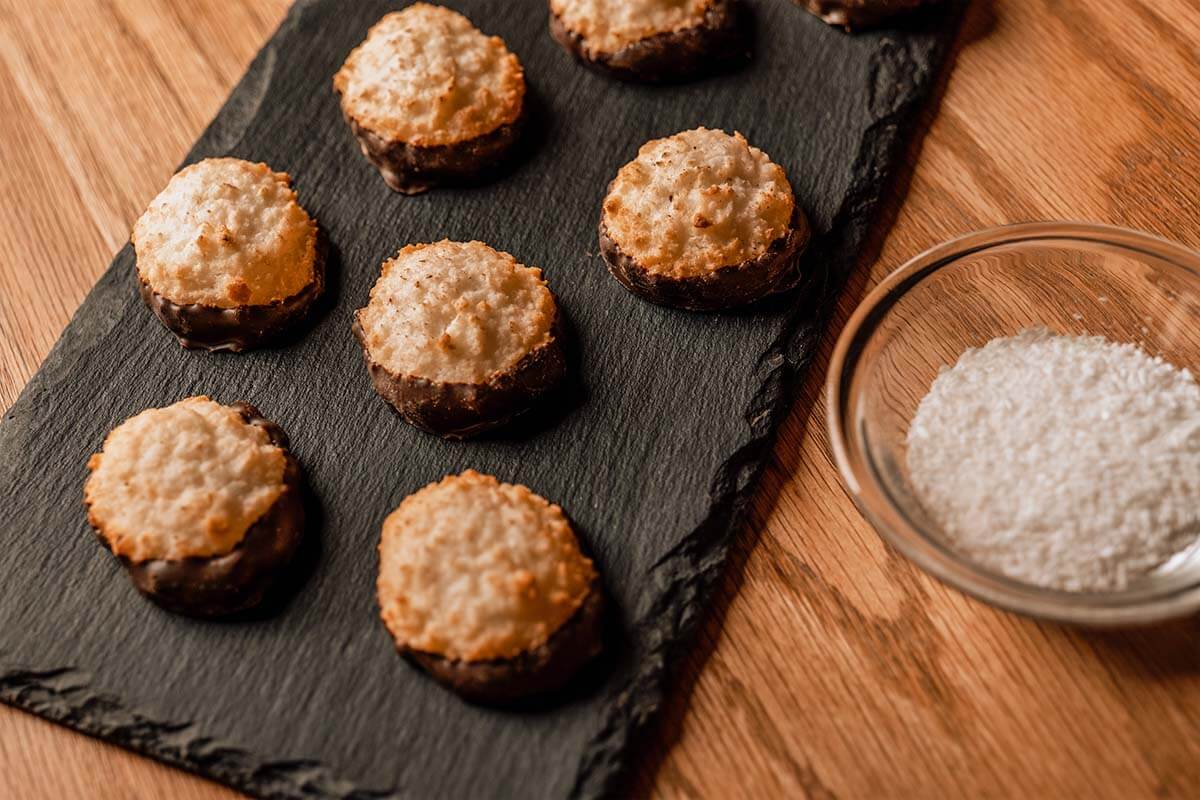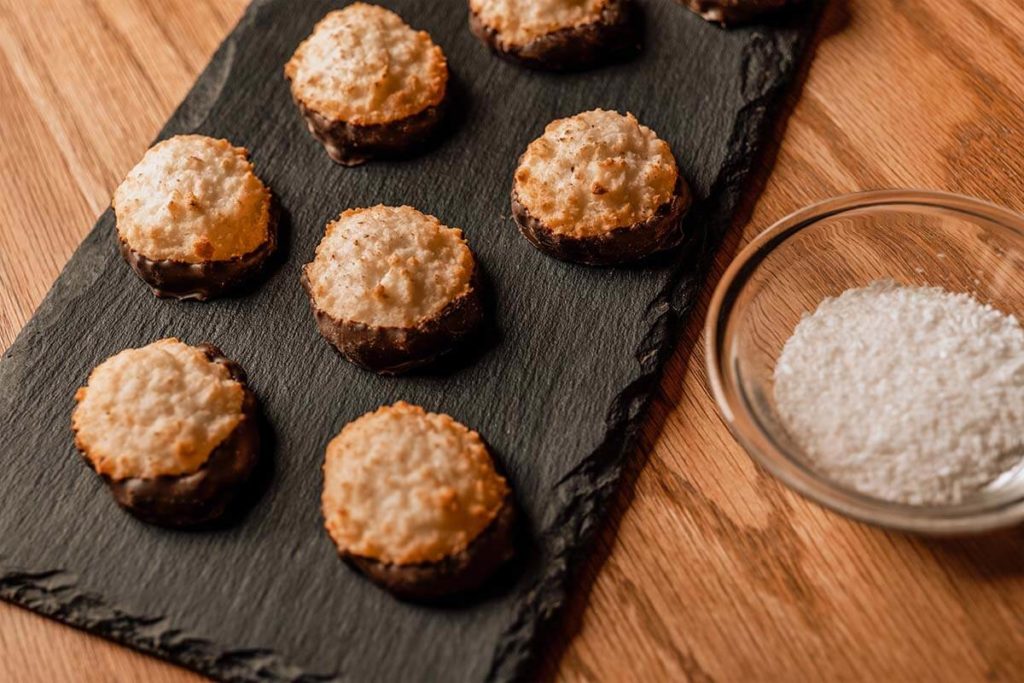 2 Cups Coconut flakes are one of the main ingredients. Go for a fine grind and full fat, fat transfers flavor and is essential for a rich taste.
3 Large Egg Whites. Try and get them as fresh as possible and make sure they are at room temperature before you start whisking them. Fresh egg's work best as their egg white creams much better.
1/3 Tsp Cream of Tartar is an acidic byproduct of wine making. The acidity helps the egg whites achieve a much better fluff and volume. It also helps keep the air bubbles trapped making it more stable when folding.
2-3 Table Spoons of Coconut Oil will not only enhance the coconut flavor but will also keep the macaroons moist and fresh longer. I tried other types of Oil such as Rapeseed Oil and Butter but Coconut oil had a smoothening effect on the batter.
1/3 cup of Sugar Syrup. Sugar Syrup is a humectant, which basically means it keeps the baked goods moist and keeps them from drying out.
2/3 cup of white sugar which is the sweetener for this macaroon.
When choosing ingredients, each ingredient has a purpose. They either support flavor and flavor delivery, texture or shelf life.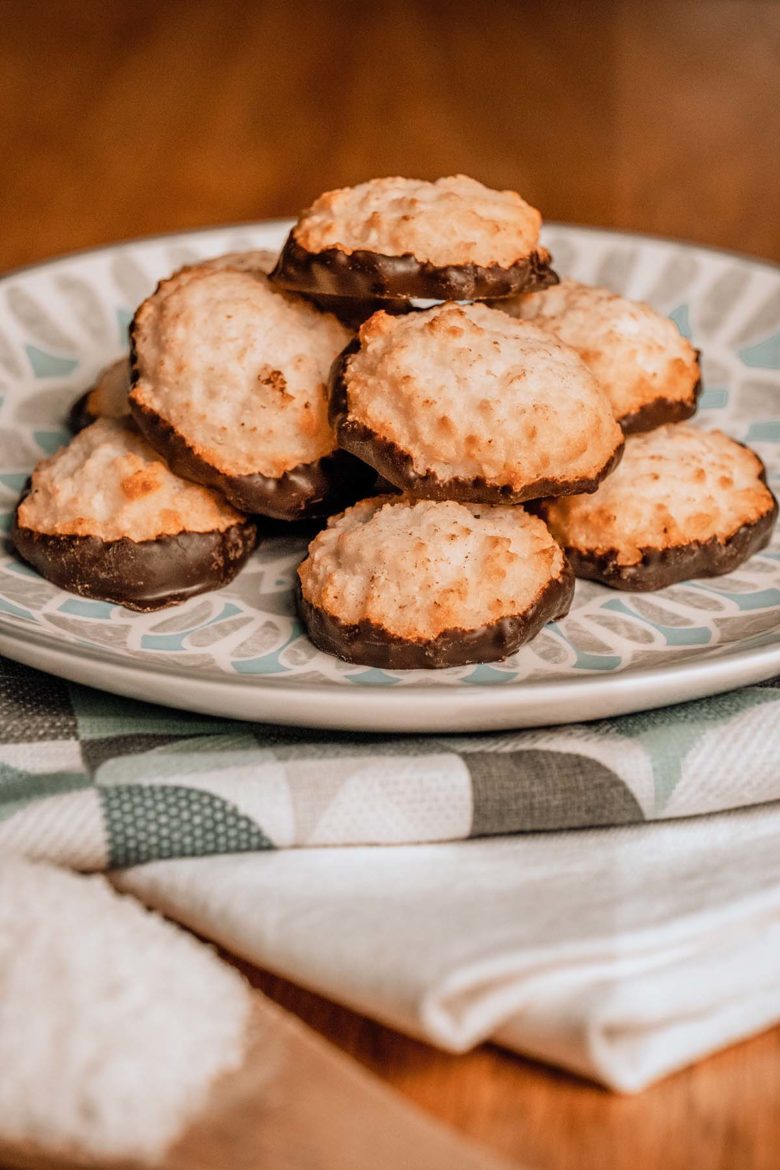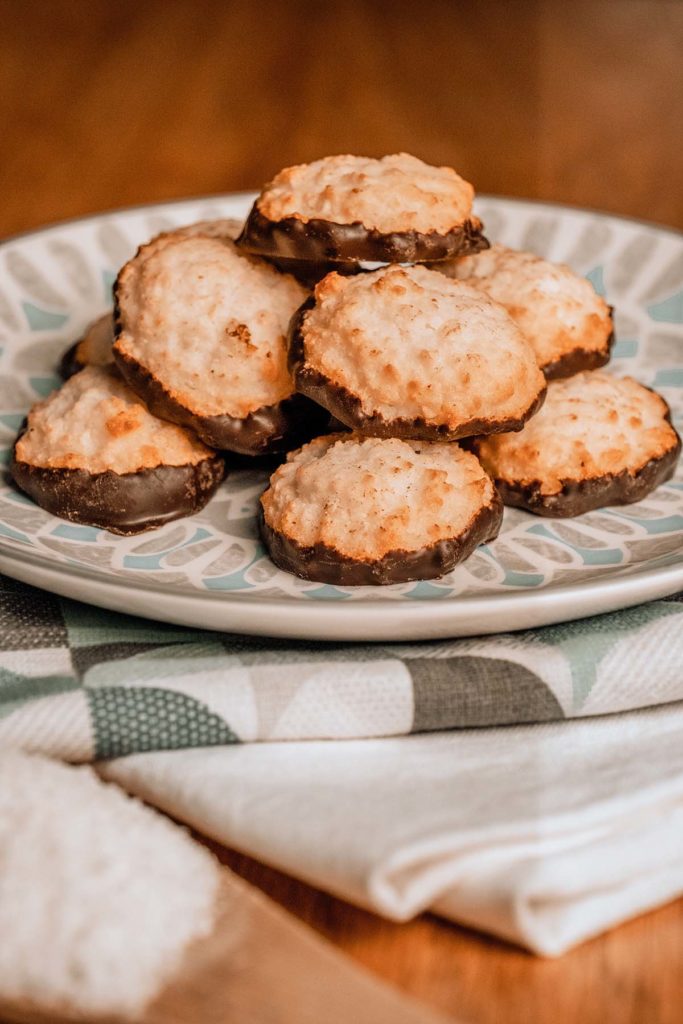 Tips & Tricks
Macaroons are not as difficult to make as their French counterparts, however here are some tips and tricks that will help you make them perfect every time.
Make sure all your ingredients are at Room Temperature. This will help you whisk a better meringue and will avoid shocking the meringue when adding the remaining ingredients.
Coconut Oil can be solid in the winter or in cooler climates, microwave it in very short bursts until it becomes liquid. Make sure it is NOT hot when you add it to the meringue as it will deflate all the bubbles. If its too hot, simply let it cool until it starts getting cloudy but is still liquid.
Let the finished batter soak for 5-10 minutes before portioning and baking. This will let the coconut flakes absorb some moisture and make them more fluffy. Note: Do not let it sit more than 10 minutes as you might loose the fluff of the egg whites.
You can use a silicon mold to get a perfectly round shape. I tried a few ways to portion these and give them nice shapes. The best way to get perfect dome shaped Macaroons, is to use a cake pop silicon mold. I used both half's and filled them about half full as they will inflate a little. I do not recommend using an Ice-cream scoop they are too big and baking them a little too long or too short will ruin the recipe.
To get a fine silky smooth chocolate dip, follow this trick. Melt your chocolate in a heatproof bowl. You can either microwave it in 30 second bursts or over a steam bath or bean marie. Once melted, add some coconut oil to thin the chocolate. This is an amazing trick that will make the chocolate thin and give it a silky shine when it dries.
How to make Coconut Macaroons
If you have read the whole post and made it to the recipe then congratulations, you know all the secrets and history of the perfect Coconut Macaroon. For those who clicked "Jump to Recipe" enjoy the magic thats about to happen in your kitchen hehe.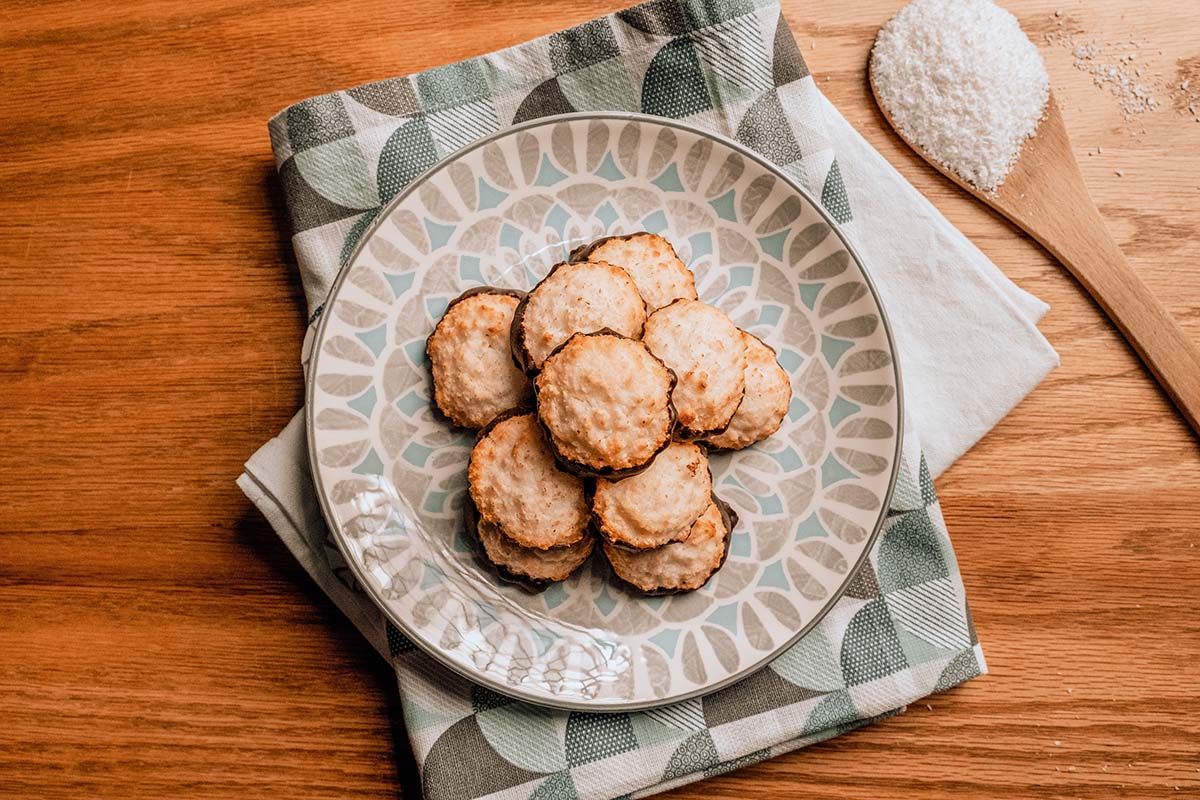 Coconut Macaroons
Coconut Macaroons are an Italian dessert snack made with either coconut or almonds. Not to be confused with French Macarons, Italian Macaroons are easy to make and super delicious.
Ingredients
Coconut Macaroons
3

large

Egg Whites

¼

Tsp

Cream of Tartar

¾

Cup

Sugar

¼

Cup

Corn Syrup

3

Tbsp

Coconut Oil

2½

Cups

Coconut Flakes

Unsweetened
Chocolate Dip
1

Cup

Dark Chocoalte

50-60%

2

Tbsp

Coconut Oil
Instructions
Coconut Macaroons
In a large bowl combine the cream of tartar and Egg whites and whisk with an electric hand mixer until you have soft peaks. At this point, and while still whisking, slowly add in the sugar until you have stiff peaks.

Add the Corn Syrup and whisk a little more until well combined. The Meringue will be creamy, stiff and a little sticky. Now whisk in the Coconut Oil, this might deflate the meringue a little but that's ok.

Fold the Coconut flakes into the meringue using a rubber or wooden spatula and let the mixture rest for maximum 10 minutes.

3 large Egg Whites,

¼ Tsp Cream of Tartar,

¾ Cup Sugar,

¼ Cup Corn Syrup,

3 Tbsp Coconut Oil,

2½ Cups Coconut Flakes

Line a baking tray with baking paper and create the small portion using a spoon. Each portion should be just over half a tablespoon of batter. Leave about 1 inch or 2.5 centimeters space between each macaroon and the pan wall.

Bake in a preheated oven at 175C or 340F until lightly golden brown. Then set them on a cooling rack to cool completely before the chocolate dip.
Chocolate Dip
To melt the chocolate either microwave it in 30 seconds bursts and stir in between each burst or melt with a bain marie. An easy way to make a bain marie at home is to place a small pot on medium/low heat with a little water. Bring to simmer and place a heatproof bowl over the pot. The bowl must NOT touch the water only the steam.

Place the chocolate into the bowl and stir until completely melted. Now add the coconut oil. The coconut oil will thin the chocolate and give it a nice shine when it dries. You can add more or less coconut oil to bring the chocolate to its desired thickness.

1 Cup Dark Chocoalte,

2 Tbsp Coconut Oil

Prepare a sheet of baking paper to dry the dipped macaroons on. Dip the macaroons and place them on the baking paper until completely cooled. They should then come off very easily.
Nutrition
Serving:
14
g
|
Calories:
108
kcal
|
Carbohydrates:
9
g
|
Protein:
1
g
|
Fat:
8
g
|
Saturated Fat:
5
g
|
Polyunsaturated Fat:
1
g
|
Monounsaturated Fat:
2
g
|
Trans Fat:
1
g
|
Sodium:
9
mg
|
Potassium:
27
mg
|
Fiber:
1
g
|
Sugar:
7
g
|
Vitamin A:
1
IU
|
Vitamin C:
1
mg
|
Calcium:
2
mg
|
Iron:
1
mg