A proverbs says: The person who has not travelled widely thinks his or mother is the best cook, but even after visiting more than 26 Countries around the world I still think my mom makes some of my all-time favourite desserts. For example, todays recipe, Traditional Austrian Buchteln. Buchteln are soft yeast buns or brioche traditionally filled with apricot jam although you can be creative and fill them with other Jam types or even chocolate spread. Today we are making the traditional version, lets get started.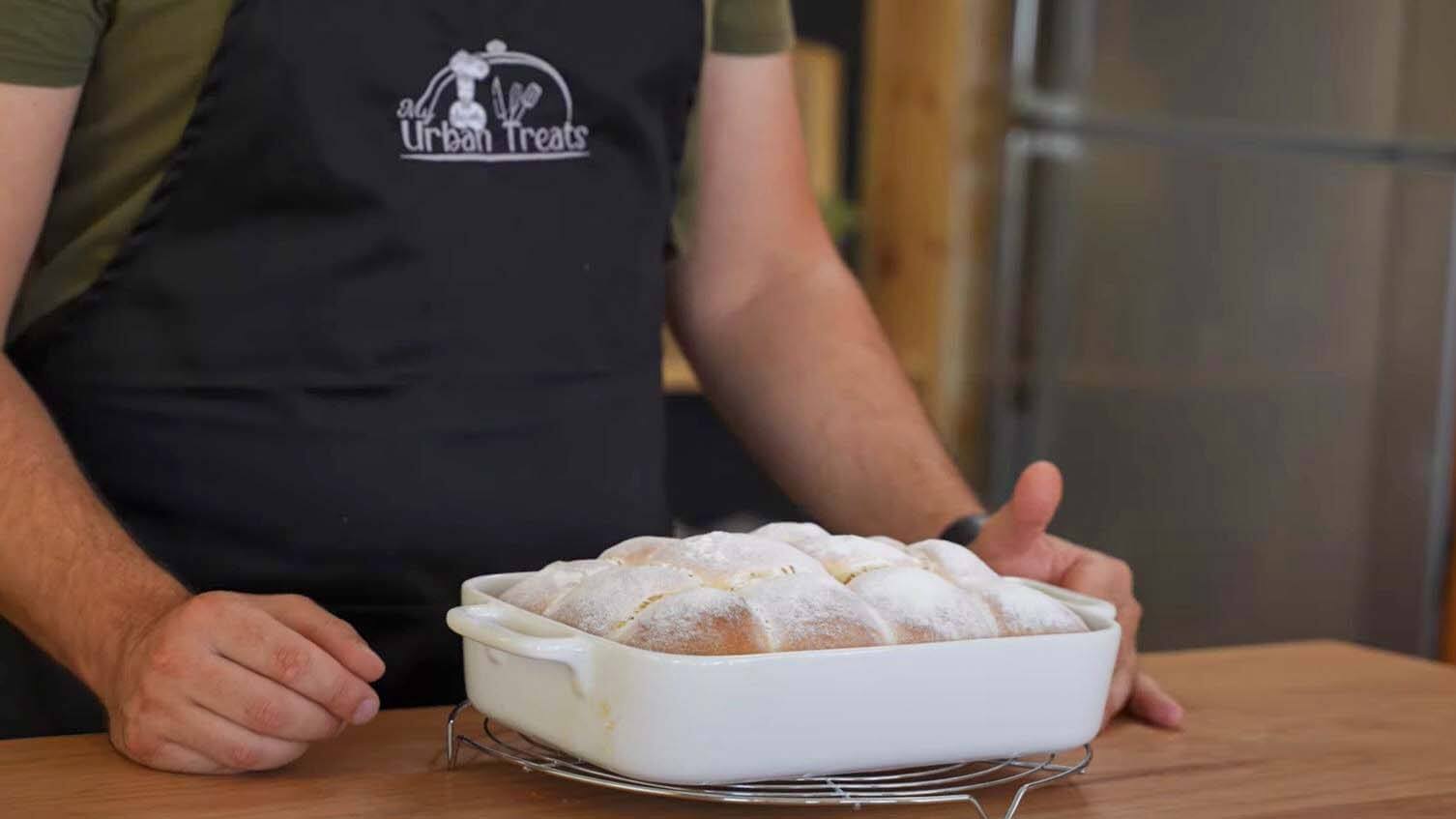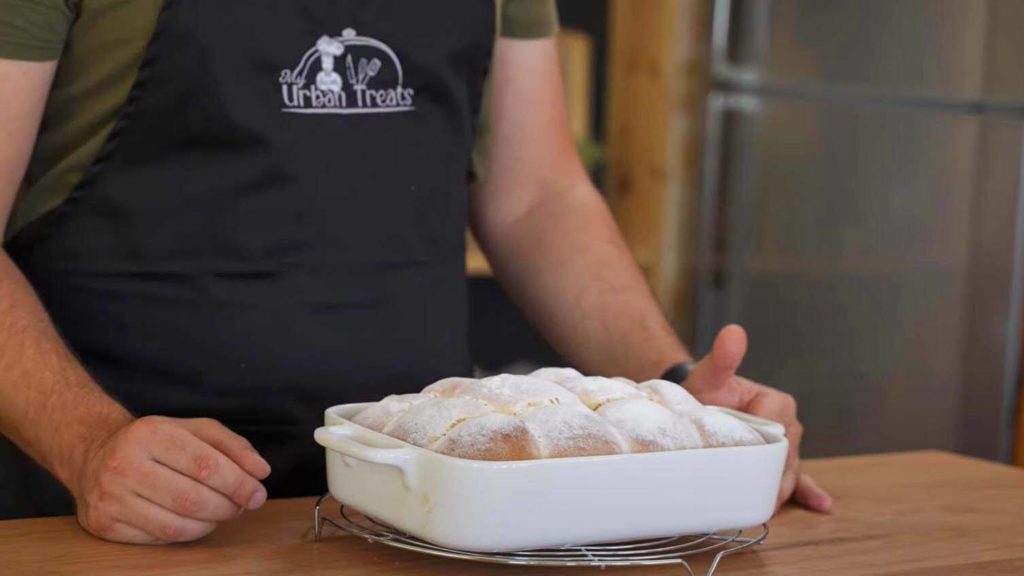 About Buchteln
Buchteln actually originate from the Bohemian region of the Czech Republic but are a dessert staple in the Austrian, German, Hungarian, Slovenian and other Eastern European cuisines. Buchteln are a sweet dish but its often common in European countries to eat desserts as a main course although (unfortunately) that did not happen often in our home.
The History of Wuchteln
It's not entirely clear where or when Buchteln where invented. Some stories claim they are from the Czech Republic while others claim they are from Austria. We know for sure they made their way into the Austrian cuisine between 1815 and 1848.
The early recipe was made with a rough rye flour but was later with made with fine wheat flour which is still the version we are making today.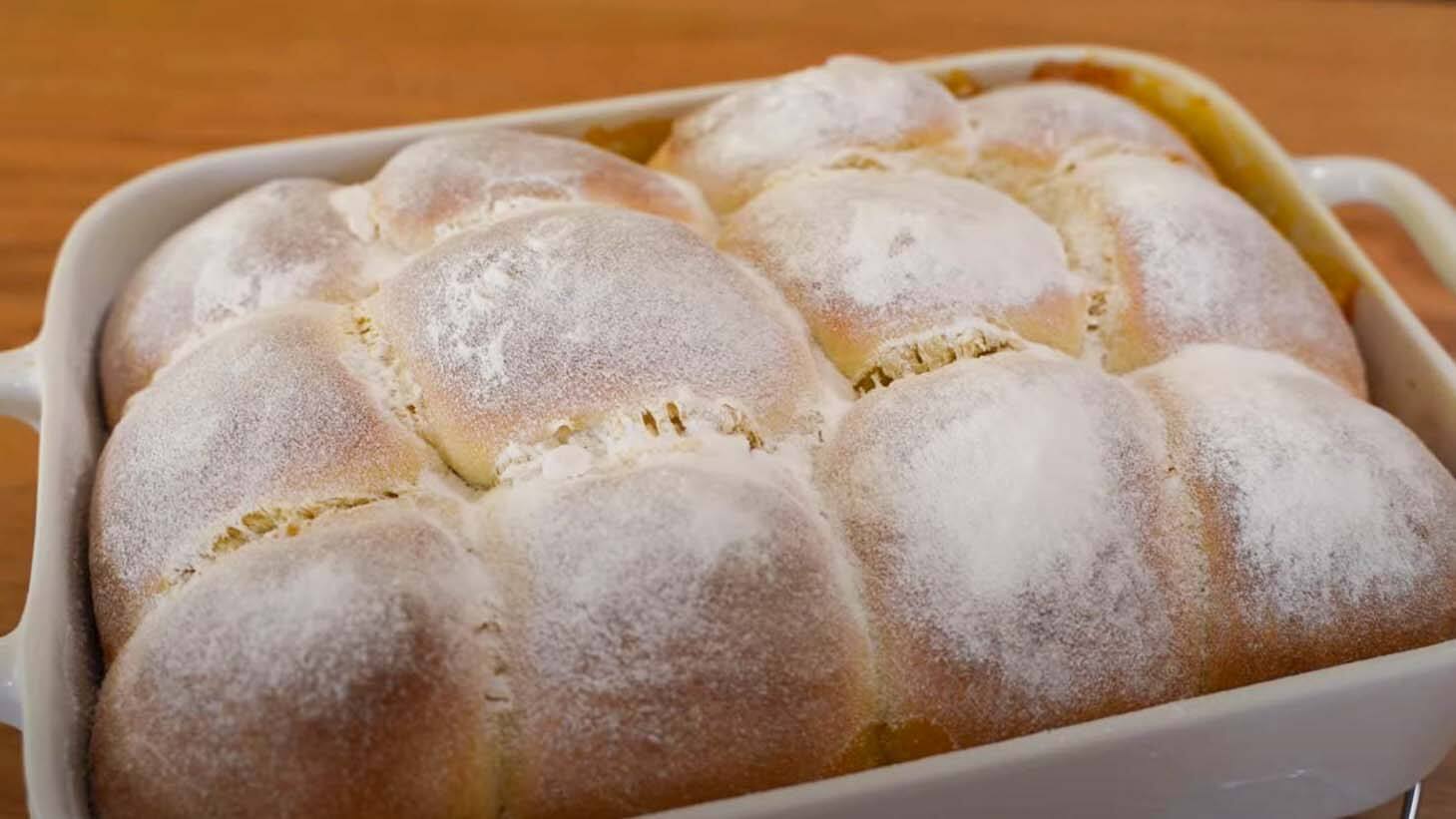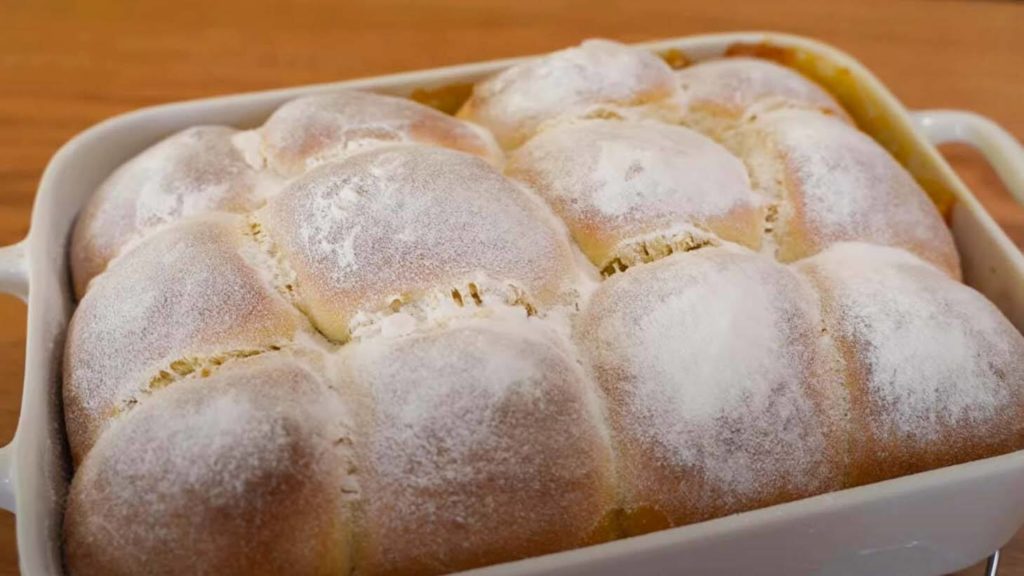 Other names for Buchteln
While they are mainly known as Buchteln, different regions have other names for this dish. For example, In Austria we often call them Wuchteln and in Germany they are called Rohrnudeln. Other names around Europe are:
Buhteljni (Slovenia)
Buhtle (Serbia)
Bukta (Hungarian)
Buhtle (Coratia)
Buchta (Poland)
Buten (Lombard)
Bucte (Romania)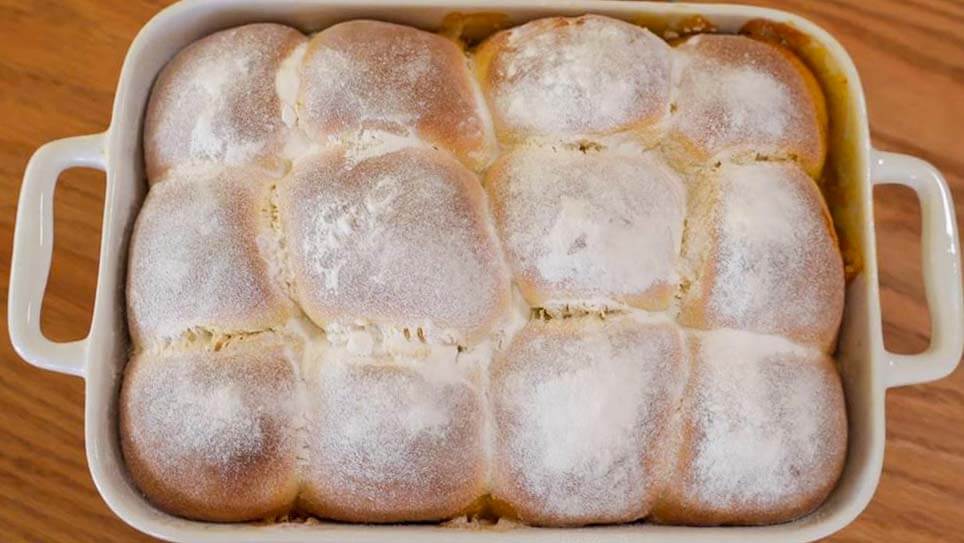 Ingredients
To make soft and buttery Austrian Buchteln, you will need the following ingredients:
1 Cup of Whole Fat Milk, I have also used 2% milk in the past and it worked great.
11 g of Dry Yeast (instant or active) don't forget, if you are using active or fresh yeast, you need to let it bloom for 10-15 minutes.
65g White Sugar
1 Pinch of Salt
1 Egg
1 Egg Yolk
60g Unsalted Butter (melted)
All Purpose Flour
1 Tablespoon of Vegetable Oil
Apricot Jam
Make sure all the ingredients are at room temperature before you start, except the butter which needs to be melted but not hot.
Filling Ideas
Traditionally Buchtel are filled with apricot jam or preserve but you can literally fill them with anything you fancy. Here are some great ideas you can try:
Different types of Jam
Fresh Peaches or Strawberries
Hazelnut or Chocolate Cream
Custard (yummy)
No matter what you fill your yeast dumplings with, custard on the side is always a great idea.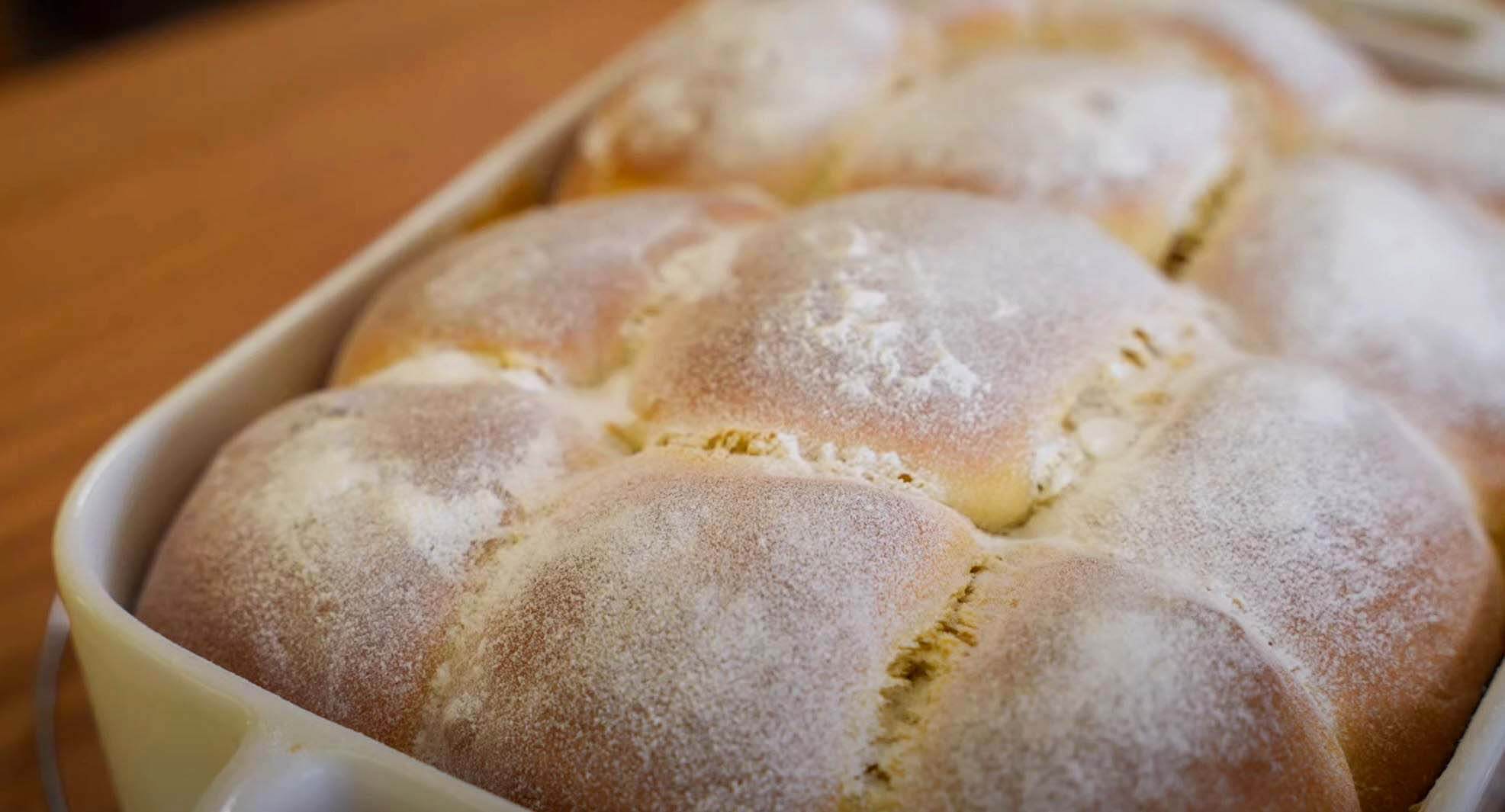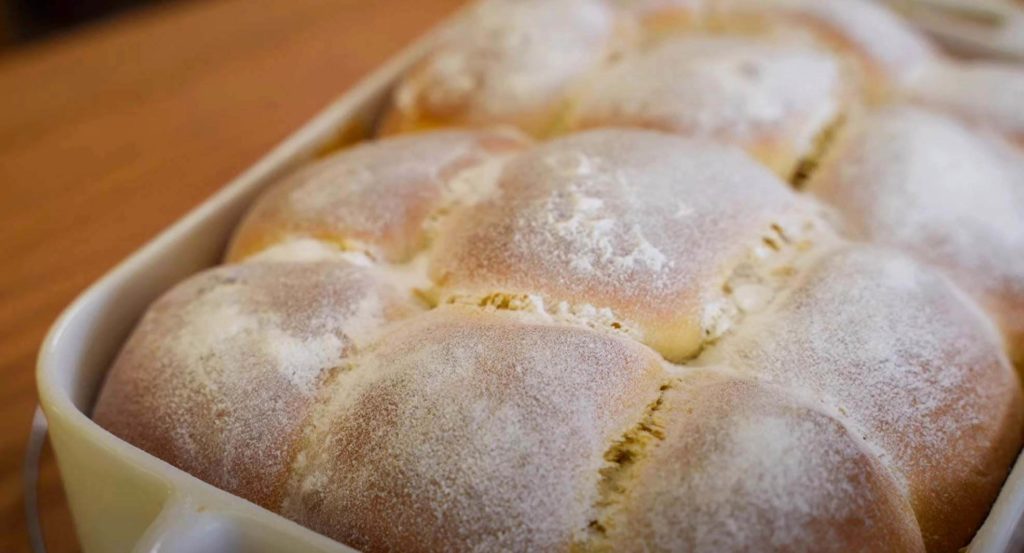 How to make Buchteln
You will find that this recipe is very similar to Yeast Bread Rolls , the main difference is the additional sugar and egg yolk which will give it a sweeter and richer flavour, it is a dessert recipe after all. Like any yeast based recipe we need to start with blooming the yeast.
Blooming Yeast
To bloom the yeast, you need to combine the milk, sugar and yeast in your mixing bowl. Give them a little whisk and let the mixture rest for 10-12 minutes. You will know the yeast is ready when a film of bubbles forms on the top of the milk. You can now add in the next ingredients.
Combine Wet & Dry Ingredients
Start by adding in all your remaining wet ingredients, the egg, egg yolk and melted butter. Then add in the flour and salt. You can now start kneading the dough. If you are kneading by hand, make sure you keep kneading until the dough is smooth and doesn't stick too much. Note, this dough is always a little sticky so don't expect it to be completely firm. What you are looking for is a smooth surface and a rather tacky and not sticky texture.
Proofing
Now its time to proof, lightly oil a glass or ceramic bowl and place the dough in the centre. Cover with cling film and let it rest in a warm place of your house. If its cold and you don't have a warm enough space, use this trick.
Preheat your oven at the lowest temperature. That's usually around 40-50 Celsius. Switch it off and let it cool down below 40. Now place the covered bowl in the oven and let it rest for 30-40 minutes. I twill double (or more) in size. That's when you know its ready for shaping.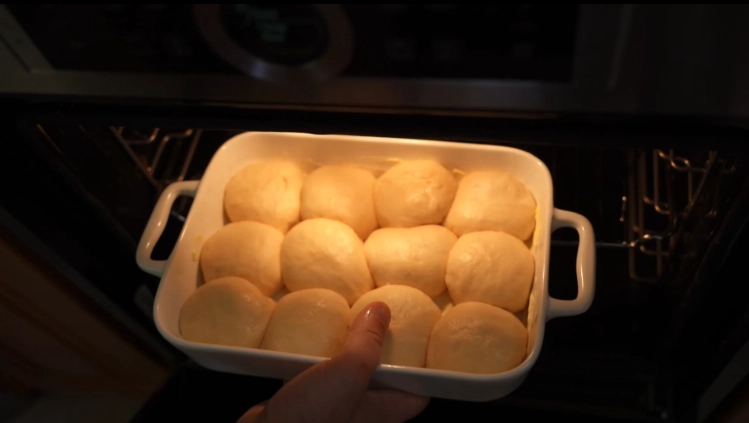 Shape & Bake
Butter your baking form and get the dough ready for the next step. Place it on a working surface without any flour. It will be a bit sticky but you will be able to work it. We DONT want any flour as we want the dough to stick together when we place the filling in it.
Now if you want to be picky (like I am) weigh the total amount of your dough and divide it by the amount of portions you will create (12) This should work out around 75 gram per portion but weight it to be on the safe side.
Now form little round dough balls. When done, place a dough ball into your palm and press it out to the size of your palm. Place a spoon of Apricot jam in the middle and fold the dough over it to form a closed ball.
Here are some tips for this:
Work quick, you don't want the jam to run out
Don't thin the dough too much so it won't burst when baking.
You can use any type of Jam or even Nutella or Vanilla custard 🙂
Set the dumplings in to the baking tray and finish of the rest. They can be close to each other as they wills tick together during the baking like a pull apart bread.
Now bake at 175 C for 25-28 Minutes or until golden brown.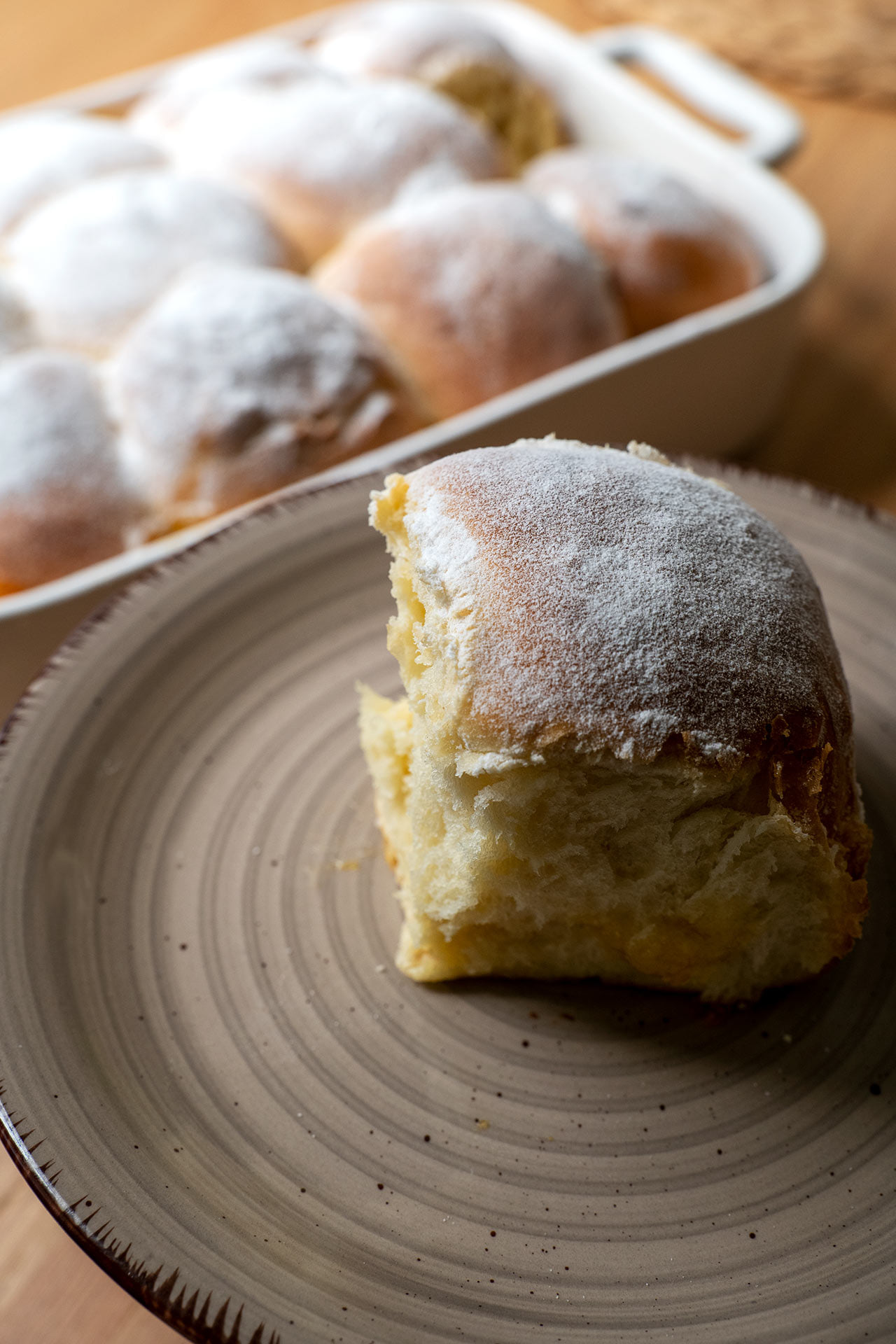 Austrian Buchteln (Wuchteln)
A traditional Austrian recipe, Buchteln are jam filled yeast dumplings often sided with custard cream. Here is how its done.
Ingredients
Buchteln Ingredients
11

gram

Dry Yeast

or double the weight in fresh yeast

65

gram

Crystal Sugar

240

ml

Milk

1

pinch

Salt

1

large

Egg

1

large

Eggs Yolks

60

gram

Butter

Unsalted

500

gram

All Purpose Flour
Filling of Choice
12

tsp

Apricot Jam

Traditional Filling
Instructions
In your mixing bowl combine the yeast, sugar and milk. Let it rest for 10-15 minutes until the yeast blooms. If you are using instant yeast, you can skip this step.

11 gram Dry Yeast,

240 ml Milk,

65 gram Crystal Sugar

Combine the wet ingredients (including the sugar) and give it a quick whisk. Now add in the flour and start kneading. You need to knead the dough until it is smooth and not too sticky.

1 pinch Salt,

1 large Egg,

1 large Eggs Yolks,

60 gram Butter,

500 gram All Purpose Flour

Line a glass or ceramic bowl with a table spoon of vegetable oil, place the dough in the bowl and cover it with cling film. Let it rest in a warm placed for 45-60 minutes.

Lightly press the air out of the dough, place it on your working surface but don't use flour as you want the dough to be a little sticky. Cut the dough into 12 equal pieces. Round them off a little by pressing them on the working surface with your palm and making circular motions.

Grab one dough ball and place it in your palm, using your fingers, press them out to the size of your palm. Don't make it too thin. Place a teaspoon of your favourite filling in the centre, and fold the opposite sides of the dough pinching them together. This will enclose the filling and seal the yeast dumpling. Butter your baking form and place the dumplings close to each other in the form.

Bake at 170C or 350F for 25 to 28 minutes or until golden brown, Serve warm with some custard on the side.
Nutrition
Serving:
75
g
|
Calories:
247
kcal
|
Carbohydrates:
45
g
|
Protein:
7
g
|
Fat:
4
g
|
Saturated Fat:
1
g
|
Polyunsaturated Fat:
1
g
|
Monounsaturated Fat:
1
g
|
Trans Fat:
1
g
|
Cholesterol:
33
mg
|
Sodium:
23
mg
|
Potassium:
97
mg
|
Fiber:
1
g
|
Sugar:
10
g
|
Vitamin A:
94
IU
|
Vitamin C:
1
mg
|
Calcium:
41
mg
|
Iron:
2
mg