These dinner rolls are just soft, sweet and delicious. And on top of that, they are quick and easy to make. The ingredients for the Perfect Dinner Rolls are basic, all you will need is Flour, Yeast, Sugar, Salt, One Egg and some Vegetable Oil and you are ready for this recipe.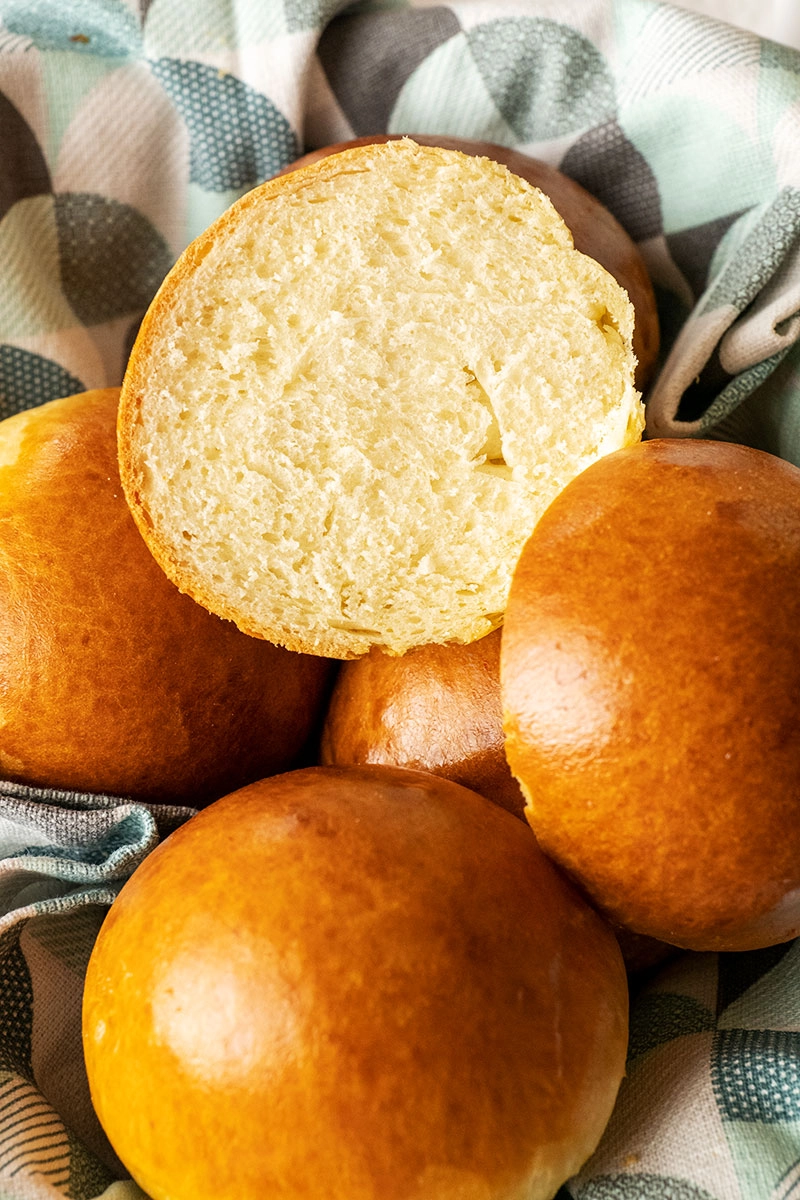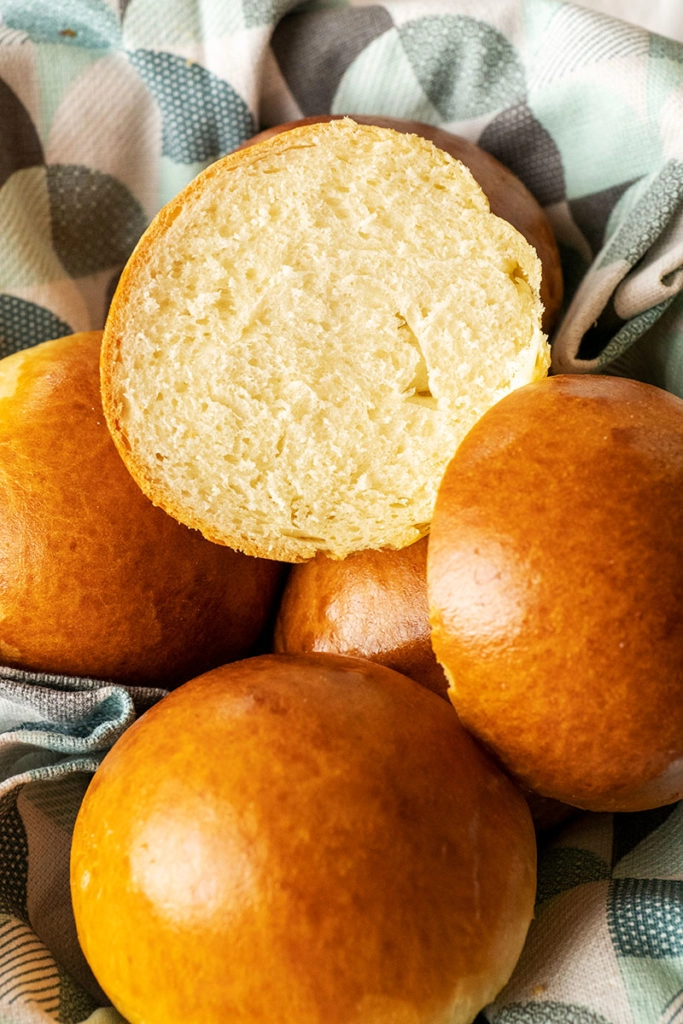 How its done: Making Bread Rolls at Home
This process is almost the same with all soft white bread recipes, the basic steps are:
Activate the Yeast by mixing the yeast with the Milk, Salt and Sugar
Knead the Dough for 3-4 minutes
Proof the Dough by letting it rest in a warm place for two hours.
Shape the Rolls using an easy bread rolling technique
Proof the shaped rolls so they don't break during baking.
Bake the Bread Rolls for 20-25 Minutes until Golden Brown
When shaping the rolls consider two things, If you make individual buns you want them to be as round as possible but if you make pull-apart bread, you can simply go with a rough round shape and place them in your baking dish.
Perfect Round Roll Shaping Technique
To get a perfectly round shape for individual buns do this. After proofing the dough and dividing it in to individual portions, grab one portion of dough and hold it with two hands, your thumb facing upwards. Use your thumb to shape the dough forward and your fingers to tuck the underside in. Then using your thumb and index finger push the bottom together making a round roll.
If you want it to be even rounder, place the rounded dough on your working surface. Form a dome over the dough ball with your hand and slowly apply pressure with your palm while moving your hand in a circular motion. As you slowly apply pressure, the dough will roll between your palm and working surface creating a perfect ball. You can apply a bit more pressure to round it off completely.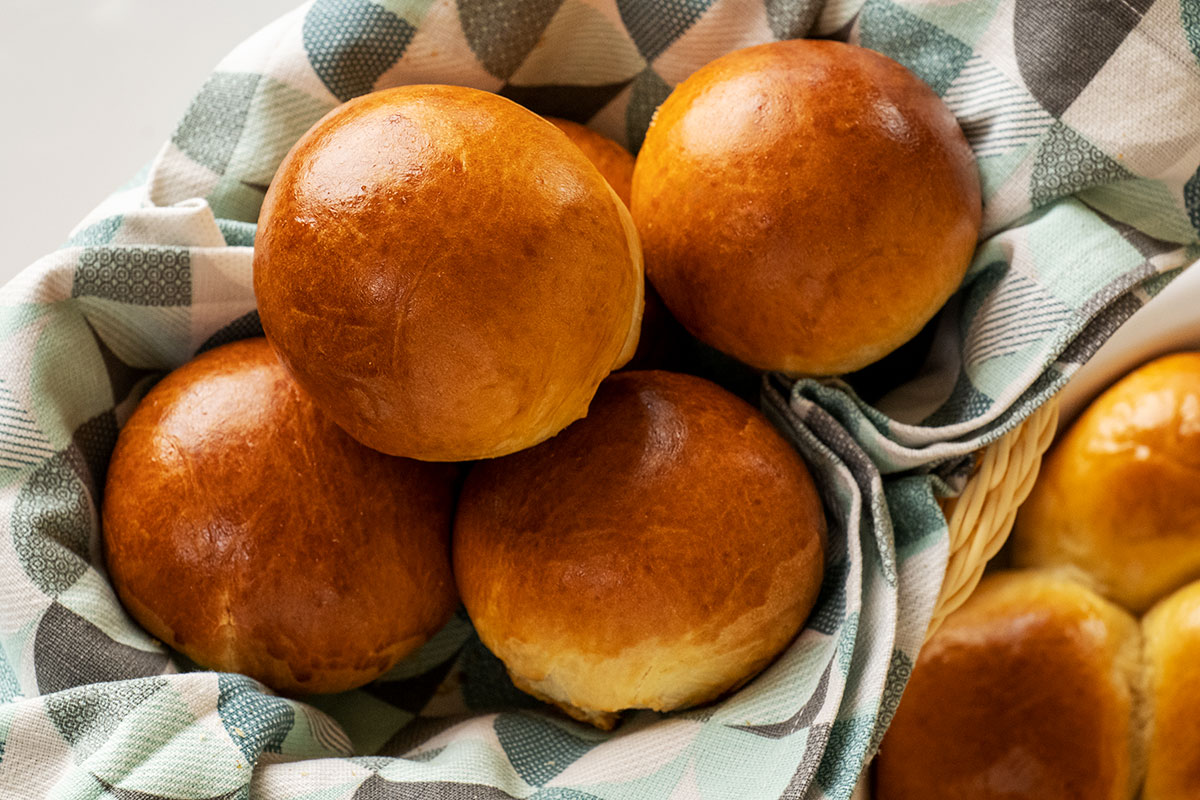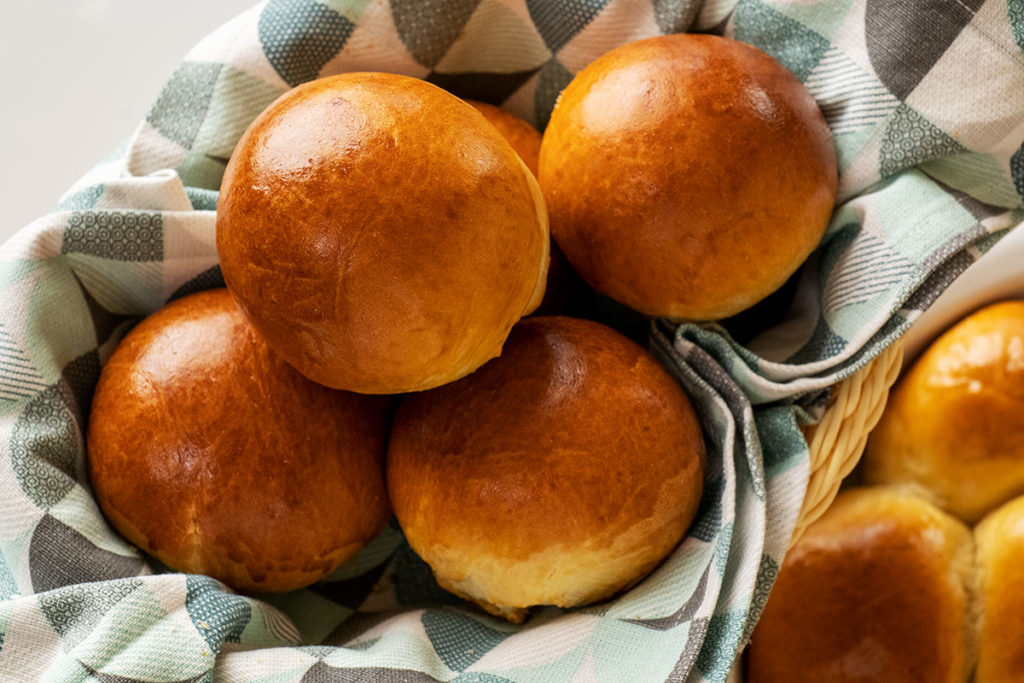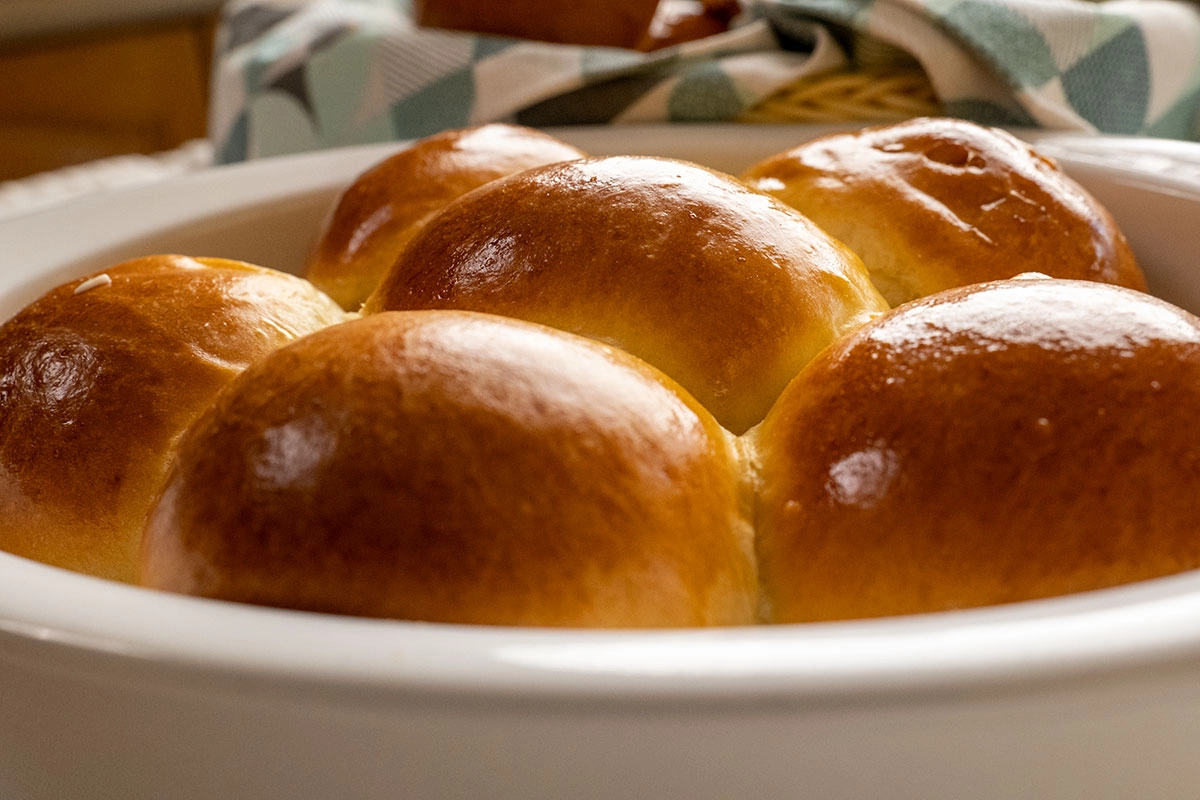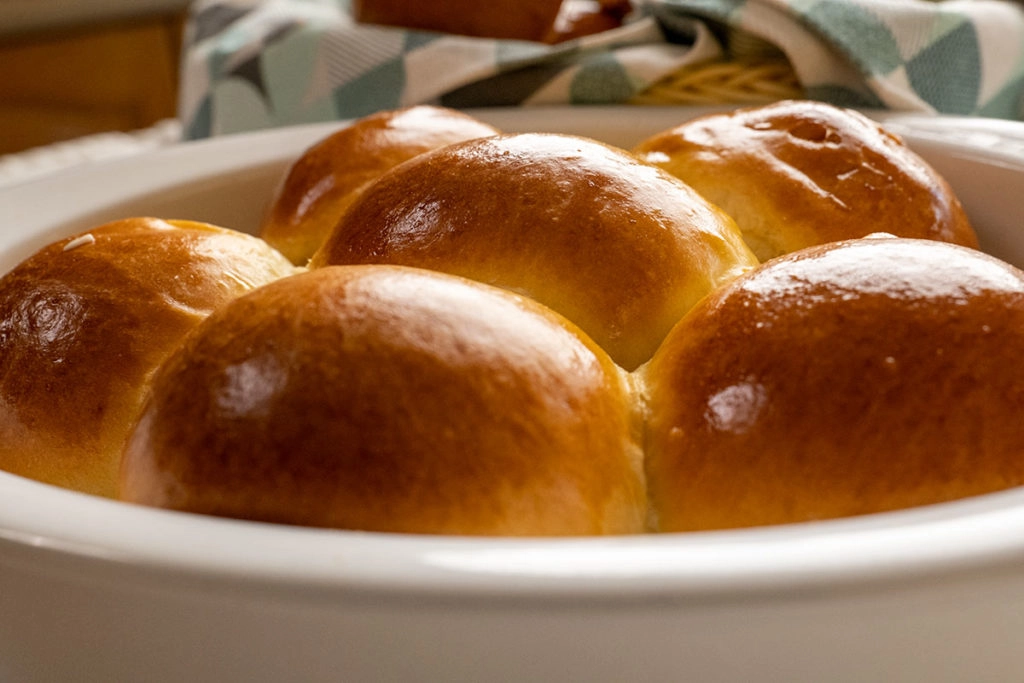 This is how you make a perfectly round bun shape, this will work for Burger Buns, Bread Rolls and Viennese Kaiser Semmel.
Don't forget you can also watch this recipe on my YouTube channel. Link at the bottom of the page.
Dinner Roll Ingredients
Making soft buttery bread is a little different to normal bread, we use milk and oil to make the buns soft and buttery instead of water. Here is what you need for this delicious pull apart rolls.
Yeast (Dry or Fresh) see the difference below
1 Cup of Warm water (not hot)
1/6 cup of Vegetable Oil
1/6 cup of Olive Oil

You can use 1/3 Cup of vegetable oil if you don't have olive oil, but Olive oil gives the bread a rich flavour.

1/4 Cup of Sugar ( you can add 1-2 additional tablespoons of sugar to make it sweeter, this way its almost a dessert bun )
1 Large Egg, make sure it is at Room Temperature to avoid cooling down the yeast
1 teaspoon of Salt
3 1/2 Cups of All Purpose flour
To brown the rolls, whisk one egg and apply it with a brush before baking.
If you want to add some toppings, poppy seeds, sesame seeds and even cheese shavings will work great. If you come up with some great toppings, why not leave them in a comment for us to test too?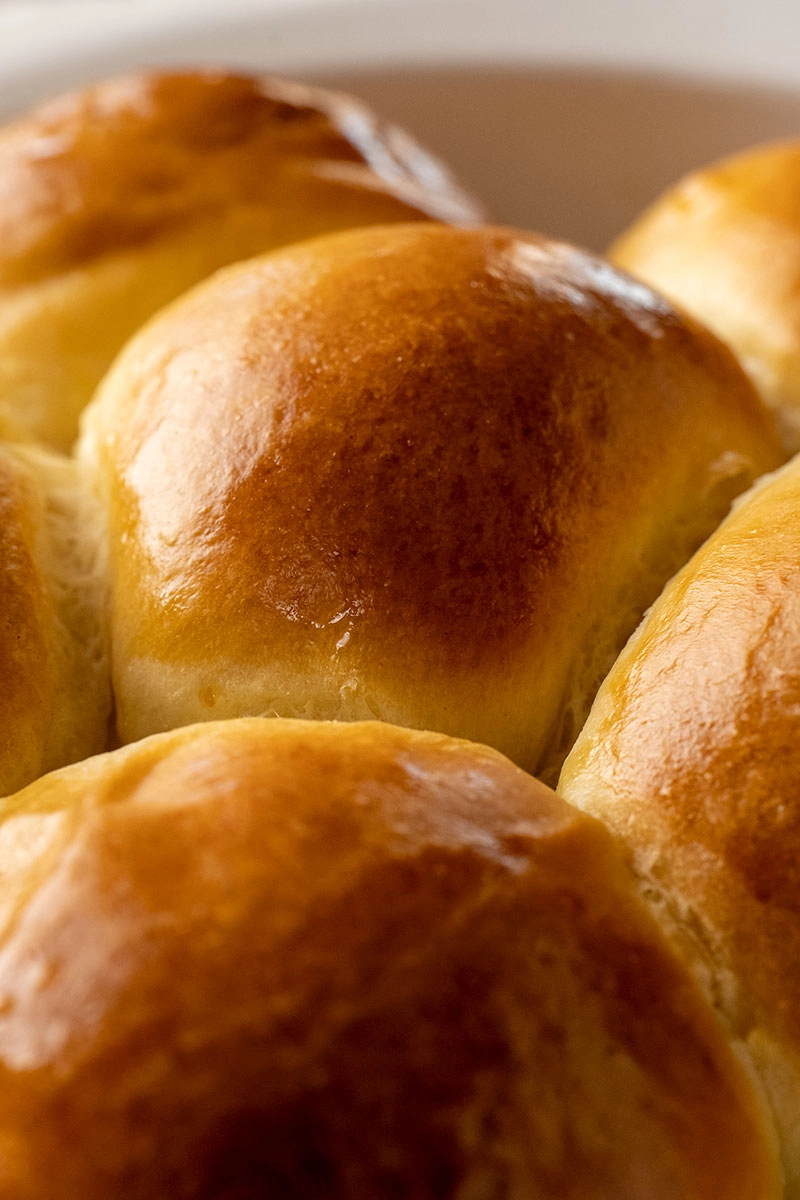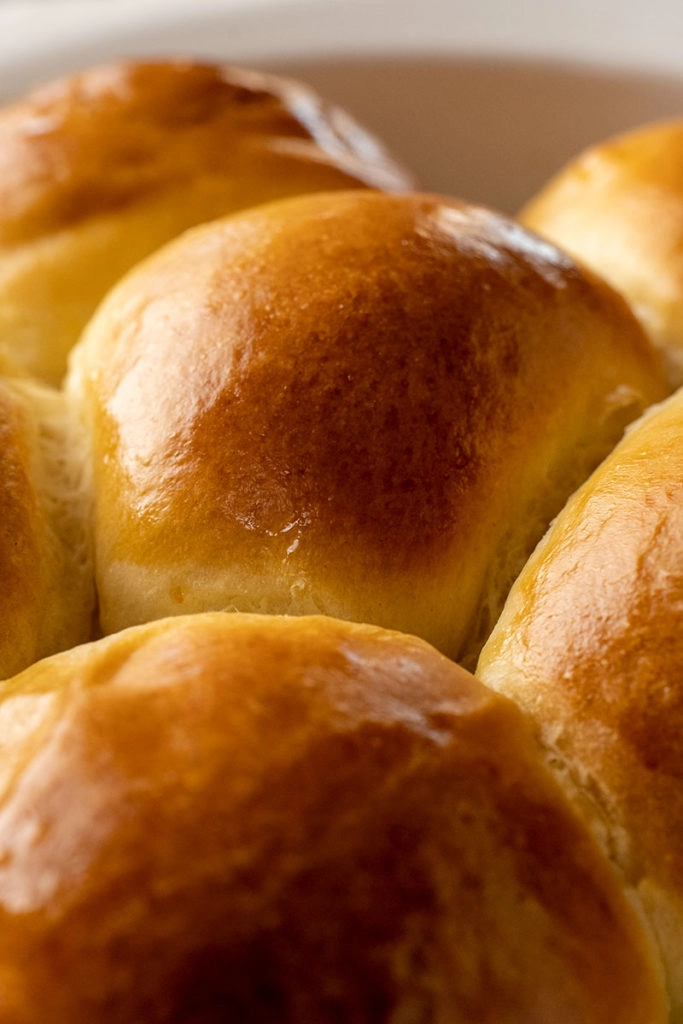 Yeast vs Yeast
Not all yeast is equal, there are different types of yeast and you need to change your process according to the yeast you are going to use. The main variations of baking yeast are:
Fresh Yeast
Dry Active Yeast
Dry Instant Yeast
The main difference between these three types of yeast, is the preparation. Fresh and Dry Active Yeast need blooming before making the dough. Blooming is the process of soaking the yeast in water or milk until it is activated. This is visible in surface bubbles of the liquid.
Instant Yeast however is dried in a faster process and milled to a finer grain. This allows the yeast to activate faster and requires almost no blooming time. I often just mix active yeast in to my dough with no issues.
Yeast releases carbon dioxide which creates the tiny little bubbles inside the bread roll that make it rise and give it a spongy, soft texture we love in our bread. This process happens during the proofing and baking stages and requires warm (but not hot) temperature to activate the process.
If you live in cold climate or don't have a warm spot at home, you can use your oven to proof the dough. Set your oven on the lowest possible temperature and let it warm up for a few minutes, now switch it off. Make sure the temperature is not above 40C or 100F as this will kill your yeast.
Now cover the dough with cling film or a damp kitchen towel, and place it in the warm oven for 20-30 minutes.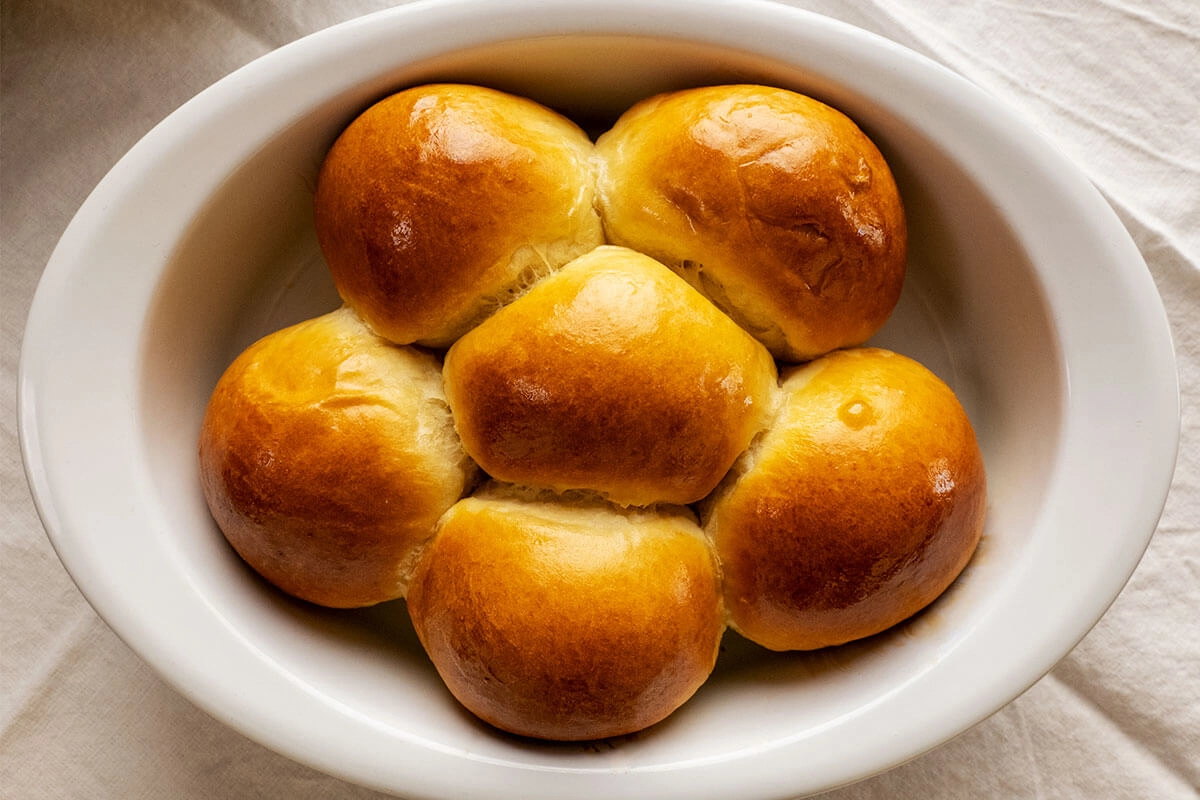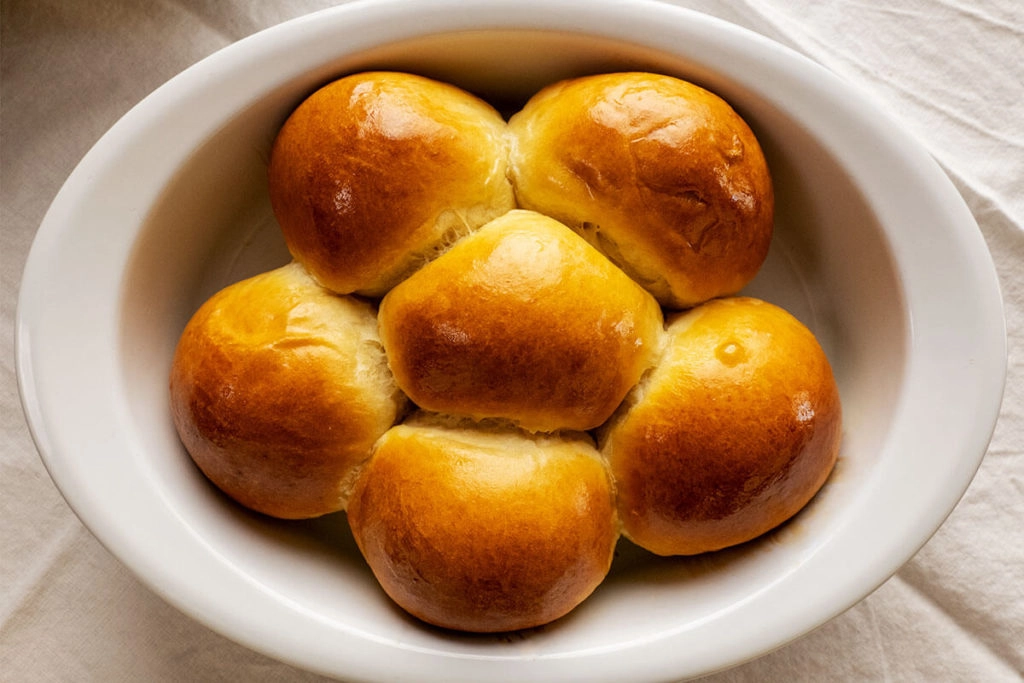 Bread Roll Baking Temperature
Soft Dinner bread rolls are baked at a lower temperature than crunchy bread. This will avoid thick crusts and keep the roll soft and buttery. Bake at 350 F or 175 C for 24 to 26 minutes depending on your oven. The colour of the bun is also a good indication when the dinner roll is ready. Go for a golden brown to lightly dark brown.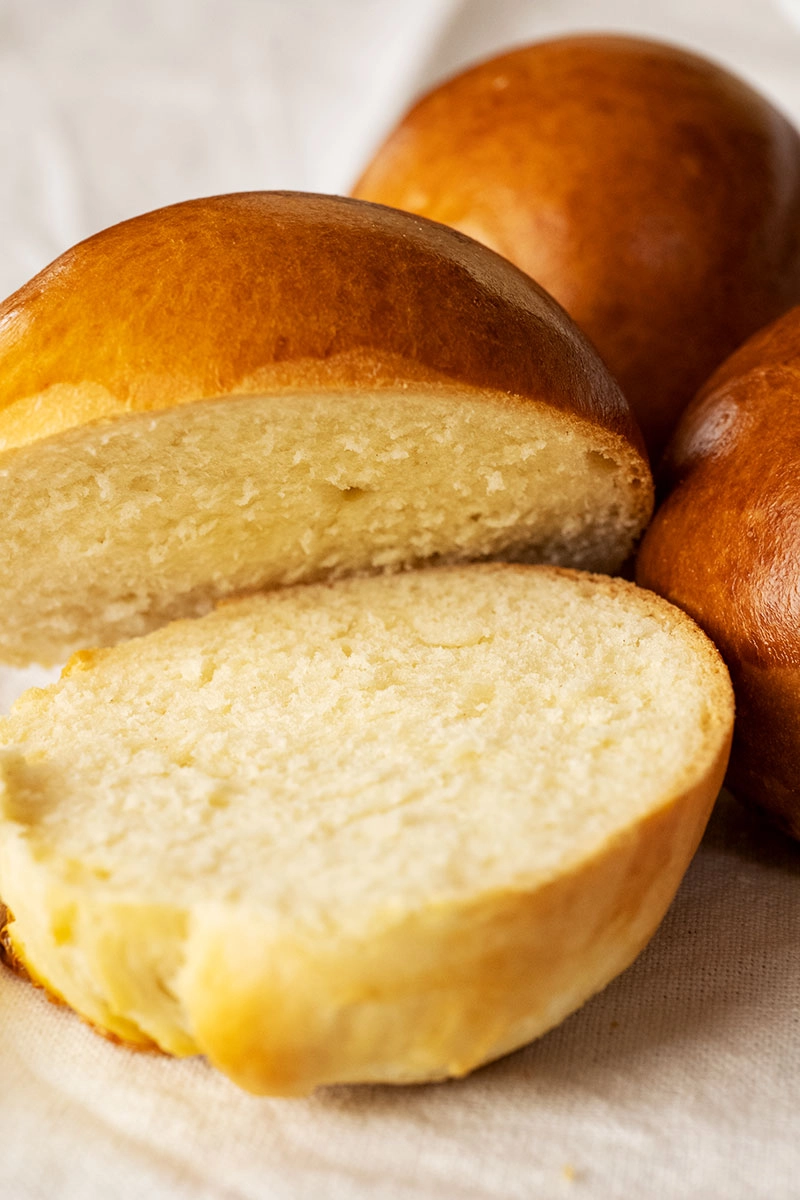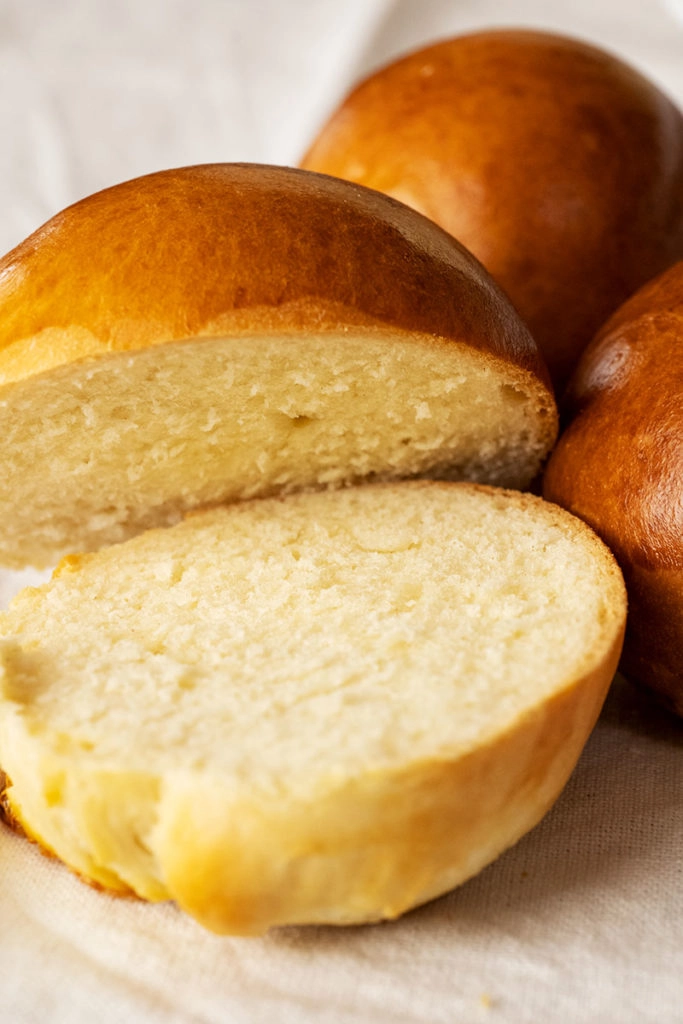 An important step is to preheat your oven, make sure your oven is at the correct baking temperature before inserting the baking tray. This will ensure an even rise.
Should I bake dinner rolls with convection?
The short answer is YES. Convection or hot air circulation is a way to ensure even temperatures inside your oven giving you an even rise and bake for bread, pastry and cakes. You can also bake without convection, but keep in mind that convection baking is faster. You will therefore need to increase the baking time by approximately 25% so from 24-26 minutes to 33 Minutes.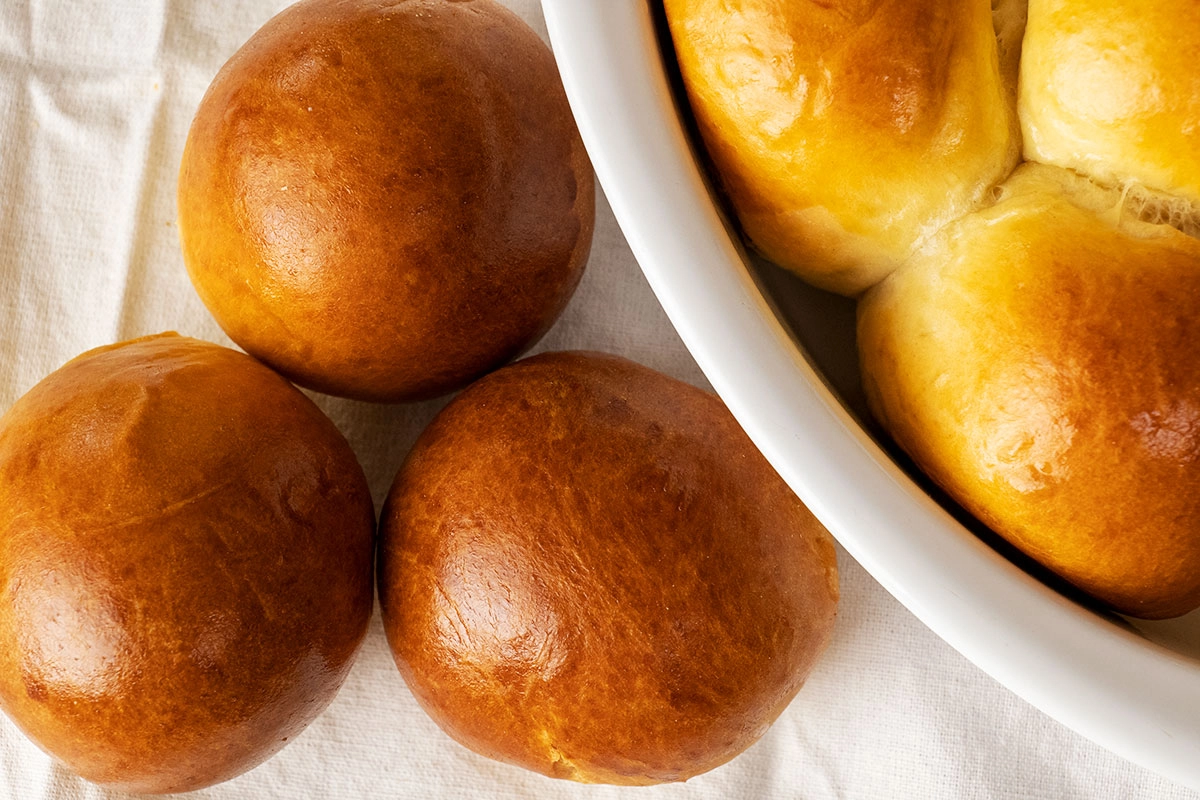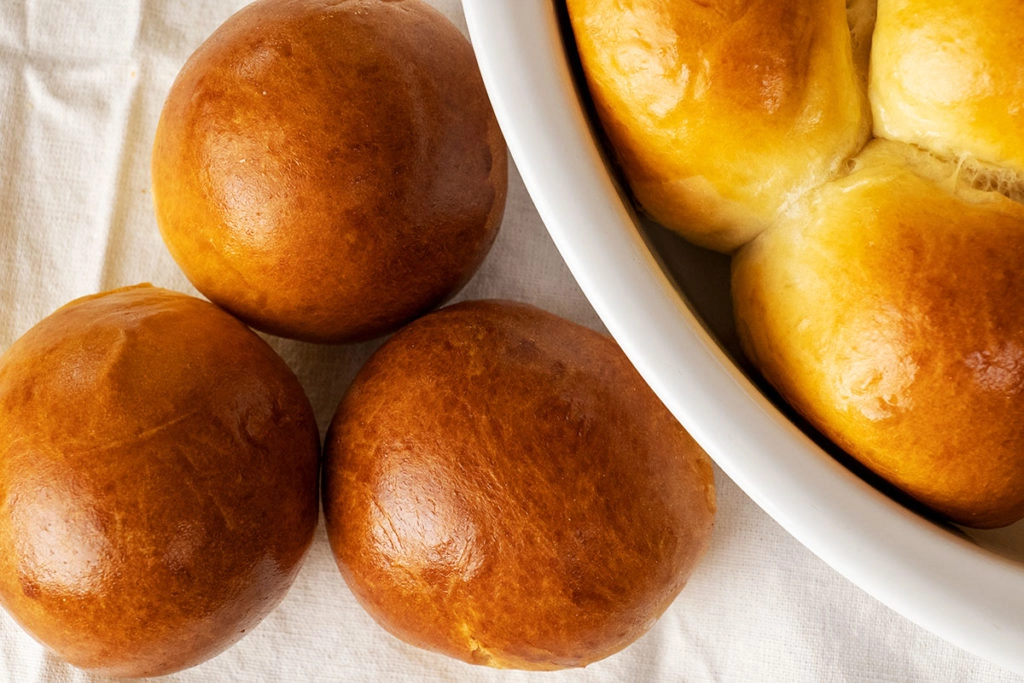 Bread Rolls or Pull-Apart Rolls?
You will be pleased to hear, that with this recipe, you can make both Pull-Apart Bread and individual bread buns. So what are these rolls good for? I mean you can eat them by them selves with a bit of butter or some jam, or, fill them with ham, cheese, tomato, sweet peppers and anything you can imagine. Here is what I favour them with.
Just by them selves, they are so soft, buttery and delicious, that I can eat them without ANY topping at all.
As a burger bun, YES YES YES, these are the BEST burger bun you will ever make. I do suggest you make them double sized for burgers unless you want to make mini sliders.
Side dish for virtually any meal, then dunk them in left over sauce…. YUMMY
As a dessert, yes you read that right. Here is a little trick, double the sugar amount and fill the buns with your favourite jam before baking. Make some custard sauce on the side and voila, a delicious dessert roll.
Make your favourite sandwich, with any filling you desire.
Those are just my favourite uses for this bread roll, let your imagination run wild.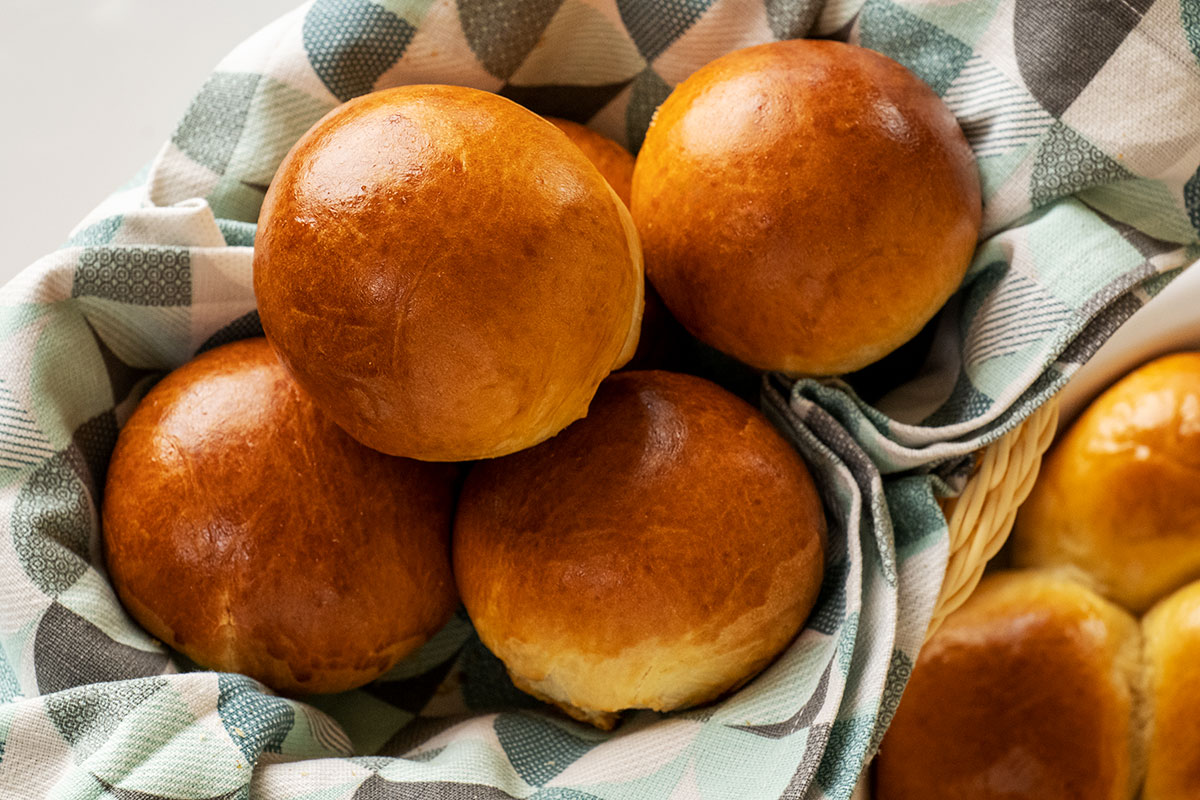 The Perfect Dinner Bread rolls
A deliciously soft bun that is perfect with any dish or even as a burger bun.
Ingredients
Bread Roll Dough
11

Gram

Dry Yeast

Active or Instant

260

Gram

Milk

Luke Warm

50

Gram

Crystal Sugar

Double for Dessert Buns

440

Grams

All Purpose Flour

00 If Available

1

Large

Egg

At Room Temperature

22

Grams

Olive Oil

22

Grams

Vegetable Oil

1

Tsp

Salt
Instructions
Dinner Roll Recipe
In a large mixing bowl, combine the yeast, warm water, sugar and salt. Let it rest for 10 minutes until the yeast is activated. You can tell its ready when the water surface is covered with bubbles. If you are using instant yeast, then you can combine and go to the next step.

Add the Egg and both Oils, if you don't have olive oil, double the vegetable oil amount. Now add the flour and knead in a stand mixer for 7-8 minutes.

Line the inside of a large bowl with vegetable oil, about 1 table spoon should suffice. Place the dough in and give it a roll around to ensure e it is covered with the oil. (this will avoid sticking to the sides and drying out) Let the dough rest for 15 minutes.

Now cut in to 12 equal portions, 6 if you are making hamburger buns. Roll the bun in to a ball. To get a nice ball shape, take a dough piece and hold with both hands. Now using your thumb, stretch the top of the dough over the edge and use your index and middle finger to tuck the under side in until you have a round ball. Pinch the bottom together and place on your working surface. Repeat with all pieces.

Extra Step (Optional) If you want perfectly round buns, use this technique. Place the rounder dough ball on your working surface (no flour needed). Form a claw over the ball with your hand and apply some pressure with your palm. Rub in a circular motion slowly releasing pressure until you have a perfectly round bun,

If you are making pull-apart bread, pack the dough balls in to a baking dish. They will grow in size and stick together, but that is the plan 🙂

If you are making individual buns, line a baking tray with baking paper, and place four to six buns on a tray according to your tray size. You will need 1-2 inches of space between each bun.

Cover and let the dough balls rest for 15 minutes.

Now which together the egg and water and brush the dinner rolls evenly. Place in the oven and bake at 170C or 340F for around 20 minutes or until golden dark brown.
Nutrition
Calories:
195
kcal
|
Carbohydrates:
32
g
|
Protein:
5
g
|
Fat:
5
g
|
Saturated Fat:
2
g
|
Polyunsaturated Fat:
1
g
|
Monounsaturated Fat:
2
g
|
Trans Fat:
1
g
|
Cholesterol:
29
mg
|
Sodium:
206
mg
|
Potassium:
57
mg
|
Fiber:
1
g
|
Sugar:
4
g
|
Vitamin A:
42
IU
|
Vitamin C:
1
mg
|
Calcium:
10
mg
|
Iron:
2
mg