Fast and Easy to make one bowl Peanut Butter, Banana and Oatmeal Cookies
Who doesn't LOVE a great Cookie? And what's better than a cookie you can prepare in 10 minutes and in a single bowl? Ohhhh and did I mention you can eat the cookie dough???? Yes, this is The BEST Vegan peanut butter banana cookie you will ever bake ?
Making The BEST Vegan Peanut Butter Banana Cookie
Making the best vegan peanut butter banana cookie is not only super fast it's also unbelievably easy. All you will need is a mixing bowl, a wooden spoon and a baking tray lined with parchment paper and you are good to go. You can find all the ingredients in the left side column.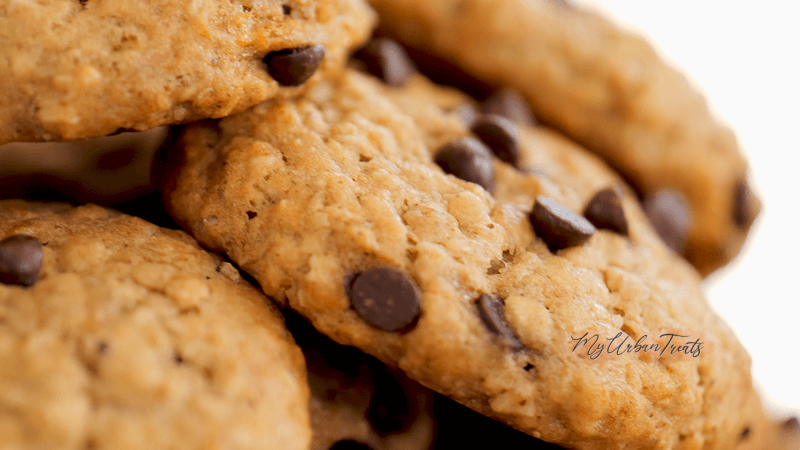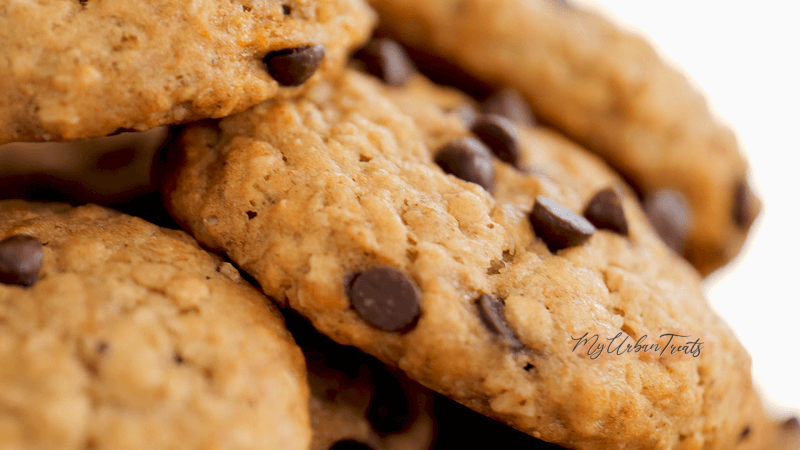 What are the ingredients?
Peanut Butter because it just matches with banana ?
Brown Sugar for some nice added flavour and colour
White Sugar the perfect combination with brown sugar in cookies
Mashed Bananas the riper the better
All-Purpose Flour: you can replace this 1:1 with Oat flour as a gluten-free option
Quick Oats or Rolled Oats
Corn Starch: This will make your cookie crunchy on the outside and chewy on the inside
Baking Powder
Baking Soda
Salt
Vegetable Shortening or Vegan butter, you can also omit this completely but it will change the texture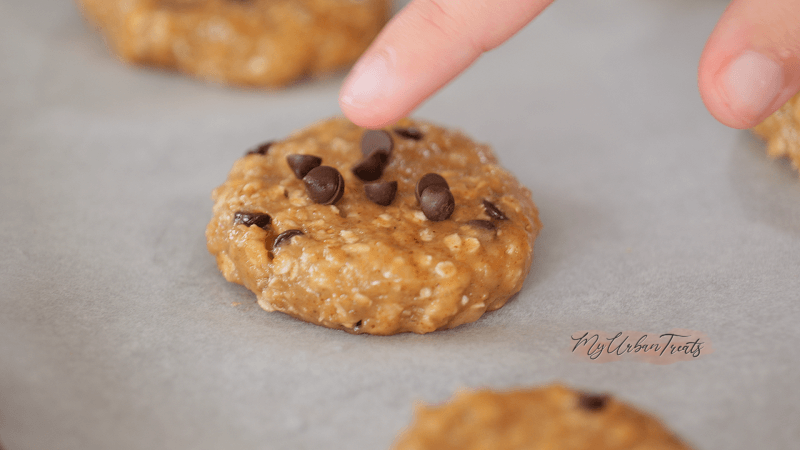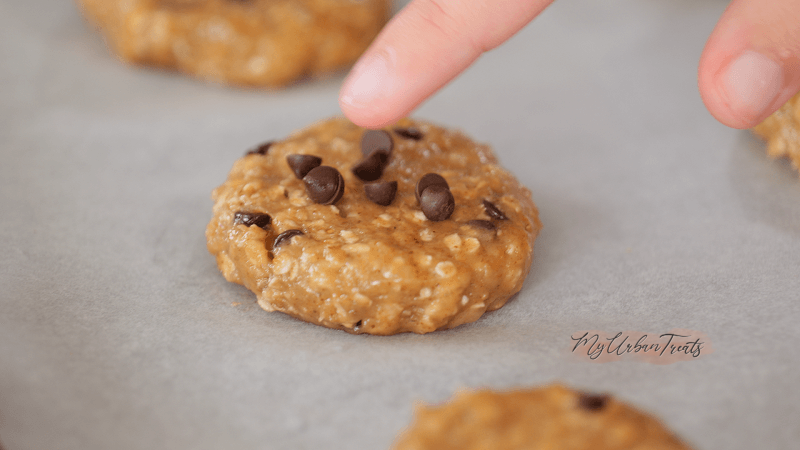 Tips, Tricks and Options
Make them Gluten Free: This recipe uses all-purpose flour and therefore contains gluten. You can, however, make this recipe gluten-free by replacing the all-purpose flour with Oat flour. If you don't have access to oat flour, simply use a food processor or coffee grinder to whisk the oats into flour. It might not be as fine as the oat flour you buy at the store but it will be just as tasty and give more texture to your vegan and now gluten-free cookie.
Decorate with Choco Chips: Save 30 grams of your chocolate chip cookies for the final decoration, I always drop 3-4 choco chips on each cookie before I bake them and lightly press them into the dough. This gives them a great look and who can argue with more chocolate chip ????
Eat the batter: This is dangerous, the first batch we made only yielded 8 cookies because we kept eating the batter. It just tastes AMAZING.
Use a cooling rack: I find this tip quite important. If you cool your cookies on a closed surface the condensation created under the cookie will make the bottom moist. Use a cooling rack to keep them crispy on the outside and chewy inside. If you don't have a cooling rack get creative, use the rail of your oven for example.
Vegetable Shortening: I add a little vegetable shortening to give my cookie the "butter" texture. This is optional as some people don't like the after taste of vegetable shortening. You can replace this 1:1 with Vegan Margarine or Vegan Butter.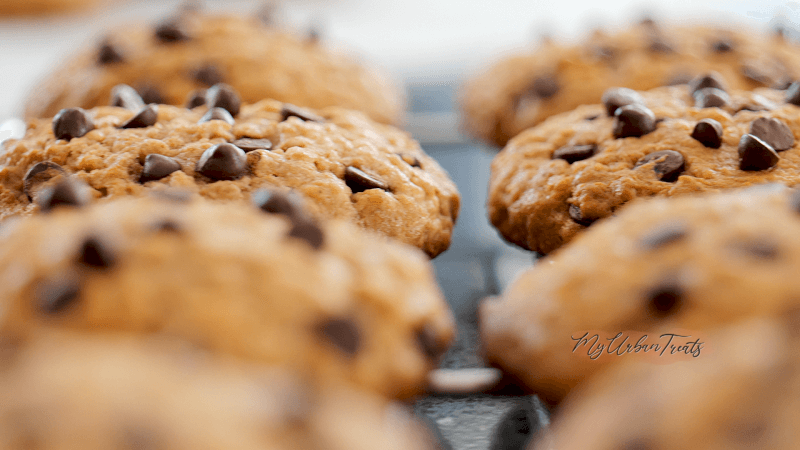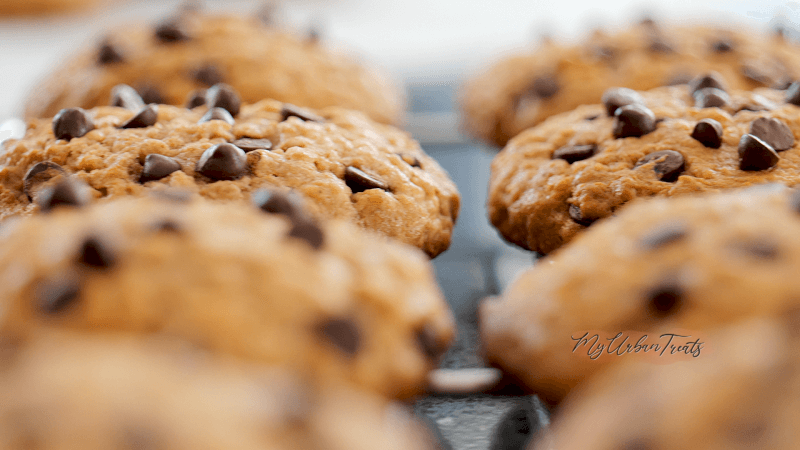 Storing Vegan Cookies
My vegan peanut butter and banana cookies don't need to be stored in the fridge and will stay good for 4-5 days. They keep their texture best in an airtight container. You can, of course, freeze the cookie dough for up to a couple of months. So when you need a quick cookie fix, unfreeze and bake for 10 to 12 minutes. Voila.
Video Recipe
Are you a visual person? If so then you can follow this recipe on my YouTube Channel, don't forget to leave a like and comment ?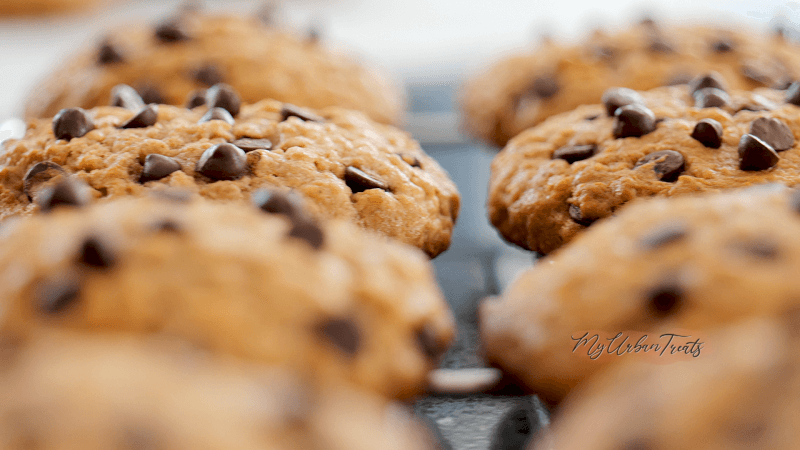 Vegan Peanut Butter Banana Oatmeal Cookie
Fast and Easy to make one bowl Peanut Butter, Banana and Oatmeal Cookies
Ingredients
½

Cup

Peanut Butter

1 ½

Cups

Brown Sugar

¼

Cup

Crystal Sugar

½

Cup

Banana

1 ½

Cups

All-purpose flour

1 ½

Cups

Oats

1

tsp

Corn Starch

½

tsp

Baking Powder

½

tsp

Baking Powder

¼

tsp

Salt

3

tsp

Vegetable Shortening

1

tbsp

Vanilla Extract

½

Cup

Chocolate Chips
Instructions
In a mixing bowl, mash your bananas. Now add all other ingredients and fold in. Leave about 20-30 grams of Chocolate chips aside for the last step.

Now we will form the little dough balls, line a baking tray with parchment paper. Using a spoon scoop a ball of cookie dough the size of a large walnut and roll between the palm of your hands to form a dough ball. Place on the baking tray leaving apx 2-3 centimeters or 1 inch of space between each cookie and the edge of the tray. Using your fingers lightly press down on the cookie balls to form a cookie shape.

Last but not least, add chocolate chip sprinkles and bake at 175 C or 300 F for 10 to 12 minutes until golden brown. Set on a cooling rack until they reach room temperature.
Nutrition
Calories:
200
kcal
|
Carbohydrates:
36
g
|
Protein:
4
g
|
Fat:
5
g
|
Saturated Fat:
1
g
|
Sodium:
98
mg
|
Potassium:
121
mg
|
Fiber:
2
g
|
Sugar:
22
g
|
Vitamin C:
1
mg
|
Calcium:
38
mg
|
Iron:
1
mg