Carrot Cake is one of my all-time favourite types of cake, so it comes to no surprise that I tried an uncountable amount of recipes to arrive at what I consider the Ultimate Carrot cake recipe. This carrot cake is super soft and moist with a lovely walnut flavour. I add some bigger chopped walnut pieces for a bit of extra crunch one very bite. This is definitely the recipe my friends and family request the most.
The preparation method for this is very important so make sure you follow all the steps in the right order, this is a fairly easy recipe so don't rush, take your time and enjoy the process.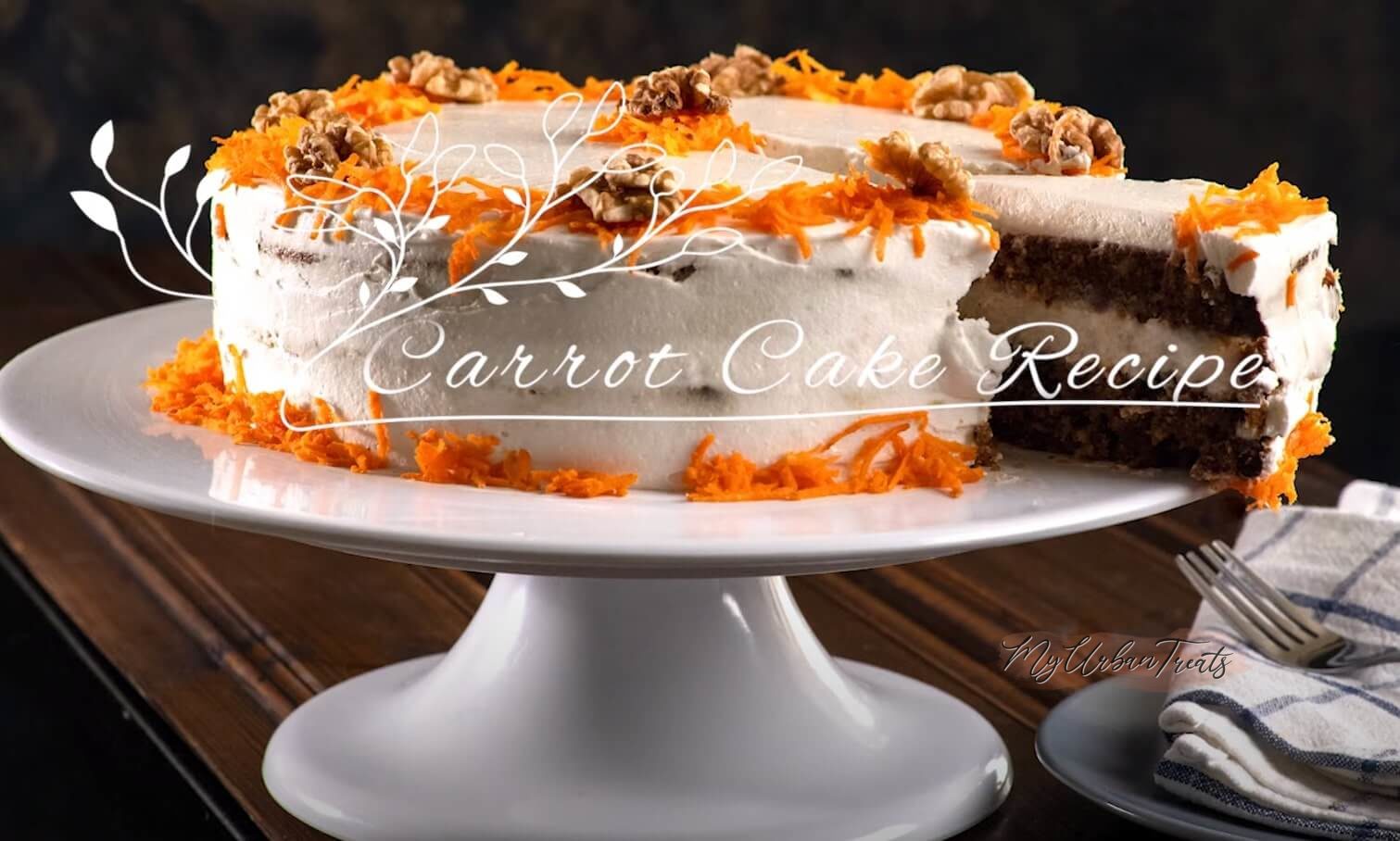 History
There is some speculation of were carrot cake actually comes from, the earliest mention of a similar carrot recipe is in the late 16th century were an English pudding in a caret root stuffed with meat had many similar ingredients. The carrot cake we know today, however, comes from a French recipe of Antonie Beauvillers a former chef of the last king of France King Luis.
Carrot cake is essentially a sponge cake with walnuts and carrots, once baked the carrots give the cake a sweet aroma that blends with the walnuts into an amazing flavour. As a child, I was afraid of Carrot Cake as I kept a healthy distance from Carrots in general but the flavour of a Carrot cake but thankfully I realised it tastes nothing like Carrots.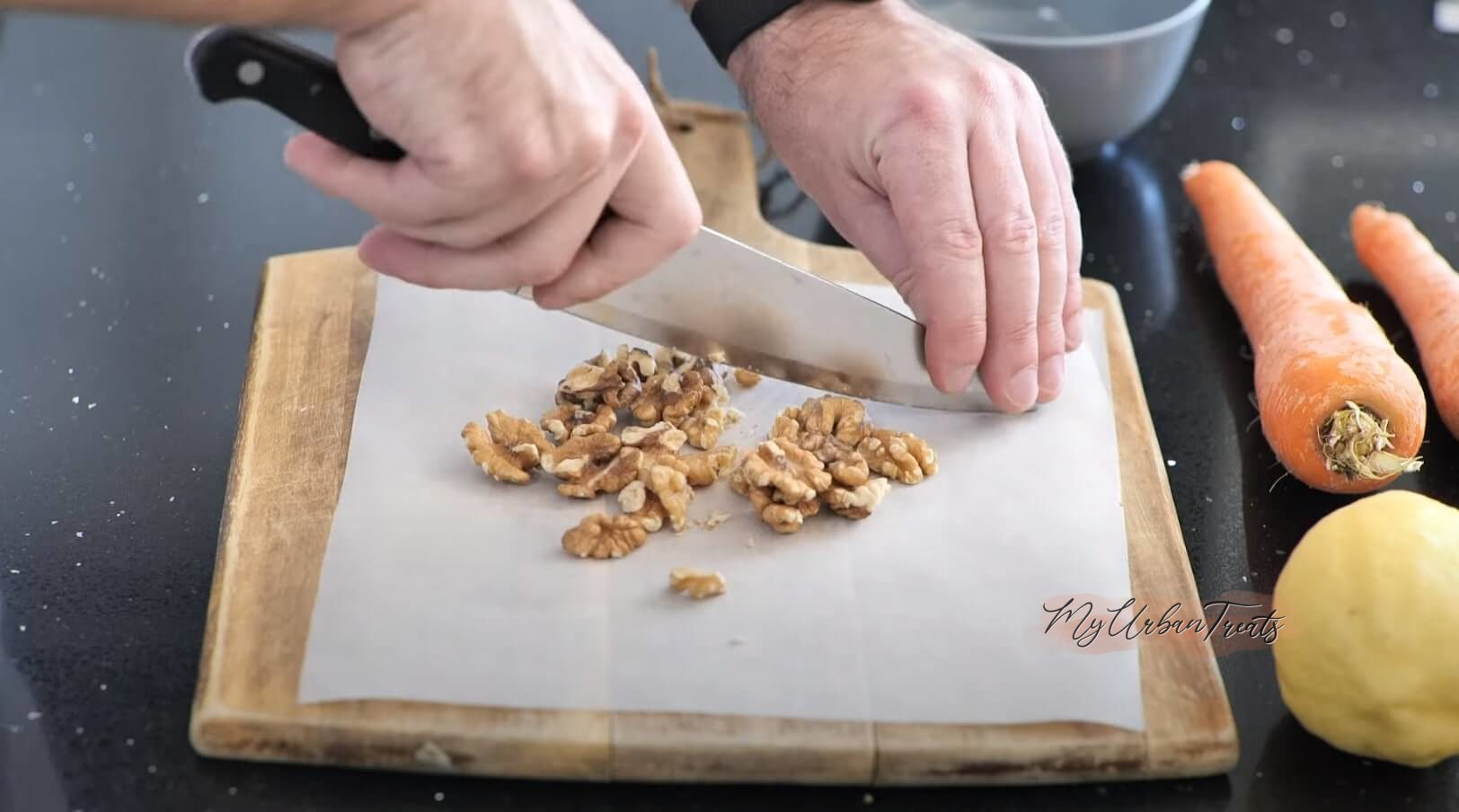 Ingredients
Below is a list of ingredients you will need for this carrot cake recipe, I like to prepare all ingredients with the correct measurements in advance. This makes the baking easier and it helps me keep my kitchen clean and uncluttered.
Cake Batter
2 1/4 Cup All-purpose flour
1 1/6 Cup Walnut
1 medium Carrots
1/2 Cup Butter
1/2 Cup Vegetable Oil
2 Tsp Cinnamon
2 Tsp Baking Powder
1 Tsp Baking Soda
4 Large Eggs
1 Cup Granulated Sugar
1 tsp Vanilla Extract
3 tbsp Honey
Cream Cheese Frosting
1 Cup Heavy Cream
2 Cups Cream Cheese
1 Lemon Lemon Zest
3 tsp Lemon Juice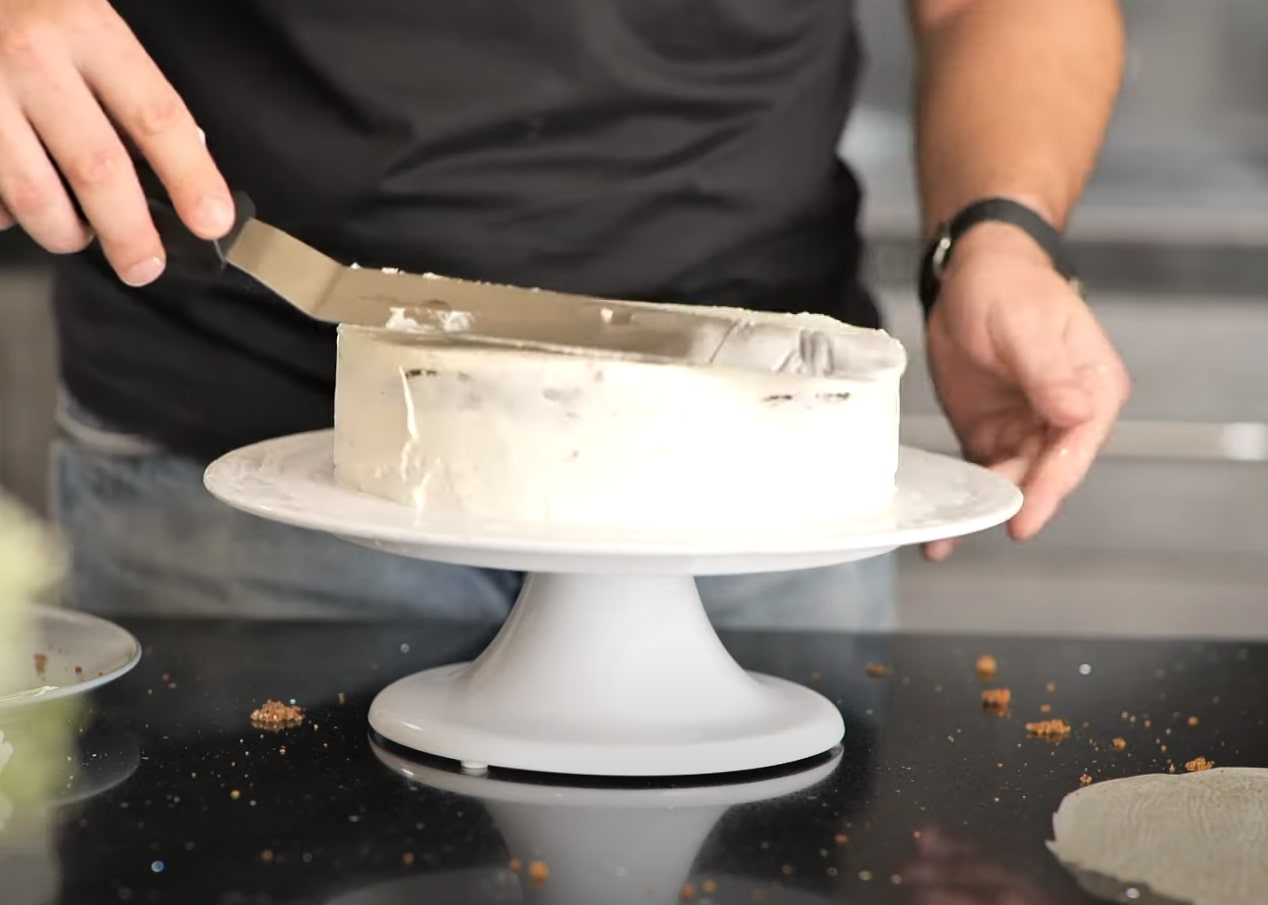 Tips & Tricks
Don't over whisk the batter, you want it to be well combined but not deflated this will make a softer and moist batter
Don't over-bake, I prefer to bake at a lower temperature of 165C or 330F with airflow for about 45 minutes. Use a wooden skewer to check if it's done in the centre
Blend the cream cheese with the heavy cream at a slow speed to avoid curling
Put the heavy cream for a few minutes before whisking
Wait until the cake is cool before you cut it to avoid crumbling
If you want perfectly flat slices, you can cut along guide rails or use a cake wire cutter.
Other Similar Recipes
Looking for other dessert recipes? Check these out.
The Recipe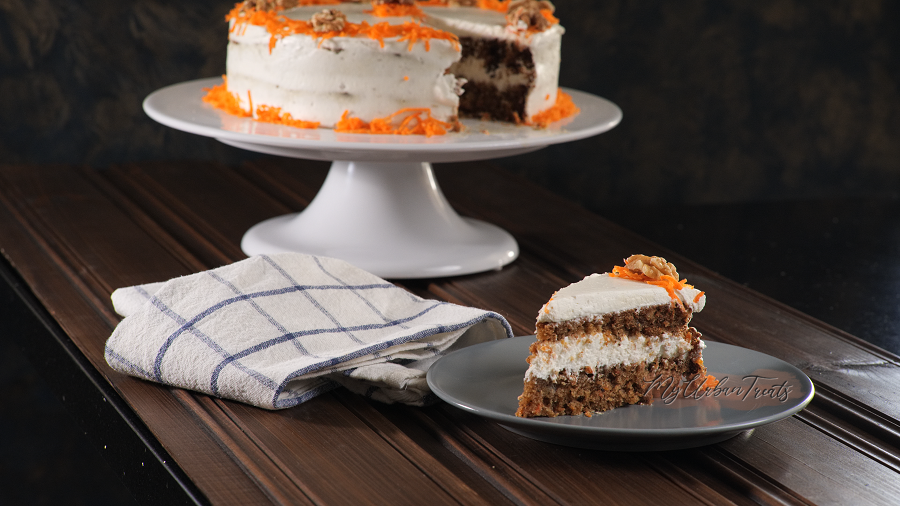 The Ultimate Carrot Cake Recipe
Moist texture with amazing flavour and a thick, delicious cream cheese layer
Ingredients
Cake Batter
2 1/4

Cup

All-purpose flour

1 1/6

Cup

Walnut

1

medium

Carrots

1/2

Cup

Butter

1/2

Cup

Vegetable Oil

2

Tsp

Cinnamon

2

Tsp

Baking Powder

1

Tsp

Baking Soda

4

Large

Egg

1

Cup

Crystal Sugar

1

tsp

Vanilla Extract

3

tbsp

Honey
Cream Cheese Frosting
1

Cup

Heavy Cream

2

Cups

Cream Cheese

1

Lemon

Lemon Zest

3

tsp

Lemon Juice
Instructions
In a small bowl whisk together the flour, cinnamon, baking powder and baking soda and set aside.

Add the butter in to a saucepan and cook at a medium heat until you get the nice nutty smell and the butter has a light amber colour. Careful not to burn the butter we just want to enhance the flavour and evaporate some of the liquid. Sift in to a heatproof bowl and set aside until warm.

In a mixing bowl, add the eggs and sugar and whisk with an electric mixer until you get a cream and medium stiff consistency. Gradually whisk in the honey, vanilla extract, Grind 100 g of the walnuts and chop the remaining 40 grams in to medium-small crumble.

Sift in the flour mixture and fold until just combined, don't over mix as it will deflate your cake. Now fold in the carrots again don't over mix the batter. Last we add in the ground and chopped walnuts.

Line a 9 inch or 22 centimetre spring form with parchment paper, i like to line the bottom and sides as it makes it a lot easier when removing and you don't run the risk of breaking the cake. Carrot cake is very soft and moist so they can break easier than other sponge cakes. Bake at 160 C to 165 C in the middle shelf of your oven. We want a slow bake to avoid a sudden rise in the middle of the cake. My oven took about 45 minutes but use a wooden toothpick or bamboo stick to test, if it comes out clean the cake is done. Don't over bake for a nice and moist texture.

When baked add to a cooling rack and let it cool to room temperature. Don't assemble while hot as it will melt the cream frosting.
Notes
You can dip a sharp knife in oil and cut a cross through he middle of the cake batter before baking, this will slightly crack the top but will give you a more even raise.
Nutrition
Serving:
1
Slice
|
Calories:
619
kcal
|
Carbohydrates:
50
g
|
Protein:
11
g
|
Fat:
44
g
|
Saturated Fat:
21
g
|
Cholesterol:
131
mg
|
Sodium:
333
mg
|
Potassium:
189
mg
|
Fiber:
2
g
|
Sugar:
26
g
|
Vitamin A:
1745
IU
|
Vitamin C:
1
mg
|
Calcium:
131
mg
|
Iron:
3
mg