If you are looking for a delicious chocolate hazelnut cake recipe, look no more. This light and fluffy sponge cake is filled with vanilla cream and covered with a thin chocolate ganache drip. To top it all off I added some chocolate covered Hazelnuts as a little treat. This cake is also made without flour so 100% Gluten Free. Here is how its done!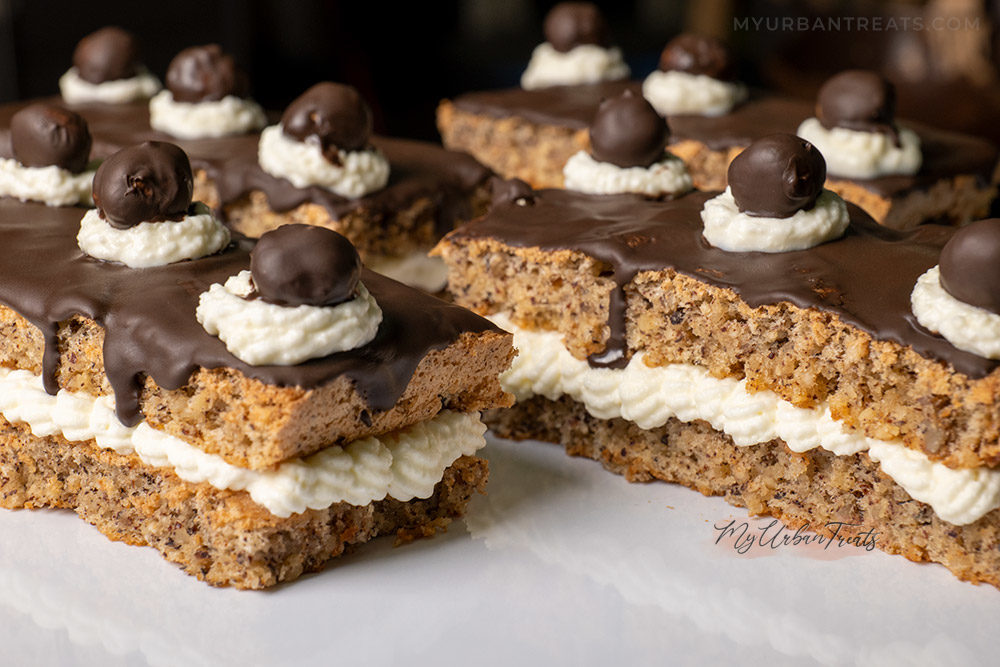 Ingredients
Lets break this recipe in to three parts, the hazelnut sponge cake, the cream filling and the chocolate ganache. Part of the chocolate top are also some chocolate dipped hazelnuts. Here is what you will need: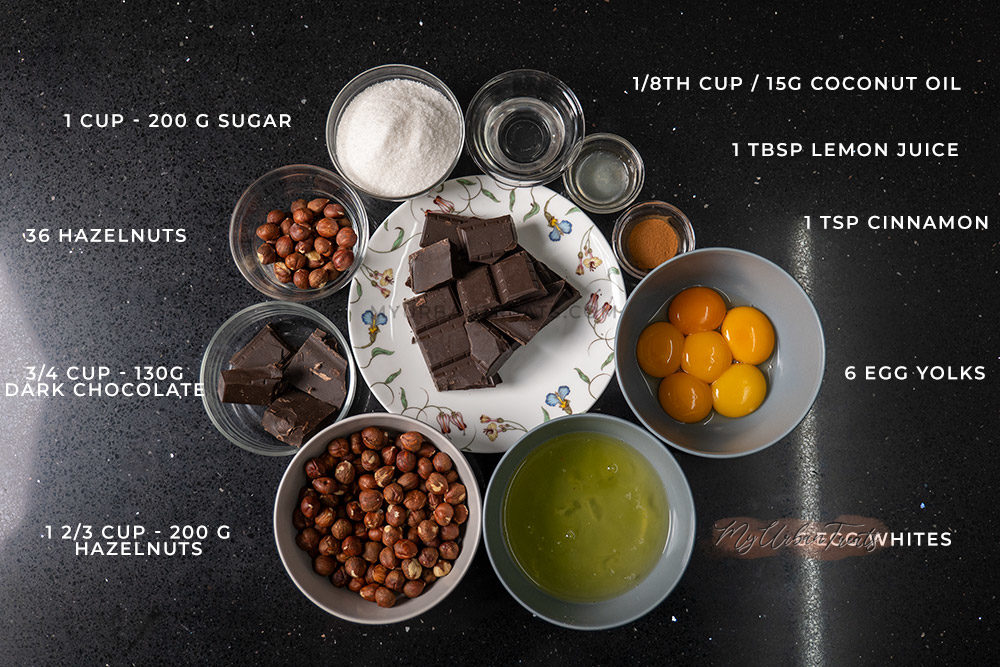 Hazelnut Sponge Cake
6 Large Eggs – Separated
1 Cup of Crystal Sugar
1 Teaspoon of Ground Cinnamon
1 Pinch of Salt
1 Teaspoon of fresh lemon juice
1 2/3 Cups or 200 grams of Ground Hazelnuts
3/4 Cups or 130 grams of Ground Dark Chocolate
Some butter to grease your baking paper
Hazelnut Cake Filling
1 cup or 250 gram of Heavy Cream
1 sachet of Vanilla Sugar
3 Tablespoons of Crystal Sugar (optional)
Chocolate & Decoration
36 peeled Hazelnuts
2 cups or 350 grams of Dark chocolate
1/8th cup or 25 grams of Coconut Oil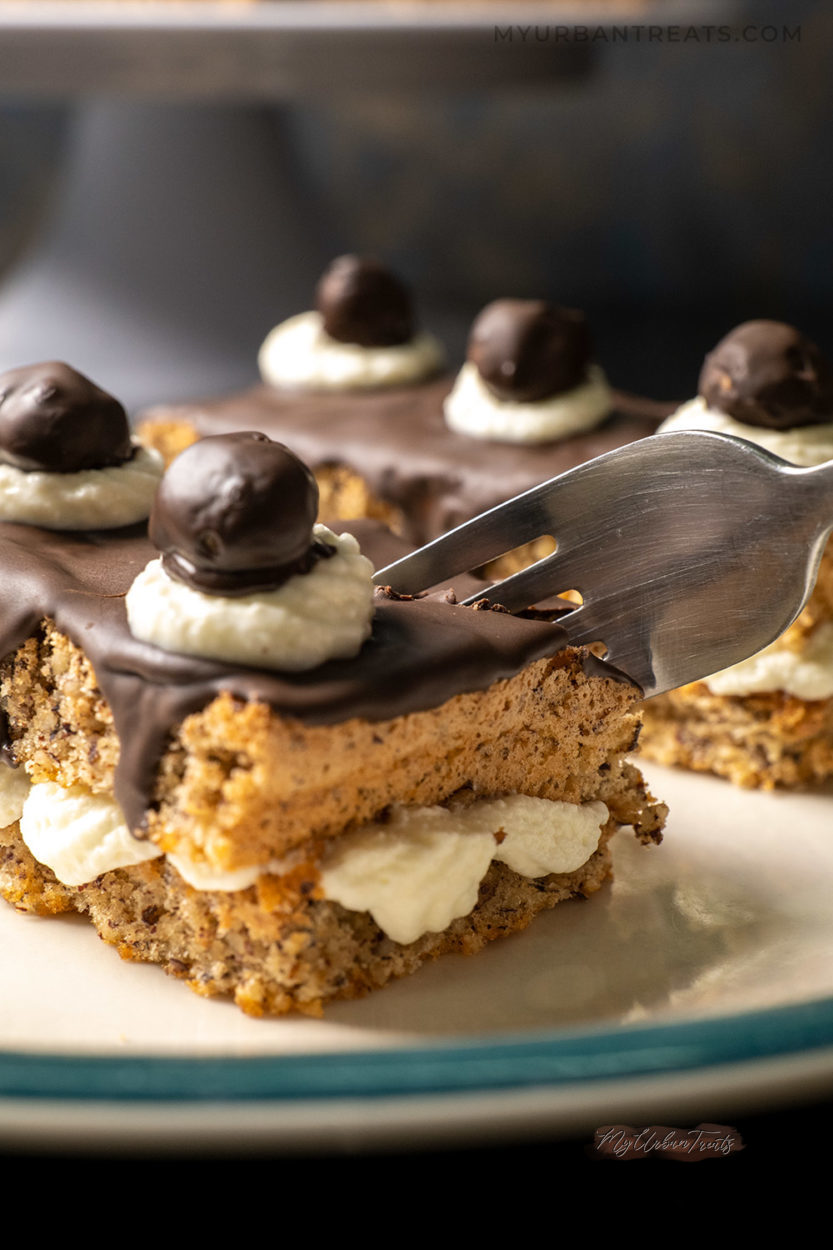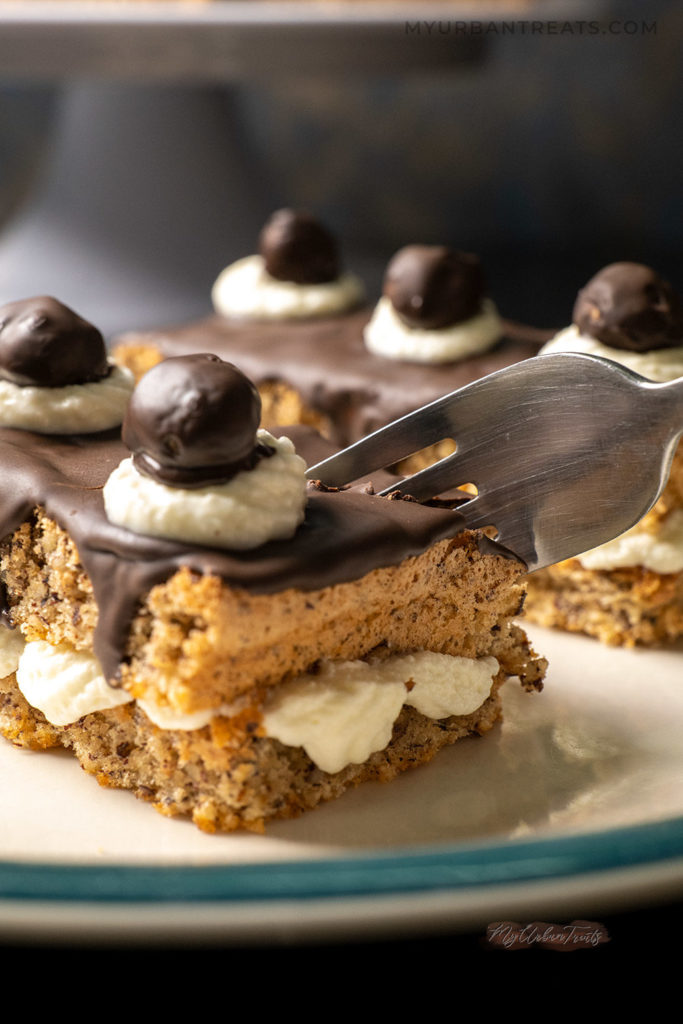 About this Recipe
It's no secret, a lot of my cooking and baking is inspired by my childhood. As a kid growing up in Vienna, I have fond memories of my grandmother and mother baking and creating beautiful and delicious dishes. The bakeries in Austria create little dessert wonders with a lot of history and technique. This specific Hazelnut cake recipe is inspired by a cake I tasted during a night out with my parents. I haven't found the recipe anywhere else so I recreated it to the best of my taste buds memories.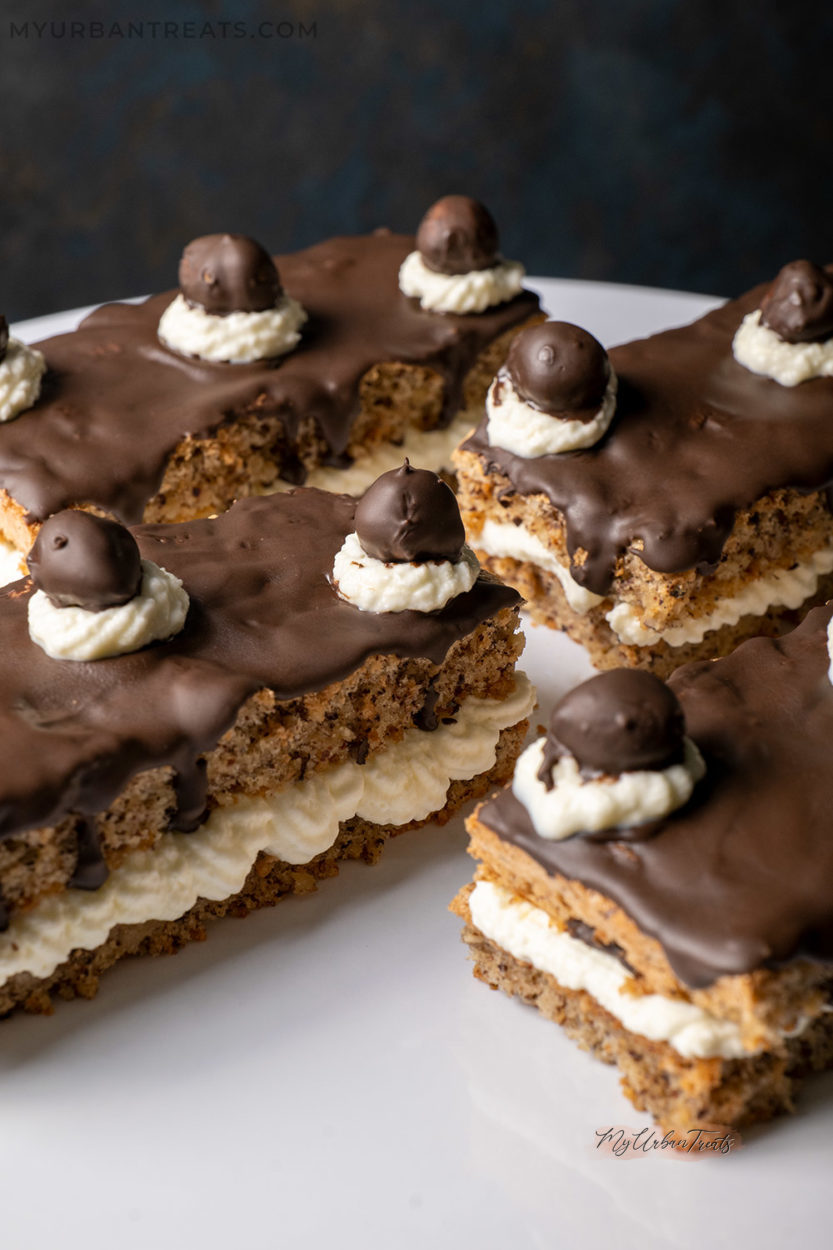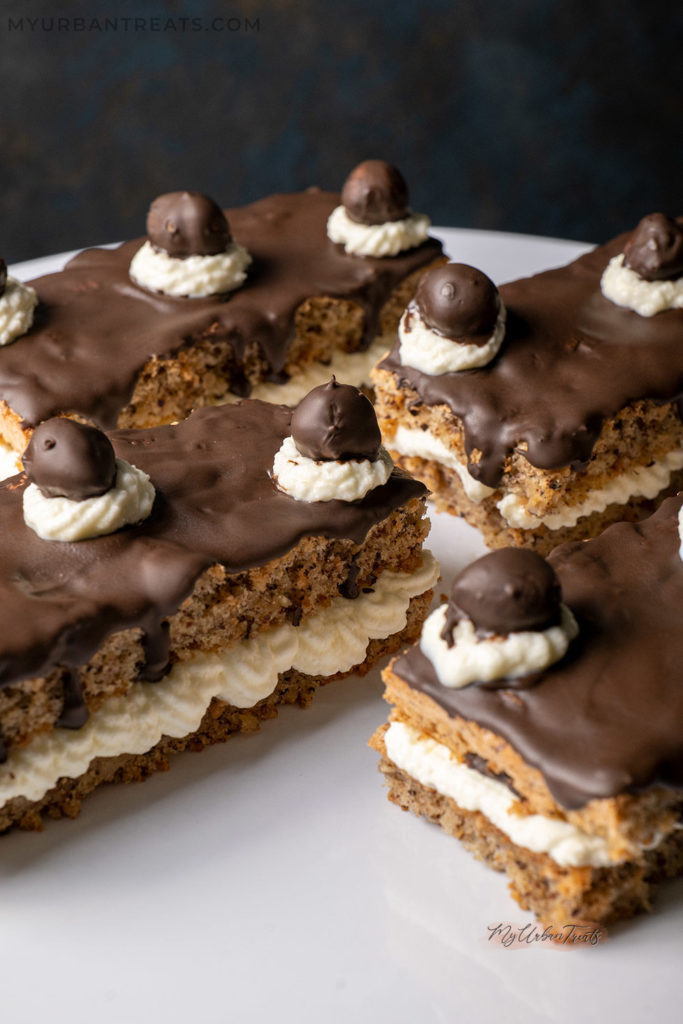 How to make Hazelnut Cake
This is by no means a difficult recipe, I will break it in to three easy to follow steps. As always, If you have any questions, post them in the comments and I will answer them the soonest. This way other readers can also benefit from your question and my answers.
Step One: Hazelnut Sponge Cake
Start by creaming the egg yolks with 3/4ths of the sugar and the cinnamon until light and fluffy. Lightly whisk in the lemon juice. Set aside and whisk the egg whites with the pinch of salt and the remaining sugar to stiff peaks.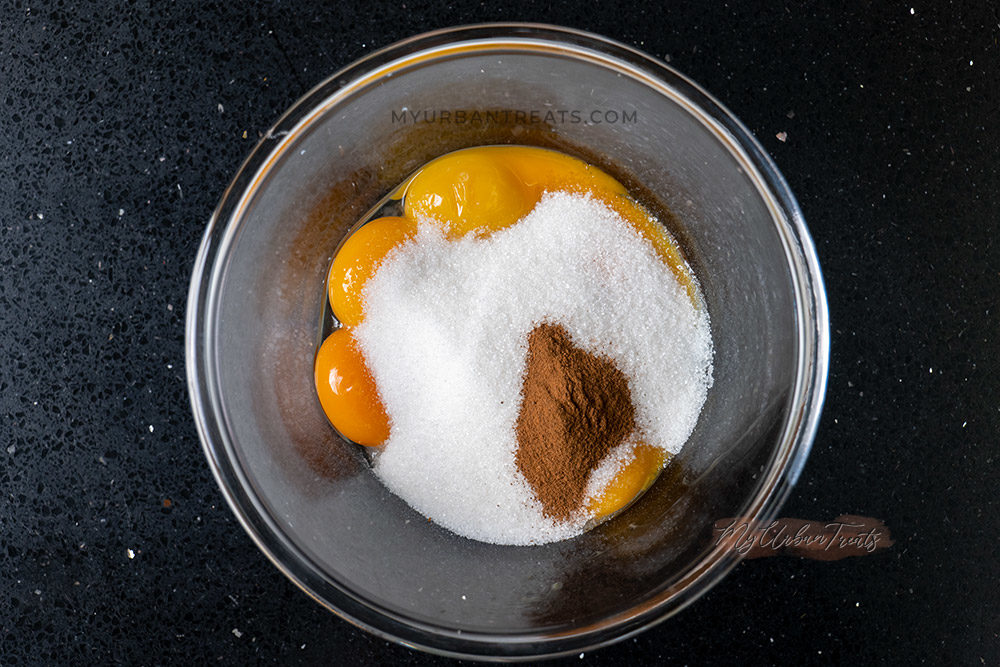 Pour over the egg whites, add the ground hazelnuts, ground chocolate and carefully fold together. Use a rubber or wooden spatula to avoid deflating the egg whites. Line a baking tray with baking paper and grease with butter or margarine. Pour the batter in to the tray and carefully flatten with the rubber spatula.
Note: Its important that you grease the paper as this dough is quite sticky and can easily break.
Bake at 190 C or 375 F for 25 to 35 minutes. The sponge cake should be golden brown. Place on a cooling rack and carefully remove the parchment paper. If the paper is stuck, don't worry. Use a long knife and slice carefully while peeling off the paper. Let it cool while we prepare the hazelnut cake filling.
When the sponge cake has cooled, trim the edges using a long knife. Then cut into even slices. My cake turned out 35 x 25 centimeters or apx 14 x 10 inches so I cut it into 5cm / 2 inch wide slices. Simply divide the length by the amount of slices and you will get the width of each sliced to cut. Length wise I cut the sponge in half, if you want to make more portions, simply split it by 4 and make smaller hazelnut cake slices.
Half of the cut slices will be the bottom of the cake or cake slice so set aside until we make the hazelnut cake filling.
Step Two: Hazelnut Cake Filling
The Hazelnut Cake filling is simple, and because we don't want to overpower the flavour, it is a simple vanilla heavy cream. So whisk the heavy cream with the sugar and vanilla sugar until stiff. Fill in a piping bag with a star attachment and spread an even layer on the bottom slices or cake. Now top with the other half of the slices and make a cake sandwich. Careful don't squash the cream 🙂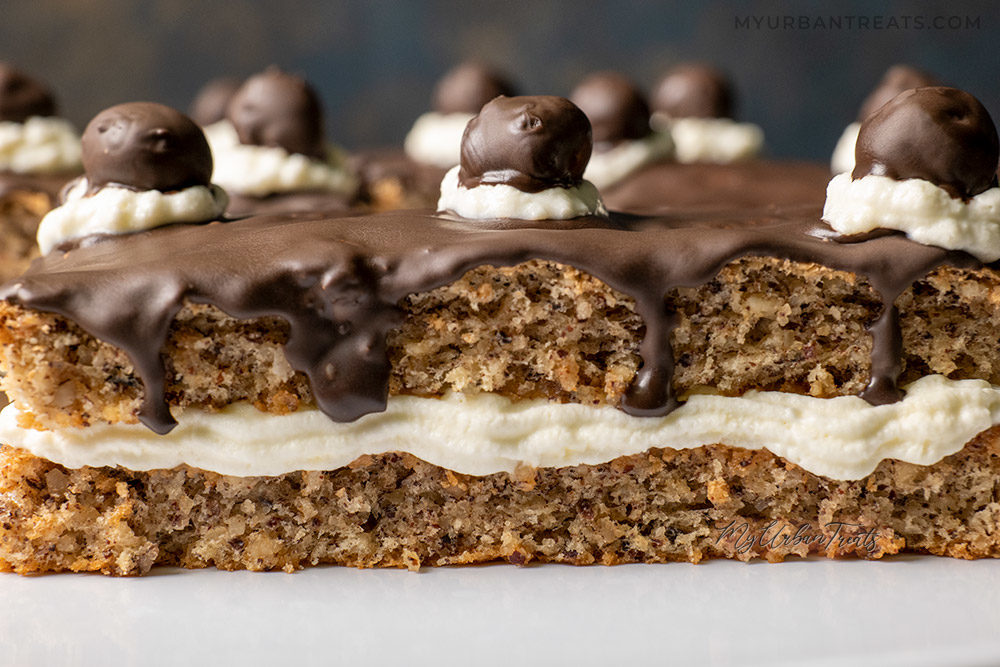 Step Three: Chocolate Ganache & Decoration
For the topping we will make a simple chocolate ganache drip. There are two options when making the ganache, you can make a crunchy chocolate top which is a mixture of chocolate and coconut oil. But if you want to make a soft ganache that is not crunchy, then we add about 1/2 a cup of heavy cream.
I prefer the crunchy top, as its very thin it's easy to cut and has a nice additional texture. Simply melt the chocolate with the coconut oil over a bermarie. If you want to temper the chocolate to give it a nice satin finish, keep around 20% of the chocolate aside. Once the chocolate has melted, take if of the heat and stir in the remaining chocolate until it has dissolved.
Peeling Hazelnuts
To avoid the chocolate cover coming off our hazelnuts as well as a bitter taste from the hazelnut skins, we will peel them. To peel hazelnuts, spread them evenly on a baking tray and bake them for 8-10 minutes at around 170 C. Then place them in a kitchen towel and rub them together until all the skin comes off. Set aside to cool and then proceed with the next step.
Now dip the hazelnuts and set them on parchment paper to dry. Using a tablespoon, carefully cover the hazelnut cake slices with chocolate ganache. Give it a little drip here and there to make them look even more delicious.
When the ganache has dried, pipe three dots of the cream filling diagonally across each slice. Then top with a chocolate dipped hazelnut.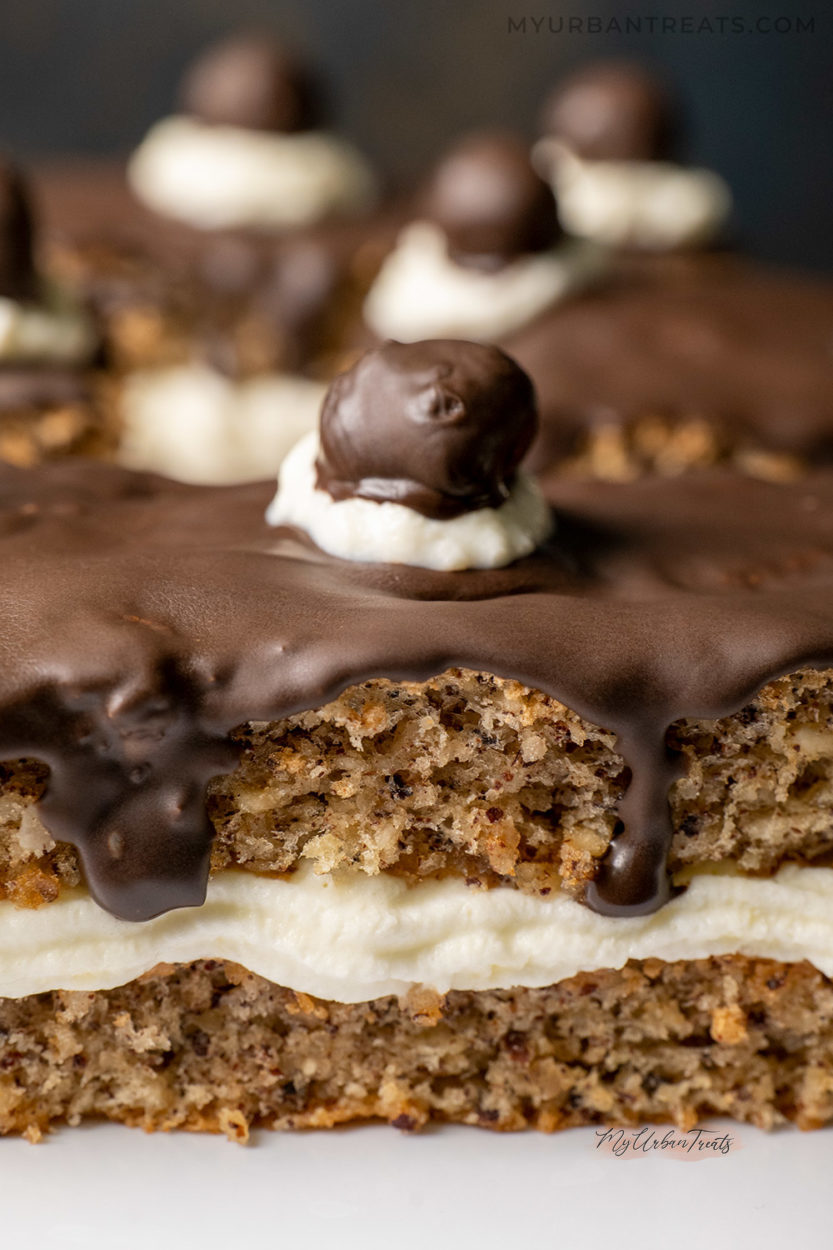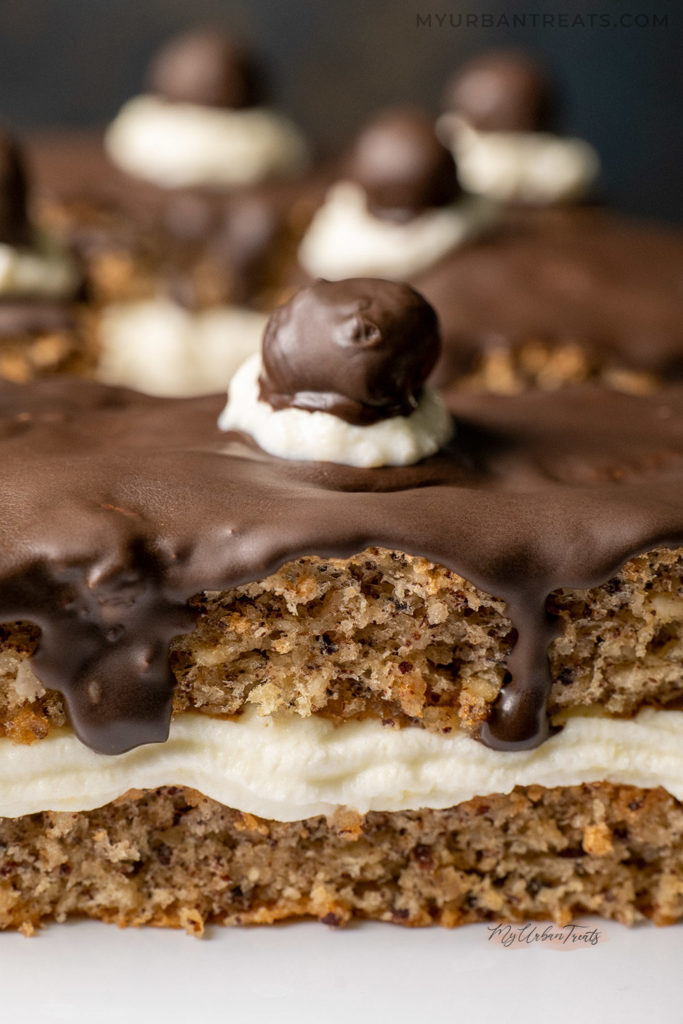 Storing
This cake is best served fresh, you can however store it in the fridge for 3-4 days. Place it in an airtight container to avoid cross contamination and fridge odors. I have tried freezing this cake and while it still tastes great, it's a lot nicer fresh. You can NOT freeze the dough as the eggs will deflate and you will end up with a chewy cake.
If you are looking for more delicious cake recipes, try one of these: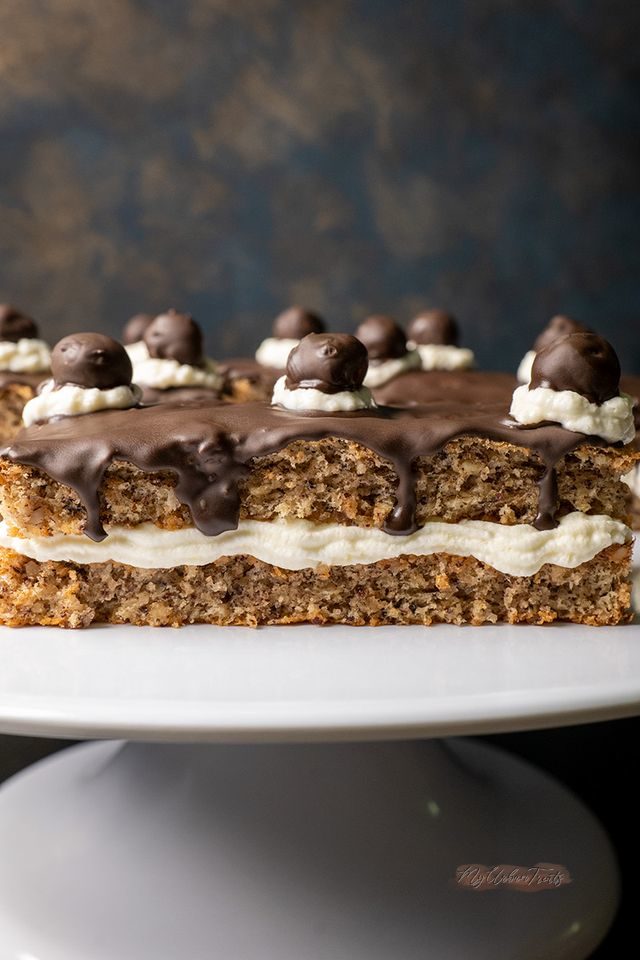 Hazelnut Cake Recipe
A delicious light and fluffy hazelnut sponge cake recipe without flour.
Ingredients
Hazelnut Sponge
6

large

Egg Whites

6

large

Eggs Yolks

1

cup

Crystal Sugar

1

tsp

Ground Cinnamon

1

pinch

Salt

1

tsp

Lemon Juice

1⅔

cups

Hazelnuts

Ground

¾

cup

Dark Chocolate

Ground

1

tbsp

Butter

to grease
Chocolate Ganache
2

cups

Dark Chocolate

1/8

cup

Coconut Oil
Instructions
Hazelnut Sponge
Combine the egg yolks, 2/3 of the sugar and cinnamon in a small mixing bowl. Whisk until light and fluffy. Blend in the lemon juice and set aside. Whisk the Egg whites with the remaining sugar and a pinch of salt to stiff peaks. Pour the egg yolks over the egg whites along with the ground chocolate and ground hazelnuts. Carefully fold using a wooden or silicone spatula. Line a baking tray with parchment paper and grease it with butter or margarine.

Pour the batter on the tray and spread evenly.

bake at 200 C without convection for about 25 to 35 minutes or until golden brown. Set on a cooling rack and remove the baking paper. If you have difficulties removing the baking paper, use a long knife and cut along the edge of the peel as you remove the it. Cool to room temperature
Vanilla Heavy Cream
Combine the heavy cream, sugar and vanilla sugar and whip to stiff peaks. Apply a thick layer using a piping bag. If you don't have a piping bag, simply spoon on and level.
Chocolate Ganache
set 1/5 of the chocolate aside and melt the remaining chocolate with the coconut oil over a slow simmering bermarie. Once fully dissolved take off the heat and add the remaining chocolate. Stir until dissolved. Dip the decorative hazelnuts in chocolate and set on a piece of parchment paper to dry.

Using a tablespoon, drip 1-2 full tablespoons over each slice. Allow the sides to drip a little. Once the chocolate has set, pipe three diagonal spots on each slice and top with chocolate dipped hazelnuts. Enjoy as fresh as possible.
Notes
You can add heavy cream to the chocolate ganache to make it soft otherwise it will remain brittle. 
Nutrition
Serving:
100
g
|
Calories:
857
kcal
|
Carbohydrates:
62
g
|
Protein:
15
g
|
Fat:
63
g
|
Saturated Fat:
27
g
|
Cholesterol:
181
mg
|
Sodium:
76
mg
|
Potassium:
720
mg
|
Fiber:
10
g
|
Sugar:
43
g
|
Vitamin A:
645
IU
|
Vitamin C:
2
mg
|
Calcium:
122
mg
|
Iron:
9
mg