Layali Lubnana in English literally translates to Lebanese Nights. This traditional milk, sugar and semolina pudding is flavoured with rose or orange blossom water and topped with Ashta Cream and toasted chopped pistachios. A real taste of Lebanese cuisine that is easy to prepare and just tastes absolutely amazing.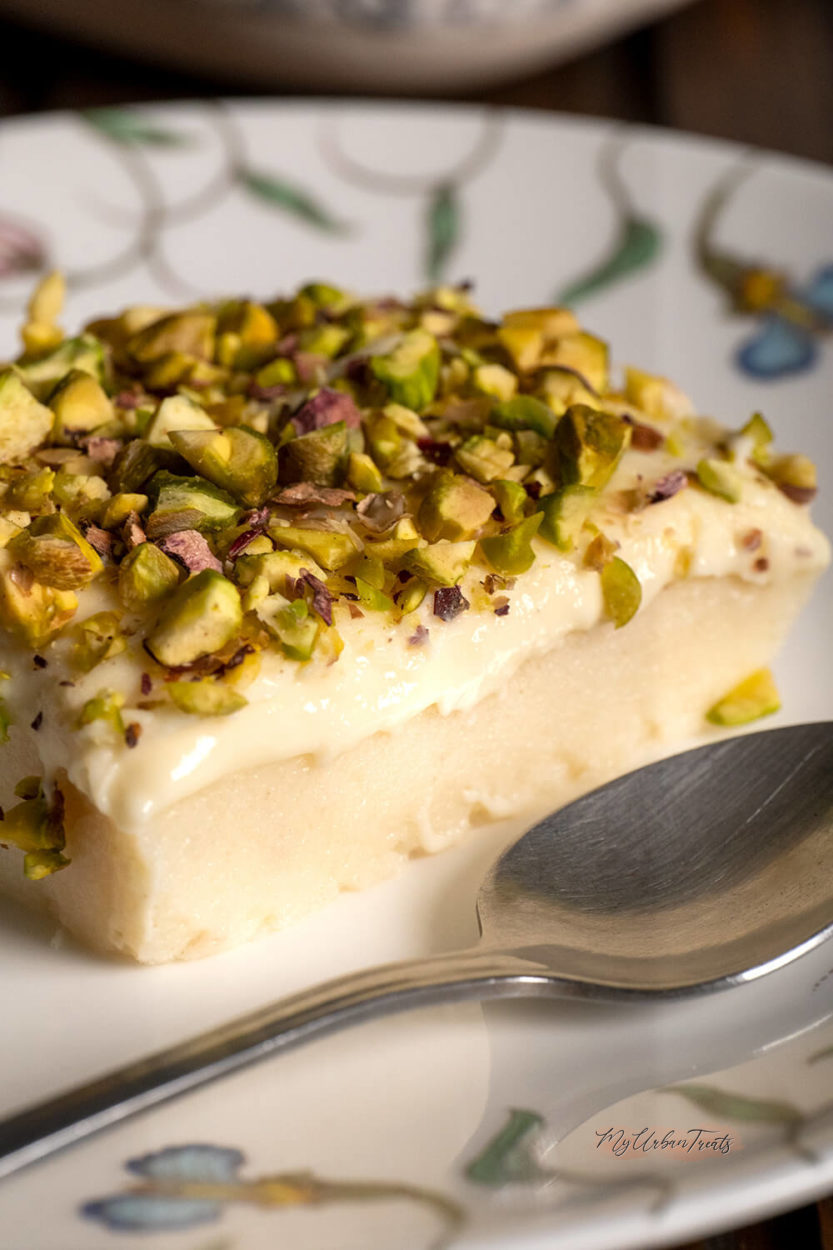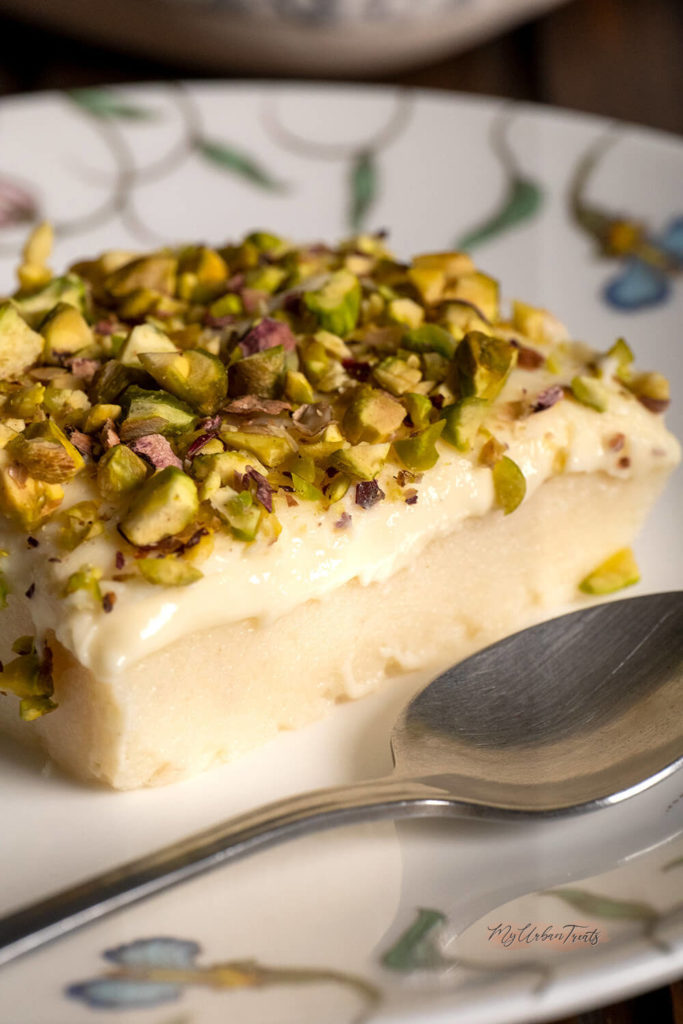 Layali Lubnan is also known as Madlouah, Madlouka and Madlouqa which translates to "spoiled". I couldn't find out why exactly it is called that but if you know please make sure you leave a note in the comment so I can update the recipe with more details.
UPDATE: One of our readers had some great insight in to the origin of the desserts name. Here is what Nat said (original in comments)
Madlouka in Arabic means 'spilled' and in some instances could mean 'poured'. I think this desert is called 'madlouka' because it's first layer (the semolina cream) has the consistency of a thick liquid which obviously can be poured. It is true (colloquially) madlouk or madlouka is used to refer to a 'spoiled' person or more accurately to a person who lacks composure but I don't believe the desert takes its name from this meaning of the word.

Nat
Before perfecting this recipe I asked many of my Lebanese friends what their experience was growing up and eating this delicious dessert. The response I got from each and everyone of them was a sigh of nostalgia followed by drooling and a longing for some Lebanese desserts. And once you taste it, you will understand exactly why that is.
How is it made?
Lebanese Nights Dessert is a three layer pudding. The base, is a semolina pudding made with milk and sugar. This is traditionally flavoured with rose blossom water or orange blossom water. Orange and Rose Water are very prominent in Lebanese cuisine. Which one of the two you want to use is really up to your own preference. Some people also make this dessert with a mix of both flavours. Living in Cyprus I found that a lot of Cypriot desserts have a Lebanese influence and use blossom water for flavouring. Lebanon after all, is only a 40 minute short flight away.
The second layer of Madlouka is an Arabic style heavy cream called Ashta. This has a similar flavour and consistency of clotted cream. Ashta cream is made by simmering whipping cream with milk, flour, corn starch and granulated sugar. You can also add the rose or orange water to Ashta cream but careful, you don't want to overpower the overall flavour.
The last layer is made of roughly chopped and lightly toasted pistachios. Pistachios are also very prominent in Lebanese desserts, dishes such as Mafroukeh (Truffles) Maamoul Cookies and Shabiyat all contain pistachios for flavouring and texture.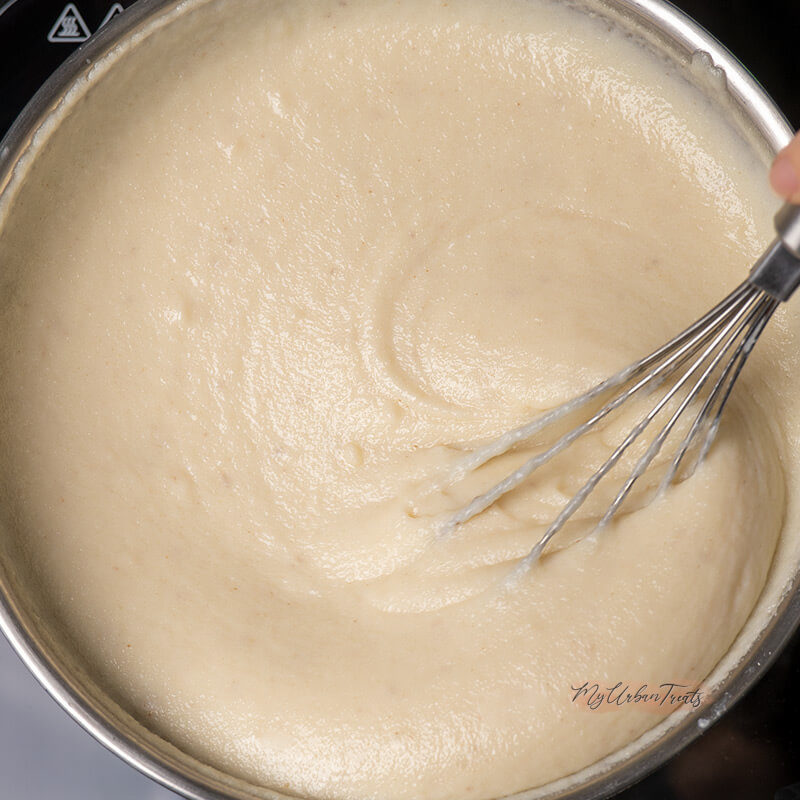 Ingredients for Layali Lubnan
This recipe doesn't require a lot of ingredients, and its very possible that most of them area already in your pantry. So lets break it in to ingredients by dessert layer.
Base Layer
2 Litres or 8 Cups of whole milk or full fat milk are the basis of this dessert. You can go with semi skimmed if you want to lower the fat content a little. You wont even feel the difference in the final dish.
100 grams or 1 Cup Coarse Semolina will give it its texture. Semolina is high in protein and fibre so a good ingredient in any meal.
150 grams or 1/2 Cup of Crystal Sugar
2 -3 Tablespoons of Rose or Orange Blossom Water for the traditional flavour.
Ashta Cream Layer
1 Cup Heavy Whipping Cream
1/2 Whole Milk (works with skimmed milk too)
2 Tablespoons Al-Purpose Flour
2 Tablespoons Corn Starch
2 Teaspoon Sugar
1-2 Tablespoons of Rose or Orange Blossom Water
Topping
Roughly chop some toasted pistachios and spread over the top, voila.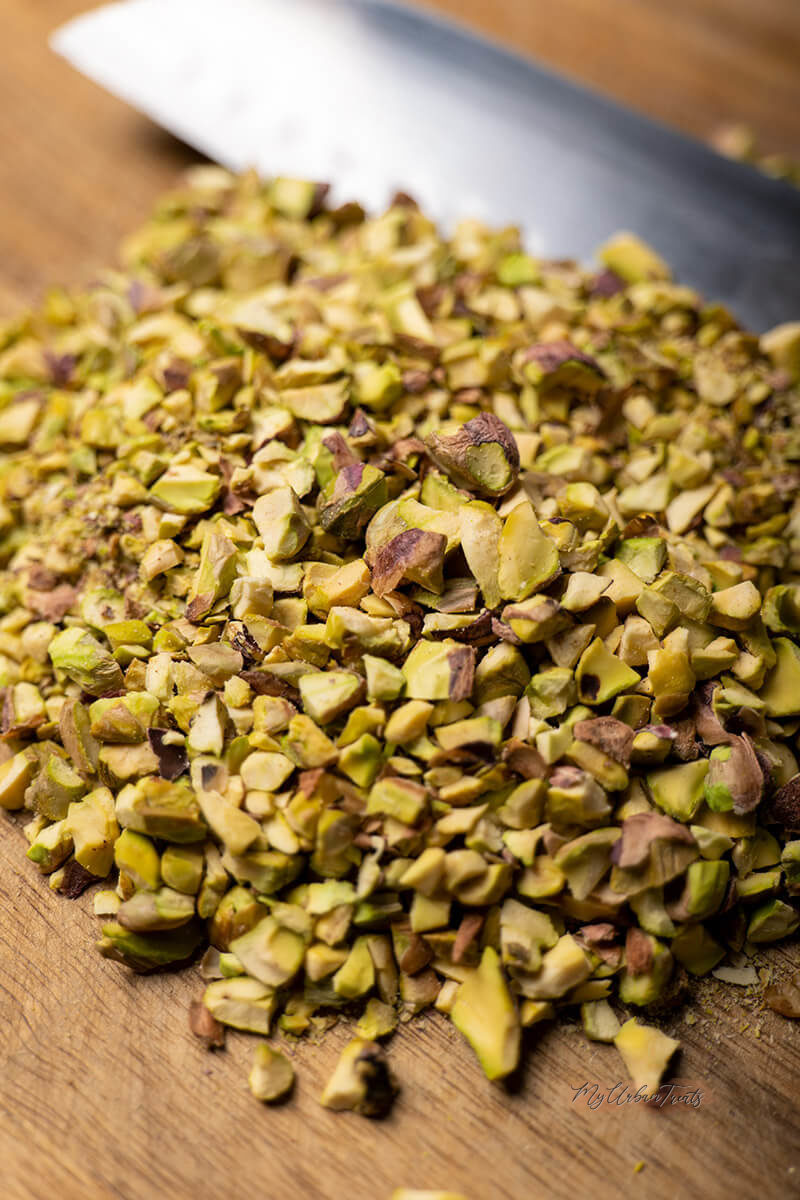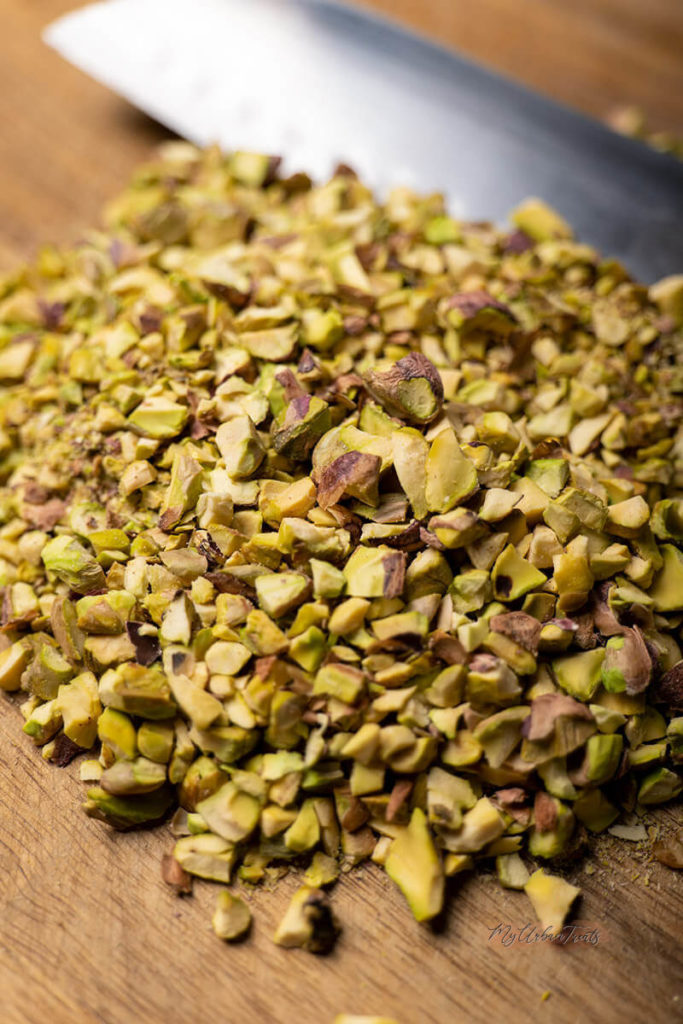 Sugar Syrup
Traditionally this Arabic dessert is topped with a sweet sugar syrup, personally I leave it out because it is sweet enough without the added sugar. If you want to keep it authentic though, here is the recipe for the syrup. You will need the following ingredients:
2 cups Brown Sugar (or white crystal sugar)
1 cup Water
1 tbsp Rose Water
1 tsp Lemon Juice
Combine all the ingredients in a heavy sauce pan, using a heavy saucepan will give you a more even heat. Thinner saucepans tend to heat in spots. Bring the mixture to a low simmer and cook for a few minutes until the sauce thickens. DONT caramelize it, it will crystalize and set if you do.
Let it cool and serve with the dessert.
Update: 15/05/2021
Today I made some more of this amazing dessert and I had the opportunity to experiment on my syrup recipe. I tested two different types of dark sugar, Light Brown Sugar (Demerara), Dark Brown Sugar (Muscovado). I can honestly say that Dark Brown Muscovado was by far THE BEST flavour. It gave a beautiful aroma to the syrup making this dessert even more amazing. Well worth a try.
Storing Lebanese Nights Dessert
Layali Lubnan can be stored for up to five days in the fridge. But here are some pointers to make it taste fresh for each and every one of those day. First and foremost, cover the pan or dish with cling film or kitchen membrane. Making it airtight is essential to keep moisture in and other smells out.
In the Fridge
Before putting any dessert in the fridge, let it cool completely BUT dont let it sit out for too long. There are two main reasons for this:
Temperatures between 45 and 140 F or 5 C and 60 C promote bacterial growth. So sitting out at those temperatures for more than 2 hrs accelerates bacterial growth.
Warm food in the fridge will warm up the whole fridge and expose other foods to higher temperatures. Most fridges operate below 40F or 4C so anything significantly above that will make the fridge work harder. It will also change the temperature for some time.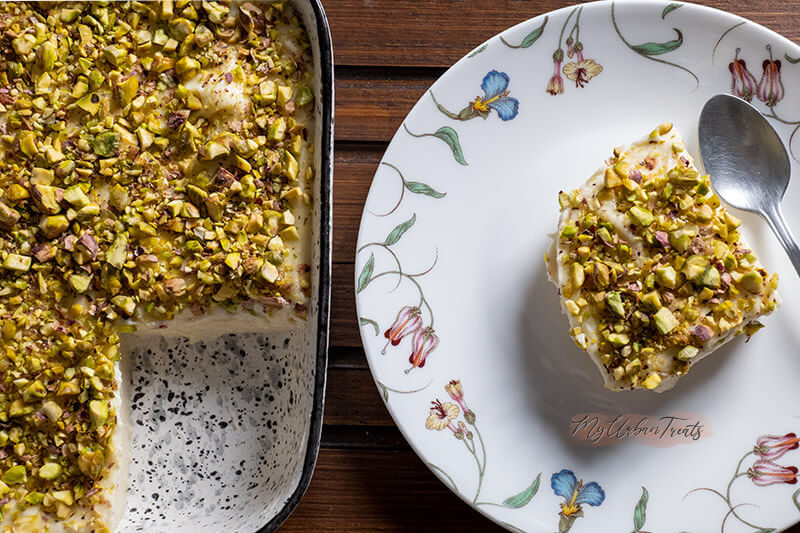 In the Freezer
If you want to freeze Layali Lubnan, pack it in a freeze safe and airtight container before placing it in the freezer. The safest way to thaw any food is in the fridge and NOT at room temperature. So just move it from the freezer to the fridge, it will take about 24hrs to thaw. That being said, I have often thawed desserts at room temperature and I had no side effects to date, who wants to wait 24hrs for a sweet treat after all right ???
The history of Layali Lubnan
I have spent a good amount of research time to find when this delicious dessert was originally made. While I have not been able to trace the exact roots I found direct similarities with other Semolina Puddings in the middle east, Greece and Cyprus. Semolina is made out of Durum Wheat, and Durum Wheat originates from the middle east, so its no surprise that a lot of Arabic desserts contain semolina.
Additional flavouring such as Mastic, Pistachios and Rose water give the pudding its traditional Lebanese flavour.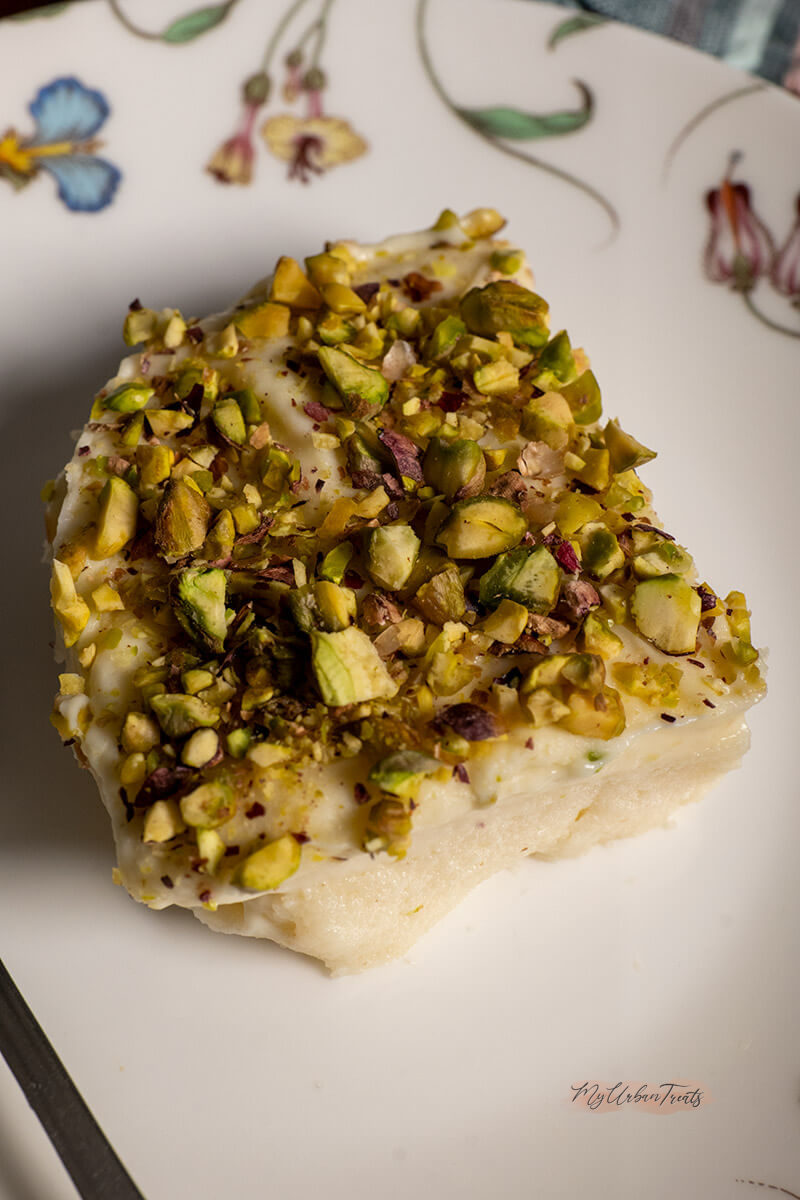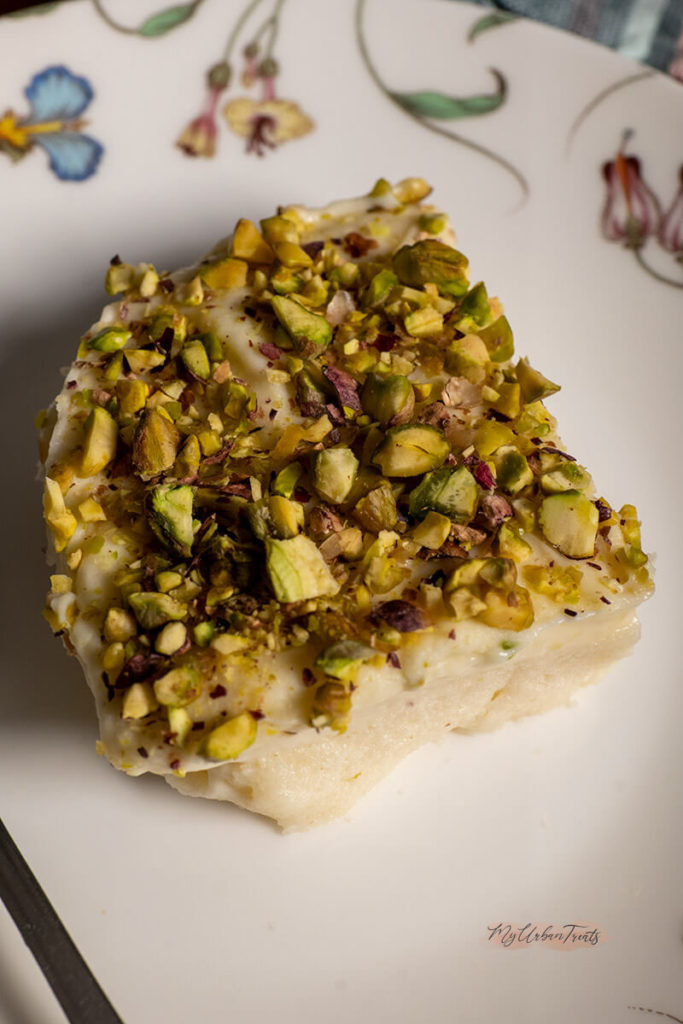 My own twist (Optional)
While working on this recipe I came up with two modifications from the traditional method. If you are going for the traditional recipe, don't add these steps. Both steps are optional and can be added individually or combined.
Philo dough crunches are a great addition between the layer of semolina and Ashta cream. Its really easy to add too, simply bake some ready phyllo dough sheets until they are golden brown and crispy. Now break them in to small flakes, after the semolina base has been spread and set, add a layer of phyllo leaves. You will need to be careful adding the cream as Phyllo dough is not very "sticky". The best way is to spoon blobs of Ashta cream evenly over the phyllo dough until the whole surface is covered. Then use the back of a spoon and carefully spread it across the cream to straighten it.
I also made a Biscuit Crumble bottom was DELICIOUS. Its basically an Arabic style cheesecake (without cream cheese). For this version I used 250 grams of digestive biscuits and added 3 table spoons of butter and a quarter cup of sugar. Blend it all in a food processor and pack it in the base of spring form. Then just add the remaining steps of the recipe on top of the biscuit base.
Tips & Tricks
Making Arabic semolina dessert is very easy but here are some tips & tricks to ensure your success.
Let it cool before you cut and serve it. this is a very important tip. It takes about 4-5 hours for Lebanese Nights to set properly so don't rush. This will also allow it to absorb all the flavours and bloom properly.
Add the rose or orange bloom water as last ingredient of the base. This will avoid any curdling during the cooking process
Seal airtight in the fridge so it doesn't dry out and stays as fresh as possible.
Toast the pistachios for a few minutes to bring out all the flavour and give it a bit of a toasted flavour.
The last one is more a note and not a tip or trick. This is a LARGE portion of dessert. 8 Cups or 2 Litres of milk make a big amount of madlouka, around 1 and 1/2 large Pyrex dishes. If you want to fill one large Pyrex go with 2/3 of this recipe.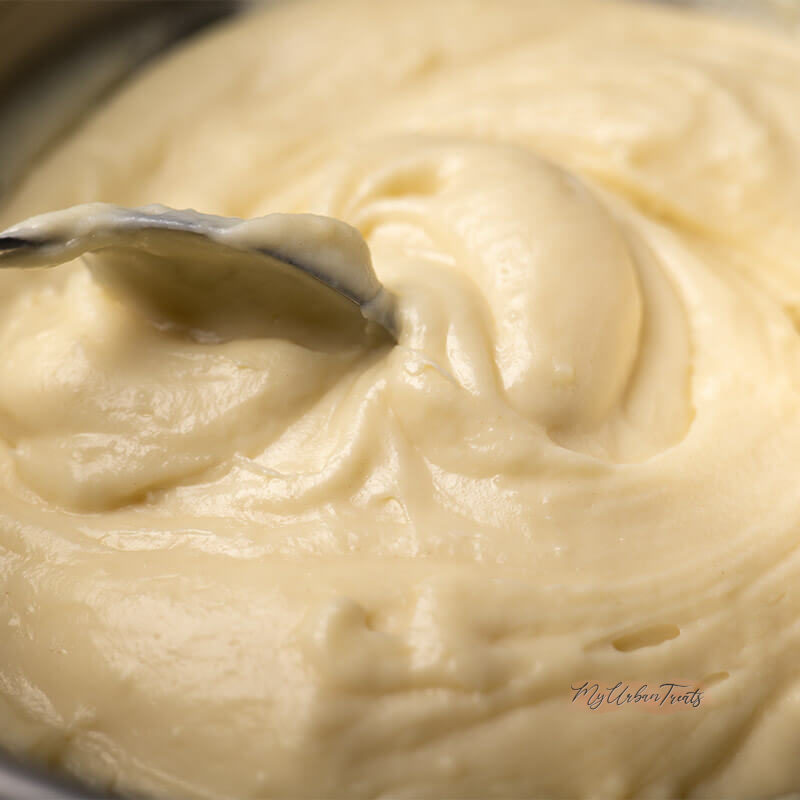 So now that you know all the ins/out of making this delicious Lebanese dish, grab the ingredients and get started. If you have any questions, comments or corrections make sure you leave a comment so that all readers can benefit from it.
If you want to try some other dessert recipes, check out one of these: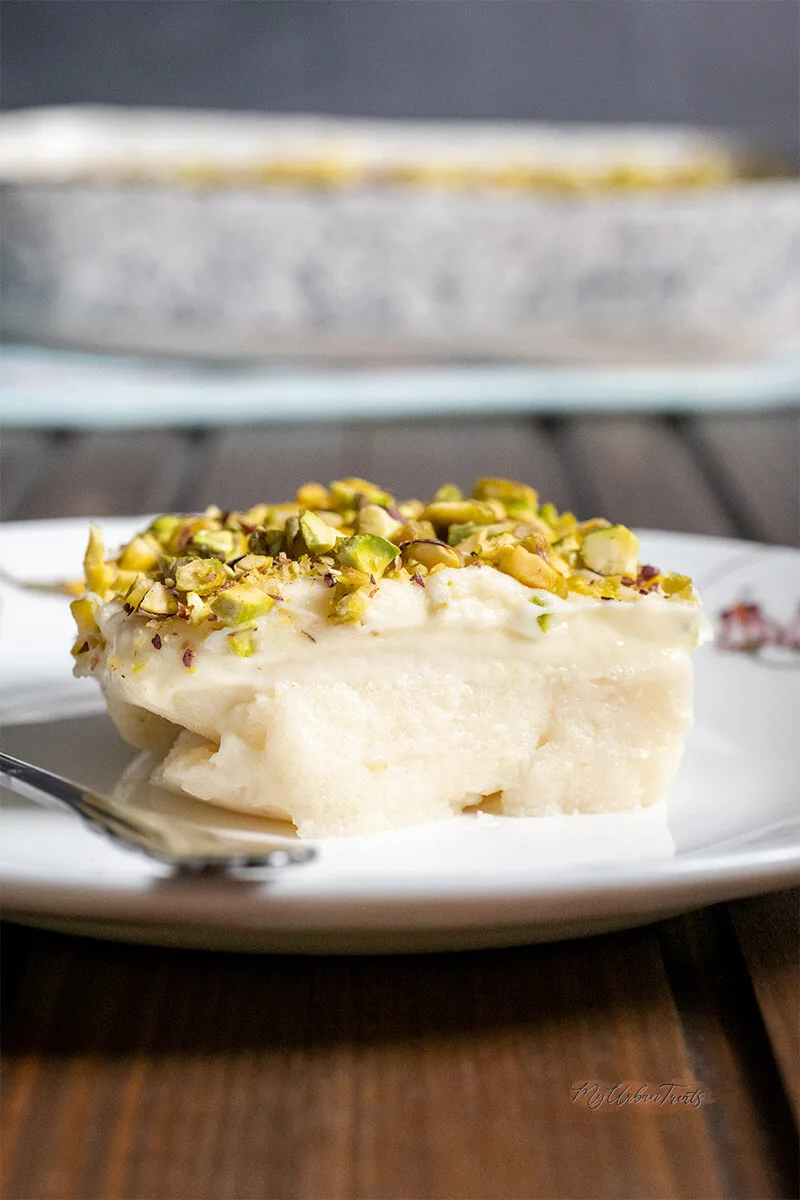 Layali Lubnan – Lebanese Nights Dessert
Layali Lubnan translates to "Lebanese Nights Dessert" a traditional and DELICIOUS arabic dessert that originates from Lebanon. Layali Lubnan is based on Semolina and Rose or Orange Blossom Water. Try the modern adaptations in the notes of this recipe.
Ingredients
Base
8

cups

Whole Fat Milk

1

cup

Semolina

1/2

cup

Crystal Sugar

3

tbsp

Rose Water or Orange Blossom Water
Topping
2

cups

Toasted Pistachios
Sugar Syrup
2

cups

Brown Sugar

1

cup

Water

1

tbsp

Rose Water

1

tsp

Lemon Juice
Instructions
Semolina Base
In a heavy sauce pan, add the milk, semolina and sugar. Bring to a simmer and keep stirring until the cream thickens. Make sure you keep stirring to avoid burning the bottom of the pan. As soon as the cream has thickened, turn off the heat and stir in the rose water or orange blossom water. Line a springform or casserole dish with baking paper and pour in the semolina cream. Set aside to cool.
Ashta Cream Layer
In a heavy sauce pan, combine the milk, heavy cream, corn starch and sugar until well dissolved. Turn heat on medium high and simmer while constantly whisking. As soon as the cream thickens take it of the heat. You can now stir in rose or orange blossom water. You can also leave it plain which is my preferred method. Let it cool a little and then spread it over the semolina base.
Toasted Pistachio Layer
Toast two cups of un-salted pistachios only for a few seconds. Using a kitchen knife roughly chop the pistachios and sprinkle evenly over the Ashta Cream layer.
Sugar Syrup
In a clean heavy sauce pan, combine the water, brown sugar and rose or orange blossom water. Note you can use white sugar but I like using brown sugar as it gives some colour and more flavour to the syrup. Bring to boil and let it simmer at a medium high heat for six to seven minutes. Take off the heat and allow to cool before sprinkling over the Layali Lubnan. You can also offer the syrup on the side so that everyone can add as much as they want.
Nutrition
Serving:
120
g
|
Calories:
345
kcal
|
Carbohydrates:
56
g
|
Protein:
7
g
|
Fat:
11
g
|
Saturated Fat:
7
g
|
Cholesterol:
38
mg
|
Sodium:
80
mg
|
Potassium:
272
mg
|
Fiber:
1
g
|
Sugar:
45
g
|
Vitamin A:
490
IU
|
Vitamin C:
1
mg
|
Calcium:
207
mg
|
Iron:
1
mg