My latest recipe brought back a lot of memories from growing up in Vienna. Both my Mom and Grandma always made an amazing Gugelhupf Cake. I fondly remember having a slice of cake with a cup of hot cocoa while watching the Smurfs. So today I am sharing my families Gugelhupf recipe passed down from my mom and grandma.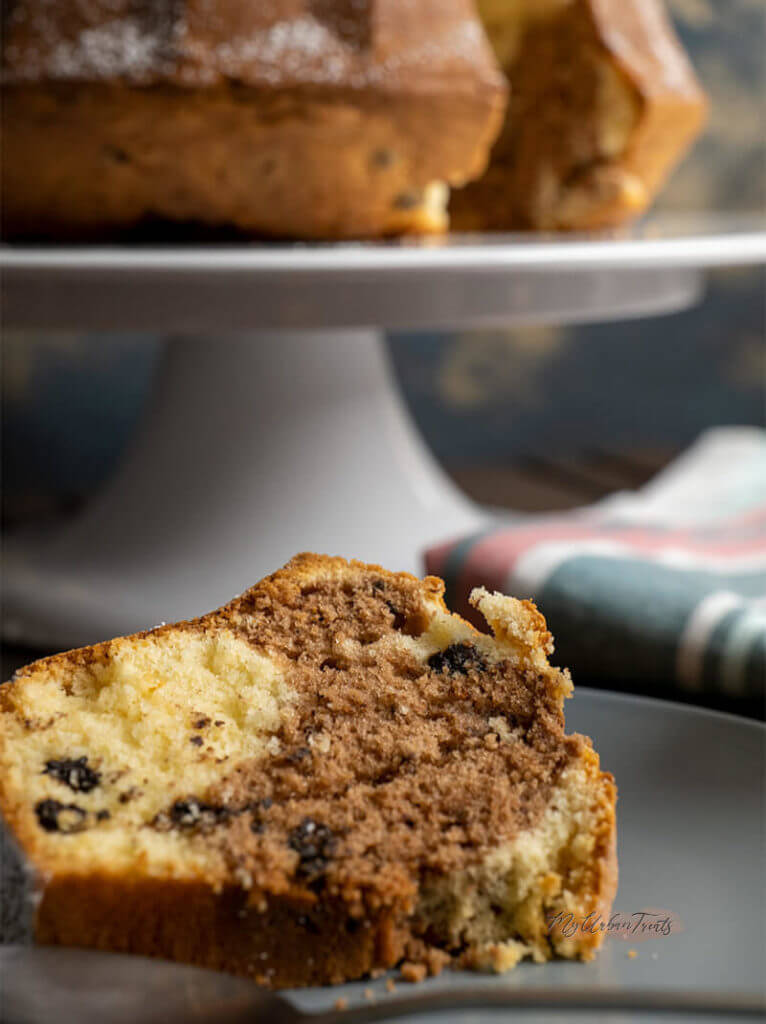 The History of Gugelhopf
The origins of this delicious cake are not exactly clear. We know for sure that Kaiser Franz Joseph popularized it in Austria and Marie Antoinette in France. Looking at the language used in the name, we can place it in the 17th century.
Let's breakdown the meaning of the word Gugelhupf. "Gugel" comes from medieval Germany and is the name for a hood or hat with a long pointing trail. The word hupf means "jump". Historians believe the name was coined due to the elongated shape of the cake form and the quick growth of the yeast cake in the oven.
In Vienna, we have a very similar word called Gurgle. But the meaning is very different. Gurgel means throat. So as kids it was a common joke that the cake is so good, it jumps into your throat thus Gugelhupf. But that was just a joke 🙂
This recipe is not unique to Germany or Austria. Many central European countries have their own variation of Gugelhupf. In France it is known as Kouglof or Alsatian Brioche. In Hungary, it is known as Kuglof and is often filled with sweet poppy or nut pockets.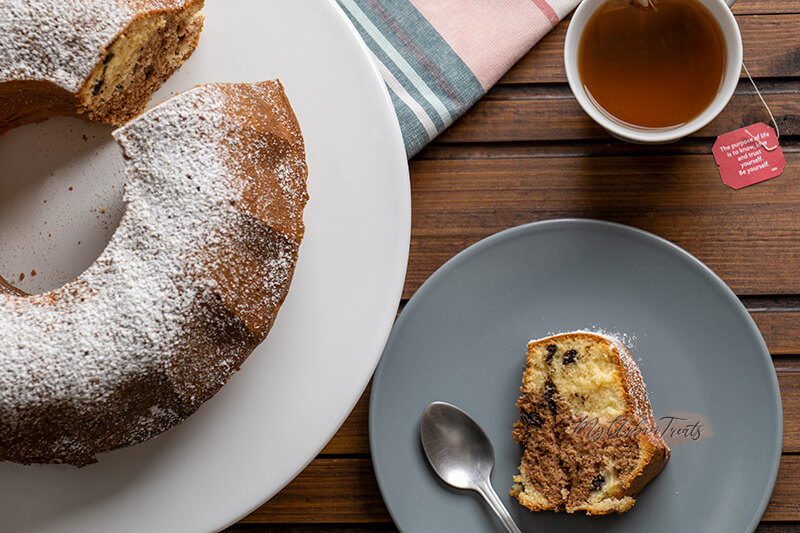 In some variations, the recipe is made with yeast dough. This is believed to be the original medieval recipe. It is also said to have contained rosewater flavouring and almonds. Today we are making my family recipe which doesn't require yeast and has no raisins (because who likes raisins in cake right? :D)
Ingredients and Equipment
The main ingredients of this traditional Bundt cake are Butter, Icing Sugar, eggs and flour. Instead of yeast our raising agent will be baking powder. Both yeast and baking powder release carbon dioxide during baking which creates bubbles that make dough light and fluffy. While yeast makes a big difference in bread dough, this cake batter works just as well with baking powder. Plus you don't have big resting periods, and the outcome is not affected by temperature. Other ingredients for flavouring include, vanilla extract, lemon zest and a bit of milk.
Unsalted Butter (room temperature)
Icing Sugar
Large Eggs
All-Purpose Flour
Baking Powder (instead of yeast)
Lemon Zest
Vanilla Extract
Milk
Gugelhupf Cake Pan
A Gugelhupf cake pan is basically a smaller and taller Bundt cake pan. Bundt cake pans work perfectly well for this recipe. You don't need to go out of your way and buy an authentic mould unless you really need it.
How to make Gugelhupf
This recipe is really beyond easy. Start by preparing your ingredients. Separate your egg yolks and egg whites. Now using a hand or stand mixer, cream the butter with the egg yolks. When they are light and fluffy, whisk in the lemon zest, vanilla extract and Milk. Combine the flour with the baking powder before whisking it in to the butter blend.
Next we will prepare the egg whites. By whisking them in to stiff peaks we introduce even more bubbles in to the batter. Set the butter mix batter aside and clean your mixing bowl well. Egg whites whisk best in clean bowl with no grease or fat residue. You can also add a little bit of salt which will help the egg whites to foam even better.
Whisk until you get stiff peaks. Now fold the egg whites into the butter batter a few tablespoons a time. You are best off using a wooden or rubber spatula as that will leave the egg white bubbles in tact. Don't over mix but blend well.
Separate a little less than half the batter in a mixing bowl, and carefully fold in the cocoa powder.
Now butter your Bundt or Gugelhupf pan and add a little bit of flour. Shake it around until the whole pan is well covered and then empty any excess flour. Pour half of the batter that doesn't have cocoa in to the pan and spread a little with the back of a spoon. Now add the cocoa batter and top with the remaining plain batter. Using a wooden skewer or the back of a spoon, move through the cake in swirly motion. This will create the marble look. Bake for 45 to 55 minutes at 175 C or 345 F.
To test if the cake is ready, poke it with a wooden skewer. If it comes out clean the cake is ready. Sprinkle some icing sugar on top and the Gugelhupf is ready.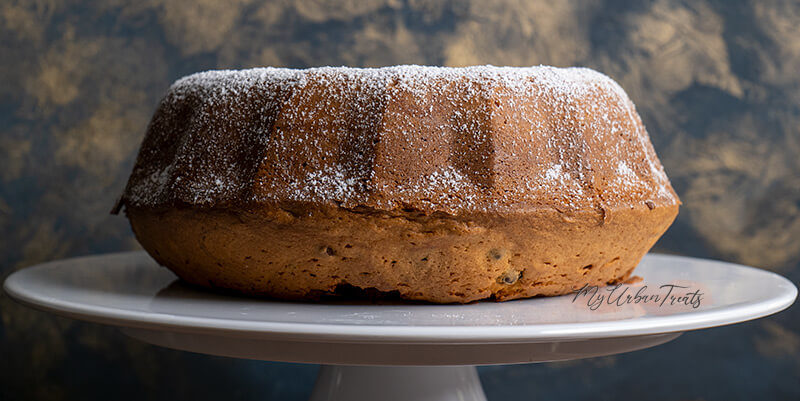 Other Variations
You can use this same base recipe to make some other flavours of Gugelhupf. One of my favourites is a lemon syrup Gugelhupf. Its made in a very similar way but we omit the chocolate and instead add some lemon zest and limoncello. I also make some sugar icing syrup and soak the cake before it's cooled. Let me know if you want the Lemon Gugelhupf Recipe and ill bake it and post it in detail.
More great Austrian Desserts
If you enjoyed this recipe make sure you check out my other austrian desserts here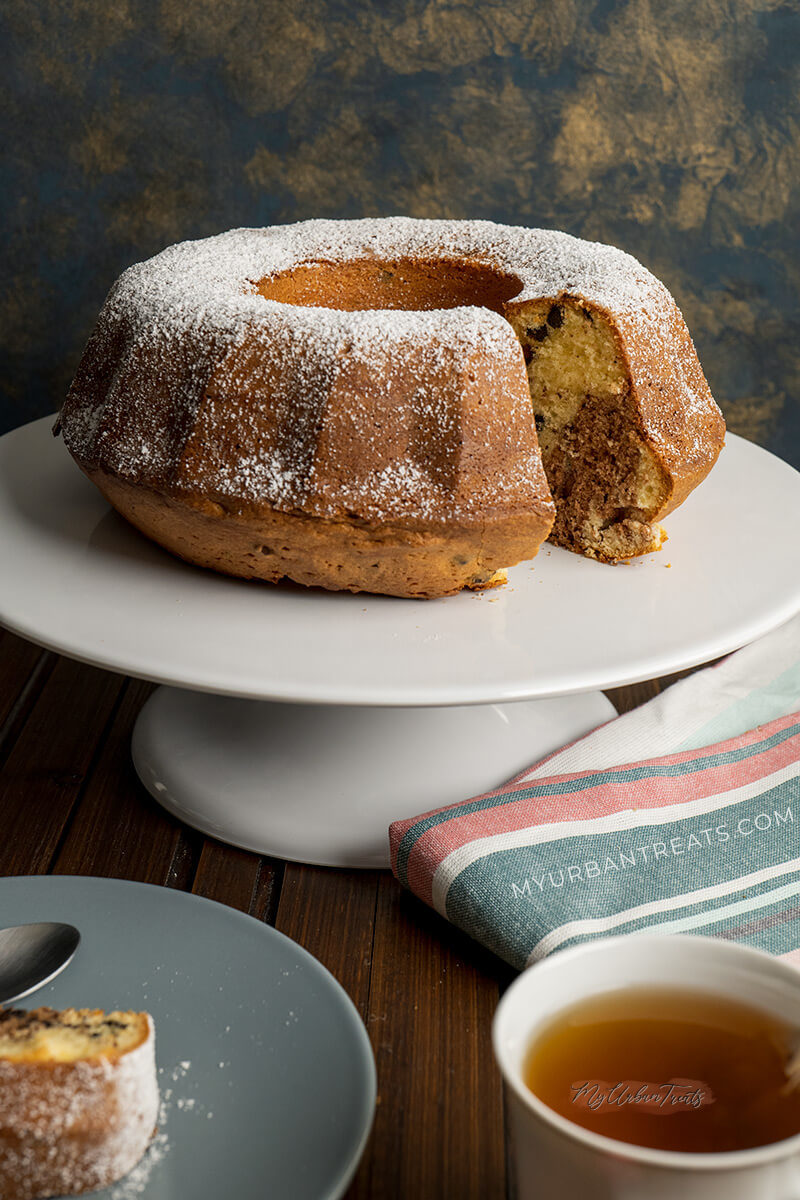 Gugelhupf Cake
A traditional Austrian bundt cake made with
Ingredients
2 ¾

Cups

All-purpose flour

2

Cups

Icing Sugar

1

Cup

Unsalted Butter

4

Large

Egg

seperated

1/2

tsp

Lemon Zest

1/2

Cup

Milk

1

tsp

Vanilla Extract

1

tsp

Baking Powder

¾

Cup

Chocolate Chips

small

3

Tsp

Cocoa Powder
Instructions
The first step is to cream the butter with the egg yolks and icing sugar until creamy, light and fluffy.

Add in the flour, lemon zest, Vanilla Extract and milk. Whisk until well combined.

Combine the flour and baking soda and give it a whisk to combine. How whisk in to the wet ingredients a few tablespoons a time until combined and creamy. Don't over mix. Fold in the Chocolate Chips

In a clean mixing bowl, whip the egg whites until stiff peaks form. Now carefully blend them in to the batter using a rubber spatula.

For the chocolate marble, separate a little less than 1/2 the batter in a separate bowl. Sift in the cocoa powder and fold with a rubber spatula until no dry powder is left.

Butter the Gugelhupf Pan and dust with flour, pour out any excess flour.

Layer the cake mold with 1/2 of the white batter. Even out with the back of a tablespoon. Now add all the cocoa batter and top with the remaining white batter. Using a wooden skewer or the back of a spoon, run through the batter in a wavey form to create the marble effect.

Bake in a preheated oven at 175 C or 345 F for 45 to 55 Minutes. To see if the cake is done, insert a wooden skewer in to the center cake. If it comes out clean the cake is ready.
Notes
Cake Pan Size
This recipe will work with a cake form 10 Inch Bundt Pan / Form.
Nutrition
Serving:
85
g
|
Calories:
350
kcal
|
Carbohydrates:
43
g
|
Protein:
6
g
|
Fat:
18
g
|
Saturated Fat:
10
g
|
Cholesterol:
104
mg
|
Sodium:
72
mg
|
Potassium:
75
mg
|
Fiber:
1
g
|
Sugar:
20
g
|
Vitamin A:
579
IU
|
Vitamin C:
1
mg
|
Calcium:
52
mg
|
Iron:
2
mg