One of my favourite parts of growing up in the centre of Vienna was the rich cuisine and most of all desserts. There where just too many amazing dishes for me to have a favourite dish, but if I had to tell you my favourite Viennese desserts it would be:
Grandma's Topfen Palantschinken (Curd cheese pancakes)
Germknoedel which is a yeast dough steamed and filled with plum marmalade, topped with a poppy seed and icing sugar mixture
Austrian Doughnuts or Faschings Krapfen
Mom's Apfel Strudel
and last but not least, Punschkrapfen
It's funny how long it took me to choose four of my favourite desserts from Vienna. Somehow each and everyone is connected to a memory or a person in my life and leaving anyone out feels just wrong.
Before we get in to the how's of making Punschkrapfen, lets find out how making this delicious dessert came about in the first place.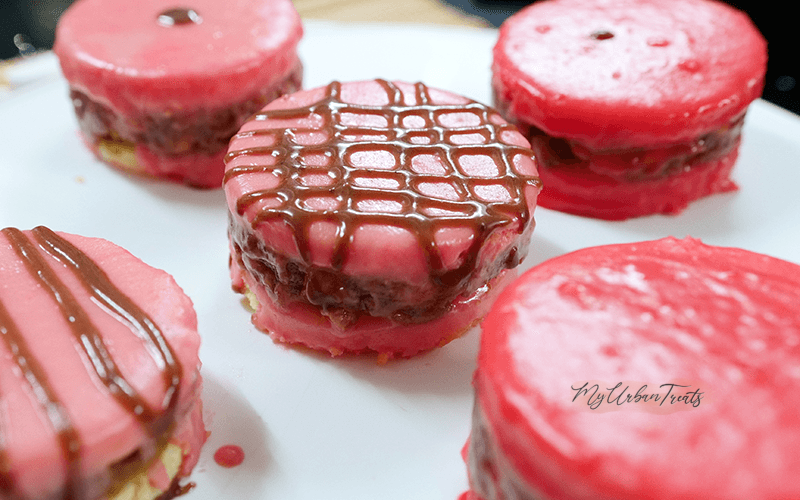 The History of Punschkrapfen
Although we know that the Punschkrapfen has been part of Austrian culture for a couple of hundred years, not much is known of its origin, there are a few stories on how this dessert came about but none with any concrete evidence. Some speculate it was the creation of a baker in the court of the royal Austrian family, others say it was brought to Vienna during the Ottoman sieges.
One thing we know for sure, it is part of the Austrian tradition and anyone visiting Austria should definitely give this delicious treat a try. If you are not going to Austria any time soon, don't worry I have an AMAZING recipe for you at the end of this article.
What is a Punschkrapfen?
Punschkrapfen is basically a spongecake sandwich filled with more sponge cake that has been soaked in Apricot Jam and Grand Mariner. The process is fairly simple. I found there are two ways that work well and will yield you a lot of little fondant squares. You can also make circles as I did last time I made them.
If you make circles you can simple use a round stencil to cut them out of the sheet sponge cake. Crumble up all the remaining cake from between the holes and use if for the filling.
For squares I find it easier to bake four sheets of sponge cake, I use two of them for the top and bottom then crumble up the rest for the filling. I then create a BIG Punschkrapfen and cut it in to squares using a large bread knife.
To apply the fondant, I found that the best way is using a confectionery fork. If you don't have one you can use a normal fork. Make a big bowl of fondant glazing, then poke the un-glazed Punschkrapfen and dunk it. Set on a dripping rack and let it set.
If you want to add additional decorative lines, mix a little cocoa powder in to a separate batch off fondant glaze, just enough to colour it. Then drip using a spoon or confectionery bag.
The Ingredients
Punschkrapfen is simple to make and includes two of Austria's favourite dessert toppings. Apricot Jam and Rum. Other than a little alcohol the ingredients are:
Sponge Cake
Eggs to bind the dessert and give the sponge cake its famous texture, colour and flavour.
All-purpose Flour 00
Powder Sugar
Vanilla Extract (or sugar)
Lemon Zest
Salt
Punch Filling
Cake Leftovers which we will mix with the jam and rum for the moist texture
Apricot Jam
Grand Mariner

If you don't have Grand Mariner than you can use a mixture of 50/50 Fresh Orange Juice and Rum

Cocoa Powder
Fondant Glaze
Powder Sugar
Red Food Colouring for the traditional red glaze
Lemon Juice or Milk
How are they made?
Punschkrapfen are basically a sponge cake sandwich, the top and bottom layers are yellow vanilla sponge cake and the centre are cake leftovers mixed with brandy, orange juice and apricot liqueur. So making them is quite easy, all you have to do is bake thin layers of yellow spongecake. Cut the cake layers in to 1.5″ * 1.5″ or 4 cm * 4 cm squares. Break one of the layers in to parts and mix with cocoa, brandy, orange juice and apricot jam until it becomes a dark paste.
Cover the insides of the sponge layers with apricot jam, then add a thick layer of the paste and sandwich together. Dip in the fondant and set to drip dry. The detailed instructions follow below but this will give you a good idea on how its done. But keep in mind, instead of cutting the little petit fours, you can leave the whole square in one piece and make a punsch cake instead. Just add the glaze on top and voila.
Can you make Punsch Cake with this recipe?
The short answer is yes, you can make punsch cake with the exact same method. You have to change the shaping stage a little. Instead of cutting out the shapes and then making sandwiches, leave two sheets of cake as a whole. You will need a thirds layer for the filling. So either bake thinner layers or make a smaller cake. The correct spelling for this Austrian delight, is Punsch cake and not Punch Cake. Trust me, at no stage are any types of punches involved in this recipe.
Sandwich the layers, trim the edges and cover with fondant. Voila Punsch Cake 🙂
More Austrian Recipes
I am half Austrian and I grew up in Vienna so Austrian desserts are in my blood… quite literally. So its no surprise that my blog has a "few" recipes from my hometown. If you want to check out the Austrian section click here: Austrian Desserts
Here are some of my favourites (warning this list will grow)
Dont forget to leave a comment if you have any questions or suggestions. Also if you have made one of my recipes, make sure you post a photo or tag me on instagram.
Thank you for reading,
Happy Baking 🙂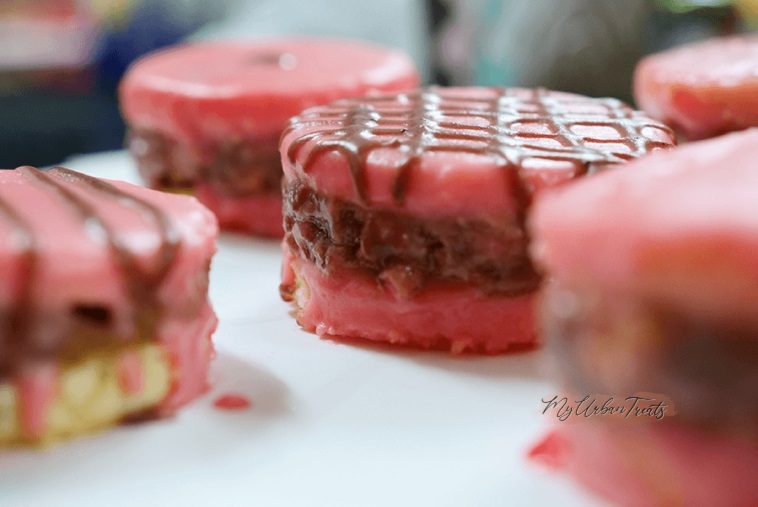 Austrian Punschkrapfen
A traditional Austrian dessert made with eggs, apricot jam and rum or grand mariner. These delicious little treats are also known as fondant squares and are
Ingredients
Filling
2

Sheets

Sponge Cake

1 ⅓

Cups

Apricot Jam

3

tbsp

Grand Mariner

add more to taste

2

tbsp

Cocoa Powder
Fondant Glaze
3

Cups

Powder Sugar

1

drop

Red Food Dye

4

Tbsp

Lemon Juice

Add until you get the correct consistency
Instructions
Sponge Cake
Separate the egg yolks from the egg whites. Whip the egg yolks with the powder sugar and vanilla sugar until light and fluffy and it has a pale colour. Set aside

Line an oven tray with baking paper and spread an even layer approximately 1 centimetre in thickness on the tray. You should get enough for 2 1.2 medium-sized tray's. Bake until light brown (8-10 minutes at 180 C ). Test with a toothpick. Careful this will bake fast as it is very thin. Set aside to cool.

You can now cut out the shapes for the krapfen, I used a round stencil but you can make them in to any shape you like. Once cutting out an equal amount of shapes set them aside to prepare the filling
Filling
Take the sponge leftovers and cut them in to small pieces, place in a mixing bowel and add the Apricot jam and grand mariner (or substitute) and mix until it becomes a thick paste. Add the liquid slowly as you don't want the paste to be come too runny. If you need more liquid you can add orange juice. You should end up with a thick paste. Let it rest in the fridge for 30 minutes.
Assemble
Each punch krapfen is basically a sandwich of sponge / filling / sponge glued together with apricot jam. So take a piece of sponge cutout and apply a thin layer of apricot jam, I used a stencil form to hold it all together and compress it but you can do this by hand.Add a layer of filling and then another sponge (with a thin layer of apricot jam) Voila your un-glazed punch krapfen is ready. Prepare all your sponge filling sandwiches and set aside. Time to prepare the glaze.
Dunk in Glazing
Place the powder sugar in a medium sized bowel and while mixing slowly add lemon juice (or water/milk) until you get a thick but smooth paste. It should be thin enough to dip the krapfen. Add one drop of red food colouring to get the light pink traditional colour.

Dip the krapfen in the Fondant top side first. You can use a fork to slightly hold it in place and avoid getting prints on the top. Set on a dripping grid or baking paper and let the glazing set.

You can now eat your amazing Austrian punch krapfen, although if you have the patience leave them in the fridge overnight as they will taste even better.
Nutrition
Calories:
716
kcal
|
Carbohydrates:
160
g
|
Protein:
11
g
|
Fat:
5
g
|
Saturated Fat:
2
g
|
Cholesterol:
187
mg
|
Sodium:
405
mg
|
Potassium:
194
mg
|
Fiber:
2
g
|
Sugar:
114
g
|
Vitamin A:
355
IU
|
Vitamin C:
7
mg
|
Calcium:
76
mg
|
Iron:
4
mg