Faschingskrapfen, (also known as Berliner Doughnuts) are a traditional German and Austrian sweet yeast dough pastry. The name translates to carnival doughnut. In the past, Faschingskrapfen where only available during the carnival season. Due to their popularity, you can now get them anytime of the year in most bakeries around Austria or Germany.
These fluffy, light doughnuts can be filled apricot jam, vanilla cream, cherry or strawberry jam or even Nutella. This is my Krapfen recipe and here is how you can make it at home.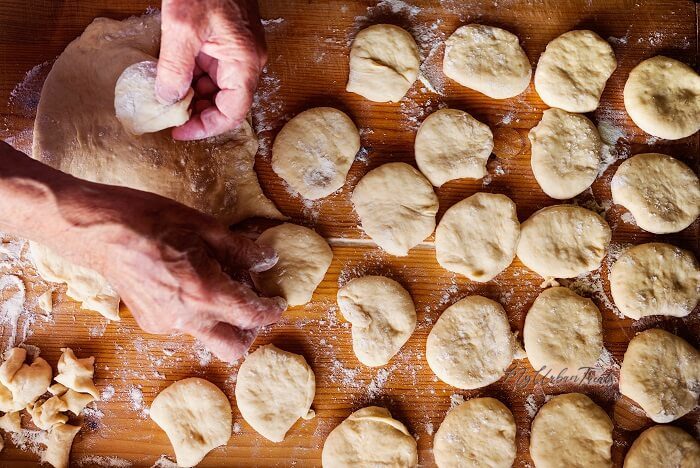 Ingredients
Austrian Krapfen differ from similar recipes in a few ways. The most obviously difference is the added rum. Austrians do like their liquor so not much of a surprise here. But did you know that the alcohol actually slows gluten formation? So not only does this add flavour, it also makes the doughnut that much more fluffy.
Here are the ingredients you will need for Krapfen
4 cups All Purpose Flour
1 tsp Salt
⅓ cup Sugar
⅓ cup Unsalted Butter
1 tsp Vanilla Extract
2 large Egg Whites
1 large Egg Yolk
1 tbsp Rum
1 pack Dry Yeast
⅔ cups of warm Milk but under 40 C so you don't kill the yeast.
1 tsp Lemon Zest
1 tsp Orange Zest
Vegetable Oil for Frying
How to make Krapfen
As with any yeast dough, the preparation involves mixing, proofing, pre-shaping and shaping. These steps are necessary if you want the perfect doughnut shape with the white line on the sides. If you are using a stand mixer, combine the dry ingredients and give them a quick whisk. Then add in the wet ingredients adding the eggs last and knead the dough using a dough hook until well combined. Very Lightly flour your working surface and then form your dough balls.
The best method for shaping doughnuts is as follows, place the dough in the palm of your hand. Press it on the working surface applying some pressure and rub in a circular motion. Slowly release pressure until a perfectly round ball forms. Keep the donut in your palm by forming a cage with your fingers.
Another important factor is the temperature of the frying oil. Too low heat will cause a soggy doughnut while too hot oil will burn the outside and leave the inside raw.
Having an Oil thermometer will really improve your success rate with this recipe, at least the first few times until you get the hand of the right temperature. I found that between 165 and 172 C° or 320 F and 341 F is the sweet spot for a great doughnut.
A trick I have learned from my mom is to put the doughnuts in to the fridge uncovered for a good 10 to 15 minutes. This will make a thin skin over the dough which during the frying will turn in to the perfect golden and crispy exterior. This step is definitely worth taking in this krapfen recipe.
Set the fried krapfen on a plate lined with two paper towels, and allow to absorb any excess oil. Now lightly dust with powder sugar and enjoy.
Filling & Topping Ideas
The traditional recipe is always topped with a dash of confectionery sugar. Modern versions are dunked in sugar glazing or chocolate, you have quite a few options for the filling. Here are some of my favourite doughnut fillings for this recipe.
Custard Cream (My all-time favourite)
Strawberry Jam
Apricot Jam is often used in Austrian desserts
Use your Imagination 🙂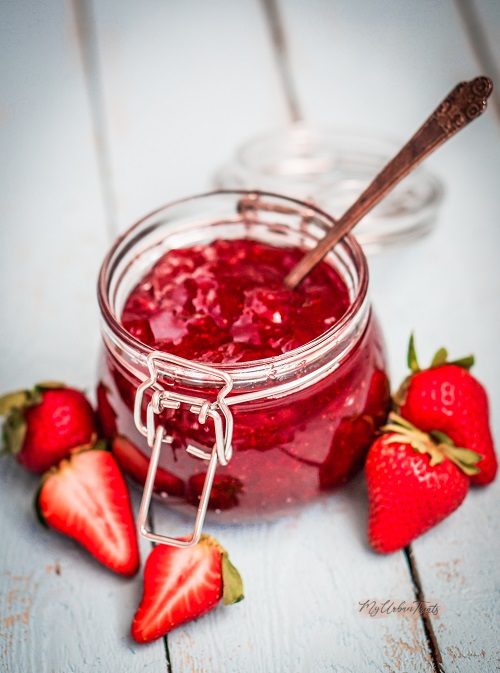 Storing & Freezing
These delicious treats are best enjoyed fresh but you can store them for 4 -5 days. And with these tips and tricks you will ensure that they are as fresh as possible each and every day. First of all, always store in a airtight container. This is important so they don't lose moisture and dont absorb other flavours from the fridge.
You should also line the container with a kitchen paper towel, this will help absorb any excess oil and allows the doughnut to breathe. Direct contact with the container can cause moister to stale and make the doughnut soggy. You can also add an additional layer of kitchen paper towel on the top before sealing the container with its lid.
If you want to freeze krapfen, wrap them individually with clingfilm or kitchen membrane. Then place them in a ziplock freezer bag and freeze. To thaw simply leave out at room temperature for 1-2 hrs.
Last but not least, you can freeze the doughnuts before you fry them, this is best done in the last stage before frying. Place them in a container with a little distance between each doughnut. Now wrap the whole container with kitchen membrane until airtight sealed. Now place in the freezer. To thaw simply leave out for 1-2 hrs at room temperature and then fry as per recipe.
Follow these easy steps and keep your doughnuts nice and fresh.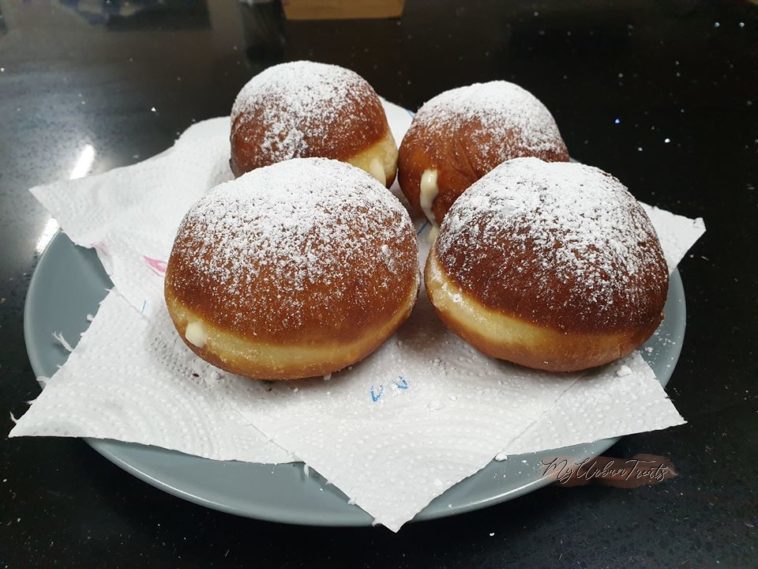 Austrian Doughnuts – Krapfen
This is my favourite Austrian Doughnut recipe, pretty easy to make and everyone will love it
Ingredients
4

cups

All-purpose flour

1

tsp

Salt

⅓

cup

Crystal Sugar

⅓

cup

Butter

1

tsp

Vanilla Extract

2

large

Egg Whites

1

large

Eggs Yolks

1

tbsp

Rum

1

pack

Dry Yeast

⅔

cup

Milk

Must be warm but not hot (under 40c)

1

tsp

Lemon Zest

1

tspp

Orange Zest
Instructions
Mix all ingredients at low speed until well combined then mix for a further 10 minutes at medium speed,Note that the milk should be warm but not above 40 C° as that will kill the yeast. The dough should have a soft consistency (not too firm)

Cover the dough with a kitchen towel and let it rest at room temperature for 30 minutes.

Lightly dust your working area with flour, take the dough out of the mixing bowl and cut it into 12 equal pieces weighing approximately 75 grams each

Now you have to roll the dough into round doughnuts, to get the best shape use the following technique. Flatten one piece of dough slightly using the palm of your hand on your working area. This works best without flour on the surface, a light dusting should suffice for the dough not to stick.

Now put a little pressure on the dough with the palm of your hand and start moving in a circular motion slowly releasing pressure as the dough starts to form in to a round shape. Keep circling as you form a claw around the dough that that will form the perfect ball shape.

Place the individual doughnuts on a kitchen towel, slightly flatten them (not too much) and then cover them with another kitchen towel to rest for another 30-40 Minutes in a warm place, lightly spray the dough with water to avoid it drying out. Check it after 15 minutes and if necessary spray it a little more.

Now heat up your frying oil or fat of choice, any oil will work. The temperature of the oil is critical, it has to be between 165 and 172 degrees. If its too high the outside of your doughnut will be done before the centre is and if its too low the doughnut will be soggy and drenched in oil.

Now here is a trick step, when the doughnuts have grown to a good size put them in the fridge for another 10 minutes without the towel on top. This will create a light crust that will give the dough its golden crispy finish.

If you oil temperature is now at a steady 165 – 172 C° slowly lower your doughnut top side facing down into the oil and cover the top of the pot/fryer. Let it fry for 2 – 2:30 minutes and then turn them around for another 2 – 2:30 minutes on the other side. Place the finished doughnut on a kitchen towel or paper towel to cool.

Now you can add your favourite filling using a filling injector. While the original Austrian doughnut is filled with Vanilla cream, anything from Marmalade to Nutella works.
Nutrition
Serving:
85
g
|
Calories:
237
kcal
|
Carbohydrates:
40
g
|
Protein:
7
g
|
Fat:
5
g
|
Saturated Fat:
1
g
|
Cholesterol:
17
mg
|
Sodium:
211
mg
|
Potassium:
82
mg
|
Fiber:
1
g
|
Sugar:
6
g
|
Vitamin A:
42
IU
|
Vitamin C:
1
mg
|
Calcium:
32
mg
|
Iron:
2
mg