So, last week I baked the a ton of Austrian traditional Vanillekipferl, and this week just in time for Christmas, I made the equivalent Greek Shortbread Cookie called Kourapies. I am not sure if this is exactly how you translate it from Greek to English but it should be in the line of Kourapiedes or Kourampiedes or Kourabiethes. I guess there is no wrong answer here just pick and choose one.
The recipe is from my mom's handwritten cook book, and trust me people she makes the BEST Greek Shortbread Cookies you will ever taste. I was lucky enough for her to let me share the recipe on my urban treats, so here it is.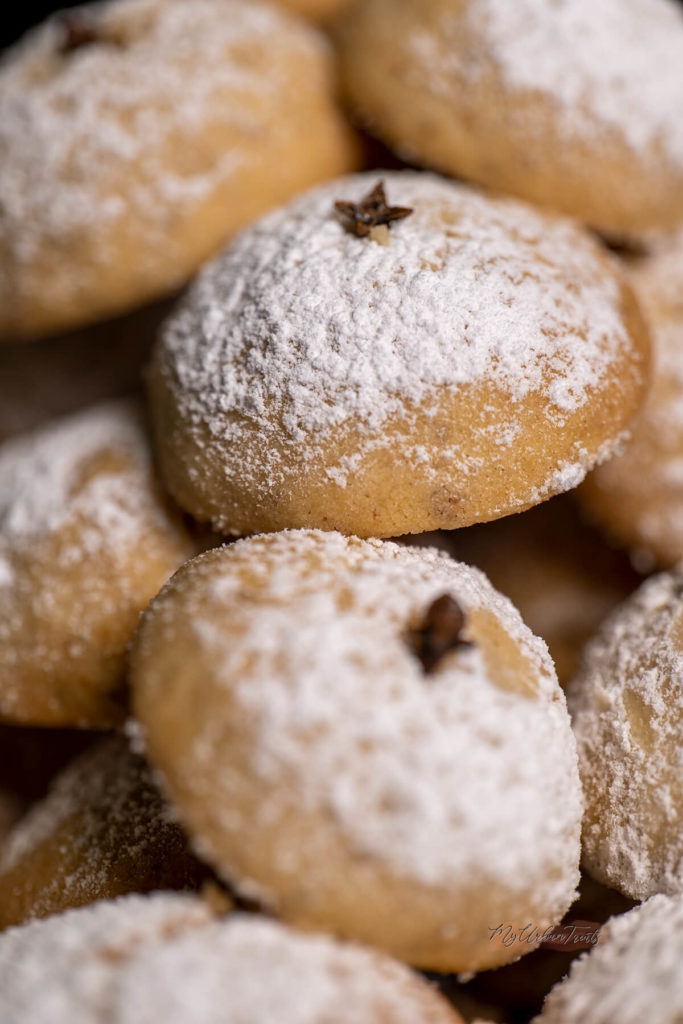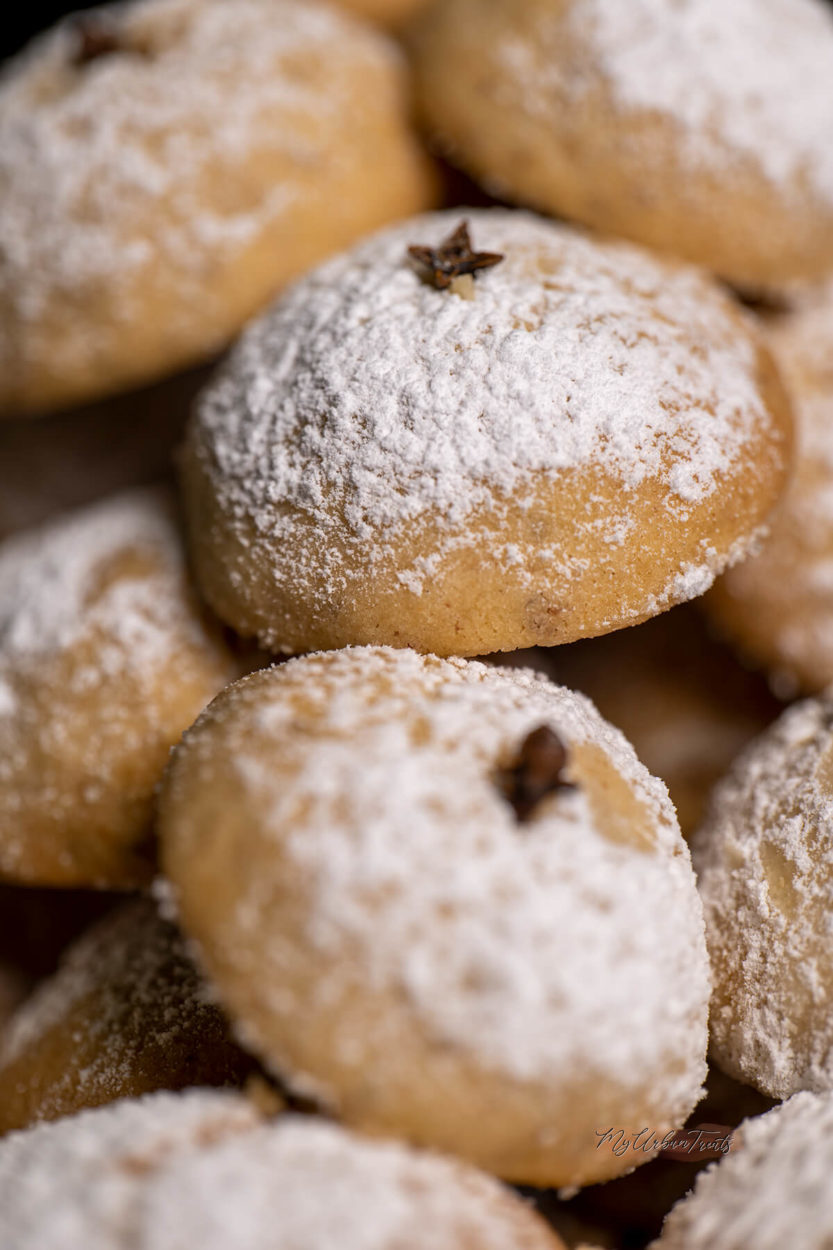 Kourabiethes are crumbly, buttery and a little Crunchy due to the toasted crushed almonds. There is a version of this biscuit that is slightly bigger and stuffed with a crunchy almond paste. While they are very similar, the version with filling is mostly made for weddings in Cyprus and is called "loukoumi"
There is a tradition at Cypriot weddings (and christenings) where visitors are given a "kerastiko" which is a wrapped dessert or sweet. Usually a large almond shortbread cookie. The word "kerastiko" stems from the word "keraso" which means "gift" but usually refers to a food or drink.
Today's recipe however is the Christmas version with toasted almonds and vanilla icing sugar. Here is what you will need: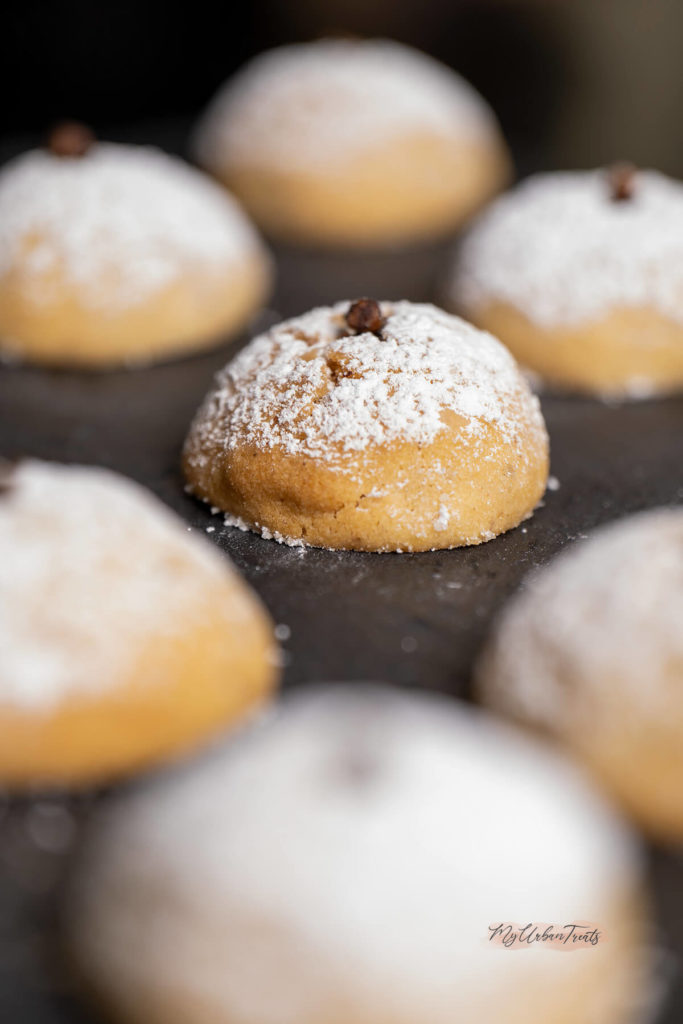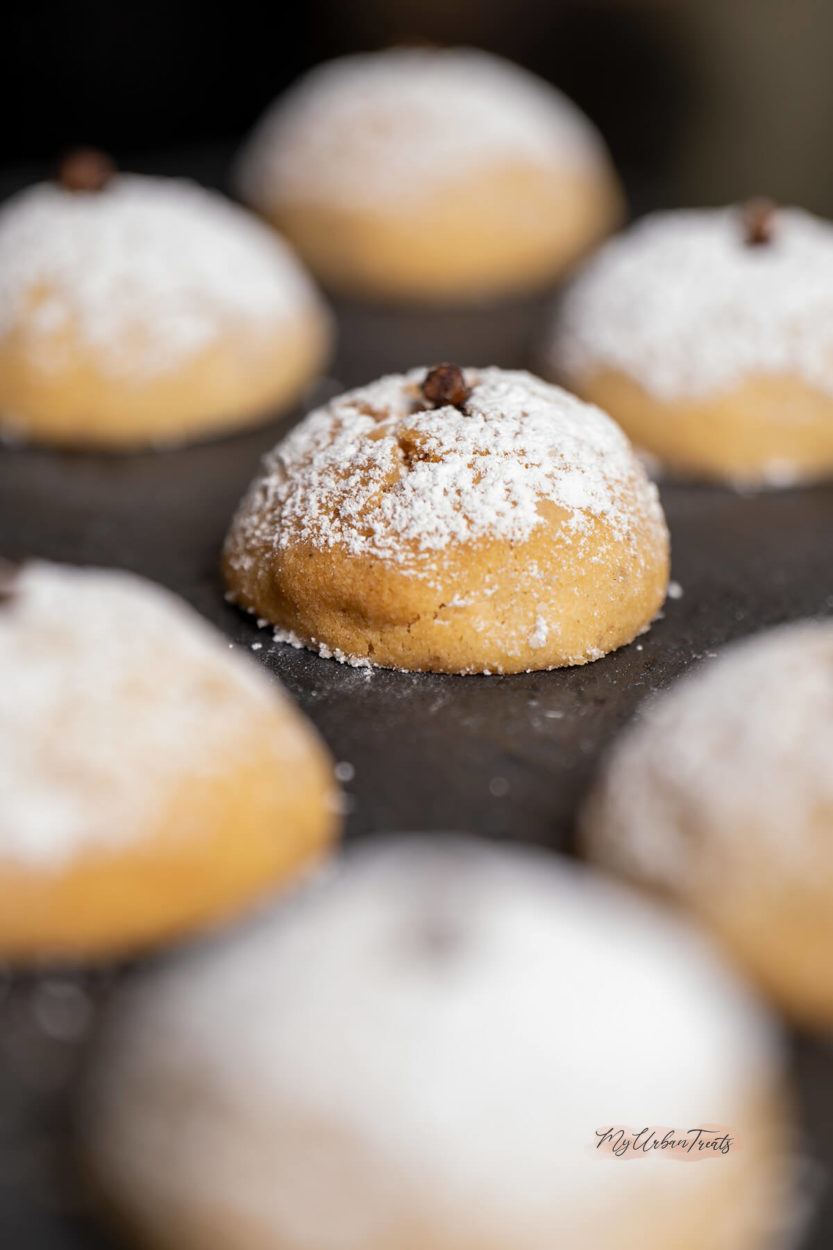 Ingredients
Ingredients for Greek Shortbread Cookies:
175 grams of Vegetable Shortening
200 grams of Unsalted Butter
2 Egg Yolks
1 Cup Powder Sugar
1 Cup Almonds roughly crushed and lightly toasted
1 Tsp Baking Powder
1 Tsp Vanilla Sugar
Rose Water (see below for more info on this)
2-3 Cups of Flour, I add flour slowly until the dough stops sticking but is still smooth. This is usually between 2-3 Cups but depends on all the brands of the ingredients. The texture should be a little tougher than soft butter.
The question I often get from readers and friends is "what is rose water ?" Rose Water is an ingredient often used in Greek, Cypriot and Lebanese cuisine. While its often referred to as rose water, it doesn't actually come from roses, weird right? What we actually refer to as rose water in Cyprus and Greece is Orange Blossom Water also known as "anthonero"
You will find this in almost every Cypriot dessert and to be honest, I don't like it 😀 . I remove it from each and every recipe. Although I have to admit it fits really well in my Madlouka recipe. Now since this is my mom's recipe, I have made a batch with the blossom water and one without. Ill be testing the results on my visitors and friends, ill keep you posted.
Last but not least, you will find that in many pictures the cookie is topped with a clove. While this is indeed the tradition, I hardly see them like this in any bakeries or homes during Christmas. I add cloves because they give the cookie a nice side flavour. Try some with and without and decide for yourself.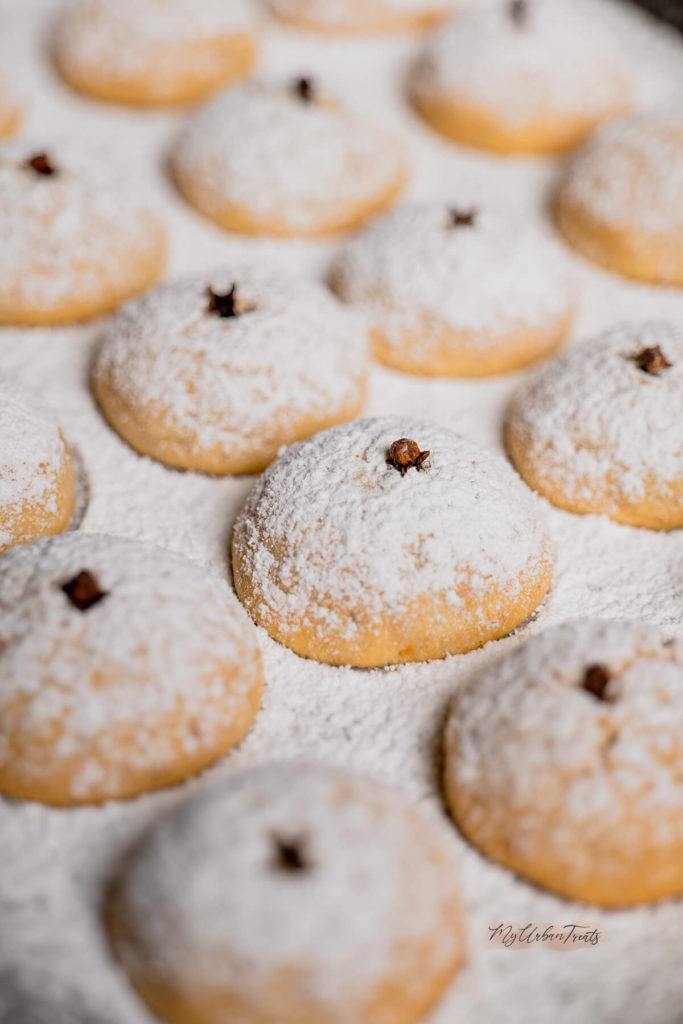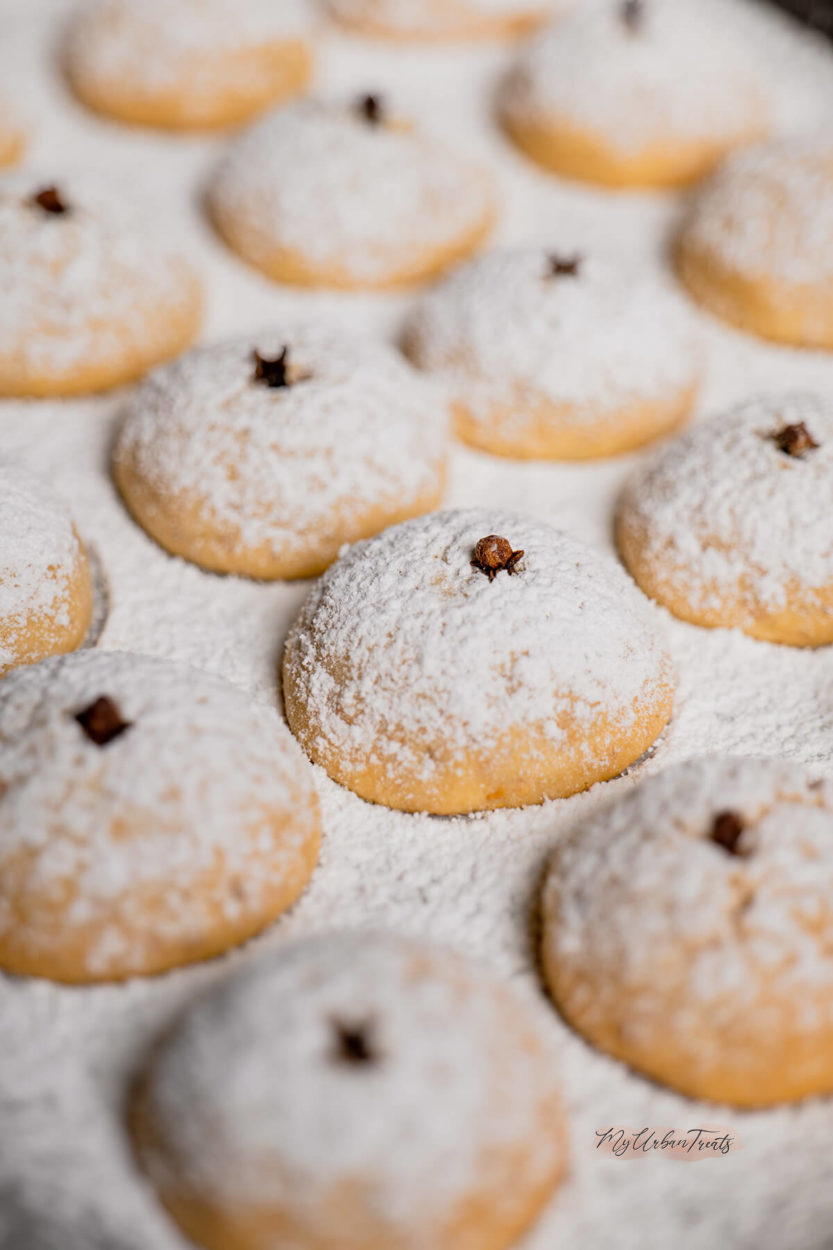 How its done!
Like most shortbread, the process is fairly easy and doesn't need a lot of attention. Since we are working with a large amount of butter, keeping the dough cool is essential for a nice shape and crumbly texture. Here is how its done:
Step 1: Preparation
Making good Greek Shortbread is easy, making GREAT Greek Shortbread requires some extra details and preparations. Our main flavours are Vanilla and Almonds, so to get the best out of our almonds we toast them a little to bring out all the great flavour.
Roughly chop the almonds, spread them on a baking tray and place them in the oven at 175 C or 345 F for a few minutes. Careful don't burn them. Set them aside and let them cool completely before using them in the recipe.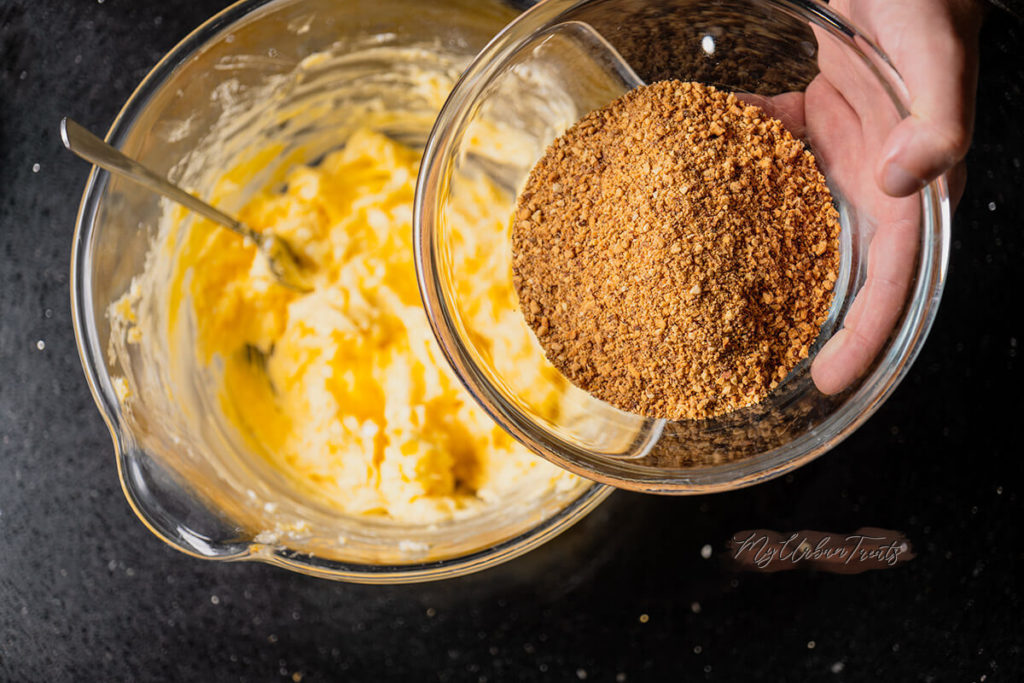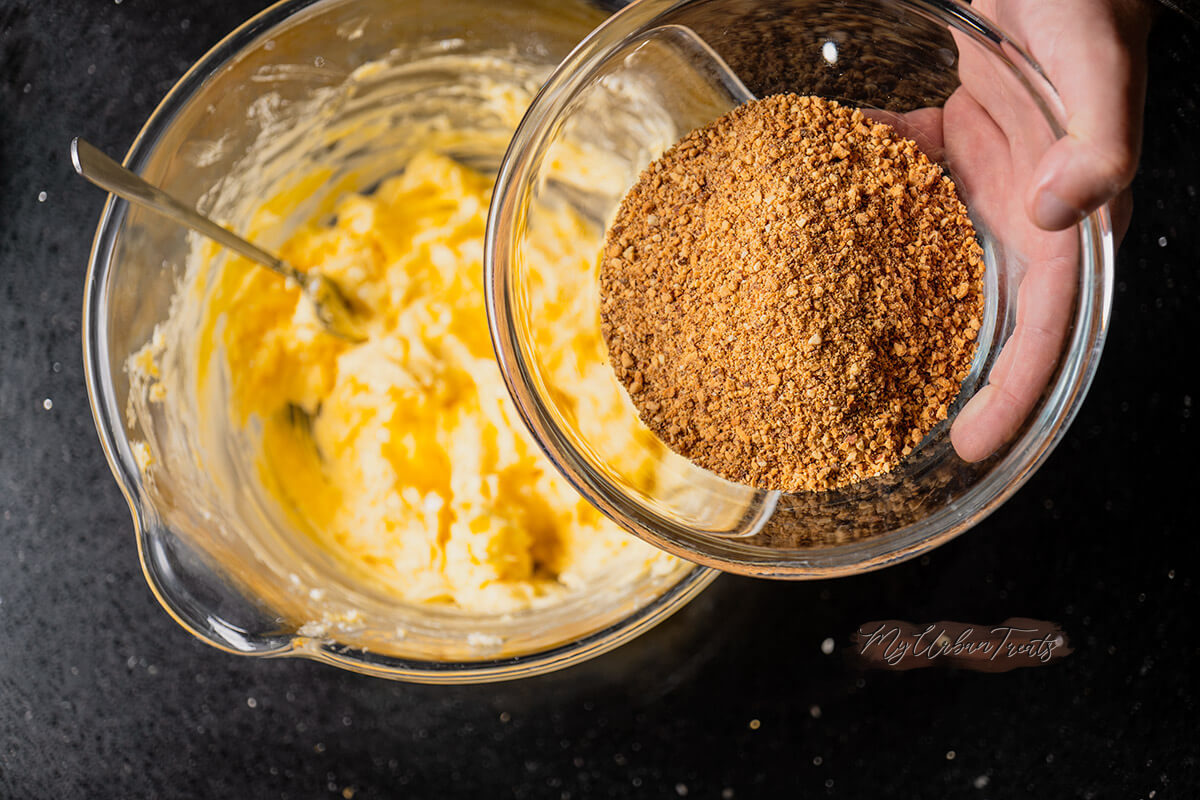 Step 2: Shortbread Dough
Combine the vegetable shortening, butter, egg yolks, baking powder, powder sugar and vanilla sugar and combine. You can use a food processor but you can get the same result using your hands. Now add in the flour a third at a time until the dough doesn't stick anymore. The texture should be soft but not sticky.
Roll in to a sausage approximately 4 centimetres in diameter, wrap in clingfilm and refrigerate for 30 minutes.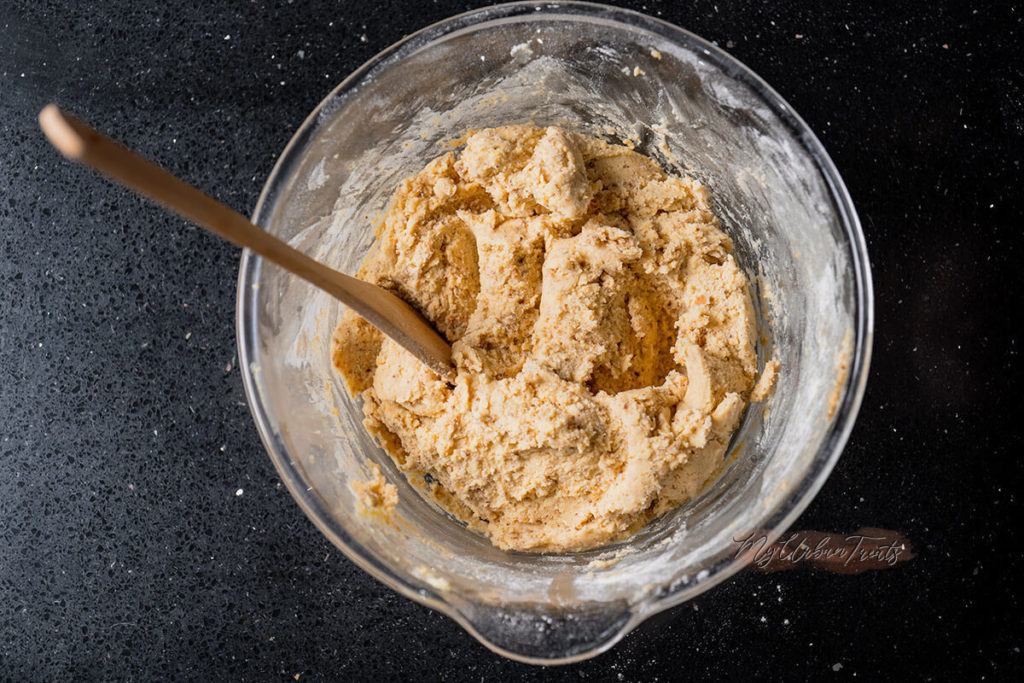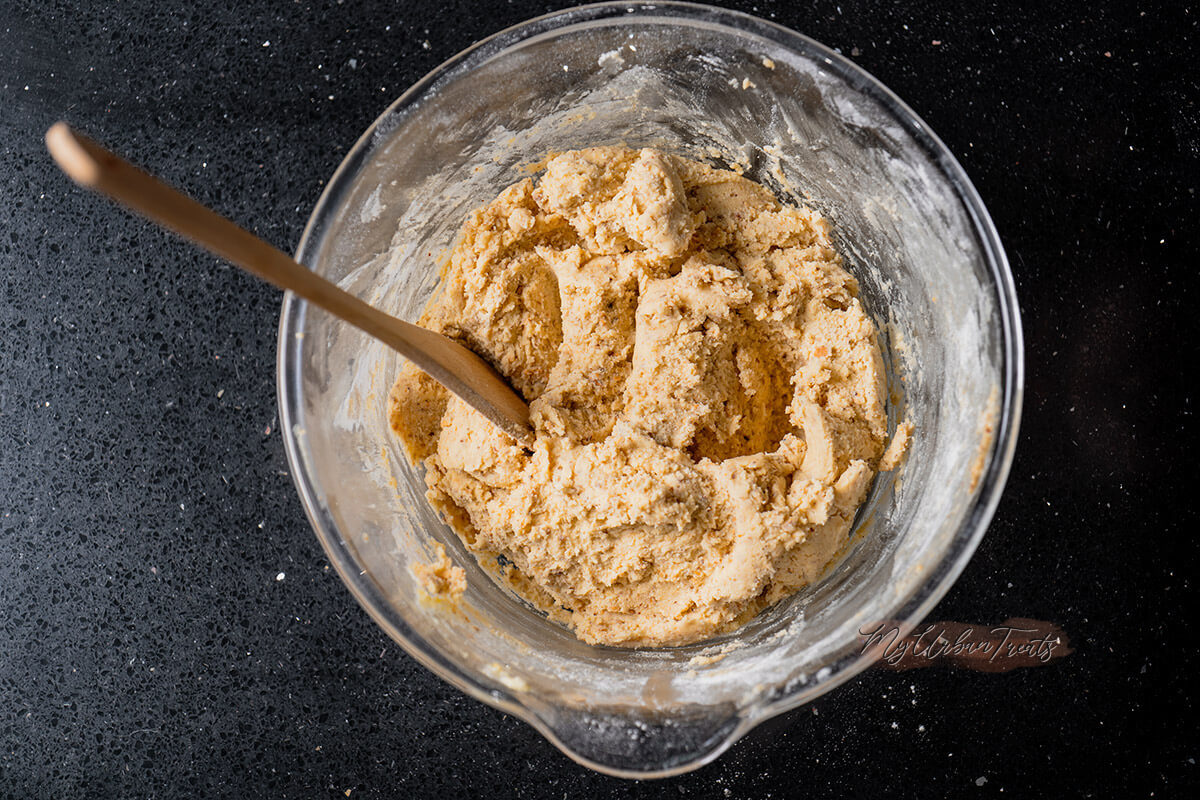 Step 3: Shape and Bake
Cut the dough sausage in to 1/2 inch slices. Roll in to a ball using your palms, place them on a baking tray lined with baking paper. Slightly press them down and stick the clove in the top. You can keep them fairly close together (although not touching) as they wont raise a lot.
Bake at 175 C or 354 F for 8-10 minutes until lightly golden brown. Prepare the powder sugar in a medium sized bowl and add one packet of vanilla sugar. Roll the cookies while still hot and place them on a cooling rack to cool.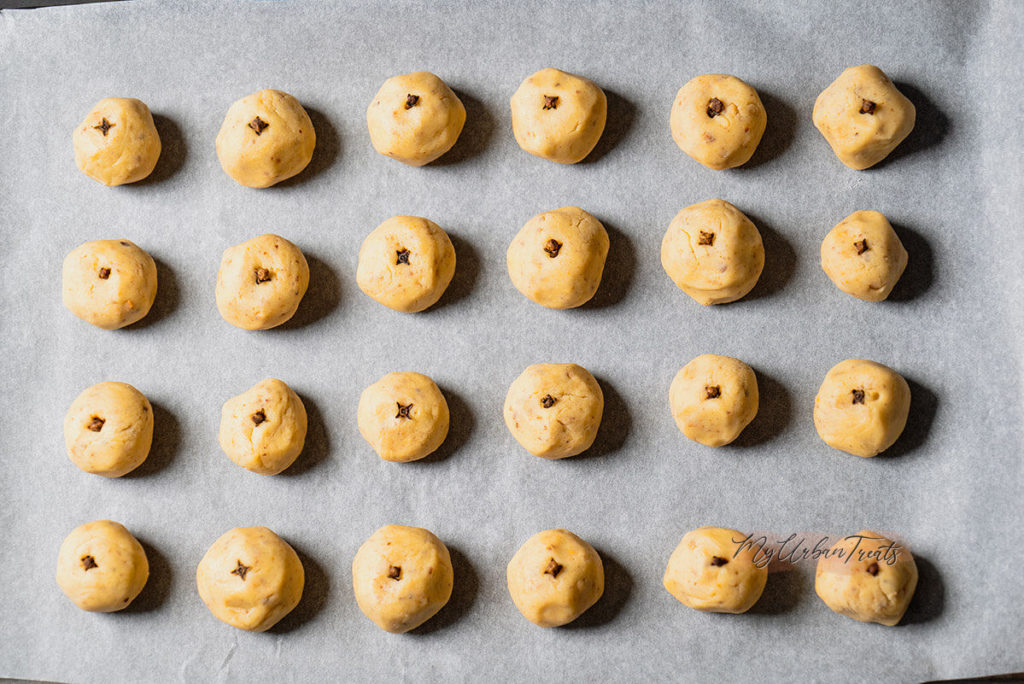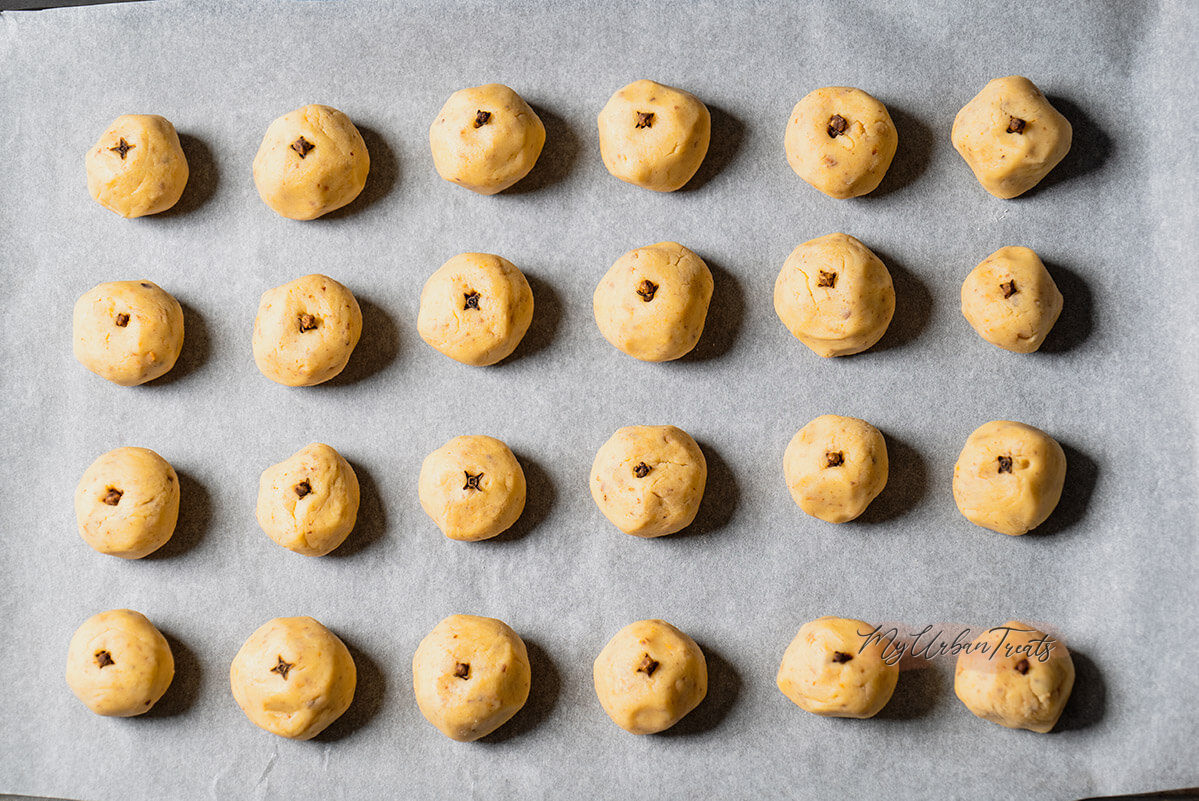 Storing & Freezing
Greek Shortbread can be stored in an airtight container for one week. its important to keep them in a closed container to avoid contamination. In the fridge you can store them for 10 to 15 days. If you wan to keep them longer, then you can freeze them for up to three months.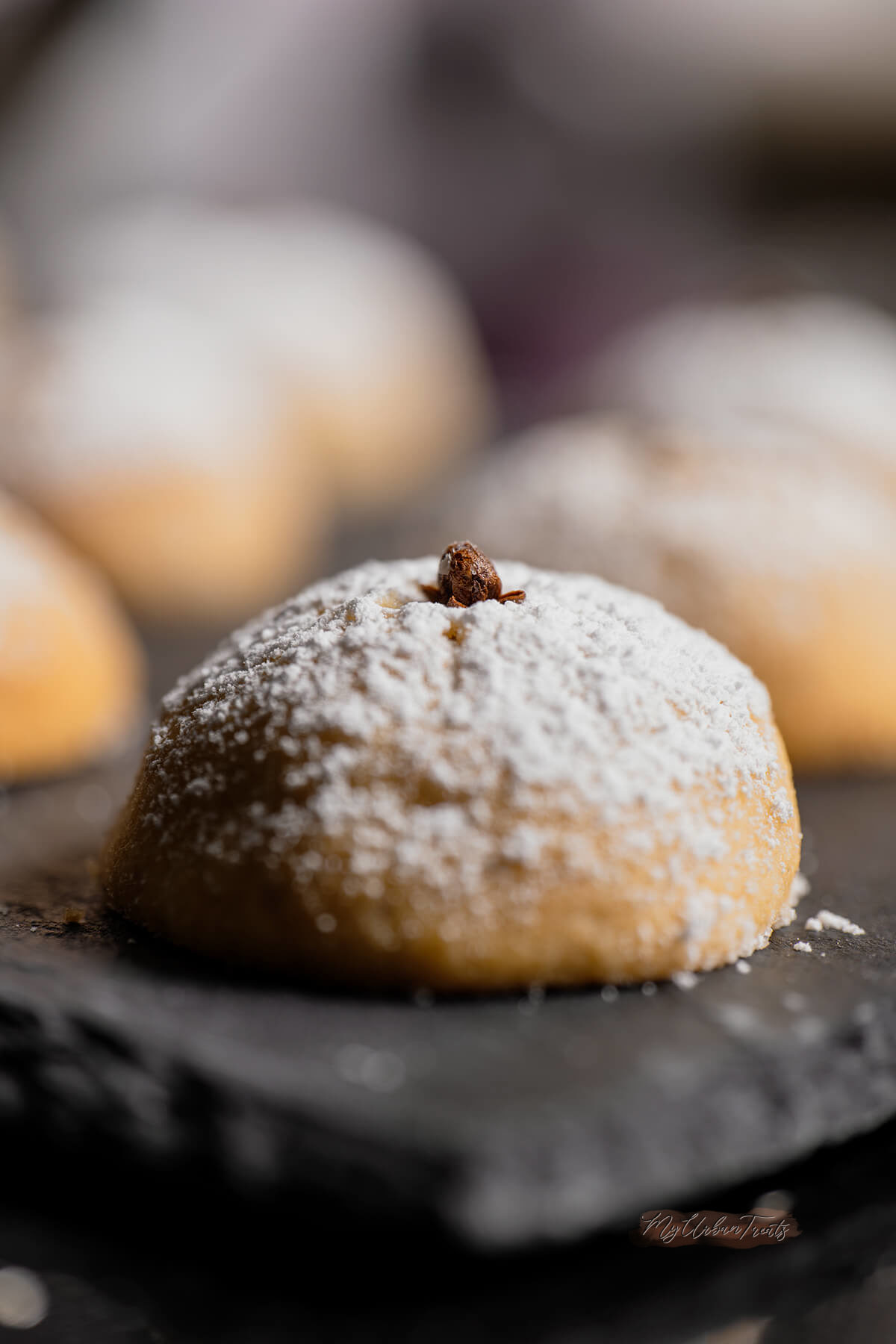 Greek Shortbread Cookies
Shortbread cookies are popular in Greece and Cyprus around the Christmas season. They are made with butter and roughly chopped almonds. Once baked they are rolled in icing sugar and served with a glass of water or coffee.
Ingredients
Cookie Dough
2-3

Cups

Flour

1

Cup

Vegetable Shortening

1

Cup

Unsalted Butter

Room Temperature

2

Large

Eggs Yolks

1

Cup

Icing Sugar

1

Cup

Almonds

Roughly Chopped

1

Tsp

Baking Powder

1

Tbsp

Vanilla Sugar

1

Tsp

Blossom Water

Optional
Instructions
Preheat your oven at 175 C or 345 F. Roughly chop the almonds not too small (see the picture) and place them on a baking tray. Bake them for a few minutes to bring out the flavour. Set aside and cool to room temperature.

In a mixing bowl, combine the Vegetable Shortening, Butter, Egg Yolks, Powder Sugar, Baking Powder, Vanilla Sugar and Rose Water or Blossom Water. Combine until smooth. Now add the flour 1/5th at a time until combined. The dough should be soft and smooth. Wrap in clingfilm and refrigerate for 30 minutes.

Start Timer 30 Minutes

Roll the Dough in to a sausage shape, approximately 4 centimetres or just over an inch in diameter. Cut in to 1/2 inch slices. Now roll into a ball between your palms. Place on a baking tray lined with parchment paper. Slightly press down to flatten just a little. Poke a clove in the centre and bake.

Bake in the oven at 175 C or 345 F for 12-14 minutes until lightly browned.

Start Timer 12 Minutes

While still hot, roll in the mixture of Icing sugar and vanilla sugar. Set aside to cool. You can dust some more powedersugar over them when done.
Nutrition
Calories:
143
kcal
|
Carbohydrates:
11
g
|
Protein:
2
g
|
Fat:
11
g
|
Saturated Fat:
4
g
|
Cholesterol:
19
mg
|
Sodium:
12
mg
|
Potassium:
34
mg
|
Fiber:
1
g
|
Sugar:
3
g
|
Vitamin A:
140
IU
|
Calcium:
18
mg
|
Iron:
1
mg