Its time to share one of grandma's recipes with a little twist of my own. I clearly remember the first time I tasted Lemon Pie. The amazingly powerful lemon flavour, sweet, sour and flaky buttery pie crust was just MAGIC. Don't you just love that moment when you taste something amazing for the first time? Ahhh memories. After I learned grandma's recipe for Lemon Pie, I had to experiment and add my own little signature. So the filling is grandma's recipe, the pie crust is my all time favourite from My Apple Pie Recipe plus a little layer of… well you have to find out in the recipe. Here is my Lemon Cream Recipe.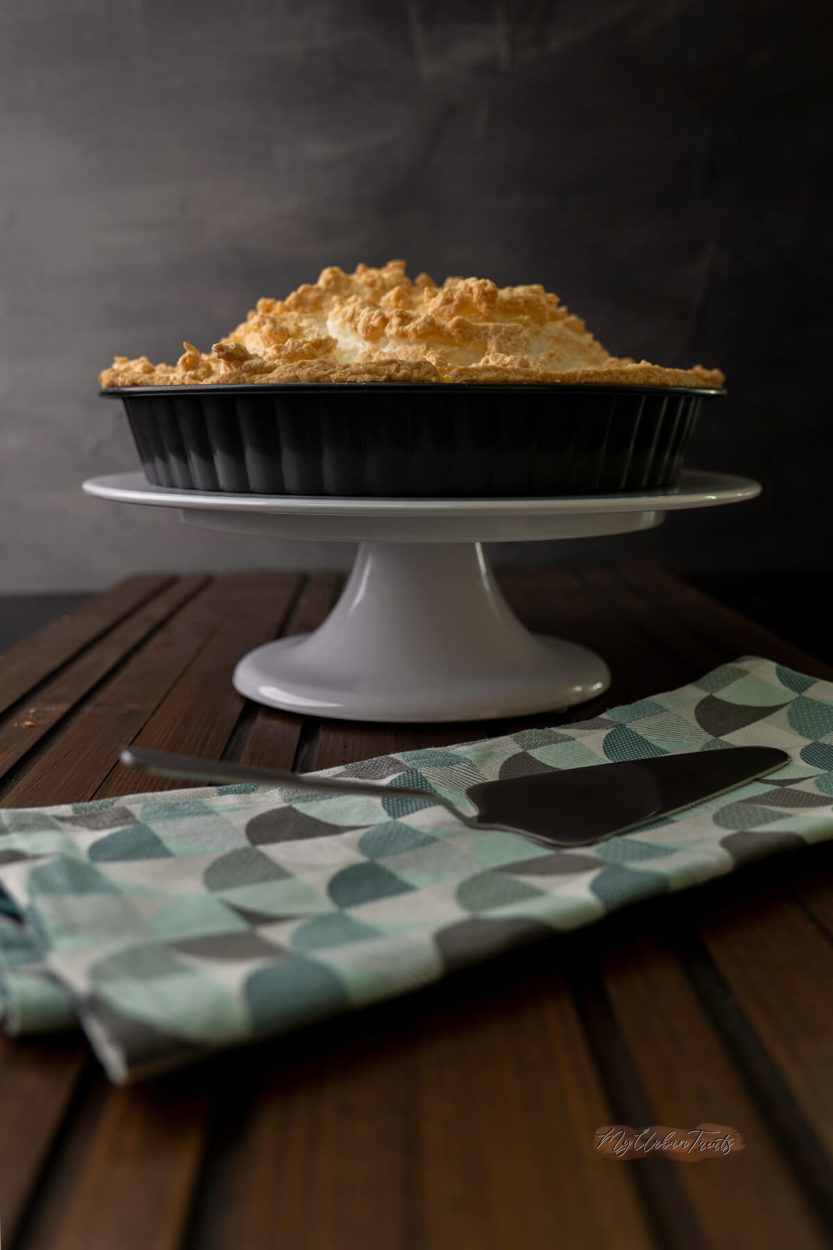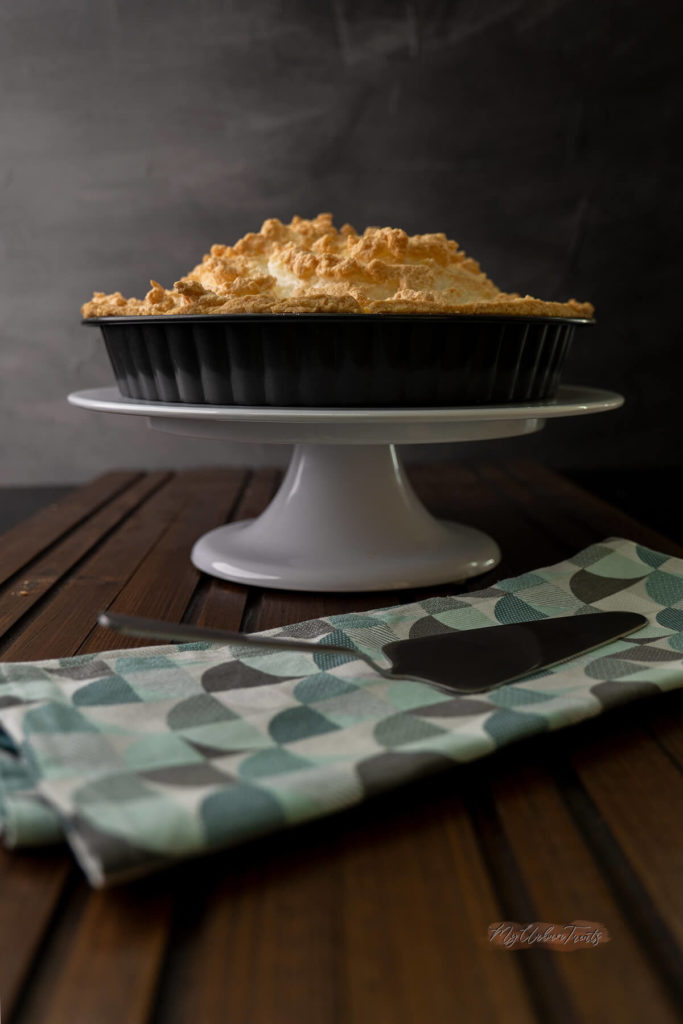 There are three parts to a great Lemon Pie. The filling, The Pie Crust and the Merengue. For a GREAT Lemon Pie you need all three components to taste and feel great. So lets start with the pie crust.
When you make pie crust, you want to almost achieve the opposite of baking sponge cake. The crust should be flaky almost brittle yet hold together well. Every bite has to be crumbling in your mouth like a soft biscuit complimented by the filling and cream. There are a few tricks in getting it just right, and if you follow them you can easily make great pie crust at home.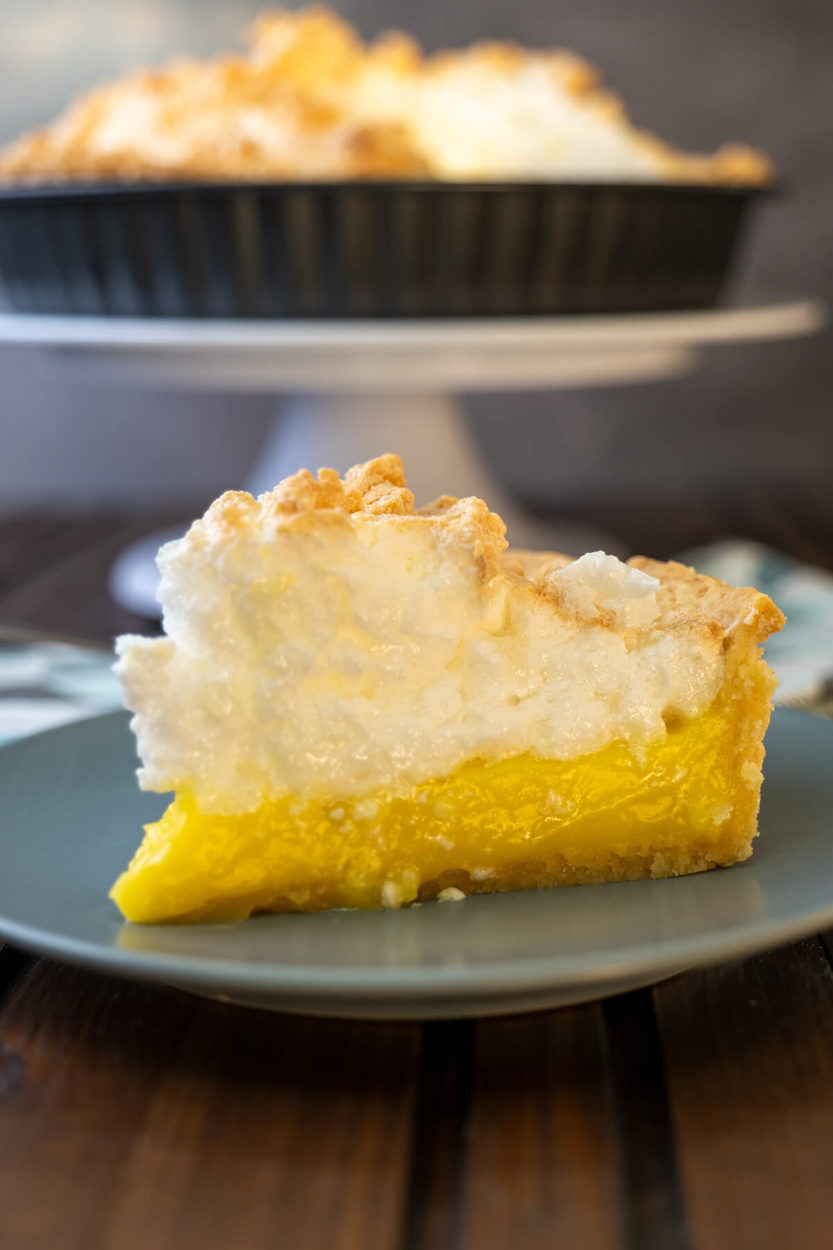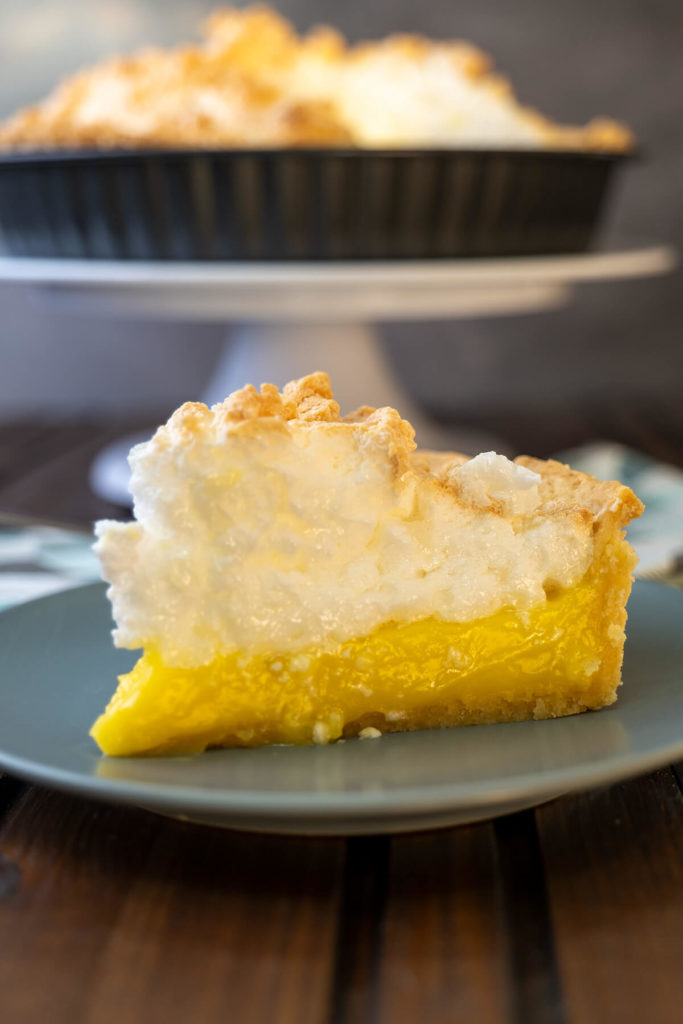 Pie Crust Tips & Tricks
The Nr1 rule when making pie crust is keep it cold at all the time. Keeping pie crust flaky and crumbly requires the butter to mix with the flour and sugar but not melt together. Here are some steps to achieve this:

Use ice cold water
Keep your hands cold, if they get warm wash them with cold water and carry on.
Cool your mixing bowl
When using a food blender, use short pulse bursts with breaks. Long rotations of the blade will warm the butter and melt it.

Minimize the formation of gluten. I keep saying this in most of my recipes. Wheat flour creates gluten, its not avoidable but we can minimize it with these tricks:

Use a shot of vodka or vinegar to slow the formation of gluten, there will be no taste or residue as it will completely dissipate during baking.
Don't over mix once the butter has been added to the flour.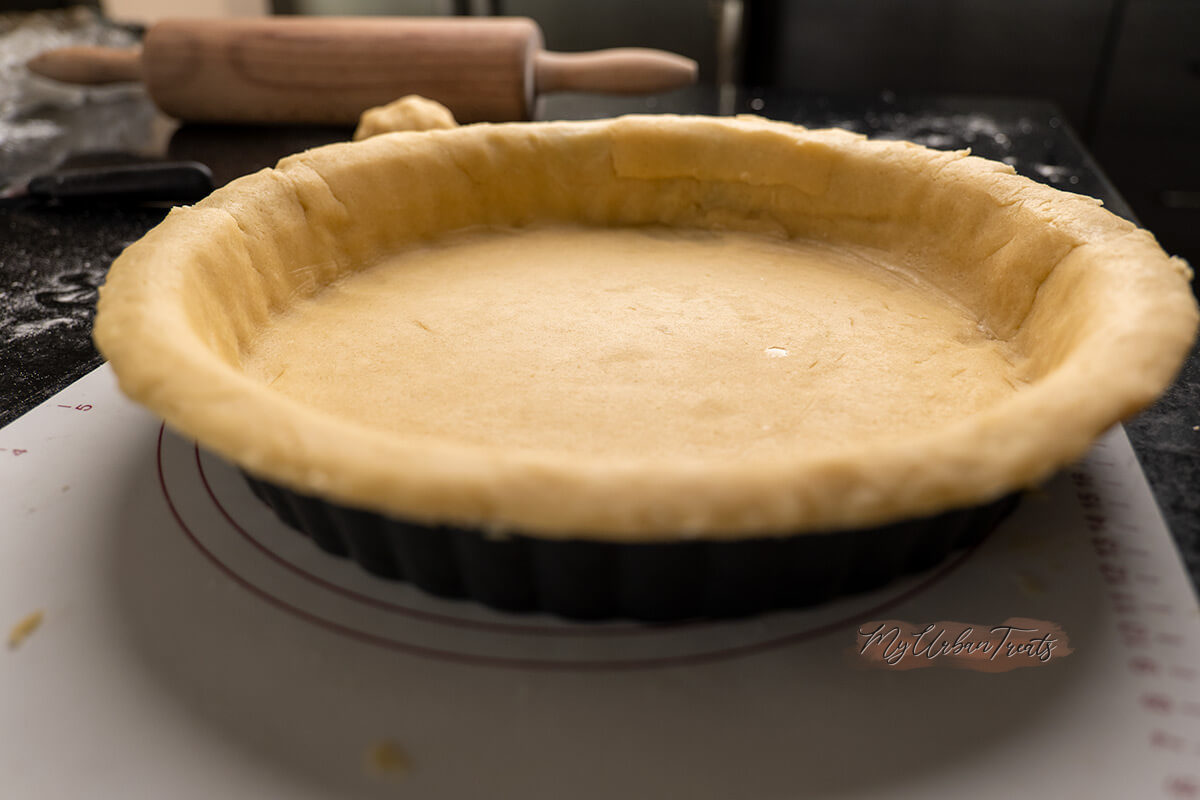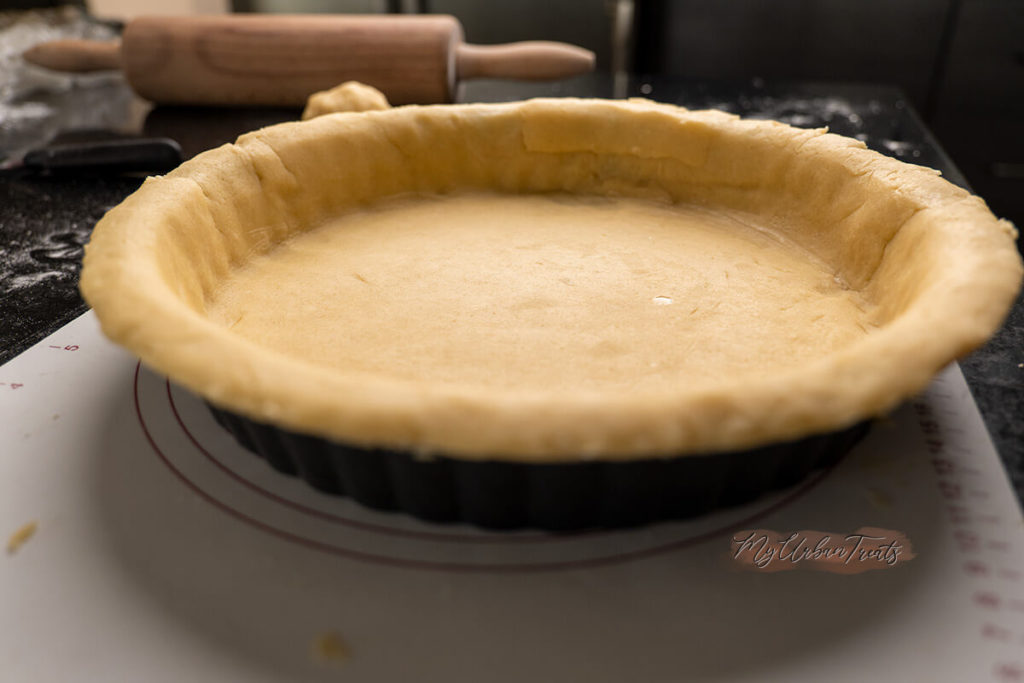 When to Blind Bake Pie Crust?
I have recently been asked when and what pie recipes to blind bake, the answer is simple. Blind baking is necessary when:
the filling requires a much shorter (or no) baking time than the pie crust
the filling is very liquid and can soak the crust and make it soggy
You don't blind bake when the pie has a lattice. Some people swear by blind baking and will not bake pies any other way. I like some pies with latties, like apple and peach pie and I never blind bake these.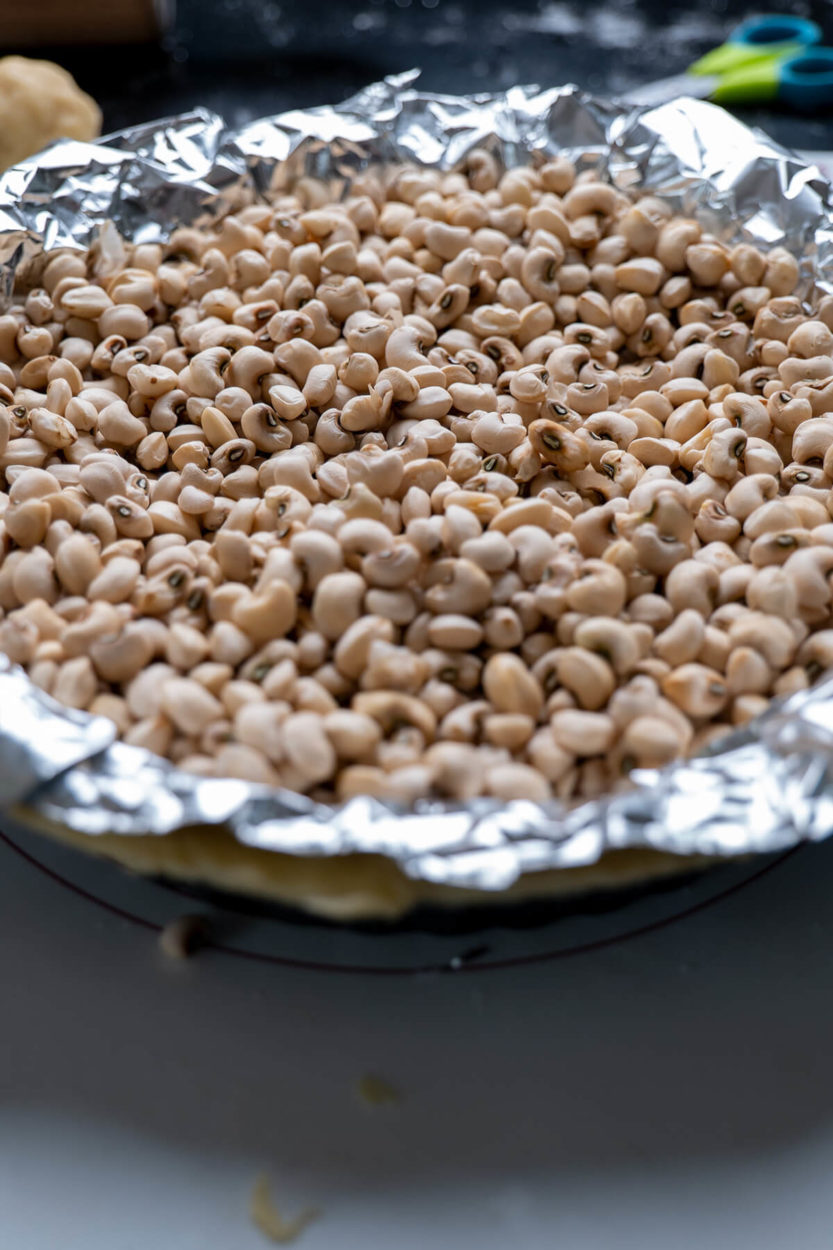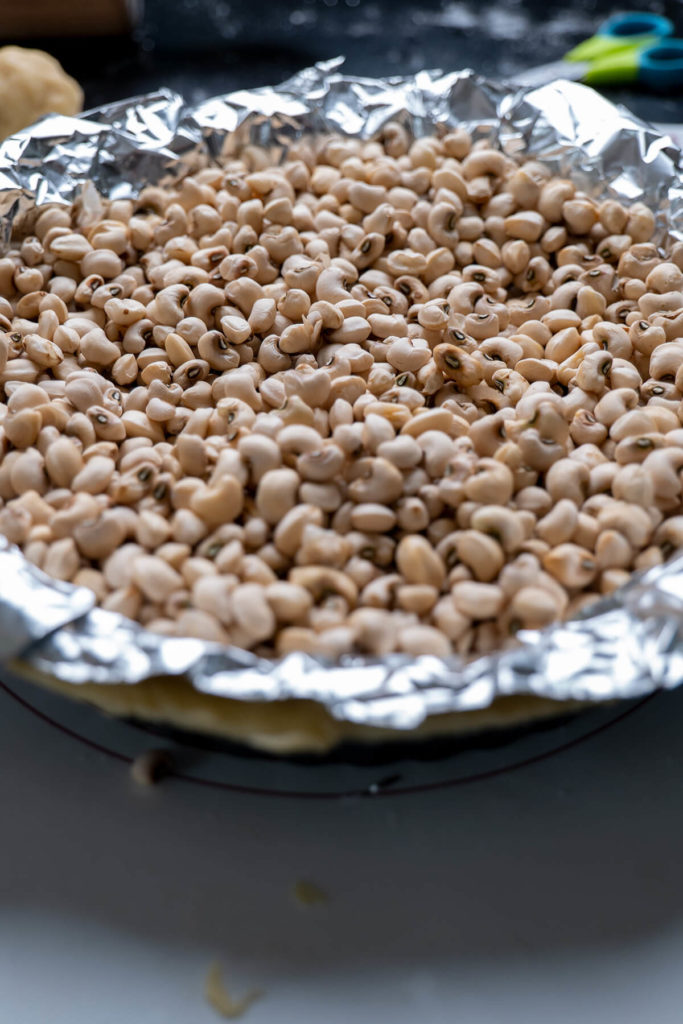 Lemon Filling (DELICIOUSSSSS)
Mama Mia… I can literally taste the filling before I even made it. I caught myself drooling as I am writing this post. I think I love lemon pie because it is so intense. Its not subtle, you taste it and it shocks you in a the most amazing way, I just wish I could eat it without consequences but remember, portion control is the key 😉
The perfect lemon pie filling, for me, has very specific characteristics. First and foremost, the flavour must have the perfect balance between sweet and sour. But we must not disregards the texture, creamy firm and juicy, but not tough. So how do we achieve this perfect balance? The key to the flavour is in the ingredients while the key to texture is the preparation method. So lets start with the ingredients.
Ingredients for Lemon Cream Pie Recipe
Granulated sugar for the sweetness
Fresh Lemon Juice and Lemon Zest for the Citrus and Sourness
Cornstarch to bind it all together
Salt enhance the flavour
Unsalted Butter to create our custard, fat also transfers flavour to the taste buds so some sort of Fat is necessary.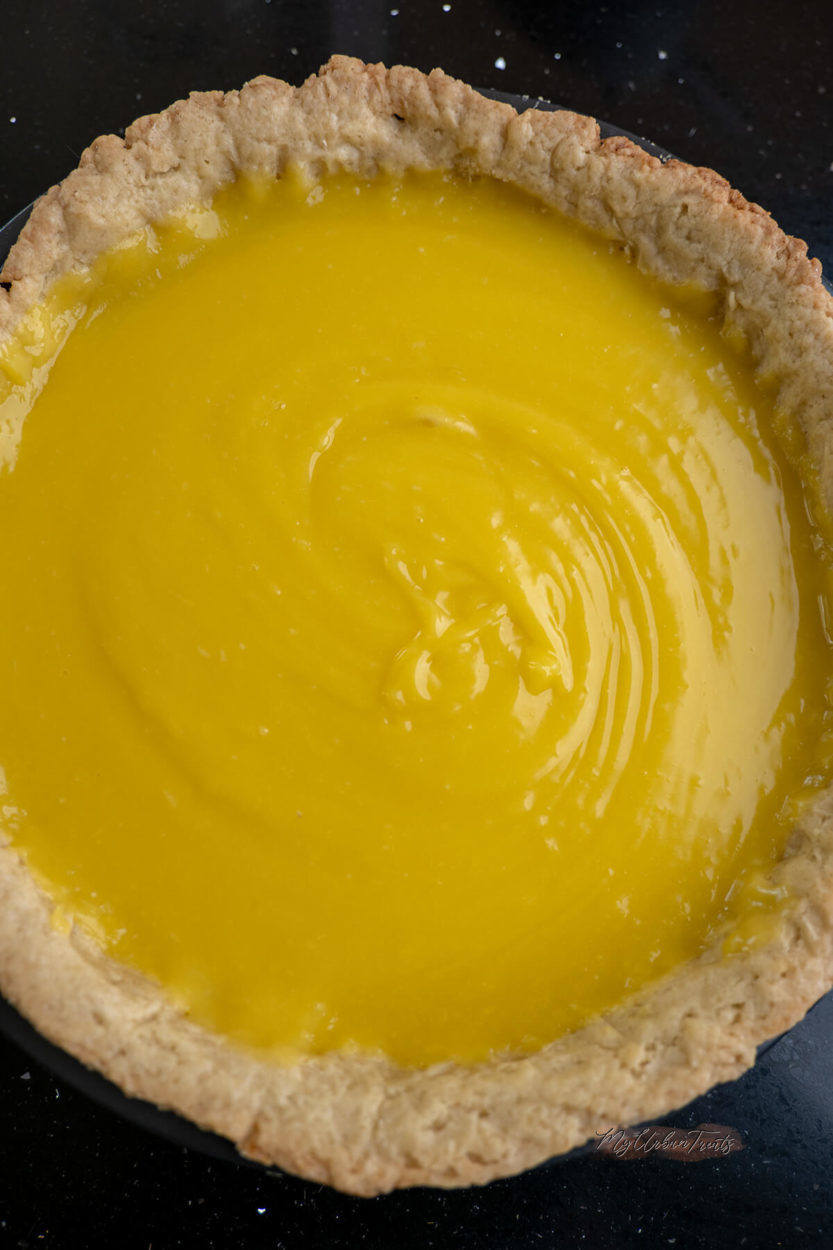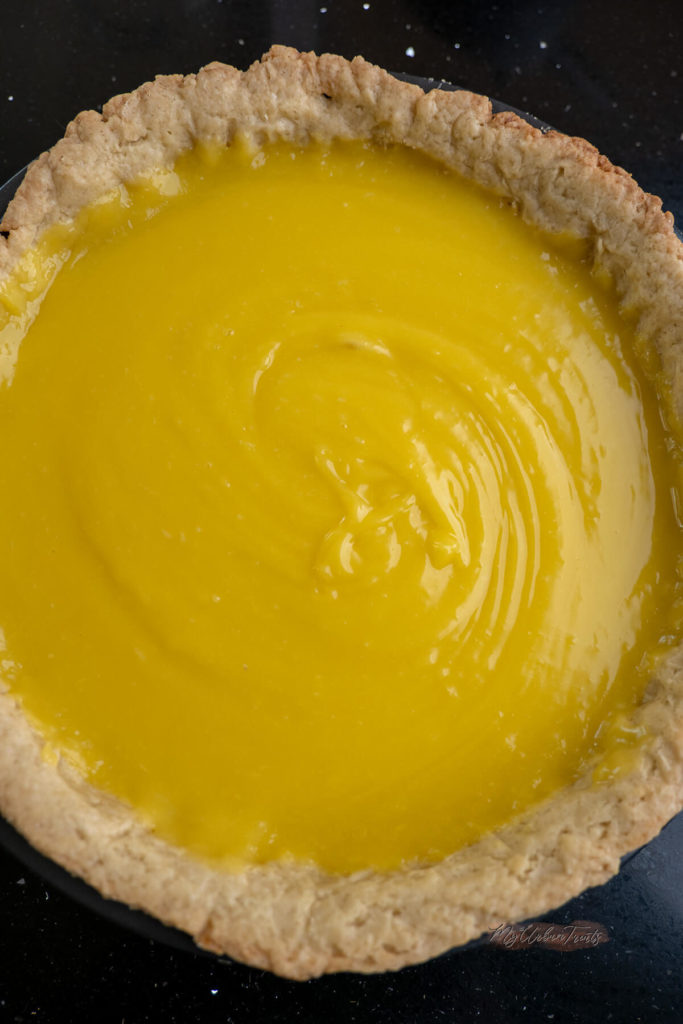 How its done!
The great thing about this pie filling is not just how amazing it tastes, its also how crazy easy it is to make. Its basically a custard with intense lemon flavour. This means you don't even have to bake the filling, just blind bake the pie and add the filling. Let it set and voila its done. So here are the steps to prepare this delicious filling.
Step 1: Separate your eggs and set them aside. You will only need the egg yolks but keep the egg whites for the merengue at the later stage 😉
Step 2: In a medium sized sauce pan combine the sugar, water, Cornstarch, Lemon Zest and salt and cook over a medium heat. Its important that you stir this non-stop for about 20 minutes as it will stick very easily to the pan. The Cornstarch will thicken up the sauce. Once you have a thick jelly texture and the mixture starts to bubble. Take it off the heat and add about 1/2 a cup of the hot lemon mix in to the egg yolks while constantly stirring.
Add the egg yolk lemon mix back in the saucepan and whisk in until smooth and well combined. Set over medium heat again and bring to boil while stirring. Take it off the heat and add in the butter and lemon juice. Pour in to the half baked pie crust and prepare the merengue.
Easy-peasy and delicious Lemon Pie filling.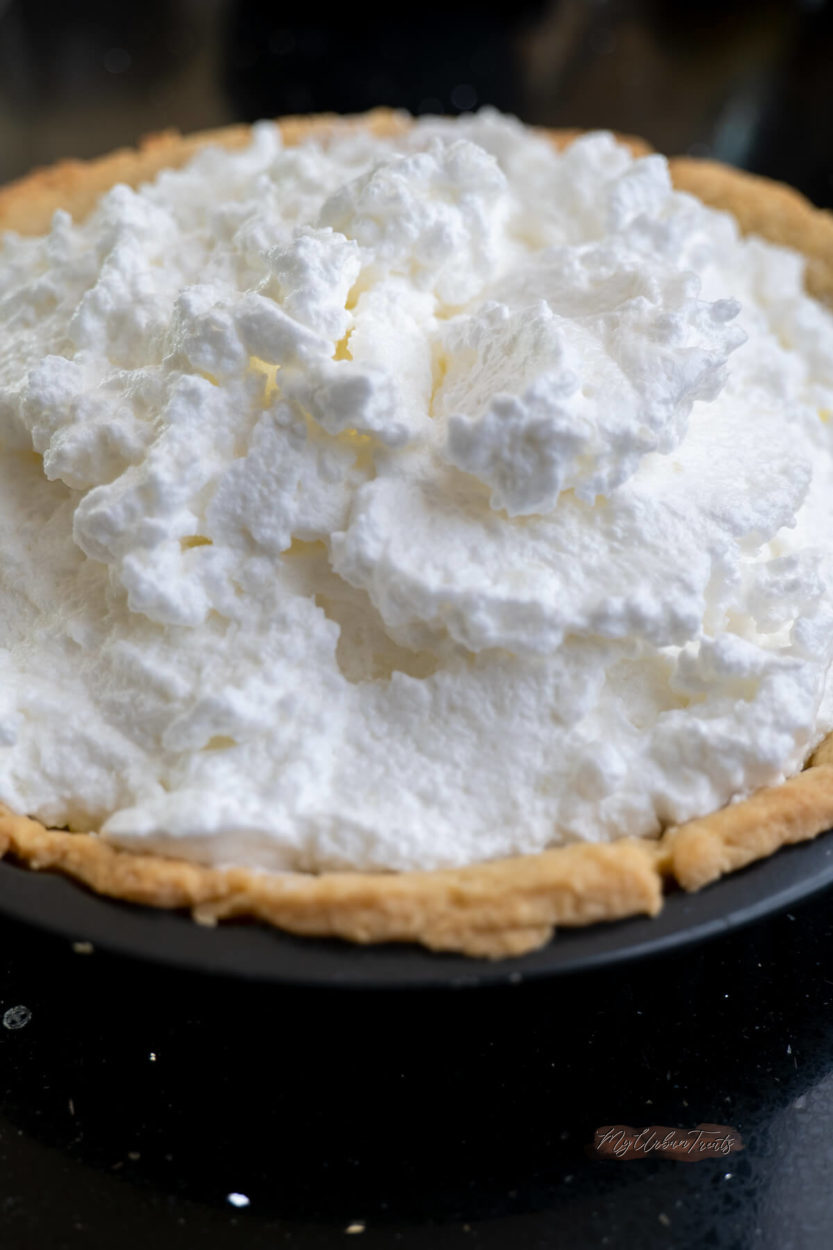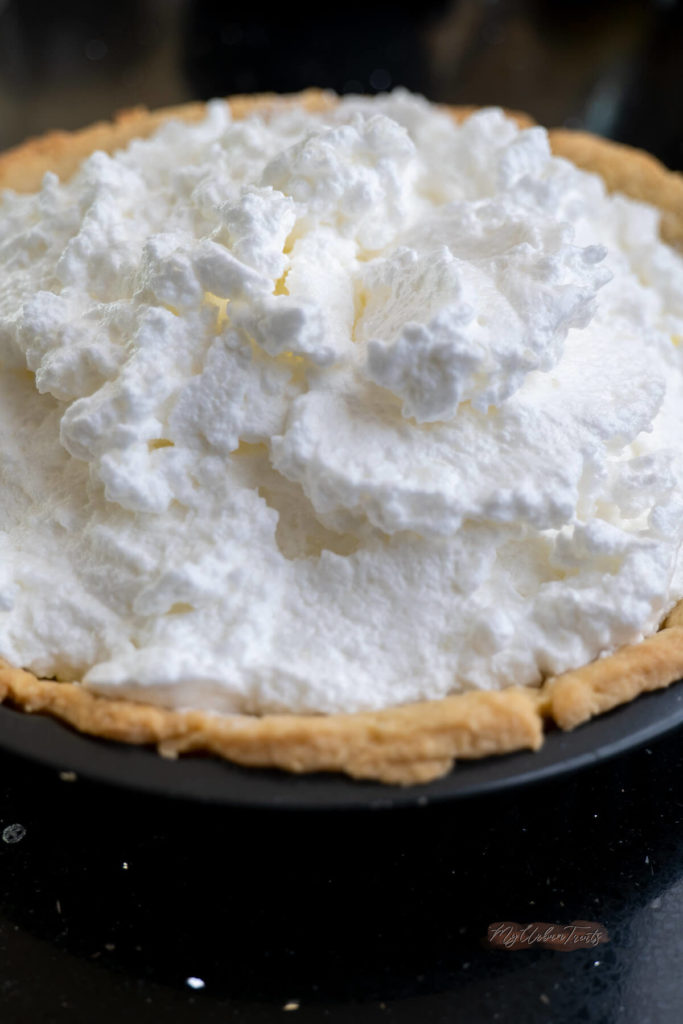 The History of Lemon Pie
Lemon pie is old… VERY old. I knew as a kid that Lemon Pie goes back to my grandma's childhood. But I didn't imagine it went back all the way to the ancient Greeks. Yes, that's how old Lemon Pie really is. Although the ancient Greek version is nothing like the version we know today.
The version we know and love is a mixture of British Pie Crust and Lemon Custard topped with merengue. Meringue said to originate from the Swiss town of Meiringen although there is no documented record I could find that confirms this.
My Special Twist (optional)
There isn't much that can make my grandma's recipe any better than it already is, I do however add a small twist to spice it up a little. Once the pie crust has been blind baked, its time to add my secret layer of digestive biscuits. It's only a thin layer of biscuits, butter and sugar but its such a delicious little addon and definitely wroth the try. Here is how its done
In a food processor, pulse 200g of digestive biscuits with 2 tbsp of butter and 2tbsp sugar. Once the half baked pie crust has cooled, pack the digestive crumbs in to the crust. Using a roller or the back of a cup, tightly and evenly pack the crackers in to the pie crust. Then add the lemon pie filling. Its so easy and gives it an amazing added flavour and crunch. Something like a Cheesecake pie.
Other Urban Treats
Looking for something else to bake? Why not try one of my favourite recipes here:
Before you go!
I hope you enjoyed my recipe, if you have any questions please make sure you leave a comment below. Its easy and I reply to each and every message within 24hrs. If you have baked my Lemon Pie Recipe, why not tag me on Instagram ? I love seeing my recipes baked.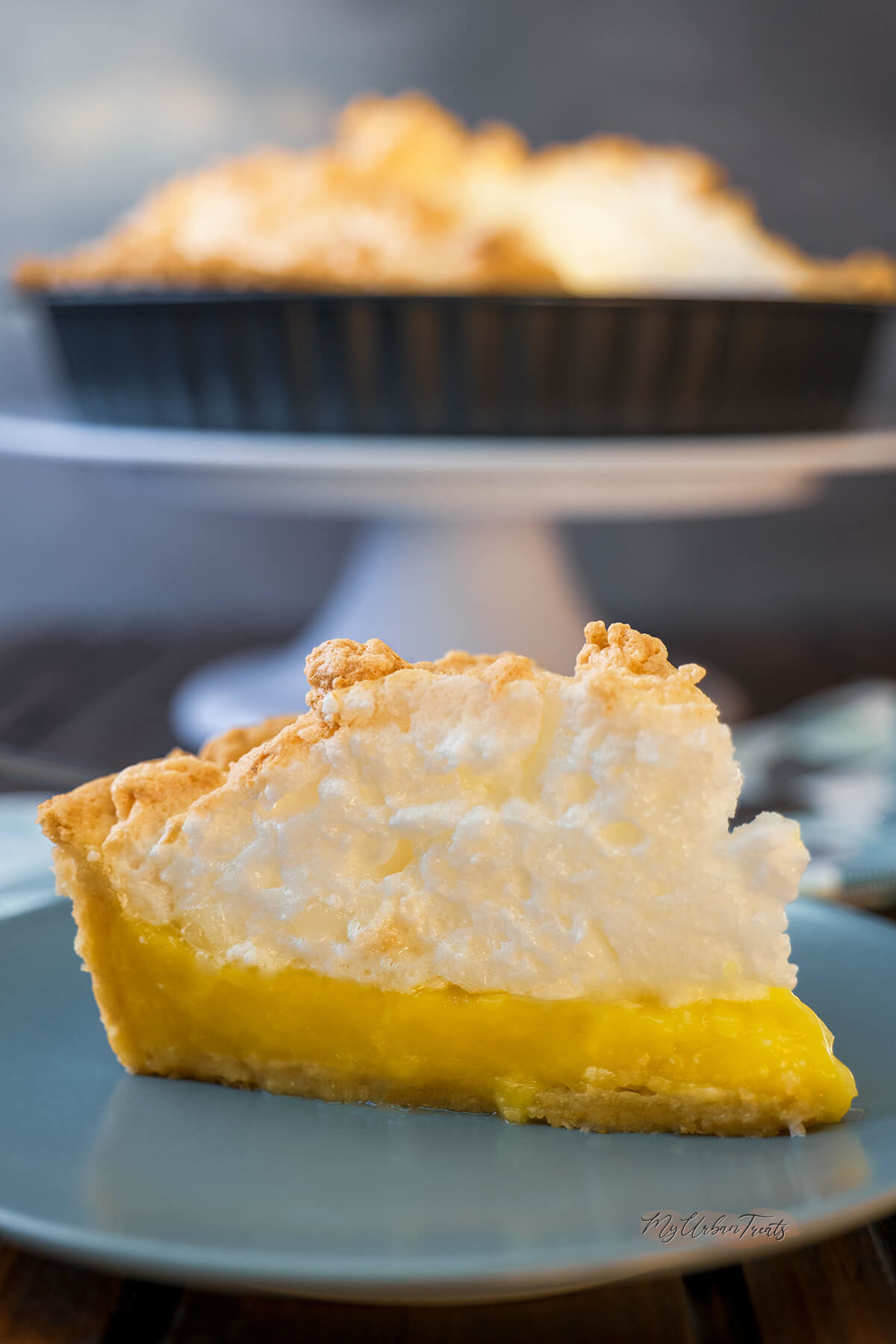 Lemon cream pie recipe
Old Fashioned Creamy Lemon Pie straight from my grammys recipe book. This zingy delicious pie is topped with meringue and baked to perfection. A must try for any pie lover.
Ingredients
Pie Crust
1

Cups

Unsalted Butter

2½

Cups

All-purpose Flour

½

Tsp

Salt

¼

Cup

Vodka

¼

Cup

Crystal Sugar

2

Tbsp

Ice Cold Water

Adjust according to dough texture
Lemon Filling
1 ⅓

Cup

Water

5

Large

Eggs Yolks

1

Cup

Crystal Sugar

1/2

Cup

Cornstarch

1/4

Tsp

Salt

1/2

Cup

Fresh Lemon Juice

1

Tbsp

Lemon Zest

2

Tbsp

Unsalted Butter
Merengue
5

Large

Egg Whites

1/2

Cup

Crystal Sugar

1/8

Tsp

Salt

1

Tbdp

Cornstarch

1/2

Cup

Water

1

tsp

Vanilla Extract

⅕

tsp

Salt
Instructions
Pie Crust
Combine the cold butter, flour, salt and sugar in a food processor. Pulse in short bursts with a couple of seconds breaks between each burst. The key is to keep the butter cold, long bursts will create heat by friction and melt the butter. Once lightly combined add the vodka and pulse 2-3 more times. Last add the ice cold water. Careful don't add too much, go one table spoon at a time. The texture should stay crumbly and NOT become a batter or dough.

Place the crumbly dough on your working surface and lightly knead together. Don't forget the dough must stay cool so wash your hands with cold water before you start. Knead the dough together very very lightly. Its almost like we are just compacting it in to a ball. Now wrap with kitchen membrane and place in the fridge for 30-40 minutes until the butter sets again.

Now that the dough has cooled, we can roll it in to a sheet. Our pie dish is 9 inches in diameter and as we need to cover the sides and lip we will roll the dough out to 11+ Inches. Very lightly flour your working surface and roll the dough out evenly in all directions. The edges will sometimes crack and that's ok, just pinch them back together. If you feel the dough is starting to melt or get soft. Pop it back in the fridge for a few minutes and then continue.

Now roll the dough up on your rolling pin (all lightly floured to avoid sticking) and carefully release it on the pie form. Lightly push it in to the corners and overlap evenly around the lip. Using a knife trim the edges just under the lip. The pie dough needs an edge to hold onto otherwise it will collapse in to the pie dish. Now fill with your baking weights for blind baking and half bake for 20-25 minutes.
Lemon Pie Filling
Separate the egg yolks from the egg white. Set the egg white aside as you will need it for the meringue. In a medium sized saucepan combine the water, sugar, cornstarch, salt and lemon zest. Set to medium heat and constantly stir until the sauce thickens. Don't let it boil. Once thickened add 3-4 table spoons of the thick sauce in to the egg yolks while constantly whisking. This will temper the eggs and avoid clotting. Now add the tempered egg yolks back in to the sauce pan and stir until smooth. Add in the butter and lemon juice and whisk until combined. Pour in to the baked pie shell and set aside to cool.
Meringue
In a medium sized saucepan combine the water, corn-starch and 2 tbsp of sugar. Set over a medium heat until the sugar and water are combined in to a foggy mixture. As soon as it starts to thicken set aside. In a mixing bowl, combine the egg whites, salt, vanilla extract and remaining sugar and whisk with an electric mixer to soft peaks. Add in the cooled corn-starch mixture and beat to stiff peaks.

Place evenly on the lemon pie and place in the oven at 175C for 20 to 25 minutes until fully baked and the meringue has set. Allow to cool for at least 3-4 hours then serve.
Nutrition
Calories:
407
kcal
|
Carbohydrates:
56
g
|
Protein:
4
g
|
Fat:
18
g
|
Saturated Fat:
11
g
|
Cholesterol:
46
mg
|
Sodium:
237
mg
|
Potassium:
65
mg
|
Fiber:
1
g
|
Sugar:
30
g
|
Vitamin A:
532
IU
|
Vitamin C:
5
mg
|
Calcium:
9
mg
|
Iron:
1
mg