Apple Pie has always had a very special place in my heart (and belly). My mother used to bake all different types of Apple Pie, from Austrian Strudel to English Homemade apple pie from scratch (which was also my favourite) apple pie was often on the menu. So today we are learning how to make apple pie from scratch at home from crust to filling and lattice. Even if you have never made apple pie yourself, don't worry.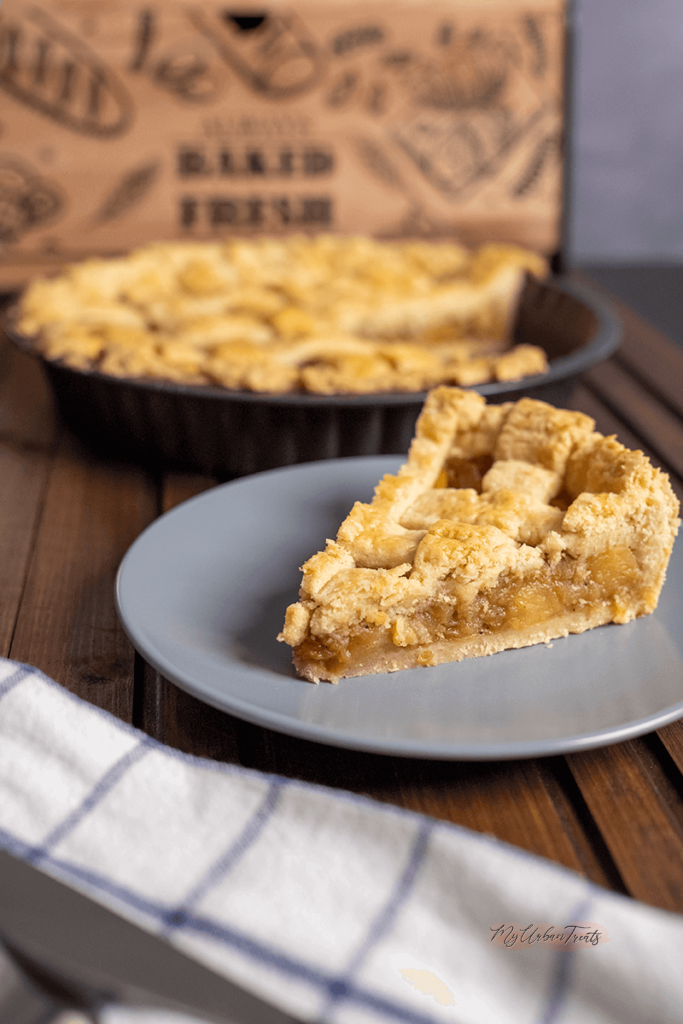 What are the best apples for Apple Pie?
While you can use a Varity of apples for Apple Pie, two apple types are almost guaranteed to give you great flavour. Granny Smith and Honeycrisp. The main reason to choose these two apple varieties is their flavour. They have a great balance of sweet and crisp and keep their shape when baked.
Did you know that Granny Smith apples are named after Maria Ann Smith a British Australian woman that lived between 1799 and 1870? Maria Ann Smith or "Granny Smith" is responsible for discovering and cultivating this apple variety also making her the grandmother of the perfect apple pie.

Sunday Times Australia 1924
Other varieties you can use include:
Golden Delicious: Less sweet and will lose its shape during cooking
Cortland: Turns brown quickly after cutting but are very sweet
McIntosh: Doesn't hold its shape when cooking but is a perfect secondary apple to add for a warm spicy flavour
Bramley: Often used in the United Kingdom as a secondary apple. Best paired with a harder apple that doesnt dissolve during cooking.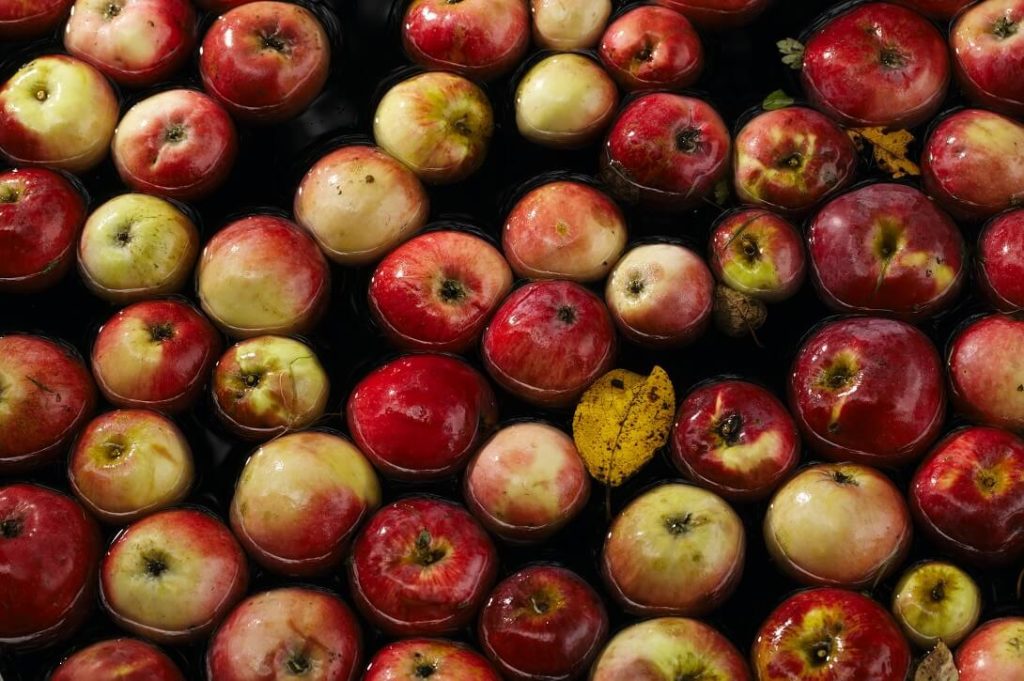 Tips & Tricks for the Perfect Homemade Apple Pie
Before we get started with the recipe, here are some important tips and tricks that will ensure your success. Remember baking is a mix of science and art so some practices are essential to get it right.
Keep your Pie Crust dough cold. This is important for a flakey pie texture. When the butter melts your pie turns from flakey to sandy. So try and keep everything cool. If you live in a warm climate try to frequently wash your hands with cold water while working with the dough or even best use a food processor.
If you don't have a food processor you can use your hands and the rubbing method, this doesn't work well in warm climates nor if you have warm hands. If you don't have another choice however try this:

Keep your hands cold by occasionally running them under cold water
Keep your working surface cold and floury. Try placing something from the freezer on your work surface for a few minutes before baking
If you feel the butter melting, pop it in the fridge and give it a 10 – 15 minute break until it cools again

Try a mixture of apple varieties for a well balanced flavour, I found that a mixture of sweet and sour apples works best
The caramel takes patience, you might think it's not caramelising but wait and don't rush. If you use a spoon you will get crystal flakes and it won't be smooth.
Cut your pie lattice on a sheet of baking paper, this way you can place it in the fridge for a few minutes before assembly. this will make it easier to handle.
What makes pie crust so delicious is the flakey crumbly flavour in every bite. To achieve this texture we need to ensure that our dough and butter remain cold during the whole process.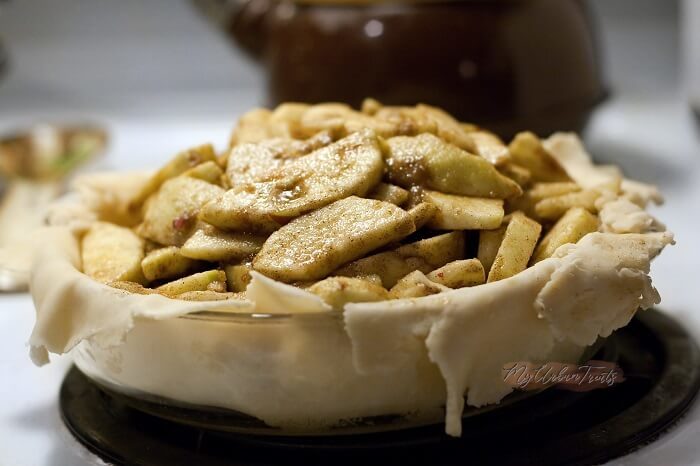 How to make apple pie from scratch!
Making Apple Pie from scratch means you need to prepare the crust, filling and lattice without any ready made ingredients. This might seem like a taunting task but dont worry its not difficult at all.
Let's go through the basic steps and see how its done.
Making the Pie Crust
Basic pie crust has four major ingredients. Butter, Flour, Sugar and Salt. We add a fifth ingredient which will make the pie crust much easier to make. Vinegar or Vodka. Yes you read that one right, vodka. But why do we add alcohol to the crust?
The answer is simple. Alcohol prevents the formation of gluten in flour dough.
Gluten is a substance that is formed when processing certain cereal grains like wheat flour. Gluten makes dough elastic, stretchy and catches air bubbles in yeast dough. This is why we actually knead and fold the dough so many times in our Artisan Sourdough recipe. But when we make pies we don't want our crust to be elastic we want it to be brittle and flaky.
If you don't want alcohol in your food, you can substitute Vodka with Apple cider vinegar at a 1:1 ratio. Don't worry about the impact on the flavour as it will dissipate during baking and no trace of the flavour will be noticeable.
The easiest way to prepare the pie crust is to put all the ingredients in to a food processor and blend them together by pulsing with a few second breaks. We pulse so the friction of the blades doesn't warm and melt the butter. Remember from the Tips & Tricks, keep the dough cold. Press the dough together into a compact dough ball and place in the fridge while we prepare the filling.
Making Apple Pie Filling
The secret to a great apple pie filling is definitely the apple selection. Apples come in so many different varieties and flavours that it really impacts the flavour and texture of the apple pie filling.
If you live in a remote region like I do, you might not have access to a wide range of apple varieties. In that case the best apple variety for baking is the Granny Smith. Granny Smith apples are easy to come by, they are always in season and they hold together when baked. They are not the sweetest apple around so you might want to blend in some sweeter varieties such as the Honeycrisp Apple or any sweet snacking apple family.
The process of making apple pie filling is pretty straight forward although I like to start by caramelising the sugar to give it that delicious burnt sugar flavour. Once the sugar is in the saucepan don't touch it until it caramelises. Distributing it with a spoon or other tool will cause it to caramelize and harden.
Now add the remaining ingredients expect the corn starch. We add that last to thicken up the sauce. And cook until the apples are soft but haven't lost their shape. Let it cool before you assemble the Apple Pie.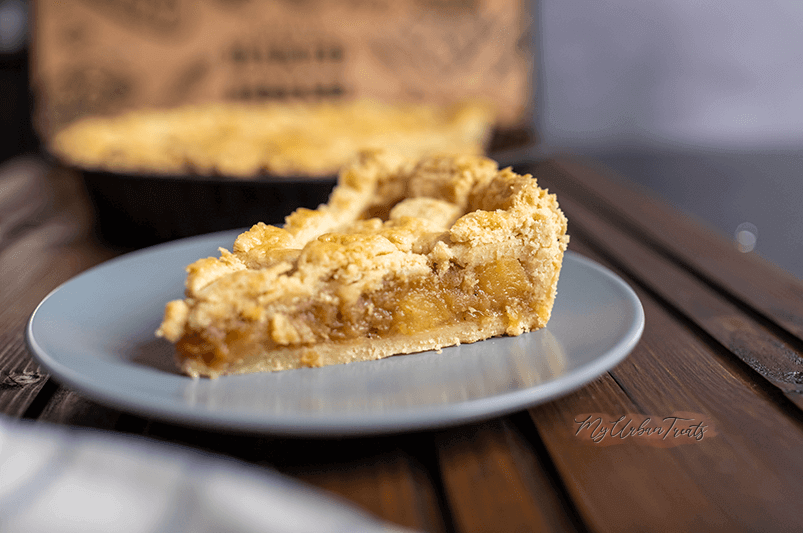 Homemade Apple Pie Recipes from scratch
Delicious Homemade Apple Pie Recipes from scratch with a flake butter crust and caramelised apple filling
Ingredients
Apple Pie Filling
3

lbs

Apple

½

Lemon

Lemon Juice

1

Lemon

Lemon Zest

1

tbsp

Corn Starch

½

tsp

Cinnamon

¼

tsp

Nutmeg

⅔

Cup

Crystal Sugar
Instructions
Start by combining the flour, sugar and salt in a blender and combine them with the Vodka. This recipe accounts for the pie crust and lattice if your blender is not big repeat this step twice in half batches. We then add our cold butter cut into cubes and pulse in short burst until blended, don't keep the blender on as the friction will melt your butter. We then add two to four tablespoons of ice-cold water and pulse until combined. Pinch a bit of dough between your fingers, if it stays clumpy then you are ready for the next step.

On a floured working surface lightly knead the dough together until just combined, roll out with a floured rolling pin and wrap in clingfilm. Place in the fridge for 20-30 minutes until firm. Now prepare the Apple Pie filling.

Peal all but two of the apples and dice them, grate the remaining apples with skin and mix into the apple dices. Zest and Juice a Lemon, add the juice into the Apple dices and mix with your hands. Set the zest aside for later use.

In a large saucepan, add the sugar, cinnamon and nutmeg. Set on medium-high heat and wait until it caramelizes. DO NOT stir the caramel with a spoon, this will crystalise the sugar. Instead carefully and lightly tip the saucepan side to side to combine if needed. Once the caramel has a nice amber colour add in the butter and let it melt, then add in the apple dice mixture. This might form some hard pieces of caramel, don't worry they will melt later. Add the lemon zest, combine the mixture and let it cook for 7 to 8 minutes.

When the apples are tender but not soft, add the tablespoon of cornstarch. This will thicken the mixture, set aside and let it cool to room temperature.

For the pie crust, we need half of our dough. On a floured surface roll the dough into a circle large enough to cover and excess an 11inch pie form. Flour your rolling pin and dough and carefully roll the dough onto the rolling pin. Gradually release it over the pie form and gently place it into the form. Lightly push into corners for an even crust. Place in the fridge for 15 to 20 minutes. Then add the apple pie filling and prepare the lettuce while it rests in the fridge.

For the lattice, we will roll out the remaining dough into a circle that will cover the Apple Pie and have some excess which we will cut off later. Use a baking sheet so you can easily pick up the lattice and cool it in the fridge before assembly. This will make it more malleable and it won't break so easily. Using a sharp knife cut strips that are 2-3 centimetres wide. Refrigerate for 20 minutes and then we assemble the lattice.

Start by laying horizontal lines of the lattice on to the Apple pie. Leave a little space between each line. Now flip over every second line at the middle point of the Apple pie and lay a dough strip vertically across the pie. Flip the strips back and repeat with alternating lines until you reach the end of the pie. Repeat on the other half. Cut off excess edges and using a form lightly pinch the strips into the edge of the pie crust. Now we will paint the top of the pie using an eggwash made out of 1 Large egg and 3-4 tablespoons of Heavy cream. You can then sprinkle some dark sugar like demerara on the top for a crystal crust.

To avoid burning the edge of our pie, we will form a loose foil tent around the pie. Use a large sheet of aluminium foil and fold it in the middle, then wrap it around the pie dish (without touching the pie. Slightly bend the inside over by 2-3 centimetres to cover the pie edge. Now place into a preheated oven at 180C until golden brown and your apple pie is done.
Nutrition
Serving:
1
Slice
|
Calories:
590
kcal
|
Carbohydrates:
88
g
|
Protein:
14
g
|
Fat:
21
g
|
Saturated Fat:
2
g
|
Sodium:
198
mg
|
Potassium:
208
mg
|
Fiber:
4
g
|
Sugar:
31
g
|
Vitamin A:
84
IU
|
Vitamin C:
7
mg
|
Calcium:
69
mg
|
Iron:
5
mg