Palmiers are a French pastry that get their name from their distinctive shape. Palmier is short for "feuille de palmier" which translates to Leaf of the Palm. Although I believe they look more like elephant ears (which is another name for them) than Palm leaf's but one can see the resemblance. In my travels I came across this puff pastry dessert in many European countries but it seems Spain loves them more than France. You can get them in almost every Spanish bakery in a ton of varieties. Plain, sugar covered, chocolate covered and even with cream topping.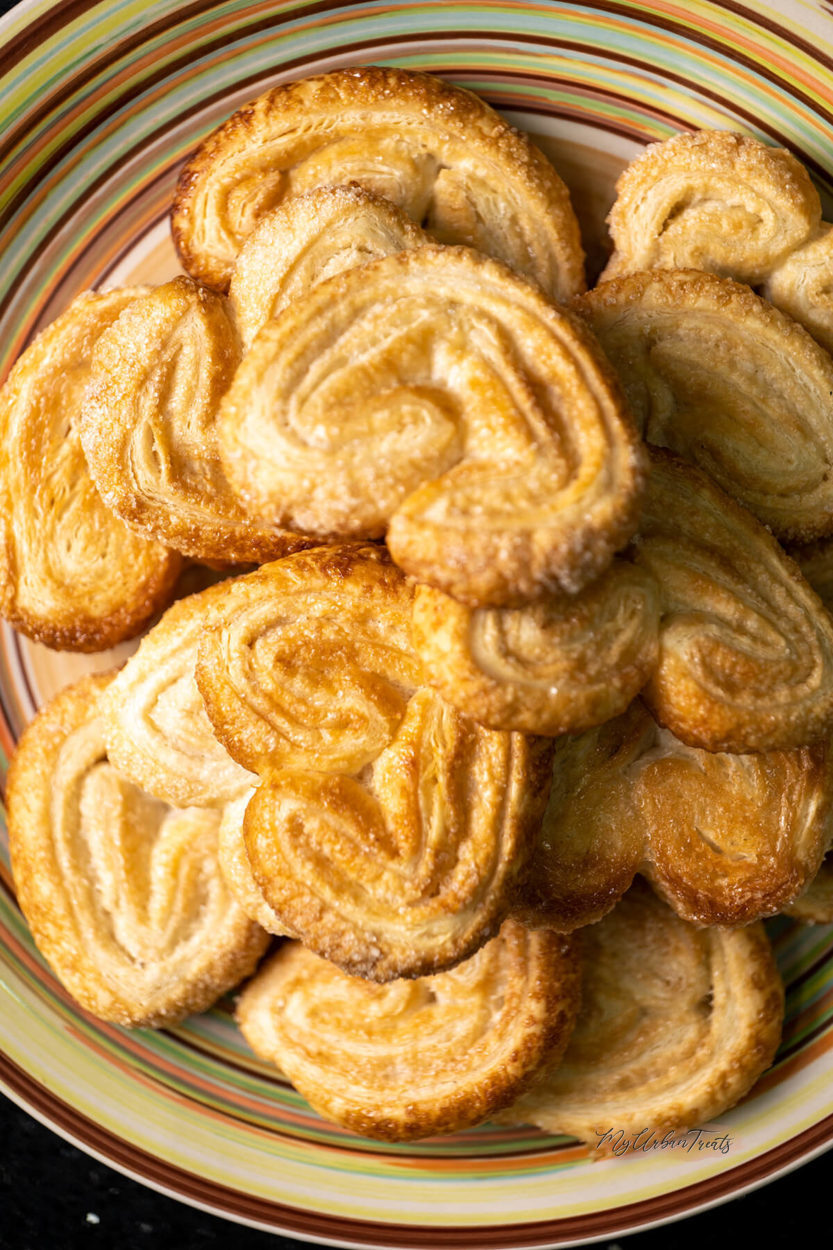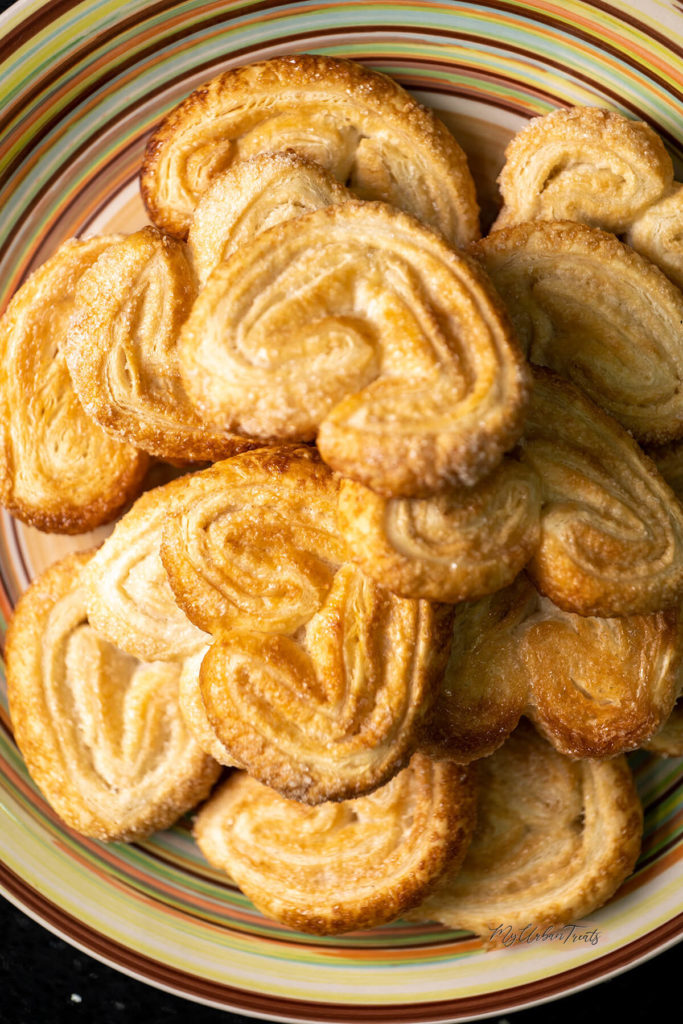 How to make Palmiers
For a classic Palmier you only need three things:
The method is super simple. Thaw the Puff pastry and roll it out. Now pour about 1/4th of the sugar over the pastry and press it in to the dough using a rolling pin. Don't press too hard, we only want the sugar to embed in the dough and not thin it out.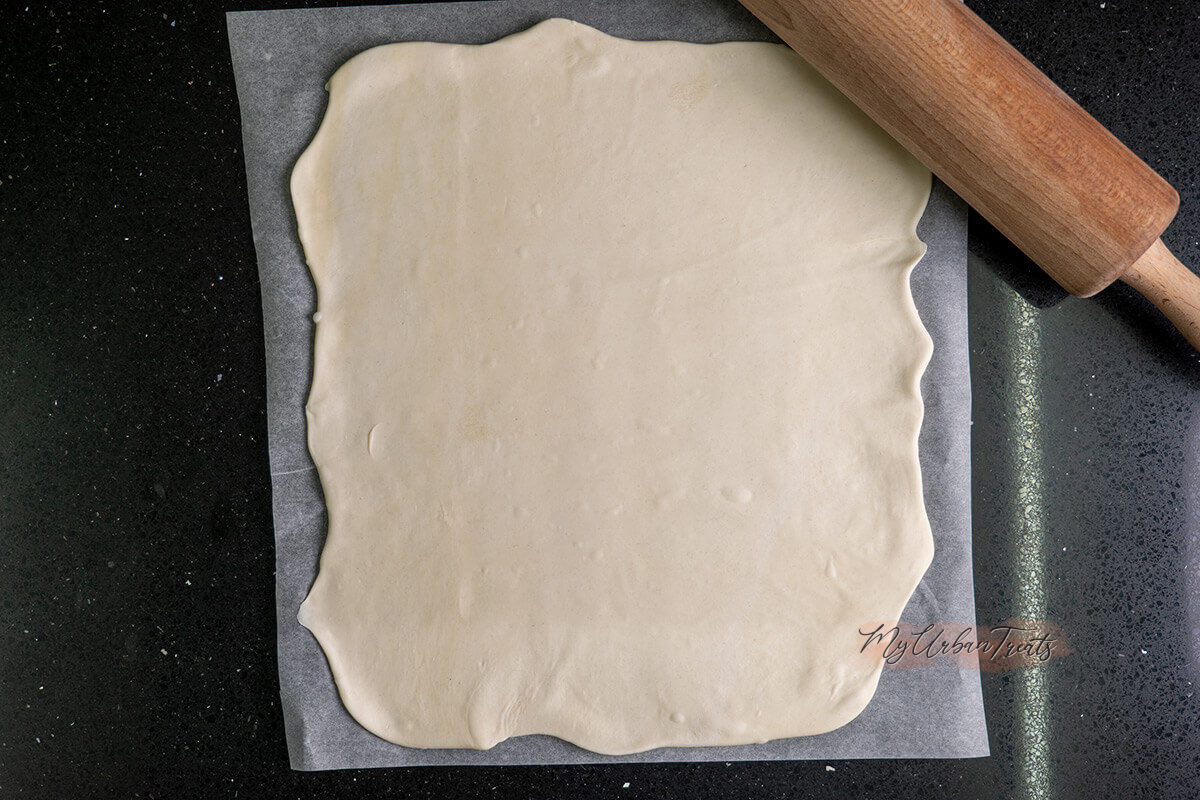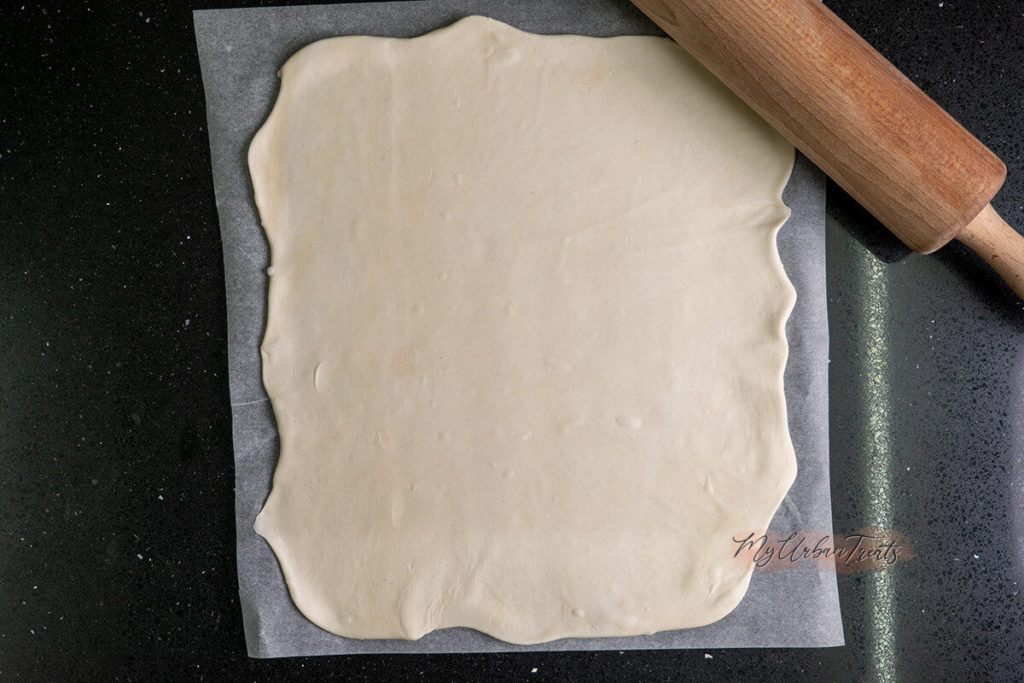 Now we need to turn it around, and the easiest way to do this is as follows. Place a sheet of parchment paper over the sugared side and flip it around. Now carefully peel off the top layer of baking paper. Apply another layer of sugar and roll it in to this side.
With both sides covered in sugar, fold the left and right side of the dough in to the middle. This will give you a rectangular puff pastry envelope. Sprinkle another layer of sugar and roll it in with the rolling pin.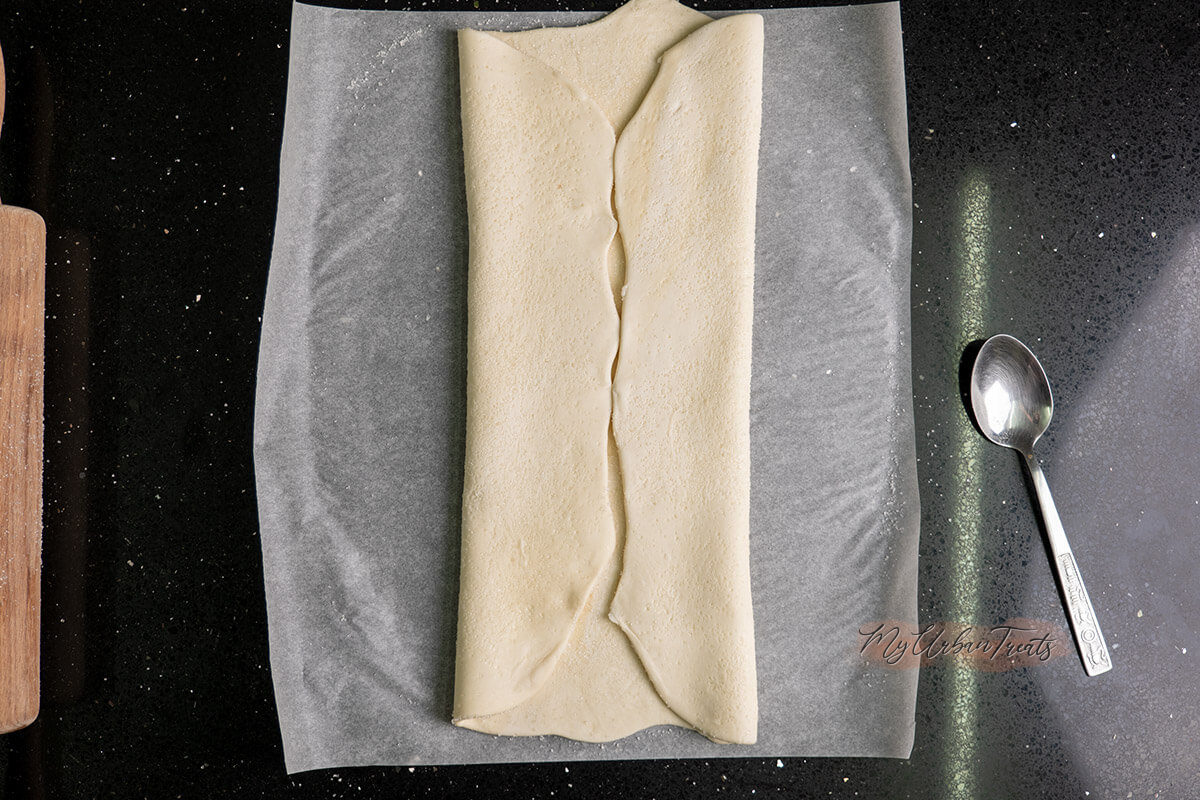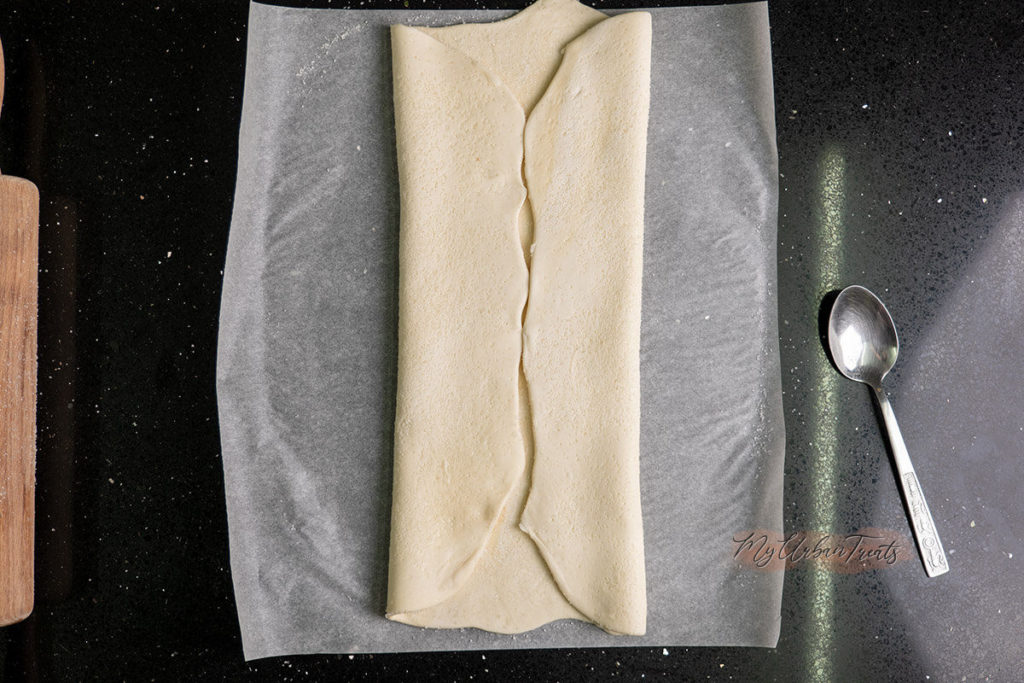 Fold again towards the middle making an even longer and narrower pastry envelope. And yes you've guessed it, add another layer of sugar over the pastry and lightly without much pressure roll the sugar in to the dough. We have now reached the last fold. Fold in the middle to form a single long strip, sugar and roll both sides. At this stage preheat the oven at 240 C or 460 F.
Cut the strip into 2cm or 1inch slices. I know they look nothing like the photo's at this stage but stay with me on this. Line a baking tray with parchment paper and place the cut out strips with one of the cut sides facing down on the baking tray.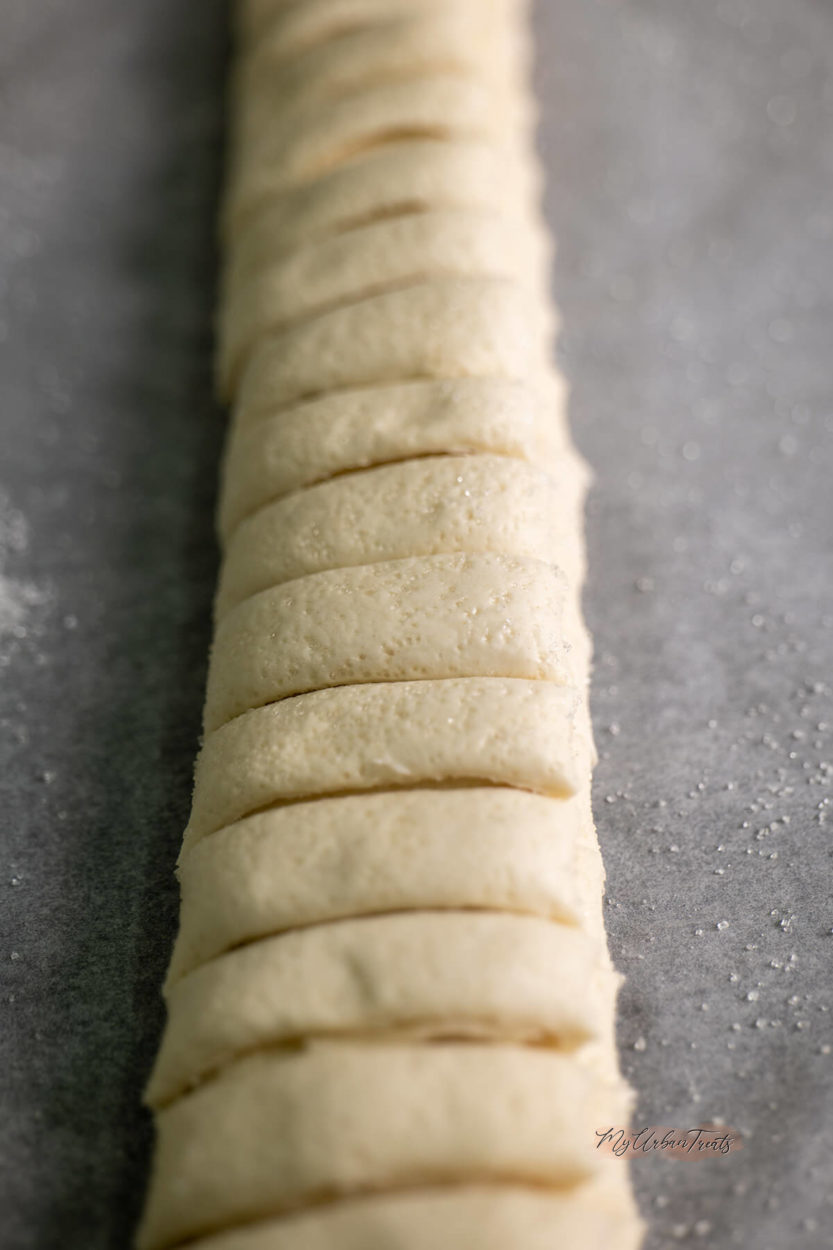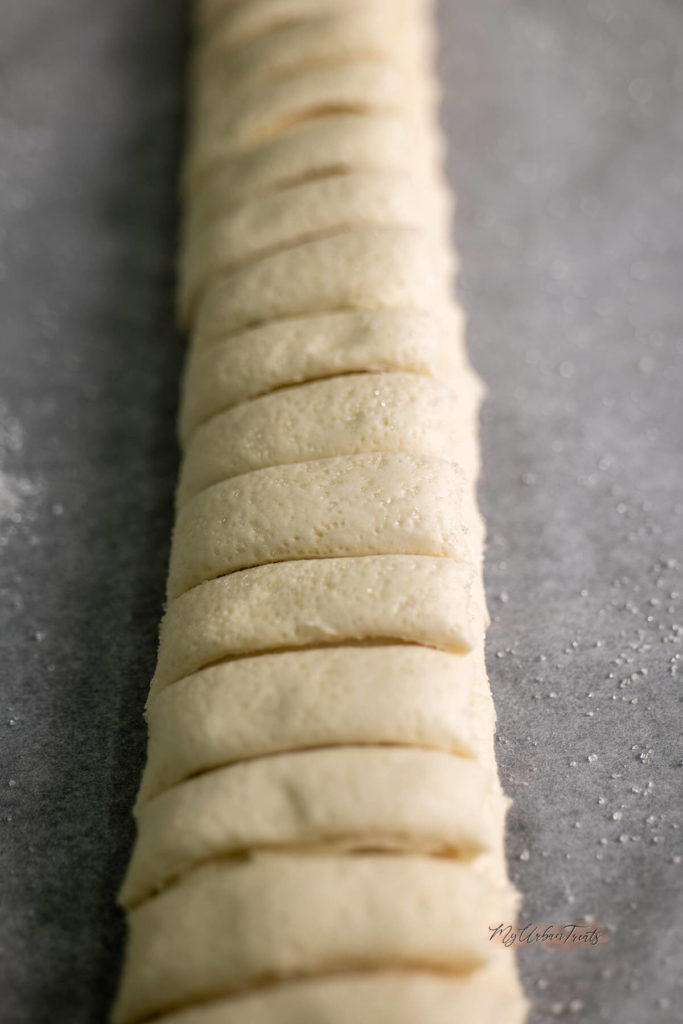 Bake until golden brown, then flip around and bake until the downside is also golden brown. Keep your eyes on the pastry as they can quickly burn.
The History
While Heart of France pastries are definitely French, the method of Puff Pastry lawyers where adopted from the middle east. This method is used in many recipes world wide such as:
Croissants
Galette
Puff Pastry pockets with fruits
Danish's
Pastry Tarts
While the 1st creation of Palmiers has not been documented what we know suggests that they were first made in the early 20th century and have quickly become a famous pastry in France.
I will use this same recipe as a base for my favorite egyptian bread pudding, coming soon 🙂 In the meantime you can also try some of these desserts:
Storing & Freezing
Palmier are made out of puff pastry and sugar and while they keep relatively well outside of the fridge and will taste nice for 3-4 days. You want to be safe when storing any food so, first of all, always use a sealed container to store any food or dessert. This not only keeps bacteria out it also keeps odours from the surrounding and other foods away.
You can freeze un-baked Palmier's and just bake them when you feel like it. Simply shape them and then freeze. To make storing frozen dough easier, you can initially wrap them in a baking tray on a sheet of parchment paper. Once frozen they wont stick together so you can then place them in an airtight and freezer proof container.
If you wan to freeze already baked Palmiers then you will need to re-bake them in the oven for a bit to get the crispy texture back. The freezer does tend to dry them out a little so here is a trick I learned from my mom.
Place the defrosted but baked palimers on a baking tray, and brush them with water. Then bake them at 180C until all the water has dissipated. Your Palmiers will be as crispy and tasty as the first time you baked them.
Tips & Tricks
Here are some easy alterations you can make to change the flavour of your puff pastry dessert:
Fold chocolate chips in with the sugar, this will make nice chocolate pockets inside the elephant ears.
Make a Chocolate Ganache and dip the sides or run over the pastry
Make a Honey Nut filling
Make a savoury version with Cheese
Here are some tips and tricks when making this recipe:
If you are using ready Puff Pastry, let it thaw for at least 2 hours. This will make the dough more malleable and avoid breaking when rolling in to sheets.
Don't store in the fridge, the butter will make the dough hard again and you will have to wait to soften it.
Watch your baking tray's maximum temperature, some are not save beyond a certain temperature. This can release chemicals in to your food.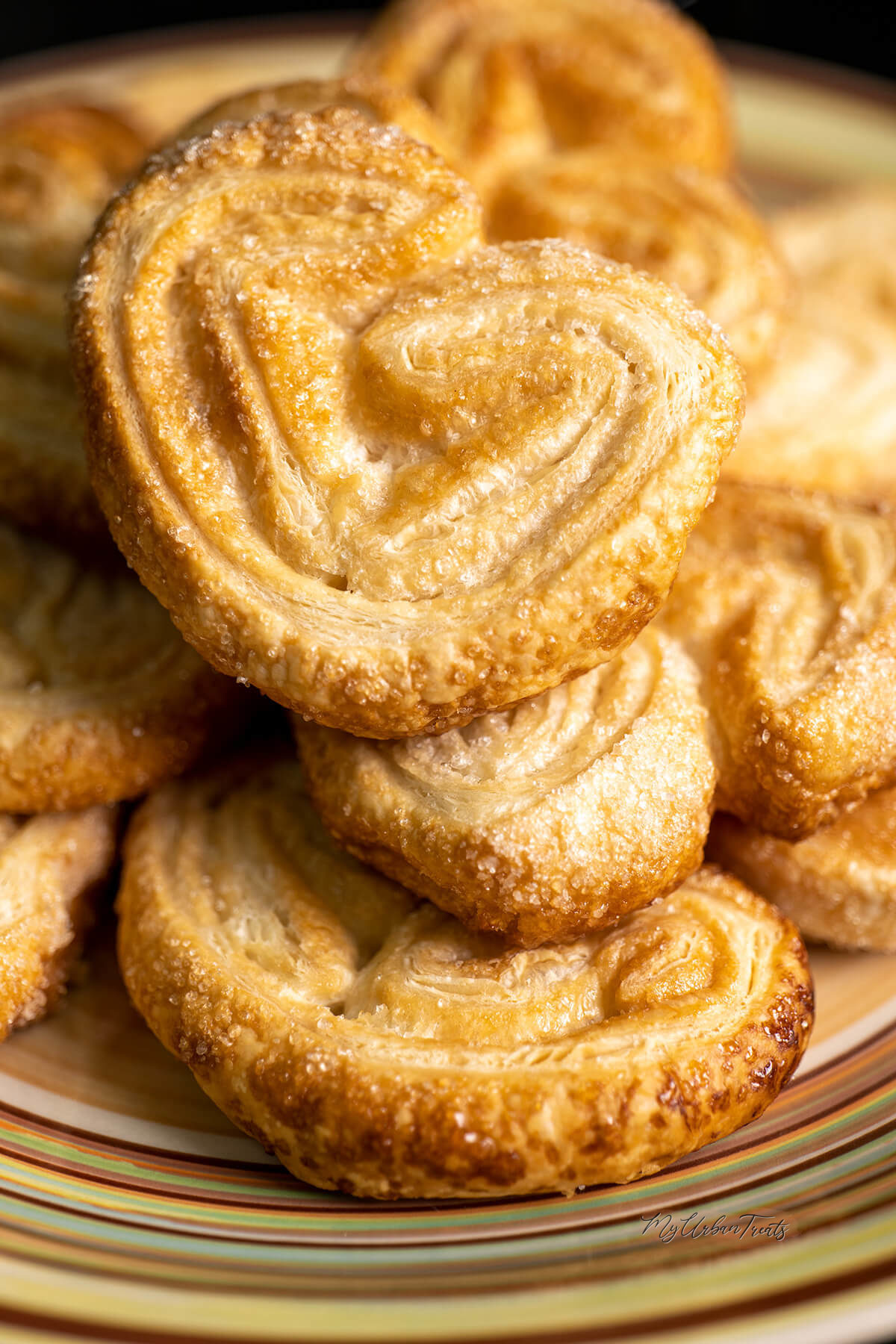 Palmiers
A recipe for French Puff Pastry Palmiers, these can be easily made with a block of puff pastry and some sugar. Roll, fold and bake. Here is how its done!
Ingredients
2

Cups

Puff Pastry

1

Cup

Crystal Sugar
Instructions
Roll the puff pastry into a thin sheet, approximately the thickness of two small coins. Evenly distribute a thin layer of sugar and using the rolling pin, press it lightly into the dough.

Place a 2nd piece of parchment paper over the dough and flip it around, again sprinkle with sugar and press it in with the rolling pin.

Fold the dough sides in to the center and again sprinkle with more sugar. Press in with the rolling pin and then fold each side again in itself.

Last fold in the middle until you have a thin even line. Sprinkle with more sugar and again press it in with the rolling pin.

Cut in to 1 inch or 2 cm slices and place sideways on a baking tray lined with parchment paper.

Bake at 220 C or 430 F until golden brown, then flip around to get the same colour on the bottom of the palmier
Nutrition
Serving:
20
g
|
Calories:
154
kcal
|
Carbohydrates:
19
g
|
Protein:
2
g
|
Fat:
8
g
|
Saturated Fat:
2
g
|
Sodium:
54
mg
|
Potassium:
13
mg
|
Fiber:
1
g
|
Sugar:
9
g
|
Calcium:
2
mg
|
Iron:
1
mg