Growing Maltesers where my favourite treats. So in my never-ending search for the most amazing cake recipe, I came up with the Idea of a Maltesers Chocolate drip cake. Now obviously this has been done before and I am certainly not the first to create such divine treat. But I wanted to come up with my own recipe, and go for an authentic malt and chocolate flavour. So what better than a malt sponge cake, with malt cocoa buttercream covered in chocolate ganache?
The Maltesers Flavour
Arguably the most important part of a Maltesers Chocolate drip cake is the Malt flavour. Making Maltesers is a trade secret recipe but there are some speculations on how Mars makes them. The closest recipe I found that resembled the actual malt ball filling was using dry ice to quickly set bubbling malt and white chocolate. This caused the air bubbles in Maltesers and the crunchy bite. Notably, the American Whopper Malt balls are much denser than the British Malteser.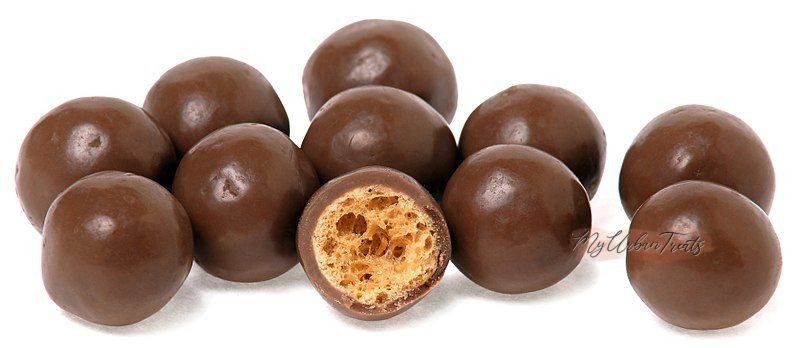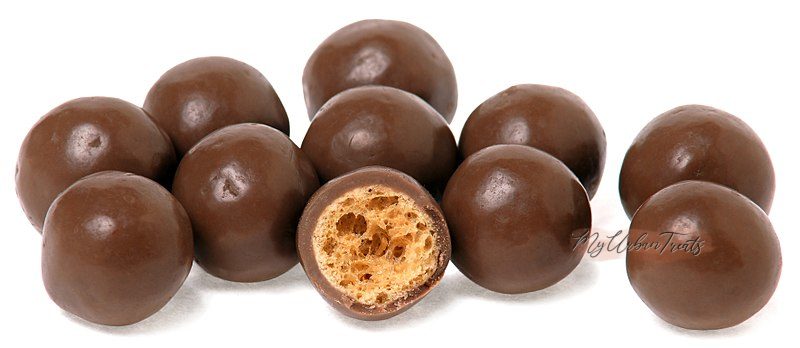 Anyhow, back to our subject :). The flavour of Maltesers comes from two main ingredients, Malt and Chocolate. So naturally, we have to integrate these into our Maltesers Chocolate drip cake. As I wanted the sponge cake to resemble the aero texture of Maltesers I creamed the butter with the sugar. This introduces a lot of air which forms bubbles in our batter. When the cake bakes the butter melts and air pockets are take its space. There are multiple ways to achieve this but for maximum effect, we used two methods. A) creaming the butter and sugar and B) Adding baking soda and baking powder. The result was a super fluffy and moist malt flavours sponge cake.
I then made buttercream and with more Malt and Cocoa flavour. There are two ways you can give your cake a Malt flavour. One: Add actual malt 😀 or Two: Add a malt flavoured drink like Hemo or Ovomaltine. Now here is a tricky part to consider, Malt drinks are usually sweetened. You have to make sure you offset the sugar to malt drink ratio, otherwise, you will end up with an over-sweetened cake.
Maltesers Chocolate Drip Cake Tips & Tricks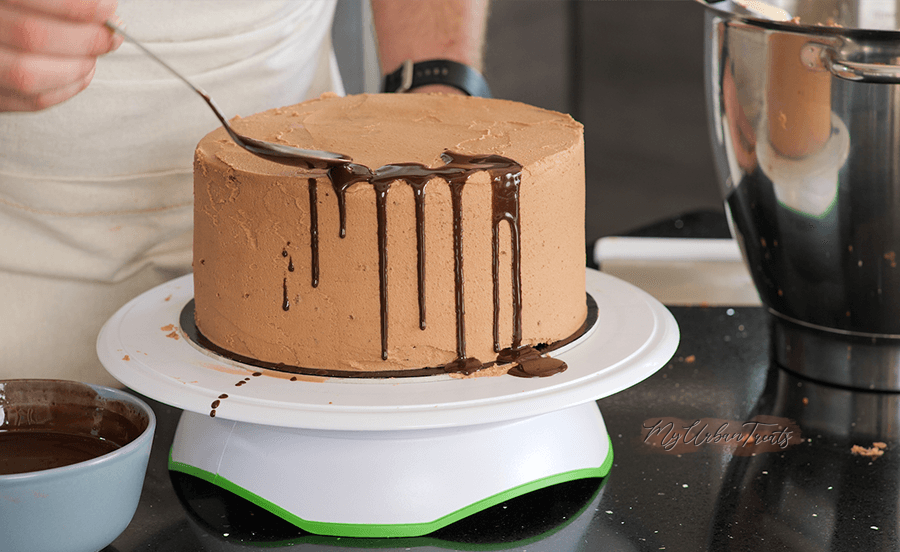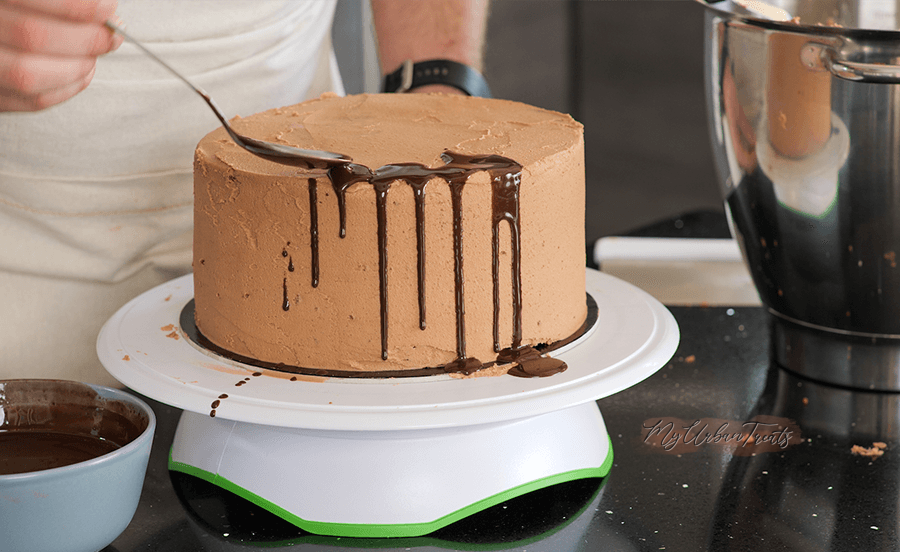 Be careful when adding your egg's to the Butter and Icing sugar cream. Adding them too quickly will curdle your batter. If it does curdle, fear not you can still fix it. Keep blending at medium-high speed until the curdled bits are super small. Then fold in the flour until well combined. This should give you a creamy cake batter that will rise with no issues.
Choosing a Malt drink or flavour. Most malt drinks contain sugar and cocoa. Make sure you read the label and adapt the recipe. If your malt drink does not contain any cocoa then mix in cocoa at a ratio of 70/30.
Don't rush the baking process, the sponge cake recipe has a lot of butter and will create a nice moist cake. You need to make sure its well baked in the centre as it will otherwise collapse. Do a wooden skewer test and make sure it comes clean out of the centre.
The trick to a perfect chocolate Ganache drip is the temperature. Ensure your ganache is not too cold as it will form a skin but also not too warm as it will be too runny. I find that hand warmth is a good temperature. In either case, do a drip test before applying all the ganache.
What are Malt Drinks?
Malt drinks are made out of fermented grain or seeds of the barley plant. Beers such as Ale and Lager are also part of the malt beverage family along with Malt whiskey.
For the Maltesers cake we are using a non-alcoholic, milk based, malt drink such as Horlicks or Ovaltine. These are non-alcoholic drinks that contain malt extract or flavouring. Malt extract in itself does not taste like beer or whisky, it has a natural warm and rich flavour.
The Recipe!
Below you will find all the steps to make the Maltesers chocolate drip cake if you have any questions make sure you leave a comment and If you have actually baked this cake make sure you post a Photo and rating. Enjoy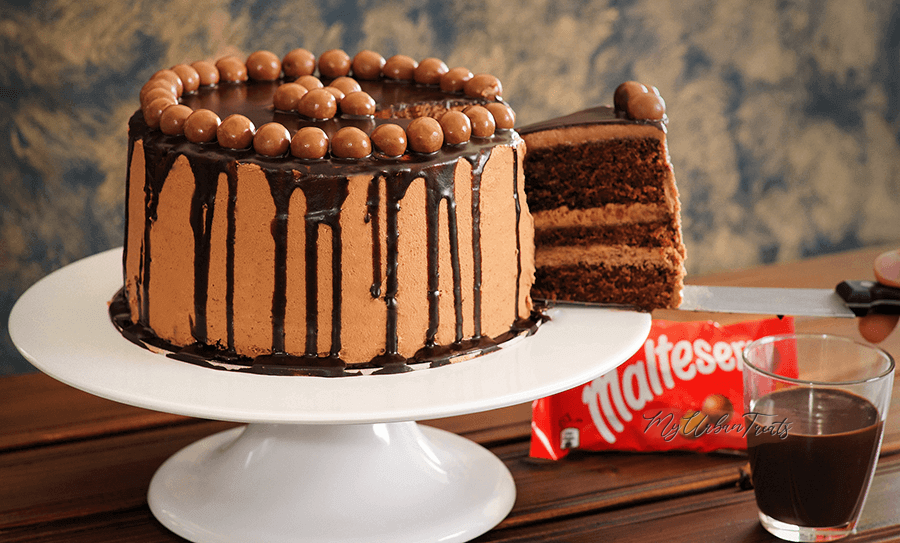 Maltesers Chocolate Drip Cake
Moist malt sponge with malteser buttercream, simply YUMMY !
Ingredients
MALTESER SPONGE CAKE
1 ⅔

Cups

Butter

1 ⅔

Cups

Crystal Sugar

½

Cup

Brown Sugar

2 ⅔

Cups

All-purpose flour

8

Large

Egg

1

tsp

Baking Powder

1

tsp

Baking Soda

1 ⅓

Cup

Malt Drink
MALTESER BUTTER CREAM
1 ⅛

cup

Butter

2 ⅔

cups

Powder Sugar

1

cup

Malt Drink

3

tbsp

Milk
DECORATION
⅔

cup

Dark Chocolate

⅔

cup

Heavy Cream

2

small bags

Malteser
Makes:
8
inch
8
x
8
inch
round
,
3
inch
height
Instructions
Using a hand or stand mixer, blend softened butter with brown and white sugar until pale and creamy. Blend in the eggs one at a time, if you blend them all at once the batter might curdle. Now while mixing slowly blend in your dry ingredients. Note with the malt drink, I used HEMO which is a mix of Malt and Cocoa and also contains sugar. If your Malt drink contains sugar then reduce your white sugar by 50 grams.

Grease two 9 inch forms and split the batter evenly between them, bake in a preheated oven at 175C or 350F for 50 to 55 minutes. To test poke in the centre with a wooden skewer, if it comes out clean the cake is done. Cool to room temperature and cut each sponge into two layers.

Cream the butter with a hand mixer or stand mixer. Slowly add in the icing sugar until you get buttercream consistency. Blend in the Malt Drink, as with the sponge, if your malt drink contains sugar reduce icing sugar by 40-50 grams. If your buttercream is too thick you can add milk (only 2-3 tablespoons) until you get the desired consistency.

For the chocolate ganache place the heavy cream in a microwave safe bowl and zap until just hot. Now add in your chocolate and stir until it melts and combines to a smooth cream. Let it cool for 20 minutes until just above room temperature.

Divide your sponges into four equal layers, if you have a turntable use a bit of butter cream to "glue" the sponge to the cardboard. This sponge cake is very moist so it will slip a bit. Now add equal layers of malt butter cream.

Apply a thin crumb coat, place in the fridge for 20-30 minutes so the crumb coat can set. Now apply the remaining cream and flatten using a bench scraper or palette knife.

Next add the chocolate ganache, make sure it has the right temperature as cold lganache will have a skin and won't be shiny. Too warm and it will be too runny so get that temperature right.
Nutrition
Calories:
955
kcal
|
Carbohydrates:
124
g
|
Protein:
24
g
|
Fat:
44
g
|
Saturated Fat:
11
g
|
Cholesterol:
149
mg
|
Sodium:
306
mg
|
Potassium:
400
mg
|
Fiber:
2
g
|
Sugar:
77
g
|
Vitamin A:
466
IU
|
Vitamin C:
2
mg
|
Calcium:
219
mg
|
Iron:
6
mg