I have a weak spot for anything sweet but chocolate and cheesecake have a very special place in my heart. After trying a few different combinations of chocolate bases and cheese topping, I came to the conclusion that this combination is my favorite. Oreo chocolate chip cheesecake is a recipe you can quickly make at home. Its rich in flavor and is super satisfying.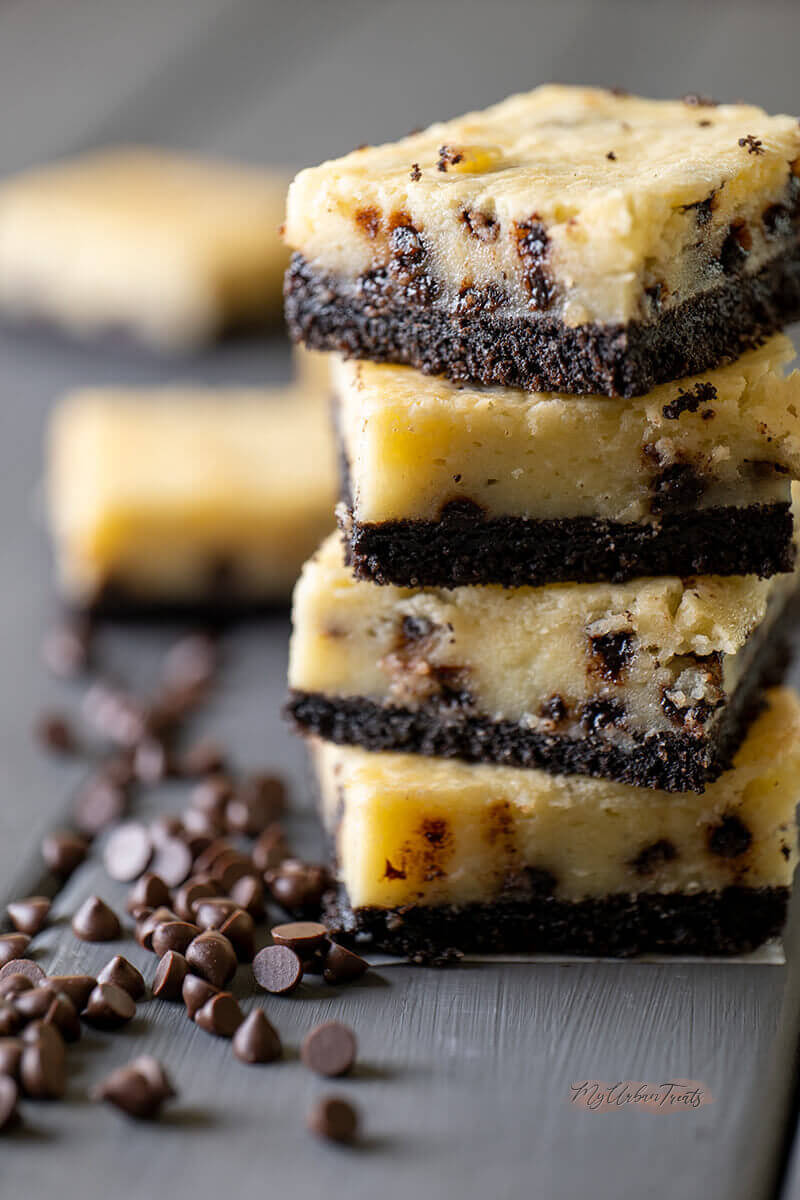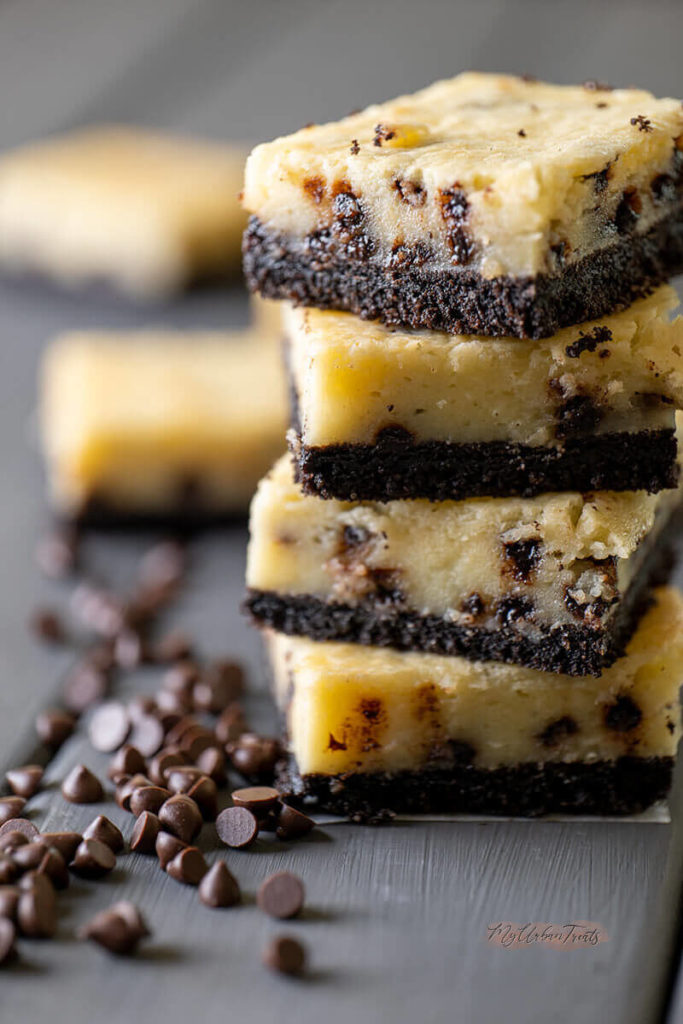 Many countries around the world have their own variation of cheesecake. From matcha powder flavored Japanese Cheesecake to Russian Vatrushka cake. Cheesecake is baked all over the world. Most of the recipes are divided into to bake and no-bake recipes but the variations are virtually infinite. Here are some international variations of cheesecake.
Bavarian Cheesecake is made with sponge cake layers on the top and bottom of the cake. The filling is made with cream cheese and heavy cream.
Russian Vatrushka is often made in smaller bun sized portions, they are fluffy and light and remind of a danish. Vatrushka is made with yeast and mayonnaise 🙂
Japanese Cheesecake has received a lot of attention in the last few years because of its Fluffy and Jiggly consistency. The main difference between Japanese cheesecake and other countries is that it has no crust and is very very light and fluffy.
Swedish Cheesecake aka Ostkaka. Ost is the Swedish word for Cheese and Kaka is a cake or cookie. The Swedish version of this dish is made by adding rennet to milk which coagulates and thickens. Other Swedish versions are cooked in a copper pot and guest serve themselves from the pots center.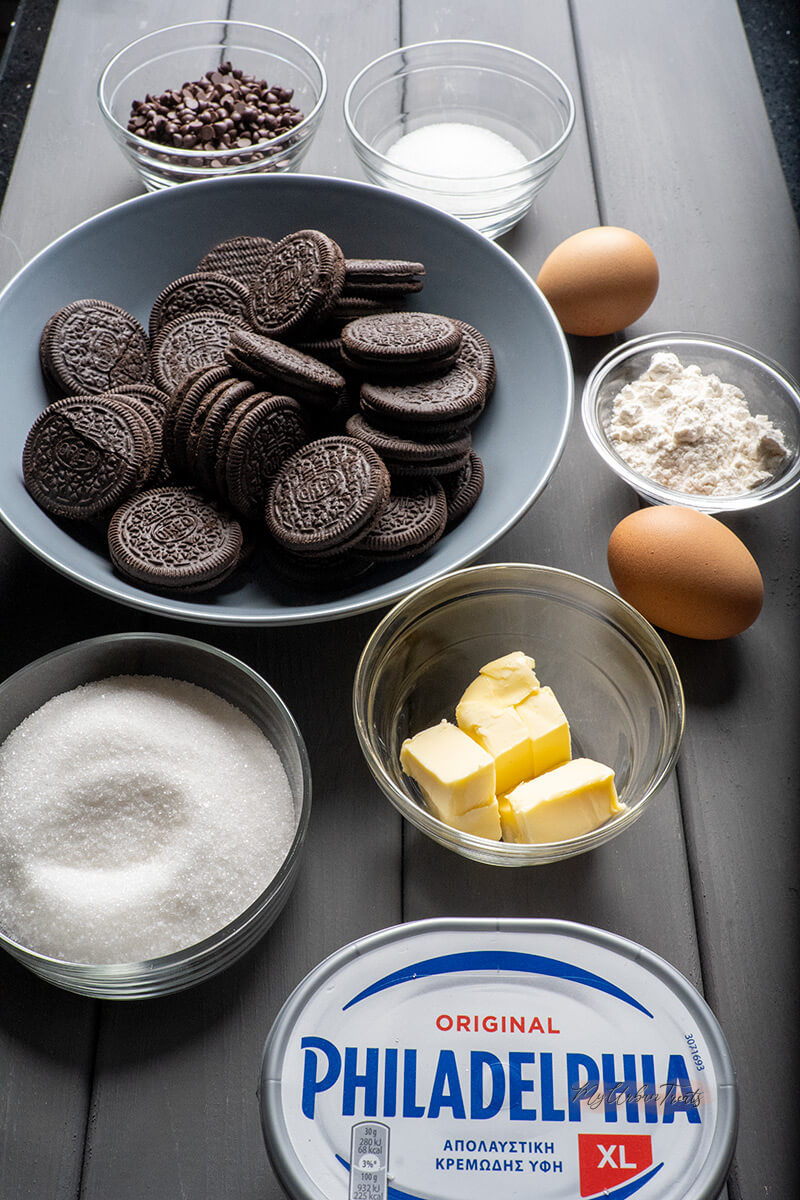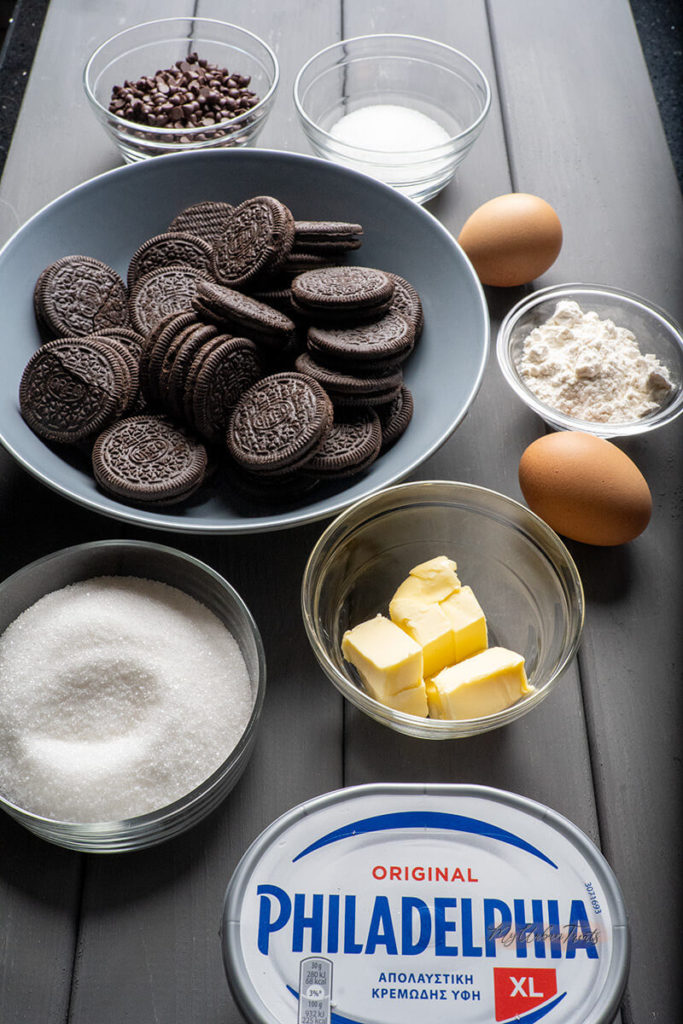 Ingredients
Cheesecake only requires a very few ingredients. So here is what you need:
Oreo Base
Two sleeves of Oreo Cookies, cookie and filing separate. Note that this works with other brands of choco cookies too. Lidl for example has cheaper brands that have 99.99% the same result in the recipe.
Butter & Sugar which will caramelize and make the base stick together.
Cream Cheese Filling
Cream Cheese (duh) which is the main ingredient
Sugar to sweeten it up as cream cheese is naturally savoury
Egg's to make it all hold together while keeping it fluffy
Flour to strengthen the texture
Vanilla Extract to give it some flavour and mask any unwanted egg flavour
Chocolate Chips because who doesn't love choco chips right?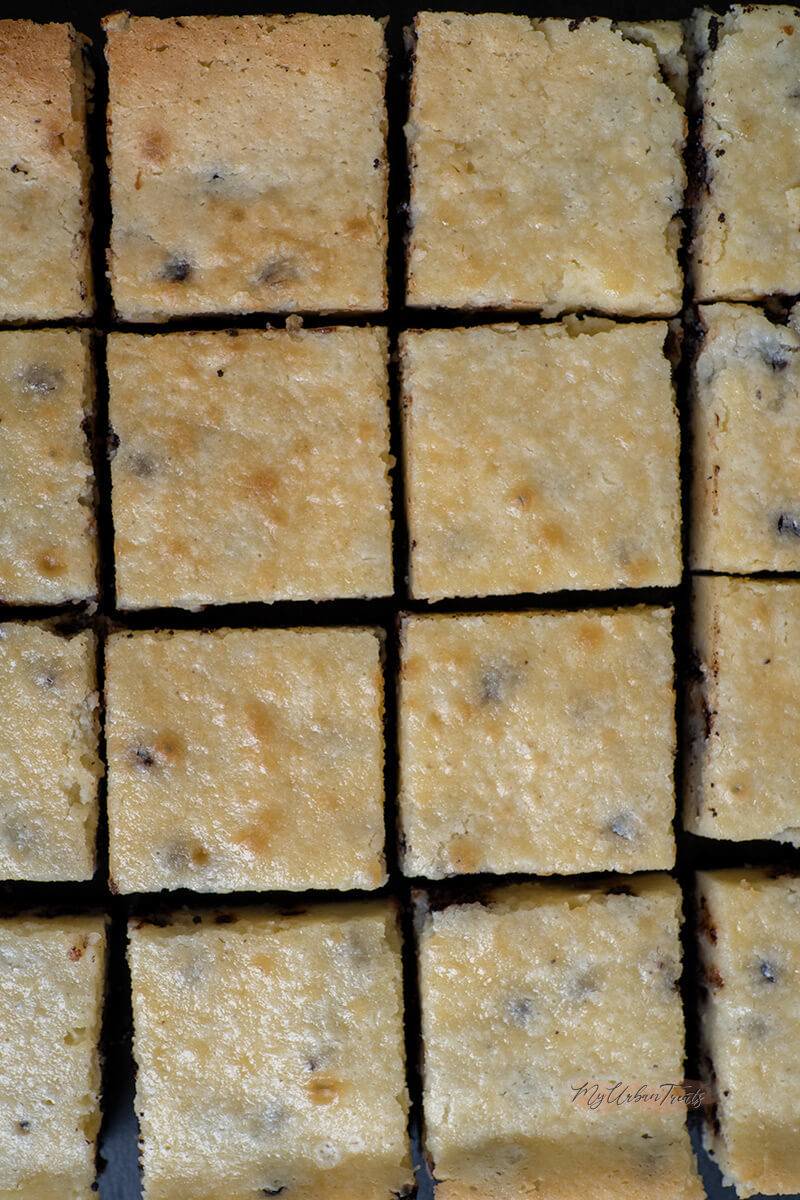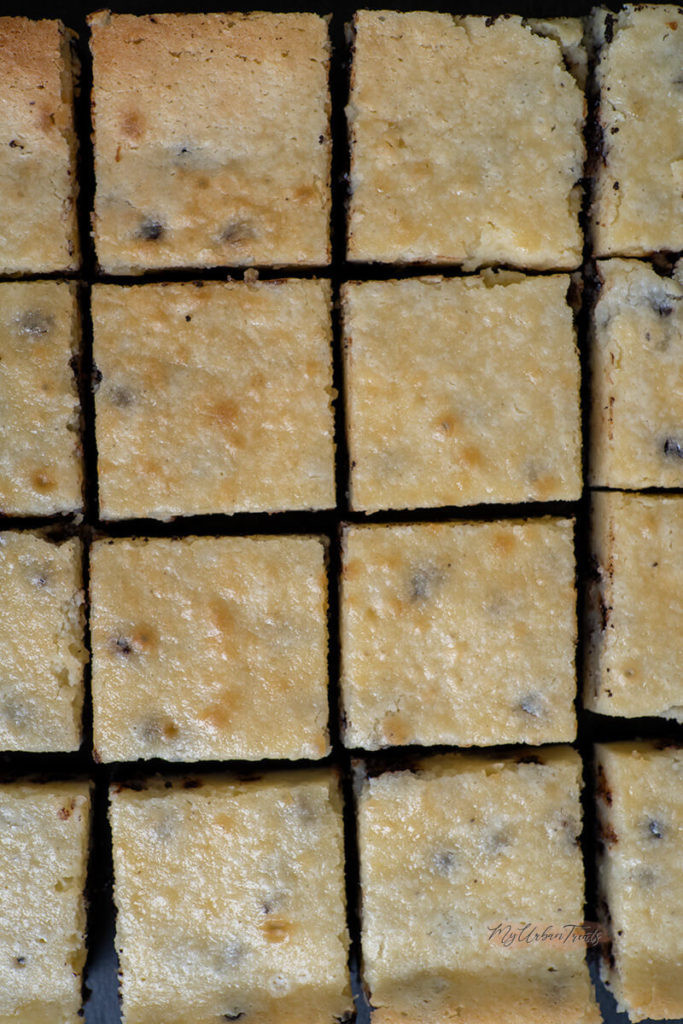 How its made!
This recipe is beyond easy and only takes a few steps from start to finish. Let's start with the Oreo Cookie Base.
Step 1
Separate the Cookies from the Cream and set the cream aside. DONT EAT THE CREAM 😀 you will need it for the filling. Using a food processor or blender, blitz the cookies until they are a fine crumble. Add the butter and sugar to the mix and blitz a bit more until well combined.
Step 2
Line a 9 x 9 Inch brownie pan with backing paper, now pack the oreo crumble in to the pan. Use the back of a class or cup to press it down and compact it. Try to get an even layer. Bake at 175C or 345F for 10 minutes. Set aside.
Step 3
Whisk the cream cheese with the cookie cream, sugar, flour and vanilla extract until creamy. Then add in the eggs and continue whisking until blended and creamy. Last but not least, fold in the chocolate chips. Pour the cream cheese mixture on the orea layer and bake at 175 C or 345 F until lightly golden brown. Cool for at least 1 hour before cutting (if you want clean cut edges)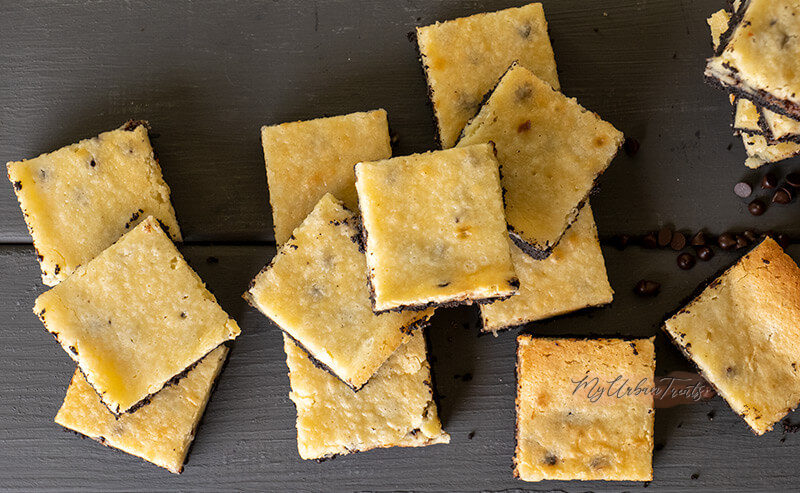 Tips & Tricks
Unlike traditional cheesecake, this recipe requires no water bath. Its as simple as 1,2,3. However here are some tricks that might help you if you struggle.
Leave the Cream Cheese out of the fridge for 30-40 minutes before you start baking. Its essential that the ingredients are at room temperature. Cold cream cheese is firm, we want it to be soft and malleable.
Don't over bake, you want the edges to be golden brown and the center to look as if its just done. Overbaked cheesecake is dry so watch your baking time.
Slice with a long knife or… dental floss. I like to use my long bread knife. I know serrated knives are not great for cutting cheesecake but hear me out. I lightly wiggle the knife across the line I want
Overmixing = Gluten production and gluten makes cakes tough. So leave the flour last before adding the eggs. The less you have to whisk the fluffier your cake will be.
Other Delicious Desserts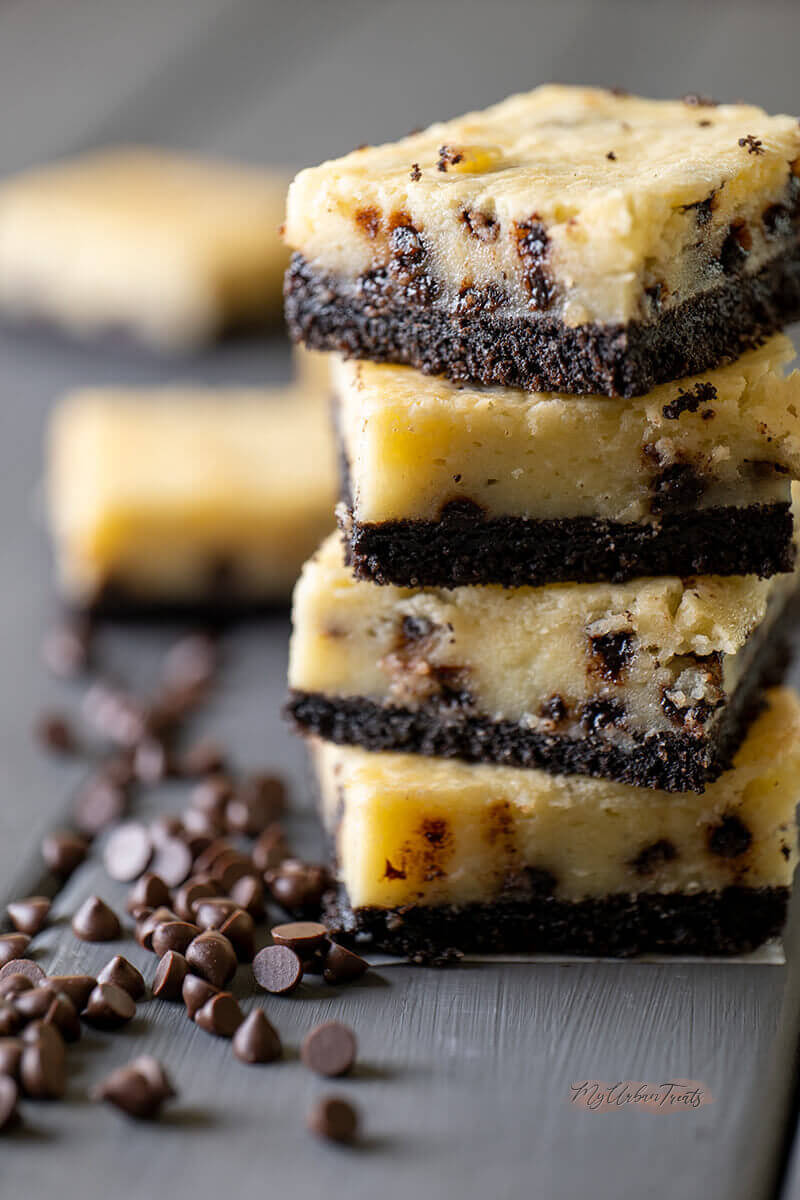 Oreo Chocolate Chip Cheesecake
No water bath and easy to make cheesecake. An oreo cookie base with cream cheese chocolate chip topping. Fast, easy and mouth watering delicious.
Ingredients
Oreo Base
2

Sleeves

Classic Oreo Cookies

Seperate Cream

2

Tbsp

Unsalted Butter

Melted

2

Tbsp

Crystal Sugar
Instructions
Oreo Base
Separate the cookies from the cookie filling and set aside. In a food processor blitz the cookies until they are finely crumbled.

Add the butter and sugar, molten butter works best but room temperature will also blend well. Blitz until well combined

Tightly pack the mixed oreo crumble in to an 8 Inch spring form or a 9 x 9 brownie form. If you don't use a spring form, line your form with parchment paper. It will make removing much easier. Using the back of a glass or mug, press and compact as much as you can. Then bake for 10 minutes at 175 C or 345 F
Cream Cheese Filling
Combine the room temperature cream cheese, oreo filling, sugar and vanilla extract and whisk until smooth. Now add in the flour and whisk in slowly. Whisk in the egg's until smooth and well combined and then fold in the chocolate chips. Pour over the oreo base

Now bake the cheesecake for approximately 45 minutes. The edges should have a light golden brown colour and the center is a bit bubbly and not brown.
Nutrition
Serving:
45
g
|
Calories:
233
kcal
|
Carbohydrates:
28
g
|
Protein:
3
g
|
Fat:
13
g
|
Saturated Fat:
6
g
|
Cholesterol:
47
mg
|
Sodium:
169
mg
|
Potassium:
81
mg
|
Fiber:
1
g
|
Sugar:
21
g
|
Vitamin A:
316
IU
|
Calcium:
26
mg
|
Iron:
2
mg