This is my go-to recipe when I need cake urgently and don't have the time or energy to bake a full triple layer cake (or wash a sink full of dishes). making Vanilla Mug Cake is beyond easy and you can get super creative with this recipe.
I have named this one Cake in a Mug: Vanilla because I will share my Caramel and Chocolate versions of this very soon so keep your eyes peeled 🙂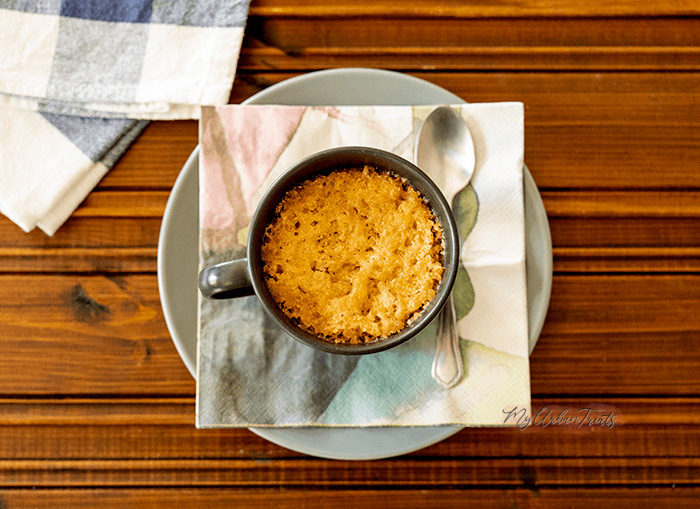 How Is a Mug Cake made?
Mug Cakes are so simple that its extremely dangerous to my waistline. You basically mix all the ingredients in your favourite mug, give them a good stir to ensure everything is combined and then zap them in the microwave until ready. Now how long you have to microwave the mug cake really depends on the strength of your microwave. A general guideline is between 50 seconds and 90 seconds, it took me a few trials to learn how long it take in mine and I now have it down to the right second.
Vanilla Mug Cake Ingredients:
Here are the ingredients you need to make a delicious Mug Cake with Vanilla flavour.
All-Purpose Flour, I like to use a 00 flour as it gives me just the perfect texture and rise
White & Brown Sugar will give your mug cake a nice flavour blend and a slight caramel taste
Baking Powder as a rising agent to make sure your cake is nice and fluffy
Salt enhances the flavour of other ingredients and gives them more depth so I always add a small dash
Milk to combine it all, if you are lactose intolerant you can replace Milk with Soy or Coconut Milk
Vegetable Oil will make the cake moist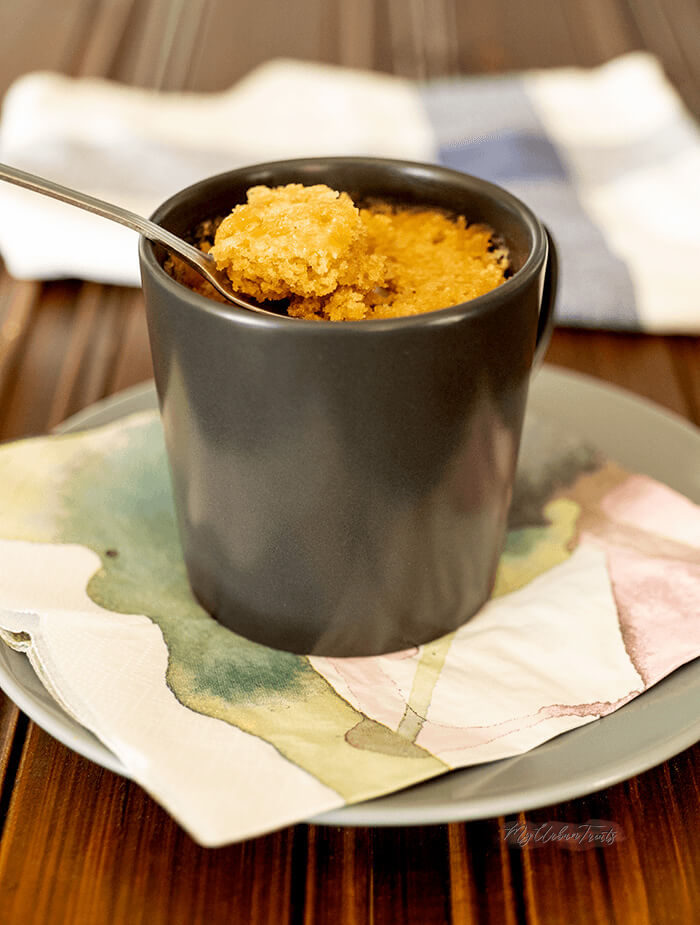 Toppings for Vanilla Mug Cake
If you want to spice your cake in a mug up a little, try adding some of these ingredients or get creative and add whatever you feel. You never know when you will discover your next amazing baking idea.
Biscoff Biscuit Crush
Maltesers (a common theme with me 😀 )
Dried Berries ( I like strawberries)
Caramel Chunks
Sugar Sprinkles
Anything you wanna add 🙂
Tips & Tricks
This recipe is super easy so I don't have many tips and tricks to share with you but here are some tips. This cake WILL rise so keep the dough about 1 or 2 cm or 3/4 of an Inch below the edge of the mug. Also watch the roof of your microwave 🙂
Another tip is adding the ingredients starting with the dry ones first, this has no direct effect on the baking but will make it easier to combine and get a smooth batter. Add all the dry stuff, stir, add egg's milk and oil, stir again. Voila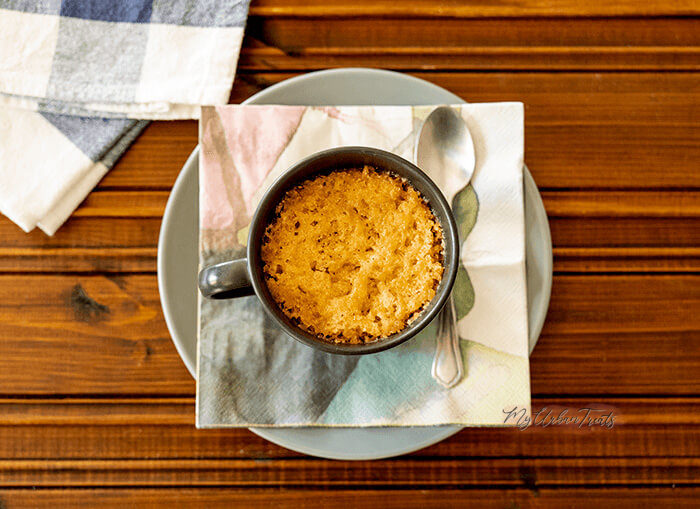 Cake in a Mug: Vanilla
Craving Cake but don't have the time to bake one? Don't want to clean up a messy kitchen after baking? Say no more, this delicious vanilla cake in a mug takes a few minutes and is moist, delicious and just superb. Try it now you probably have all the ingredients in your pantry 😉
Ingredients
1

medium

egg

¼

cup

All-purpose flour

1/8

cup

Crystal Sugar

1/8

cup

Brown Sugar

1/8

tsp

Baking Soda

1/8

tsp

Salt

4

tbsp

Milk

Cow, Soy or Almond

2 1/2

tsp

Vegetable Oil

1/2

tsp

Vanilla Extract
Instructions
Combine all dry ingredients in a large mug and give them a quick stir, then add all the wet ingredients and combine until the batter is smooth.

Microwave between 60 and 90 seconds. Enjoy your vanilla mug cake
Nutrition
Calories:
444
kcal
|
Carbohydrates:
79
g
|
Protein:
5
g
|
Fat:
12
g
|
Saturated Fat:
9
g
|
Cholesterol:
6
mg
|
Sodium:
483
mg
|
Potassium:
116
mg
|
Fiber:
1
g
|
Sugar:
55
g
|
Vitamin A:
97
IU
|
Calcium:
91
mg
|
Iron:
2
mg