Are you looking for an amazing Blondie recipe that will wow your friends and family? The secret to a great Blondie recipe is the sugar types and ratios.
We have tried a ton of recipes and combinations and have found the best recipe to make amazing Blondie's
Everyone loves brownies, but have you ever tried making bloodies? Blondies are delicious chewy squares are with no cocoa or chocolate in them. This gives them a very different texture and flavour compared to brownies.
Today I am sharing my all time favourite Salted Caramel and Walnut Blondie recipe. I usually make a triple batch of these because as soon as my family and friends know I've made them they are gone in minutes.
What are Blondies?
Blondie's are basically brownies with no cocoa or chocolate in the batter. They are usually made with brown sugar and have a chewy centre with a crunchy exterior. This is due to the caramelization of the brown sugar during the baking process. 
Blondies taste a lot like caramel and vanilla and although they contain no cocoa, they have a light brown/blond colour due to the high brown sugar content. While they look a lot like Brownies, they taste very very different.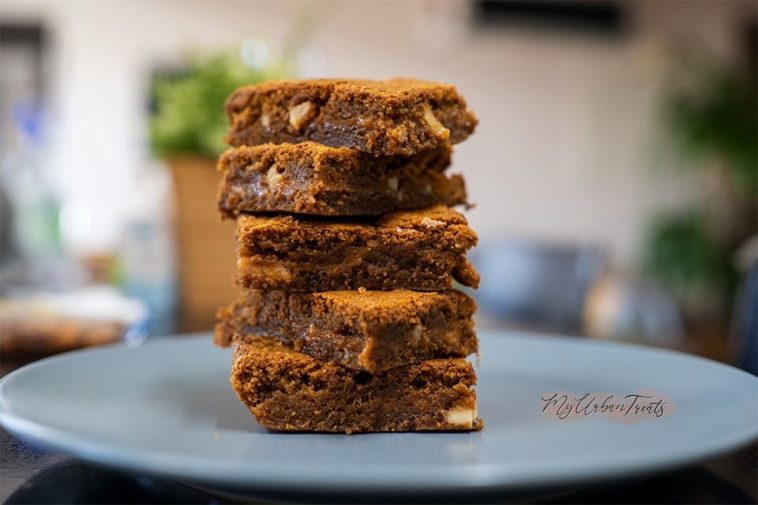 Blondie Tips & Tricks
As we already mentioned, Blondie's are very different from Brownies in both flavour and texture and while they are generally easy to make here are some tips & tricks to ensure a successful bake. 
How to know when they are baked?

Blondie's contain egg's so you need to reach a centre temperature of at least 160 C or 320 F. If you have a food thermometer than that's great otherwise use a wooden skew and poke the centre of the Blondie. If it comes out clean they are cooked. You can keep on baking if you like them more crispy on the edges but don't over bake or the sugar will caramelize too much and they will be tough to bite when they cool.

Walnuts or other nuts?

I have tried this recipe with walnuts, pecans and peanuts and while they all tasted great, walnuts where definitely my favourite. 

What type of Sugar?

For a rich and full flavour I often use a blend of dark brown and light brown sugar. Using only dark brown sugar gives the Blondie a very intense taste that not everyone loves so i stick to a 2:1 ratio Dark/Light.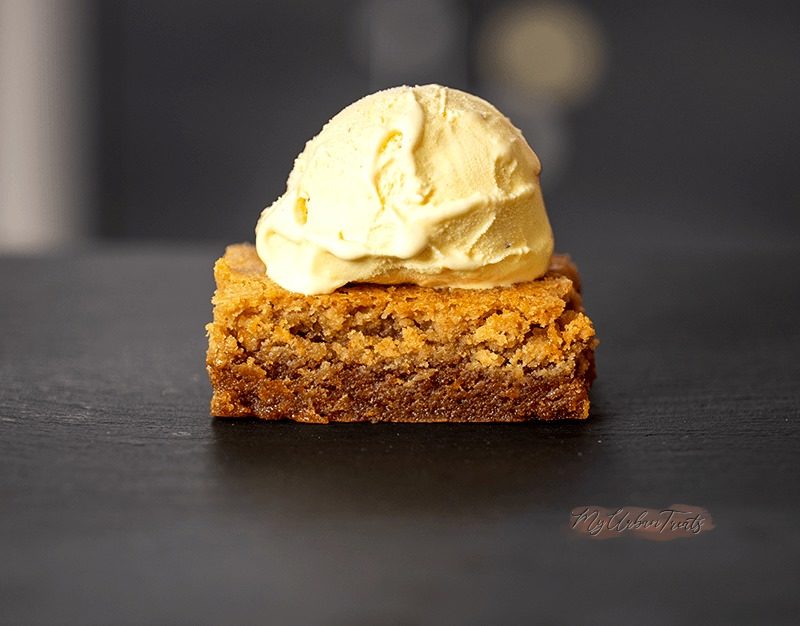 Salted Caramel & Walnut Blondie's
Salted Caramel & Walnut Blondies 
Instructions
Combine sugar with melted butter, eggs, egg yolks, vanilla extract and salt in a large bowl. Whisk until well combined.

Add your flour approximately five to six tbs a time and combine. This will make it easier to blend and will help you avoid flour clumps in the batter and subsequently in the brownie.

Line your baking tray or form with baking paper and add 1/2 of the blondie batter. Spread evenly and bake for 30 minutes at 175C or 350F. This will make it solid enough to add the filling in the next step.

Chop your walnuts roughly, not too small and prepare your salted caramel. There are varioud ways you can make salted caramel make sure you check out our recipe which is super easy and only takes a few minutes.

Evenly distribute the Salted Caramel and Walnuts, then add the remaining blondie batter and distribute evenly with a rubber spatula

Bake for another 45 minutes and then set aside to cool. Once cooled you can easily cut the blondies into equal squares.
Nutrition
Calories:
818
kcal
|
Carbohydrates:
135
g
|
Protein:
17
g
|
Fat:
27
g
|
Saturated Fat:
3
g
|
Cholesterol:
93
mg
|
Sodium:
243
mg
|
Potassium:
245
mg
|
Fiber:
2
g
|
Sugar:
72
g
|
Vitamin A:
179
IU
|
Vitamin C:
1
mg
|
Calcium:
153
mg
|
Iron:
5
mg