How can you possibly improve an Oreo cookie? The answer is you bake it into an american style cookie. This Oreo in a Cookie Recipe is probably the BEST cookie you will ever taste (except my Maltesers cookie maybe). I am using Urban Treats all-time favourite cookie dough which I have perfected over the past four years and wrap it around a delicious Oreo. Perfection.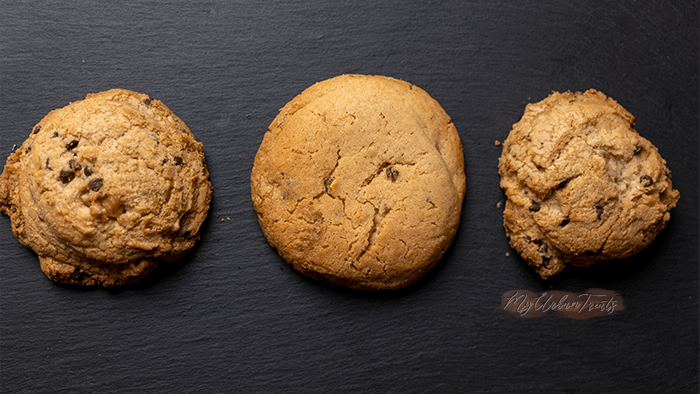 Whole or Crushed?
When I bake Oreo stuffed cookies I usually end up baking half of the batch as a whole Oreo and the other half witch crushed Oreo's. My family just loves them equally so I have to make a bunch of each type.
If you are using a stand mixer and have a dough hook, then you can simply add the whole Oreo's at the last stage and the mixer will do the rest. This will give you a perfectly crushed and blended Oreo ratio.
When baking the whole cookie, simply grab two small cookie dough balls and wrap them around the Oreo. I use two as its easier to get an even wrap this way.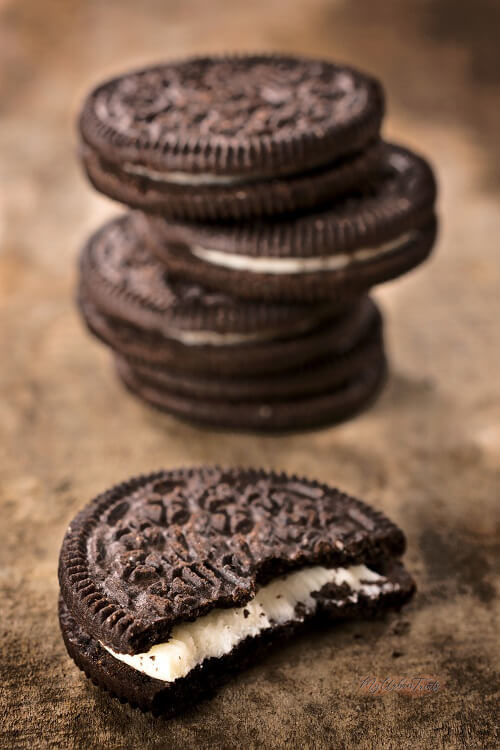 What are Oreo Cookies?
The name Oreo stems from ancient Greek and means beautiful. And if you ask me, The National Biscuit Company couldn't have picked a better name. Did you know that Oreo biscuits where actually first created in 1912? Yes they are 108 Years old and are actually Vegan. While we wont actually bake the Oreo's in this recipe, I would still like to show you what ingredients they contain.
The Ingredients of Oreo Cookies Include:
Sugar
Flour (unbleached)
Canola Oil or Palm Oil
Cocoa
Corn Syrup
Baking Soda
Starch (from corn)
Soy Lecithin used for emulsification and lubrication
Vanilla Extract or Flavour
Chocolate
The delicious exterior!
Ahhh yes, my secret biscuit recipe. I have been safekeeping this one for some time but its really a great cookie recipe and it has to be shared. So what's the secret for such a delicious treat? Its the mixture of flours and sugars. I don't use a single type of flour or sugar. As a matter of fact I use four different types of sugar and two types of flour plus a secret ingredient that you will find in the recipe. So what are the ingredients?
Half of the flour is Self Raining Baking Flour as it helps make a thick cookie and gives it a lovely texture
All Purpose Flour
Three types of Sugar to increase flavour and texture quality.

White Crystal Sugar
Light Brown Sugar
Dark Brown Sugar

Salt
Baking Soda
Eggs
Corn Starch
Freeze for Daily Fresh Cookies 🙂
Whenever I bake cookies, I bake a TON of cookies. Last weekend we made 18 lbs of Oreo stuffed cookies with the intention of freezing them, turns out we never froze a single cookie. The door bell doesn't stop ringing when we make these but its great to know you can.
The best way to freeze cookie dough balls is to first freeze them on a baking tray where they don't touch each other. Once frozen you can put them in a freezer bag or wrap them in film. This way you will avoid them sticking together which makes it hard to separate and bake them when you need your fix.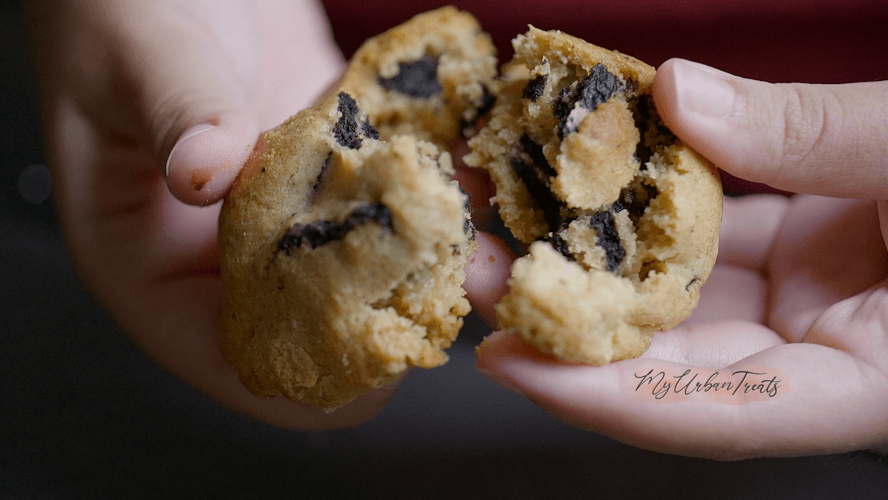 Oreo in a Cookie Recipe
Can you think of anything better than a Cookie filled with an Oreo Cookie? This perfect cookie dough base will make a delicious crispy on the outside and chewy on the inside cookie with the added flavour of Oreo Cookies and Cream.
Ingredients
1

cup

Butter

Unsalted

1/2

cup

Crystal Sugar

1/2

cup

Dark Brown Sugar

1/2

cup

Light Brown Sugar

1 1/2

cup

Self Raising Flour

1 1/2

cup

All-purpose flour

3/4

tsp

Salt

3/4

tsp

Baking Soda

2

large

Egg

1

tsp

Corn Starch
Instructions
Whisk sugars and butter until creamy, then add eggs one by one. Once combined we add in our flour slowly until we get a thick cookie dough batter

Fold in the Oreo Cookies, you can use crushed cookies or use whole oreo cookies and wrap them in cookie dough. Using a ice cream scoop form cookie dough balls and place them on a baking tray lined with baking paper.

Refrigerate your cookie dough for 20 to 30 minutes and then bake at 195 C or 390 F for 9 to 12 minutes or until just golden brown on the top. Don't over bake so you get a nice chewy center and crispy exterior.
Nutrition
Calories:
303
kcal
|
Carbohydrates:
48
g
|
Protein:
8
g
|
Fat:
10
g
|
Saturated Fat:
1
g
|
Cholesterol:
27
mg
|
Sodium:
208
mg
|
Potassium:
72
mg
|
Fiber:
1
g
|
Sugar:
22
g
|
Vitamin A:
48
IU
|
Vitamin C:
1
mg
|
Calcium:
44
mg
|
Iron:
2
mg