When I need a quick yet gourmet lunch, then this is my go-to recipe. I love prawns and garlic so pasta with both of those things AND cream? What's not to like right? This recipe is full of flavour, easy to make and ready in just a few minutes. Here is what you will need:
Prawn Pasta Ingredients:
3 Cups Penne Pasta, you can use any other type of pasta. The reason I use penne is because they hold the flavour on the inside and outside.
1 ⅔ Cups King Prawns
4 cloves Garlic, if you are not a big garlic fan go with two cloves, I often add 5 or even 6 cloves of garlic.
1 medium Onion diced, this works with both yellow of red onions, the later gives the dish a sweeter taste.
2 tsp Paprika
1 tsp Oregano, if you have fresh oregano, chop some up and add it instead.
1 ½ tsp Thyme
1 tsp Salt, one teaspoon works for me but for some it might not be enough. I rather add one and let everyone add more salt if they want to.
½ tsp Pepper
⅔ Cup Parmesan
5 tbsp Extra Virgin Olive Oil
How its done:
Step 1: Boil the Pasta
Cook your pasta according to the instructions of the pasta brand, for my local brand I use water with added salt and cook the pasta for 6-8 minutes. This can of course change according to the portion size. Most pasta brands give you exact times and instructions for the best result.
Once the pasta has been cooked, add a little (1-2 Tbsp) butter and stir it in so they don't stick together.
Step 2: Prepare the Sauce
Finely chop the onions, add the olive oil to a heave sauce pan and bring to a medium heat. Now add the onions and sauté until translucent. Add the heavy cream and parmesan and stir until combined. Add the Paprika, Thyme and Oregano and Salt to taste, stir for another minute or two.
Add the prawns and stir for a minute, then fry the prawns for 3-4 minutes on each side. Prawns cook quickly so don't over cook.
Step 3: Mix and Serve
Add the cooked pasta, stir for a minute or two and take of the heat. Platter and serve with a bit of chopped colander.
Prawn Pasta Recipe – Tips & Tricks
This recipe is super easy so you won't need many tips & tricks, here are the most important ones
Don't overcook the prawns, prawns are done fairly quickly and we can be tempted to cook them for longer because we are not sure if they are done or not. Prawns don't need more than 3-5 minutes over medium heat or until they are pink.
Use the same frying pan and don't wash it between the different processes, it will transfer the flavour between all ingredient.
Which Pasta works best?
This recipe works well with any type of pasta, personally I prefer it with Penne or Fusilli as they grab extra flavour with their contours. However, I have made this with spaghetti. Because I didn't have either Fusilli or Penne at home and it worked out great.
Prawns or Shrimps?
When it comes to cooking prawns and shrimps are almost the same. In my region shrimps are pretty small and when cooked, they become even smaller. So you need to use a larger amount when cooking with shrimps.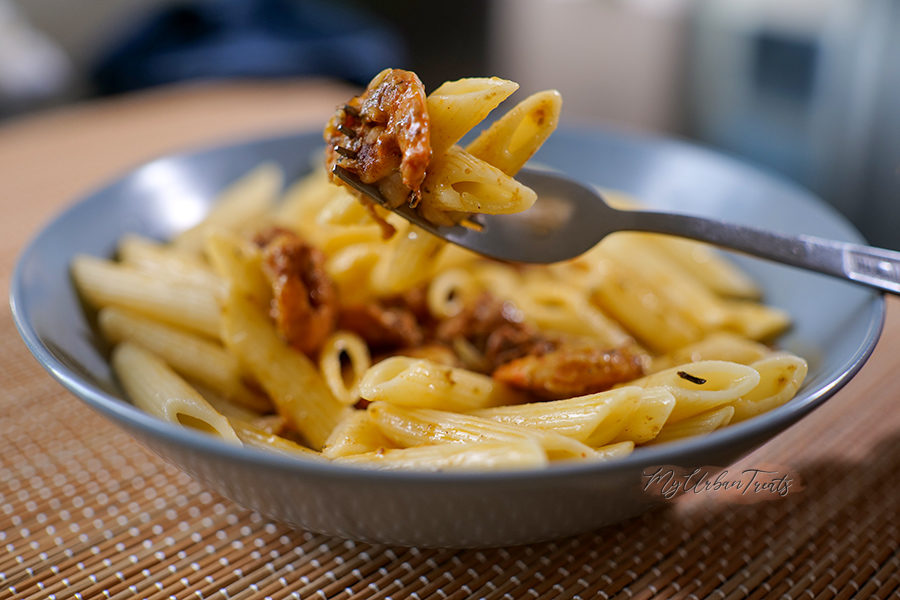 Prawn Pasta with Spicy Garlic Cream Sauce
If I had to summarise this prawn pasta recipe into one word it would simply be "delicious". All the flavours come together just perfectly. Spices, Garlic and a creamy texture, yummy. And believe it or not but it's super easy and quick to make.
Ingredients
3

Cups

Penne Pasta

1 ⅔

Cups

King Prawns

4

cloves

Garlic

1

medium

Onion

diced

2

tsp

Paprika

1

tsp

Oregano

1 ½

tsp

Thyme

1

tsp

Salt

½

tsp

Pepper

⅔

Cup

Parmesan

5

tbsp

Olive Oil
Instructions
Prepare your pasta, in a pot of boiling water and salt cook your penne pasta until al dente approx 6-8 minutes. Drain and set aside covered until the sauce is ready. I add a little butter and turn them so they don't stick together.

Place the onion back in the saucepan, brown a little and add the heavy cream and parmesan cheese. Whisk until lightly brown, add in the prawns and cook for 1 more minute.

Add the prawns to the pasta and fold together and your Prawn Pasta with Spicy Garlic Cream Sauce is ready.
Nutrition
Calories:
340
kcal
|
Carbohydrates:
25
g
|
Protein:
10
g
|
Fat:
22
g
|
Saturated Fat:
5
g
|
Cholesterol:
11
mg
|
Sodium:
851
mg
|
Potassium:
96
mg
|
Fiber:
2
g
|
Sugar:
2
g
|
Vitamin A:
243
IU
|
Vitamin C:
7
mg
|
Calcium:
225
mg
|
Iron:
1
mg