Hi Guys, I am super excited about todays recipe. This is one of my top favourite Indian dishes. I am a big fan of Indian cuisine and Butter Chicken is on the top of the list. Murgh Makhani is translated from Punjab and literally means "Butter Chicken"
The combination of spices and the creamy texture of the sauce are to die for. I don't make this dish very hot as I am the only one in the family who likes hot curries. But you can add an extra pinch of Chillies to spice it up.
History
Murgh Makhani is a Punjab curry that was first created in 1947 by Kundan Lal Jaggi. It has since become famous around the world, and is one of my three favourite curry's of all time. The murgh (chicken), is marinated in yogurt and spices for 8-10 hrs so best start with this dish the day before you plan to prepare it. You can marinate it for an hour if you don't have time to prepare the previous day, but marinating the chicken makes it tender and juicy in the final dish..
Ingredients
Indian cuisine is well known for its amazing spices. It is not a coincidence that India is the world's largest exporter of spices producing around 75 of the 109 spice variations listed by ISO. This includes the worlds 2nd most favoured spice, cumin.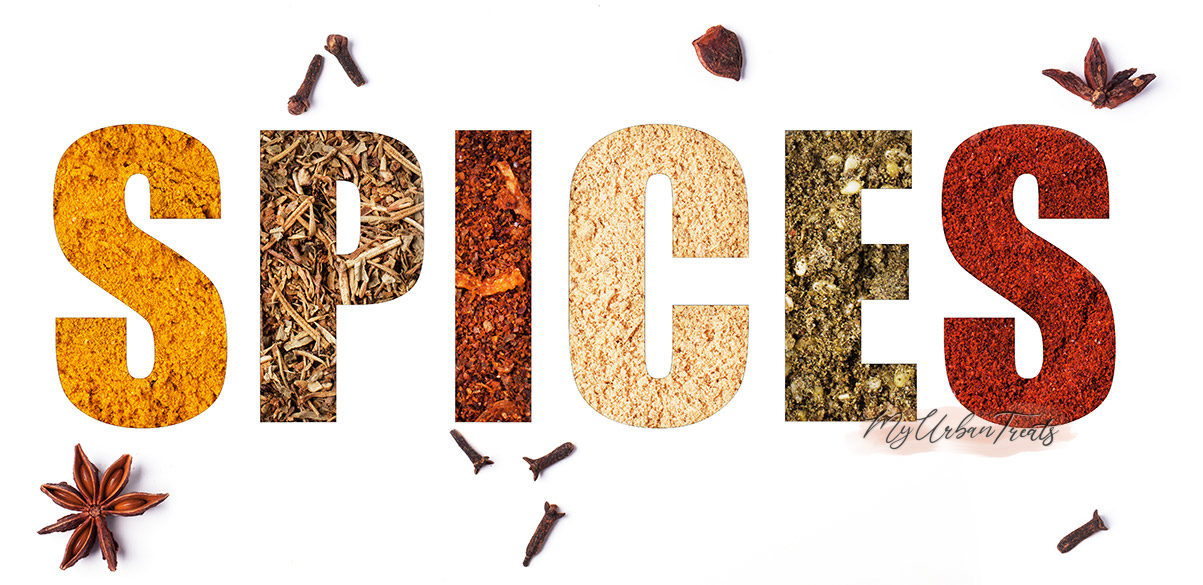 For Butter Chicken you will need the following spices and ingredients:
1.5 tbsp Garam Masala
1.5 tbsp Ground Cumin
1 tbsp Cumin Seeds
2.20 lbs Chicken Thighs
1.5 cups Yoghurt
1/2 cup Butter
4 tsp Olive Oil
2 medium Tomatoes
2 medium Onions
2 small red chilli peppers
1 tsp Salt
2 cubes Chicken Stock
1 1/2 cups Heavy Cream
3 tsp Almonds
4 cloves Garlic
2 tsp Ginger
You will also need the following kitchen utensils:
A Large Mixing Bowl
A Large Heavy Pan
A Wooden Spoon
How to make Butter Chicken
The recipes I love the most are the ones that are easy to prepare and still taste authentic and simply amazing. This recipe is one of those. So here is how you do it.
Marinate the Chicken
The secret of juicy and flavourful chicken is marinating. The longer you Marinate the better the flavour so try and get at least an hour of marinating. Although I do suggest 12 to 24 hours as this will make a massive difference.
In a large bowl, combine the Yoghurt, Garam Masala, Ground Cumin and stir until well combined. Now add in the chicken thighs and make sure they are well covered in the marinade.
Cover with cling film and refrigerate. Remember, the longer the better.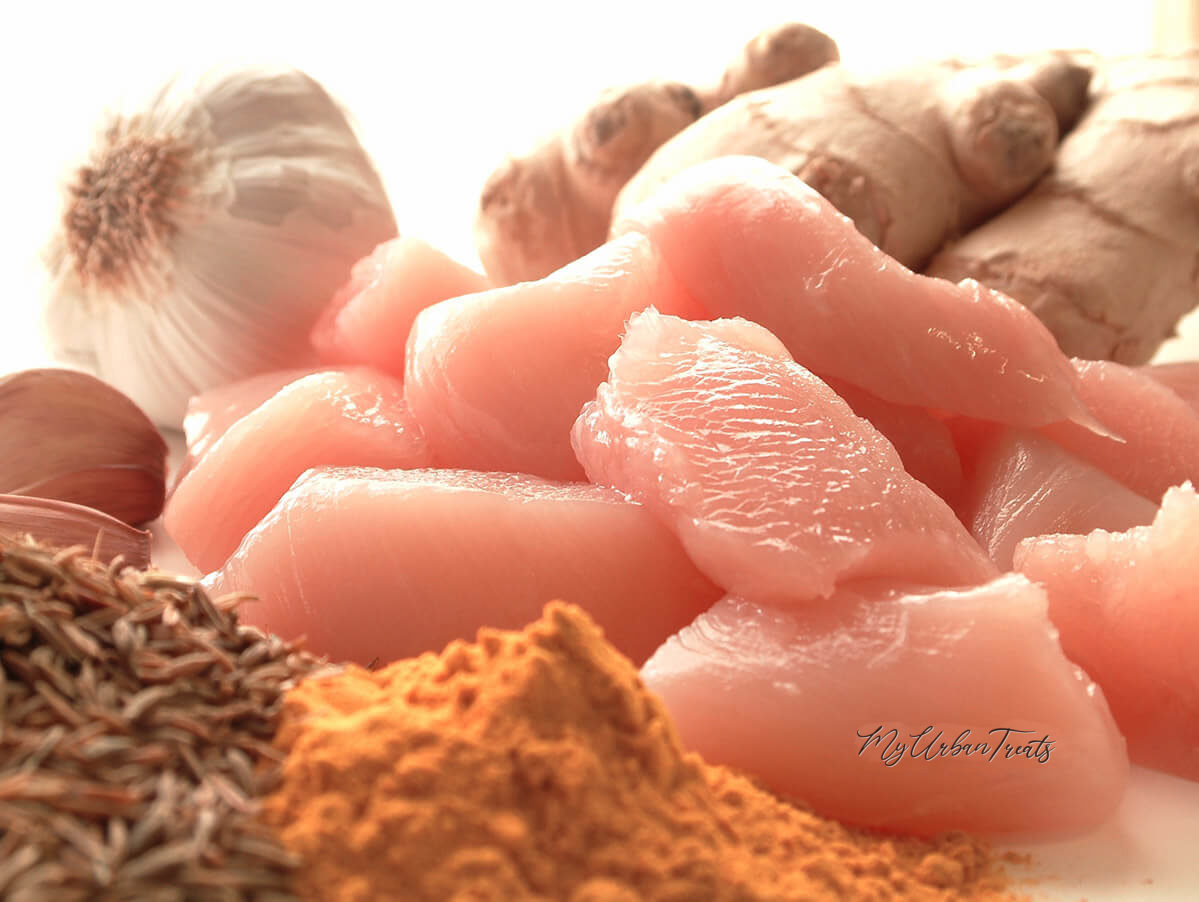 Cooking Step 1
You will need a large pan for this, I use my biggest wok as it fits better without spilling but a large pan will do fine.

Dice the onions, now add the olive oil and butter in to the large pan and set over medium heat. When the oil and butter are hot, add the onions and sauté until translucent.
Mince and add the Garlic and Ginger. Add the cumin seeds and cook until light brown. Finely dice the tomatoes and add them along with the Salt and chillies. Add more chillies if you like it hot. Cook until the chillies have softened.
Cooking Step 2
Add the marinated chicken along with the marinade. Carefully stir until combined. Dissolve the chicken bouillons in 1/2 a cup of hot water. Add to the pan and bring to a low simmer.
Cover and simmer for 25 minutes.
Stir in the ground almonds, heavy cream and tomatoed paste. Simmer for another 10 minutes until the sauce is thick and creamy.
Best served with Basmati Rice, Naan Bread and Chutney.
Tips & Tricks
Butter Chicken is best served with Garlic Nan and/or Rice. I know I keep saying it but Marinating is the key here 🙂
Other Similar Recipes
Do you have any questions or suggestions for this recipe? Why not leave a comment I will answer it as soon as possible. If you are looking for more delicious recipes check out: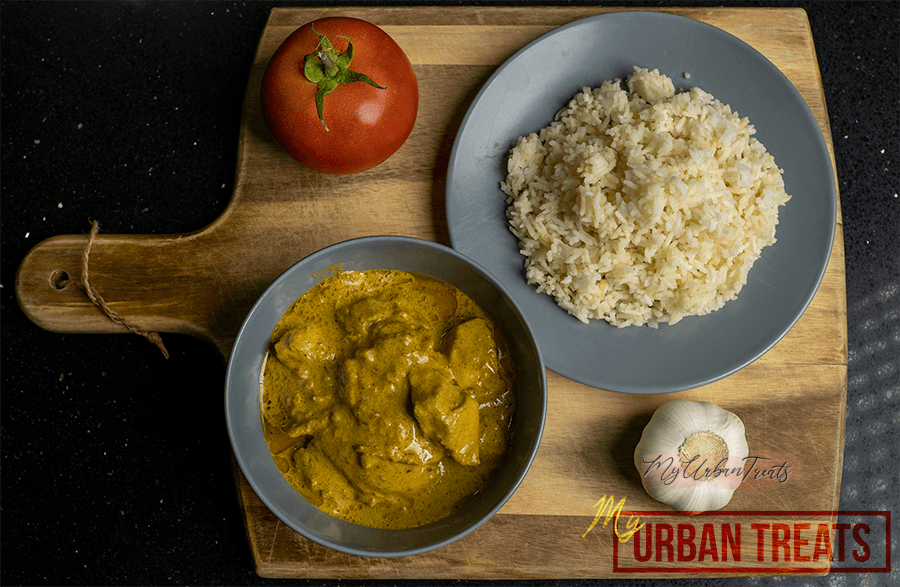 Murgh Makhani – Butter Chicken
Marinated chicken thighs in a creamy smooth sauce everyone will just LOVE
Ingredients
1.5

tbsp

Garam Masala

1.5

tbsp

Ground Cumin

1 1/2

tbsp

Turmeric

1

tbsp

Cumin Seeds

2.20

lbs

Chicken Thighs

1.5

cups

Yoghurt

1/2

cup

Butter

4

tsp

Olive Oil

2

medium

Tomatoes

2

medium

Onions

2

small

red chilli peppers

1

tsp

Salt

2

cubes

Chicken Stock

1 1/2

cups

Heavy Cream

3

tsp

Almonds

4

cloves

Garlic

2

tsp

Ginger
Instructions
Place the yogurt in a large bowl and whisk in the cumin, garam masala, turmeric and lemon juice until well combined. Add the chicken thighs and make sure they are well covered in marinade. Cover tightly with clingfilm and place in the fridge for minimum 30 minutes, 8-10 hrs are recommended for the best flavour and texture.

Set your stove top to medium heat and add the butter and oil in a large pan. When it starts to bubble add the onions and cook until they are translucent. Now add the garlic, ginger and cumin seeds until the mixture is brown.

Add the chilli's, salt, diced tomatoes and cook until the chilli's are soft.

Now add the chicken thighs with the marinade, dissolve the chicken stock in 1/2 a cup of hot water and add it to the mixture. Mix well and bring to boil, then lower the heat until it lightly simmers. Cook for 25-30 minutes.

Before the chicken is fully cooked, stir in the heavy cream, almonds and tomato paste and simmer until fully cooked. This should take another 20 minutes or so.
Nutrition
Calories:
803
kcal
|
Carbohydrates:
18
g
|
Protein:
36
g
|
Fat:
66
g
|
Saturated Fat:
24
g
|
Cholesterol:
252
mg
|
Sodium:
576
mg
|
Potassium:
714
mg
|
Fiber:
2
g
|
Sugar:
6
g
|
Vitamin A:
1450
IU
|
Vitamin C:
11
mg
|
Calcium:
197
mg
|
Iron:
4
mg