Hello fellow foodies, today I am sharing my go-to pizza recipe. This is the pizza I made when I don't have a lot of time for proofing and just want a quick fix that is still amazing and tastes authentic. The best thing about this recipe is that the dough only needs 30 minutes to proof. Yup, no 24hr waiting. Actually when we have people over for pizza dinner, I tend to prepare the dough during our pre-dinner chat. Its fun for everyone to watch and people get to choose their pizza toppings before baking. Its a win/win recipe for sure.
Ingredients for Homemade Pizza
Pizza is an Italian dish. The one thing that is a constant in all Mediterranean Recipes (or at least most of them) is Olive Oil. Olive Oil has a very specific role in Pizza Dough. It creates a barrier between the ingredients and the dough so you don't get a soggy base. It also creates a crispier crust when baked. So what other ingredients are in our Homemade Pizza Dough?
Flour: is the basic ingredient in any pizza dough. For this recipe we will use all purpose flour. If you want to go towards a new your style pizza crust you can use bread flour instead.
Dry Yeast: will help levelling the crust and give it a lighter texture. We will later poke some holes in to the Pizza base so that it remains flat while the sides raise.
Sugar: does not sweeten the dough, but it does keep it from drying out.
Salt: makes all foods taste better, it also controls the growth of the yeast in yeast based pizza dough.
Warm Water: will activate the yeast in the first step of our recipe. It will also give the dough the moisture it needs.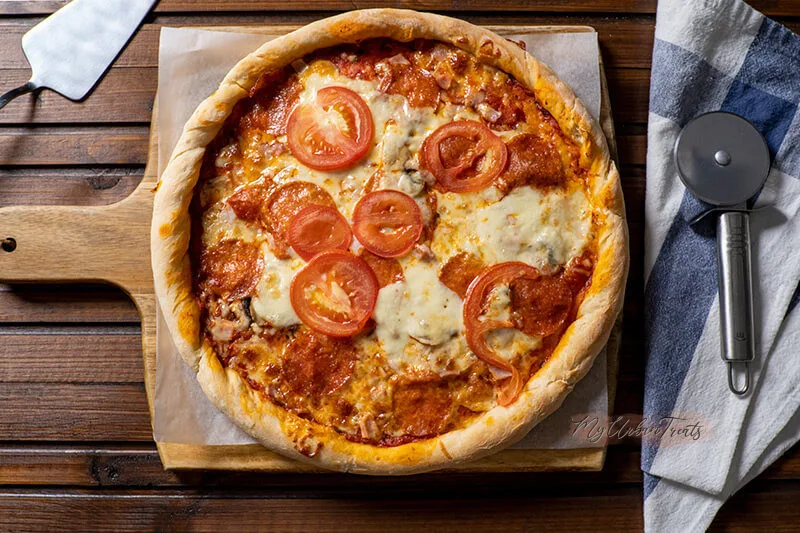 Optional Ingredients
If you want to spice up your pizza dough, you can do so by adding some ingredients to your dough. Garlic is always a great ingredient in pizza. If you are not a fan of powdered garlic you can infuse your olive oil with garlic and then add it to the dough.
Other flavour enhancers include: Italian Herb Seasoning, Oregano and Barley Malt.
Pre-Shaping and Shaping
Shaping bread and pizza is a little annoying when you don't know this trick. Before I learned this my Pizza's always turned out skewed and never round. It wasn't until we our sour dough bread recipe that my friend and master baker showed me the pre-shaping process for bread.
The process is simple and is the same we use when proofing bread. First of all use a proofing bowl or basket that is fairly round and will fit the dough well. Before you place your dough in to the proofing basket do this. Gently grab it with both hands and tuck the edges under, in to its own centre. Repeat around the edge until you have a nice round shape. Now place it in to your well oiled proofing bowl.
When it comes to shaping, I see a lot of different methods on YouTube and food blogs but most of what I saw requires a well practised technique. If you are a beginner at Homemade Pizza baking, then my method will work a little better.
Pull your dough using four fingers and your palm out in all directions until its around 13 Inches in diameter. We are baking a 12 Inch pizza but stretching it to 13 as we will fold 1 Inch back to form the thicker edge. Repeat around the whole pizza until you have a nice round edge.
If you have a pizza baking tray then that is even better, just pull the pizza an inch over the baking trays edge and fold it back over.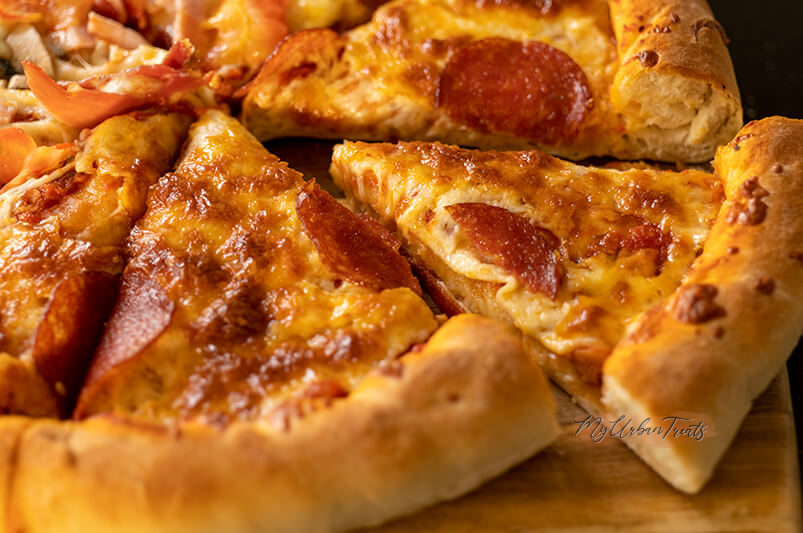 Proof Pizza dough in the Oven
Proofing Pizza dough requires a warm place that will allow the yeast to do its job. A warm room, a cupboard next to the oven or close to the radiator are all great places to proof your pizza dough. If you don't have such a place, here is a trick you can use.
Turn on your oven at the lowest setting, for me that would be 50 C or 122 F. Let it reach the temperature and then switch it off. Give it a few minutes to fall below 40C / 100F and then place the dough in to the oven.
Important Note: Oil the bowl and wrap it with a kitchen towel before placing it in to the oven. This will keep the pizza dough moist and will keep it from drying out.
Important!!!
Kneading is super important, you need to knead the dough for at least 5-6 minutes until its smooth and well worked. This recipe has only failed me once, unfortunately it was when I had Italian guest over for dinner. I know right? I blamed it on performance anxiety haha. But yeah I rushed and didn't knead the dough properly and the pizza was flat, soggy and very dense.
Before you Bake
There are two things you need to do before you bake your pizza.
Poke lots of tiny holes in to the base. Not the edge, just the base. This has two effects on your pizza. Firstly it will keep the base flatter than the edge, (you don't want a sandwich after all) and it will blown-up the edges. It also allows any trapped air to escape and avoids bubbles in your pizza.
We need to paint the pizza base with olive oil. This will again keep it from getting soggy and will also bake it better.
Keeping Pizza Dough in the Freezer or Fridge
Yeast dough will generally hold for up to three days in a fridge. Make sure you cover it with a membrane of clingfilm. If you don't it will get a crust that wont have a great texture when baked and will crack as it rises. It is recommended to bake the dough within 48hrs but 3 days works well too.
You can also freeze your Pizza Dough. While I have used frozen pizza dough after more than six months, it is generally recommended to keep it for maximum four months in the freezer. When you are ready to bake the dough, remove it from the freezer and let it thaw for 30 to 45 minutes. This does of course depend on your local climate.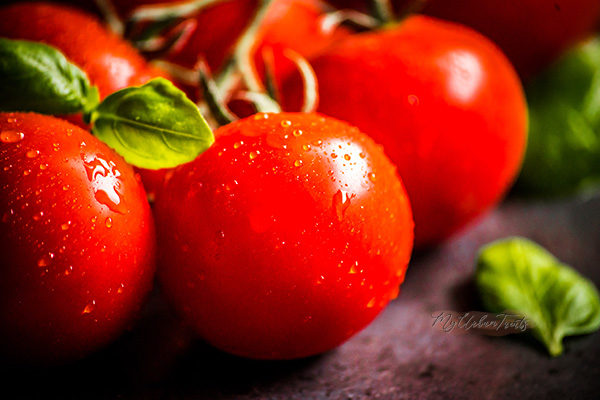 What makes the Pizza Dough Crispy?
Pizza Ovens get a LOT hotter than our ovens at home. A professional Pizza oven burns at 700 to 800 Fahrenheit or 450 to 500 degrees. That's almost double than a conventional home oven can do. So if you want your Pizza to get crispy, you will have to let it bake a little longer. Here are a few tricks that will help you get a crispy Pizza Crust.
Preheat the oven at 30 degrees more than the baking Temperature.
Using a water spray bottle, lightly spray the edges before baking. Then during baking give them another couple of sprays. This is a method used in bread baking that helps crust the dough.
Let it bake, it will take time for the pizza to become crispy so find that sweet spot between crispy and burnt.
Pizza Tomato Base
What gives your pizza its signature flavour is surely the tomato base. I will post my recipe for Pizza Tomato Base in the coming days but if you are looking for a quick solution without much hustle you can use the following with great results.
Italian Sauce with Garlic and Basil
Napolitana Sauce
Bolognese Sauce (although it has minced meat)
Pizza Topping Ideas
The basic ingredients for Pizza are Tomato Sauce and Cheese. As a matter of fact, during my time in Milan I found that all locals favourite Pizza was Margarita. A basic pizza with Tomato and Cheese. But at home, you can go wild and add anything you like. Except Pineapple, please don't add pineapple to your pizza. Just kidding, add whatever rings your bell. But here are some ideas:
Pepperoni, definitely my all time favourite pizza topping
Halloumi Cheese, part of my Cypriot heritage and definitely a great topping
Parma Ham with Garlic Oil (Delicious)
Olives
Mushrooms (buttons or portobello)
Spinach
Mozzarella slices
Anchovies slices ( I don't like those)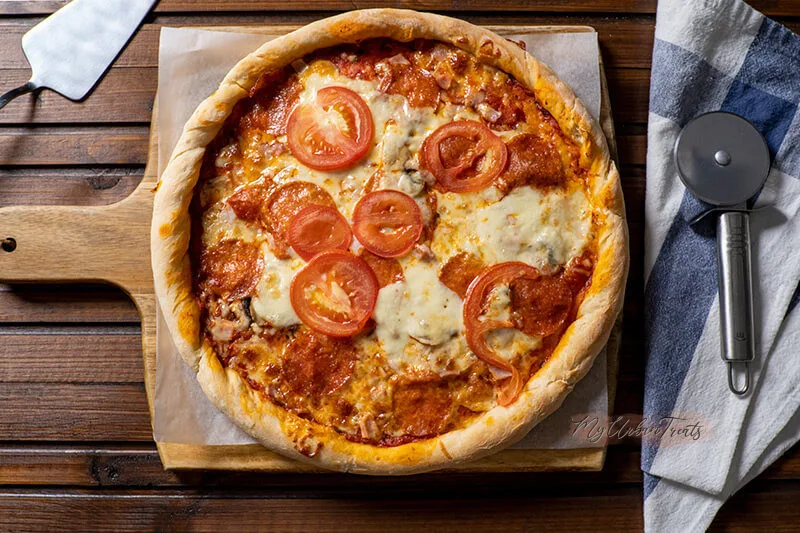 The Best Easy Pizza Dough Recipe
A fail safe pizza recipe with homemade dough that you can make in only 70 minutes from scratch. It will be perfectly round and delicious and everyone will simply love it.
Ingredients
2

cups

All-purpose flour

2

tbsp

Extra Virgin Olive Oil

1

tbsp

Dry Yeast

1

tsp

Crystal Sugar

1

tsp

Salt

6

Floz

Water

warm but below 40 C
Instructions
This process will activate all the enzymes and gluten in your pizza dough. While we are not going through a whole autolyse process we will combine half the flour with the water and olive oil and combine it until smooth.

Add in the remaining flour in small batches and keep stirring with a wooden spoon until a sticky dough forms. You will know the dough is ready when it starts to pull away from your bowl. If you need to add more flour you can do so. Just add it a table spoon at a time until your dough is formed but still a bit sticky.

Now Proof the dough in a well oiled bowl for 30 minutes. Cover with a kitchen towel and keep in a warm place. Not above 40 C as that will kill the yeast.

Now its time to shape your Pizza. Knead it a few times and then using a rolling pin (or your hands) pull it into a round shape. Place it on your pizza tray. We are baking a 12 inch Pizza so pull it out to 13 Inches in diameter and fold the edges back by 1 Inch so that our crust is thicker than the base.

Using a fork poke even holes in to the pizza base. Then using a kitchen bruch, lightly cover with olive oil.

Now its time to add your toppings, spread an even amount of tomato base on to your pizza dough. Add a good amount so that you can only just see through the tomato.

Add all your desired toppings

Preheat your oven at 190 C or 375 F WITHOUT convection or air circulation. Bake for 30 to 45 minutes or until the edge is lightly browned.
Nutrition
Calories:
202
kcal
|
Carbohydrates:
33
g
|
Protein:
5
g
|
Fat:
5
g
|
Saturated Fat:
1
g
|
Sodium:
390
mg
|
Potassium:
64
mg
|
Fiber:
2
g
|
Sugar:
1
g
|
Calcium:
6
mg
|
Iron:
2
mg