I have spent the last couple of weeks perfecting my Bacon cheeseburger tater tot casserole and while I am writing out this recipe, my lips are smacking and my mouth is salivating. Its just that tasty. Add a few pickles on the side and you have a dish that you, your friends and family will just LOVE.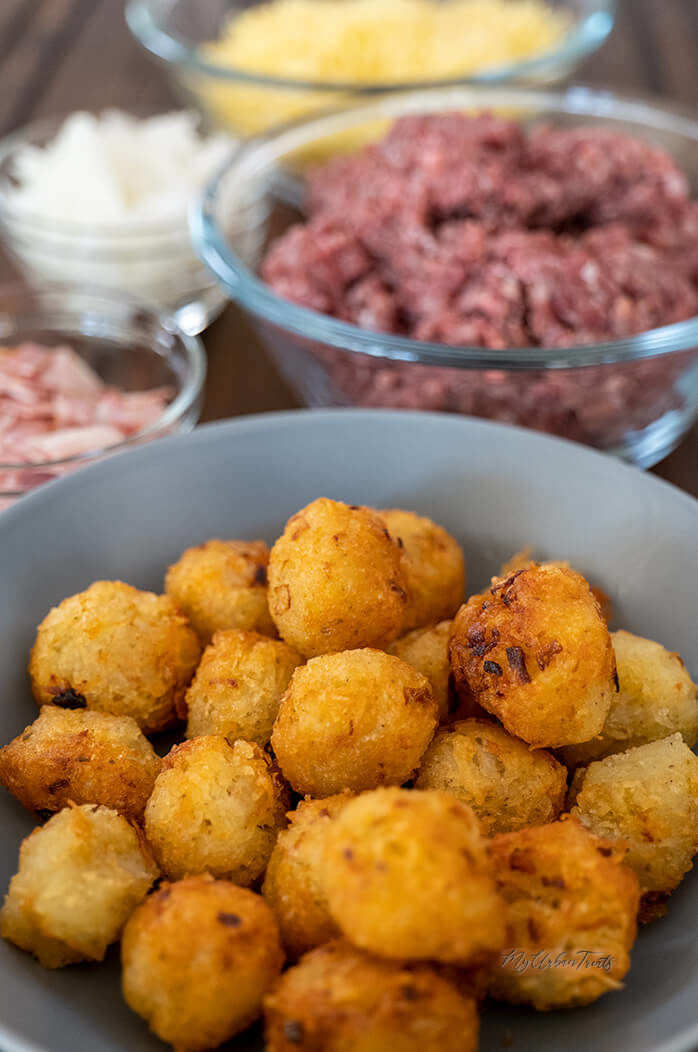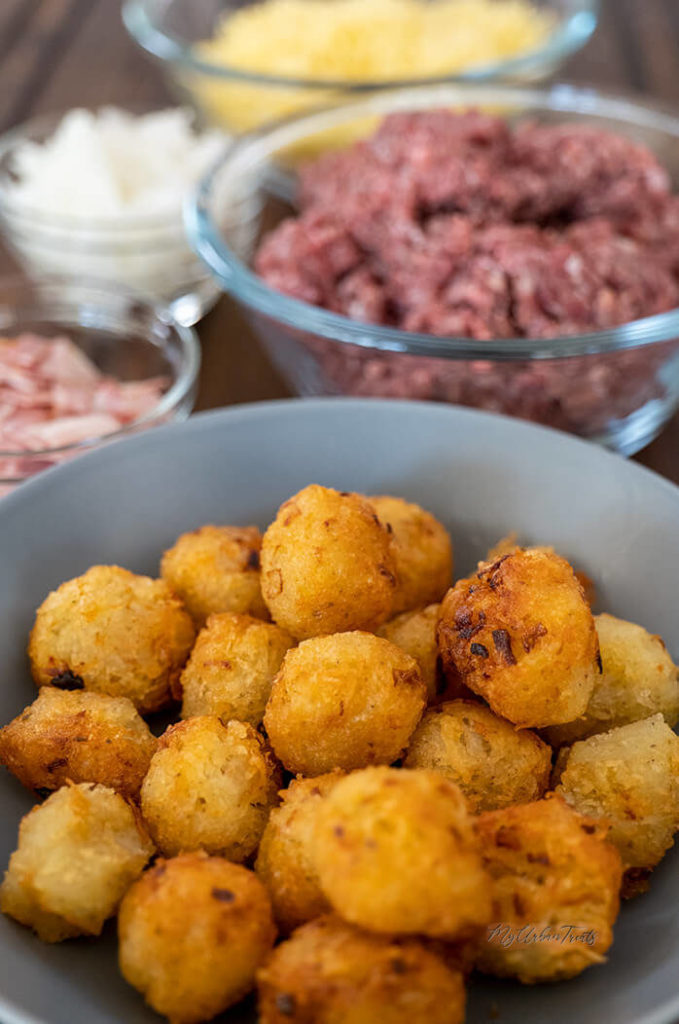 For this recipe you can use ready frozen tater tots, but if you want to make the whole thing from scratch for extra brownie points, then check out my Homemade Tater Tots recipe . It only takes 45 minutes to make and you will have a 100% home made dish that will blow everyone away.
Ingredients for Bacon Cheeseburger Tater Tot Casserole
Beef Chuck or Shoulder is the best piece of meat for burgers as it falls in to the fat/meat sweet spot ratio. In general 80/20 Meat Fat ratio works great.
Bacon, is the essence of this casserole. I like to add bacon cubes in to the casserole and then some crispy strips on the top.
Cheese, cheese and more cheese. Burgers go with Cheddar to we will use the same for our recipe. We need a decent amount to make it all come together.
Sour Cream is the magic ingredient that will make the dish moist and transfer flavour straight to your taste buds.
Fried Onion is a MUST
Garlic for that extra flavour
Cheese Sauce or Cheese Soup , yes that's right. We add cheese Sauce to moisten and flavour the dish even more. I used Colmans cheese sauce in my casserole but any high end brand will work.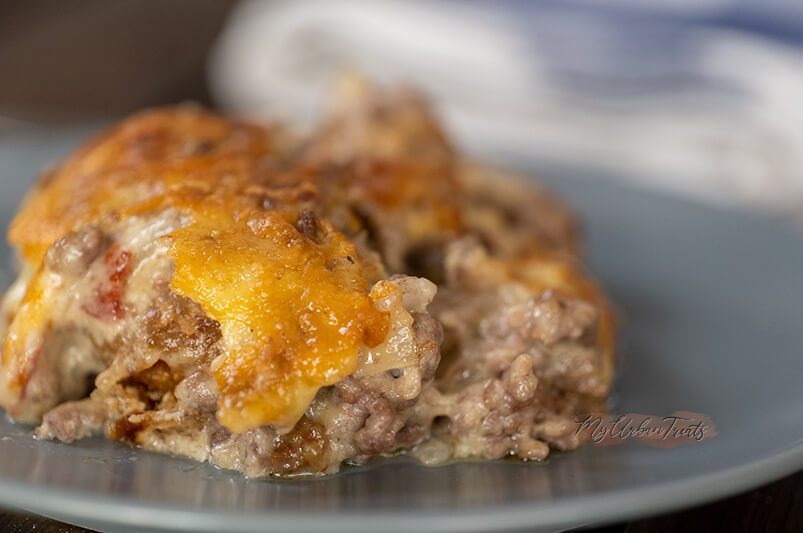 Creative Recipe Ideas
If you want to spice up your dish a little, don't be shy to get creative. Here are some things you can try to spice it up.
Add some Kraft Ranch dressing with Bacon on the side.
Add some pasta to the casserole. I tried this before but word of advise, you will probably need to add some Béchamel sauce to keep it juicy.
Mix some extra cheese, I love cheese so I naturally experiment with adding different flavours in all my dishes. Try adding some mozzarella or even blue cheese.
Add some veggies, you can add carrots, cauliflower, broccoli, mushrooms or any other vegetable you feel fits.
Spice it up with some Jalapeno's or other spicy peppers.
How to make it!
The process is fairly easy, first we fry the onions until translucent. Now add in the bacon and fry a bit more until just crispy. Add in the minced beef and brown lightly. No need to cook it completely as we will bake the casserole for another 40 minutes.
Combine all the ingredients in a heatproof mixing bowl. If you don't have a heatproof bowl let the beef cool a little before you mix it. Place it all in to your casserole dish and flatten it with a wooden spoon.
Bake for 20 minutes and then add the 1/2 cup of remaining cheddar cheese to the top. Bake until golden brown. Voila.
If you are going to make your own tater tots, make sure you prepare them ahead and let them cool to room temperature before adding them to the Cheeseburger Casserole.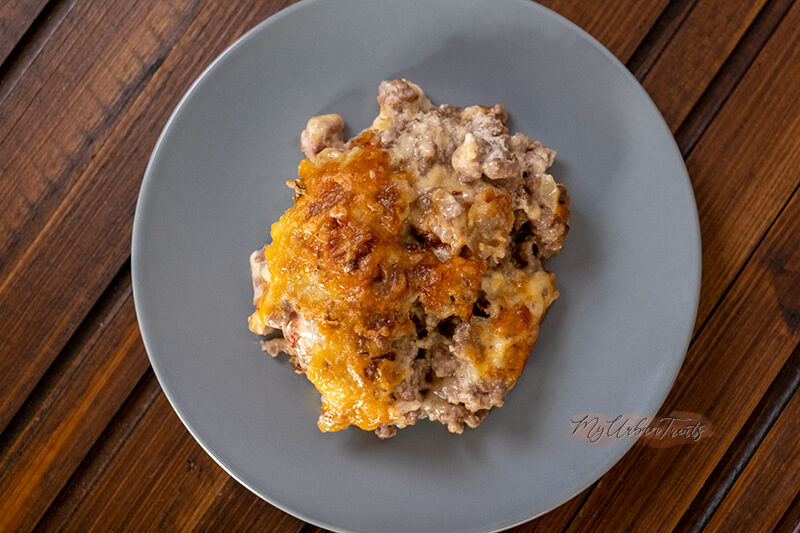 Storing Bacon Cheeseburger Tater Tot Casserole
Once baked, you can safely store your casserole in the fridge for up to four days. You can also freeze it for up to four months. Pack it in a freeze safe container that is airtight and place in the freezer. To cook, defrost for 30 minutes and then warm up in the oven or in the microwave.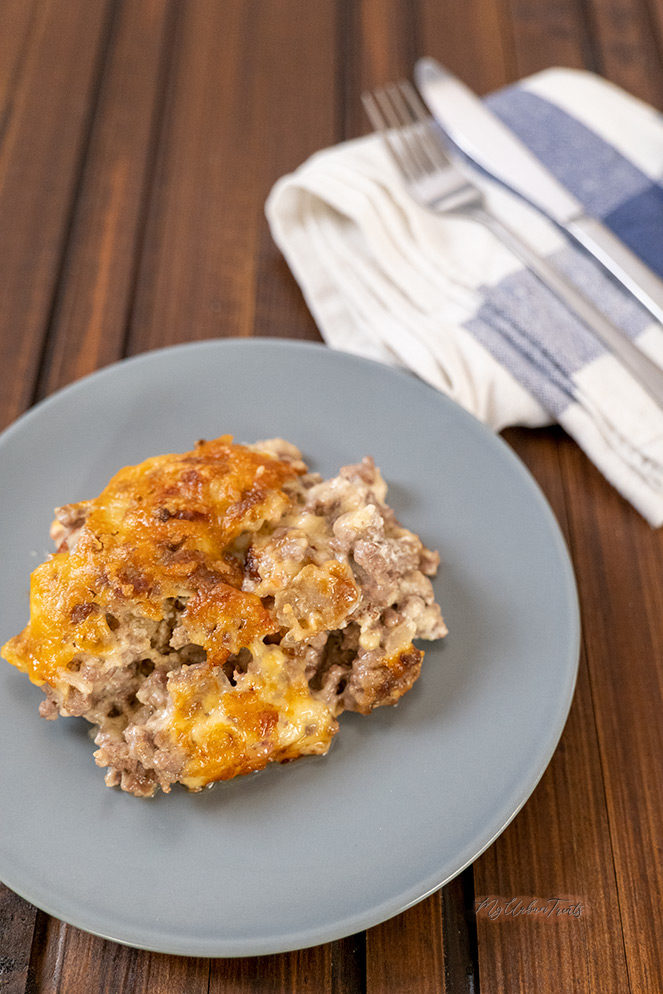 Bacon Cheeseburger Tater Tot Casserole
Feel good food at its best, a delicious Bacon Cheeseburger Tater Tot Casserole Recipe with homemade tater tots. Simply delicious.
Ingredients
1

portion

Tater Tots

2

lbs

Minced Beef

80% lean

2

cups

Cheddar Cheese

Grated, keep 1/2 cup for Garnish

1

cup

Cheddar Cheese Sauce

or Cheese Soup

1/2

large

Onion

Finely Diced

1

cup

Bacon

cubed

1

tsp

Salt

1

cup

Sour Cream
Instructions
First saute the onions until translucent, then add in the bacon bits until just crispy. Now add the beef and cook until browned.

In a mixing bowl, combine all the ingredient and fold until well combined, fill your casserole dish and place in the oven,

Bake at 175 C or 345 F for 20 minutes, add the remaining 1/2 cup of grated cheddar cheese to the top and bake for another 20 minutes.

Cool for 10 minutes and then serve.
Nutrition
Calories:
780
kcal
|
Carbohydrates:
3
g
|
Protein:
41
g
|
Fat:
66
g
|
Saturated Fat:
29
g
|
Cholesterol:
193
mg
|
Sodium:
1016
mg
|
Potassium:
596
mg
|
Fiber:
1
g
|
Sugar:
2
g
|
Vitamin A:
631
IU
|
Vitamin C:
1
mg
|
Calcium:
346
mg
|
Iron:
3
mg