I just LOVE sushi and could eat it even for breakfast so when I had my first Sushi Bowl I was immediately hooked. It didn't take long for me to research a Sushi Bowl Recipe, but eventually my daughter came up with my all time favourite Sushi Bowl Recipe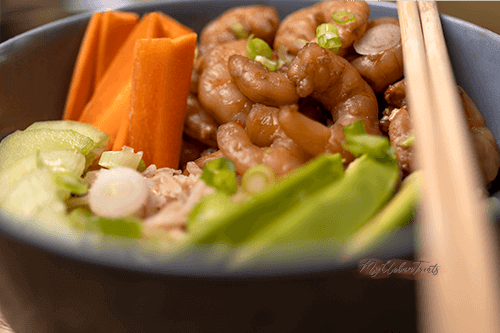 Sushi Bowl vs Sushi Roll
As a complete Sushi addict I have made tons of Sushi rolls for friends and family. Anyone who ever made sushi rolls knows its a time consuming task. So for me, a sushi bowl is just perfect. Its easy to make, you can make as much as you want in the same amount of time and its a fun meal for friends and family. We sometimes prepare the rice and cut up the ingredients and everyone can make a sushi bowl as they like.
Simply a great dinner idea for any occasion, and if you want to keep it healthy with the dessert too, then you can make our Strawberry Parfait to follow the sushi bowl. Sweet, Delicious and good for you.
Ingredients
You can get super creative with your recipe and almost everything can be added. From seafood to chicken or even vegan options work perfectly well with any rice bowl. But line me show you my favourite ingredients and their benefits.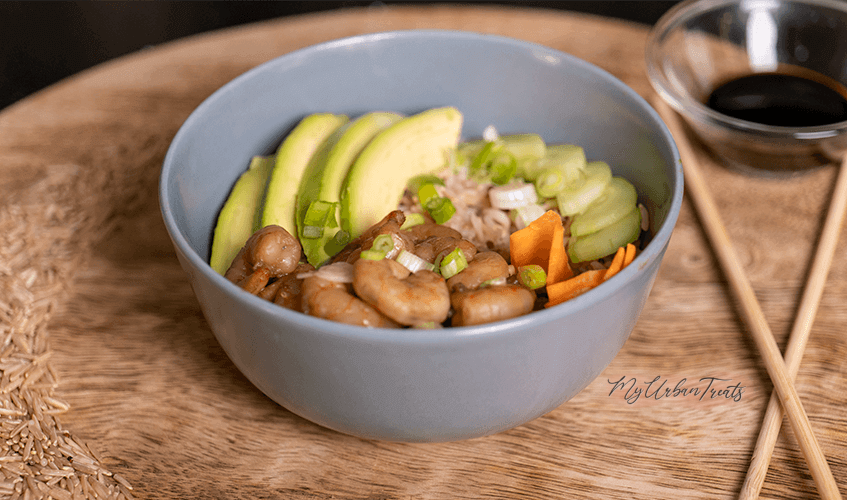 Rice Ingredients
Brown Rice doesn't just add more fibre it also completely changes the Rice texture as it contains all the parts of the grain.
Quinoa is high in nutrients and protein and is also a great source for fibre. I add a little to my rice before cooking it. You can also get some ready whole grain quinoa rice mixes which makes it even easier.
Soy Sauce is part of what gives sushi its signature flavour (along with rice vinegar) I choose a sodium light option for this.
Rice Vinegar is critical to making Asian style rice. If you can't get Rive vinegar, apple cider vinegar is a great substitute at a 1:1 ratio.
Chicken Stock, Yes… i'm sure Uncle Rodger would probably be shocked reading this but give it a try. One cube of Chicken stock while cooking your rice will work magic on the taste.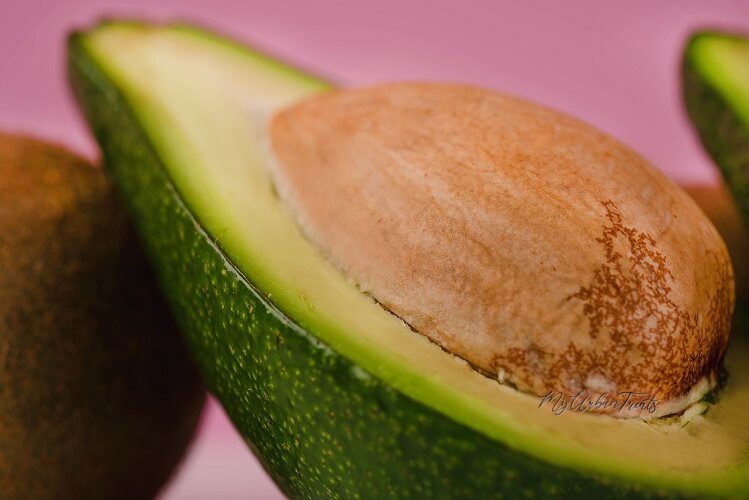 Rice Bowl Toppings
Avocado is a MUST for me so I add some to every sushi recipe I make, Rice bowls are not an exception.
Cucumbers add a crunchy bite and add juice to your bowl due to their high content in water. Make sure they are nice and fresh.
Carrots are a great addition but they tend to be dry when you chew them so I cut them in very thin strips and add them sparingly.
Spring Onions will give your bowl a nice bite, slice thin and spread over the bowl.
Prawns are one of my favourite sea foods, so its no surprise that they found their way on to our sushi bowl. You can of course substitute prawns with crab sticks, salmon or tuna. If you use raw tuna or salmon please always make sure you buy them at sushi grade and use it on the same day as purchased.
Sweet Chilli Mayo
Probably the least healthy part of my Sushi bowl but I use it sparingly so as long as you control your portion this shouldn't be a problem at all. Check the recipe for my Sweet Chilli Mayo ingredients.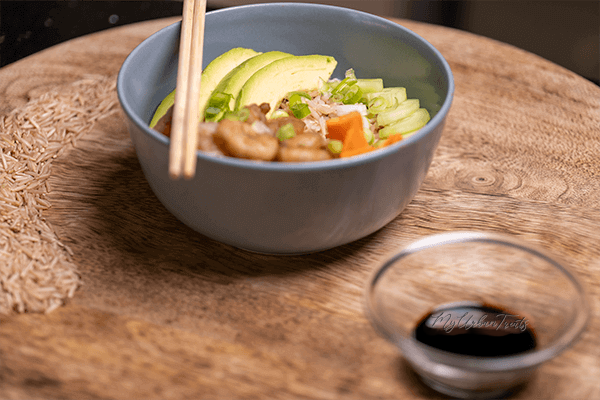 Sushi Bowl Recipe – The How To!
The steps are simple and straight forward.
Boil your Rice with the chicken stock, Rice Vinegar and a dash of Soy Sauce in a closed lid.
Saute your prawns in a dash of olive oil and soy sauce.
Prepare your veggies and other toppings
Place the rice in a bowl, add your toppings and a teaspoon of Sweet Chilli Mayo
Enjoy your Sushi Rice Bowl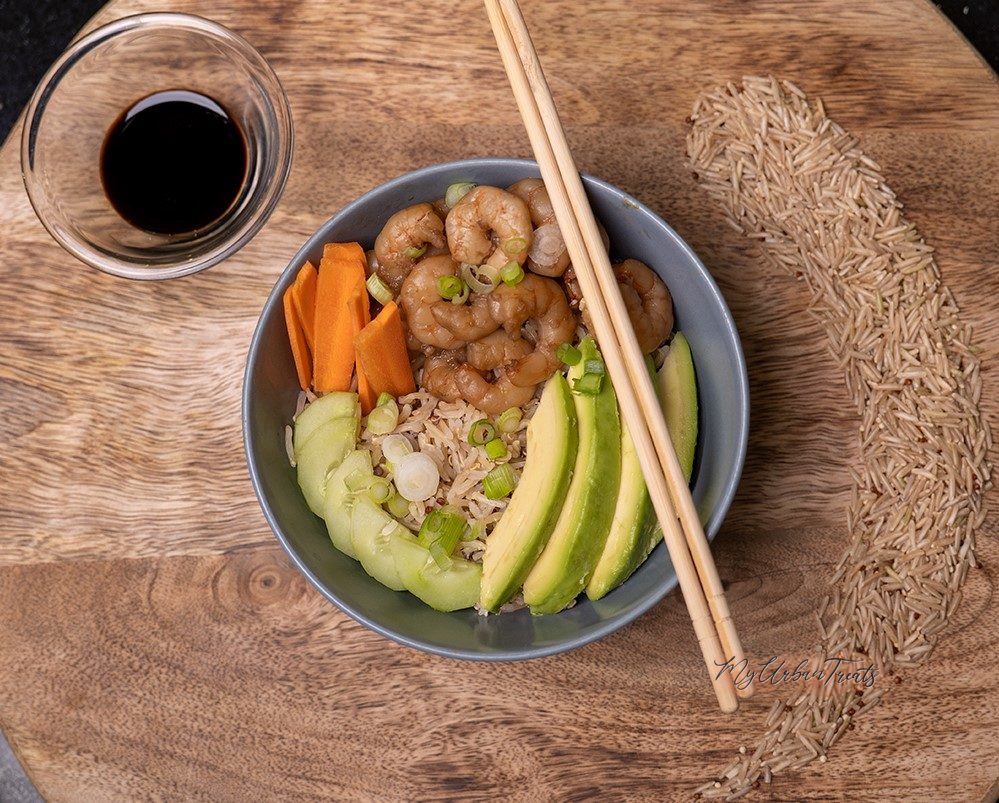 Healthy Rice Bowl with Prawns & Avocado
If you are looking for a healthy alternative to a Poke Bowl then this recipe is for you. Brown Rice, Quinoa, Prawns and many more healhty goodies.
Ingredients
Sushi Rice
1½

cups

Brown Rice

⅓

cup

Quinoa

1

cube

Chicken Broth

1

tbsp

Light Soy sauce

1

tbsp

Rice Vinegar
Toppings
1

large

Avocado

2

medium

Spring Onions

2

medium

Cucumbers

1

medium

Carrot

2

cups

prawns
Sweet Chilli Mayo (Optional)
4

tbsp

Mayonnaise

1

tsp

Sweet Chilll

1

tsp

Oyster Sauce
Instructions
Sushi Bowl – whole wheat rice
Wash your rice with cold water through a sieve while constantly while stirring for two to three minutes. Place the rice in to your rice pot and add water. A good rule of thumb is to use a 1:1.5 ratio of rice to water. So every cup of rice you add 1 1/2 cups of water. Bring to a light simmer, then add the chicken stock. Close the lid of you pot. Boil on low heat for 12 minutes. Do not open the pot until the 12 minutes are over.

When the rice is done, add the soy sauce and rice vinegar. Fold in gently with a wooden spoon or rubber spatula.
Toppings
Wash your toppings and slice or cube them as desired. Note that avocado oxidises and turns brown when left in the open. You an avoid this by squeezing a lemon over the cut avocado. Add toppings and a spoon of sweet chilli mayo
Nutrition
Calories:
515
kcal
|
Carbohydrates:
74
g
|
Protein:
23
g
|
Fat:
14
g
|
Saturated Fat:
2
g
|
Cholesterol:
164
mg
|
Sodium:
928
mg
|
Potassium:
781
mg
|
Fiber:
8
g
|
Sugar:
4
g
|
Vitamin A:
2768
IU
|
Vitamin C:
13
mg
|
Calcium:
154
mg
|
Iron:
4
mg