Hi Foodies, I wish I could eat sweets without any consequences but I cant. And no matter how many miles I ride on my bike, I just cant seem to outride the caloric intake. So, every now and then I ease up on cakes and cookies and instead, make something healthy for dessert.
This faux Strawberry Parfait is light, easy and quick to dish up. No baking, no cooking. You don't even need a bowl. Its delicious and will curb your sweet cravings without breaking the calorie bank. Here is how its done.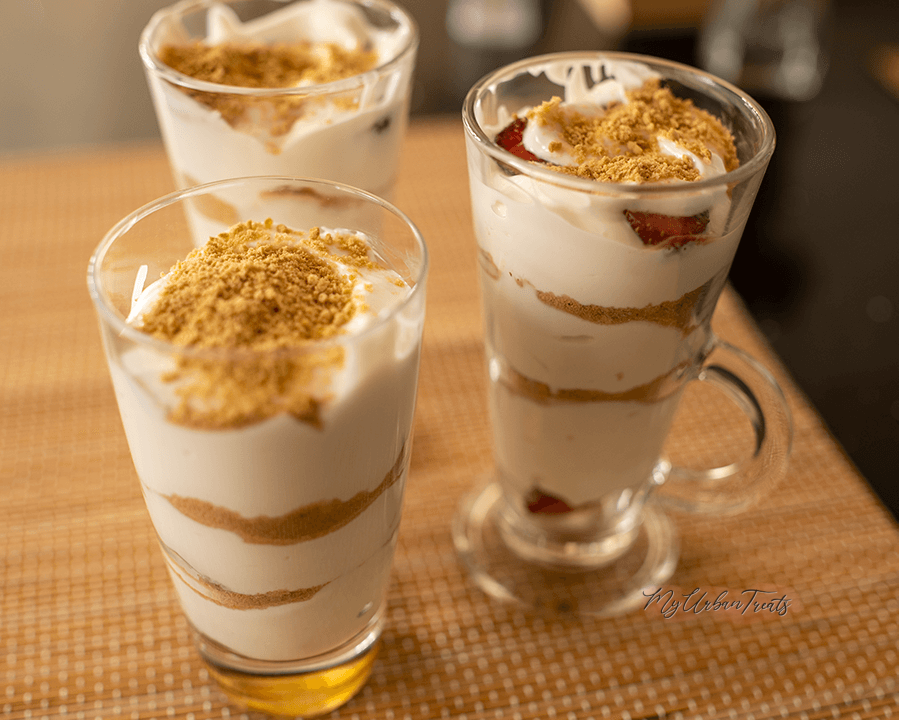 What is Faux Parfait?
A Parfait is a French dessert which is made by boiling cream, sugar and eggs. Since we are not boiling any of these calorie dense and sugar saturated ingredients, we try to get a close resemblance with healthy ingredients.
Faux is the French word for "false" and since we are not really making a parfait, we call it a faux parfait 🙂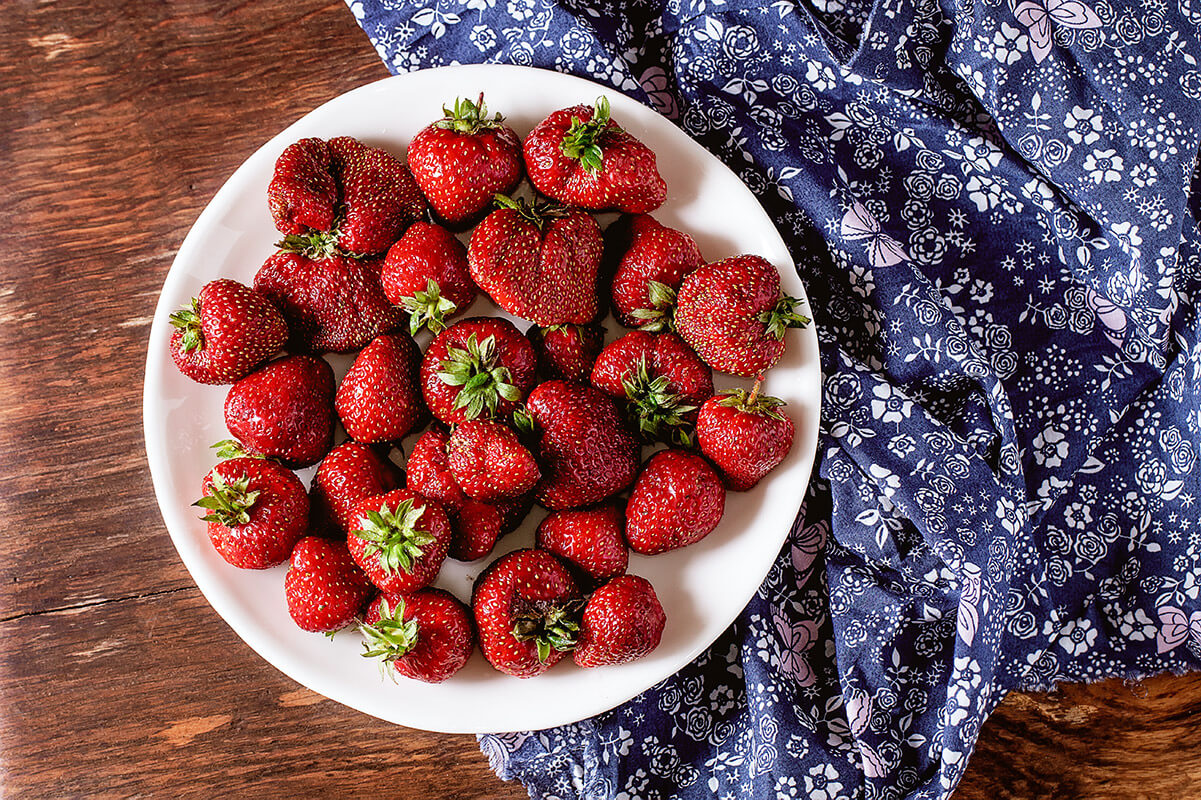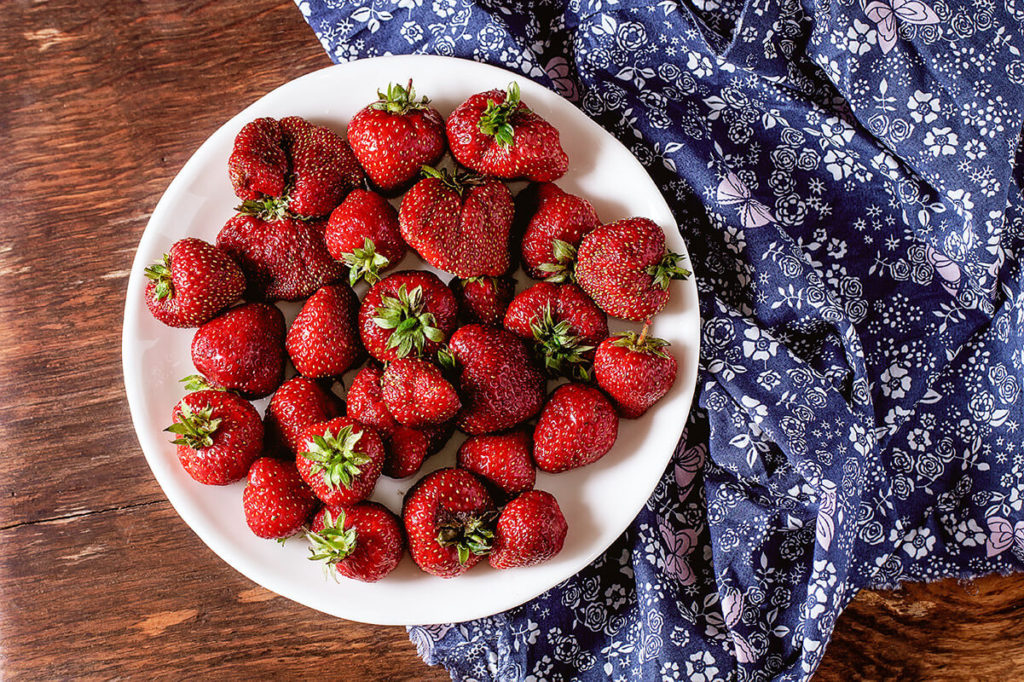 Ingredients
This Healthy Parfait requires only four ingredients, one of those ingredients might seem as a "not so healthy" Ingredient. I am of course talking about Digestive Biscuits. But actually, a lot of Digestive brands contain less than 2% sugar and some brand even offer no added sugar options.
Now even at 2% sugar, we are only using 8 biscuits. At a weight of 14.7g per biscuit. We are only looking at a total of less than 1/2 a gram per portion. Combined with all the ingredients, that's a total of 11 grams of sugar. This is less than 1/3 of the recommended daily intake. Compared to a slice of chocolate cake which is around 35 grams of sugar per 100 grams of cake (apx 1 slice)
It is important to note, that this is based on an average according to Heart.org. People are different and your size, weight, condition and other factors can all impact this number. If you are concerned about your caloric intake or nutrition, its always recommended to see a professional to clarify your concerns.
2 Tbsp Honey
8 Biscuits Digestives
1 Cup Strawberries
1 1/2 Cups Yoghurt
How to make Healthy Strawberry Parfait
Making this recipe is as easy as 1,2,3. So lets see how its done.
Step 1
Use a small bowl or a soup dish, and combine the honey and yoghurt. Whisk it until it is well mixed. Prepare your strawberries by washing them and cutting off the leaf crown.
Step 2
Crush the biscuits either by hand or if you want a fine grain in a food blender. Now you are ready to assemble your parfait.
Step 3
Add a layer of yoghurt, followed by a thin biscuit layer and then a layer of thinly sliced strawberries. Top with another layer of yoghurt and continue this pattern until you have reached the top of the glass. Add a pinch of biscuit and a half strawberries for decoration.
Tips & Tricks
Want to add some more flavour? Why not add a tiny pinch of Jam between the layers? A small amount goes a long way. But you can also blend the strawberries and add them as a cream and not in whole pieces. This way you can also mix it up and make a strawberry yoghurt.
Other Healthy Recipes
Add a bullet point list with recipes that are similar or somehow related to this recipe
The Recipe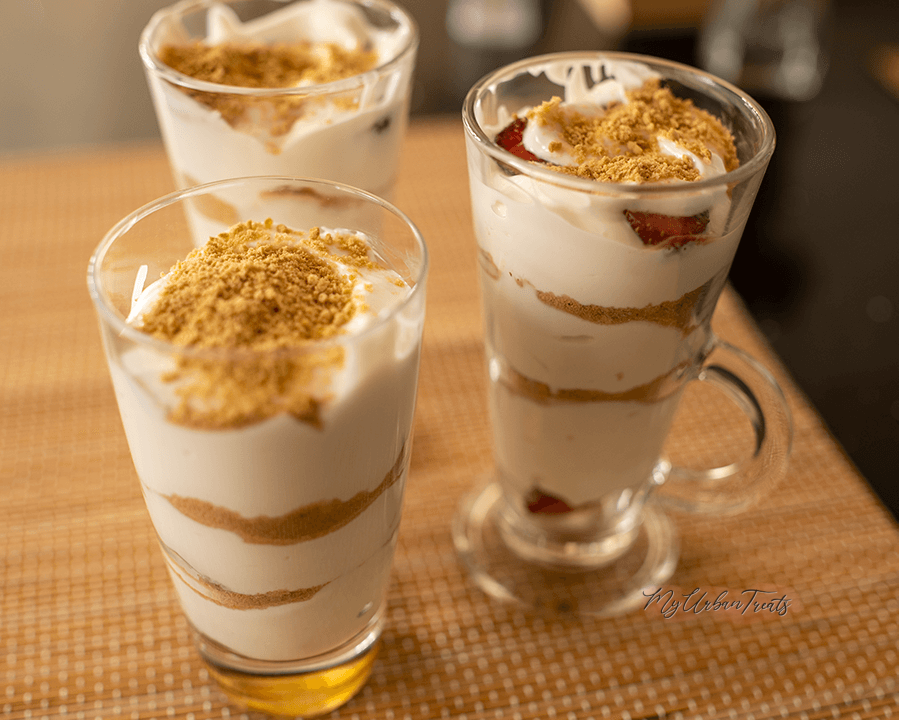 Healthy Strawberry and Yogurt Parfait
A healthy and easy to prepare sweet snack you will love
Ingredients
2

Tbsp

Honey

8

Biscuits

Digestives

1

Cup

Strawberries

1 1/2

Cups

Yoghurt
Instructions
In a bowl whisk honey in with yogurt and prepare your parfait glasses or jars, in a food processor blend strawberries in to a creamy consistency. Leave some strawberries for chunks and decoration. Grind biscuits in to a fine crumble.

Add one tablespoon of strawberry to the bottom of the glass, then add two table spoons of honey yogurt and spread well to form a layer, add a layer of oats, add another layer of strawberry, repeat to the rim of the glass and sprinkle some biscuit on the top.
Nutrition
Calories:
52
kcal
|
Carbohydrates:
13
g
|
Protein:
1
g
|
Fat:
1
g
|
Saturated Fat:
1
g
|
Sodium:
14
mg
|
Potassium:
55
mg
|
Fiber:
1
g
|
Sugar:
11
g
|
Vitamin C:
21
mg
|
Calcium:
6
mg
|
Iron:
1
mg