Banana Apple Oatmeal Pancakes are a great healthy option for breakfast, dessert or a snack at any time of day. During my body transformation program seven years ago, I practically had these for breakfast EVERY DAY. I never got bored of these pancakes and when I wanted to change it up, I simply added some berries or nuts to the topping. Another plus is, you won't need many ingredients, so here is what you need.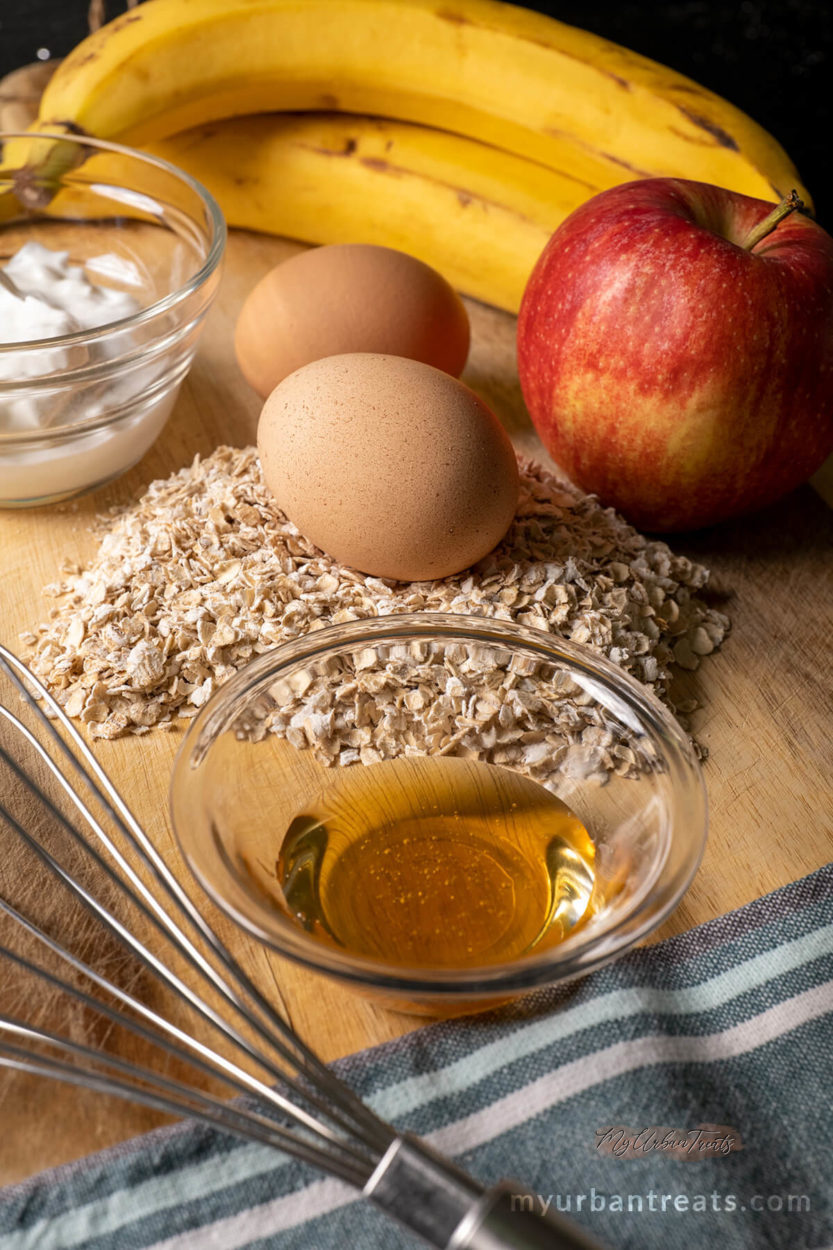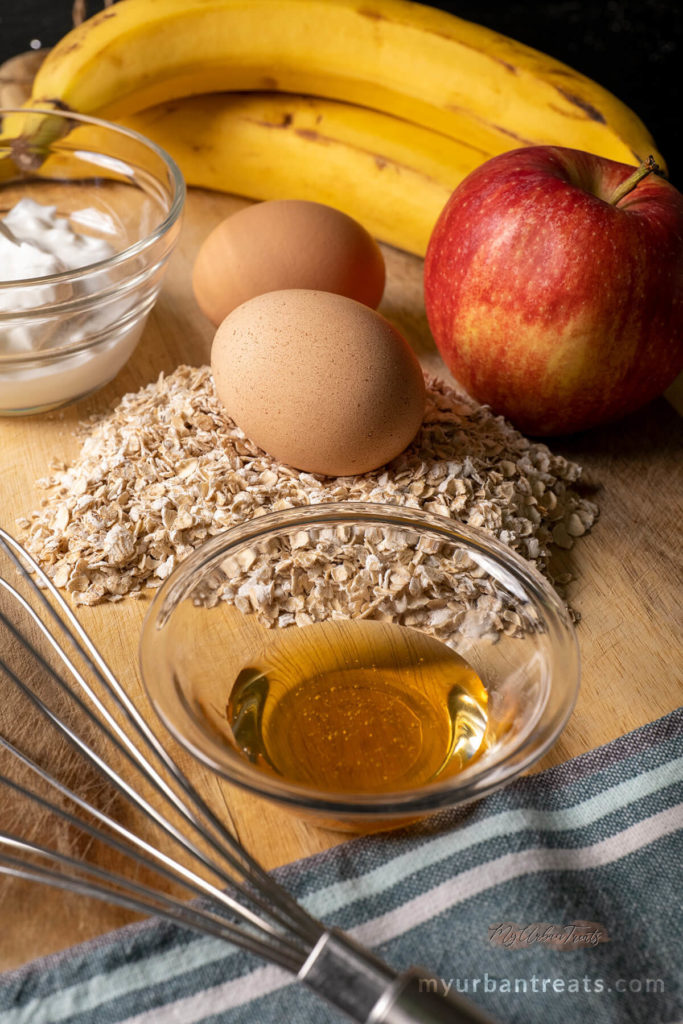 Healthy Pancake Ingredients
Making these delicious oatmeal pancakes is beyond easy and you only need a few ingredients. They are also:
Gluten Free
Lactose Free
Free of processed sugar
So here is what you will need:
Quick Oats or Oat Flour. I find its a lot cheaper to grind oats in a coffee grinder so that's what I usually do and it works great.
A couple of Ripe Bananas, the riper the sweeter your pancakes will be.
A large Apple optionally peeled.
A couple of Tablespoons of Honey
A couple of Tablespoons of Greek Yoghurt
One Teaspoon of vanilla extract
A bit of coconut oil to grease your pan.
That's it, and you know what's even easier? Making them. Here is how its done.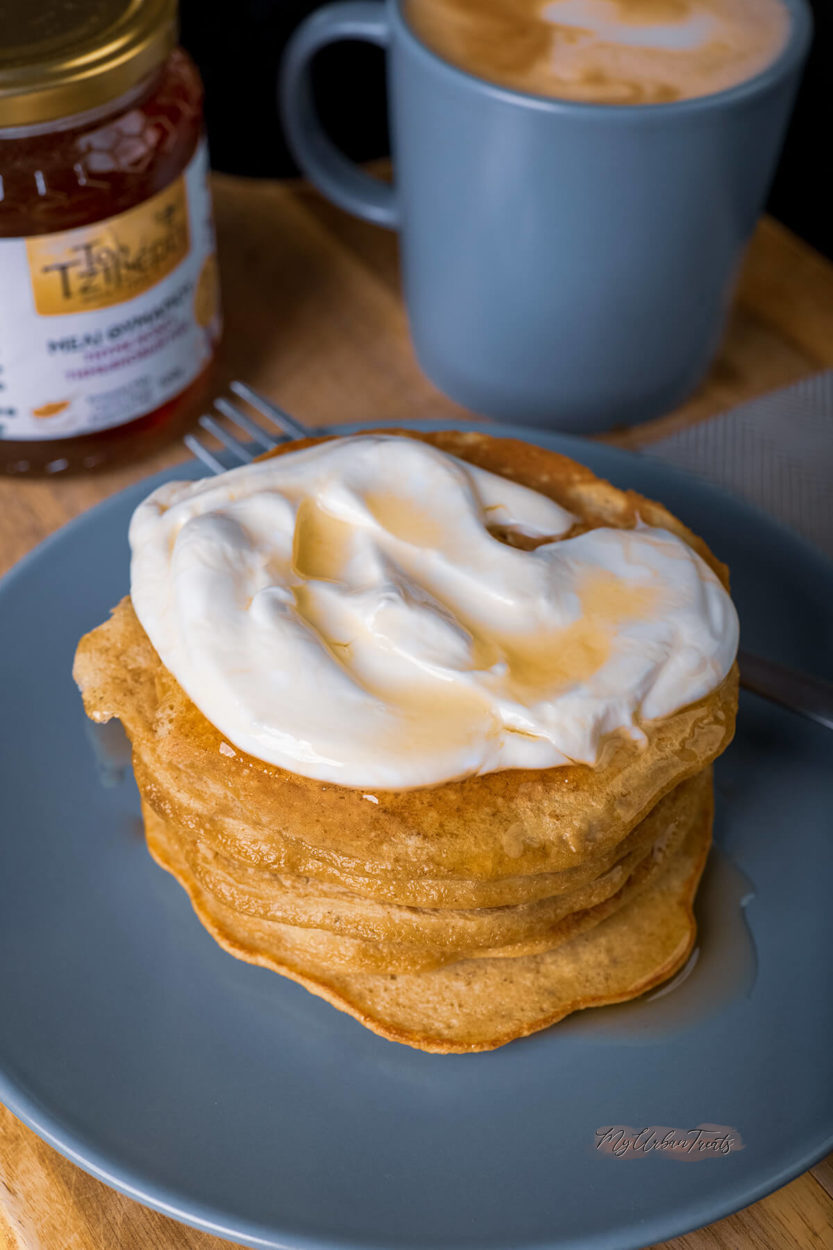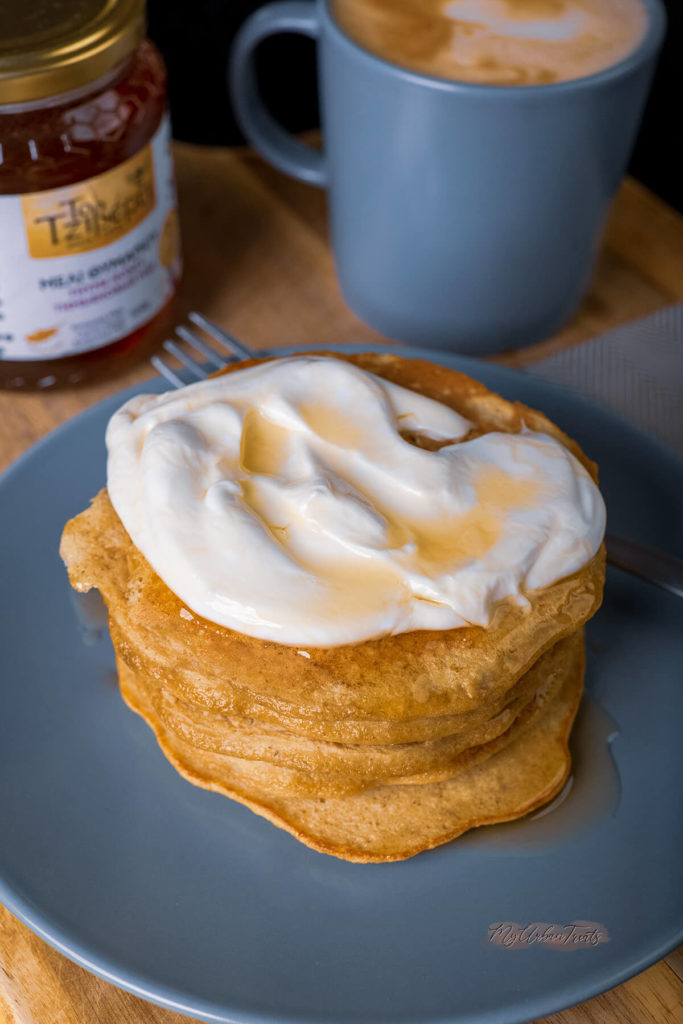 How to make Oatmeal Pancakes
There are two major steps you need to follow in this recipe:
Whisk & Blend
Mash the Bananas and grate the apple, you can peel the apple if you want (I don't) Blend everything in a mixing bowl, just chuck it all in there and give it a good whisk. Since oatmeal flour is gluten free, we won't even have to worry about over mixing. I mix in the following order although I doubt it makes much of a difference
Add Egg's and Whisk
Add Mashed bananas and grated apple
Add yoghurt, honey and vanilla extract
Add the oat flour
Let it rest for a couple of minutes and lets get to frying.
Fry and Serve
When it comes to healthy cooking, "frying" might be a taboo word but trust me, this is a safe choice. I use very very little coconut oil on my pan. To be honest I don't even think its necessary but I have tried with and without. The main difference is the texture of the pancake surface. If you have a non-stick pan you can leave the coconut oil out all-together.
Heat the pan to medium high, if you have an induction pan go with 140 Celcius which is around 385 Fahrenheit.
To make equal portions I use a 30 gram or 1 Ounce Scoop, scoop up some dough and place it in the hot pan. Wait until the edges of the pancake start to solidify, then flip around using a spatula. Fry for another couple of minutes.
Serve a stack of five pancakes, place a couple of spoons of yoghurt on top and drizzle with honey. If you are not going to serve them right away, then set them on a cooling rack. They will release condensation and a cooling rack will keep them from getting soggy.
Optional Toppings
When it comes to toppings, you have a massive amount of healthy options. Here are some of my favorite but don't be shy to experiment. Check your cupboard, anything goes.
Chocolate, Chocolate CHOCOLATE. Who said Chocolate has to be unhealthy? Get some dark chocolate chips or drops and sprinkle them on or even between the pancake layers. Don't have any? Don't worry, grab a healthy 70% chocolate bar and grate it with your cheese grater. Perfection
Fruits & Berries are the obvious healthy choice. Blackberries, Blueberries, Strawberries you name it. Any type of berry works. If you prefer fruit, try fruits with soft flesh. My favorites are peaches and mango. Yummyy.
Nuts are the perfect combo for any of the toppings. Just add a sprinkle of crushed almonds, walnuts, pecans or hazelnuts. Walnuts and Pecans are definitely my favorite nuts for healthy pancakes.
Other Topping Ideas:

Coconut Flakes
Jams and Jellies (100% fruit)
Dried Fruits
Apple Sauce
These however are just some ideas, use your imagination and the contents of your kitchen.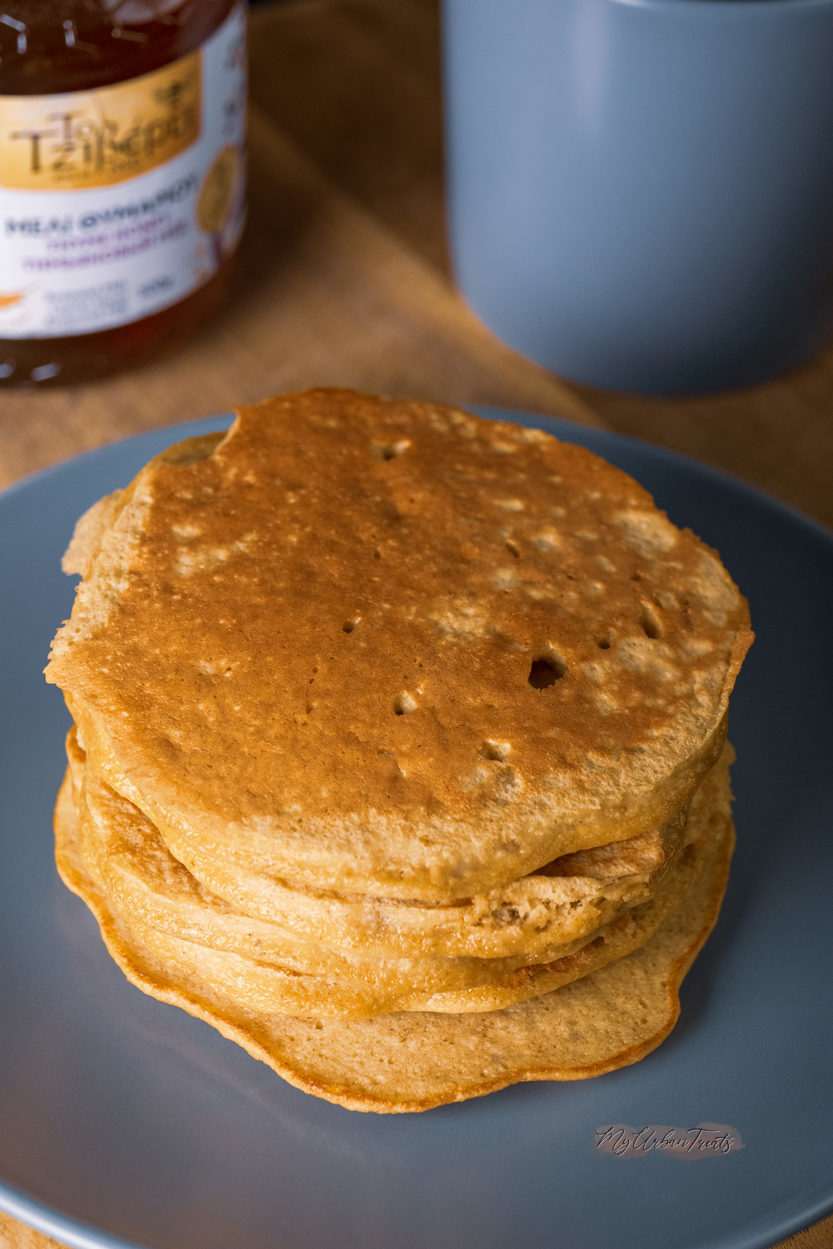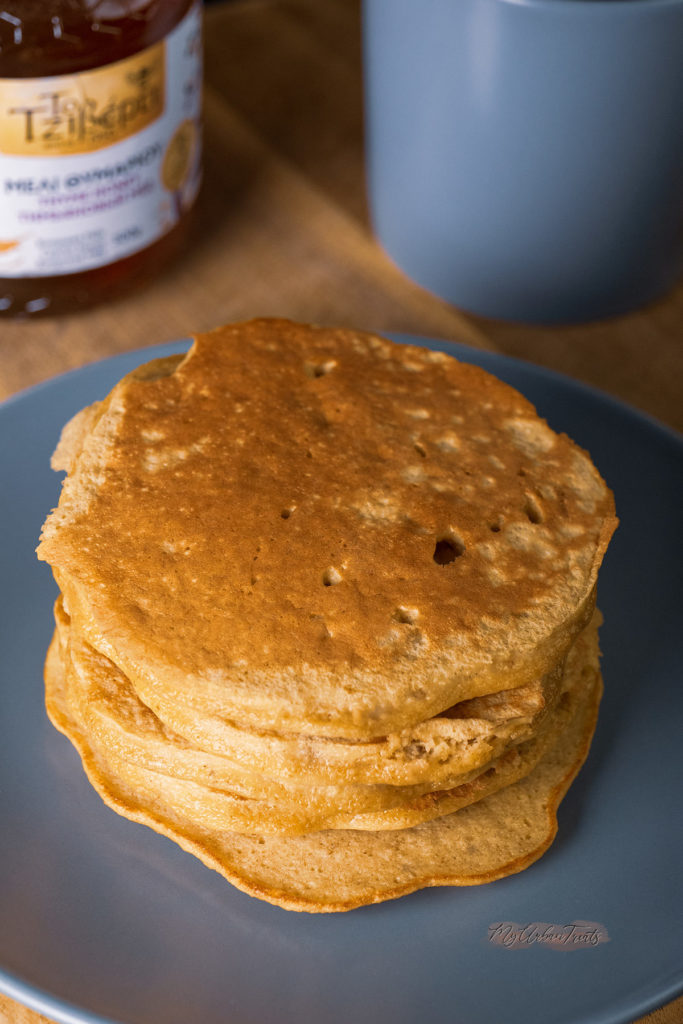 How I came up with this Recipe!
Until my early 30's I never really paid attention to my weight or health. I was practically living on bad food and sweets. My sweet tooth really didn't help the situation. One day about seven years ago I decided to make a change. I wanted to get in shape and lose the belly fat I had accumulated over the years.
I started my workouts and healthy eating that same moment. Now those who follow my blog and those who know me know that I just LOVE cakes and desserts. So while I do keep a healthy regime, I enjoy a slice of cake once or twice a week.
The first two weeks of my new healthy life where basically boiled eggs and oats. I knew I had to make a change, living on blandt food was going to make me tired of eating healthy and I would certainly have failed my new lifestyle. So I came up with recipes that where low in sugar and carbs, high in protein and still maintain a delicious flavour and texture. The experimenting had begun and the first version of my Oat Pancake was born.
Now over the years I have perfected this recipe, the current form is a perfect balance of flavour, moisture, texture and sweetness without processed sugar.
If you want to see more recipes like this one, make sure you let me know in the comments and I will get some more in the pipeline.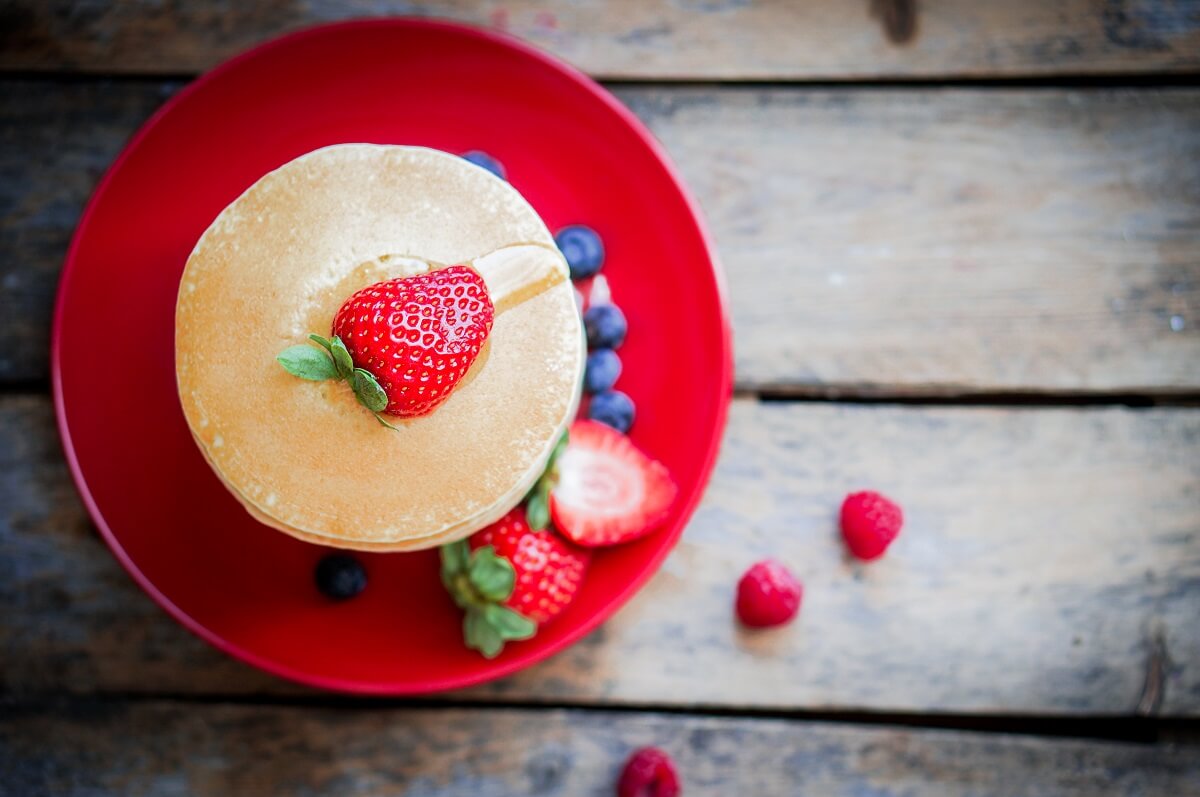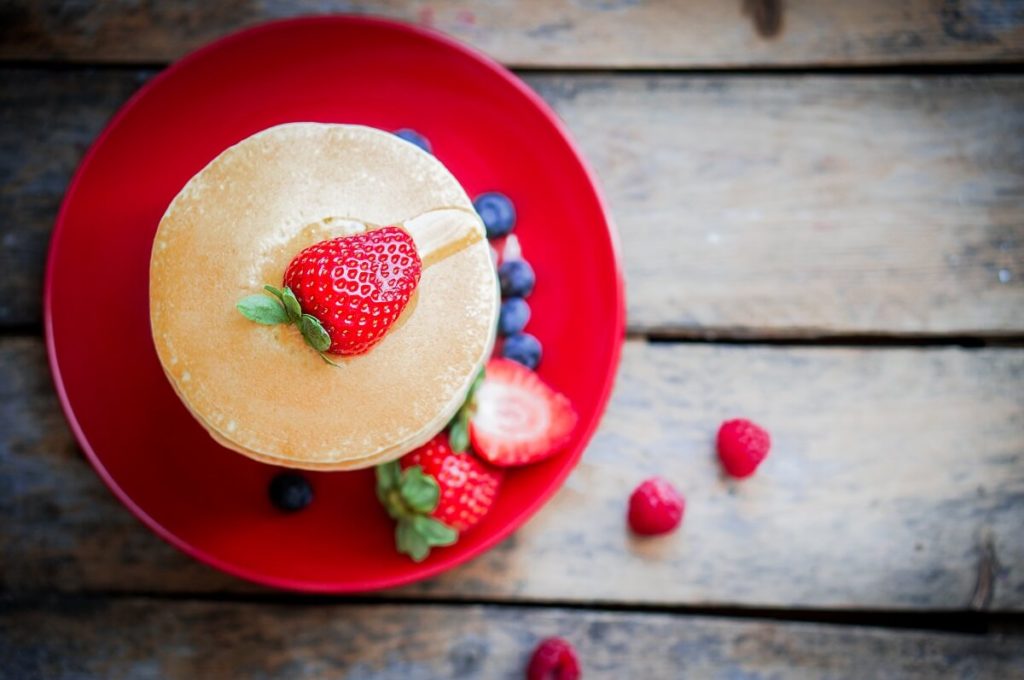 Regular Yoghurt VS Greek Yoghurt
Many healthy recipes feature Greek yoghurt and for good reason. Greek Yoghurt is a lot lower in sugar than regular yoghurt. This is due to the processing method. Greek Yoghurt is fermented with live cultures and then strained multiple times. The straining processes gives the yoghurt its cream like texture.
Greek Yoghurt has many health benefits and is generally associated with lower blood pressure and reducing the risk of diabetes.
Medical news Today explains eight health benefits of Greek Yoghurt in this article:
https://www.medicalnewstoday.com/articles/323169
Making Oat Flour at Home
My local supermarket sells oat flour in the health section, it is however significantly more expensive than quick oats. So I tend to use a coffee grinder to grind my oats. True, it doesn't become as smooth as oatmeal flour but its pretty close. And in this recipe it wont make much of a difference. If you don't have a coffee grinder, you can also use a blender or food processor. I found the the food processor makes the roughest grain. The blender follows the coffee grinder as a close 2nd option.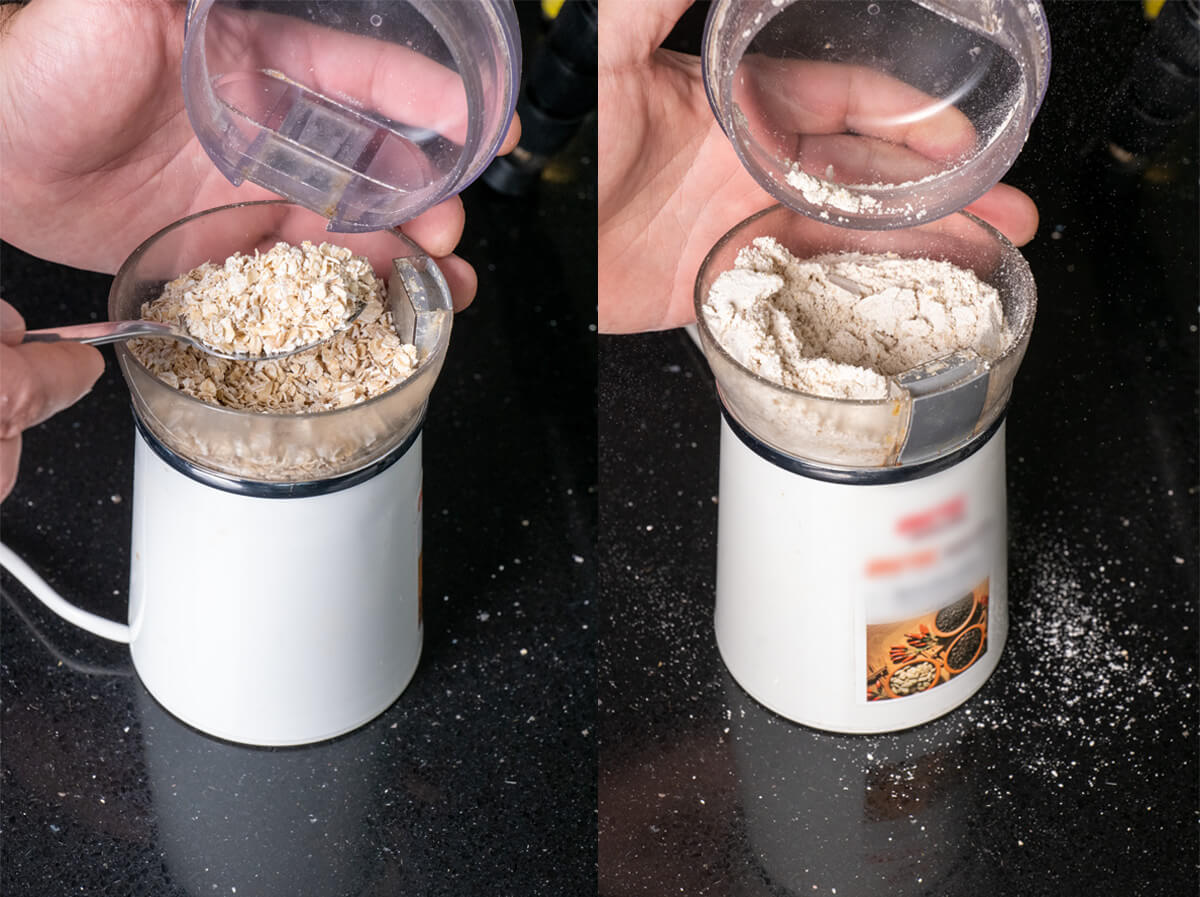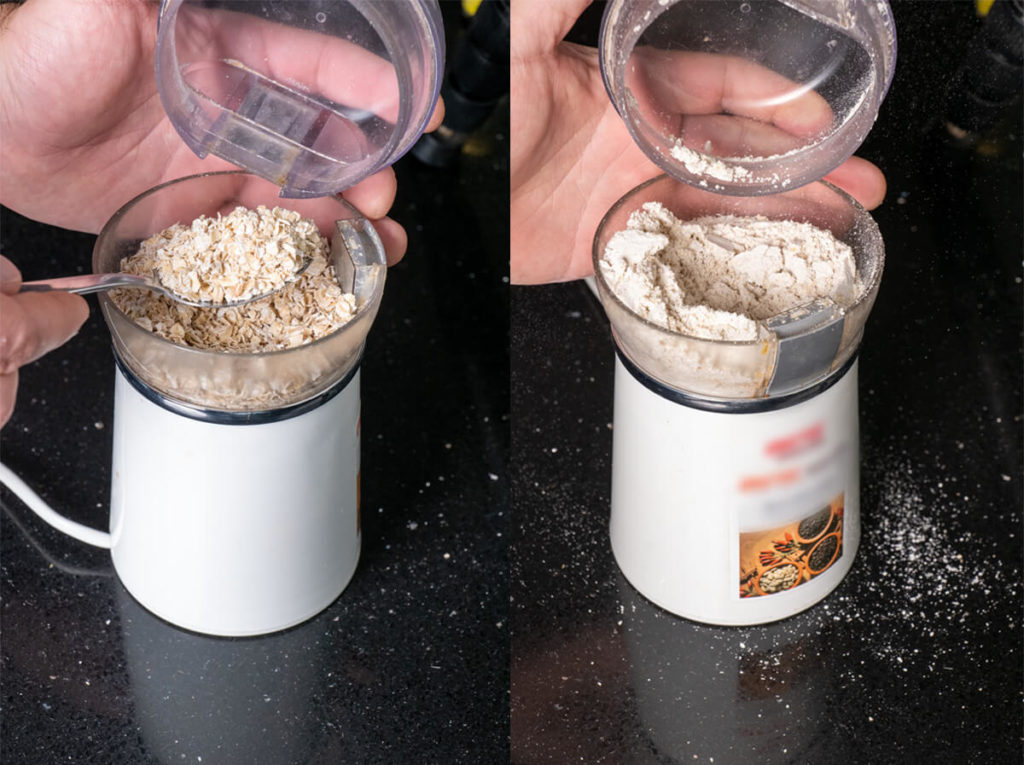 Nutritional Facts
Each healthy pancake weighs around 30 to 35 Grams. Five griddle cakes make one adult portion so a total of 150 grams plus yoghurt and a teaspoon of honey. Lets have a look at the nutritional values for one portion.
Portion Size: 150 grams or 5.3 Ounces
Calories: 345 Cal
Protein: 18 grams or 0.53 Ounces
Carbohydrates: 45 grams or 1.58 Ounces
Fat: 10 grams of which 5 grams are saturated
Cholesterol: 93mg
Sodium: 36mg
Potassium: 95mg
Fiber: 1g
Sugar: 3g (natural sugar from fruits and honey)
Choosing the Right Honey
It can be tempting to get the cheaper honey from the supermarket shelf, but don't fall into the trap of cheap honey. Cheap honey brands actually mix real honey with Sugar Syrup making it as unhealthy as just adding sugar. Good Honey brands are source certified and should also be ethically sourced. Check the labels if you are unsure.
Frequently Asked Questions
10 Eggs seem to be a lot, is it not too much?

10 Eggs will yield 20 pancakes. A portion for one adult is five pancakes so 2 1/2 eggs per person which is a good amount of protein and healthy cholesterol. You can use less egg's if you want. I had similar success with 5 egg's and a bit of a 1/3 cup of almond or bovine milk.
Other Healthy Recipes
I know, I make a ton of dessert recipes that aren't really the "healthiest" around. But the key is moderation people. I love sweets more than anyone and I know how hard it is to control your cravings. So make some healthy stuff for every day snacking and then add a slice of cake or one portion of dessert on the weekend. Here are some more of my healthy desserts, if you want more recipes like this one, please leave a comment below.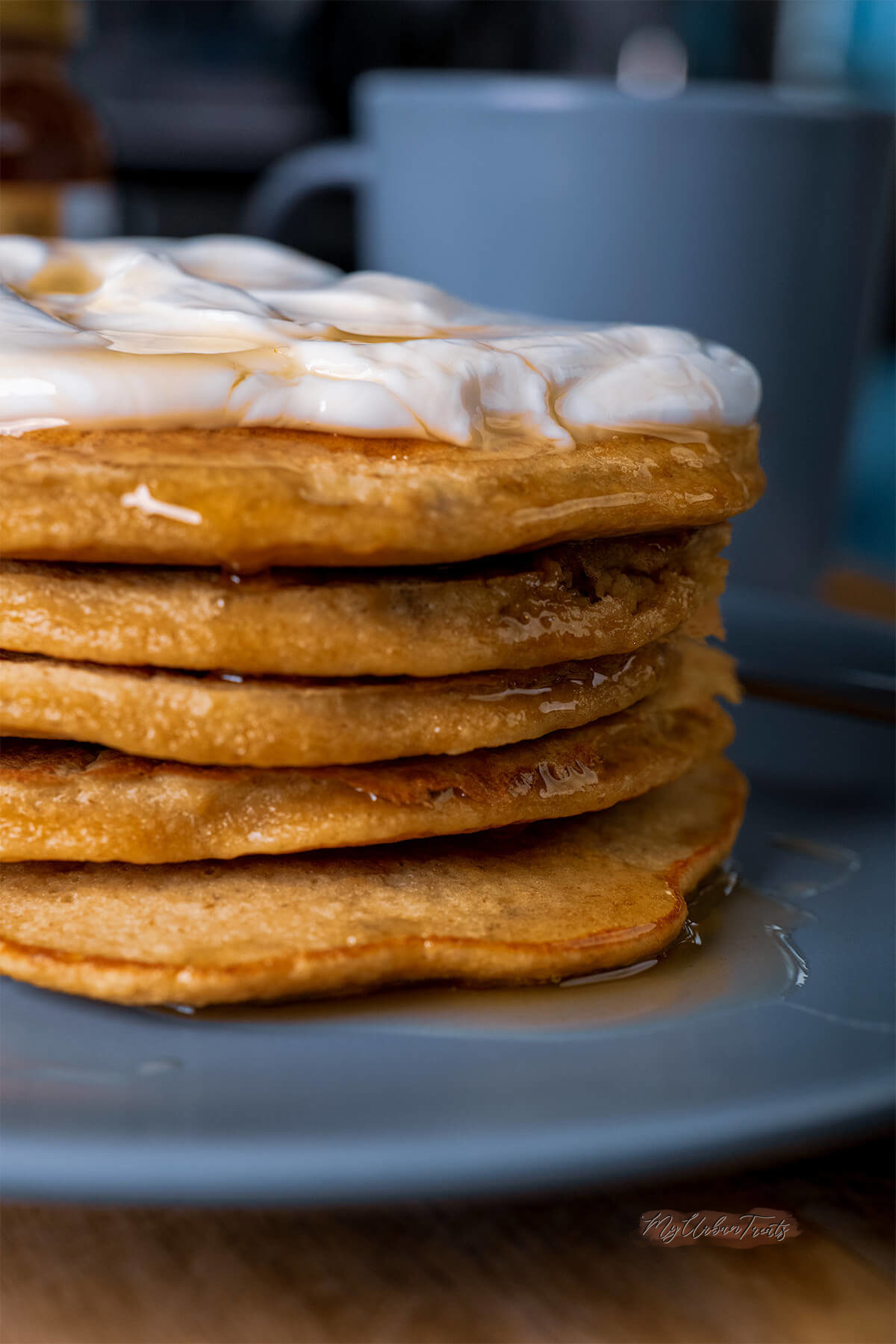 Healthy Banana Apple Oatmeal Pancakes
These pancakes are so delicious, it's hard to believe they are actually healthy. High in protein, low in sugar and no wheat flour make these the perfect healthy breakfast. And lets not forget that they are quick and easy to dish up.
Ingredients
10

large

Egg

180

grams

Quick Oats

Grinded

2

large

Bananas

Mashed

1

large

Apple

Grated (with or without skin)

2

Tbsp

Greek Yoghurt

1

Tsp

Vanilla Extract

1

Tbsp

Organic Honey
Topping
2

Tbsp

Greek Yoghurt

1

Tbsp

Organic Honey
Instructions
In a small bowl, mash the bananas and grind the apple.

In a Large mixing bowl, combine the eggs, yoghurt, vanilla extract and honey. Whisk until well combined.

Add the oatmeal Flour and whisk until combined, Set aside and let it rest for 2 minutes.

Heat a non-stick frying pan to medium heat, for induction heat to 140C. Add a tiny bit of coconut oil to grease the pan. Than add a scoop of pancake batter. Fry until golden brown and the edges have started to dry. Now flip around and fry the other side until golden brown.

Stack five pancakes, add a spoon of Greek yoghurt and drizzle with honey.
Nutrition
Serving:
175
g
|
Calories:
345
kcal
|
Carbohydrates:
43
g
|
Protein:
18
g
|
Fat:
12
g
|
Saturated Fat:
4
g
|
Cholesterol:
465
mg
|
Sodium:
183
mg
|
Potassium:
476
mg
|
Fiber:
3
g
|
Sugar:
32
g
|
Vitamin A:
749
IU
|
Vitamin C:
8
mg
|
Calcium:
86
mg
|
Iron:
2
mg