These muffins are super easy to make and wont leave your kitchen looking like a battlefield. We currently have very nice strawberries in the garden so why not make some yummy and healthy Strawberry Muffins? They are 100% Vegan and are super easy to make. You will be surprised how fluffy and moist they turn out, stuffed with strawberries and goodness. It takes less than 40 minutes to make them so a perfect breakfast treat or snack.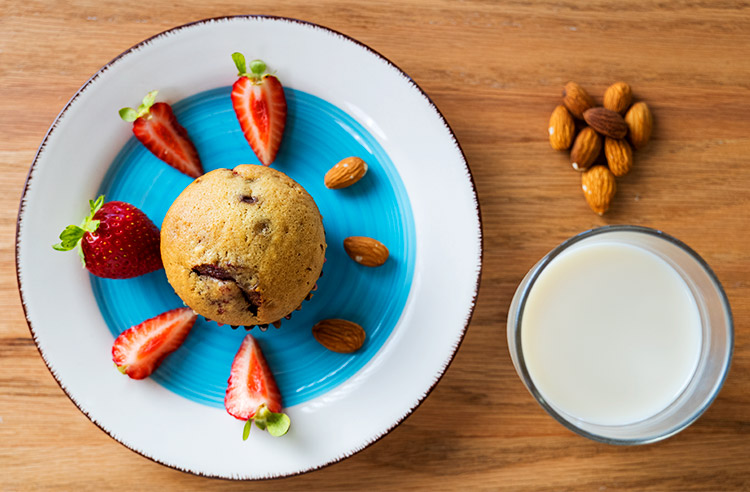 I love strawberries, since we moved to the village I had the chance to actually grow my own strawberries. We have been making so many different strawberry dishes this summer, its been just great.
Muffins & Strawberries? YES PLEASE and since my friend Sam has been asking me for a Vegan dessert my challenge was set. Moist delicious Strawberry muffins!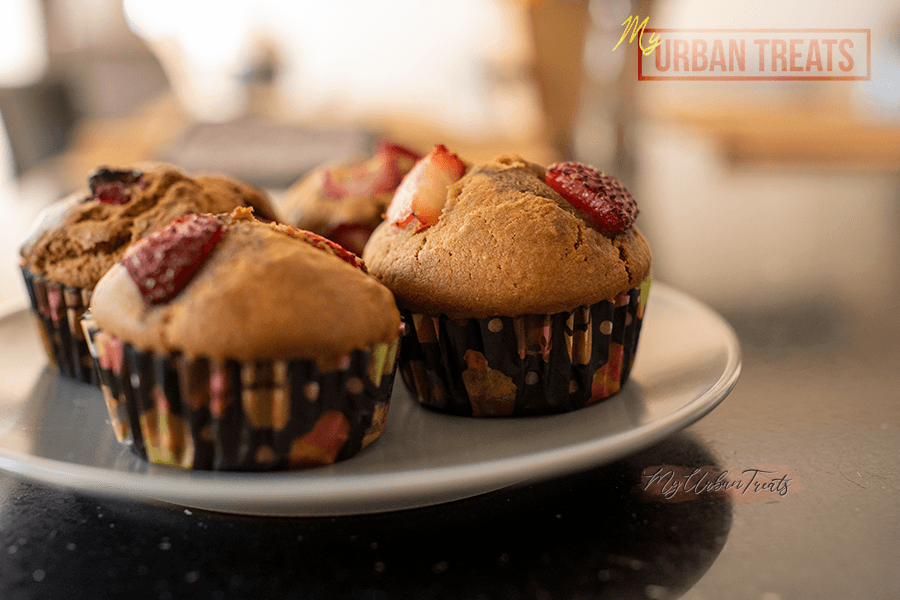 How to make Strawberry Vegan Muffins
Not only do these taste great, you can make them in a single bowl. No messy Kitchen, no ton's of cleaning, simply mix, bake and enjoy. So here is how its done:
Ingredients:
All-purpose flour I use 00 but any fine type will work great. If you are looking for alternatives you can use Almond flour.
Baking Soda will add air to your muffins and make them nice and fluffy.
Tsp Salt brings out flavour but also activates baking soda.
Granulated Sugar can be replaced with honey or a healthier options like coconut sugar or stevia.
Almond Milk for flavour and to keep it 100% vegan.
Olive Oil makes the flavour rich and keeps your muffins moist.
Vanilla Sugar because every recipe needs Vanilla sugar or Lemon Zest 🙂
Fresh Strawberries, because what's a strawberry muffin without strawberries right?
Step 1:
Get a big bowl, add all your dry ingredients and give them a quick whisk. Now add in the wet ingredients, and don't forget, sugar is always a wet ingredient. Last but not least, fold in the cubed strawberries.
Step 2:
Grease your muffin tin with some olive oil and lightly powder it with flour to avoid sticking muffins. Now fill each muffin form 3/4 of the way. they will double in size so you should get a little cute dome on the top. Pop in the oven and bake for 30 – 35 Minutes until golden brown. Cool on a cooling rack and enjoy with a cup of Almond Milk.
Did you know? We cool cakes on a cooling rack so they cool evenly and don't accumulate condensation on the bottom of the pan. This makes an even fluffy dough that's not mushy.
TIPS & TRICKS
Don't over whisk the mixture, you want it to be nice and smooth but not filled with air bubbles.
Bake in the centre of your oven for an even bake
Use a wooden stick to check if they are done, stick it in the to the centre of the muffin if it comes out dry the muffins are done.
How to Make Vegan Strawberry Muffins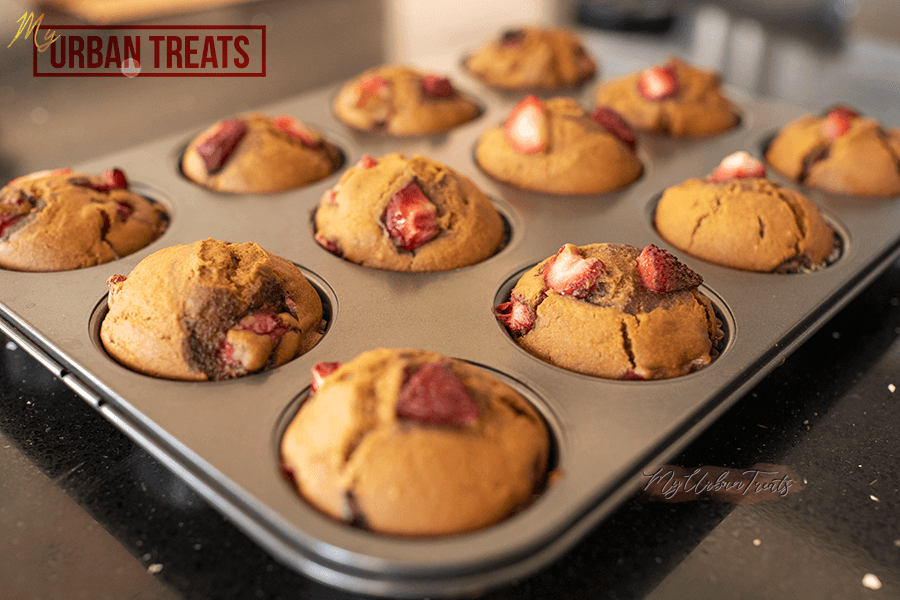 Vegan Strawberry Muffins
Amazing Vegan Strawberry Muffins made quick and easy in a few steps
Instructions
Combine Almond Milk, Sugar, Oil and Vanilla in a small cup and stir together, in a seperate In mixing bowl combine all dry ingredients and stir well. Mix the wet ingredients into the main mixing bowl and combine until smooth, don't over mix. Then carefully fold in the strawberries

Cut the strawberries into quarters and add them to the batter. Fold them using a rubber spatula to avoid squashing them.

 Line the muffin tin with muffin paper forms and fill them just under the rim. You can add a few strawberry pieces on the top of each muffin. Sprinkle some brown sugar on the top of each muffin for a nice crunchy top.

Bake for 25-30 minutes at 175C or 340F until light brown. The best way to see if they are done, poke them with a wooden skewer 20 minutes in and see if it comes out clean. If it doesn't, bake 5 more minutes and check again until done.
Nutrition
Serving:
85
g
|
Calories:
197
kcal
|
Carbohydrates:
33
g
|
Protein:
2
g
|
Fat:
6
g
|
Saturated Fat:
1
g
|
Sodium:
307
mg
|
Potassium:
41
mg
|
Fiber:
1
g
|
Sugar:
16
g
|
Vitamin C:
7
mg
|
Calcium:
30
mg
|
Iron:
1
mg