Pork Shanks are full of flavour and can be tender and juicy if cooked well. They are a part of the forearm that is well developed and has strong muscles. Pork shanks need to be cooking for longer periods than other meat cuts to make them nice and tender. Today I am sharing my recipe for Pork Shanks in the Oven with homemade Barbeque sauce.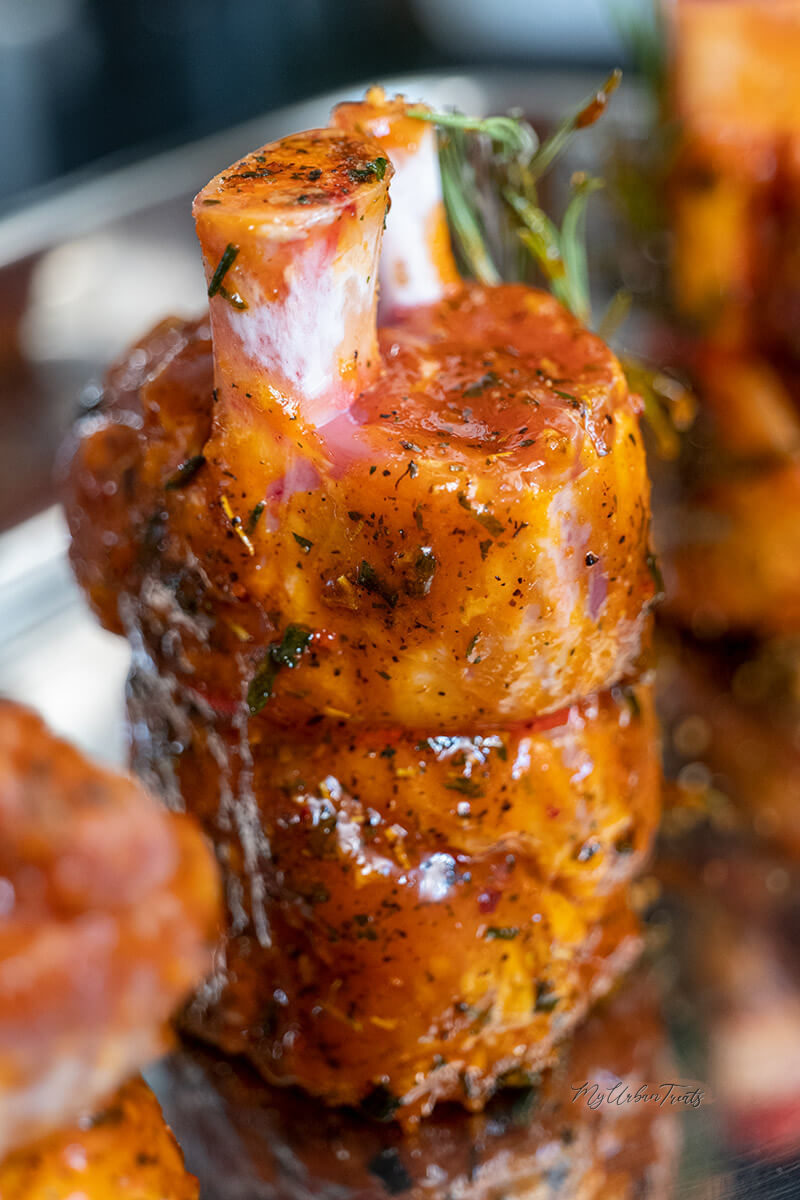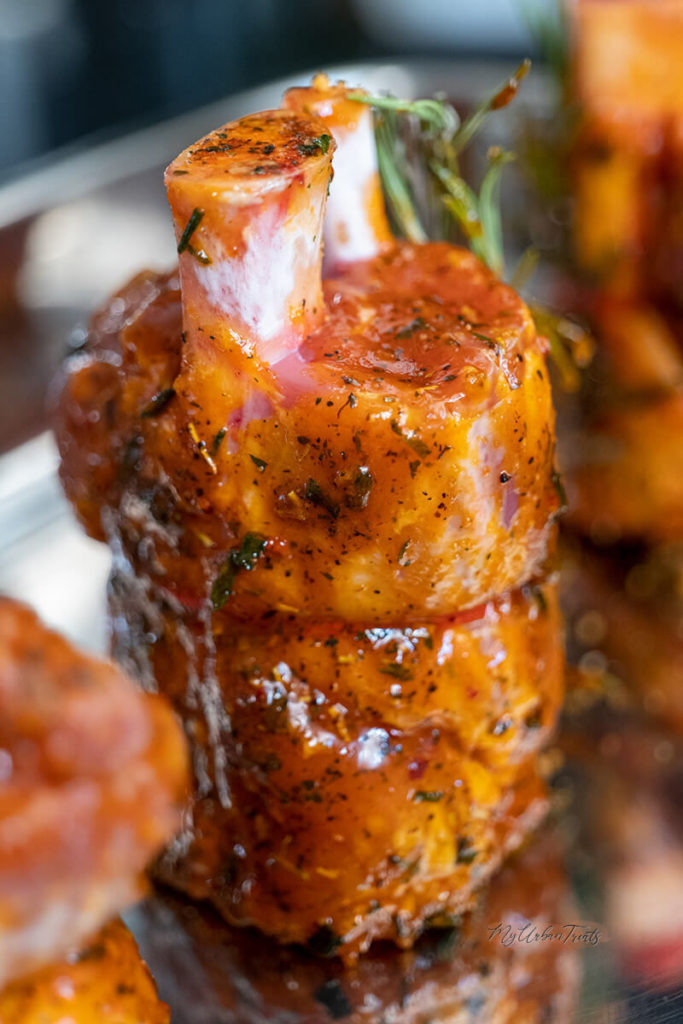 Pork Hock vs Pork Shank
Pork Hocks and Shanks are not exactly the same cut of meat. The Pork Shank is right below the Pik Nik or (Ham in the rear) of the pork. Its a muscle that is well used and strong. The Pork Hock is the part below the shank. Pork Hocks have a lot of tendons and ligaments and a thick skin. So need long cooking or stewing before they are tender enough to eat.
Pork Hocks are also known as pork knuckles or Ham Hocks. They are often used in stews, slow roasts, slow cookers and soups.
Pork Shanks have a lot more meat and are contain a lot of muscle tissue. As the muscle is well used it is full in flavour and can be very tasty when roasted.
Preparation
Cooking pork shanks in the oven is a simple process, baste the meat every 20 minutes and let it cook for 2 to 3 hrs. But you can apply a few tricks and go that extra mile that will make your dish stand out.
Marinate the meat in the BBQ Sauce for 24 hrs before cooking. It will absorb all the spices and flavours and will make it that much tastier. Even 2-3 hrs of marinating will actually make a difference to the flavour. If you don't have 24hrs go with any amount of time you can afford.
Garlic pockets are a trick my mom taught me. Make very small incisions in the meat and cut small junks of garlic. Stick the garlic pieces into the slit. The garlic will melt into the meat and it will be delicious.
Basting is part of the cooking process and not preparation. But its super important so it gets a mentioning in this list. Baste the meat every 10 to 15 minutes. It will make all the difference with both flavour and juiciness.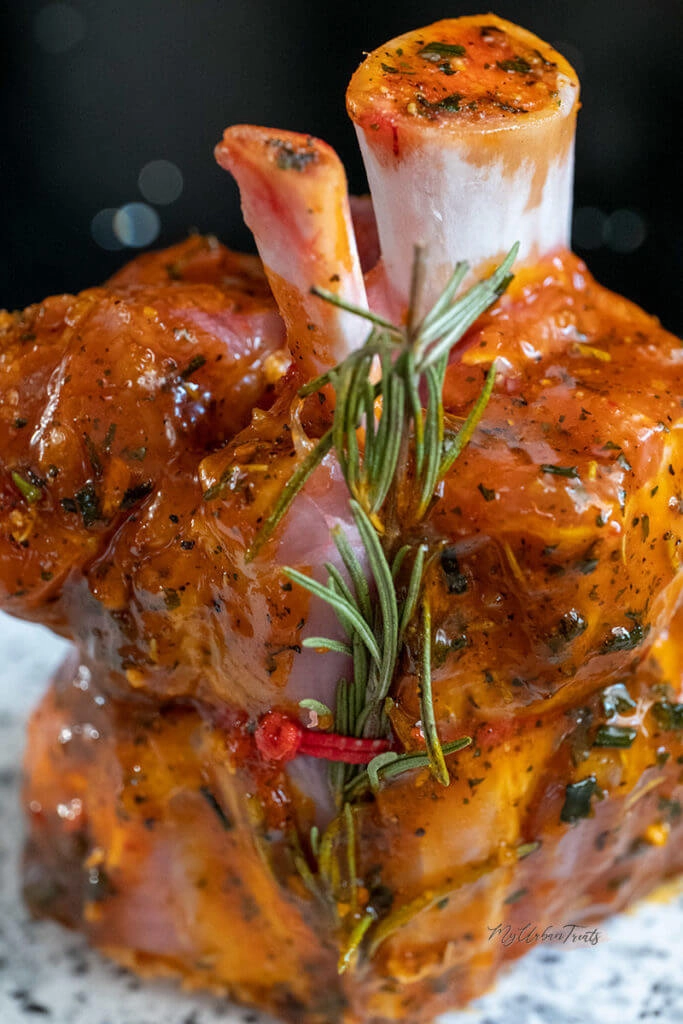 Cooking Time
The best way to get tender meat that falls of the bone, is to slowly cook the meat in the oven for 2:30 to 3 Hours. Baste the meat with its own juice every 20 minutes. If you run out of juice you can use some vegetable or pork broth instead but keep basting right to the end.
Cooking Pork Shanks with the skin on is quite different. I usually sous vide them for 90 minutes before putting them in the oven but that is not necessary with this recipe.
Can I use other meats for this Recipe?
Yes, you can use other cuts of meat for this recipe. It will work well with bacon, spare ribs and ham. If you don't eat pork you can also use:
Leg of Lamb
Shoulder of Lamb
Beef Ribs or Prime Rib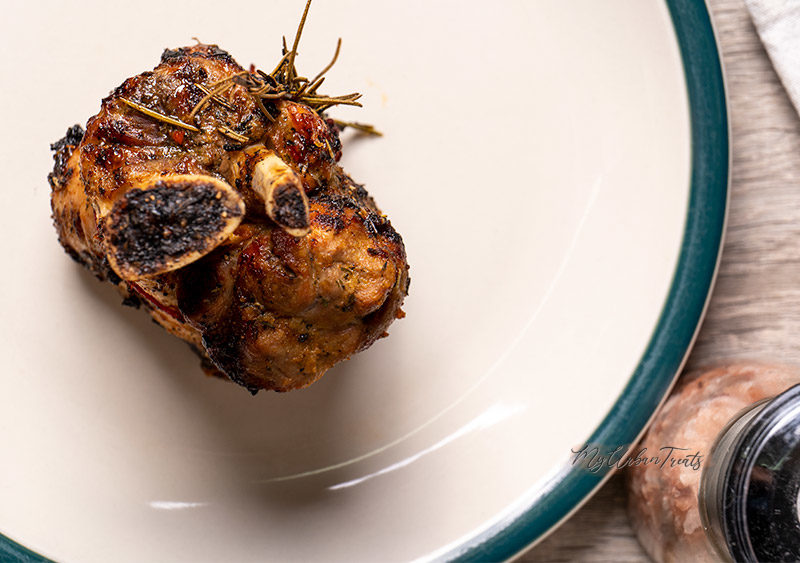 Side Dishes for Pork Shank
Here are some Idea's of what you can server with your Oven roasted Pork Shanks
Applesauce is a great flavour addition to Pork Shanks.
Garlic Potatoes with a hint of parsley
Mashed Potatoes
Boiled Sweet Corn
Sweet Potato Wedges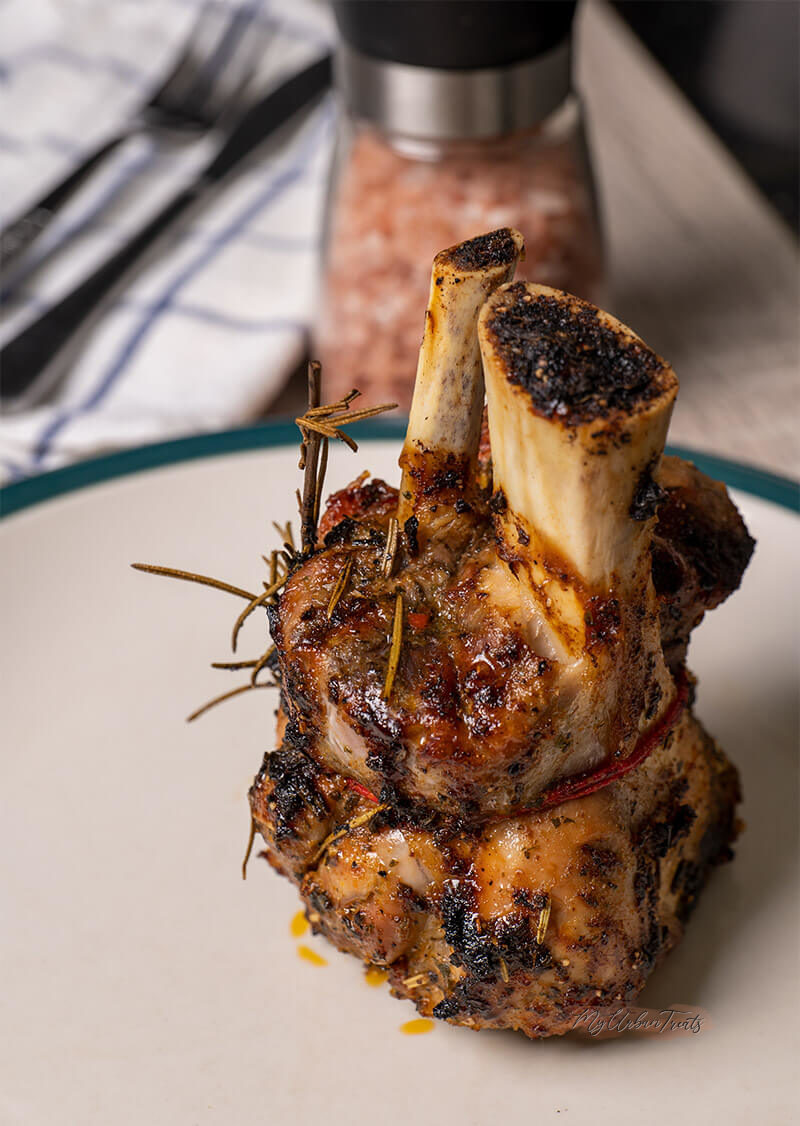 Pork Shank with BBQ Sauce
This recipe for Pork Shanks its simple and yet so good it will blow everyone away. The BBQ Sauce marinade and Rosemary will give the meat a delicious flavour and by following my cooking method the meat will be so tender it will just fall off the bone.
Ingredients
4

large

Pork Shanks

4

small

Rosemary Branches

4

medium

garlic cloves

1/2

cup

BBQ Sauce
Instructions
Prepare your meat with a marinade if possible the day before. Cut little incisions in to each pork shank and fill them with small pieces of garlic. Now cover the meat with BBQ Sauce. Place in an airtight container and refrigerate until you are ready to cook.

Add the Rosemary before cooking so the flavour doesn't overpower the meat or sauce. Cut one branch for each pork shank approximately the height of the shank. Using butchers twine or cooking string, tie the rosemary to the pork shank.

Set the oven to 180 C or 350 F and roast for 2:30 to 3 hours. Baste the meat with its own juice every 20 minutes. With the marinade and meat juice you should have enough to last for the whole cooking process. In case you don't you can use vegetable or pork broth to baste the meat.

Let the meat rest for 7-8 minutes before serving. Don't let it rest too long as it can get dry.
Nutrition
Serving:
1
450
|
Calories:
280
kcal
|
Carbohydrates:
1
g
|
Protein:
30
g
|
Fat:
18
g
|
Saturated Fat:
9
g
|
Cholesterol:
100
mg
|
Sodium:
560
mg
|
Potassium:
28
mg
|
Fiber:
1
g
|
Sugar:
8
g
|
Vitamin C:
1
mg
|
Calcium:
5
mg
|
Iron:
1
mg