Basque Cheesecake earns its name from its country of Origin, Basque Country. Basque Country is an autonomous community located on the border of Spain and France. This gives it a French speaking and Spanish speaking side as well as a unique French/Spanish cuisine. Basque Country is very well known for its amazing food, all the way from Tapas to, you guessed it Basque Cheesecake. You will also find that this dessert is sometimes called Burnt Cheesecake due to the caramelized burn exterior of the dish.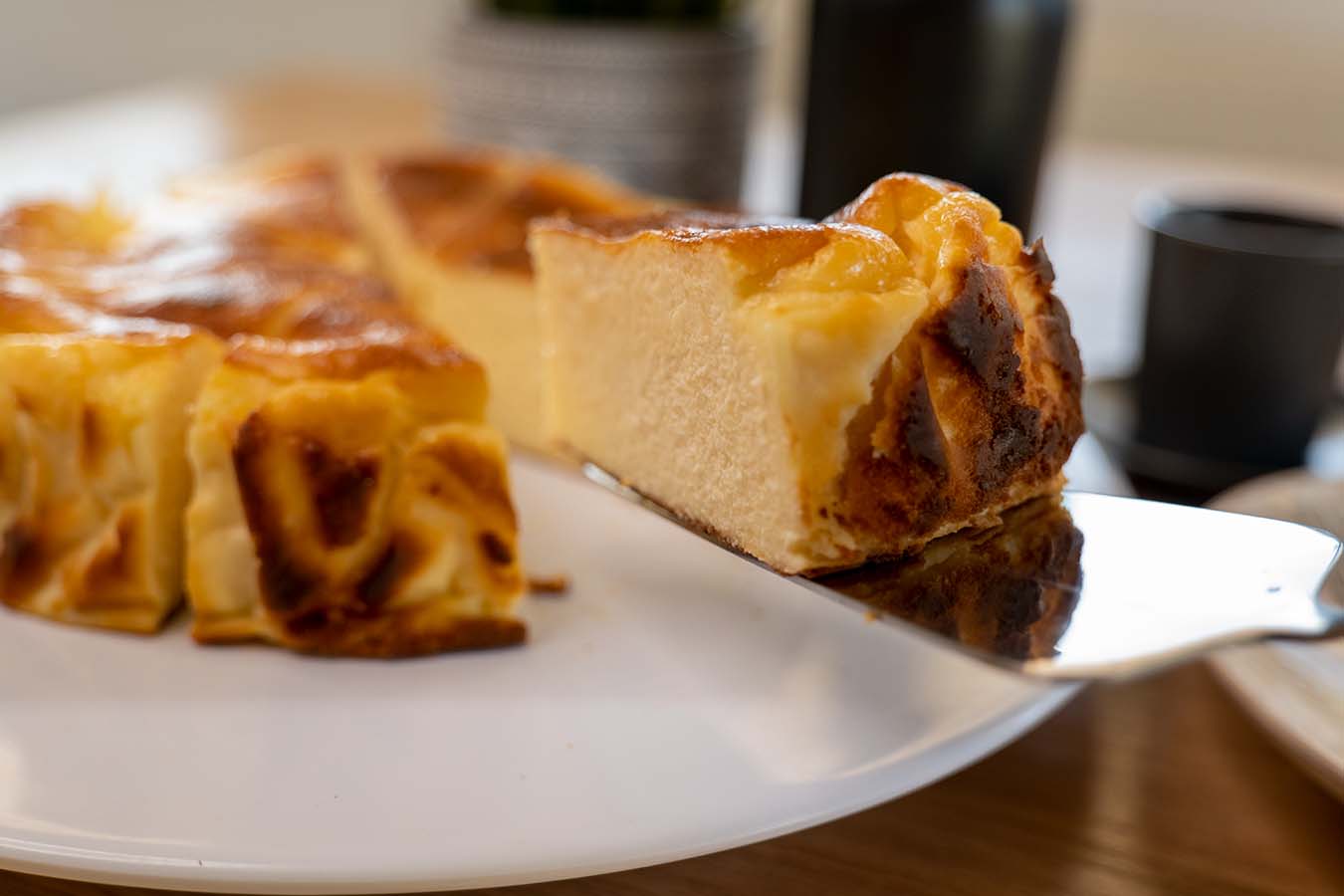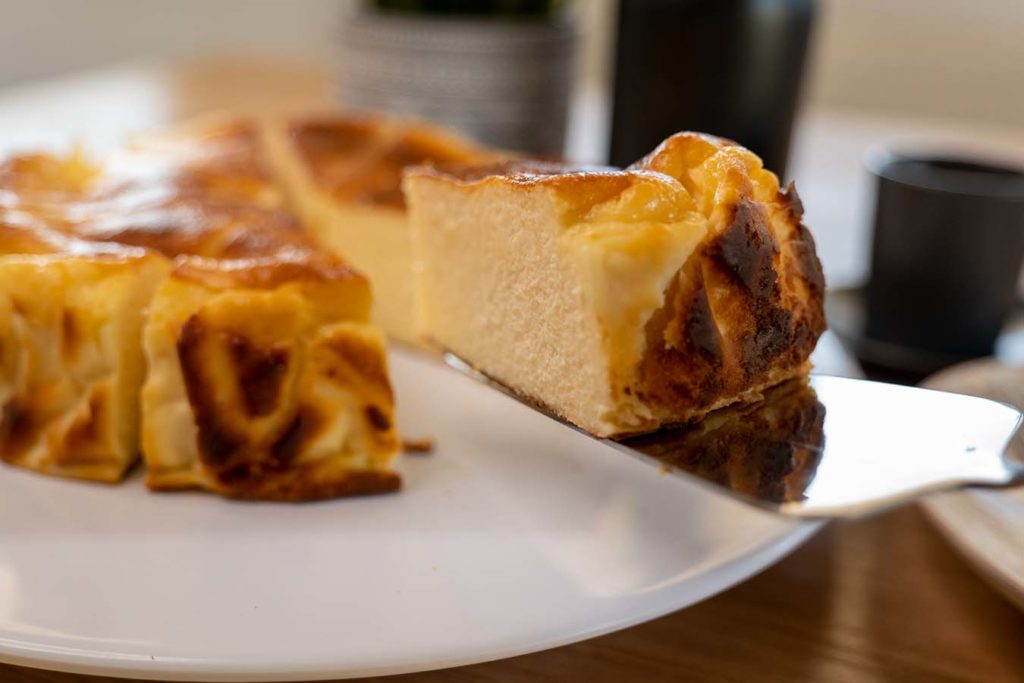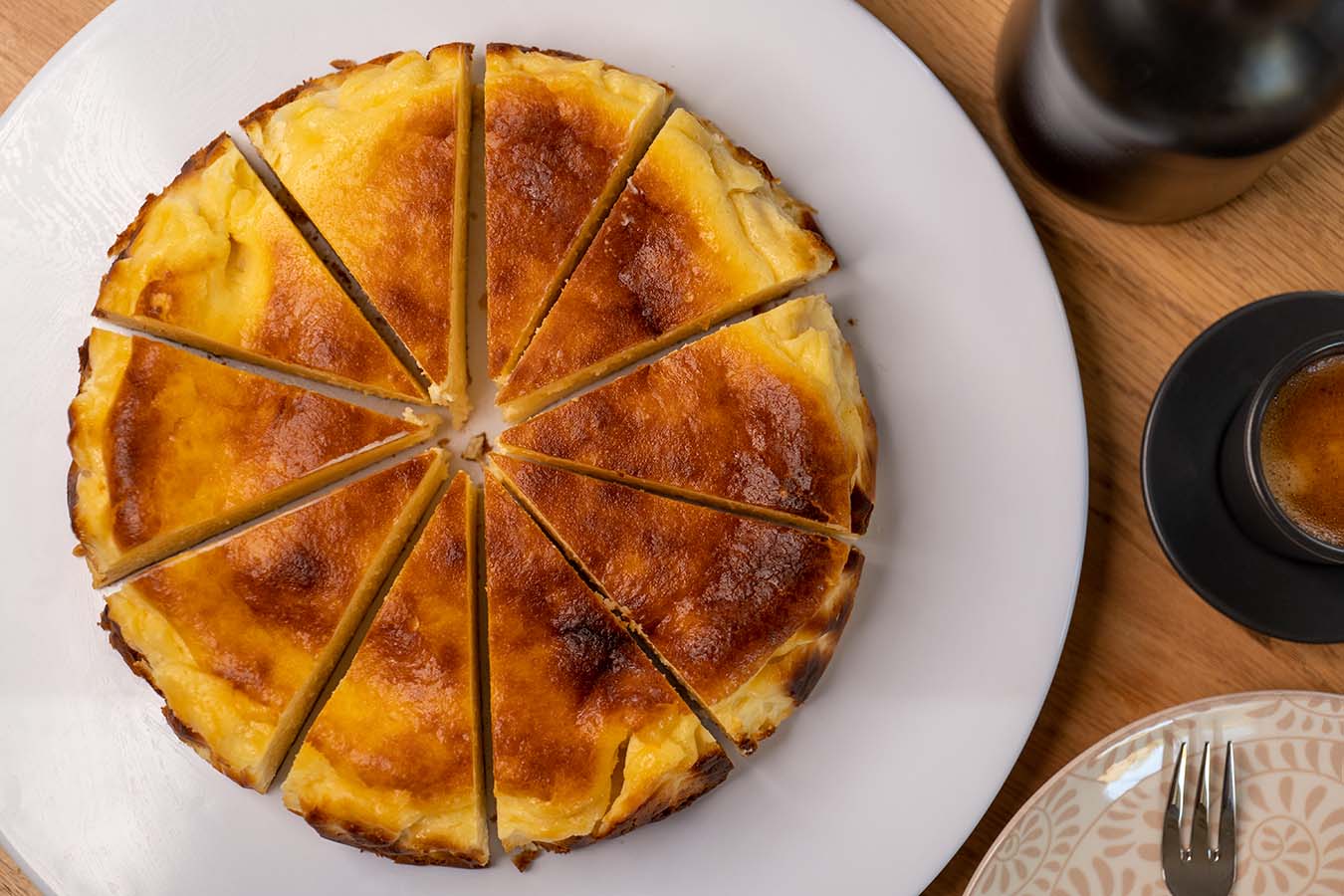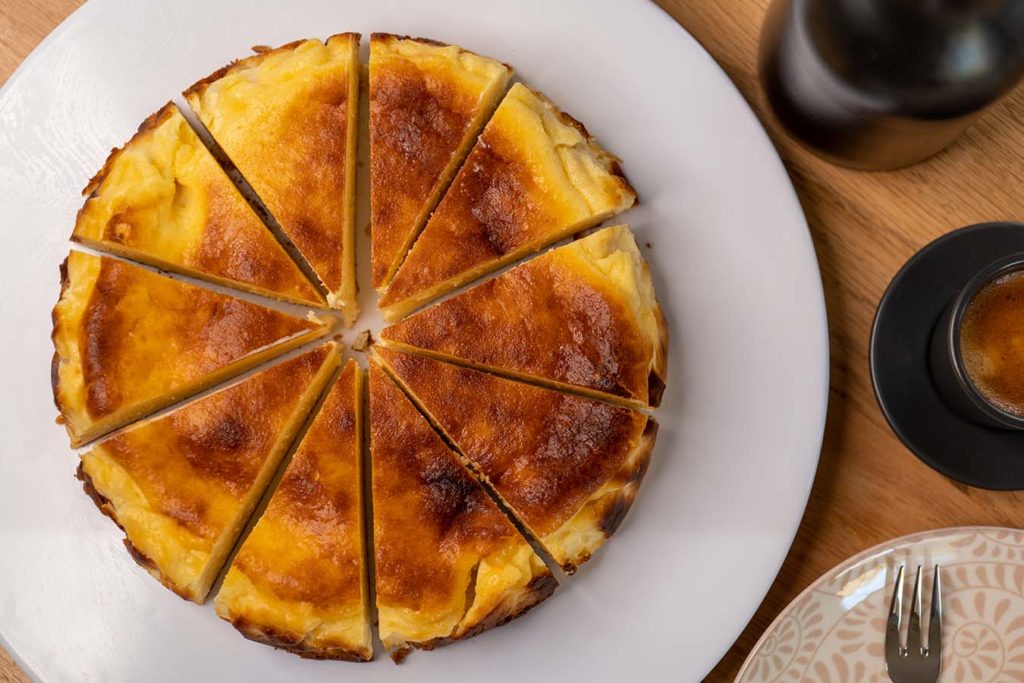 Basque Country Cuisine
People say that the best food in Spain is in the Basque Country, and the best food in the Basque Country, is in San Sebastian. Basque country is famous for its small tapas bars called "pinchos" in Basque. You basically sit or stand at the bar which hosts a massive buffet of tapas, and point at what you like. But trust me, its a hard choice with so many delicious looking foods.
One tip I can give you when visiting Basque Country is, don't stuff yourself at the first bar, instead, have a bite and a beer and move on to the next bar. Every place in San Sebastian has its own specialty and bar hopping is a part of the local culture.
You can't writing about Basque Cheesecake without mentioning a very special place in Donostia. La Viña is a restaurant in the old town of San Sebastian, it's specialty? Basque cheesecake.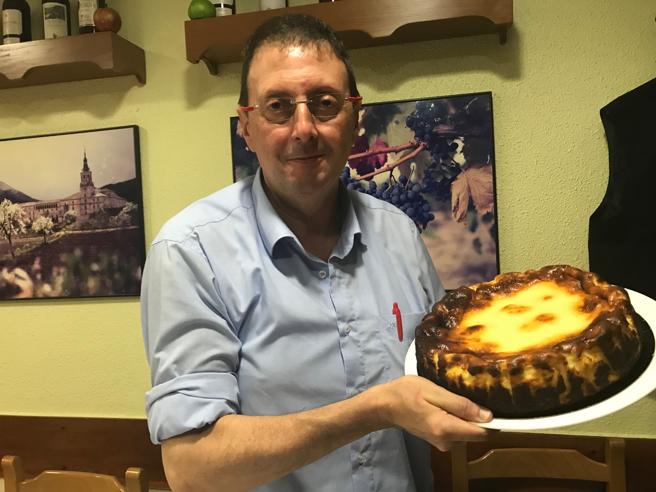 What is Basque Cheesecake?
When you first hear the name "Basque Cheesecake" you might be inclined to associate it with the basket shape of the baking paper when it comes out of the oven. But the "tarta de queso" gets its name from its country of origin.
Basque Cheesecake requires very few ingredients and does not have a crust base like its New York counterpart. Instead, it is baked at a high temperature that caramelizes the sugar forming a thin crust all around it. Depending on how long you cook Basque cheesecake, the center can be fluffy or creamy. But the key to getting the authentic texture, is cooling the cake for a long enough period. This will settle and compress it making it just perfect.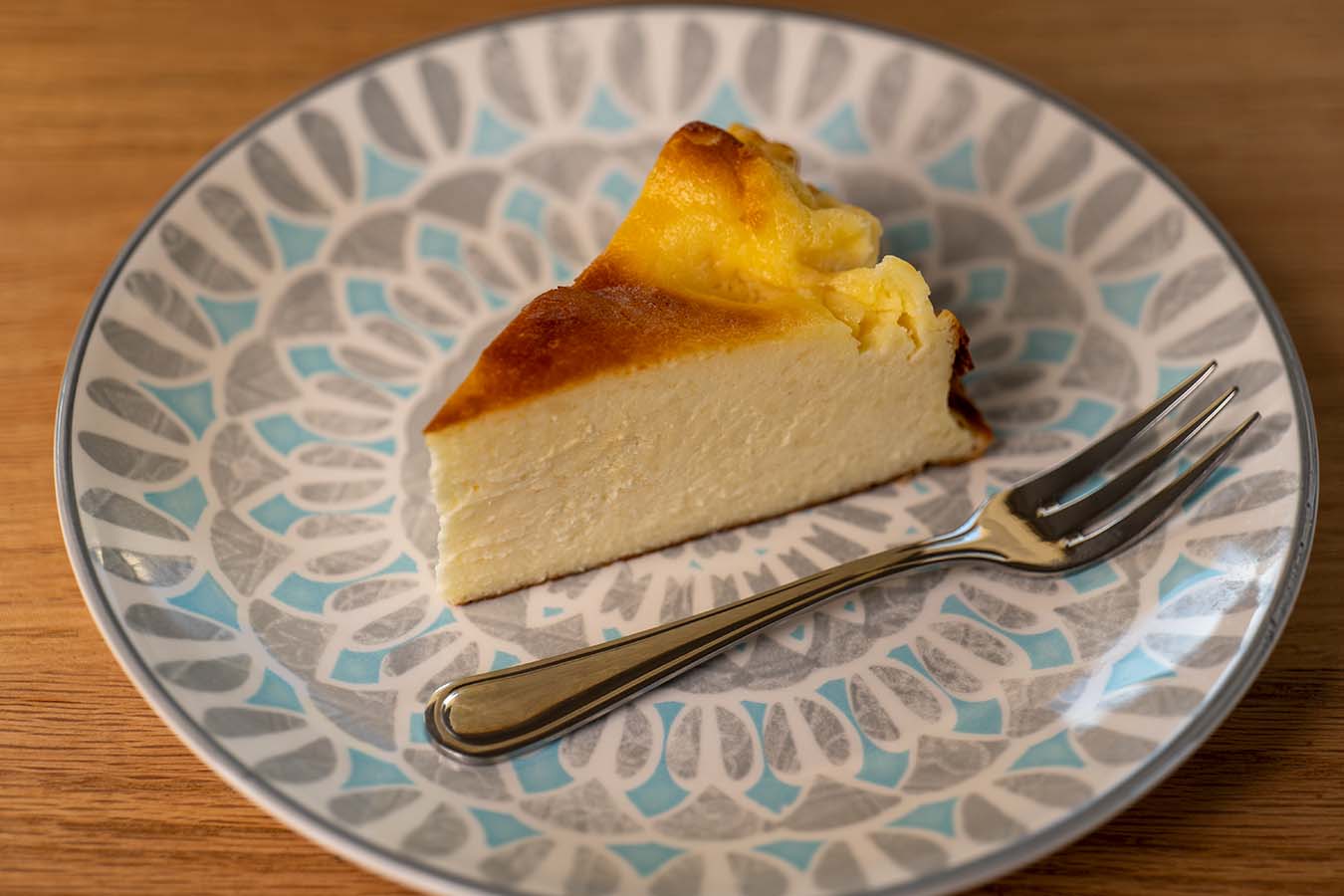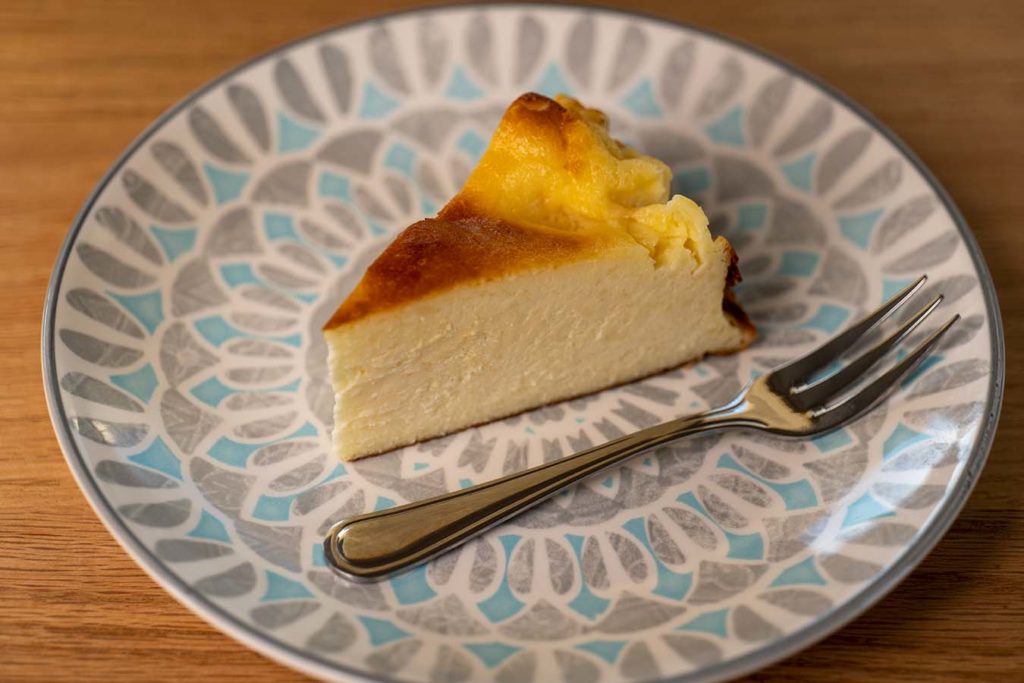 Ingredients
Basque Cheesecake is dangerously easy to make, you only need a few ingredients and 10 minutes to prepare it. Followed by 40-50 minutes of baking. If you wanted to, you could eat it within an hour after its cooled but trust me, you want to cool it in the fridge over night, it makes a massive difference. So here is what you need for this recipe:
600 grams or 2 3/4 cups of Cream Cheese
200 grams or 1 Cup of Crystal Sugar
4 Large Eggs
50 grams or 1/3 Cup of Flour
1 Teaspoon of Vanilla Extract
You will also need an 8 inch spring form, a cake form will work too but be sure the cheesecake has completely cooled before taking it out of the form or it will break.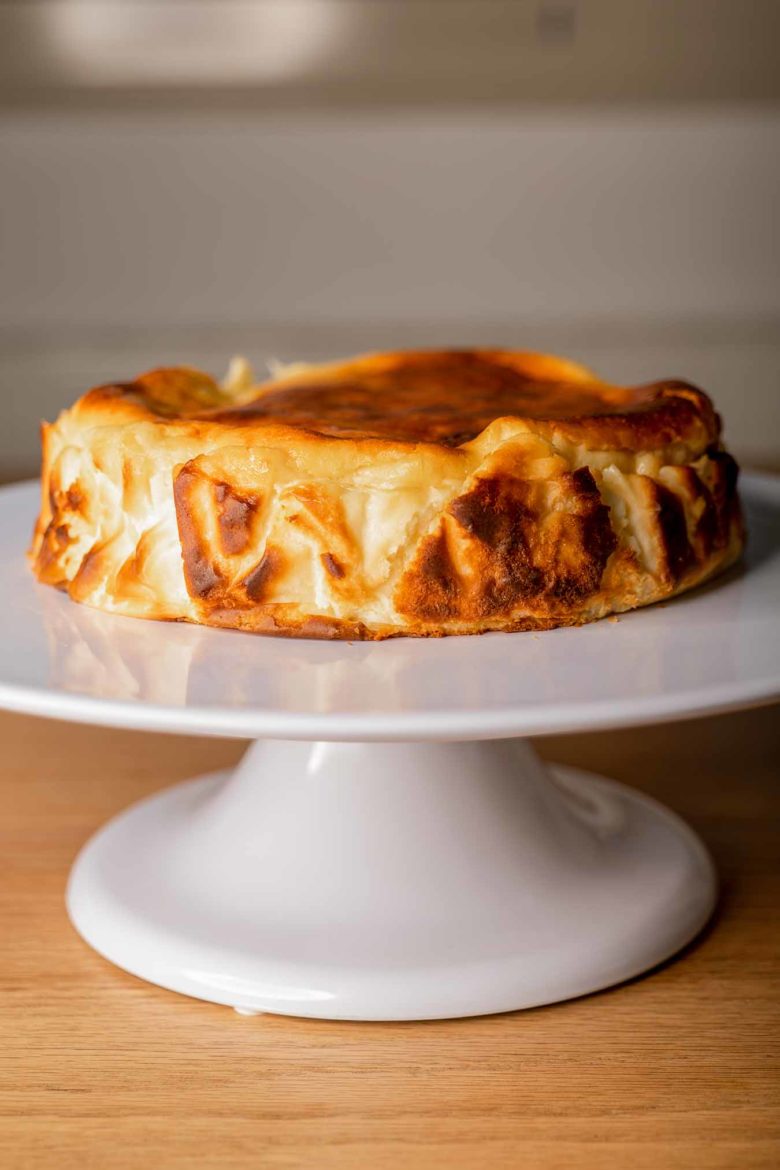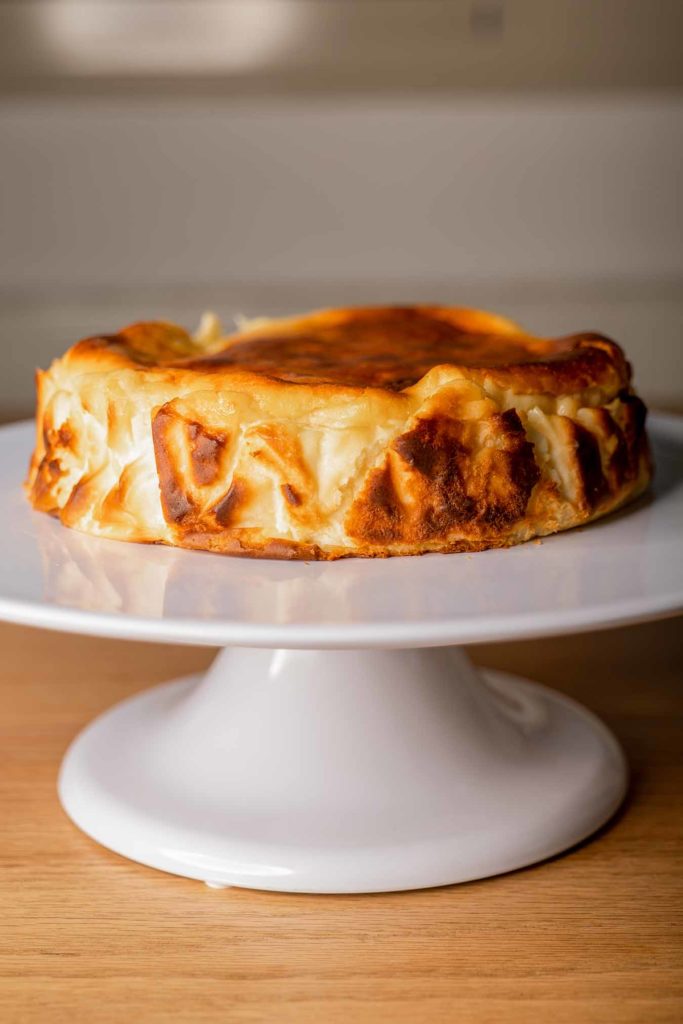 My little Cheesecake (horror) Story
Let me tell you about my very special bond with Cheesecake. I always had a sweet tooth even from a very young age. The first hotel I ever worked in had an amazing Chef who quickly became a good friend. At the end of a buffet evening he would treat me to a slice of cake or two. One evening while eating a slice of strawberry cheesecake, I joked that I could easily eat two whole cheesecakes in one sitting. The bet was on and…. I won. However, by the next morning I was so sick that I had to take two days off work to recover. Who would have known that eating two whole cheesecakes is not good for you. After that incident, I couldn't even smell cheesecake for 7-8 Years. I don't know how I got back into eating cheesecake but I'm glad I did.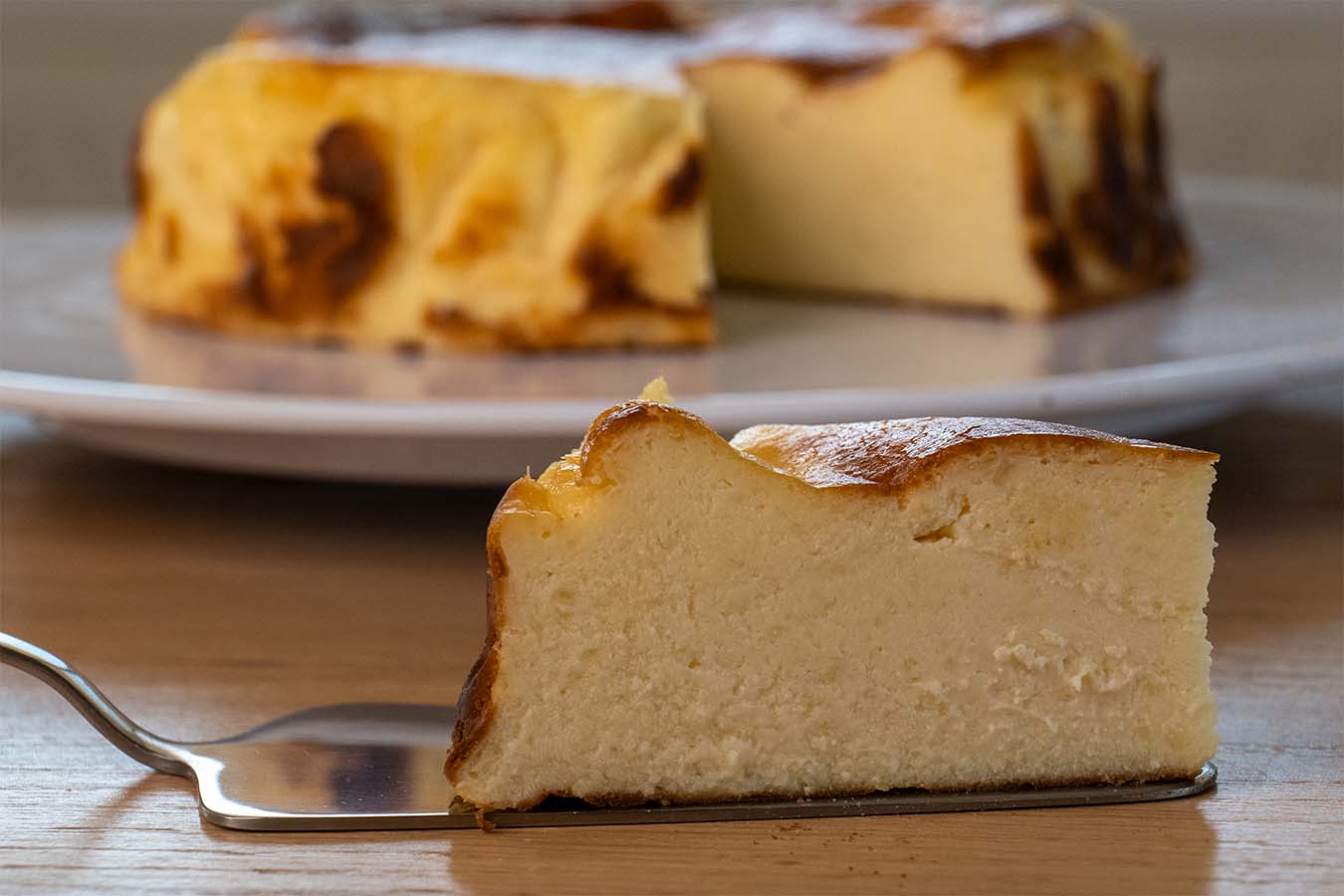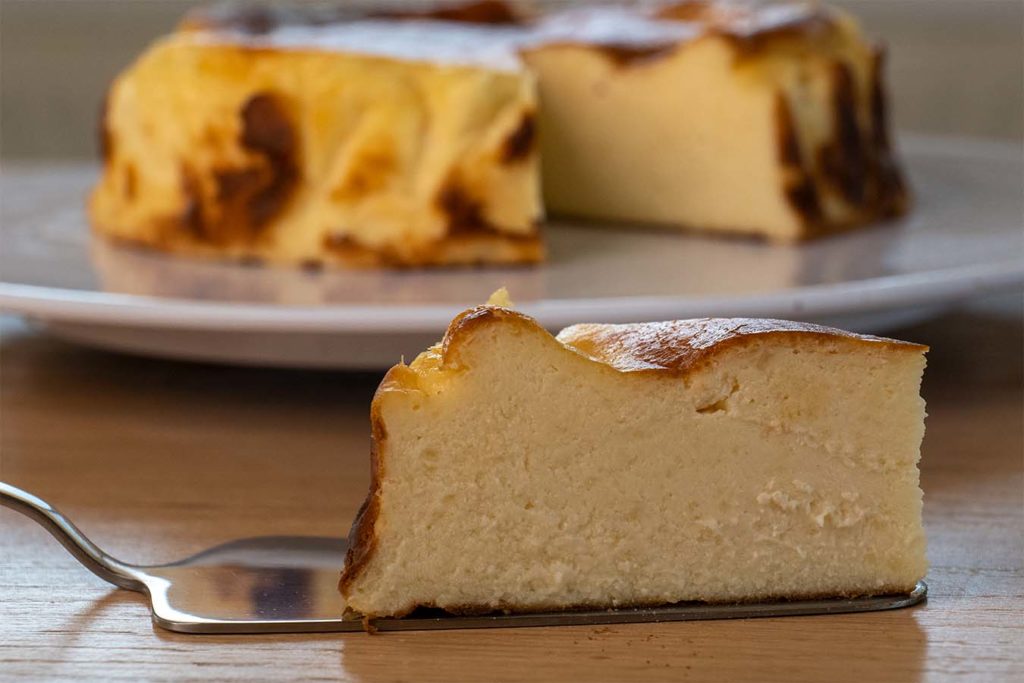 Tips & Tricks
This recipe is very easy but here are some tips & tricks that will ensure its a hit every time.
A runny center is the authentic experience. You can fully bake the cheesecake but the real deal is a little runny in the middle. To achieve this bake at 200C or 390F for 40 Minutes. Baking it for 45 to 50 minutes will fully bake the Basque cheesecake (which, if that's what you want, is also great)
Let it cool. I said it before but I'll emphasize this. Letting the cake cool for 1 hour outside the fridge and 2 hours in the fridge is essential to the texture and flavor. If you can wait until the next day, even better.
Cut with a warm knife. This dessert is soft and can easily crack, to cut slices perfectly, rest your knife in hot water between each cut. This will melt cheese before it has a chance to stick to your knife.
The Recipe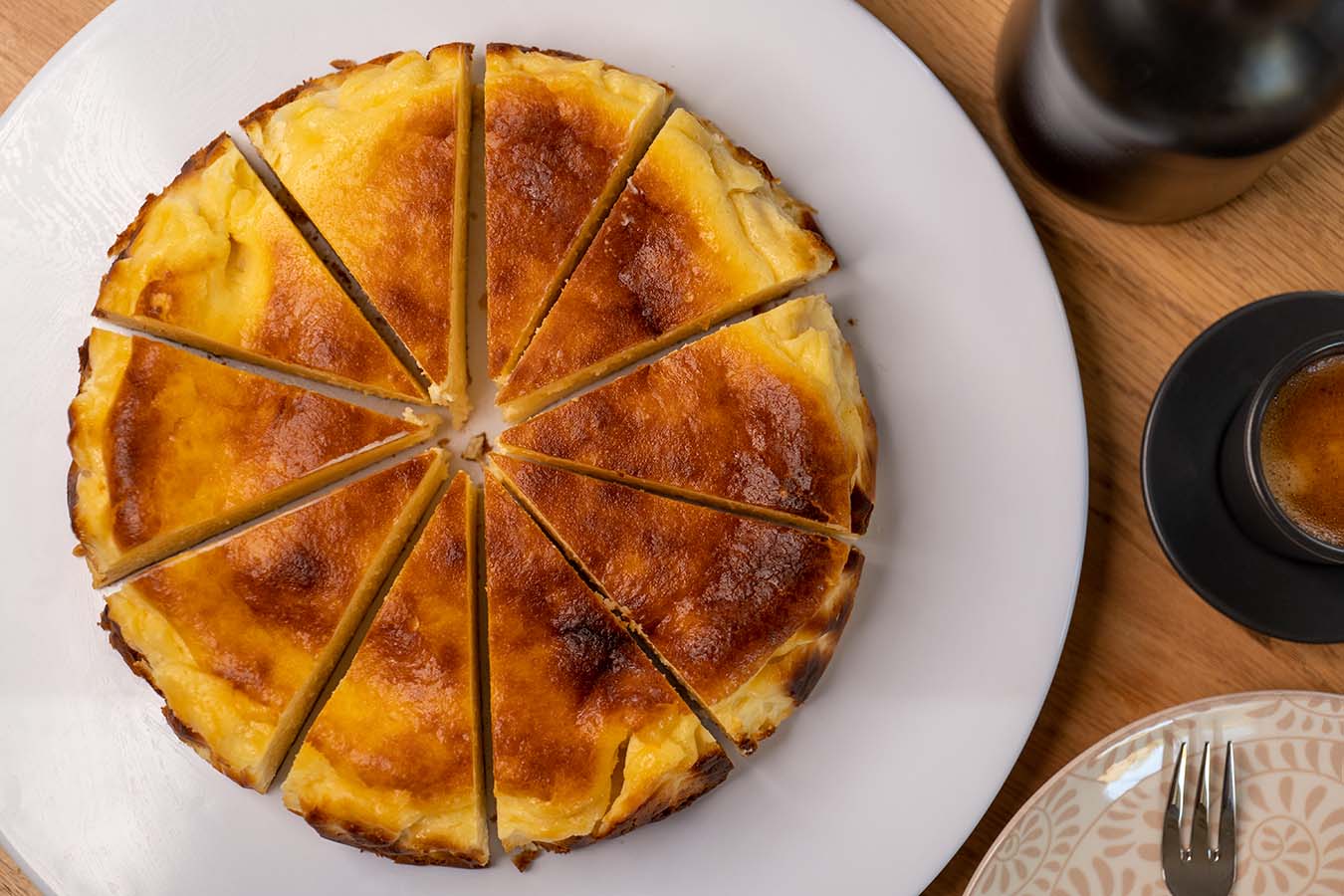 Spanish Basque Cheesecake
Basque Cheesecake is a famous type of Cheesecake that Originates from the Spanish/French Basque Country. A delicious crustless cheesecake that is light, creamy and has a delicious unique flavor. Here is how its done.
Ingredients
600

grams

Cream Cheese

at Room Temperature

300

gram

Heavy Cream

at Room Temperature

200

grams

Sugar

4

Large

Eggs

at Room Temperature

1

Tsp

Vanilla Extract

50

grams

All-purpose flour
Makes:
8
inch
8
x
8
inch
round
,
3
inch
height
Instructions
Preheat your oven at 200C or 390F

Prepare the baking form, at a dab of vegetable oil into the baking form and spread it evenly around the base and sides. This will help the baking paper stick to the form easier and will also bake the caramelized crust. Now place two sheets of baking paper and press them into the form one at a time.

Try to add the second sheet at a 90 degree angle so you have baking paper corners evenly sticking out of the form, it looks a lot better 🙂 Set aside and go to the next step.

In a large bowl or stand mixer bowl, whisk the cream cheese until soft and creamy. Now add the sugar and whisk for another 20-30 seconds until well combined.

600 grams Cream Cheese,

200 grams Sugar

While whisking add the egg's one at a time. Make sure you don't get any egg shell into the batter and wait until each egg is combined before adding the next one.

Whisk in the heavy cream and vanilla extract. Stop using your hand or stand mixer once you are finished with the heavy cream and vanilla extract. Sift the flour into the cream and mix it in using a rubber spatula. Don't over mix.

300 gram Heavy Cream,

1 Tsp Vanilla Extract,

50 grams All-purpose flour

Pour the batter into the lined baking pan, place in the center of the preheated oven and bake for 40-50 minutes depending on how you want the cheesecake.

35-40 minutes = runny in the center (Authentic)

40-50 minutes = fully baked and still bloody amazing 😀

Cool for one hour outside of the fridge and 2-8 hours in the fridge for the ultimate flavor and texture.
Nutrition
Serving:
130
g
|
Calories:
434
kcal
|
Carbohydrates:
27
g
|
Protein:
7
g
|
Fat:
34
g
|
Saturated Fat:
19
g
|
Polyunsaturated Fat:
2
g
|
Monounsaturated Fat:
9
g
|
Trans Fat:
1
g
|
Cholesterol:
182
mg
|
Sodium:
233
mg
|
Potassium:
139
mg
|
Fiber:
1
g
|
Sugar:
22
g
|
Vitamin A:
1355
IU
|
Vitamin C:
1
mg
|
Calcium:
90
mg
|
Iron:
1
mg