Cheese Cake is one of my all-time favourite desserts, they are available in so many different flavours but they all have a crumbly base and creamy topping in common. Philadelphia Snack Bars where a dessert by Philadelphia that was released in 2001. The dessert was a refrigerated snack bar with a graham cracker base and cream cheese topping. They where available in various flavours but the most famous flavour was Strawberry Cheesecake. Unfortunately they where discontinued 2004-5, why? Kraft decided to stop them as they had challenges in the production. Check their comment below. But… they where delicious.
Now almost 16 years later, I have come up with a recipe that is pretty darn close to the original. Here is how its done!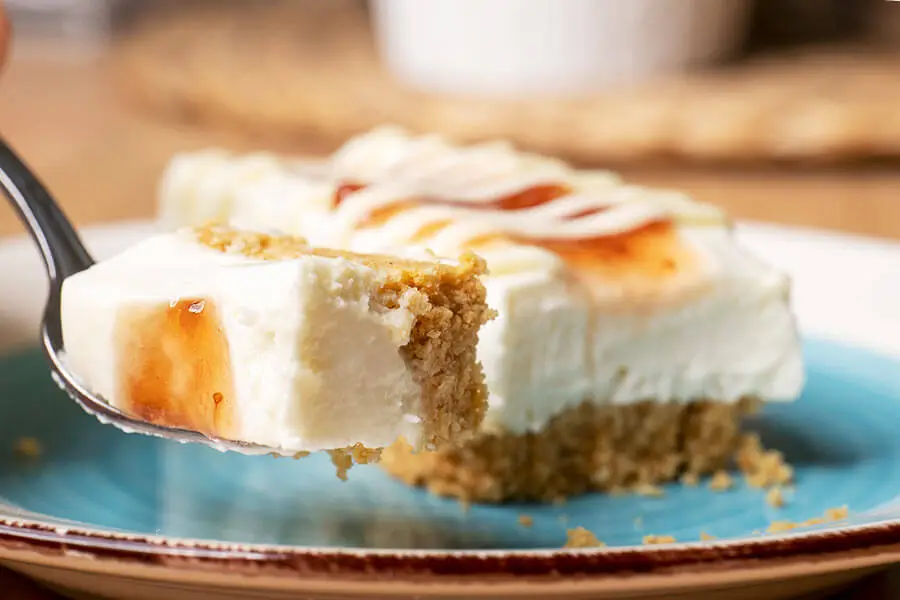 The History of Philadelphia Cream Cheese Bars
In 1999, Kraft/Philadelphia introduced a new product that became an instant hit among dessert lovers – a cream cheese bar with a graham cracker base and a rich cream cheese topping. The Philadelphia Snack Bars were available in four flavors: Classic, Chocolate Chip, White Chocolate & Raspberry, and Strawberry.
Among the four, the Strawberry Cheesecake bar gained the most popularity and quickly became a favorite of many. Despite being discontinued in 2004-2005 due to manufacturing challenges, the nostalgia associated with these bars is still palpable among their fans. Despite my best efforts to get a response from Kraft, it remains a mystery what exactly happened to this delicious treat.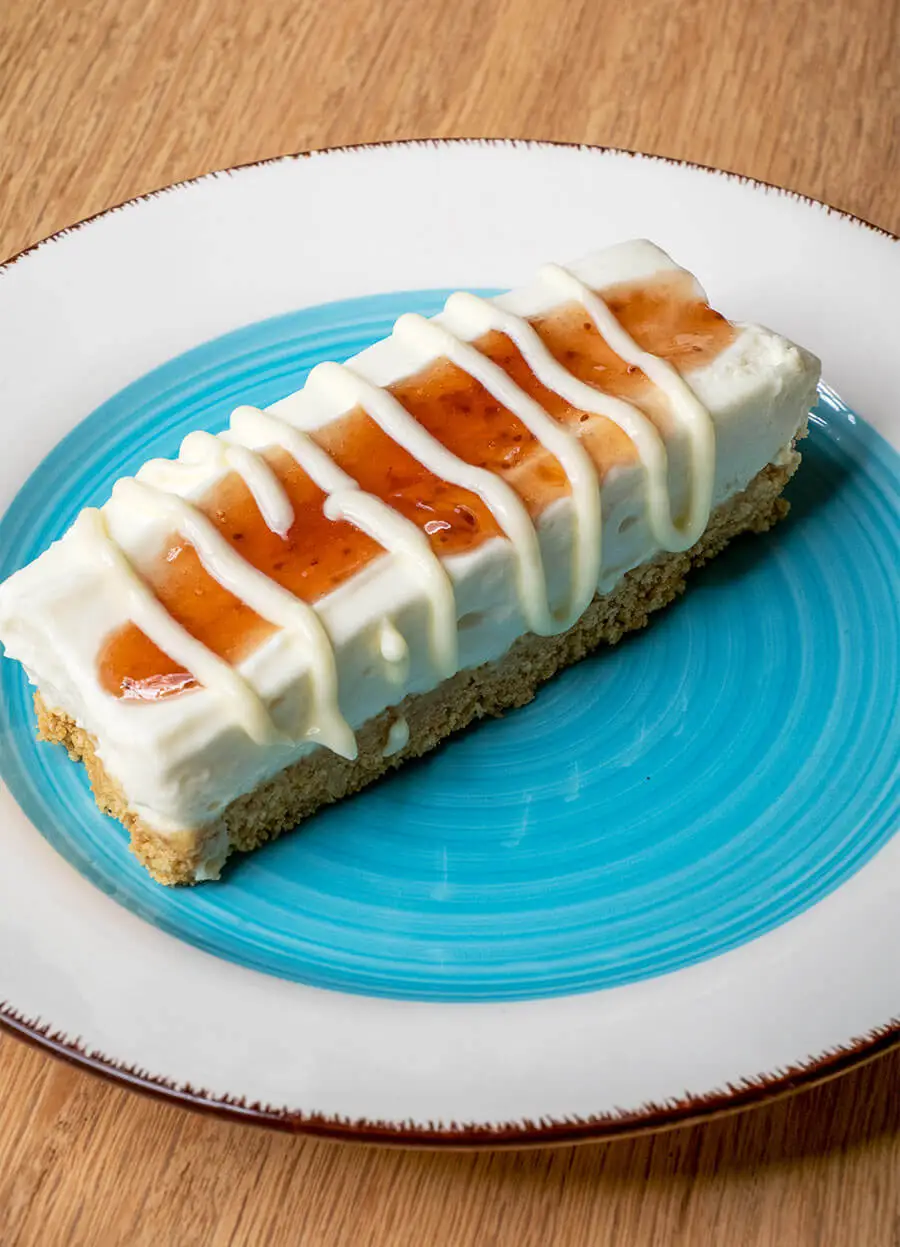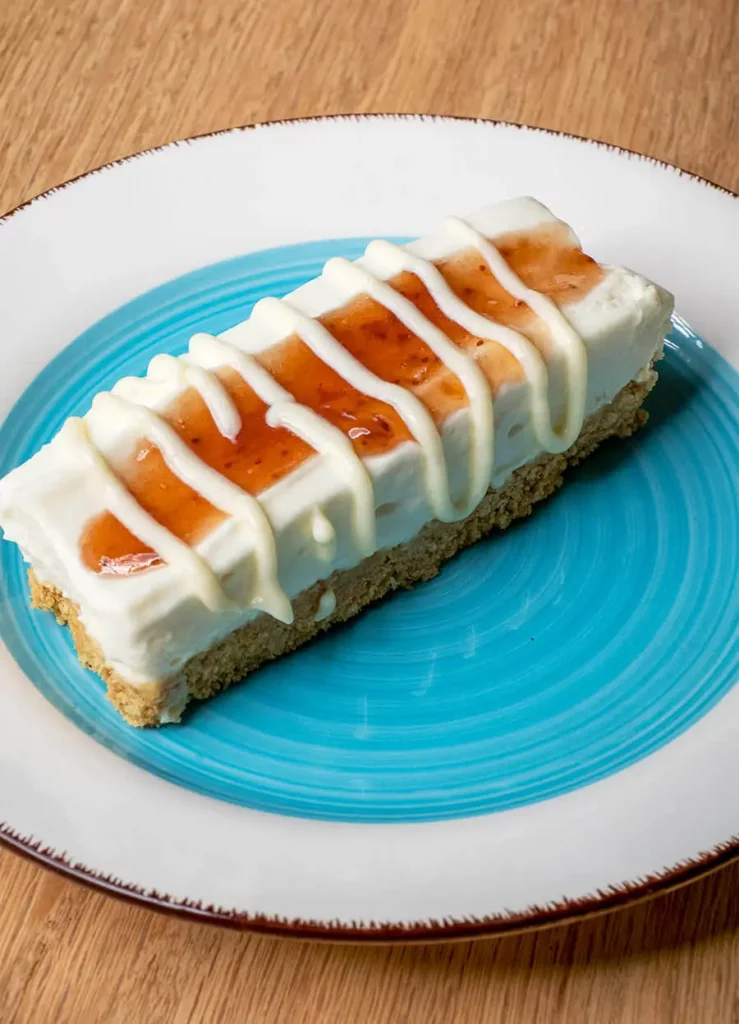 The Petition
Sometime in 2017, a woman from Palestine Ohio, launched a petition on change.org to bring back the Philadelphia Snack Bar. The petition received a fair amount of attention with more than 37,000 people voting to bring the delicious snack back (to date). And even after four years, the petition is still receiving votes today. And to be honest, I am not surprised at all, after reading reddit comments in the "nostalgia" subreddit, I realised how much people actually loved these delicious bars. Here is one of the threads, you can see what I mean
If you want to vote on this petition, then you can find it here: Change.org Philadelphia Snack Petition
Why where Philadelphia Snack Bars discontinued?
I actually reached out to The Kraft Heinz Company to find out why Philadelphia Snack bars where discontinued and I actually got a reply from their Marketing Director Bazak Oguz. The answer is, the manufacturing process at the time was challenging which made the supply difficult. Now technology has changed significantly and it might get easier at some point, from Kraft's official statement I would say there is a good chance we might get them back some day.
Hi Roman – Thanks for reaching out. Happy to help answer your questions. Philadelphia Snack Bars were discontinued due to challenges within manufacturing capabilities. As those capabilities evolve, we're constantly evaluating if we could bring them back as we know that there are still a lot of fans of the product! Hope this helps! Thanks, Basak

Basak Ogus – Marketing Director at The Kraft Heinz Company

So does Philadelphia still make snack bars? The short answer is No. But might we get them back some day? I would say its there is a chance but in the meantime, I got you covered.
Replicating Philadelphia Snack Bars
Recreating these was not an easy task, there are a few challenges in getting these right, one for example, I haven't had on in more than 15 years. And while the memory tastes real, I had to adjust and re-bake these until the each bite brought back memories from 2001. It's safe to say I had a enough cheesecake this month for the rest of the year, which reminded me on my cheesecake poisoning incident in 1996. Yes you read that right. I once ate two whole 9inch cheesecakes as a dare which left me sick for 3 days and unable to touch or even smell cheesecake for a few years. Ahhh those teenage years haha.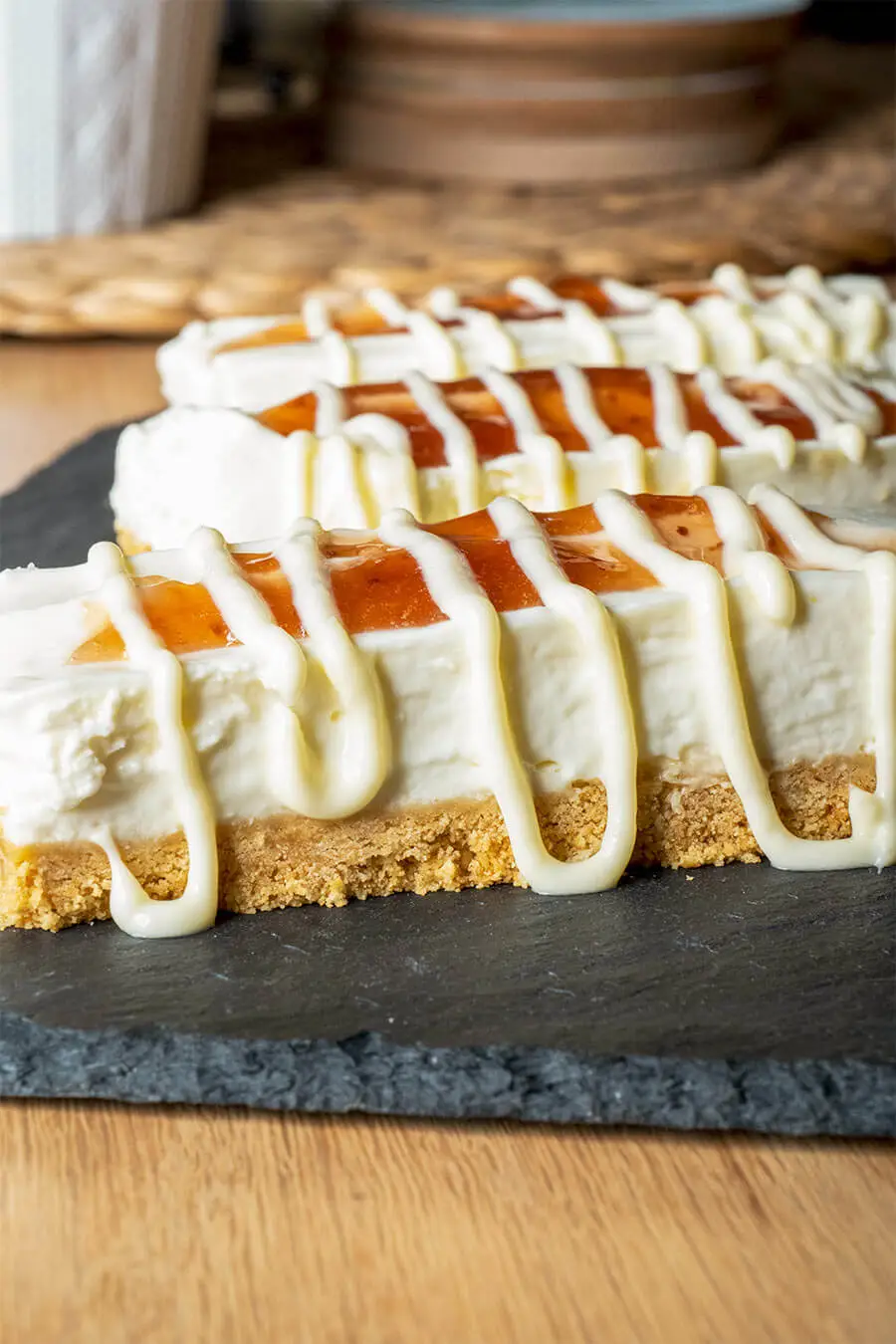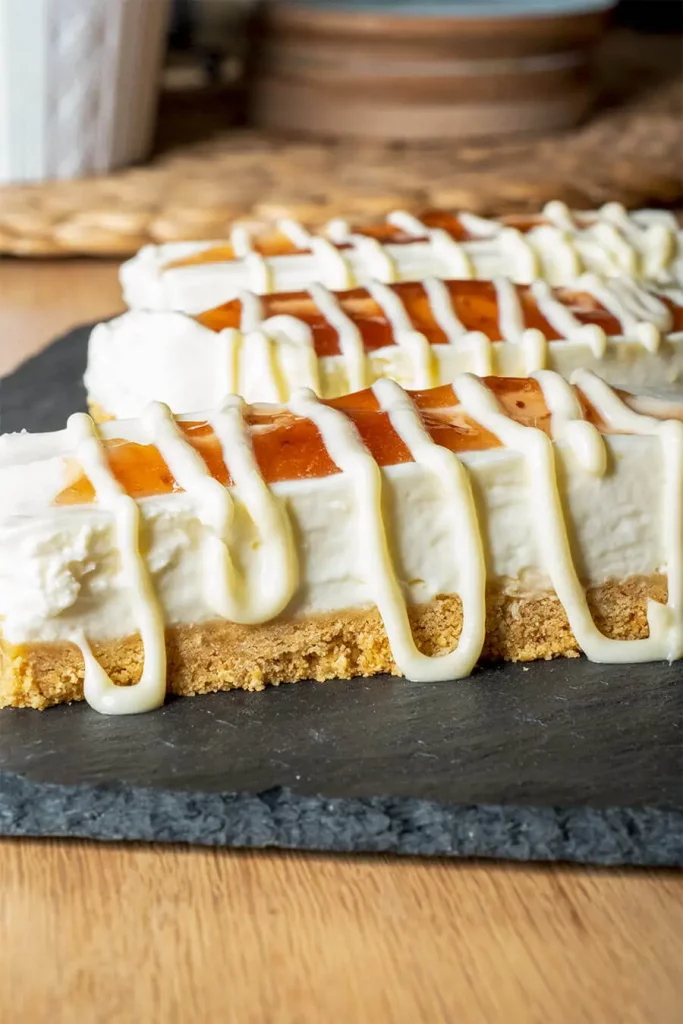 The other challenge was the shape of the cream cheese top. I saw some videos of people scraping a grove out for the filling but who would waste precious cream cheese right? I guess you could scrape it off and directly eat the leftovers but I'd probably get in trouble again. So how do you get this angelic grove filled with Strawberry Jelly? After a ton of research, I found the best way to do it is to keep it simple. By using a no-bake cream cheese topping, I can simply form the grove using a teaspoon before I let the bar's set in the fridge. Check the recipe too see how its done.
Ingredients
I approached this recipe a little different while still trying to keep the recipe as authentic as possible. Graham cracker crusts are usually brittle but I wanted them to stay a "snack bar" but still have the cheesecake flavour. Therefore instead of making a traditional graham cracker crust, we bring it closer to an actual graham cracker biscuit that will hold its shape better but keep the expected flavour.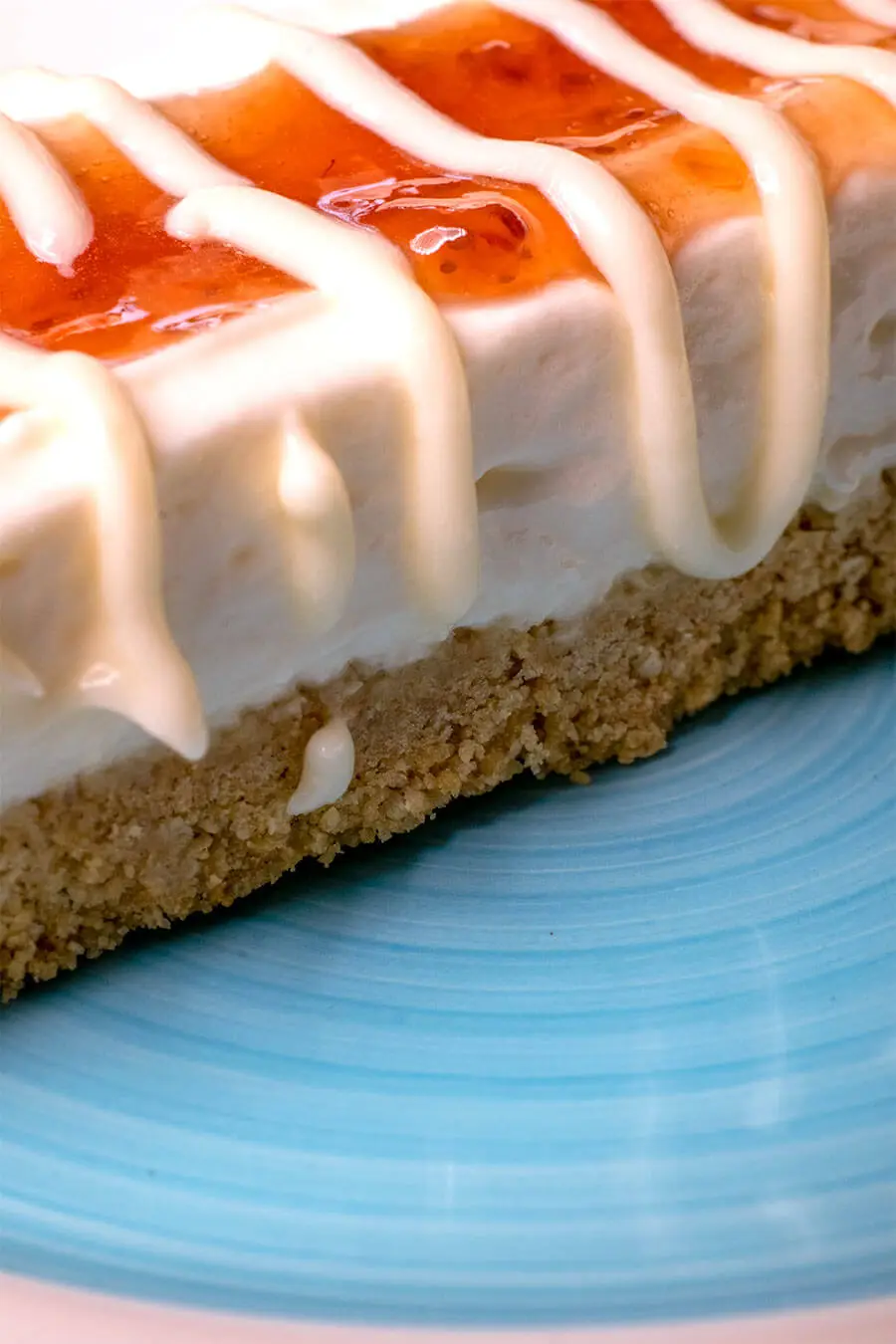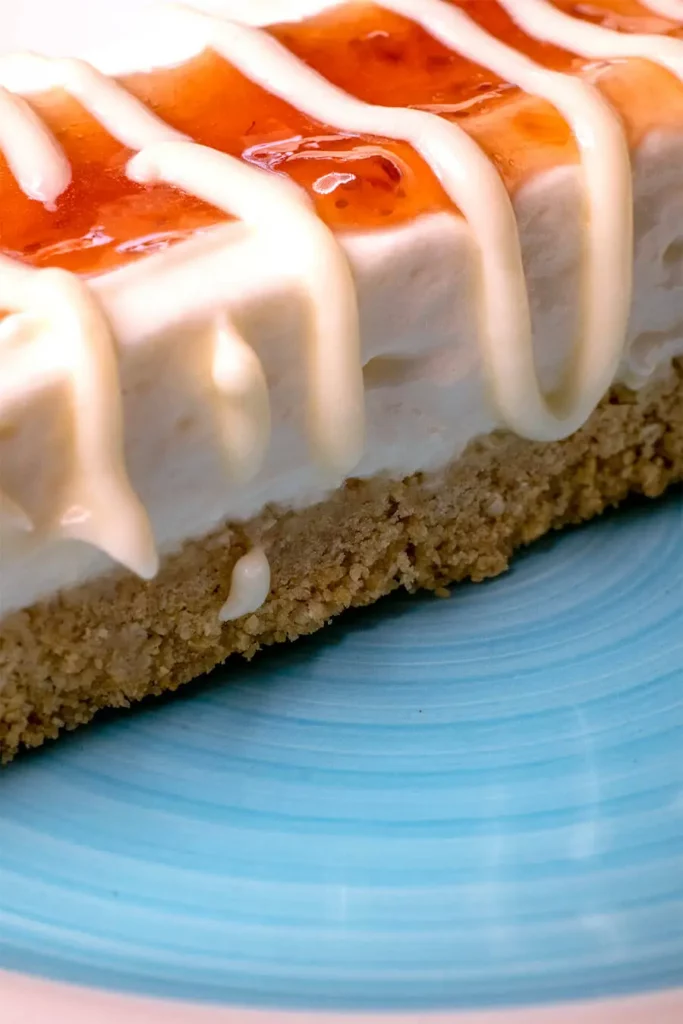 For the cream cheese I had two options, 1) using real eggs and gelatine or 2) using condensed milk and heavy cream. I opted for the later because I have a fear of salmonella so no raw eggs unless they have been pasteurised. Here is what you will need:
Graham Cracker Base
Graham Crackers
Flour
Eggs
Sugar
Butter
N0-Bake Cream Cheese Topping
Philadelphia Cream Cheese
Sour Cream
Condensed Milk (sweet)
Lemon Juice
Vanilla Extract
Confectionary Sugar
Heavy Cream
White Chocolate Ganache
White Chocolate
Heavy Cream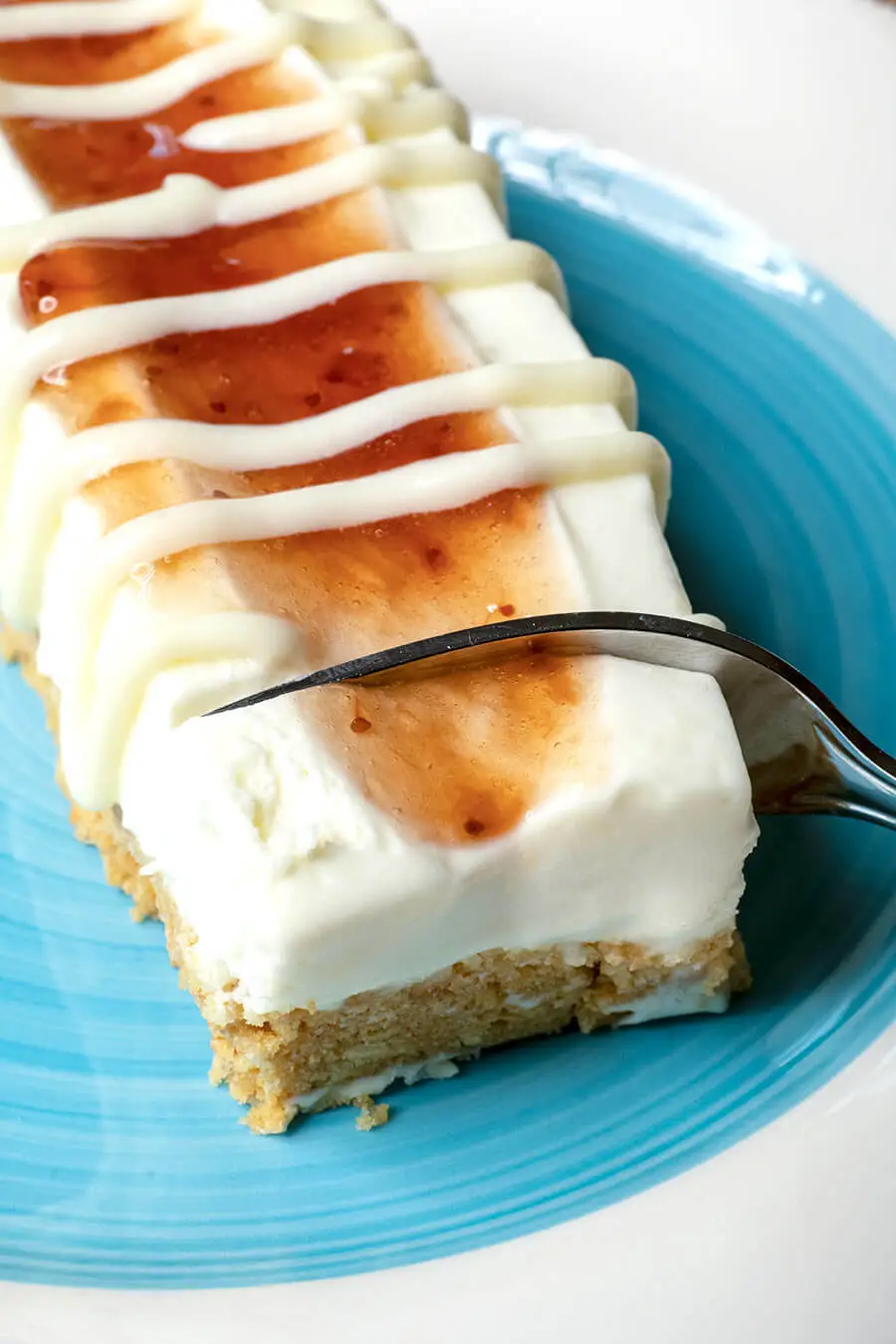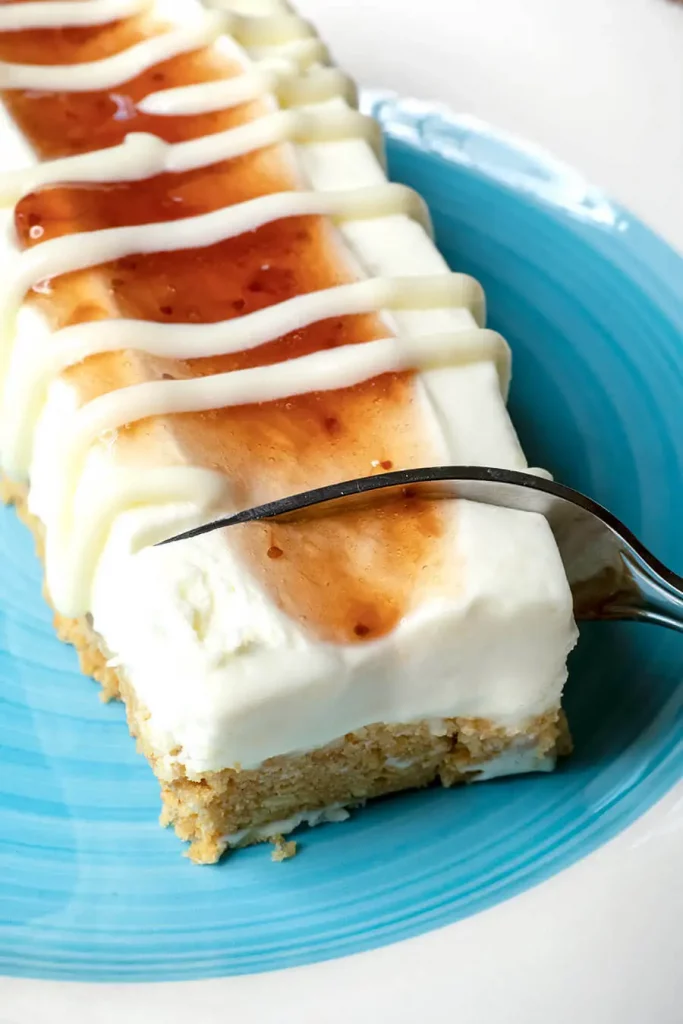 Things you will need
Since this is a simple no-bake recipe, you wont need a ton of things. Here are the tools you will need:
A 9×9 Square Baking Form, if you want to make bar's a square form works best when cutting the bars at the end. But if you want to make a round cake and cut it in to pie slices it will taste just the same. In my video I made this recipe using a rectangular 9×3 springform, this worked great as the width of the form was the length of the bars and I had to do one less cut.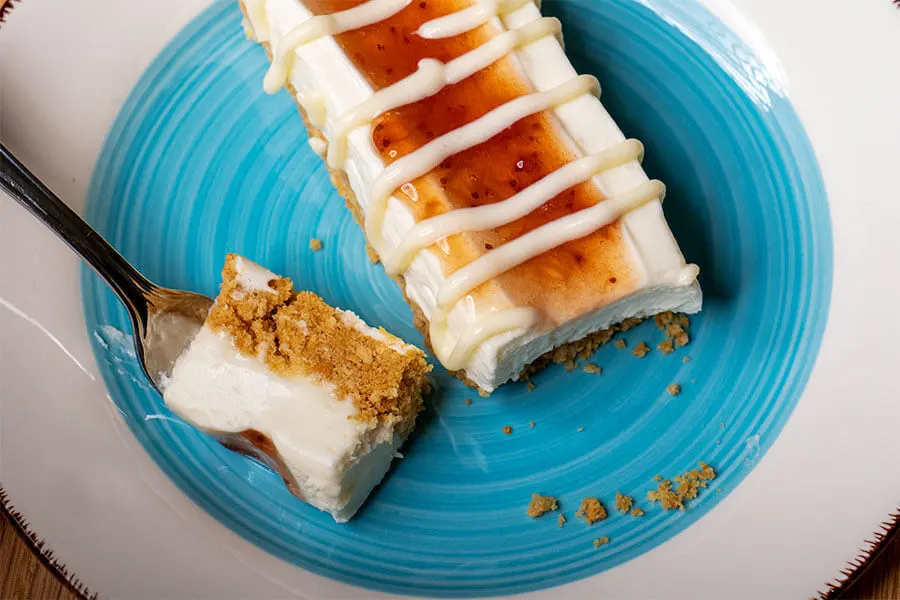 A Hand Mixer or Whisk, I do recommend a hand mixer. They will speed up the process and make a more even and creamy texture. You can whisk everything by hand, it will just take longer.
Tips & Tricks
The most important part of this recipe is the cooling time, don't rush, the perfectly cut slices are totally worth the wait.
Clean your knife after every cut and keep it a bit damp, this will give you perfectly cut slices.
Compact the graham crackers as well as you can so they don't fall apart at the end.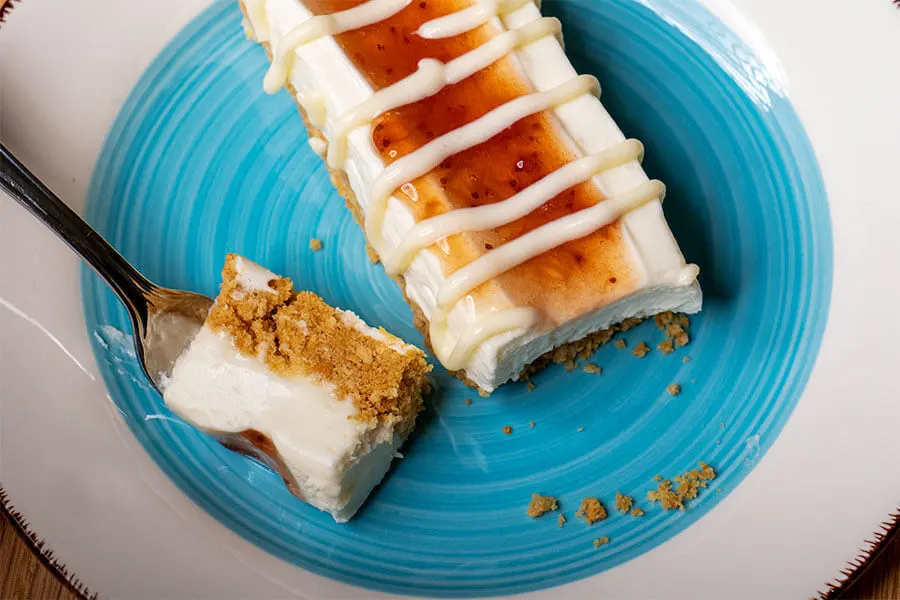 Philadelphia Snack Bars – Strawberry
The no-bake version of the famous Philadelphia Cheesecake Bar that was discontinued in 2003, thankfully you can make them yourself now with this super easy recipe.
Ingredients
Graham Cracker Crust
225

grams

Graham Crackers

1 sleeve

100

grams

Butter

Unsalted
Cheesecake Filling
500

grams

Philadelphia Cheese

2

Tbsp

Condensed Milk

Sweet

65

grams

Crystal Sugar

1

Tbsp

Lemon Juice

Fresh

1

Tsp

Vanilla Extract

65

grams

Confectionary Sugar

3/4

cup

Heavy Cream

Cold
White Chocolate Ganache (optional)
100

grams

White Chocolate

1/4

cup

Heavy Cream
Instructions
Graham Cracker Crust
We are making a simple graham cracker crust and to keep it light and balanced, we will not add any additional sugar to the base. If you do want to sweeten it up, you can add 1/4 cup of light brown sugar but it's sweet enough as it is.

Crumble the graham crackers in a food processor, if you don't have one available, place them in a zip lock bag and lightly smash them with a meat tenderiser or rolling pin until you have a rough crumble.

Now add in the melted butter and whisk until well combined. Place into your baking form and using the back of a glass press and compact until its all set. You can smoothen out the edges using the back of a table spoon. Place in the fridge and let it cool for 10-15 minutes

225 grams Graham Crackers,

100 grams Butter,

65 grams Crystal Sugar
No-Bake Cream cheese
Whisk the Philadelphia cream cheese with a stand or hand mixer until smooth, note it should be at room temperature when you start. Now add in the sugar, condensed milk, Vanilla extract and lemon juice, and whisk until smooth.

In a separate bowl, whisk the heavy cream to stiff peaks. Just before you reach stiff peaks, add in the confectionary sugar and finish. Add the whipped cream into the cream cheese mix and fold until well combined.

500 grams Philadelphia Cheese,

2 Tbsp Condensed Milk,

1 Tbsp Lemon Juice,

1 Tsp Vanilla Extract,

3/4 cup Heavy Cream,

1/4 cup Heavy Cream,

65 grams Confectionary Sugar

Spread the cream cheese topping on the set graham cracker crust and smoothen out using a small palette knife or the back of a spoon.

This step is optional but a nice touch, Using a knife, I mark my bar potions out. This way I know where to cut later and can find the center of each bar. Now using the back of a small spoon, I make a grove in the middle of each bar. This will hold the strawberry jam later.

Place in the fridge and cool for at least 8 hours, to get a nice clean cut.
Getting a Clean Cut Bar
To get a perfectly clean cut bar, make sure you cool the cheesecake bars completely. Once cooled use a sharp straightedge knife. Clean it and damp it lightly before each cut. This will give you razor edges for every bar.
Topping
Optionally you can add either white chocolate ganache or save some cream cheese topping and drizzle it over the top as decoration. For the chocolate ganache, simply melt the white chocolate in a bain marie (hot water bath). Now add the heavy cream until combined, let it cool a little and drizzle over the bars.

100 grams White Chocolate
Notes
Make sure you let the bars cool overnight for a perfect cut and texture
Nutrition
Serving:
120
g
|
Calories:
656
kcal
|
Carbohydrates:
55
g
|
Protein:
10
g
|
Fat:
46
g
|
Saturated Fat:
23
g
|
Polyunsaturated Fat:
2
g
|
Monounsaturated Fat:
11
g
|
Cholesterol:
114
mg
|
Sodium:
416
mg
|
Potassium:
225
mg
|
Fiber:
1
g
|
Sugar:
35
g
|
Vitamin A:
1300
IU
|
Vitamin C:
1
mg
|
Calcium:
157
mg
|
Iron:
2
mg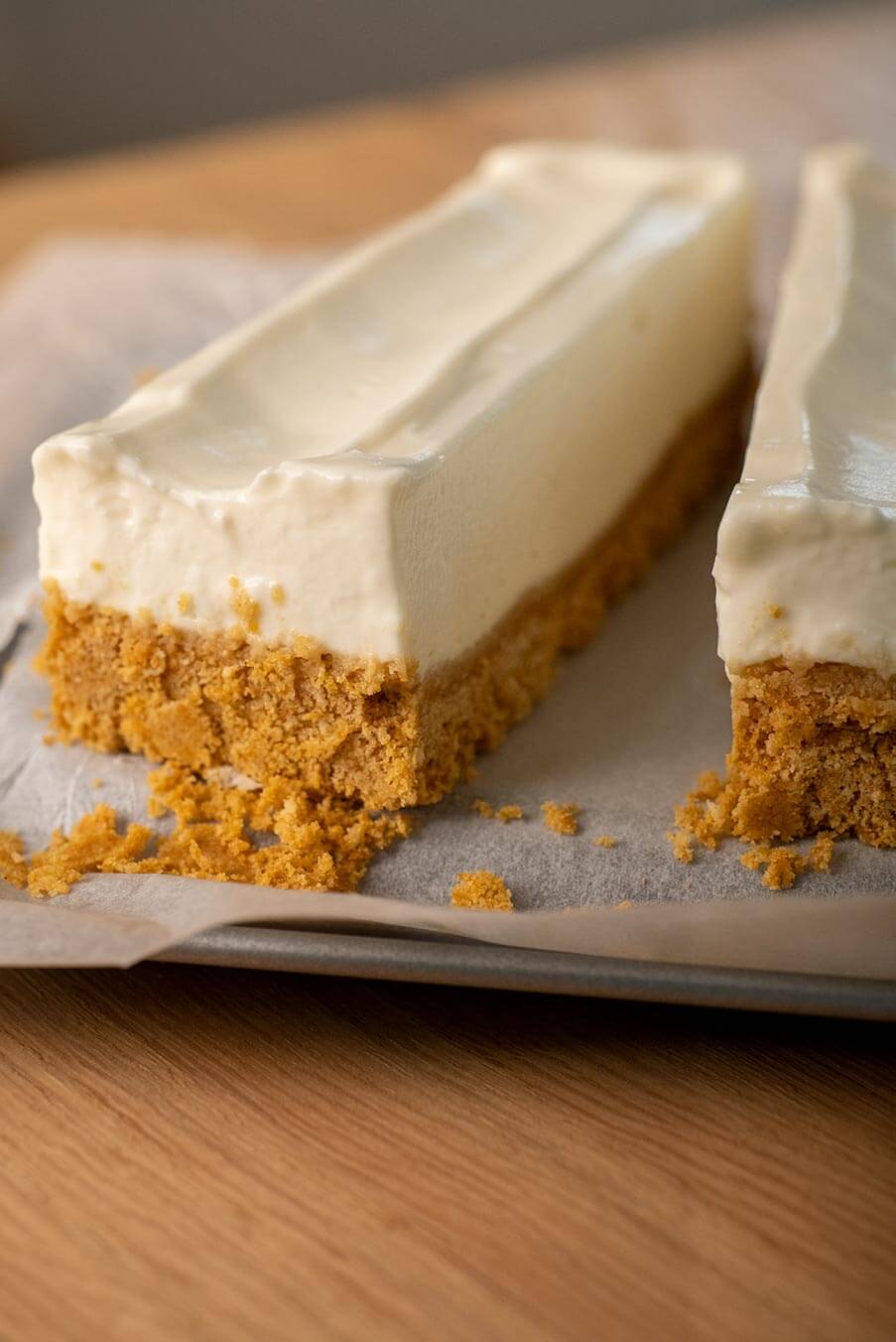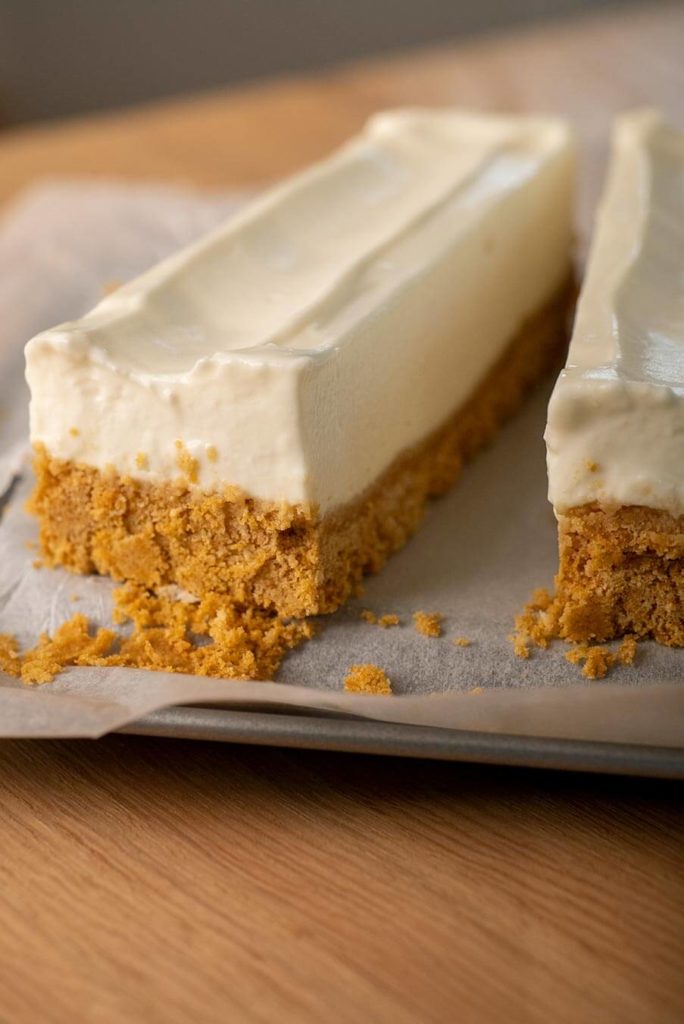 Other Variations
This delicious snack bar's from the early 2000's came in a few different flavours, you can replicate each one of them by using the same base recipe but changing the flavouring or be creative and come up with your own version. I found that there was also a cream cheese brownie but I have never tasted that when they where available, sad I know.