Making Salted Caramel is not difficult but it does require good timing. In essence, it is a chemical process breaking sugar into fructose and glucose via extensive cooking. The chemical reaction occurs at around 170C to 180C, pass that temperature and the caramel will burn.
Caramel is found in foods, desserts and sweets all over the world and its applications are virtually limitless. From caramel late to cake frosting and as a topping on Ice Cream, Salted Caramel and Caramel sauce is simply a great flavour enhancer.
What you need to make Salted Caramel
The basic ingredients for Salted caramel are:
Crystal Sugar
Unsalted Butter
Heavy Cream
Salt
You will also need the following equipment:
Stove Top
Heavy Saucepan
Rubber Spatula (wooden spoon will work too)
A Jar
Tips and Tricks
CAUTION: Salted Caramel get very hot and keeps heat for a long time
Once you start cooking the sugar water don't use stir it with anything. Introducing a foreign object such as a spoon, spatula or whisk will interrupt the chemical process and crystalise the sugar. If you need to mix it, carefully pick up the pan and turn it allowing the liquid to absorb the sugar.
Whisk Whisk Whisk…. The last step (see below) is to add the heavy cream to the hot caramel, during this step you have to continuously and vigorously stir the caramel. If you don't it will form clumps and you will get a separation of liquid and solids once the salted caramel sauce cools down.
Frequently Asked Questions
Do I need a sugar thermometer to make Salted Caramel?

No, you can easily make this without a sugar thermometer follow the instructions carefully and it will work out. But like everything, practice makes perfect and trial and error is a lesson learned ?

How can I store Salted Caramel Sauce?

The best way to store Salted Caramel is in a Jar. A marmalade or Jam Jar works great, you can then store it in your fridge for up to 5 weeks. If you want to keep your caramel sauce for longer periods then you can also freeze it, although make sure you use a free able container.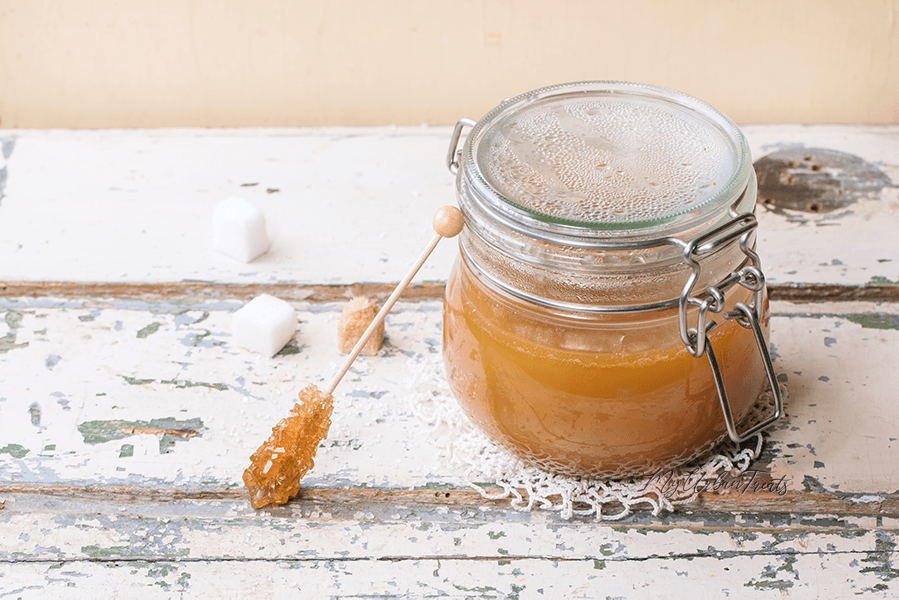 Salted Caramel
The perfect topping for any dessert or ice cream. Also great for frostings and coffee
Ingredients
1

Cup

Crystal Sugar

1

Cup

Heavy Cream

1

tsp

Salt

1

tsp

Vanilla Extract

½

Cup

Water
Instructions
Combine your sugar and water in a heavy saucepan. Note that the must be large enough to allow whisking in the Heavy cream later, you will need some space as it will be hot and bubble.

Bring the stove top to a medium heat (170 C) and let the sugar liquify. It will start to simmer, let it cook until you get a deep amber colour. If you need to mix the caramel DONT use a spoon, instead swirve the the saucepan carefully. Using a spoon or spatula will crystallize the caramel.

As soon as you reach the deep amber colour, take the pan off the heat and while continuously whisking add the heavy cream in a slow but constant stream. This will bubble and steam profusely. Keep whisking until you have a smooth sauce.

Note:

If your get clumps then you haven't whisked fast enough. This can also cause the caramel to separate when it cools down.

Whisk in the salt and vanilla extract, pour in to a Jar and let it cool before putting it in to the fridge.
Nutrition
Calories:
1607
kcal
|
Carbohydrates:
207
g
|
Protein:
5
g
|
Fat:
88
g
|
Saturated Fat:
55
g
|
Cholesterol:
326
mg
|
Sodium:
2424
mg
|
Potassium:
179
mg
|
Sugar:
200
g
|
Vitamin A:
3499
IU
|
Vitamin C:
1
mg
|
Calcium:
155
mg