Marble cake is a German / Austrian dessert made by combining dark and light cake batter and forming swirls that resemble marble stone. Marble cakes comes in various shapes and patterns, it can be round, in a Bundt shape or loaf shape. The most common version is dark and light marble but with the magic of food colouring, you can go wild and create a ton of colour combinations.
Today we are baking a traditional Austrian Marble cake, a recipe passed down from four generations in my family. Here is how its done.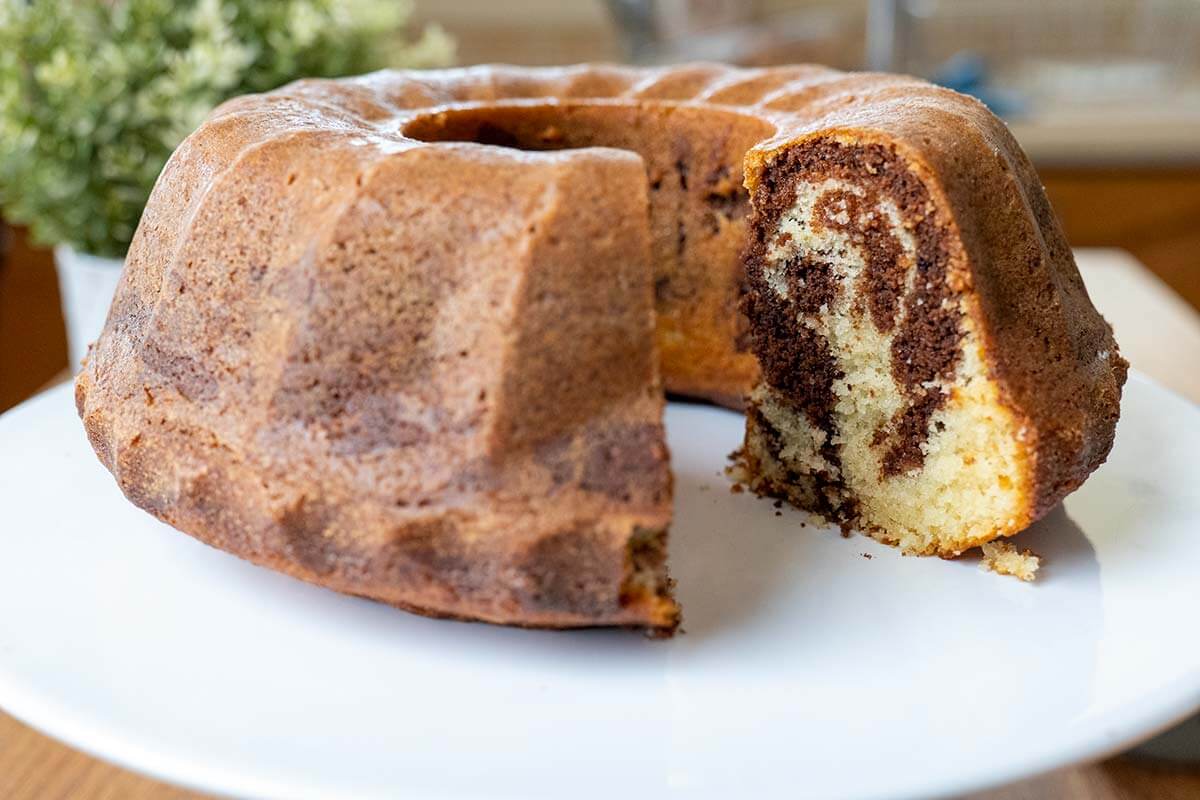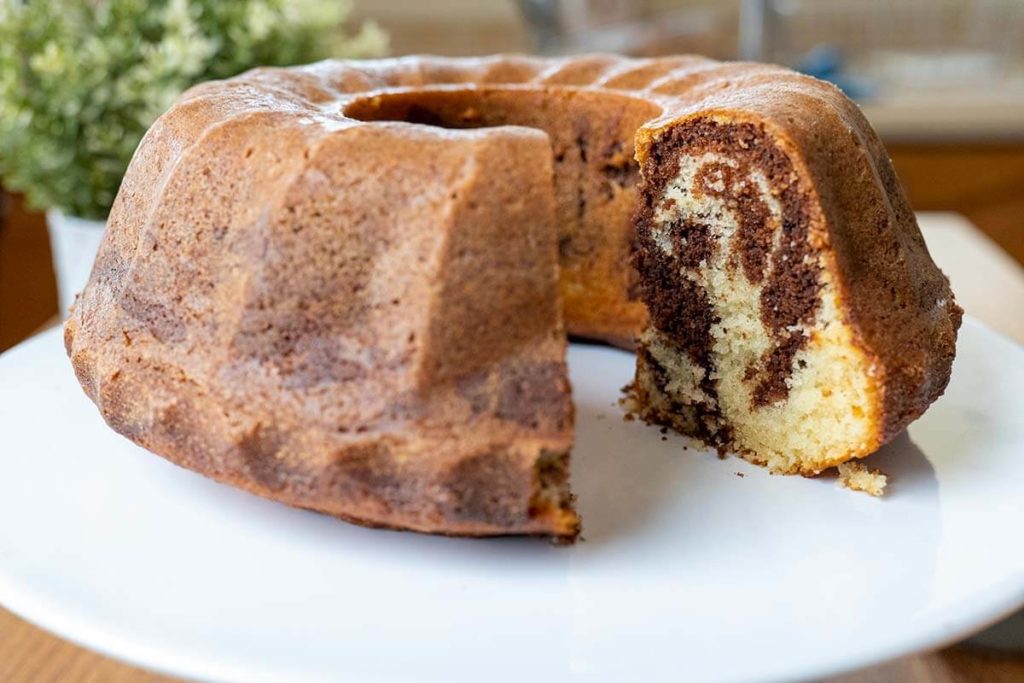 Ingredients for Marble Cake
As with a lot of Austrian and German cakes, the beauty is in the simplicity. When this recipe was invented in somewhere between the 19th century, people didn't have a lot of ingredients at their disposal. Cakes where made from basic pantry items such as Flour, Sugar, Egg, Milk and some chocolate.
Before the 19th century, chocolate was actually a rare commodity, it wasn't until the late 19th century that changes in production made it widely available. But our ancestors where creative, they made something delicious with the little they had and thus we have Marble cake today.
With the addition of a few modern ingredients, 21st century marble cake is moist and rich in flavour. So here is what you will need:
Self Raising or Cake Flour is the base ingredient of most cakes. If you don't have cake flour available, you can easily make it by mixing all purpose flour with corn starch. Check our my Custard Cake were you can see the exact required ratio.
Full Fat Milk improves the texture of the cake, the protein in Milk creates the perfect crumb texture. You can use 2% Milk too.
Egg's have multiple purposes in cake batter. The egg white adds air making the cake fluffy while also acting as a binding agent. Egg Yolk add's fat which transfers flavour to your taste buds giving it a rich and full taste.
Unsalted Butter adds both air and texture to your cake. When baked the butter evaporates and creates tiny bubbles that add to the fluffiness.
Vegetable Oil will keep the marble cake moist. It captures gases that would normally dry the cake keeping it moist and fresh longer.
Vanilla Extract adds flavour but also cancels any flavour of egg in the batter.
Cocoa Powder is a must for the dark layer and some Choco flavour. You can however replace the cocoa powder with some food colouring for wild marble colours.
Baking Powder and Baking Soda will add more air and fluffiness to any cake
Salt, you might wonder what salt is doing in any dessert recipe? Well Salt has the ability to enhance certain flavours just like coffee for example. Coffee blooms cocoa and enhances chocolate taste in the same way Salt enhances most flavours in desserts. But don't go over board, a pinch is enough and there is a fine line between enhancing and tasting salty.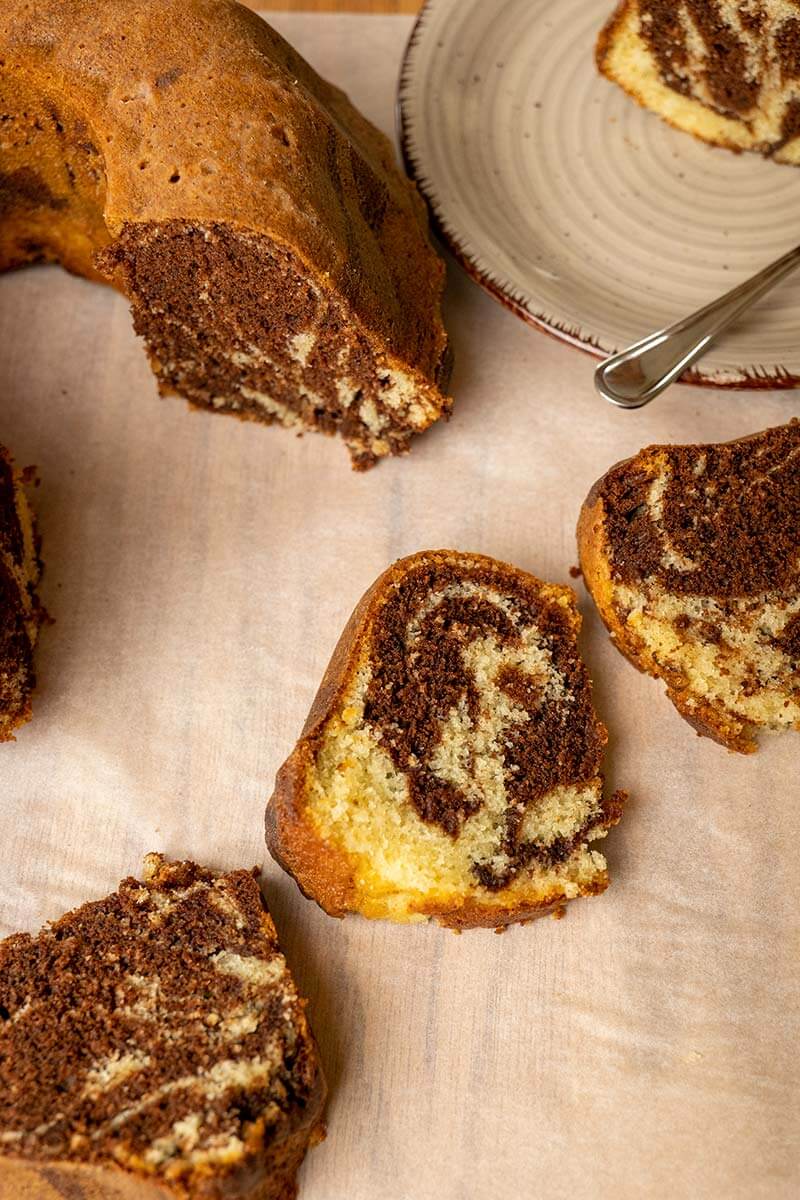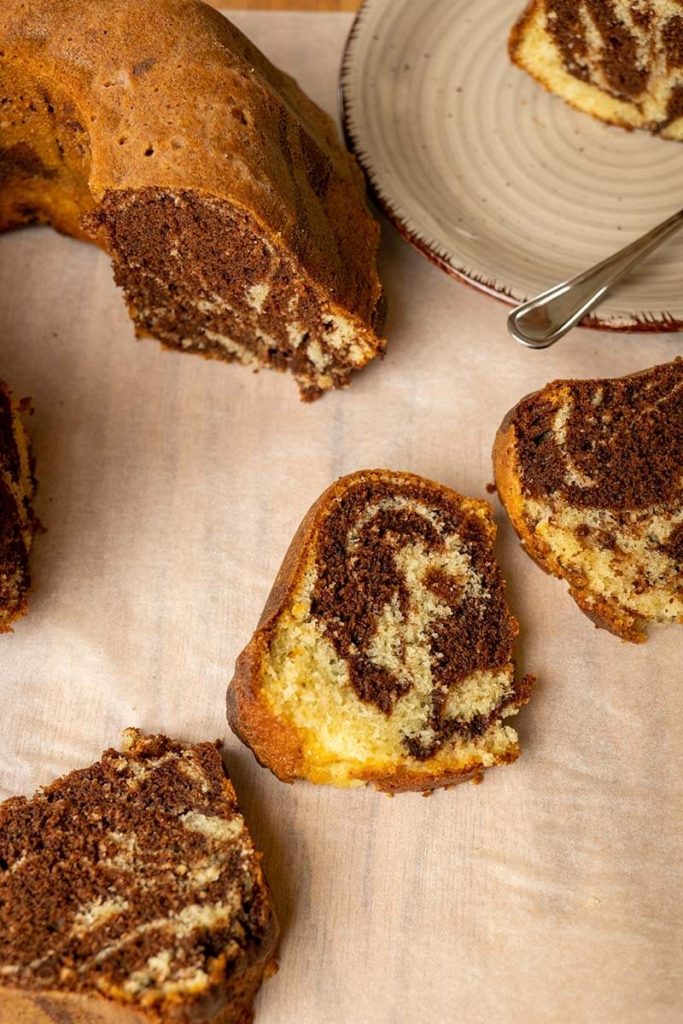 Marble Cake Questions
Here are some questions often asked around the web regarding Marble cakes.
What's the best filling for Marble Cake?
Traditional Marble cake has no filling or frosting, but if you want to add frosting, Chocolate Butter Frosting is a great choice
How do you make Pink Marble cake?
Pink Marble Cake is made by adding red food colouring to the vanilla batter of the cake. Pink matches best with Yellow so you can omit the chocolate from the recipe. Some cakes refer to Pink Marble as a fondant icing, this is achieved by rolling different fondant colours together.
Why is it called Marble Cake?
The combination and way of mixing the coloured batter creates a pattern that resembled marble thus the name Marble Cake.
Is Marble Cake white or yellow?
Due to the addition of egg yolks, most sponge cakes are actually a shade of yellow. You can get cake batter closer to white by leaving out the egg yolks. Instead substitute each egg with one table spoon of apple cider vinegar. It won't leave any vinegar flavour but will achieve the same levelling effect.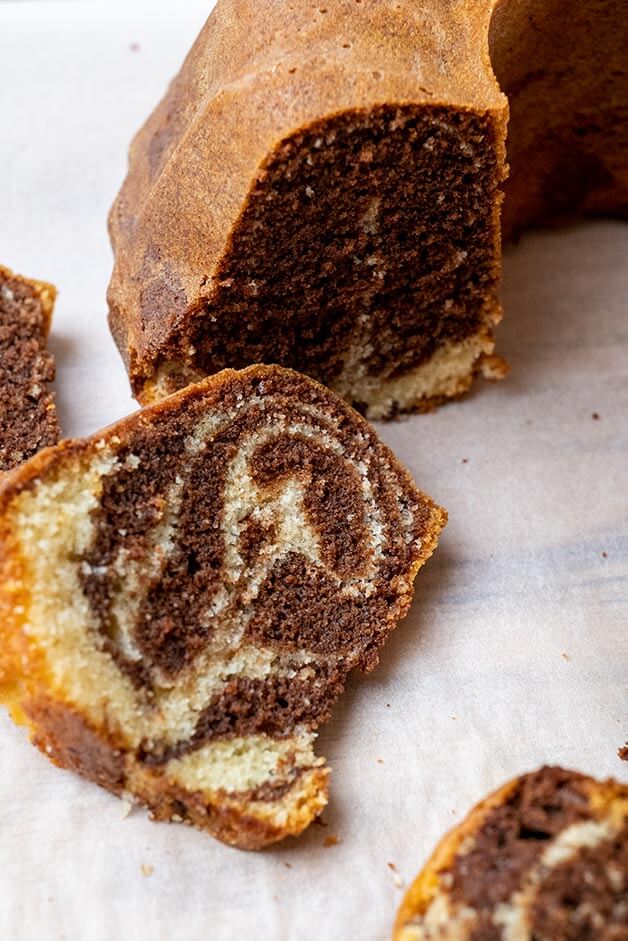 The History of Marble Cake
Marble cake has been around for some time, the first written record of Marble cake is in Mrs Porters New Sothern Cookery Book which was released in 1871. But its estimated that this German / Austrian cake has been around since the earl 19th century. And although we don't have a written record, we know that cocoa powder wasn't around before the 1800's giving us a good timeline.
In Germany and Austria Marble Cake is known as Marmorkuchen which pretty much translates word for word to the same name and is enjoyed with a cup of coffee or tea.
Marble Cake Guinness World Record
On the 23rd of September 2018, Saudia Arabia celebrated its 88th National Day, for the celebration Betty Crocker was tasked with an amazing feat. Baking the biggest Marble Cake in the world using Betty Crockers Cake mixes. The cake required more than 15,000 cake mixes, 30 Bakers and almost 8 hours of baking. While the cake is listed as a Marble Cake, it is actually a Mug Cake mosaic made up of 19600 mugs.
The cake weight a stunning 733 Kilos and measured 112 Square Meters. That's no less than 1615 Lbs and 400 square feet.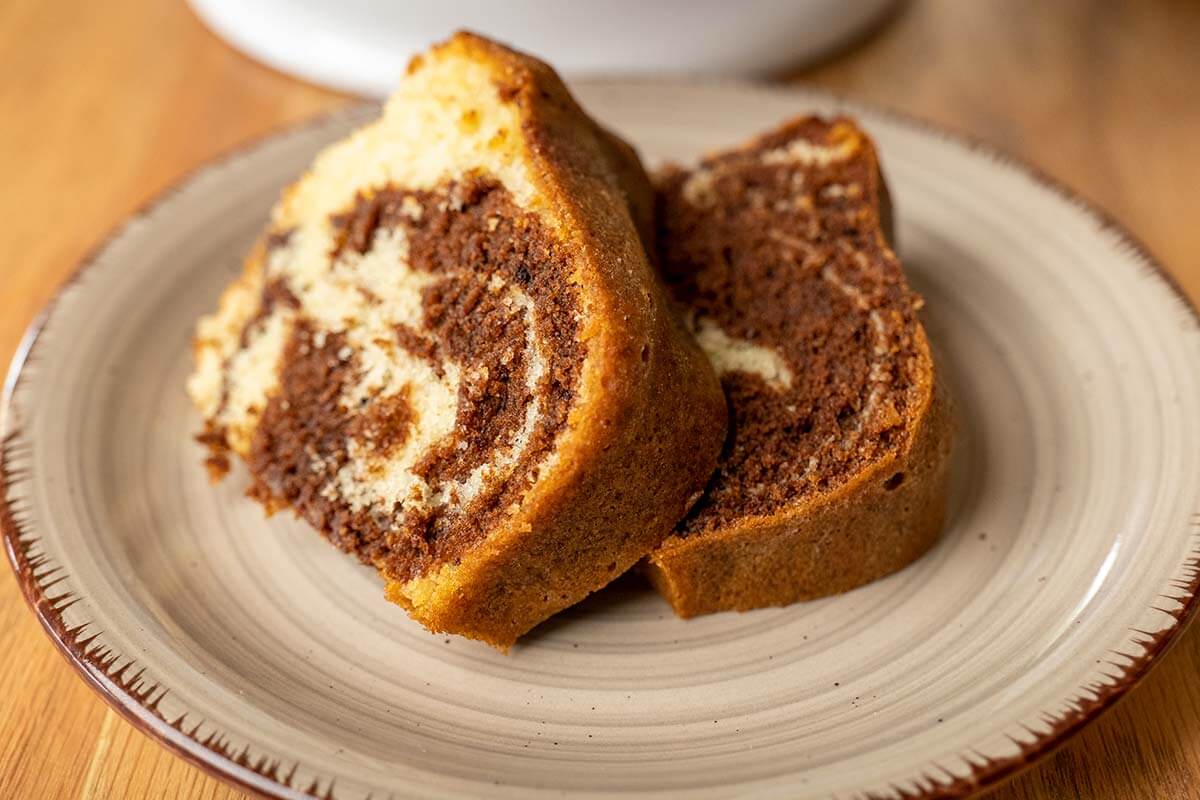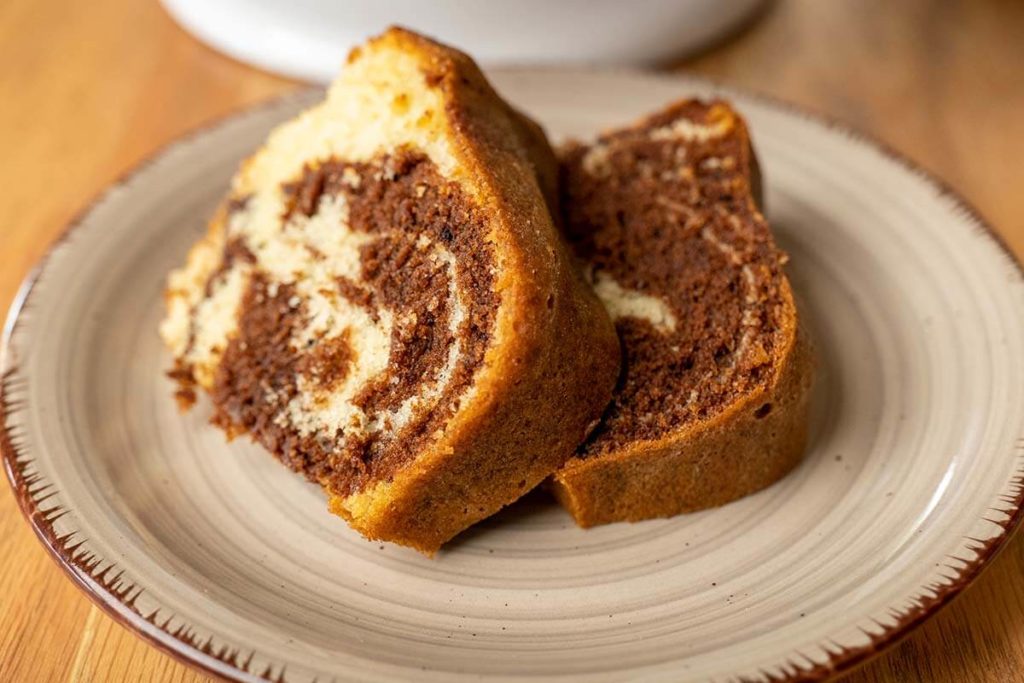 Toppings and Fillings
Classic Marble cake is simple, but that doesn't stop us from being creative. Here are some filling, topping and side ideas for your cake.
Chocolate Chips – A simple addition but it gives it such a great extra touch. Those little chocolate bits in every bite are just magic. Want to mix it up? Use both white and dark chocolate chips, or Choco drops for extra chocolate. A total of 1/2 a cup is enough.
Chopped Walnut – This gives a nice little bite to the cake and keeps the German / Austrian tradition going.
Banana Slices – As crazy as it sounds, this is such a great addition to Marble Cake. Chop a banana in to thin slices and fold it into the batter. Voila
Chocolate Glazing – This is one of my favourites, melt a couple of ounces of baking chocolate in a bain marie, whisk in 3 table spoons of unsalted butter and 1 cup of powder sugar. Add 1 teaspoon of vanilla extract and last 3-4 table spoons of boiling water. Now quickly pour over the marble cake before it starts setting. DELICOUS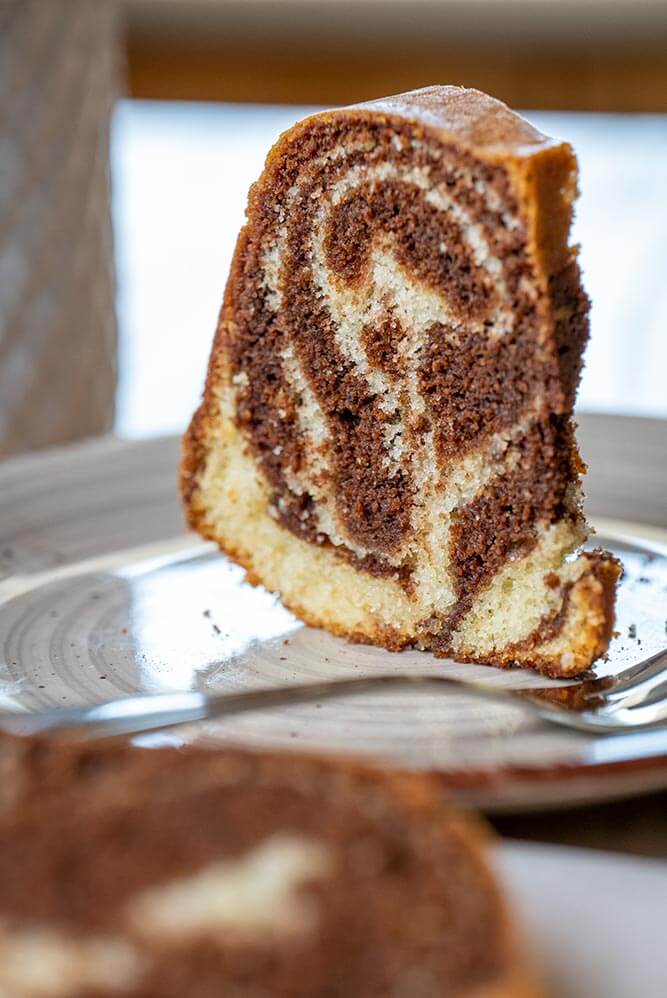 Tips & Tricks
Let the cake cool for at least 2 hours, this will settle all the flavours and give you nice clean cuts without crumbling. I actually like the flavour of this cake best the next day.
Another cooling tip, use a cooling rack, it will avoid condensation trapping under the cake which can make it soggy.
Preheat the oven, this goes for all cakes, a preheated oven will give your cake an even rise.
All Ingredients should be at Room temperature, this is important for more than one reason, cold butter will not cream, cold egg's will not combine well and the list goes on.
Don't over mix once you add the flour, I keep saying this on all my cake recipes, over mixing flour means more gluten, more gluten means tough and chewy texture. As soon as the flour is folded in, stop.
Use the metric system to measure ingredients, its far more accurate than cups.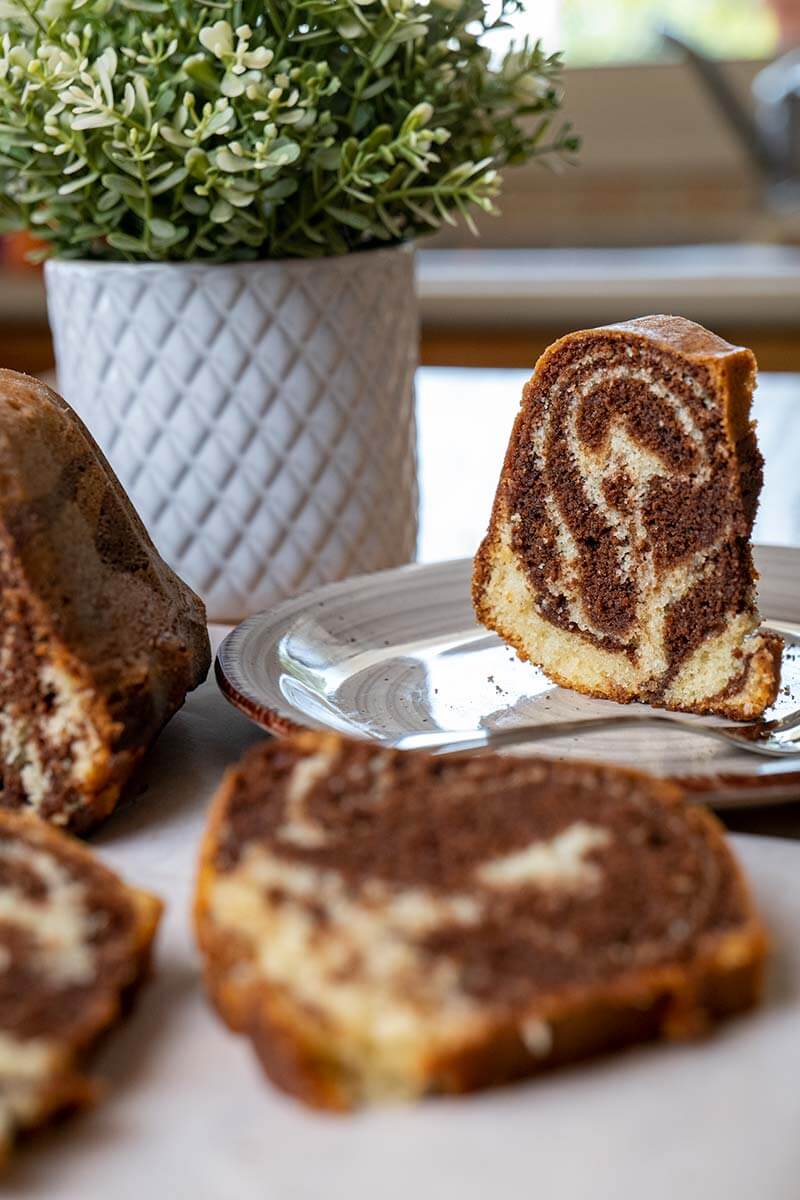 Marble Cake
Moist, Marble cake with a beautiful pattern. Chocolate and Vanilla flavour baked in a Bundt form. Easy to make yet so beautiful and delicious.
Ingredients
2

cups

All-Purpose Flour

1½

cups

Crystal Sugar

3

tsp

Baking Powder

1¼

tsp

Salt

1/2

cup

Unsalted Butter

4

large

Egg

1

large

Eggs Yolks

2

tsp

Vanilla Extract

5

tsp

Vegetable Oil

1

cup

Buttermilk

½

cup

Brown Sugar

½

cup

Cocoa

unsweetened
Instructions
In a medium size bowl, combine the flour, baking powder and salt. Give it a quick whisk and set aside.

2 cups All-Purpose Flour,

3 tsp Baking Powder,

1¼ tsp Salt

In a large bowl, combine the butter and sugar. Using a hand mixer, cream until light and fluffy.

1½ cups Crystal Sugar,

1/2 cup Unsalted Butter

Add the Eggs while whisking, one at a time and then the single egg yolk.

4 large Egg,

1 large Eggs Yolks

Gradually add the Vegetable Oil, Vanilla Extract and Buttermilk. Whisk until combined and creamy. If you add the ingredients too fast, the batter might look curdled. This will smoothen out when adding the dry ingredients.

2 tsp Vanilla Extract,

5 tsp Vegetable Oil,

1 cup Buttermilk

Add the dry ingredients 3-4 table spoons at a time and whisk. Stop when everything is smooth, don't over mix to avoid gluten build-up.

Separate the batter in to two equal halves.

Sift the cocoa into the batter and whisk until combined, then add the brown sugar and fold until combined.

½ cup Brown Sugar,

½ cup Cocoa

Butter and flour your cake form, I am using a Bundt form but a loaf or round form will work just the same.

To create a marble pattern, alternate between the light and dark batter adding spoons on top of each other until all the batter is used up.

Bake at 170c or 340F for 45 minutes or until a skewer test comes out clean.
Nutrition
Calories:
341
kcal
|
Carbohydrates:
53
g
|
Protein:
6
g
|
Fat:
13
g
|
Saturated Fat:
8
g
|
Polyunsaturated Fat:
1
g
|
Monounsaturated Fat:
3
g
|
Trans Fat:
1
g
|
Cholesterol:
100
mg
|
Sodium:
399
mg
|
Potassium:
145
mg
|
Fiber:
2
g
|
Sugar:
35
g
|
Vitamin A:
380
IU
|
Calcium:
111
mg
|
Iron:
2
mg