If you enjoy custard tart or flan, this recipe for custard cake needs to skyrocket to the top of your 'must bake next' list. For anyone who has never tried custard cake, I would describe this custard cake recipe as a fluffy cake topped with custard, with an additional layer for homemade caramel. Each layer in this recipe works together harmoniously to produce a Filipino-inspired upside-down custard cake.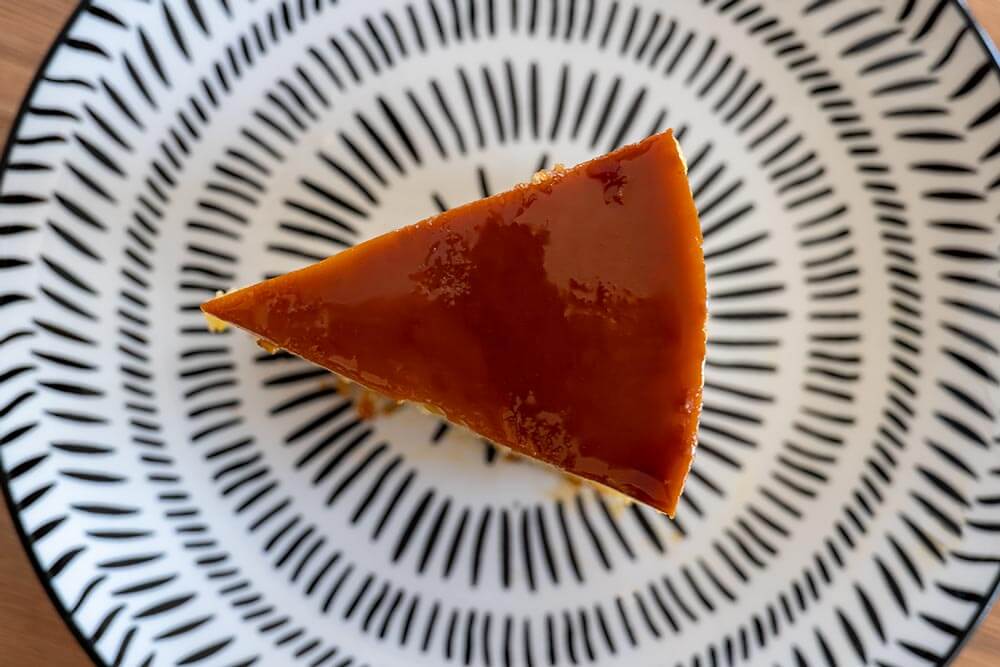 This recipe can appear a little tricky at first glance, especially when you read over the long list of ingredients. However, each stage is clearly described, and there is a troubleshooting section to prepare you for any potential mishaps along the way.
I am confident with these easy to follow instructions and confidence in your skills, you will have this recipe down in no time. Here is how to make custard cake at home.
3 Layers In This Custard Cake Recipe
Caramel
The first layer you will prepare is the caramel. Like a flan recipe, the homemade caramel will line the cake tin and set it in place.
Custard
Secondly, a layer of custard is poured over the caramel.
Cake
Finally, the cake layer will be created using a cake batter folded into a basic meringue mixture. The cake-meringue mix will then be poured over the custard and baked in a standard water bath.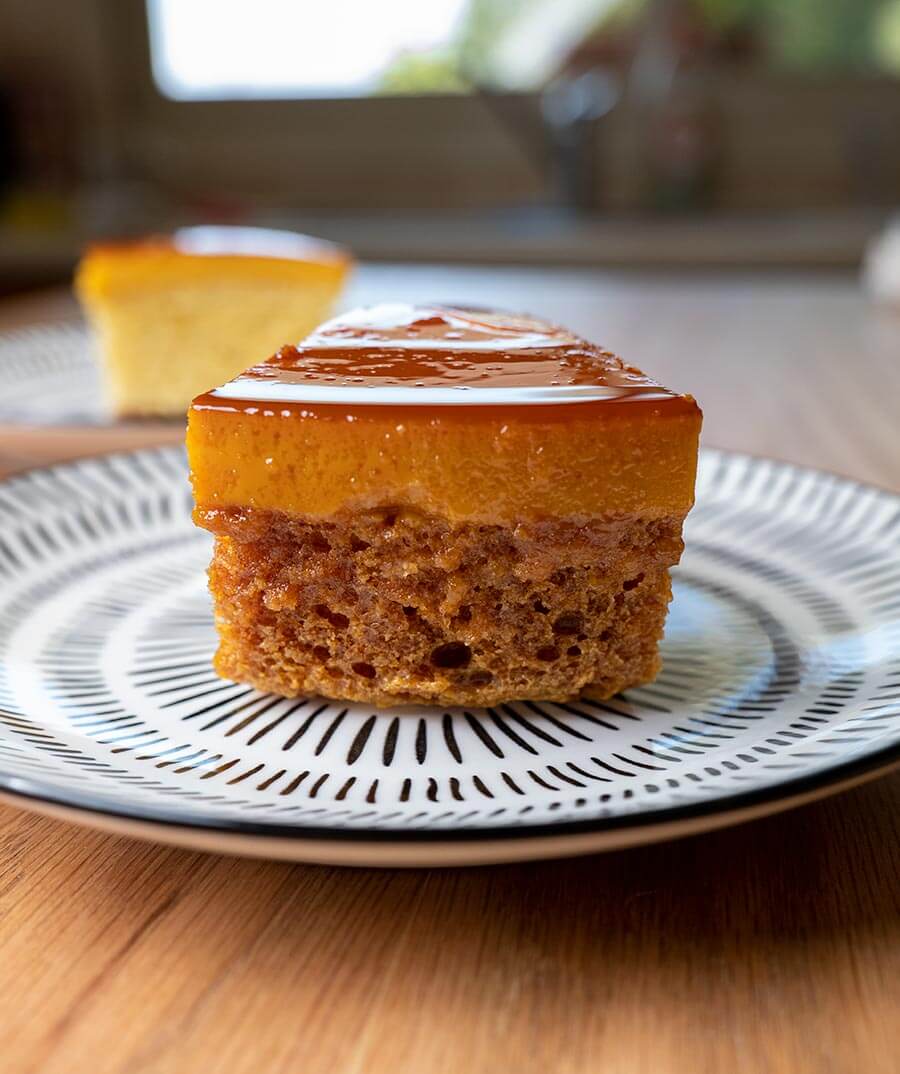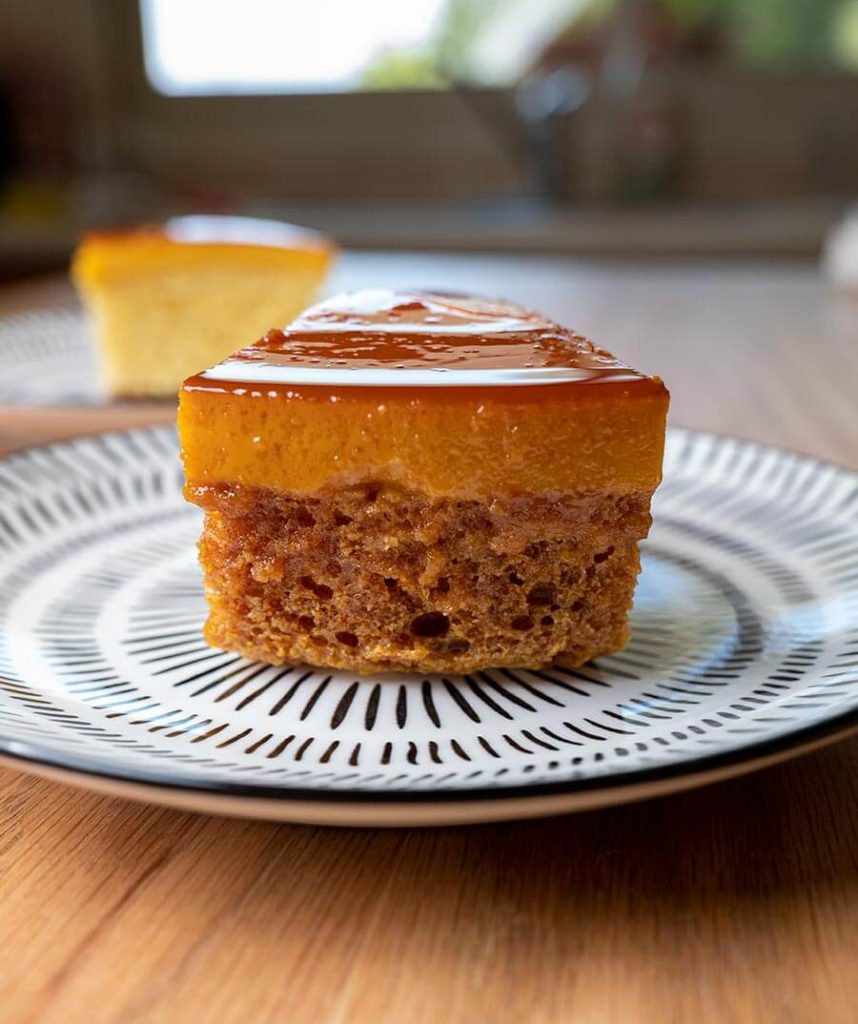 How to Serve
After baking and cooling, you can carefully remove the custard cake from the pan and serve it upside down (compared to baking). When finished, the top will look like a caramel flan with a cake layer underneath.
Serve your chilled homemade custard cake with a side of whipped cream and a few sliced fresh strawberries. If you want to impress your guests, finish off with a dusting of icing sugar to complete the look.
Ingredients
With three layers of cake, it's not surprising that this recipe's ingredients list is on the longer side. However, fear not because many ingredients overlap between the different layers, so it isn't as complicated as it might first appear.
For this recipe, you will need just 11 ingredients as follows:
Granulated sugar
Evaporated milk
Condensed Milk
Eggs
Orange Juice
Lemon extract
Vegetable Oil
Cake flour*
Baking powder
Salt
Cream of tartar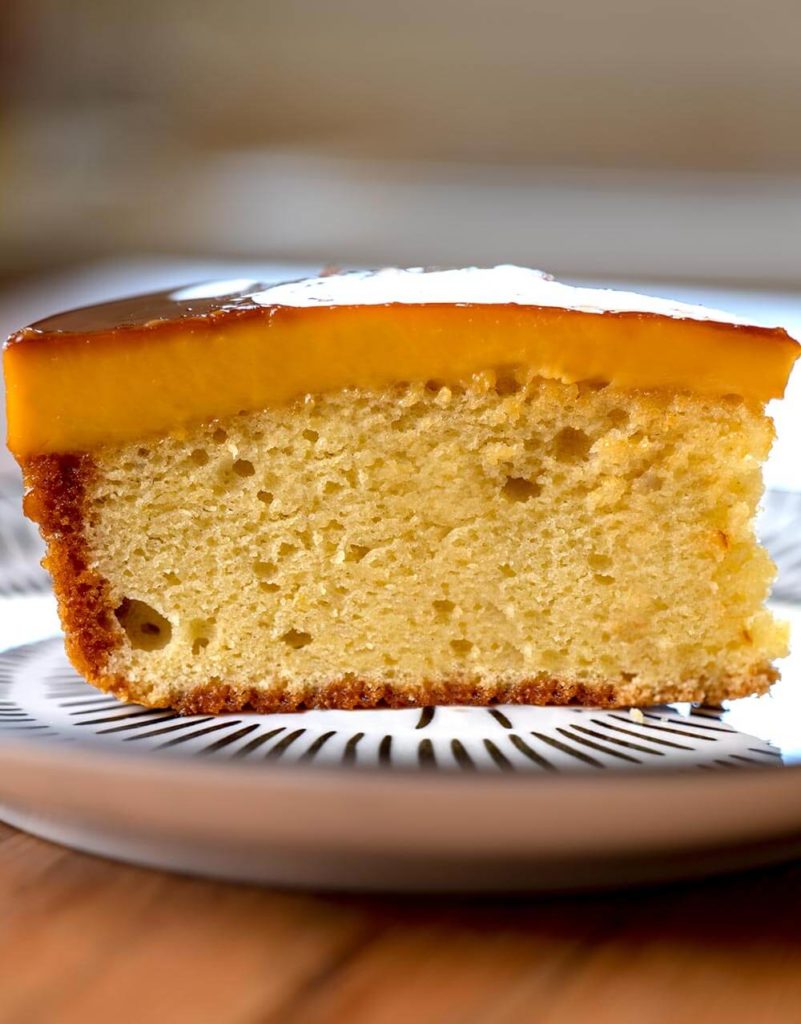 *Cake Flour Substitution
If you can't find cake flour in your local store, here is an easy way to recreate cake flour at home using just two ingredients:
Use 1 cup all-purpose flour (per 1½ cups cake flour).
Swap out 2 tbsp all-purpose flour for 2 tbsp cornstarch.
Combine the flour and cornstarch and mix. Then sift the flour-cornstarch mixture a few times. This helps to add lightness to the flour, which creates that fluffy cake batter.
Origins
While custard has been popular in British baking recipes since the 1300s, custard cake was originally served in the Philippines. Custard cake is traditionally enjoyed as a tea time snack, and you will often see it in Filipino bakeries. As this recipe is an intricate bake with several ingredients, it can be one of the more expensive cakes on sale at the bakery.
Strangely, custard has also been used in savoury recipes throughout history. Some French recipes even used a variety of custard with flour or cornstarch. But personally, I'm going to be sticking to sweet custard with cake for the moment.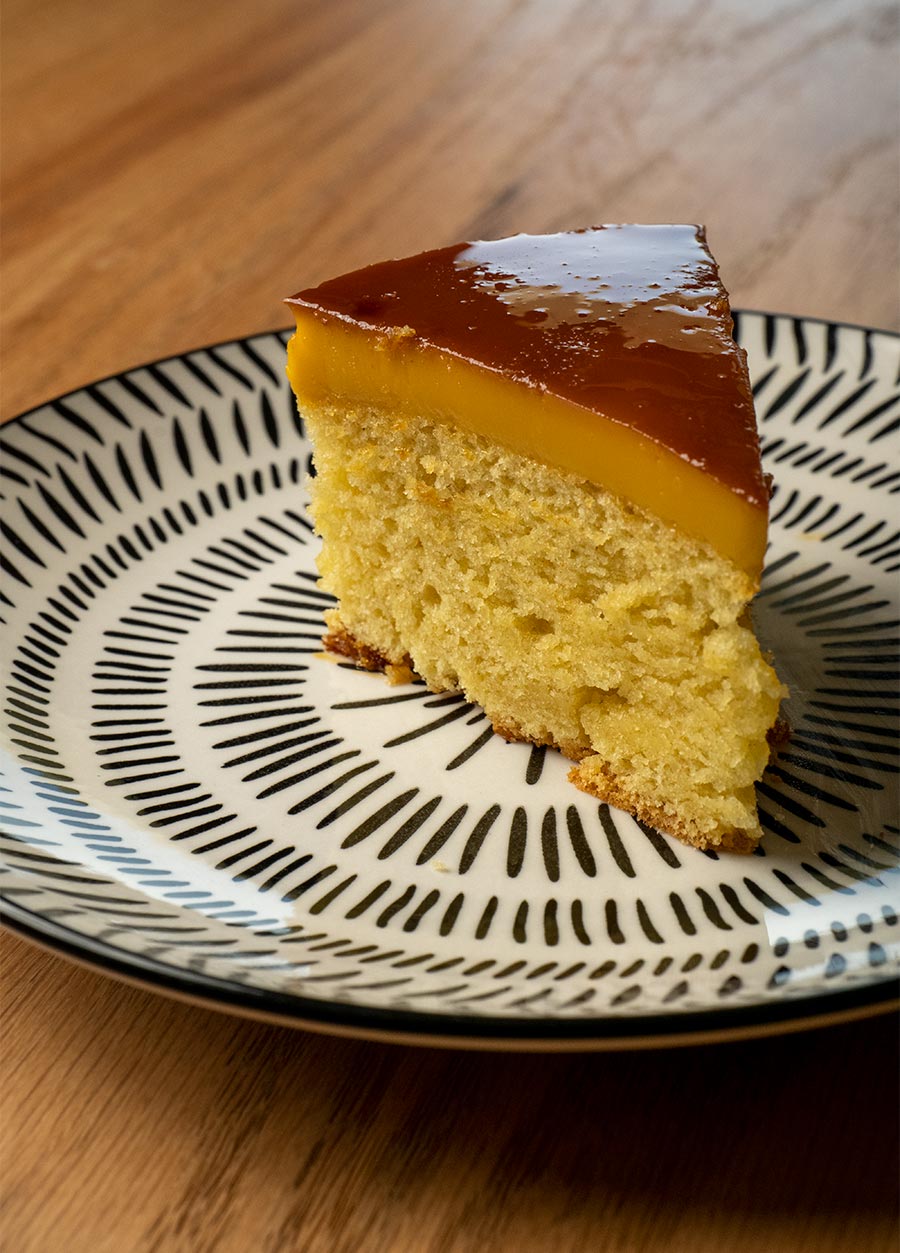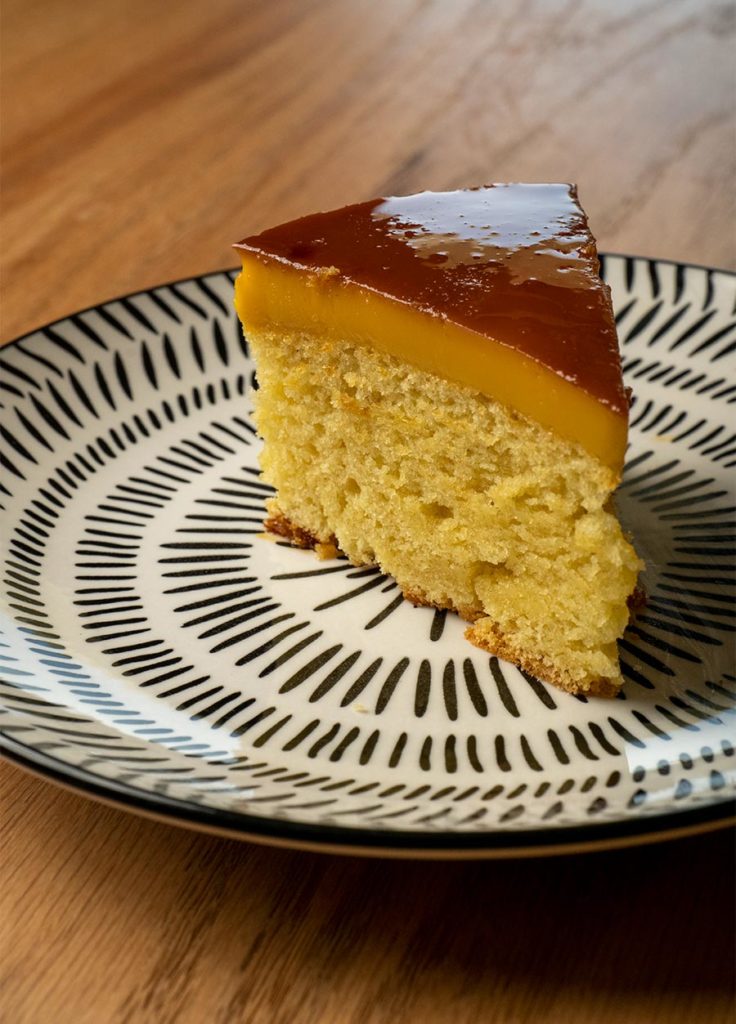 Recipes For Your Leftover Egg Whites
In total, eight eggs are used in this recipe: 8 egg yolks for the custard and cake and four egg whites for the meringue. Therefore, you will have four leftover egg whites when you have made this recipe for custard cake.
Of course, you are more than welcome to double the recipe for the meringue to utilise all your egg whites. You can then bake the extra meringue separately.
Alternatively, you could use them in a savoury recipe, such as a healthy egg white frittata or a tomato and parmesan omelette.
Troubleshooting This Recipe
This recipe is straightforward enough that you shouldn't have trouble with any of the layers. It sounds a lot more complicated than it is. When you tackle each layer as it comes, you should have no trouble assembling your delicious custard cake pudding.
There are a couple of reasons this bake may cause you problems, so here is what you need to be aware of before you start this recipe:
The caramel may sometimes burn or overcook. Use a thermometer to ensure you remove your caramel from the heat when required.
The cake batter can be tricky to pour over the custard. Ensure the custard is fully set, and pour your cake mix into the pan gently.
Do not be worried if your cake needs a slightly different baking time than suggested. This is because the bake time will vary depending on the tin size you use. You will know your cake is made when the cake is thoroughly cooked, and the custard layer still has some movement or 'jiggle' to it.
For best results, use room temperature eggs. If you tend to keep your eggs in the fridge, be sure to leave them out for a few hours prior to baking this recipe.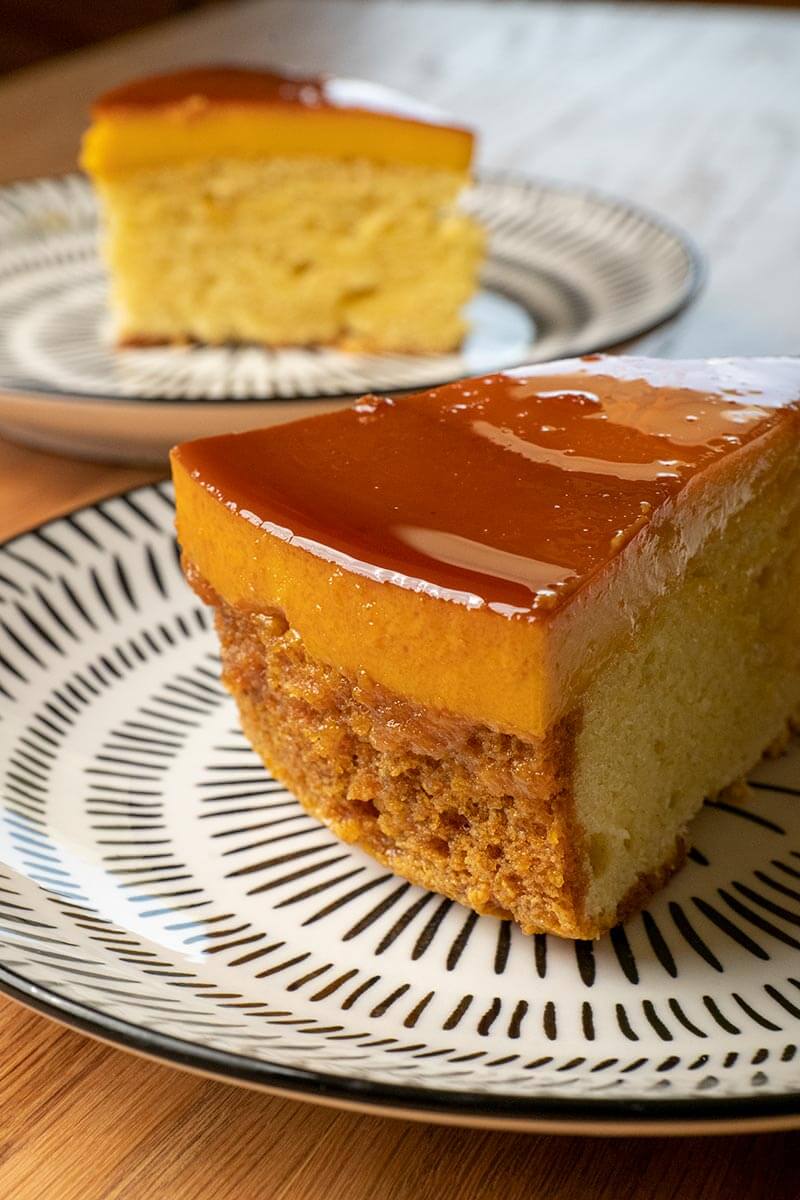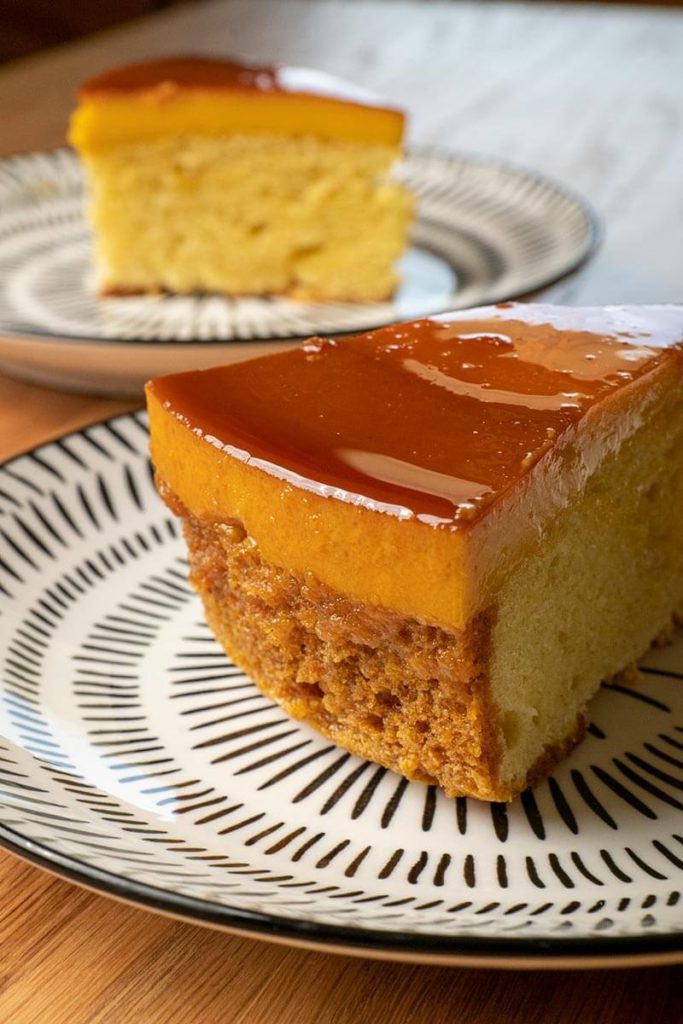 How To Store
Similar to most bakes, this custard cake recipe is best stored in an airtight container. However, unlike most cake recipes, this cake will last longer when stored in the fridge due to the custard which needs to be chilled. You can enjoy this recipe up to 4 days after baking.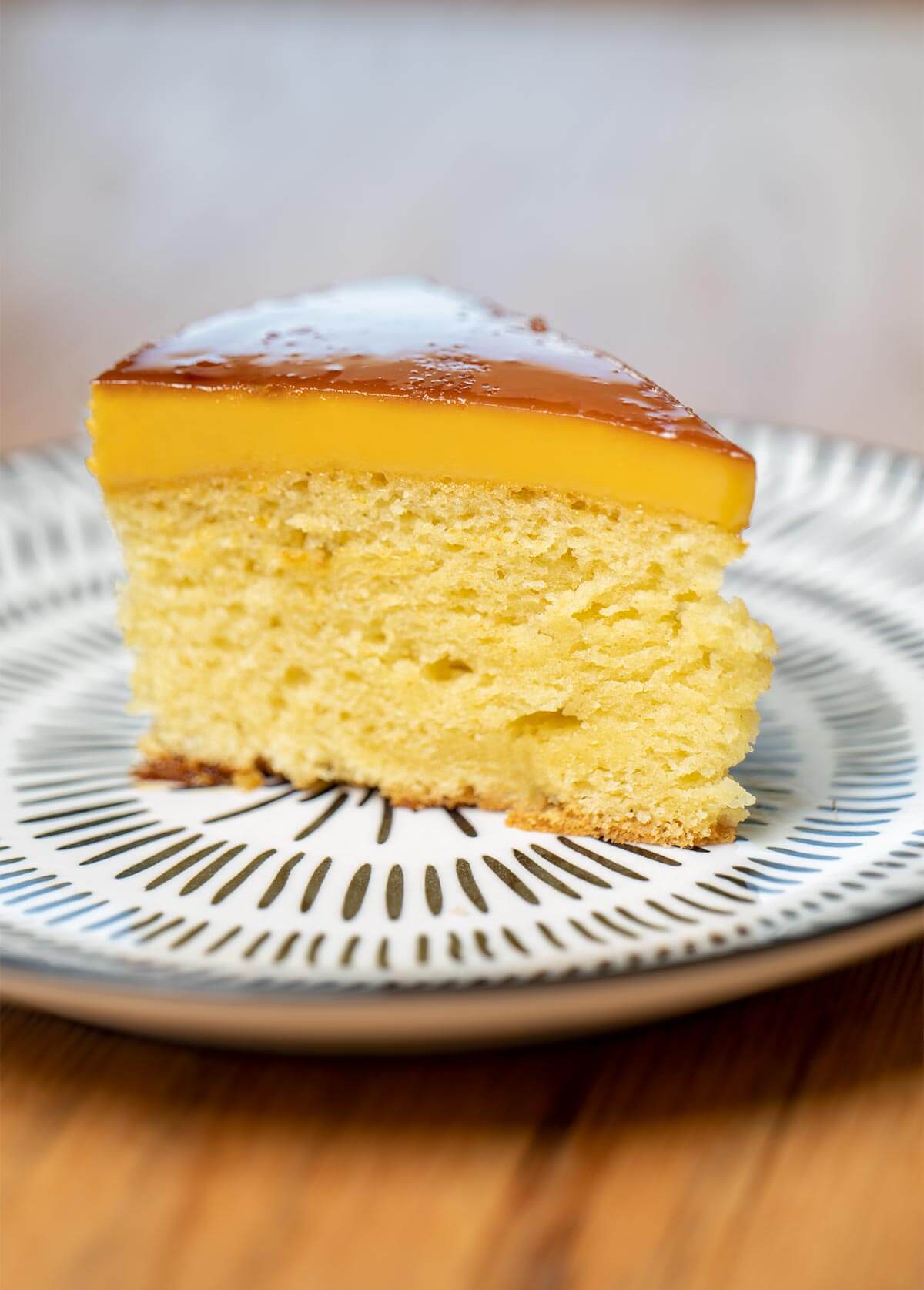 Custard Cake
Filipino cuisine is widely inspired by Spanish cooking and when it comes to custard cake, Filipino's took an amazing flan and made it even better. Three layers of delicious caramel, custard and fluffy cake combined to the ultimate dessert.
Ingredients
Caramel
1

cup

Crystal Sugar

1/4

cup

Water
Custard
¾

cup

Evaporated Milk

⅔

cup

Condensed Milk

4

large

Eggs Yolks

1

tsp

Vanilla Extract
Cake Batter
4

large

Eggs Yolks

1/4

cup

Orange Juice

1

tsp

Lemon Juice

½

cup

Vegetable Oil

1½

cup

Cake Flour

½

cup

Crystal Sugar

½

tbsp

Baking Powder

1

pinch

Salt

4

large

Egg Whites

For the Meringue

1/2

tsp

cream of tartar

For the Meringue

⅛

cup

Crystal Sugar

For the Meringue
Makes:
8
inch
8
x
8
inch
round
,
3
inch
height
Instructions
Caramel
In a heavy sauce pan, combine the 1 cup of granulated sugar with the ¼ Cup of water and set over medium heat. Once the heat is on do not disturb the sugar or it will crystallise and set. If you need to get rid of the sugar crystals forming on the edge, use a wet kitchen brush to lightly push the crystals into the mixture.

Cook until the caramel has turned to an amber brown. If you are using a sugar thermometer then you should be aiming at a temperature between 355 to 360 Fahrenheit or 180 to 182 Celsius.

When the caramel is ready, pour it into your baking form and swirl it to distribute evenly. Set aside and let it cool completely.
Custard
This custard is a little different from our standard custard, combine all the ingredients in a bowl and whisk together until smooth and no egg yolk clumps are left. Pour over the cooled caramel layer and set aside.

1/4 cup Water,

¾ cup Evaporated Milk,

⅔ cup Condensed Milk,

4 large Eggs Yolks,

1 tsp Vanilla Extract
Cake Batter
In a small bowl combine 1 1/2 cups of cake flour, baking powder and salt, set aside.

In a large bowl, add the remaining 4 egg yolks and 1/2 cup of sugar and whisk with an electric mixer until light and fluffy. Whisk in the vegetable oil and orange juice and lemon juice.

While whisking add the flour 2-3 table spoons a time to avoid clumping until all the cake flour is used and you have a smooth batter. Set aside.
Meringue
Before we start the meringue, its now time to preheat the oven. Set it to 340 Fahrenheit or 170 Celsius.

In a spotless clean bowl and using a hand mixer, whisk the 4 large egg whites until soft and fluffy (not stiff peaks). Add in the cream of tartar and whisk to soft peaks.

Keep whisking and add the granulated sugar one table spoon at a time until you have stiff peaks.

Using a rubber or silicon spatula, carefully fold the meringue into the cake batter until combined. Pour over the set custard.
Baking
We need to bake this cake in a water bath to avoid overcooking or burning any of the ingredients.

Add hot water to a roasting dish, you need enough water to cover just over 1/2 of your baking form. Depending on the size of your roasting dish, this should be around the half level of the dish.

Set the filled baking form in the centre of the roasting dish and place it on the centre rack of your oven. This will take around 50 to 60 minutes. Do a wooden skewer test, if it comes out clean, your custard cake is done.
Notes
To get a clean edge cake, ensure its completely cooled before you take it out of the form. 
Nutrition
Calories:
362
kcal
|
Carbohydrates:
51
g
|
Protein:
7
g
|
Fat:
15
g
|
Saturated Fat:
10
g
|
Polyunsaturated Fat:
1
g
|
Monounsaturated Fat:
3
g
|
Cholesterol:
133
mg
|
Sodium:
119
mg
|
Potassium:
190
mg
|
Fiber:
1
g
|
Sugar:
39
g
|
Vitamin A:
258
IU
|
Vitamin C:
3
mg
|
Calcium:
138
mg
|
Iron:
1
mg