Are you considering the Moulinex Quick Mix Hand Mixer for your cooking and baking? Is it a good mixer and worth the higher price tag over some cheaper models? I have been using the Moulinex Quick Mix for the last 8 months and it's a great flexible hand mixer that packs a punch. Here are all the pro's and con's I found over the last few months.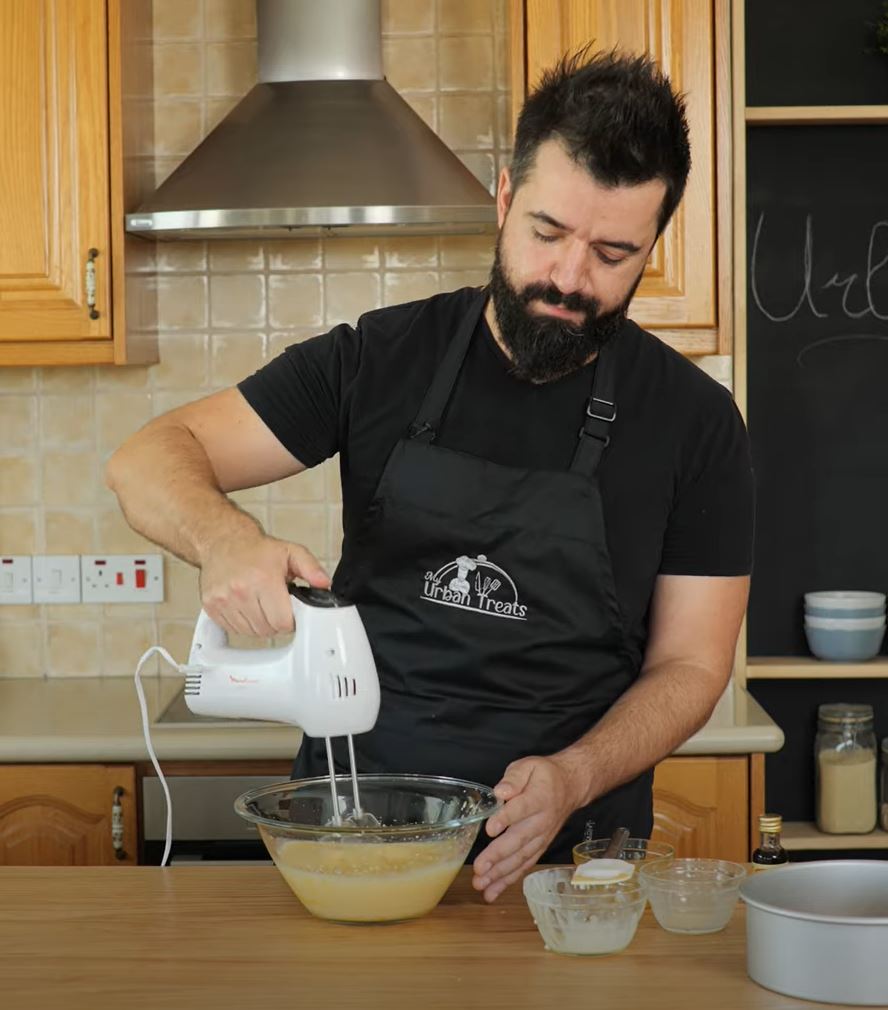 Disclaimer
Before we get into the review I want to make clear that this is NOT a sponsored post and all the opinions within this review are my own based on using this product in my kitchen almost daily. When I do product reviews and find those products worthy of my recommendation, I sometimes add affiliate links to that product. These affiliate links will earn me a little commission which has no impact on your final price. This commission goes back into the blogs maintenance and new content. Thank you for your support.
About the Quick Mix
The Moulinex Quick Mix is a 300 watt hand mixer made mostly out of plastic and steel parts. It comes with two attachments, a whisk and a set of dough hooks. The Quick Mix has five speeds, plus the "boost" level enabled by a separate button on its handle. Boost mode is only active while the button is pressed and the speed slows down the moment it is released.
Technical Specifications
Power Output
300 watt
Compared to its main competitors (Philips and Krups)
The power of the Quick Mix is lower by 150 watts.
Speeds
5 plus Boost
The speed levels have smooth steps and boost gives an extra kick
when whisking merengue or creaming butter. The 1st speed is a little too fast
and can cause particles flying around the kitchen,
Attachments
Whisk and Dough Hook
Both attachments are dishwasher safe although they are very easy to clean by hand.
Eject Button
Integrated
The eject button is integrated in the speed control, pressing the speed switch down will eject the attachments.
Weight
1 Kg or 2.2 lbs
The weight of the Quick Mix is comfortable and feels premium.
Max Operating Time
4 Minutes with 20 Minute Cooling Interval
According to the instructions, the mixer should only be used at a heavy load (thick dough) or max speed for 4 minutes followed by a 20 minute cooldown period.
Moulinex Quick Mix Specifications
Durability
I have been using the Moulinex Quick Mix for about 8 months now, those who follow my blog and YouTube channel know I bake A LOT. So I set my Kenwood Titanium Chef XL aside for the last few months to give the Quick mix a thorough test. Besides the 150 watt less than the competitors, it had no issue dealing with any type of batter.
I have also tried to make different types of bread such soft white bread, Burger Buns and Whole-wheat bread. While the Moulinex Quick Mix dealt with all the types of dough fairly easily, the whole-wheat bread was a bit of a struggle. But this is something I fully expected, if you make a lot of bread a dedicated stand mixer will outperform any hand mixer so no question there. Kneading tough dough will definitely shorten the lifecycle of your hand mixer so either knead by hand or invest in a stand mixer. For all other types of batter, I have no doubt that the Moulinex Quick Mix will last for years to come.
Functionality
The quick mix has five speeds and a turbo button making it a total of 6 speeds. The unit comes with two sets of attachments, a whisk and a dough hook. Both of which are dishwasher safe. While the standard version only includes the mixer and attachments, there is a stand/bowl kit that connects directly to the hand mixer making it a hybrid stand mixer.
This has some added benefits such as:
You don't need to hold the mixer which is not heavy but on the heavier side.
The bowl has a gear attachment turning the bowl as you whisk. This is great as it reduces the amount of times you have to scrape the bowl and makes a more thorough mix.
However, this does not replace a dedicated stand mixer, it simply makes using the hand mixer easier.
Overall, the functionality is what you would expect from a Hand Mixer with the added optional bowl which is a great addition at a low cost.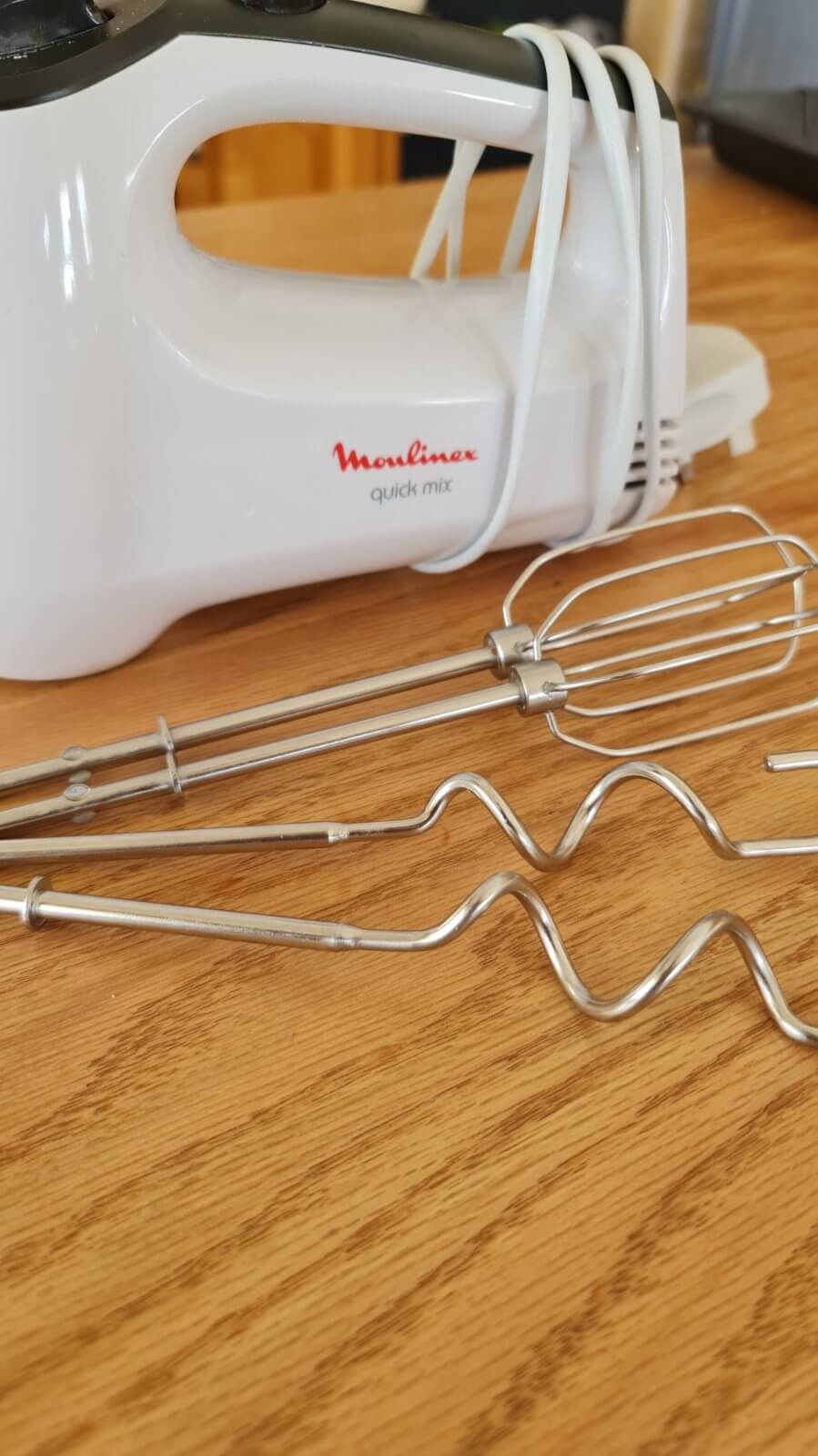 Cleaning & Storing
Storage is a pet peeve of mine and this is not an issue with this specific product but with most kitchen products. When you want to put the hand mixer away, you simply have to wrap up the cable and store the attachments in your cutlery drawer. As someone who suffers from ADHD I spend a LOT of time looking for equipment, a clever way to attach the whisks to the actual unit by maybe clipping it on would have been great.
Cleaning is an easy task with this hand mixer, the attachments are easy to wash off and any residue on the plastic can easily be wiped off with a sponge and kitchen towel.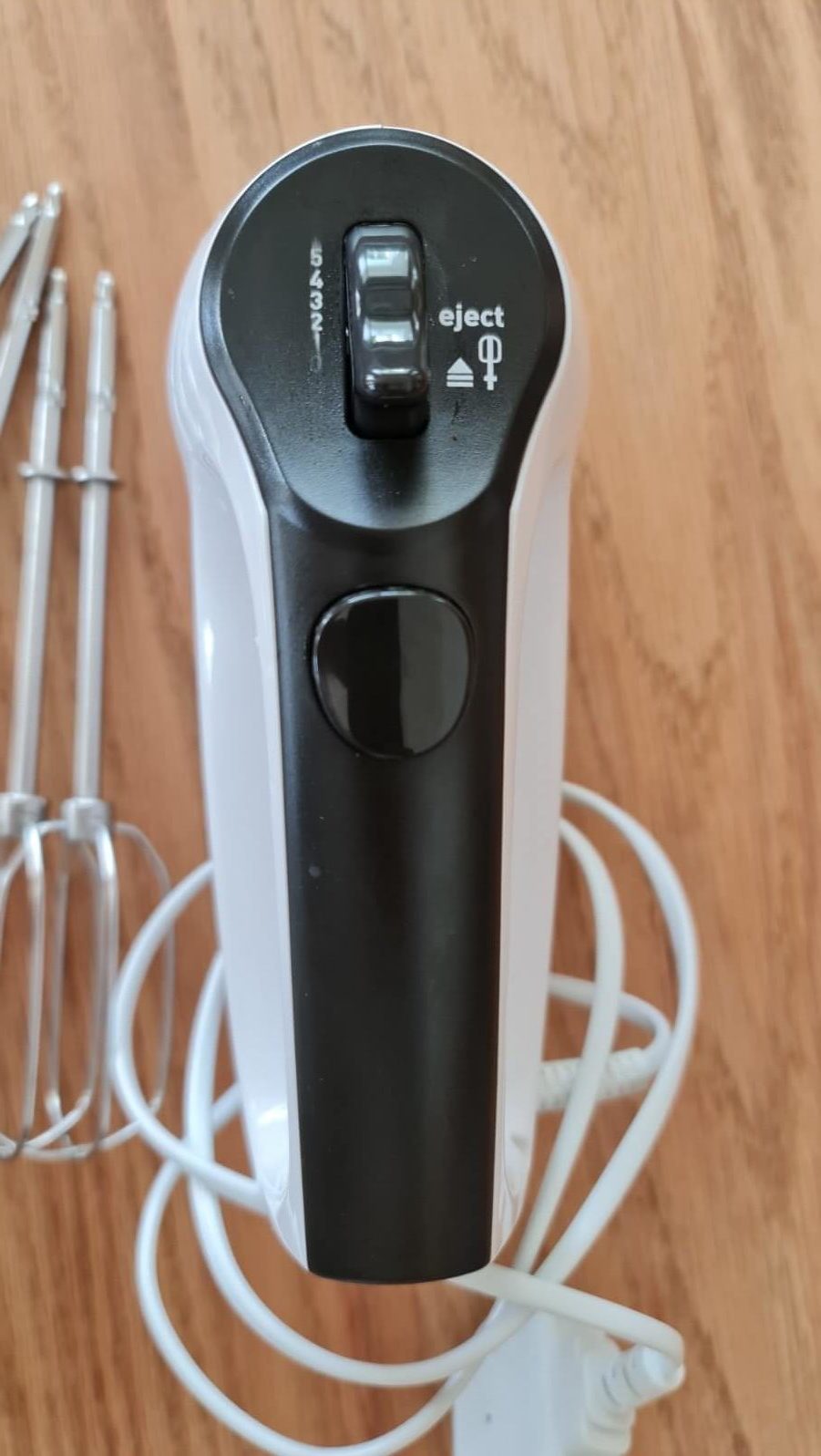 Review Summary
The Moulinex Quick Mix is a great hand mixer that I see myself using for a long time to come. It's perfect when I don't want to use (and clean) my stand mixer or when I quickly want to whisk something up. The power and speed are sufficient for any purpose in my kitchen although the 1st speed could be a bit slower to avoid splatter.
Pros:
Durable, will last for a long time
Dough Hook included
Optional Stand and bowl
Easy to Clean and attachments are dishwasher safe
Cons:
A little on the heavy side might be tiring
Max use time 4 minutes with 20 minute breaks
Unit and Whisks stored separately
Less powerful than competitors
Cleaning the Moulinex Quick Mix is easy although its not very innovative when it comes to storing the attachments with the actual unit. So lets get down to the most important question, after using this hand mixer for 8 months, would I recommend it to anyone? The answer is, Yes. Its a reliable machine with a few little flaws but don't all things have a little con ?
About Moulinex
I remember Moulinex from when I was a kid in the 90s, my mom had a Moulinex mixer and for us it was always the low price high quality equipment that would last a long time. This has not changed, Moulinex is a trust wroth brand that is well known for its durability longevity.
Any more questions?