Good Day my fellow foodies, Other than recipes I love to review kitchen products for my blog. The reason I started doing product reviews, is because every time I buy a new kitchen appliance I try to find comprehensive information and reviews, sometimes I cant find what I want or at least not in one place so, my reviews cover the information I was missing before I bought the product. Today that's the Kenwood Chef Titanium Kitchen Stand Mixer.
I have been using the Chef XL Titanium for a year now. During that time I have baked cakes & desserts, bread, made Hungarian Sausage and processed endless fruits and vegetables. When I first eyeballed this stand mixer I looked for a detailed review before buying and couldn't really find one that addressed all my questions. So I took a chance and bought one anyway. A year later I know this mixer well enough to give you my full and detailed feedback.
Before I start I want to clarify that this is NOT a sponsored review, all the equipment was bought with my own money. I have added some affiliate links at the end of this post, if you decide to buy this mixer and do it via my link, then I will get a small commission which helps me keep the blog running. This has no impact on the sales price. Thanks for supporting me, and now lets get started.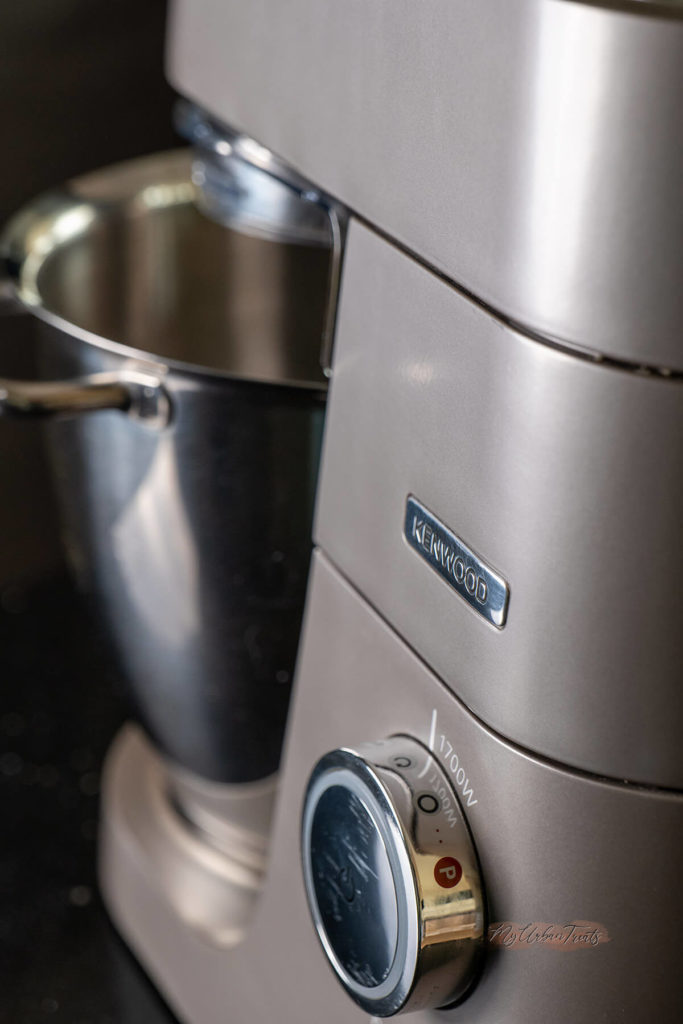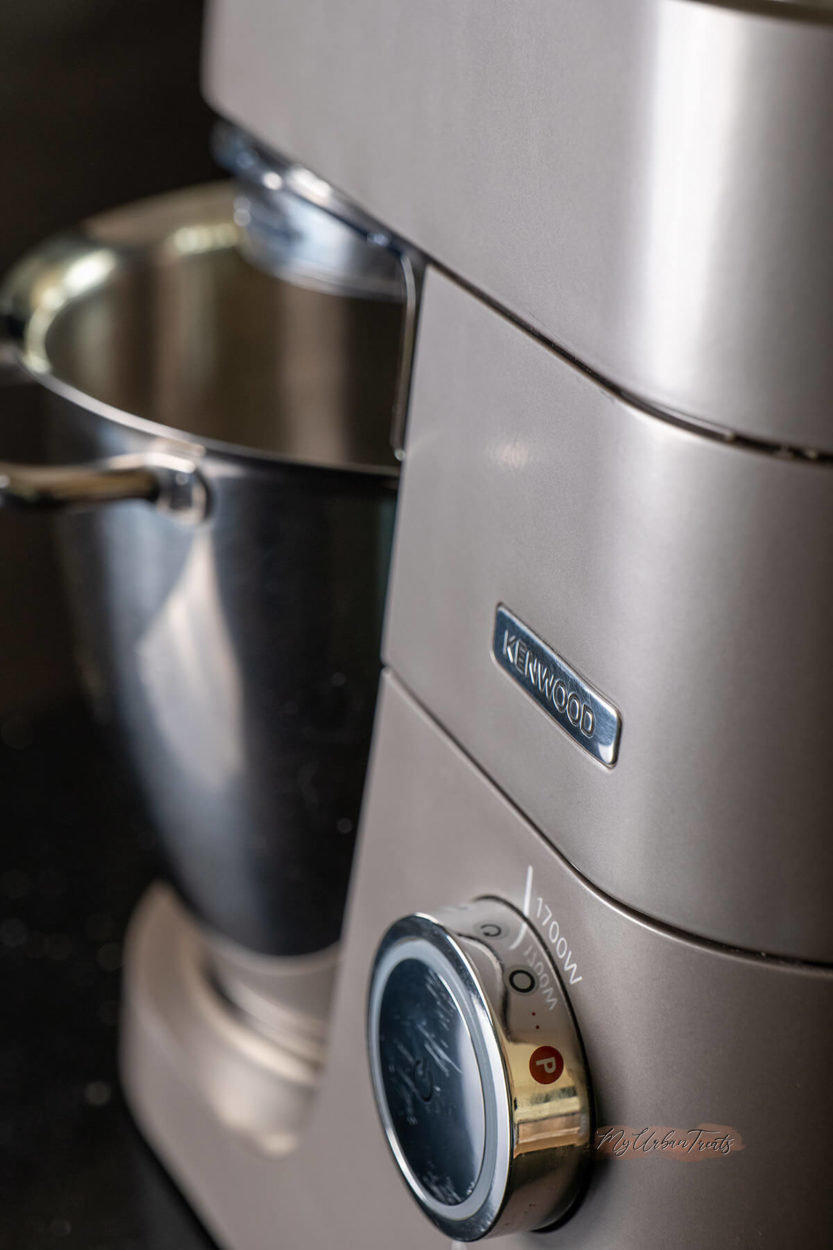 Post Index
Specs & Features
The Chef XL Titanium is the biggest stand mixer in the Kenwood Chef line-up. It features a powerful 1700 Watt motor and is made out of die cast metal. Some of the notable features include ESC or Electronic Speed Control, Fold Functionality and Planetary Mixing. It also features Led Illumining of the Mixing bowl and power button. Below are the full specs:
General Specifications
Size in cm: 35.6 H x 38 W x 28.5 D
Size in inches: 14 H x 14.9 W x 11.2 D
Motor Power: 1700 Watts
Weight: 10.4 Kg / 22.9 Lbs
Body Material: Die Cast Metal
Bowl Material: Polished Stainless Steel
Bowl Size: 6.7 Litres / 1.76 Gallons
Speed: Variable & Pulse
Attachments Included
K-Beater – This heavy duty stainless steel tool has a verity of uses, it reaches the whole bowl requiring less scraping and can be used for cakes, minced meat, pasta dough or pastry and biscuit batter.
Dough Hook – A heavy duty stainless steel dough hook which is great for bread dough or any other firmer doughs.
Steel Whisk – perfect for egg's and liquid batter and meringue.
Folding Attachment – This attachment is made out of plastic and is great for folding without deflating batter.
Creaming Beater – Scrapes the bowl with every turn to ensure a perfect mix. This tool can sometimes make squeaking noises when used.
Disclaimer: I purchased a bundle that included these and more attachments, from my online research I found that the above are included in some of the amazon offers or other online resellers. Contents might vary depending on where you buy the mixer form or which package you are purchasing.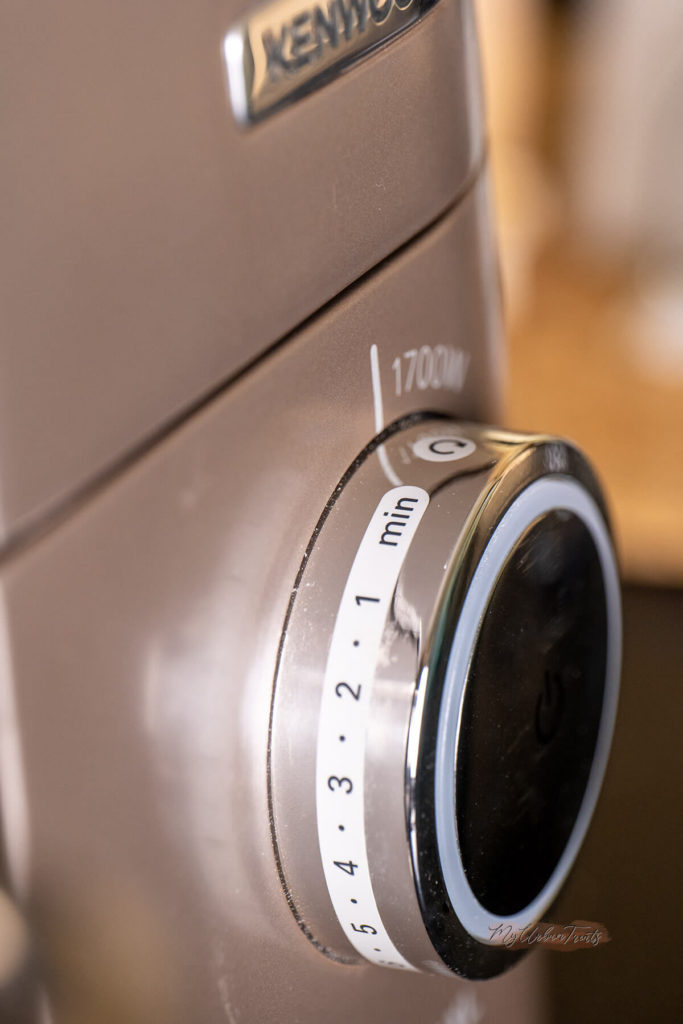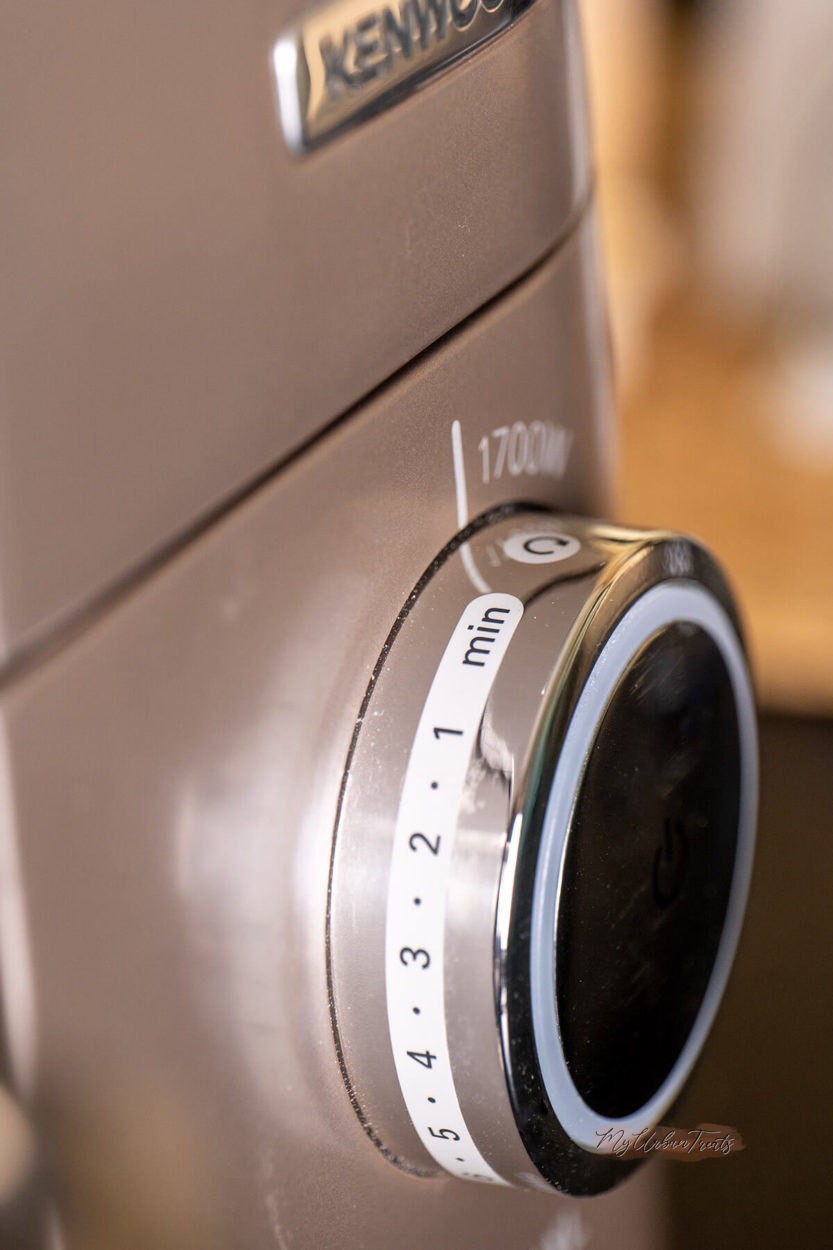 Available Attachments
The Kenwood line of chef stand mixers comes with a ton of available attachments. I don't have all of them so I will only review the ones I have and have used and tested. You can find a full line of available attachments on the Kenwood website but beware that XL and Standard sized bowls are sometimes not interchangeable.
The Kenwood XL series has three attachment points.
The Bowl outlet, for the main bowl attachments and beaters.
The slow speed outlet: for mincers, grinding mill, fruit press, pasta roller and cutter and the dicing and slicing attachments.
The High Speed Outlet: For food processors, blenders, choppers, slicers and juicers.
Bowl Attachments
Creaming Beater XL (AT502)

The creaming beater has detachable flexible spatulas (wings) that scrape the bowl during creaming.

Folding Tool XL (AT512)

The folding tool is perfect for fluffy and light batters as it fold without deflating.
The above at the attachments I have and have used, other attachments include:
Frozen Food Maker XL (KAB957PL)
Puree & Sieve XL (KAB930PL)
Glass Bowl (not available for XL) (KAT550GL)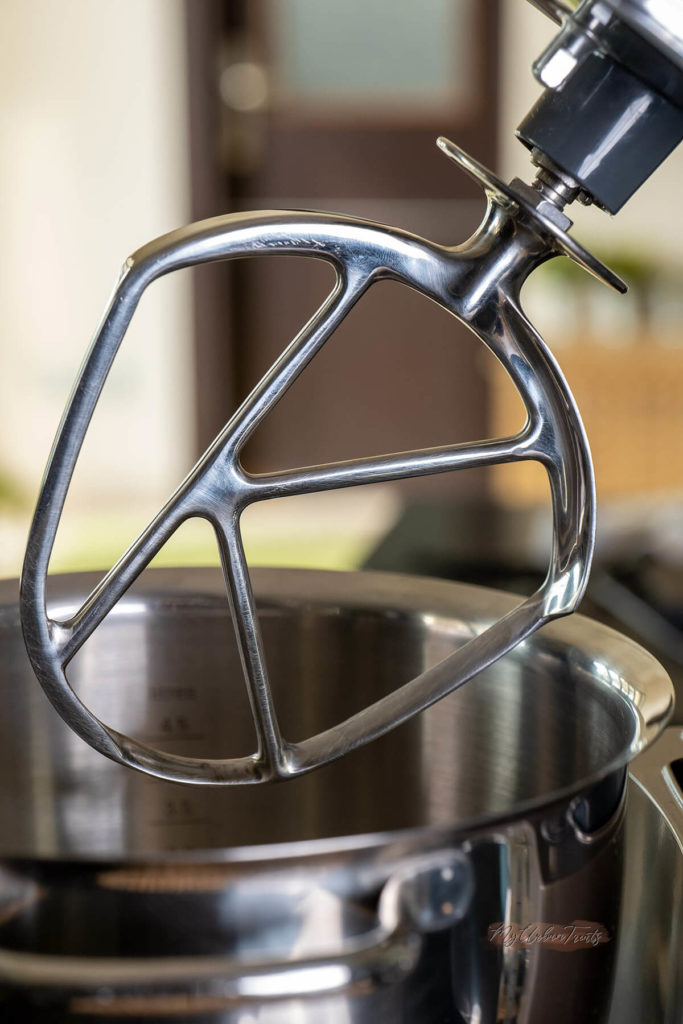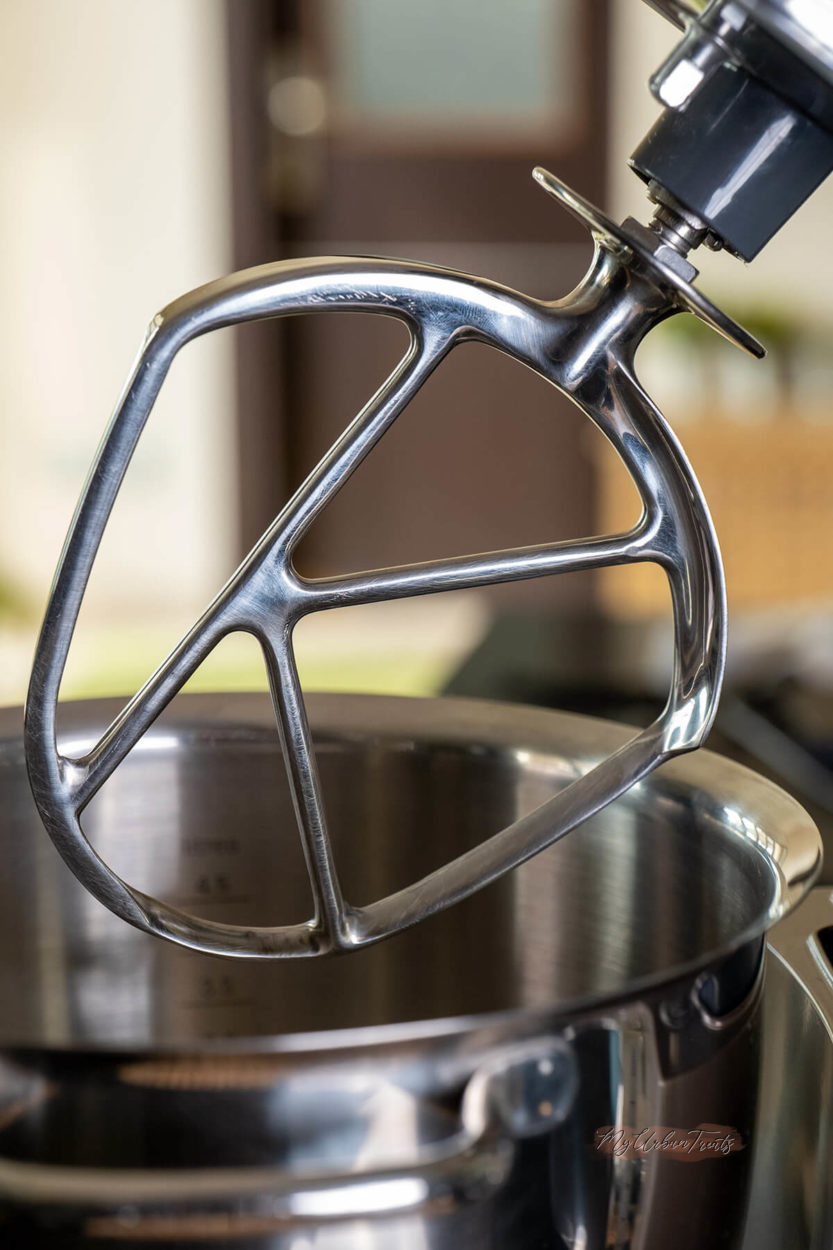 High Speed Attachments:
ThermoResist Blender (KAH358GL)

The blender is as the name suggests heat and cold resistant and is perfect for creaming soups and sauces. It can also crush ice and blend smoothies. The blender can be taken apart for easy cleaning.

Food Processor (KAH647PL)
The above at the attachments I have and have used, other attachments include:
Chopper/Grinder (AT320A)
Slicer/Grater (AT340)
Metal Juicer (AT641)
Citrus Juicer (AT312)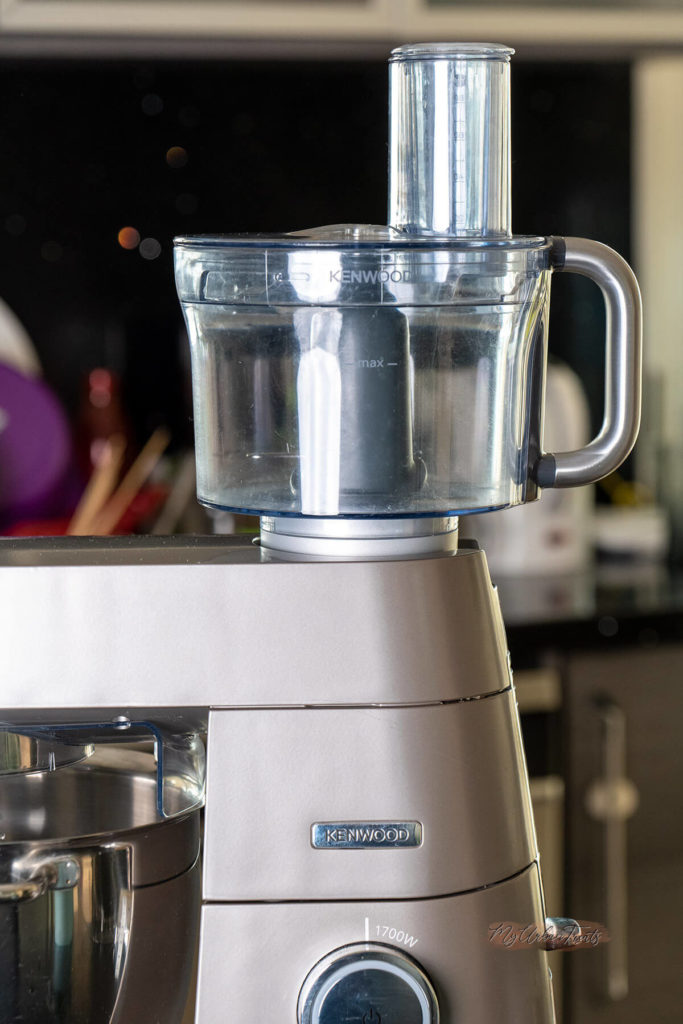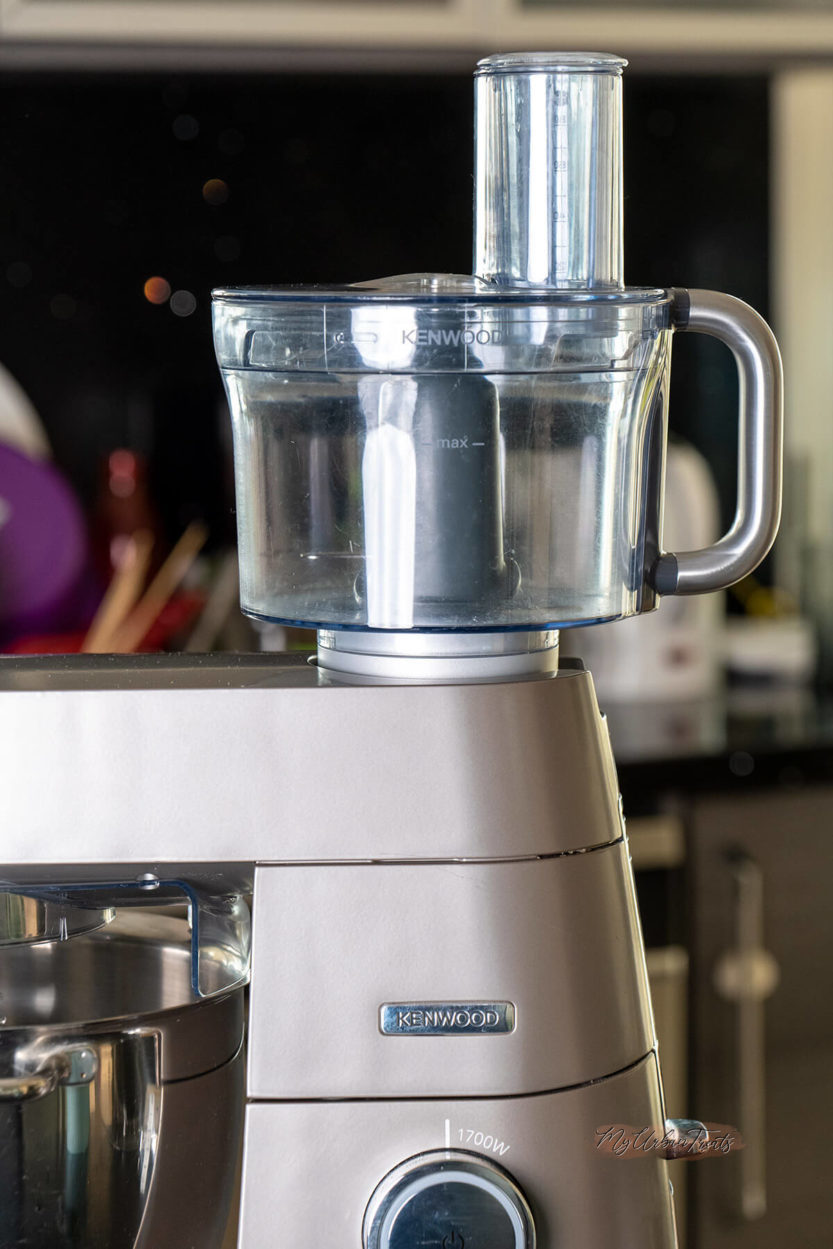 Slow Speed Attachments
Food Mincer (KAX950ME)
The food mincer comes with three knifes, fine, medium and coarse. I have used this attachment to mince meat and stuff sausages. You can also make Kebbe with this attachment.
The above at the attachments I have and have used, other attachments include:
Dicing Attachment (KAX400PL)
Rotary Slicer (KAX643ME)
Fruit Press (KAX644ME)
Grinding Mill (KAX941PL)
Pasta Roller (KAX970ME)
Pasta Cutter (KAX971ME)
Pasta Shaper (KAX910ME)
Review, Pro's and Con's
The Kenwood Chef XL Titanium is a heavy duty mixer suitable for people that cook and bake large amounts of food. The 6.7 Litre bowl holds massive amounts of dough, I have made triple and even quadruple portions of bread, cake batter, cookie dough and ground meat recipes in a single bowl.
All the attachments are amazingly well built and heavy duty. I have previously owned other big name brands of mixers and the quality of the beaters and whisks are just beyond most of them. The power output of the mixer is also very impressive, with a 1700 Watt motor the mixer has no trouble with any recipe. Kenwood also offers a 10 year warranty on the Titanium models motors which shows they trust the quality of their components. Its important to note that all other Titanium Chef models only feature a 5 year warranty on the motor.
NOTE: The overall warranty for all Chef Mixers is 2 years.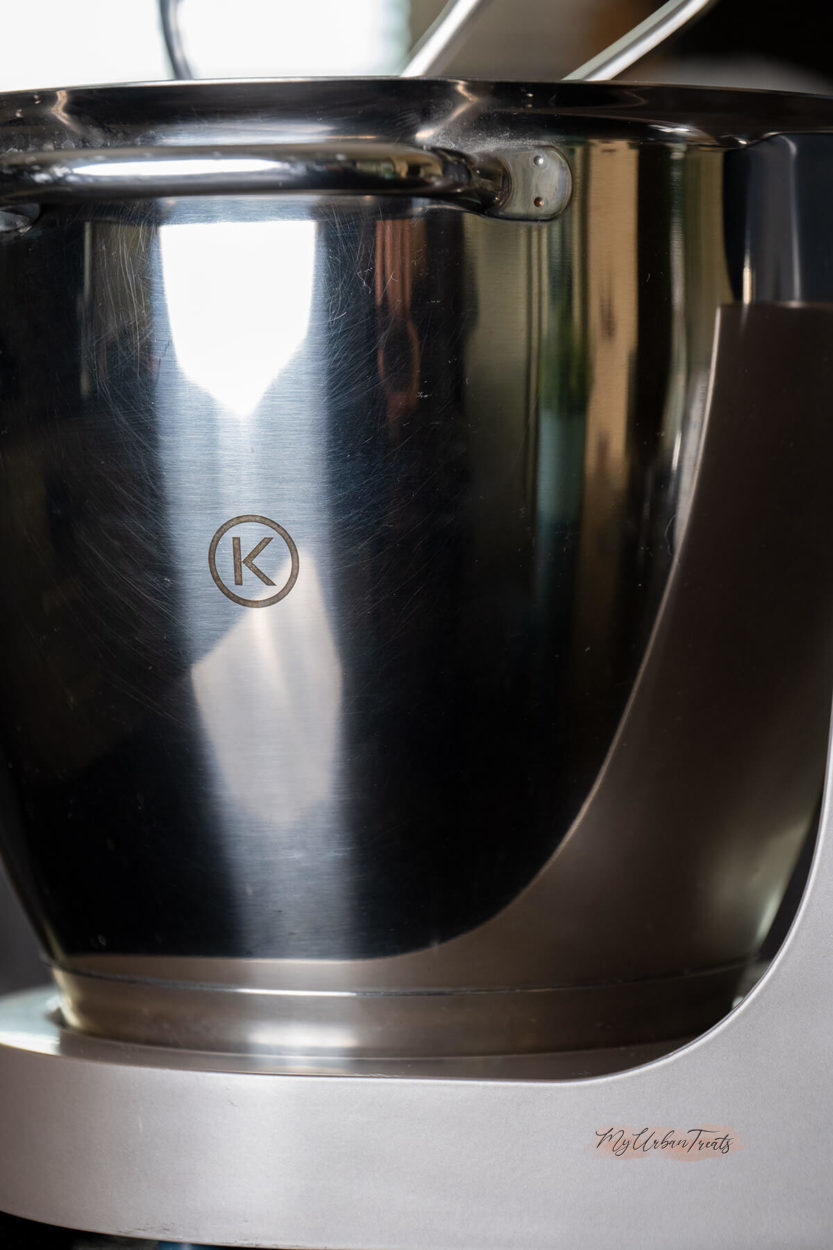 What I love about the Chef Titanium
My favourite things about this stand mixer are definitely the power of the motor, the Led bowl light, and the high capacity of the bowl.
Kneading and Heavy Dough!
I often make cookies, bread and Pizza so a heavy duty dough hook and large capacity are a must for me. The motor just powers through any type of dough.
The motor does occasionally go warm during heavy kneading but not to a temperature that is worrying. Kenwood states that dough kneading should only be done on the low base speed and not on high speed. I have seen people burn out their motor doing this. Keep the recommended settings and you will have no issues. This also shows its important to read the manual even if its seems obvious.
Cakes & Light Batters
Making cakes is easy with this stand mixer, the bowl has plenty of space for multiple portions. It's also easily accessible from the sides to add products during whisking. The plastic bowl cover ensures flour and icing sugar don't cover your whole kitchen. In the box you also receive a plastic spatula for scraping the bowl. Note that this is NOT a silicon spatula and I had to learn the hard way that it is not heat proof 🙂
Cleaning & Storing
This mixer is big, so to store it you will need space. If you don't have a lot of kitchen space you might want to go with the smaller models. The mixer and attachments take up significant space in my cupboard. Its also important to note that the mixer is heavy at 10.4KG.
Cleaning the mixer is easy, everything is easily accessible. The area where the bowl locks into is removeable and made out of silicon. It can easily be taken out and cleaned. This is something that comes very handy if you spill something on the side of the bowl. I had to clean out egg whites and other foods many a times. The smooth and straight edges of the stand mixer make it easy to wipe down and keep clean.
My previous mixer had a fancy design with edges and nudges which never felt easy to get into so I really appreciate the ease of cleaning.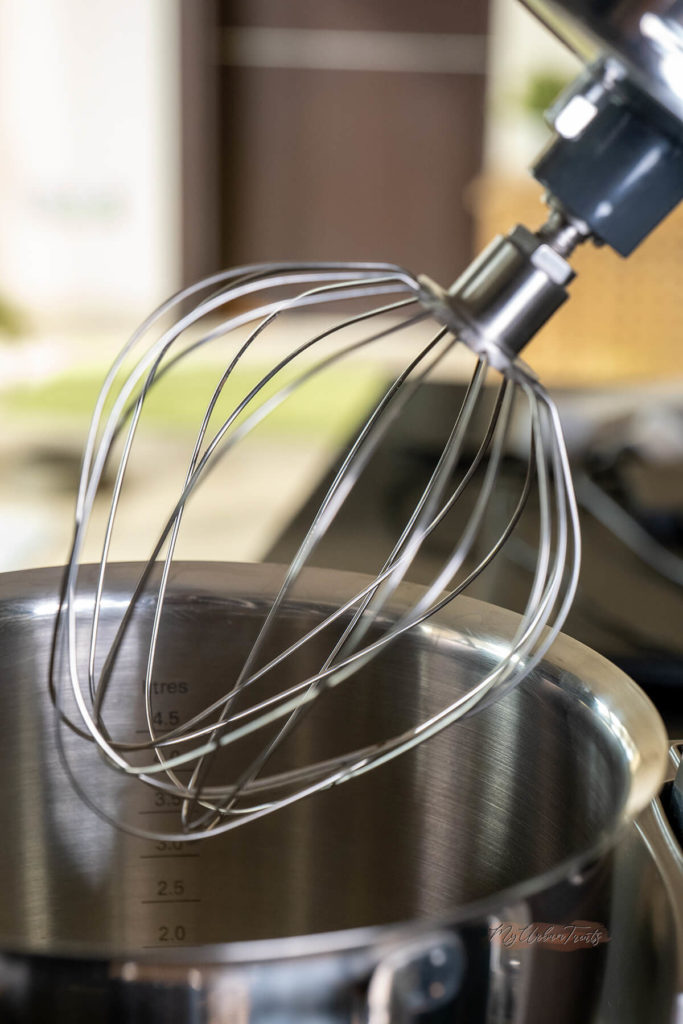 What I don't like!
To be honest, there isn't much I don't like about this stand mixer. Its very well built, it has a ton of attachments and it feels like it will stay in my family for a few generations. There are some things that some might find is a deal breaker for them but these things don't apply to me
The Price, lets face it. This is a high end mixer and quality products don't come cheap. If the XL is out of budget for you, you can go for a smaller option or go to the standard models and not Titanium. If you are serious about cooking and need a mixer that your kids will probably inherit then this is for the mixer for you.
The weight, is significant. If you are looking for a mixer that is easy to carry or put in/out of your cupboard then this mixer is NOT for you.
The Design, is the "kenwood" look. Many people love the design and look of kitchen aid. The Kenwood Chef looks more like something you would find in a professional kitchen.
Frequently Asked Questions
What is the difference between the XL and Elite models of the Chef Titanium?

The difference is the power of the motor as well as the size of the bowl. Since the motor is significantly stronger 1000 vs 1700 watts, the price difference is also quite big.

What are the standard attachments included?

All Chef mixers include the K-beater, Whisk and Dough Hook. Some bundles include a lot more attachments and many can be bought separately.

Can XL attachments fit Elite mixers and vice versa?

The answer is some do some don't. Please check before buying but slow speed and high speed attachments seem to be universal. Bowl attachments can be relative to the size of the mixer.

Is the bigger mixer better for Dough and Bread?

The stronger motor is definitely better if you make a lot of bread of heavy dough. The added volume also helps with baking more bread. That being said both can make bread well it might just take longer.

Does the 10 Year motor warranty apply to all models?

No, 10 Years only apply to the Chef Titanium Models. You can see a full list of warranty coverage on the Kenwood website here: Kenwood Warranty Conditions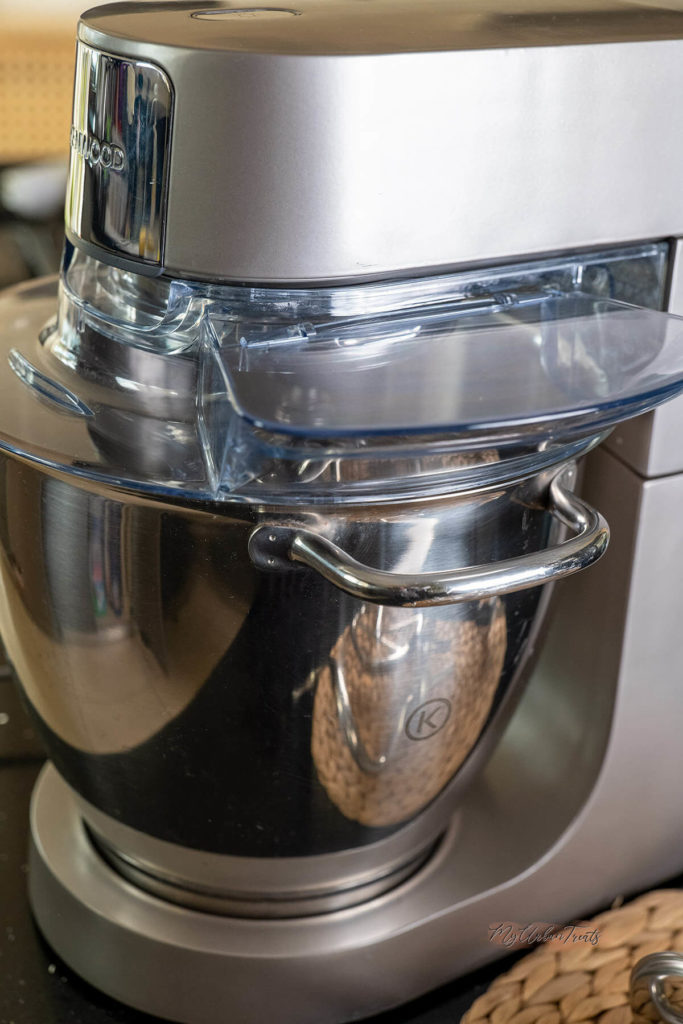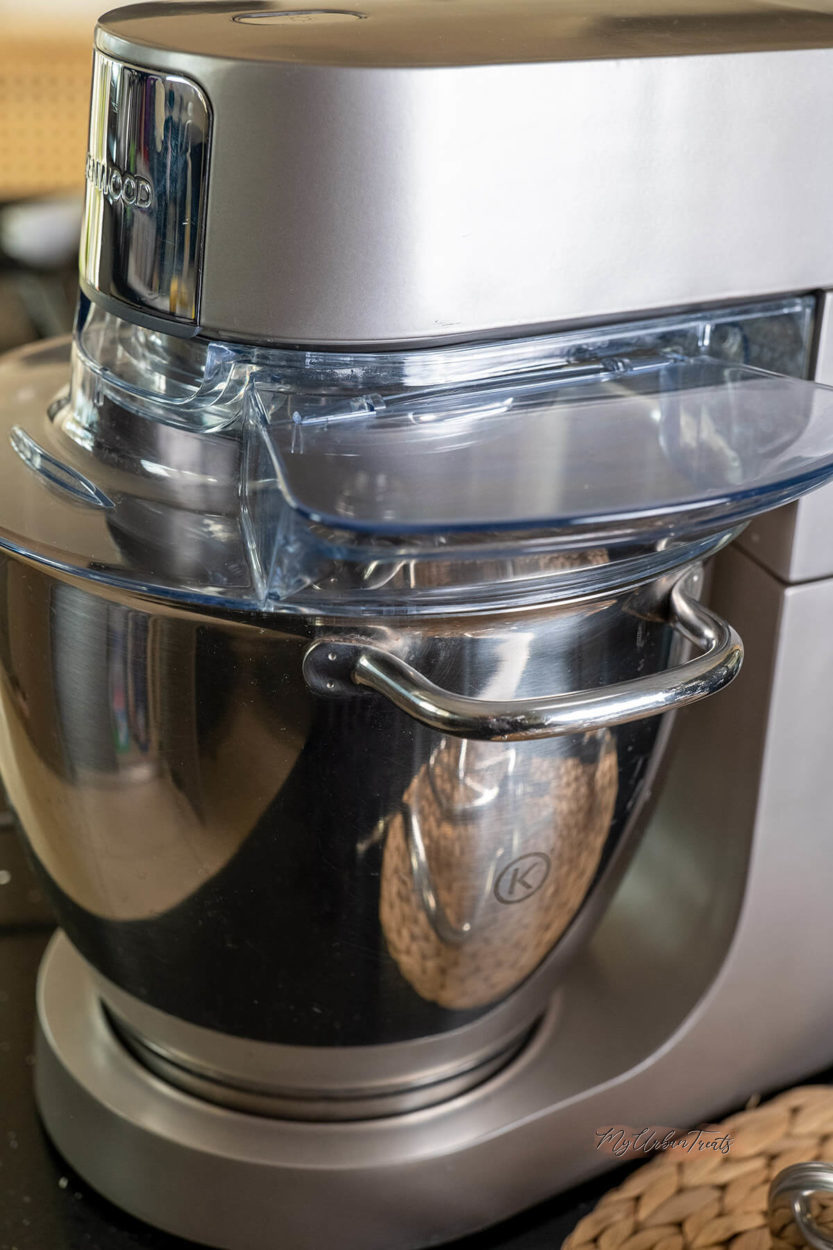 Want to know more?
I tried to cover as much as I could think of in my review, but if you have any more questions please leave a comment below. I will get back and if your question is asked frequently I will update the review and add it to the page.
Planning on buying the Kenwood Chef Titanium?
If you are looking to buy the Chef Titanium XL, please consider using my affiliate link below. Buying via my affiliate link does not change the price for you but I do get a small commission which helps me running my blog and creating high quality reviews. Note that I ONLY post affiliate links on product I truly believe are worth buying.
Thank you for your consideration.
Check the price on Amazon: Kenwood Chef Titanium