Get ready to feel like you're at the beach with this smoked fish dip. It's BEYOND easy to make with only two steps and provides the perfect addition to any party or brunch with the family. Whether you pair it with crackers, vegetables, or bagels, this dish is sure to be a crowd-pleaser. You probably already have most of the ingredients in this recipe, which is what inspired me to make it in the first place. Smoked fish dip is a dish that seems complex and unique, so your guests will never guess how easy it actually is to make!
The History of Smoked Fish Dip
It's hard to say when the first smoked fish dip came about, but Ted Peters was certainly the first one to make it famous. After World War II, he got into the fish business with his brother and noticed that anyone who smoked fish did the process in the backyard or in the woods where nobody could see it happening. He wanted people to not only see it, but be drawn in by it, so he bought a smoker to put right out in the front where passersby would have no choice but to see and smell his smoked fish.
In the late 1940's, Peters opened his first restaurant in Saint Petersburg Beach, Florida, where the enticing smell of smoked fish would draw in customers far and wide. By 1951 his family had opened up the "Ted Peters Famous Smoked Fish" restaurant and today, over 70 years later, it continues to serve loyal customers and is still run by the Peters family.
To this day Florida is known for smoked fish dip, with many people specifically attempting to re-create "Florida Style" smoked fish dip to make it as authentic as possible. Featuring this flavorful dish at your next brunch buffet or dinner party will make your guests feel as though they've taken a trip to the Florida Keys without leaving the kitchen!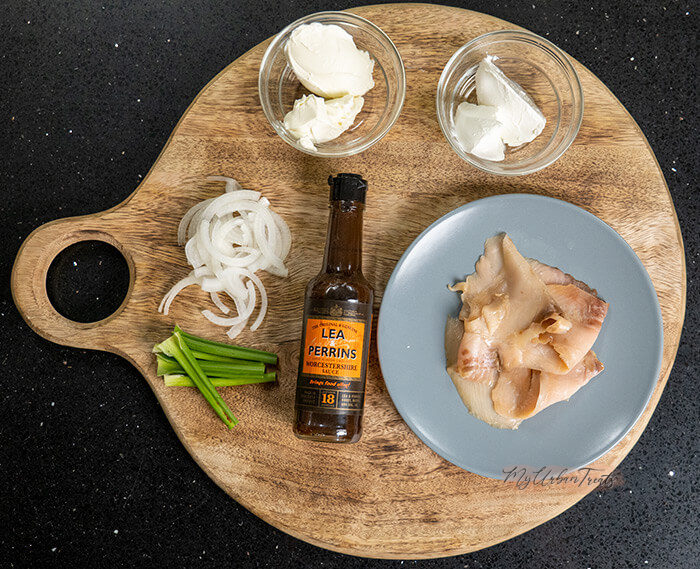 Smoked Fish Dip Ingredients
Sour Cream for its tang and smooth, creamy texture.
Cream Cheese has a mild, sweet taste and a slight tang that pairs perfectly with the sour cream.
Smoked Whitefish is the star of the dish! This can be any type you prefer; mackerel, kingfish, trout, or even salmon. Many of my readers have tried this with smoked mullet and told me it tasted GREAT.
Worcestershire Sauce is a fermented condiment made from a base of vinegar and anchovies that brings a complex flavour that is tangy, savoury, and spiced.
Liquid Smoke tastes exactly how it sounds, like liquid smoke! This is used sparingly in dishes because it's extremely concentrated, but when used in the right amount it adds the perfect amount of smoke to a dish.
White Onion for a bit of a crunch and the perfect sharpness to balance out the light, creamy sour cream and cream cheese.
Celery pairs great with the onion and adds a nice bit of crunch and freshness to the spread.
Black Pepper has a sharp, pungent flavour that brings everything together.
Old Bay Seasoning transports you back to the beach and is the perfect way to top your fish dip for both the delicious flavour and the pop of colour.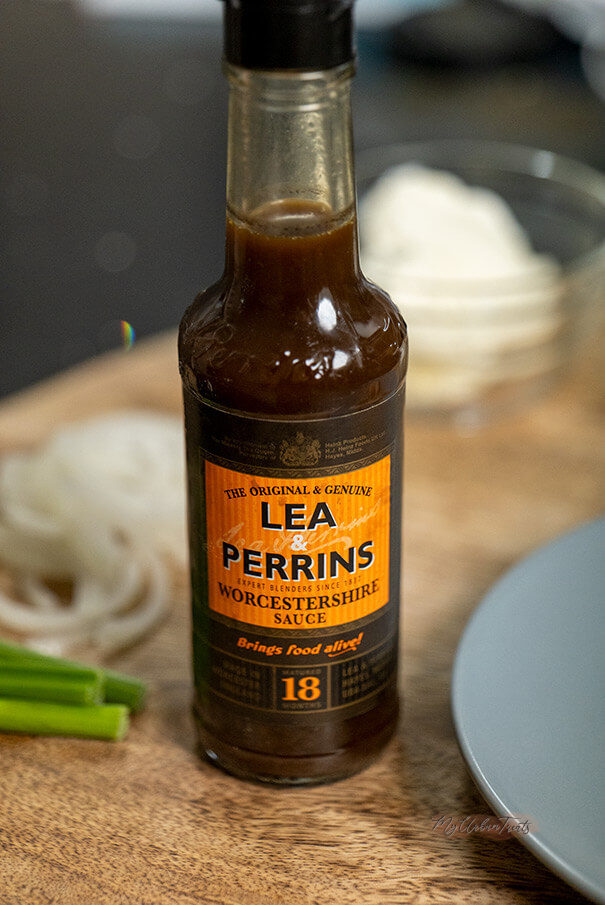 How to Make it!
Arguably my favorite part of this recipe (aside from the incredible flavor, of course) is the fact that it only requires two simple steps. First, you add your ingredients to a blender or food processor and blend until you have your ideal spread consistency. Then, you top your smoked fish dip with a pinch of Old Bay seasoning for garnish and enjoy!
You can also get creative with garnish and/or toppings if serving for guests. Foods that would pair well with this dip include jalapeños, capers, dill, and lemon wedges. Feel free to get creative!
Storing and Shelf life
As with any food that has moisture and proteins, storing it in the fridge is critical. You can store fresh fish dip for a maximum of five days in a sealed container. You can also freeze Fish dip for up to three months.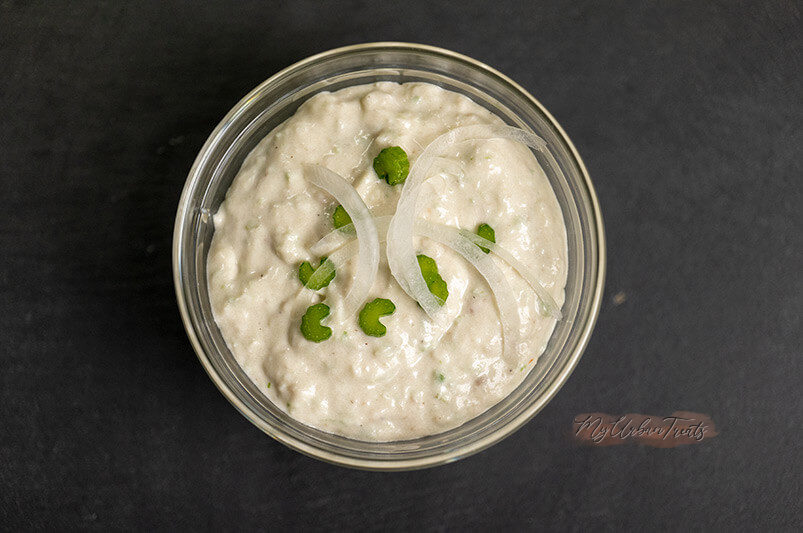 Is Fish Dip Healthy?
White fish in general is very beneficial to your health, Salmon for example is very high in protein and contains Omega-3 which has well documented health benefits. Saga Magazine lists 6 Healthy Benefits of White Fish, ranging from heart disease prevention to benefits for your skin.
And while that's all well and good, too much of anything can be unhealthy. Fish Dips contain other ingredients to give them flavour such as cream cheese and sour cream which will have no effect on you in small amounts, but eating a whole portion of Fish Dip by yourself will give you excess in calories and fats. Moderation is always key.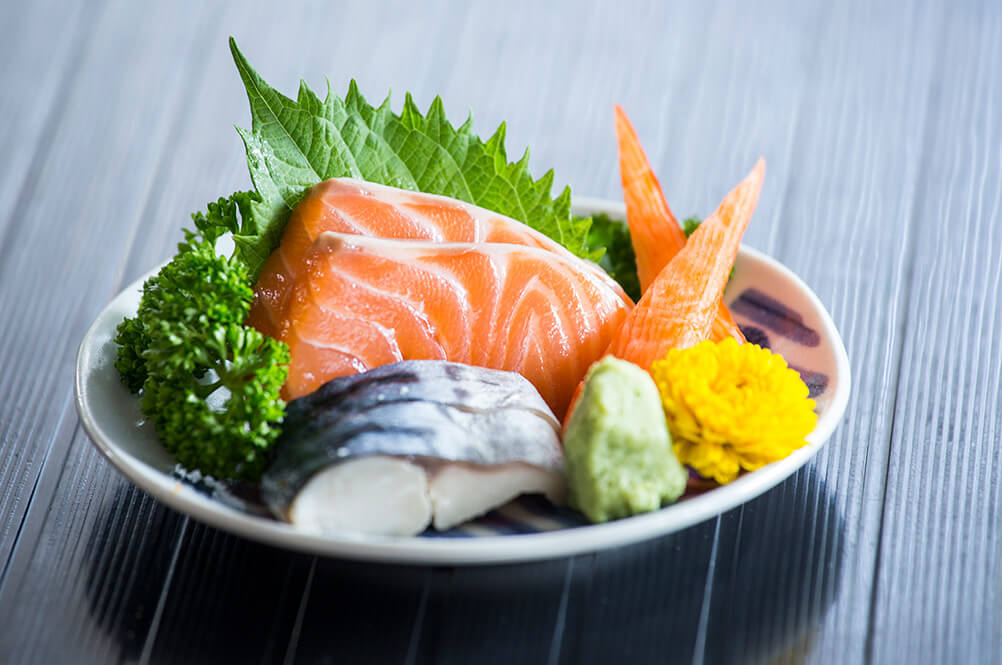 I hope you like my smoked fish dip recipe, if you have any questions or feedback, please make sure you leave it in the comments so I can respond and other readers can benefit from your question and comments.
Looking for more recipes? Why not try one of these: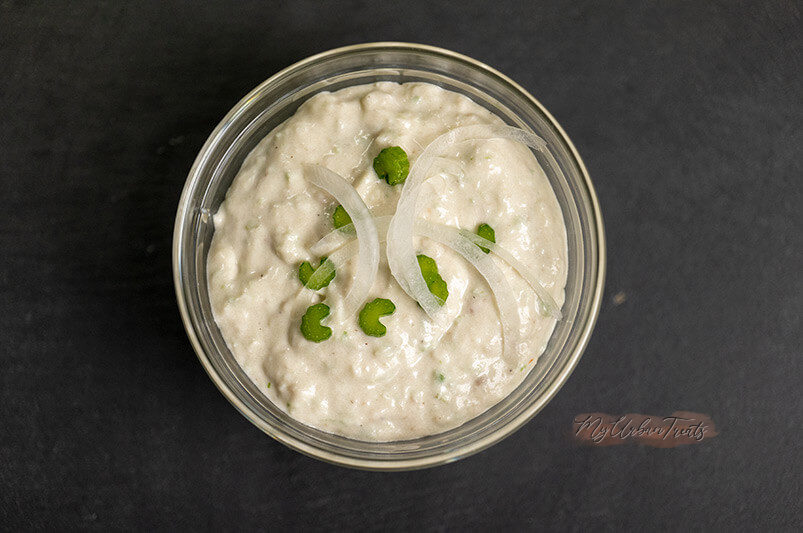 Smoked fish Dip
A delicious fish dip that is so simple to make it only takes a few minutes and its ready to serve. All you will need are the ingredients and a food processor and you are set.
Ingredients
¼

cup

Sour Cream

¼

cup

Cream Cheese

4

Ounces

Smoked Whitefish

3

Shakes

Worcestershire Sauce

3

drops

Liquid Smoke

1

tbsp

Onion

Finely Chopped

1

tbsp

Celery

Chopped

¼

tsp

Black Pepper

1

pinch

Old Bay Seasoning
Instructions
Add all ingredients aside from the Old Bay seasoning to a food processor and blend until well-combined into desired spread consistency.

Top with a pinch of Old Bay seasoning and serve.
Nutrition
Calories:
79
kcal
|
Carbohydrates:
2
g
|
Protein:
1
g
|
Fat:
8
g
|
Saturated Fat:
4
g
|
Cholesterol:
23
mg
|
Sodium:
66
mg
|
Potassium:
40
mg
|
Sugar:
1
g
|
Vitamin A:
280
IU
|
Calcium:
30
mg
|
Iron:
1
mg