It seems like every home in Austria during my childhood, had a few of those round cookie tins filled to the rim with various kinds of Christmas Cookies. I knew when grandma or mom reached for it, we where in for a treat. But I knew, one of those tins was filled to the rim with buttery delicious Vanillekipferl. You would pop open that tin box and the whole room would smell of vanilla and roasted walnuts. Today I will share with you, my families Vanillekipferl recipe in English. Since all my Mom's and Grandma's Recipes are either in German or Greek, I have translated this one for you good folks 🙂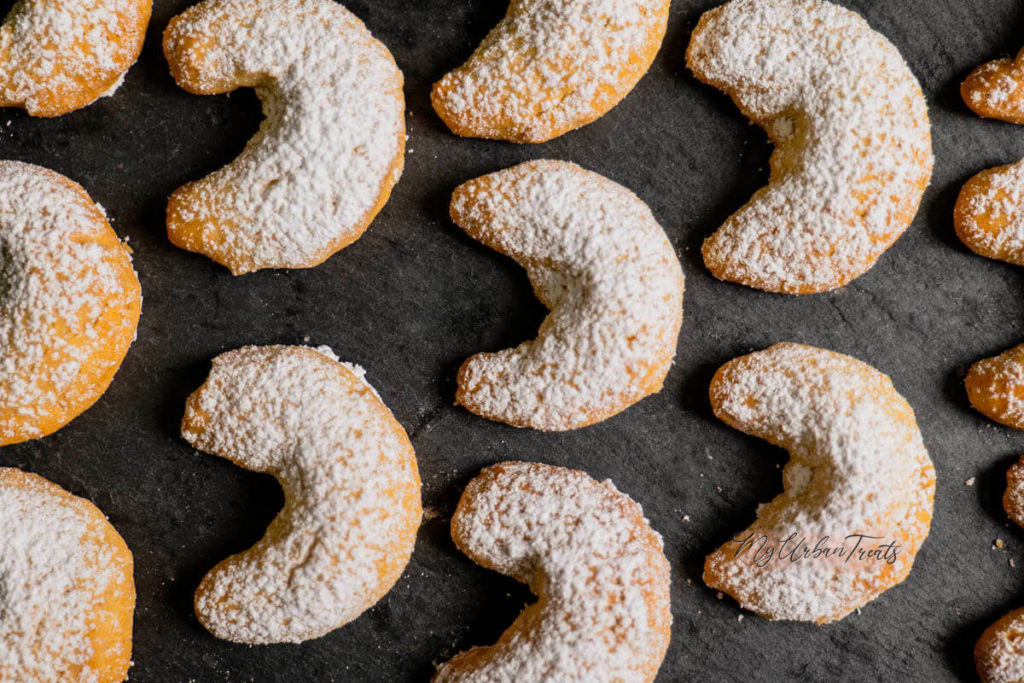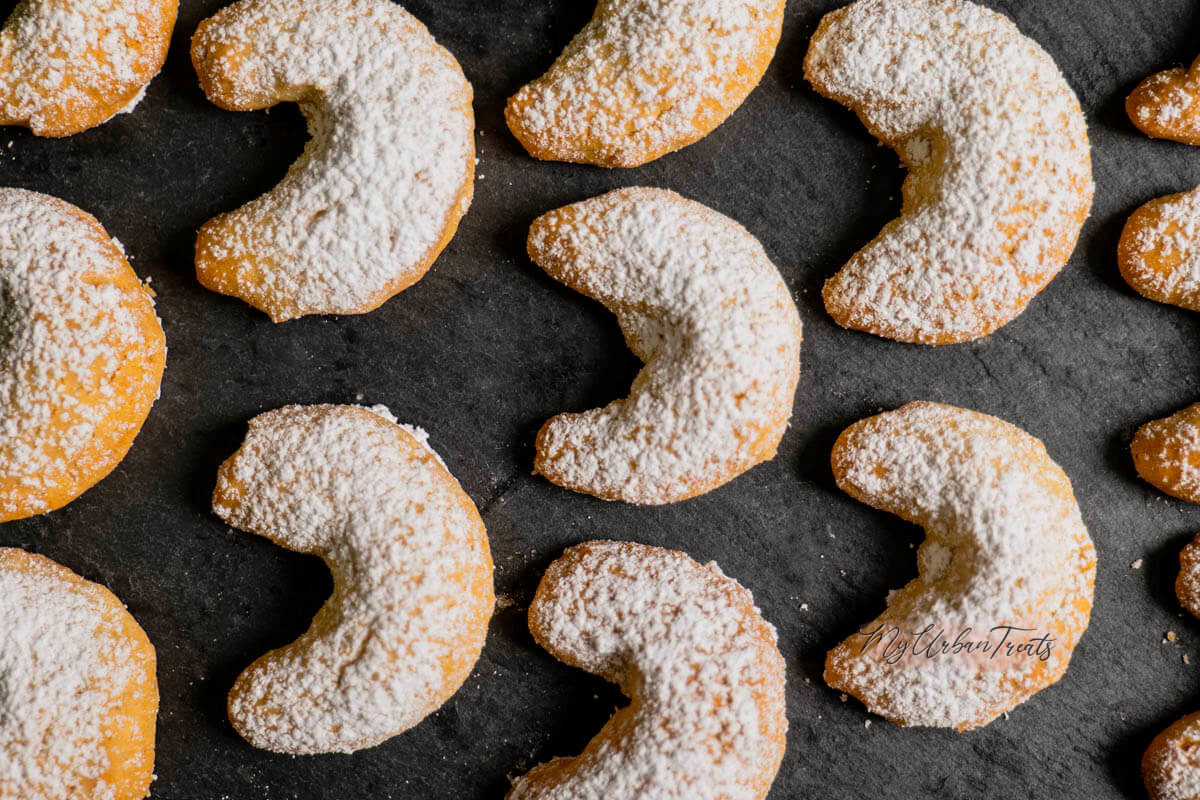 A little piece of History
For Austrians and many other European countries, Vanillekipferl are synonymous to the festive season and winter time. Countries such as Hungary, Poland and Romania (among many others) have their own version of this crescent butter cookies.
There are many stories regarding the origin of the Vanillakipferl and most claim that they are a celebratory dish that was created following a battle between the Austro-Hungarian empire and the Turkish invading forces. The shape of the cookies was meant to symbolise the crescent moon on the Turkish flag celebrating a turning point in the Battle of Vienna in 1683.
Some sources however claim that the cookie is more than a hundred years older dating back to 1529 to the Siege of Vienna
While the narrative is again that of the Turkish invading forces failing to conquer Vienna. The 100,000 men strong army of Suleiman the Magnificent tried to breach Vienna's walls but failed in a siege that lasted just over two weeks. As a celebration of victory and a mockery of turkey, the crescent butter walnut cookie was created.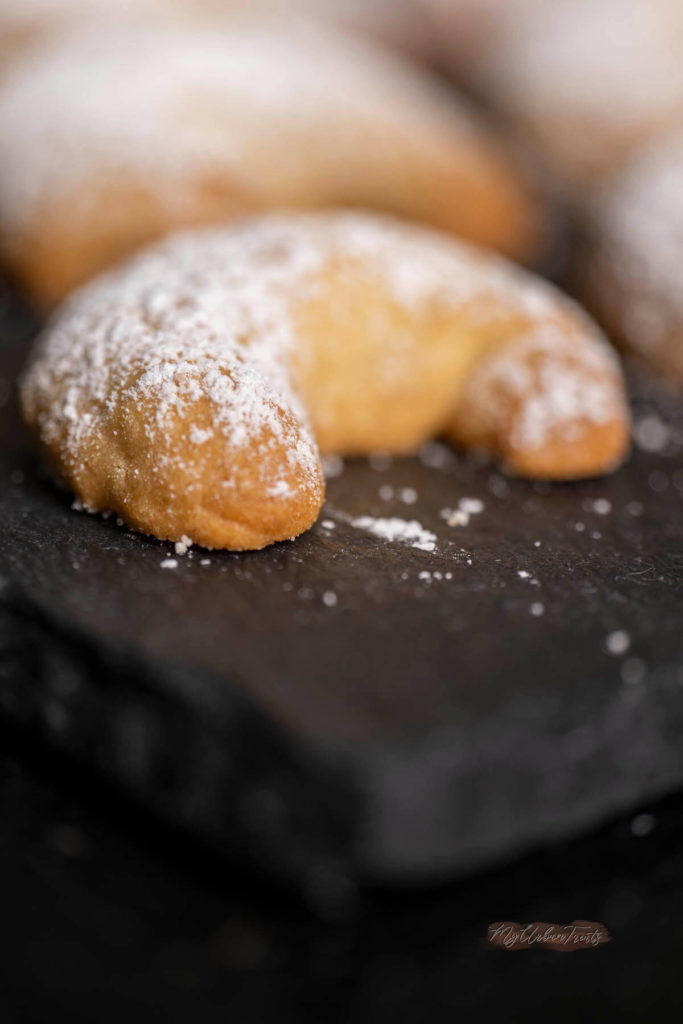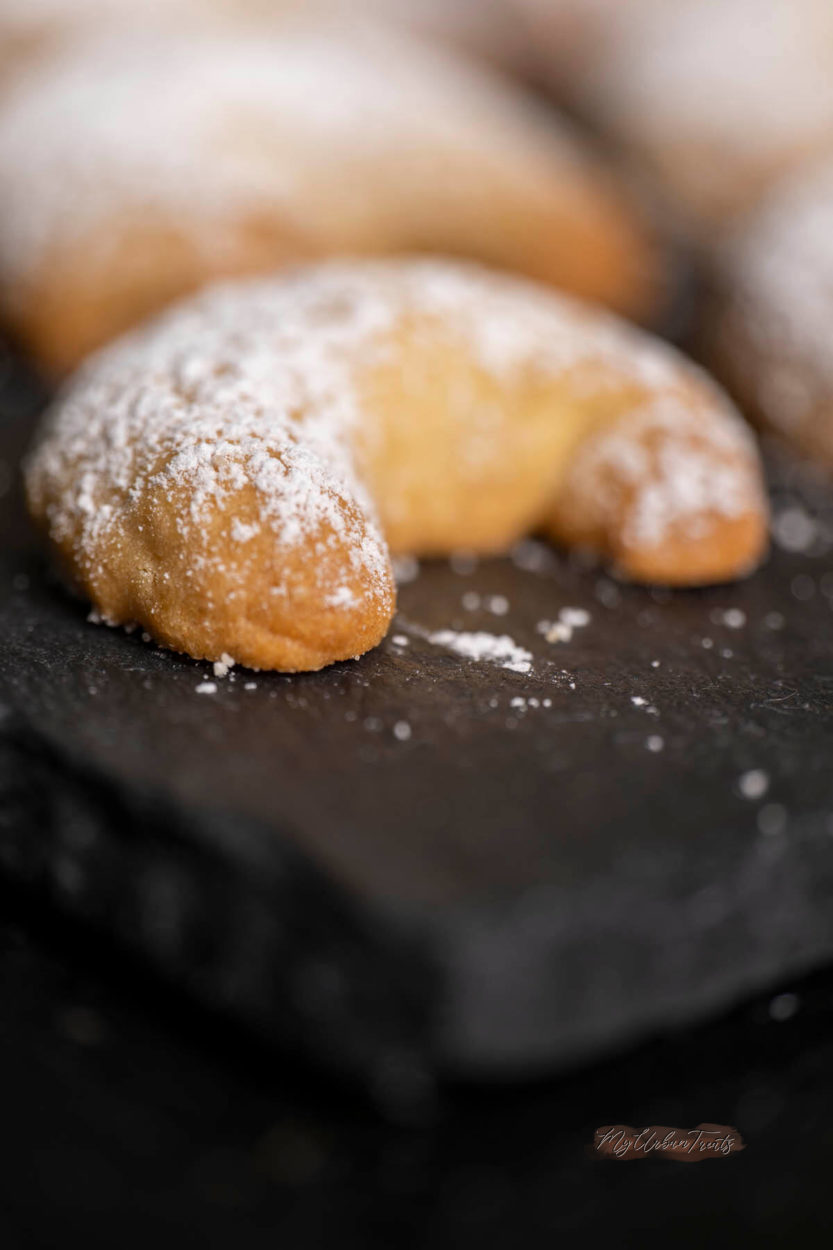 Ingredients
Here is what you will need to make these delicious Christmas Cookies.
Cookie Dough
2 Cups All-Purpose Flour
2 Large Egg Yolks
1 Cup Ground Almonds
0.9 Cup Unsalted Butter
1 Tbsp Vanilla Sugar
1 Pinch Salt
1/2 Cup Powder Sugar
Icing Sugar
1 Cup of Icing Sugar
1 Tablespoon of Vanilla Sugar
How to make Vanillekipferl
These little crescent shaped cookies are delicious yet beyond easy to make. As with any shortbread style recipe, temperature plays a big role. This is because of the high butter content and the butters consistency in different temperatures. You will see that the dough is very soft at one stage, if you where to bake them without refrigerating the cookies then they would most certainly become flat. They will also loose their flaky texture so refrigerate before baking 😉
Step 1: Dry Ingredients
Place the Flour, Ground Almonds, Vanilla Sugar, powder sugar and Salt in a large mixing bowl. Whisk and set aside.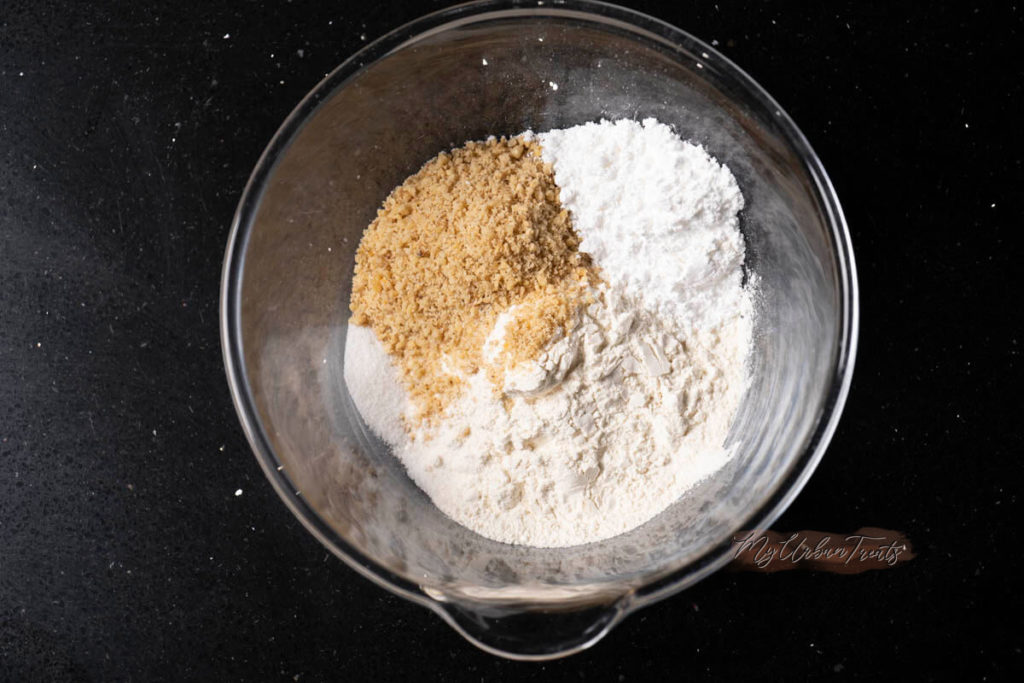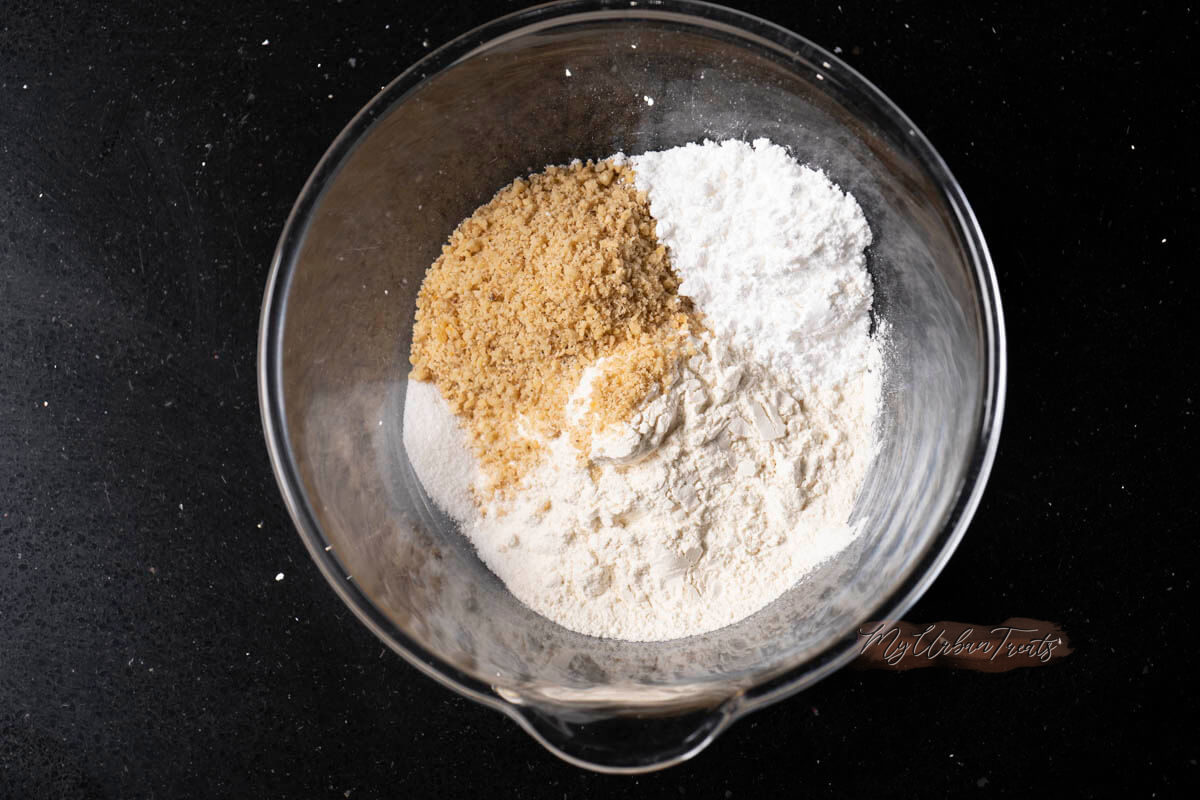 Step 2: Egg & Butter
Using a stand or hand mixer, cream the butter and egg yolks for 3-4 minutes. Once creamed add the butter/egg cream in to the dried ingredients and combine until you form a soft dough. Wrap in clingfilm and refrigerate for 45 minutes.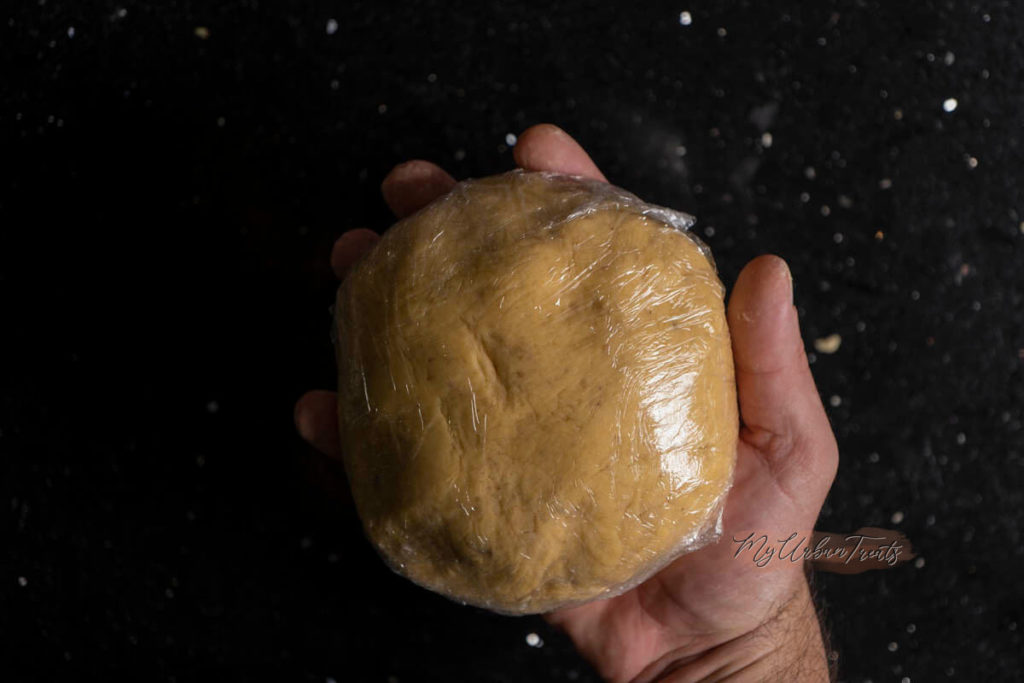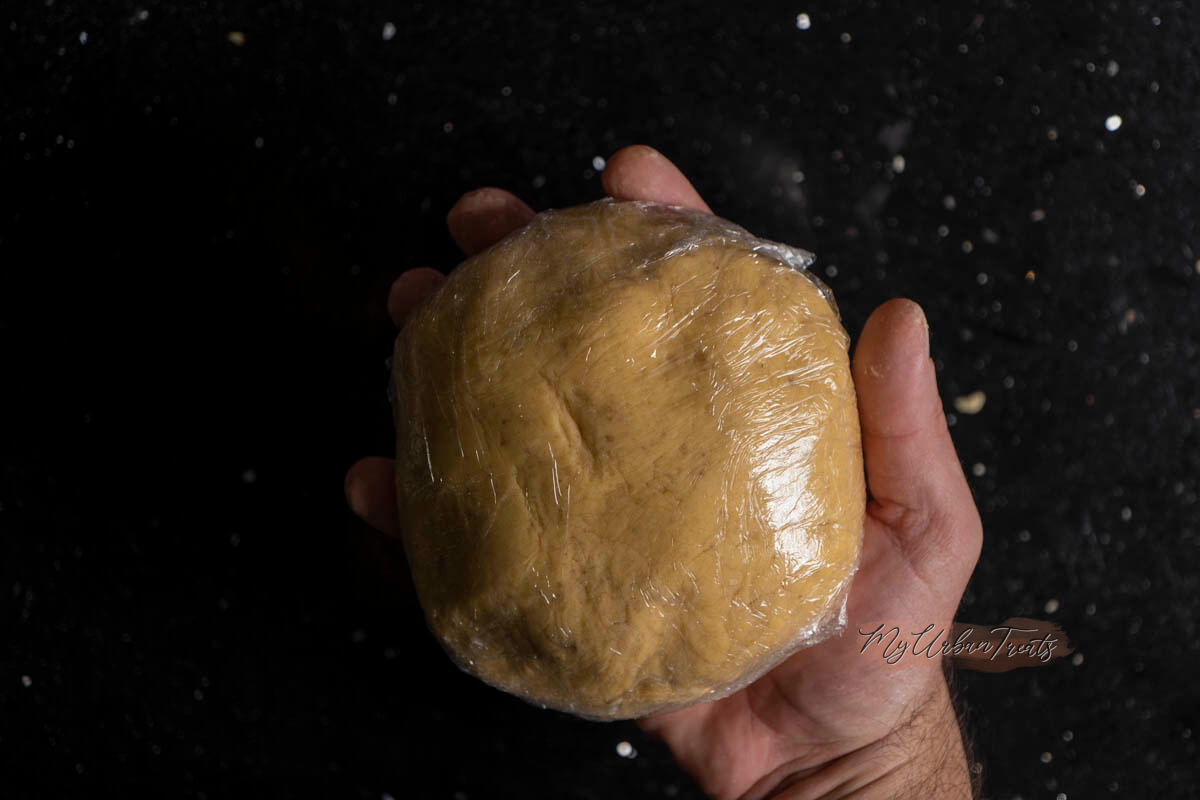 Step 3: Shape & Bake
When the dough is cool, roll it out in to a sausage approximately 4 cm or 1 inch in diameter. Then cut in to 1/2 inch pieces. Roll each piece between your palms into a small ball. Now roll length wise and bend around your finger to shape a crescent.
Place on a baking tray lined with parchment paper and bake at 175C or 345F for 15-18 minutes. Until lightly golden brown.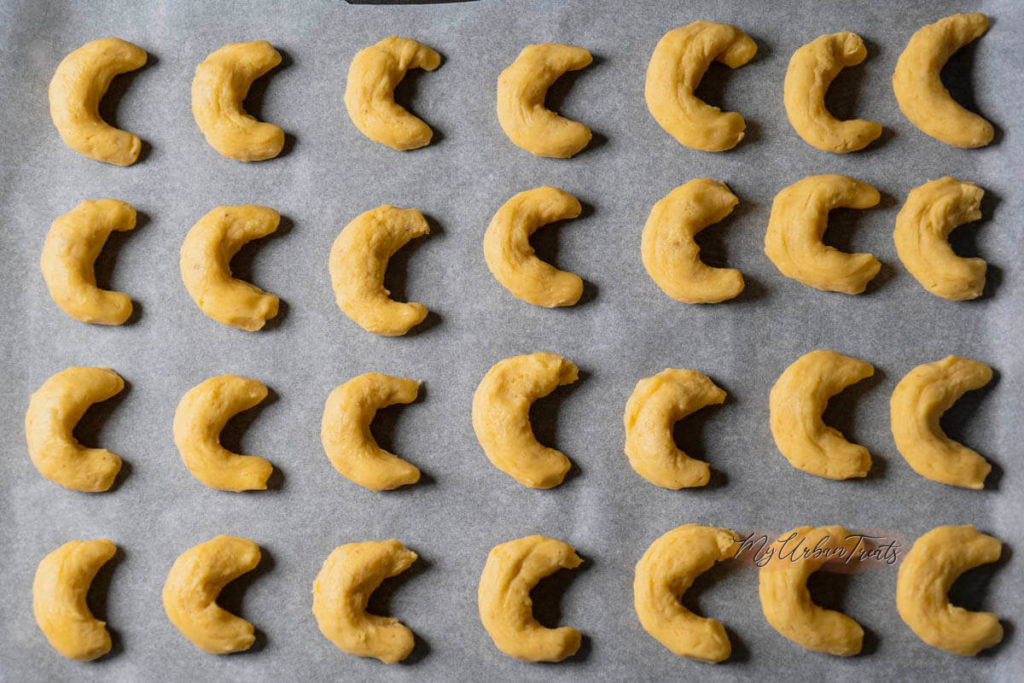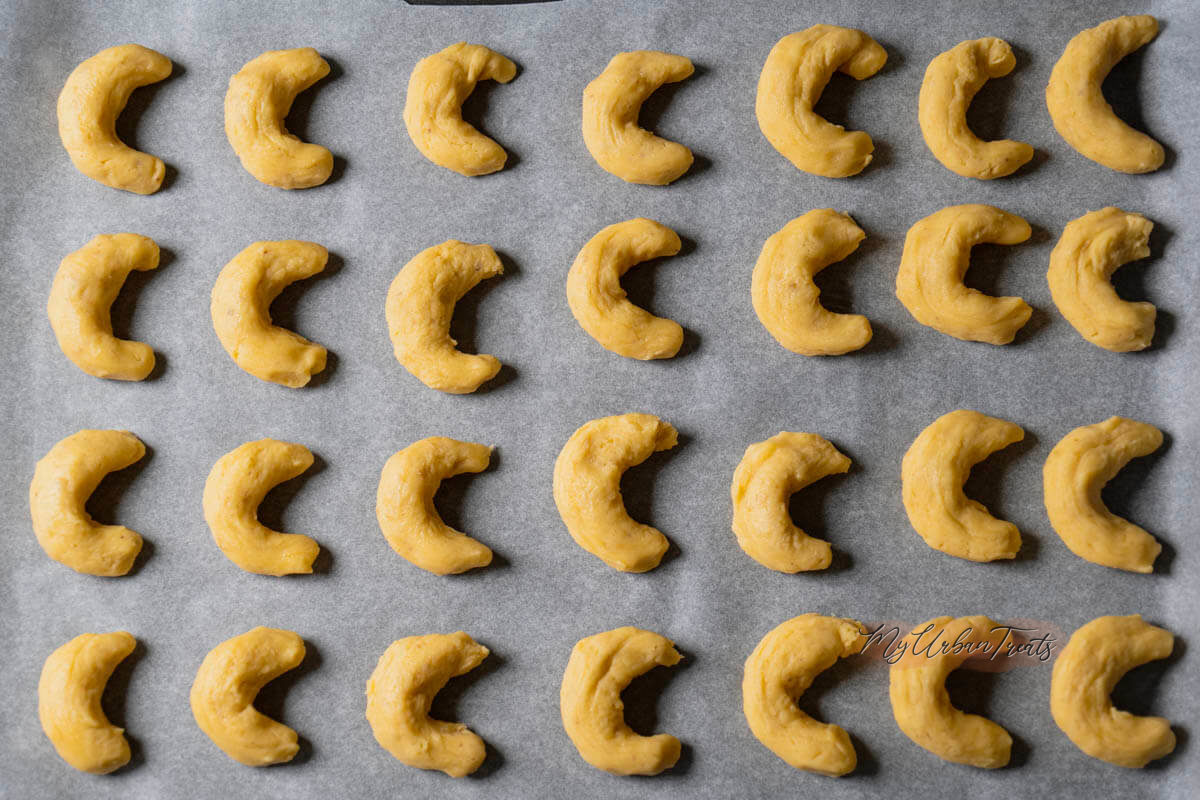 Step 4: Dust in Vanilla Sugar
Last but not least, take the still warm cookies and roll them carefully in a mixture of 1 Cup of Icing sugar and 1 Tablespoon of Vanilla Sugar. Lay out an dust a bit more.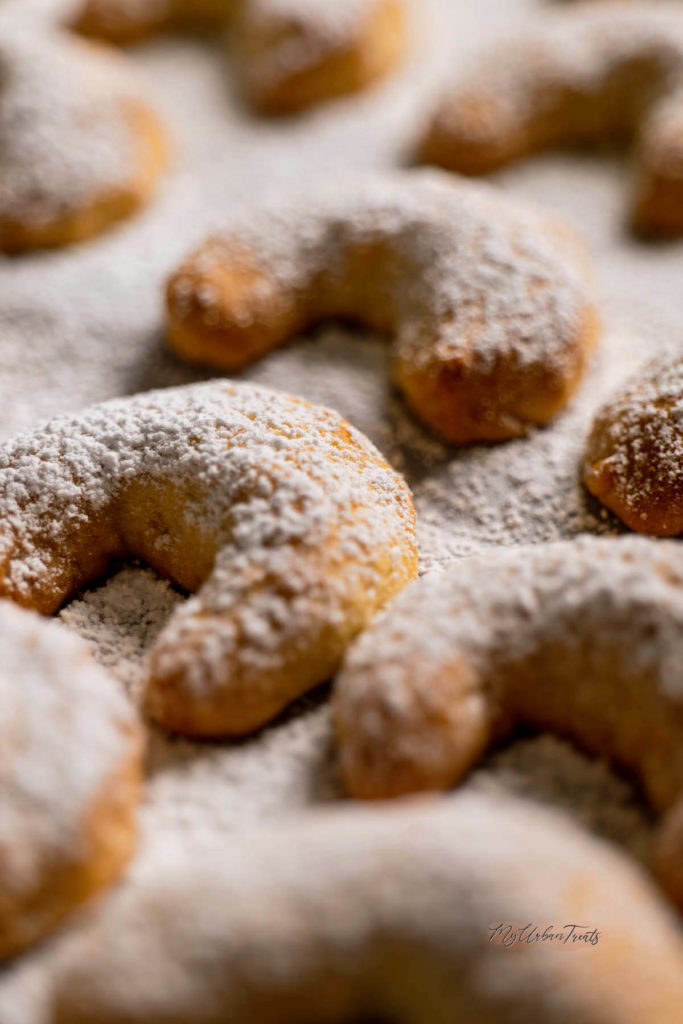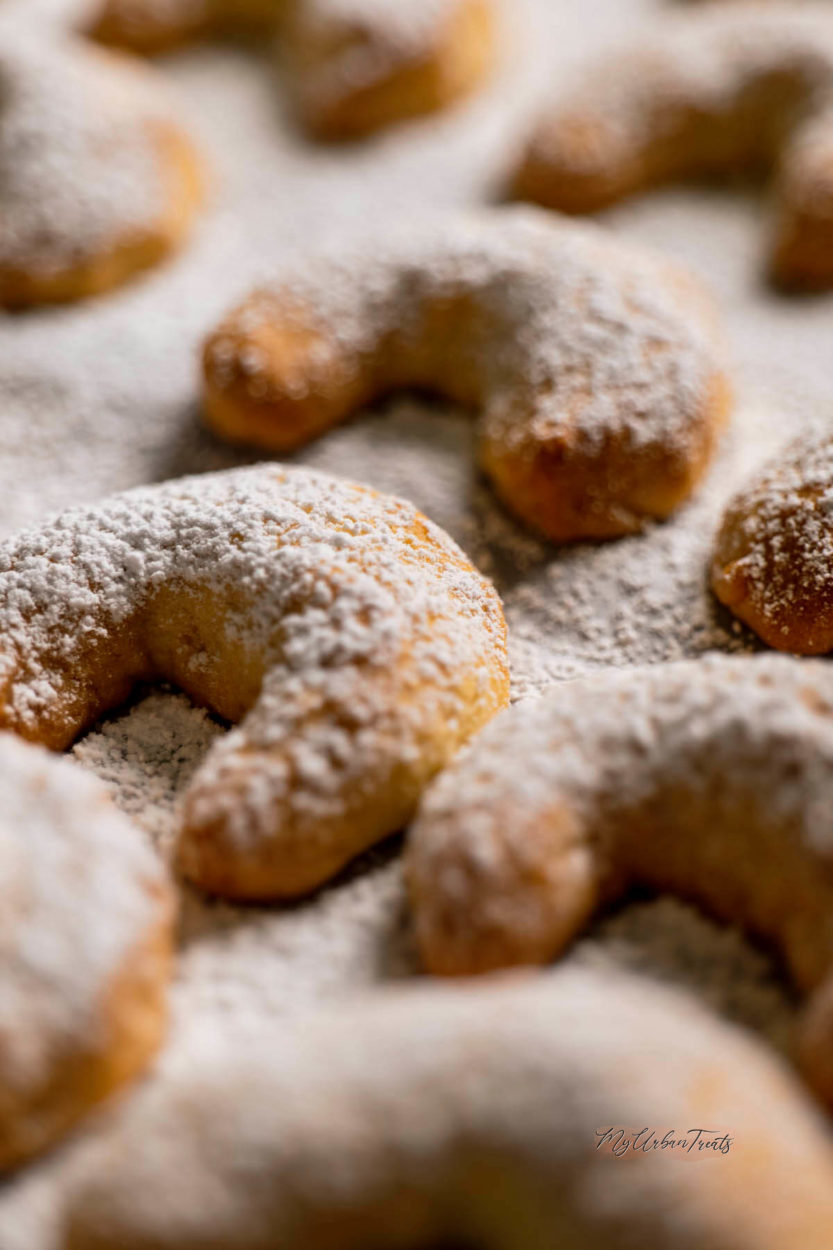 Other Cookie Recipes
Looking for more cookies to bake? Why not try one of these: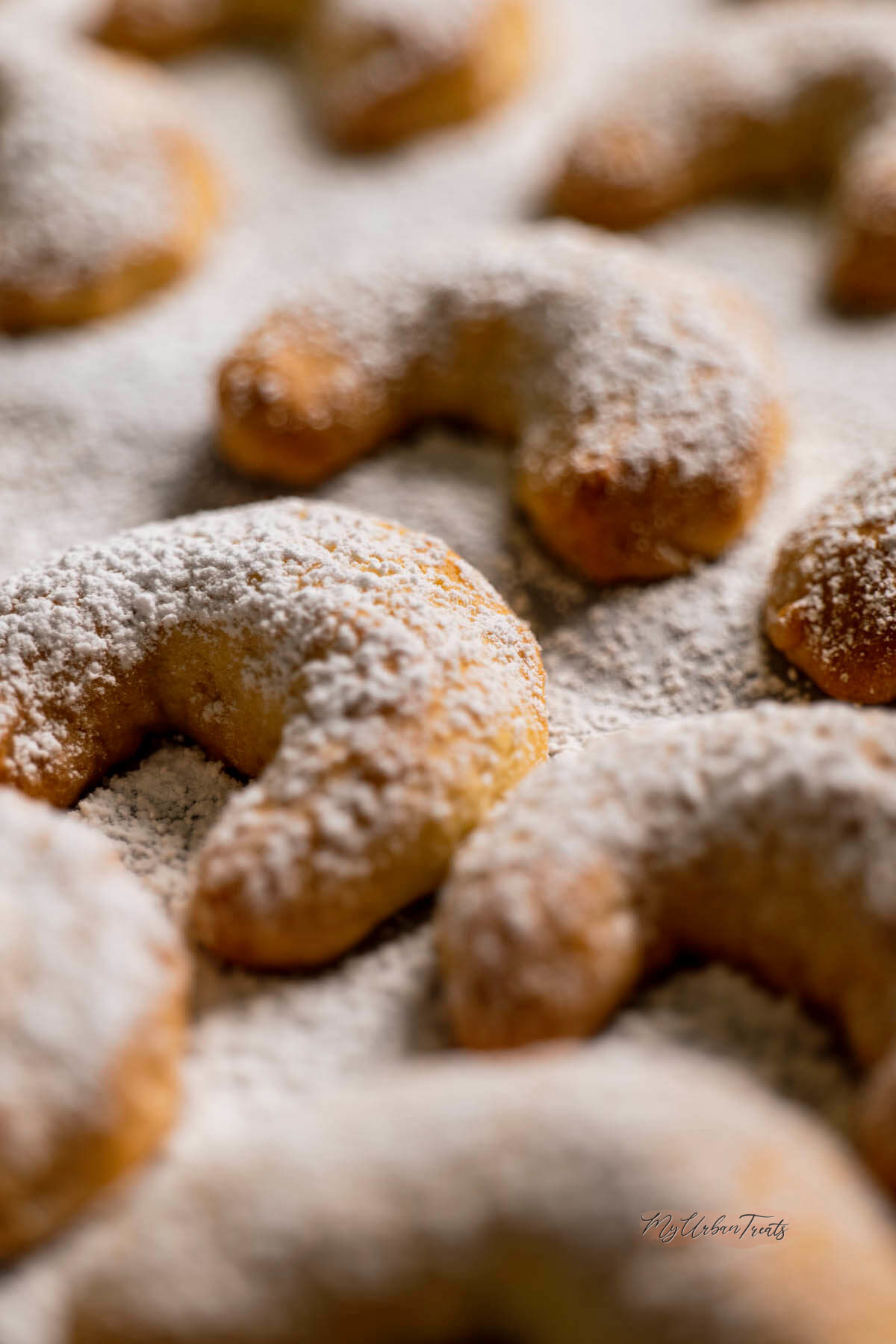 Traditional Vanillekipferl Recipe
Christmas in Austria is synonymous with Vanillekiprferl. These little crescent shaped Vanilla and Walnut cookies are buttery, crumbly and they will make your home smell like delicious vanilla. Perfect right? It gets even better because they only need a few ingredients and they are super easy to make. Here is how you do it.
Instructions
Vanillakipferl
In a large mixing bowl, combine the flour, ground almonds, vanilla sugar, salt and powder sugar. Give it a quick whisk and set aside until needed.

In a Stand Mixer, cream the room temperature butter using a pedal attachment. Once the butter is creamy add the Egg Yolks and cream for another 3-4 minutes.

Start Timer 4 Minutes

While the stand mixer is whisking the butter on slow speed, add 2-3 tablespoons of the flour/walnut mixture at a time until all combined.

Now pop the dough mixture on a clingfilm membrane, wrap and place it in the fridge for 30 minutes until firm,

Start Timer 30 Minutes

. Preheat your oven just before those 30 minutes are up and according to how long your oven needs to reach 180 C or 345 F.

Roll the cookie dough in to a sausage shape that's approximately 1.5 Inch or 4 centimetres in diameter. Then cut in to 1.5 cm or 1/2 inch slices.

Roll the slices in to little balls and then roll between your palms to form a cylinder with pointy ends. Curve in to a crescent and place on a baking tray lined with parchment paper.

Leave a little distance between each cookie, they won't grow much but they will melt a little and widen. (not much)

Now place in the preheated oven for 4-5 minutes, you will know that the cookies are done when the pointy edges are a little brown. If your oven doesn't heat evenly, spin your baking tray around before the edges burn.

Start Timer 5 Minutes
Vanilla Powder Sugar
Combine powder sugar and vanilla sugar in a small mixing bowl. Dip the cookies in to the powder sugar while still hot. This will make it stick better, you can then add a bit more when the cookies are done.
Nutrition
Serving:
25
g
|
Calories:
109
kcal
|
Carbohydrates:
12
g
|
Protein:
2
g
|
Fat:
6
g
|
Saturated Fat:
3
g
|
Cholesterol:
22
mg
|
Sodium:
2
mg
|
Potassium:
10
mg
|
Fiber:
1
g
|
Sugar:
6
g
|
Vitamin A:
155
IU
|
Calcium:
10
mg
|
Iron:
1
mg