Ladies & Gentlemen… its time. Time to share a recipe that will become a "go-to" recipe in your cookbook. This is the only fluffy vanilla cake recipe you will ever need. Its made out of basic ingredients, the secret really, is in the method. So without any further ado, lets get our fingers sticky.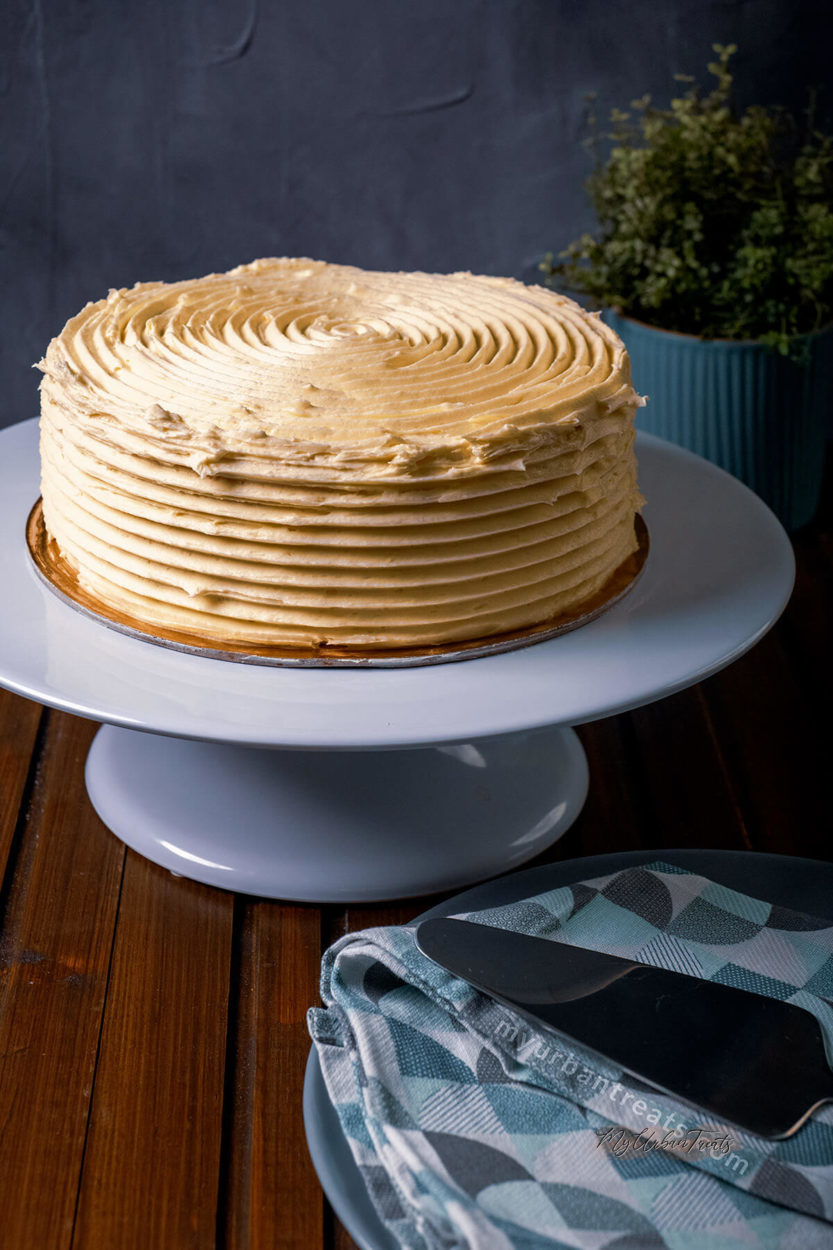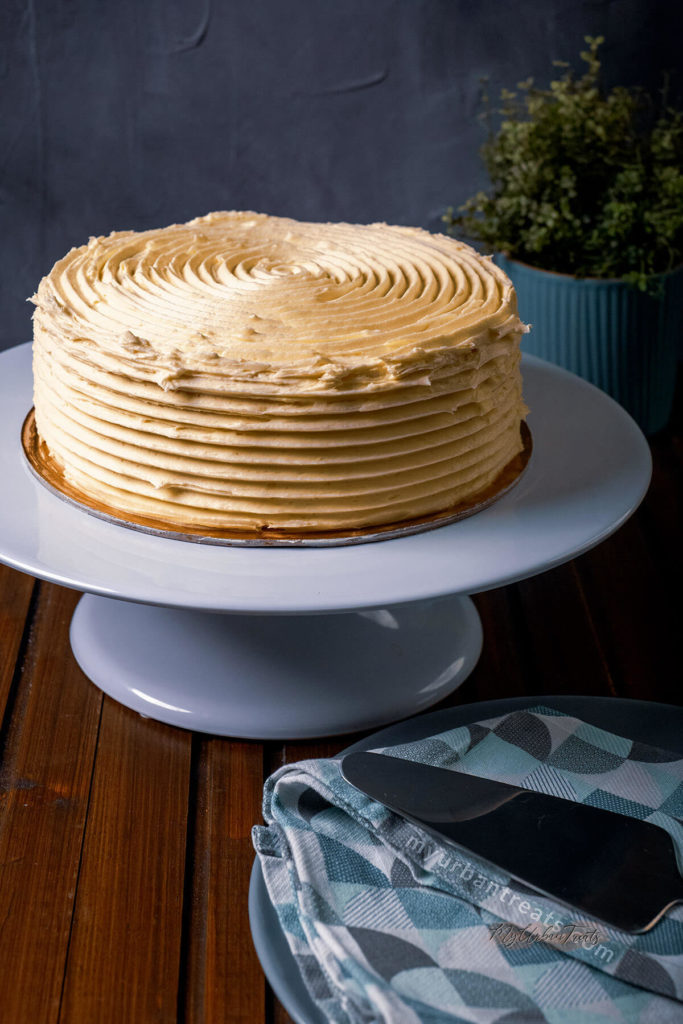 Now the truth is, I've been a good boy for the last 2-3 weeks. Last week I made healthy pancakes and Chicken Lo Mein, so its high-time I make something sweet. Now I do have to watch my waistline since we are in another lockdown. So I will auction this cake off for our local cat sanctuary as they really do need the support these days.
What makes a fluffy moist vanilla cake?
While the ingredients play a big role in getting your cake nice and fluffy, the biggest impact by far, comes from the methods used in the baking process. So what are this secret method I am talking about? It's a combination of a few little extra steps that make the texture airy and light. Here are some steps that will work on any sponge cake:
Use Buttermilk and not normal milk. My local supermarket doesn't stock buttermilk so I usually make it myself. Its a really easy process, simply get the amount of milk in the recipe and add some lemon juice or vinegar. This will not influence the taste so don't stress if you are using vinegar. The best ratio for this is 1 Tbsp Lemon/Vinegar to 1 Cup of Milk. Let it rest for 20 minutes before using it.
Cream the Sugar and Butter this will fill your batter with tiny air bubbles. When baked, the butter melts and creates tiny air pockets. These air pockets create the fluffy texture of the sponge cake.
Make sure that all ingredients are at Room Temperature. This is essential for fluffy cake. Room temperature ingredients create emulsion during the baking process which again create those tiny little air bubbles we want.
Let the sponge cake cool completely before cutting it or applying any frosting. Warm cake will melt icing and absorb it. This will make a soggy cake and will collapse the air bubbles. Resulting in a soggy and not fluffy vanilla cake.
Sugar Syrup is a moist shortcut for cakes. You can leave this out if you don't want to over saturate the cake with sugar. Don't forget point 4, let it cool before adding any syrup. (I don't use this method in the fluffy vanilla cake recipe)
Here is a point I never thought had a big impact, Beat the Eggs slowly. Now I have tried the difference between beating eggs fast and slow. And the difference is clearly visible. Whisking eggs too fast will make them too hard and less fluffy.
My Secret Method, is the hot mixing of the wet and dry Ingredients. Before blending the eggs/sugar with the butter/milk, melt the buttermilk and butter in a saucepan over low heat. DON'T LET IT BOIL. Now take a cup of the egg/sugar mixture and in to the hot Buttermilk/Butter while whisking fast and constantly. This will make a super smooth thick cream. Slowly whisk it in to the rest of the egg/sugar until well combined.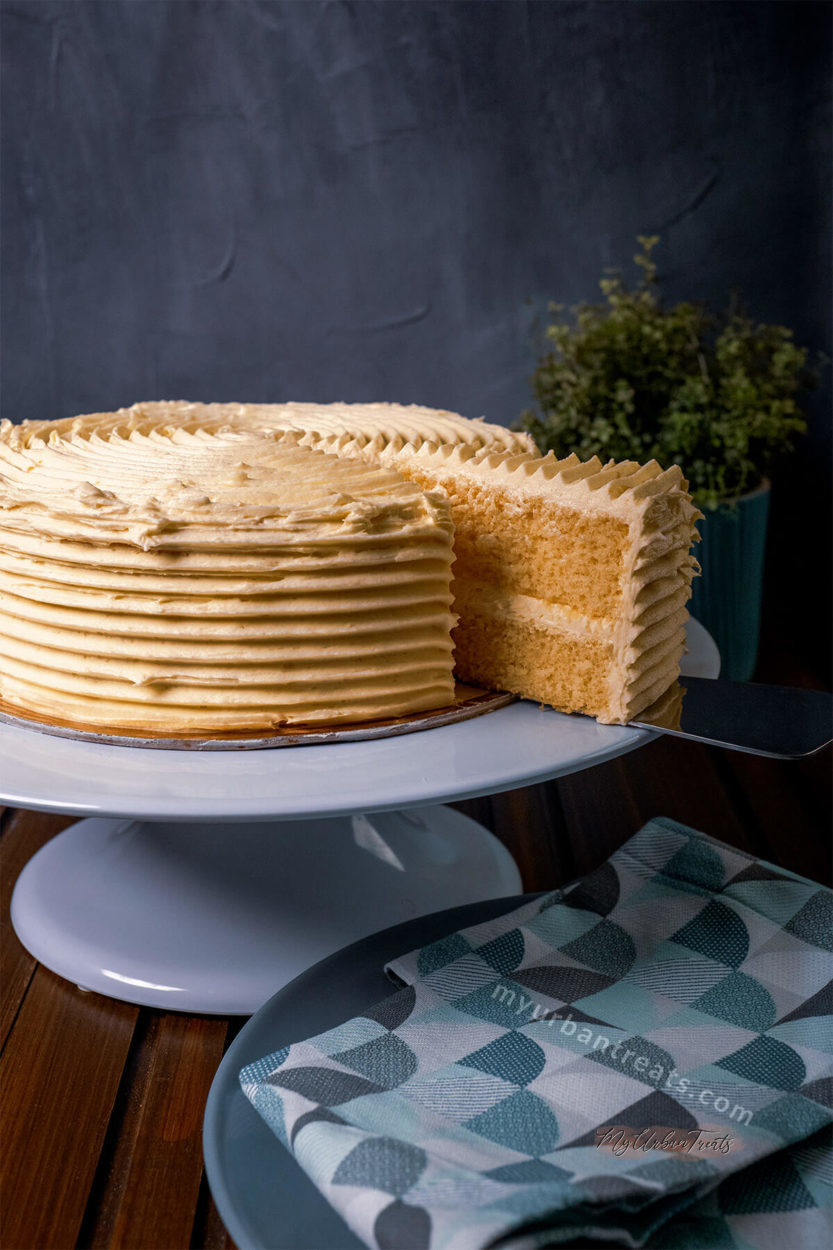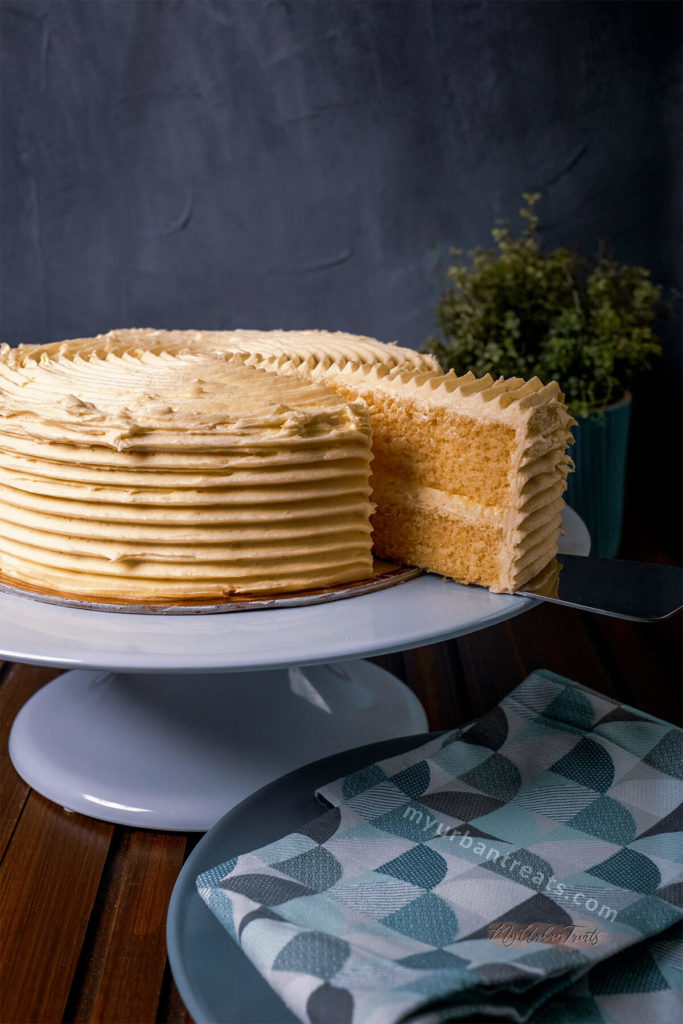 How to get amazing Vanilla Flavour
Vanilla is a strong flavour and most cakes, even if they are not vanilla flavoured, contain vanilla. This is usually added to overpower the smell of egg's or other ingredients that are not favourable in the recipe. There are also many grades and types of vanilla, for example:
Vanilla Pods are expensive but also the purest form of Vanilla. Many professional gourmet chefs will always use vanilla pods in their recipes. Gordon Ramsey likes to slice a pod open and scrape the inside for a strong vanilla flavour.
Vanilla Extract is created by macerating and percolating vanilla pods in a solution such as water or alcohol. Vanilla extract blends easier than pods and is often a preferred ingredient.
Vanilla Essence is the cheapest of the Vanilla flavours for baking. It's usually made with a combination of vanilla extract, chemical flavouring and colouring. Although that doesn't sound "pretty" it works well and is completely safe to consume.
Vanilla Sugar is sugar that has been infused with vanilla pods or extract. Not the strongest of flavours so I usually use it when its not the main flavour.
The strongest vanilla flavour definitely comes from Vanilla Pods. This is my method, scrape the vanilla seeds (like Ramsey) out of the pods. Then mix them in to the sugar. I then let the stand mixer stir the sugar and pods on slow speed for a good 5-8 minutes. This will rub the flavour off on the sugar and will blend it perfectly even in the batter. Sometimes, I also add 1/2 a teaspoon of vanilla extract for that extra punch of flavour.
In addition to the pod and sugar, citrus extract like lemon juice enhance the vanilla flavour. Add 1/2 a lemons zest and a teaspoon of lemon juice. Pure Magic.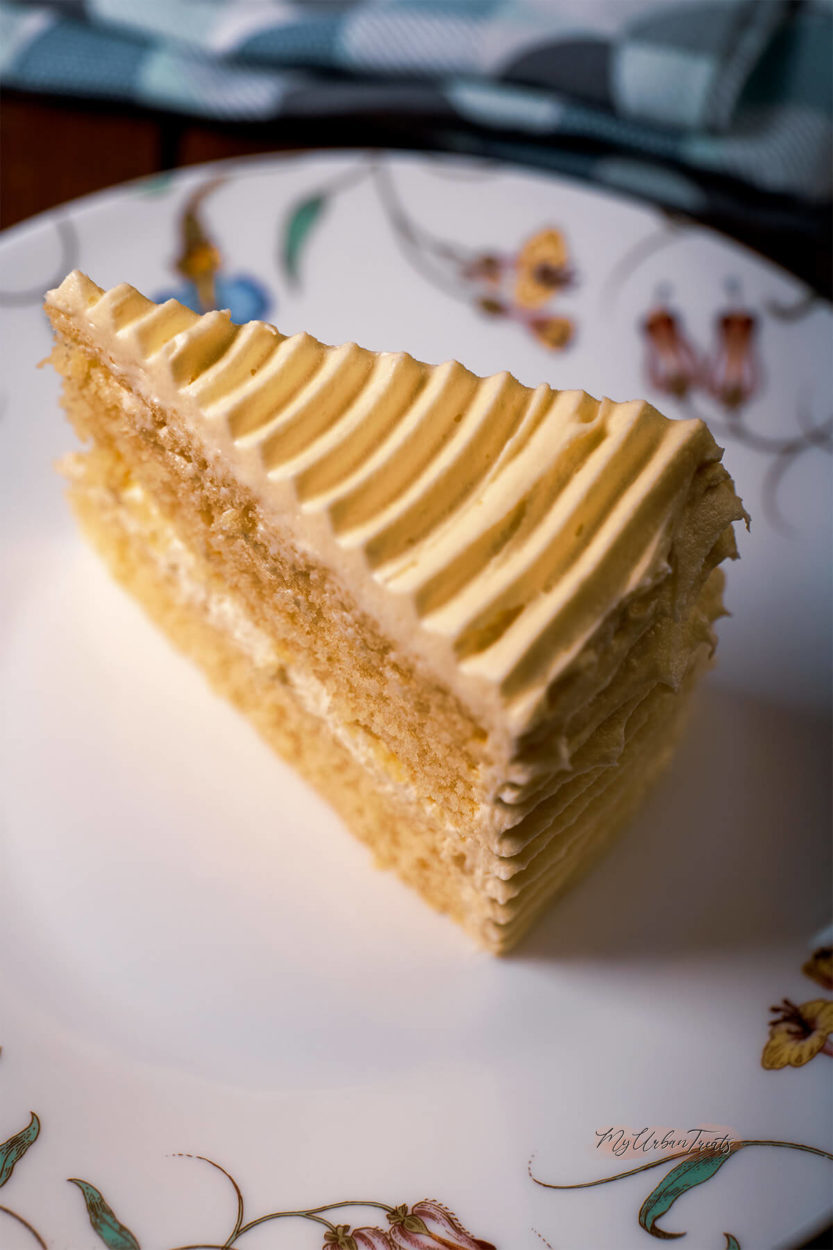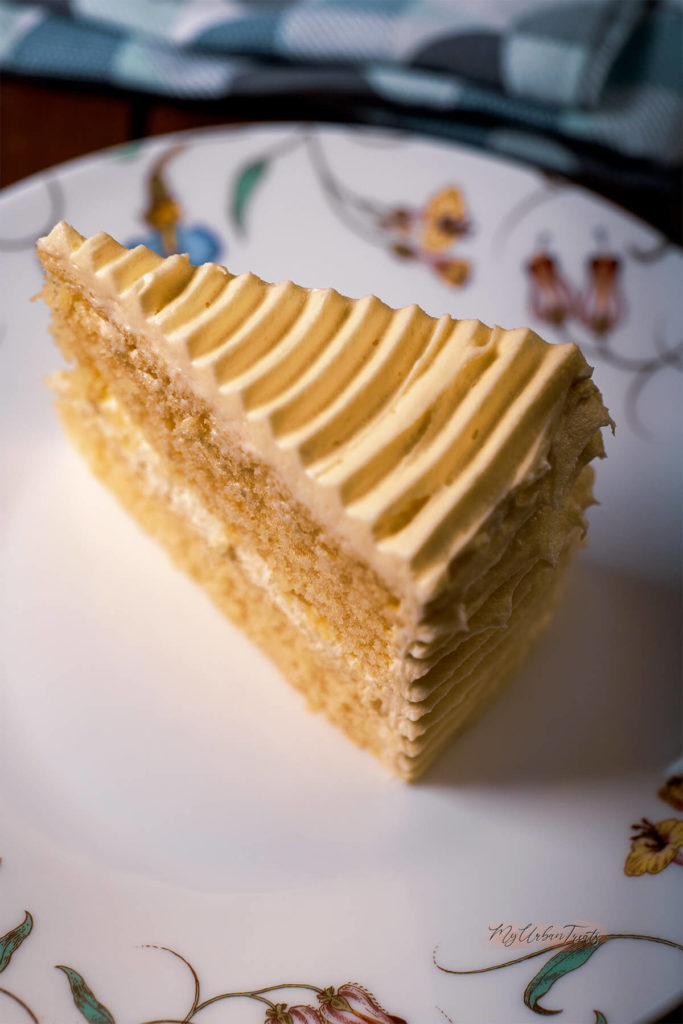 Fluffy Vanilla Frosting
Now before we start on frosting, this cake tastes amazing by itself. No topping or frosting needed. But if you need that velvety sweet cream flavour sandwiched between each layer. And creamy topping, then go for it. I tend to make three different type's of icing for my cakes.
Of course there are other types of frosting or covering you can use but these are my favourites. For the fluffy vanilla cake I have tried Butter Cream and Cream Cheese frosting and I have to say, its a tough decision to make. They both fit the purpose although the cream cheese frosting has a bit of a twang to it which goes nice with Vanilla. The buttercream frosting is a bit firmer which gives you nicer edges and even layers, it also tastes more vanilla then the cream cheese. So the choice is yours although I have decided to go with Butter Cream today. Here is what you will need:
Unsalted Butter
Vanilla Extract
Heavy Cream
For detailed ingredients check the recipe at the end of the post.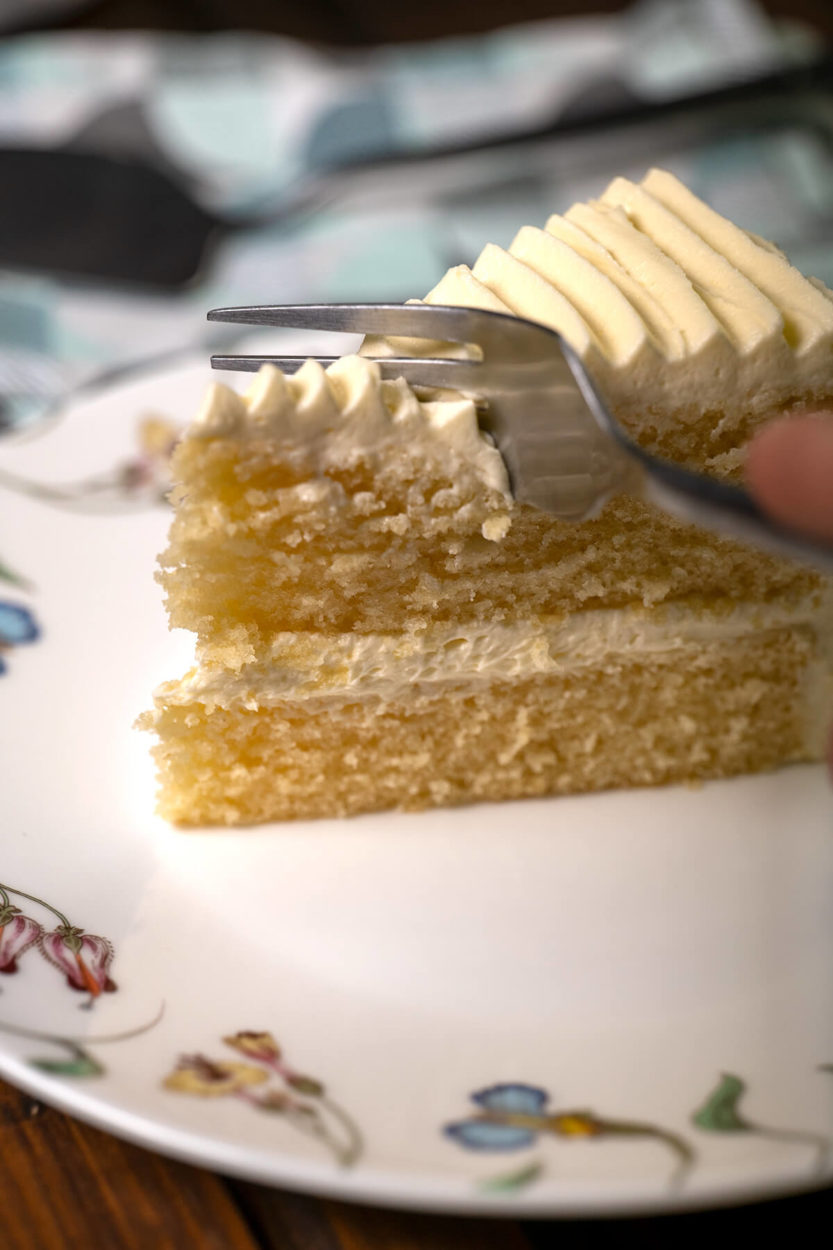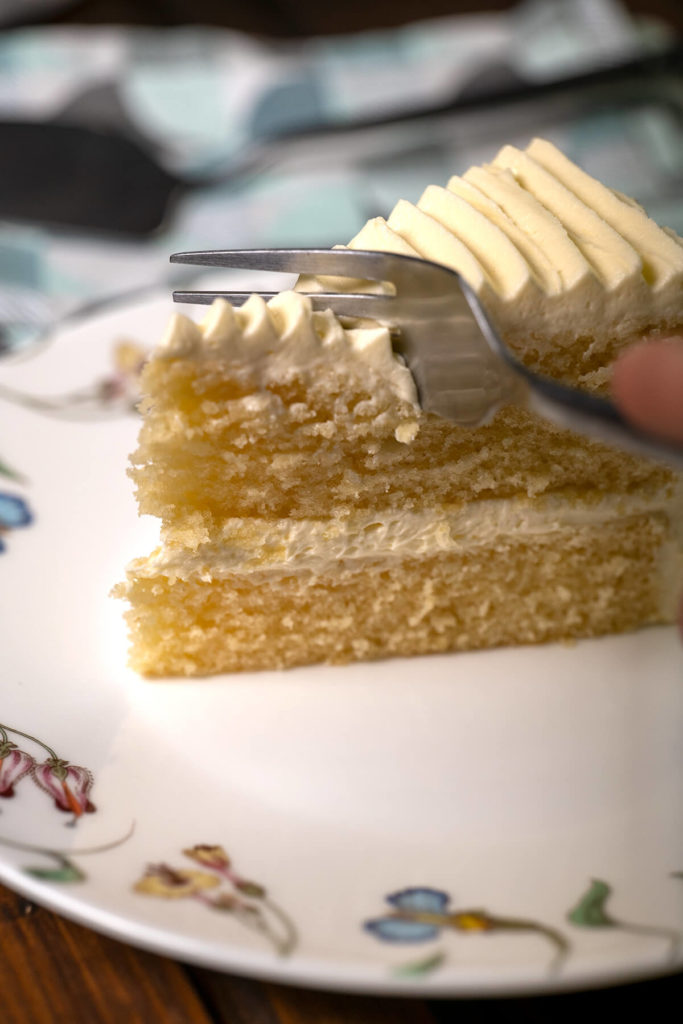 Storing & Shelf life
A great thing about this cake, is that it stays fresh and fluffy for almost five days. Make sure you store it in a airtight container. This will ensure no cross contamination from other flavours in your fridge. Now, I have tried freezing this cake too, and while it tasted great after thawing, it was not as spongy and fluffy as before. An important point is to always cool the cake completely before you refrigerate or cool it.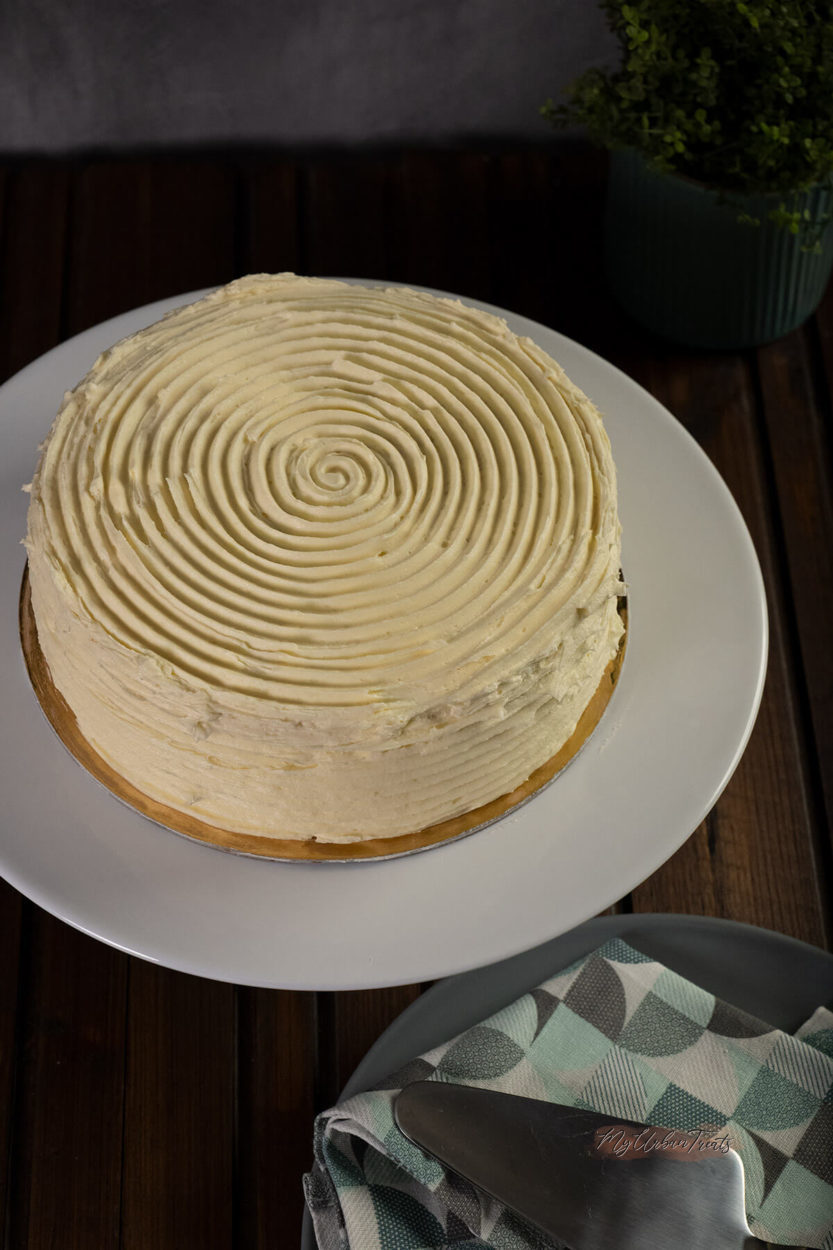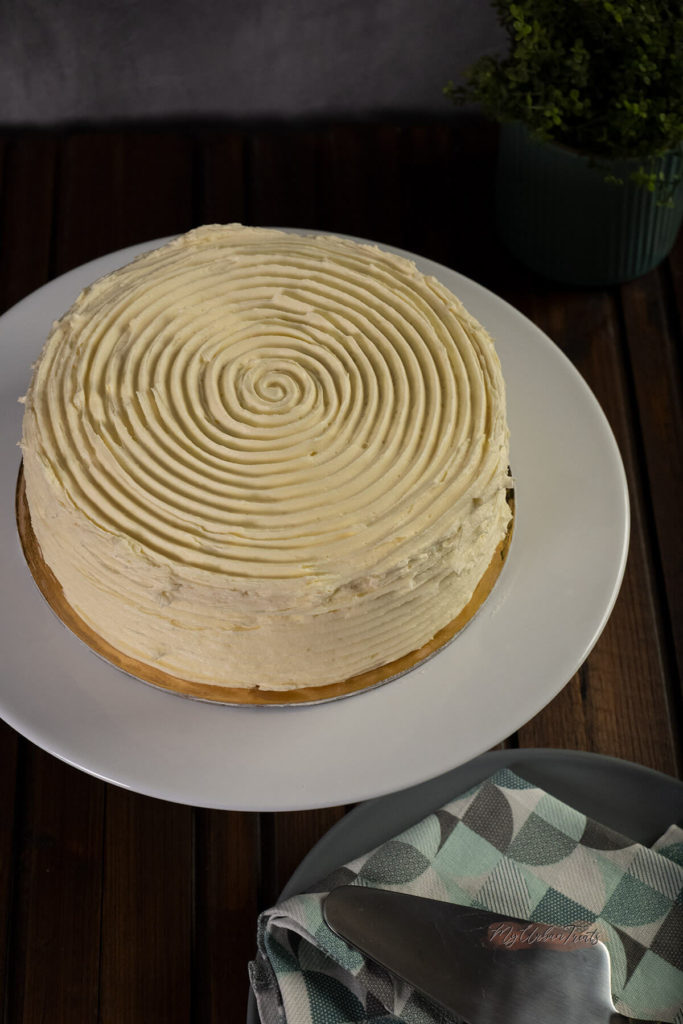 More great Dessert Recipes!
Are you looking for more amazing dessert recipe ideas? Check out these: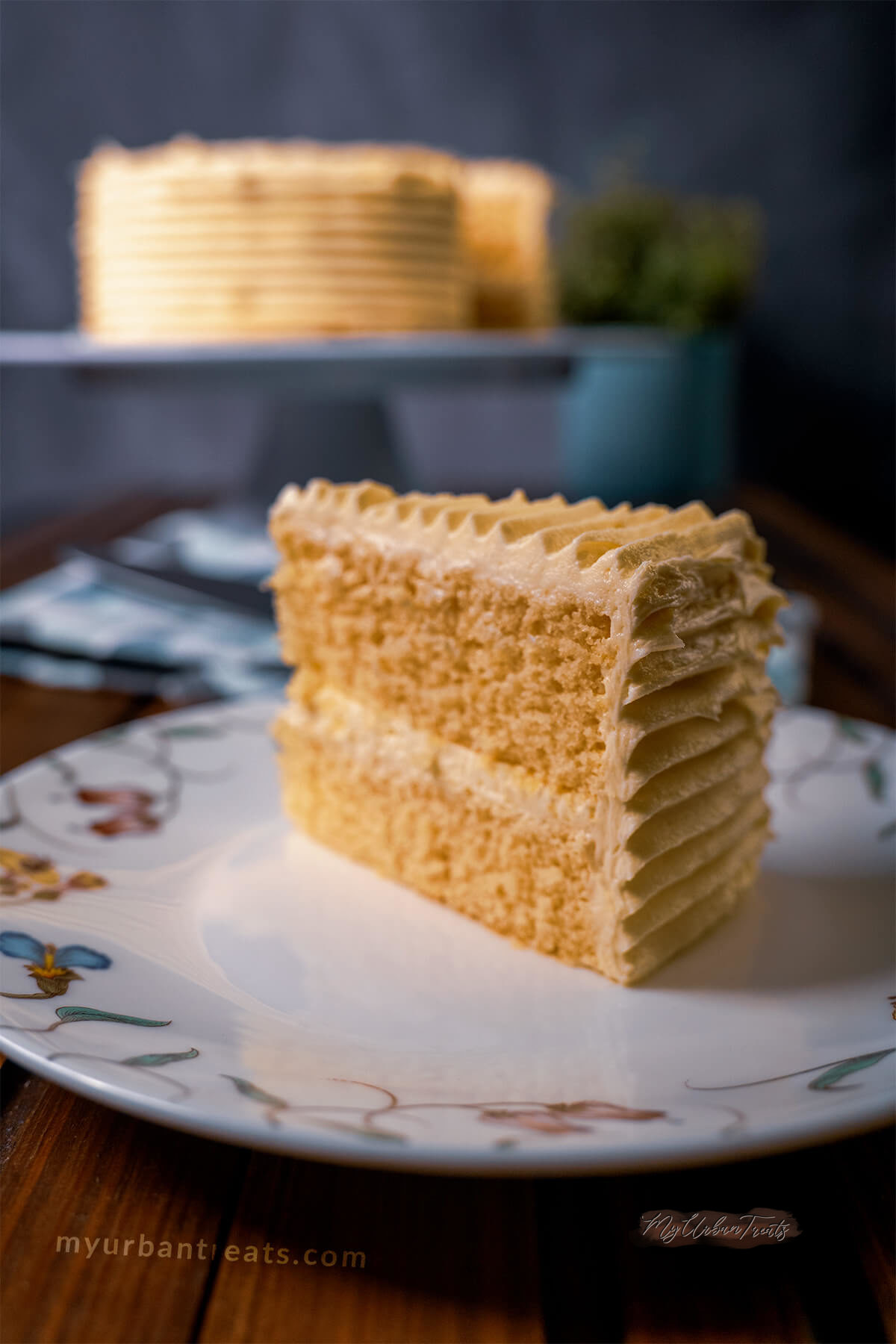 Fluffy Vanilla Cake
If you want to make the best Fluffy Vanilla Cake Recipe ever, then this is the recipe for you. Spongy, fluffy, moist and tasty for days. Did I mention its also easy and quick to make? Lets get started 🙂
Ingredients
Vanilla Cake Batter – Dry Ingredients
Vanilla Cake Batter – Wet Ingredients
1/2

Cup

Unsalted Butter

3

Large

Egg

2

Large

Eggs Yolks

2

Tsp

Vanilla Extract

3

Tbsp

Vegetable Oil

1

Cup

Buttermilk
Vanilla Buttercream Frosting
Makes:
8
inch
8
x
8
inch
round
,
3
inch
height
Instructions
General Preparation
If you prepare the following items in advance, you wont have to stress during the baking.

You will need the following utensils handy.

1) Two Mixing Bowls

2) A Stand or Hand Mixer

3) Two 8 inch or 20 cm baking tins, greased and lined with baking paper.

4) A Rubber or Silicon Spatula

5) A Table Spoon

6) A Small to Medium sized Saucepan

7) Cake Turntable

8) Bench Scraper

9) Serrated Bench scraper

1) Preheat the oven at 175C or 350F

2) Grease your baking tins, optionally line them with parchment paper for an easier removal after baking.
Vanilla Cake Batter Preparation
Combine all the dry ingredients in a whisking bowl, whisk lightly together and set aside.

Cream the room temperature Eggs for 5 to 6 minutes until light and fluffy. Keep a medium speed, don't whisk at high speed to keep fluffy and not too stiff. Slowly add the sugar 1/4th at a time. Whisk for another 6-7 minutes until white, creamy and fluffy.

In the saucepan, melt the butter and buttermilk together. Don't let the mixture boil, stop it just before it does.

Pour the mixture in a heatproof mixing bowl. Before it cools down, add one cup of egg/sugar mixture and whisk quickly until smooth and combined. Now whisk in the remaining egg/sugar mixture and add the remaining wet ingredients (vanilla extract, vegetable oil)

Carefully fold in the dry ingredients until just combined, DO NOT over mix as this will create more gluten which in turn will make your cake less fluffy. Once combined, shake and bang the mixture 3-4 times to get any excess air bubbles out of the batter.

Split the mixture evenly between the two baking tins, wrap the wet baking belt around the baking tins and place in the oven. Bake for 35 to 45 minutes or until golden brown and a wooden skewer comes out clean when you stick it in the cakes centre.

Remove the cake from the baking tin and let it cool completely to room temperature. It's important that the cake is not even warm when you add the icing.
Vanilla Buttercream
In a mixing bowl and using a hand or stand mixer, whisk the butter until its light and fluffy. Slowly add the powder sugar 2-3 tablespoons at a time and whisk until creamy and fluffy. Add in the vanilla extract and whisk for 7-8 minutes until white, light and fluffy.
Assemble
To get a perfectly flat cake you will need to level the top of both cake layers by cutting off the dome. There are a few methods for this. You can either use a large breadknife and slowly cut around the sides at an even height. You can also use tooth floss, using a long enough piece, wrap it around the cake at the edge of the dome. Slowly pull left and right in a saw motion until it cuts through the dome of the cake.

Add 3-4 scooped tablespoons of buttercream on the top of the bottom layer. Using a confectionary angles pallet knife spread evenly to approximately 1 cm thickness. Now carefully add the 2nd cake layer.

Next add a very thin layer of buttercream on the top and sides of the cake. Using a bench scraper scrap off the buttercream. leaving a thin layer on the top and sides of the cake. Place in the fridge and let it rest for 30 minutes. This layer of icing will keep any crumbs from mixing in to the rest of the buttercream.

Once the crumb layer has set, add the remaining vanilla buttercream on the top and sides of the cake. Using your serrated bench scraper, turn the cake and evenly scrape creating the icing pattern depicted. Set aside to cool. Voila.
Nutrition
Serving:
120
g
|
Calories:
570
kcal
|
Carbohydrates:
73
g
|
Protein:
5
g
|
Fat:
29
g
|
Saturated Fat:
18
g
|
Cholesterol:
141
mg
|
Sodium:
217
mg
|
Potassium:
79
mg
|
Fiber:
1
g
|
Sugar:
56
g
|
Vitamin A:
857
IU
|
Calcium:
115
mg
|
Iron:
1
mg