This is an Authentic Greek Salad recipe and once you make it it will be your go-to recipe. As half Cypriot and living for more than 20 years on the Island, Greek Salad is a staple in my diet.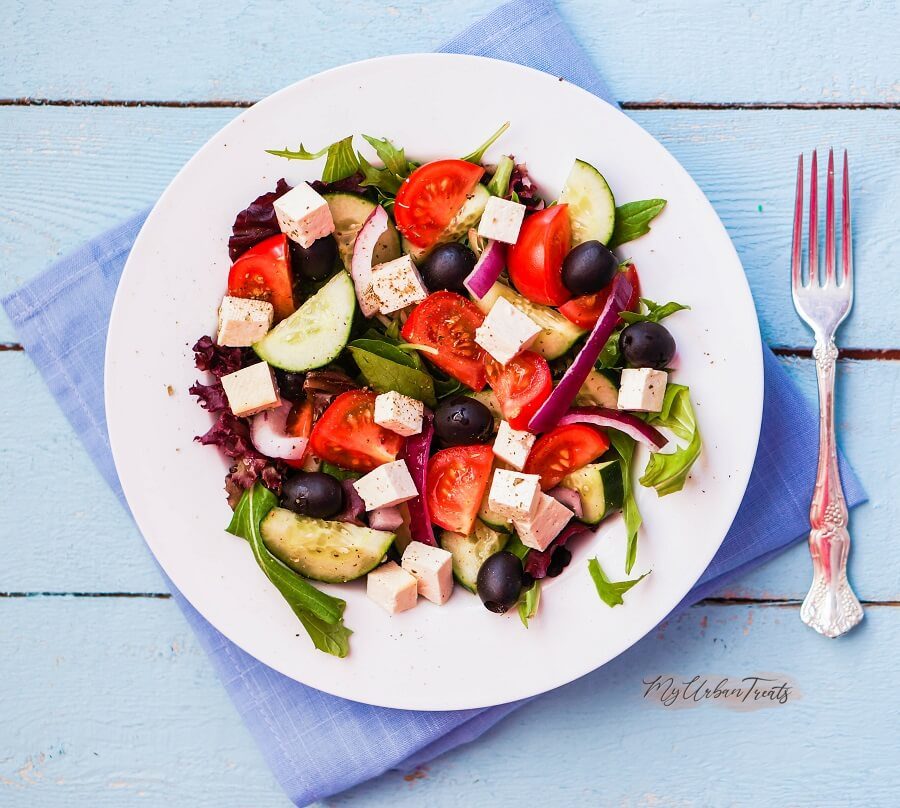 I have spent a lot of time visiting Greece and Greek Islands in the last 20 years and one thing that is a constant in any region of Greece is Authentic Greek Salad.
Weather you go to a restaurant or have a meal with friends and family, Greek Salad has some main ingredients that are a must when making it. Feta, Tomatoes, Onions, Olives, Cucumber and Olive Oil along with Oregano are simply a MUST for your salad.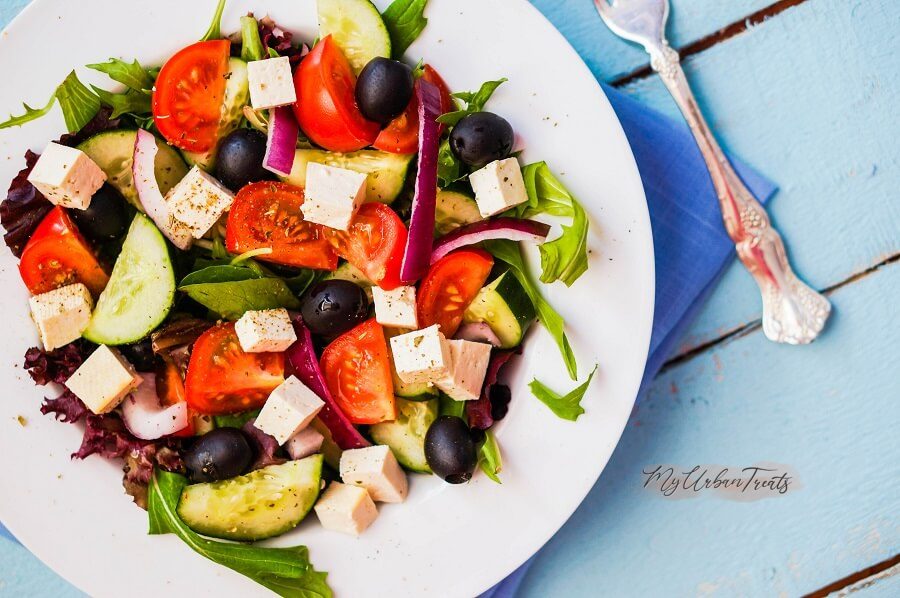 Ingredients
Greek Salad is easy to make with basic ingredients. It just all comes together to a refreshing and healthy salad. The main Ingredients are:
Extra Virgin Olive Oil is an essential staple in a Greek Kitchen. This is also an important ingredient in your Greek Salad
Dried Oregano will give your salad the perfect flavour of Greece
Tomatoes are vegetables (technically fruit) that thrive on sunshine and are therefore plentiful and tasty in Greece. No wonder they are an important part of any Greek salad.
Red Onions.
Cucumbers because any salad is incomplete without juicy fresh cucumbers :
Feta Cheese. somehow I feel like there is never enough feta cheese on my salad so add plenty to still that craving.
Sea Salt. Some recipes use Kosher Salt or Table Salt, in Greece we mostly use Sea Salt.
Green Peppers while many add green peppers to their salad in Greece, I personally don't but you can add them if you are a fan.
Fresh Lemon
Balsamic Vinegar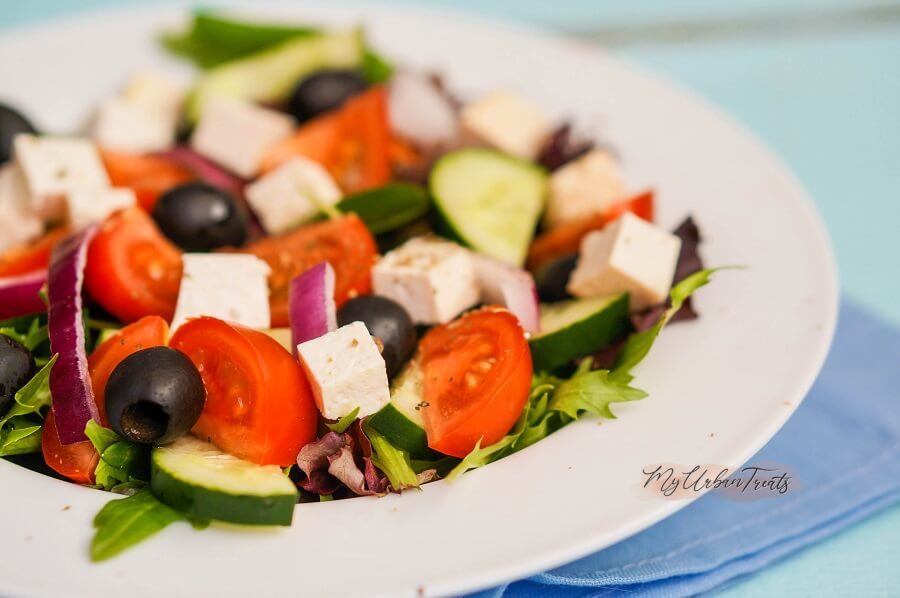 Tips & Tricks for an Authentic Greek Salad
Greek Salads are not difficult to make you simply chop it all up drizzle olive oil on top and place a few strategic cubes of feta cheese on the top. But here are some tips and tricks that you can apply or pay attention to for a great salad.
The RIGHT Olive

Its quite important to use Greek style olives as they have a very unique flavour and make a big impact on the salad taste. I like a mix of Kalamata Black olives and Cretan Green crushed olives.

Choosing Feta Cheese

There are a lot of "feta style" cheeses out there but trust me having an authentic piece of feta makes a massive difference. Thankfully there is a Greek store on almost every corner where you can get your feta fix.
Greek Salad Dressing
Greek Salad dressing is simple and straight forward. Lemon, Vinegar and Olive oil. That's it. Olive Oil and Vinegar are the staple of a Greek salad dressing. Some Greeks add balsamic vinegar (me too) while others use Wine Vinegar which is often considered the more traditional option.
Greek Tip: the BEST part of a Greek salad is what we call a "Papara". Its basically dipping the bread in the leftover salad dressing. It will soak up all the juices and flavours from the salad and delicious olive oil. PERFECTION. Sour Sourdough Bread will work wonders with your salad 😉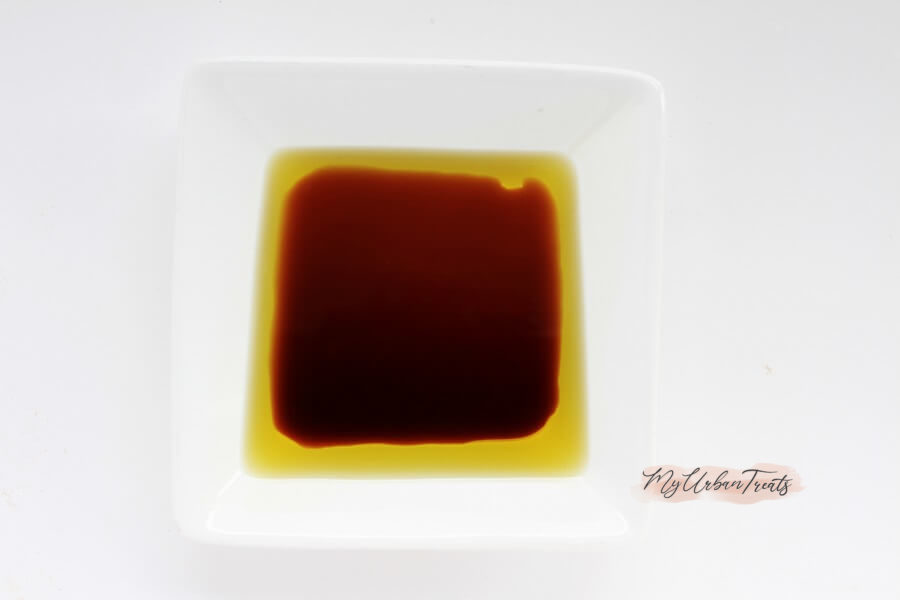 So now that you know all the ins and out of a real Greek salad, get to chopping and enjoy this wholesome Greek dish.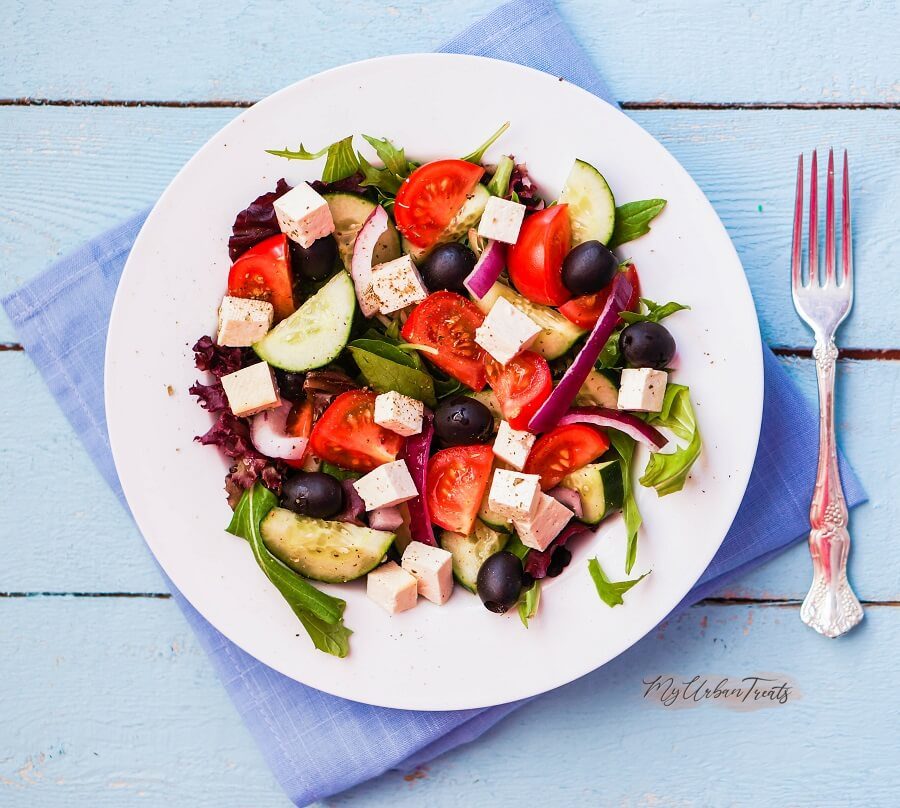 Authentic Greek Salad
Living in Cyprus, Greek Salad is part of at least three meals of my week. This is my families recipe.
Ingredients
Greek Salad Dressing
½

large

Lemon Juice

7

Tbsp

Extra Virgin Olive Oil

2

Tbsp

Balsamic Vinegar

1

Tbsp

Dried Oregano

1

Tsp

Salt
Greek Salad Ingredients
4

Medium

Ripe Tomatoes

1

Large

Cucumber

½

Medium

Red Onion

½

Medium

Green Pepper

¼

Cup

Greek Olives

Kalamta or Crete

1

Cup

Feta Cheese
Instructions
Cut all the vegetables into medium-sized cubes. Cut the onions into slices and mix all in a salad bowl. Add the olives and toss. Now add all the dressing ingredients except the Feta cheese and give it a good toss.

Break your feta cheese in to big chunks and place them over the salad. Sprinkle the oregano as well as a few drops of olive oil across the feta cheese and salad.
Notes
Best served with Grilled or Toasted Pita Bread
Nutrition
Calories:
353
kcal
|
Carbohydrates:
7
g
|
Protein:
6
g
|
Fat:
34
g
|
Saturated Fat:
9
g
|
Cholesterol:
33
mg
|
Sodium:
1136
mg
|
Potassium:
174
mg
|
Fiber:
1
g
|
Sugar:
5
g
|
Vitamin A:
297
IU
|
Vitamin C:
17
mg
|
Calcium:
202
mg
|
Iron:
1
mg