Christmas is just around the corner, and who doesn't just love the smell of cookies around the house during the festive season? All that cinnamon, nutmeg, ginger in and bake smell in the air, THIS is when I start feeling the Christmas spirit at home. In our home its tradition to have a cookie bake Sunday towards the end of November. During my childhood we had a good cookie supply ready and stocked for the holidays, and to keep the tradition, the whole family is involved in a big Christmas bake.
Today I am sharing a Gingerbread Cookie guide that has been passed down from my Grandma to my Mom to me, to my kids and now… to you my friends and readers.
PS: If you are looking for a healthier version of this recipe, make sure you check out the Tips & Tricks section. You can replace some of the ingredients with Carob Syrup and it still tastes just as good.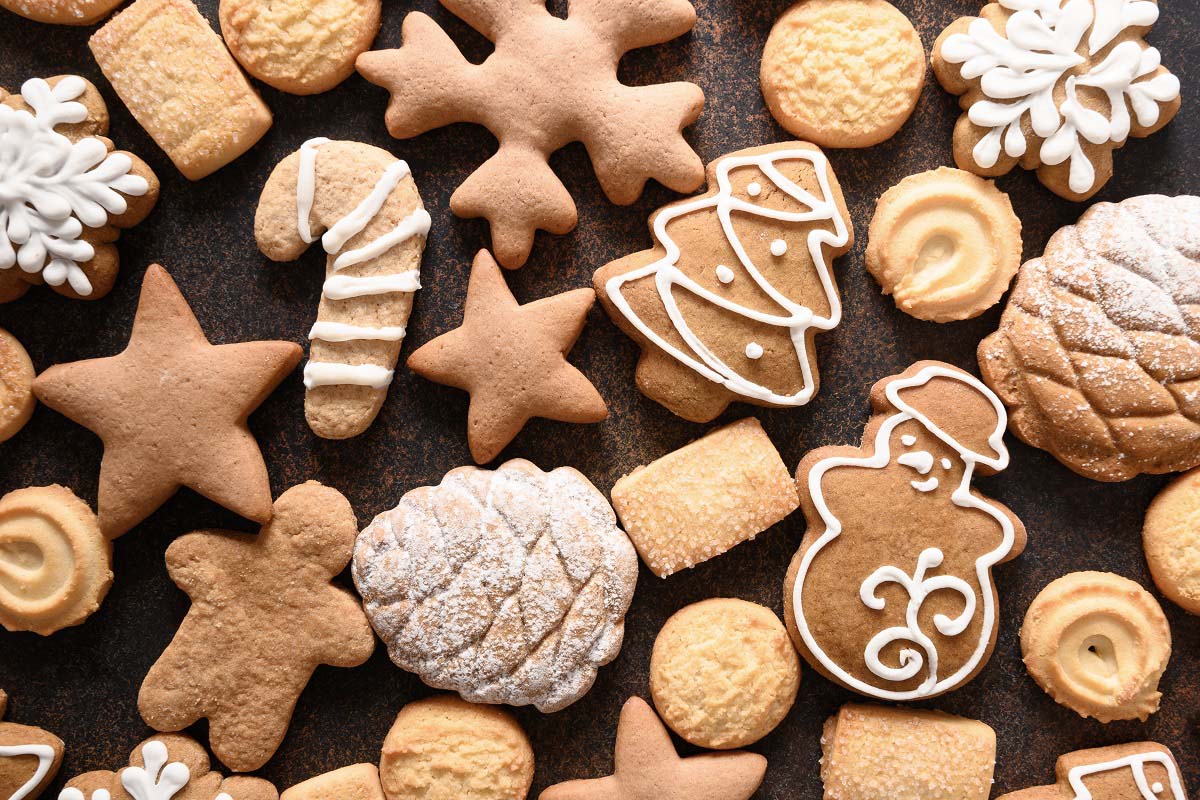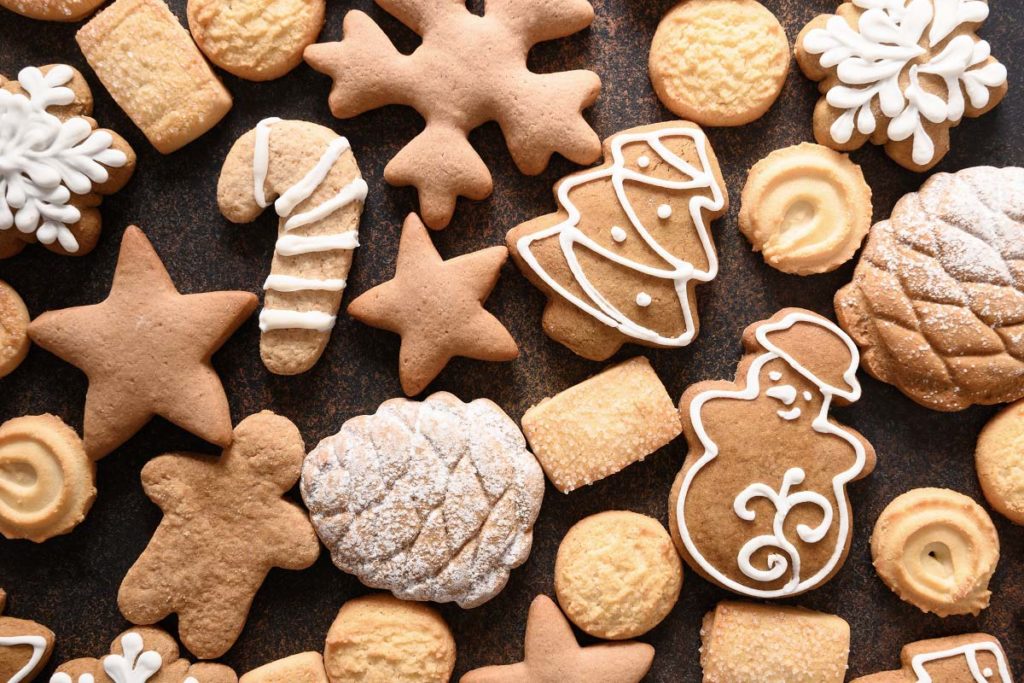 The History of Gingerbread Cookies
Gingerbread has been around since the 1st century. The first record of gingerbread in history was in 992 AD when the Armenian Monk Gregory of Nicopolis migrated to France and thought the gingerbread recipe to French Christians. Since then gingerbread has evolved from its original form. Gingerbread recipes from that period included ale, brandy and a whole loaf of bread. So not quite what we know today.
Gingerbread didn't become readily available until the 18th century. The reason Gingerbread is associated with Christmas, is because from the 1st until the 13th century it was considered sacred. It was baked by Christian monks and nuns during religious holidays such as Christmas and Easter.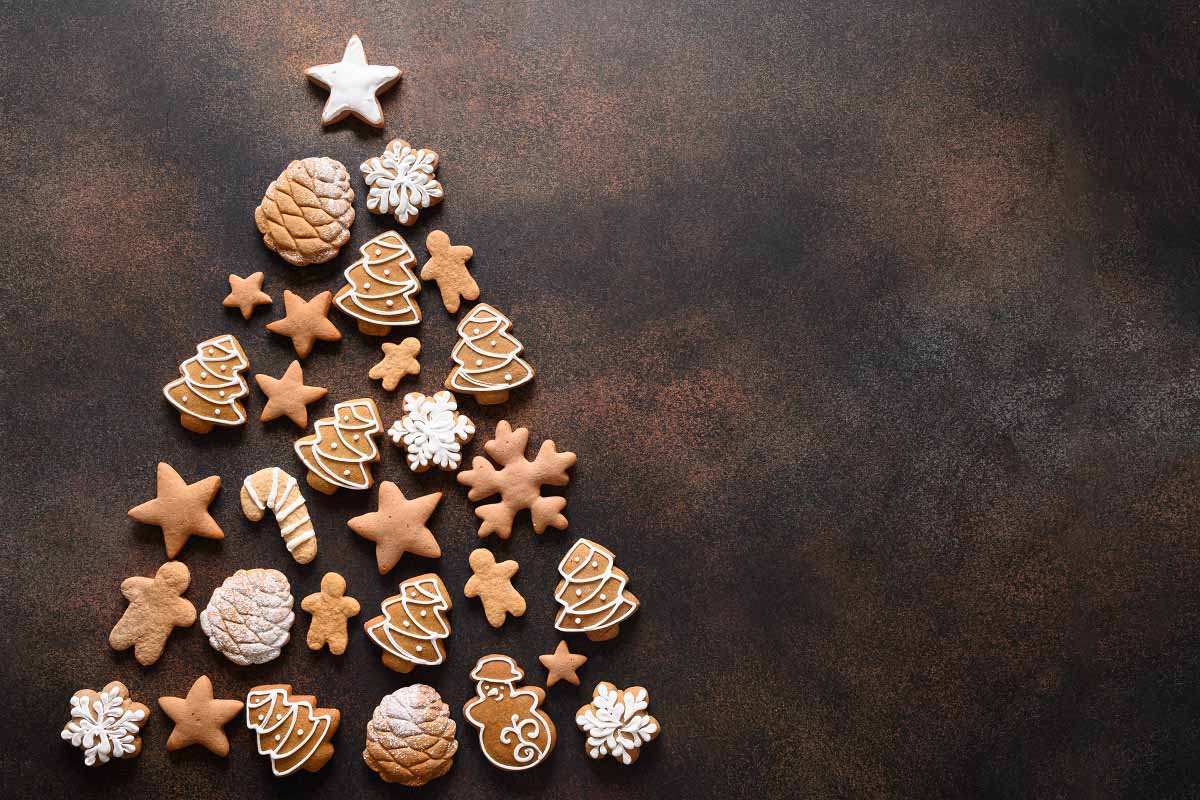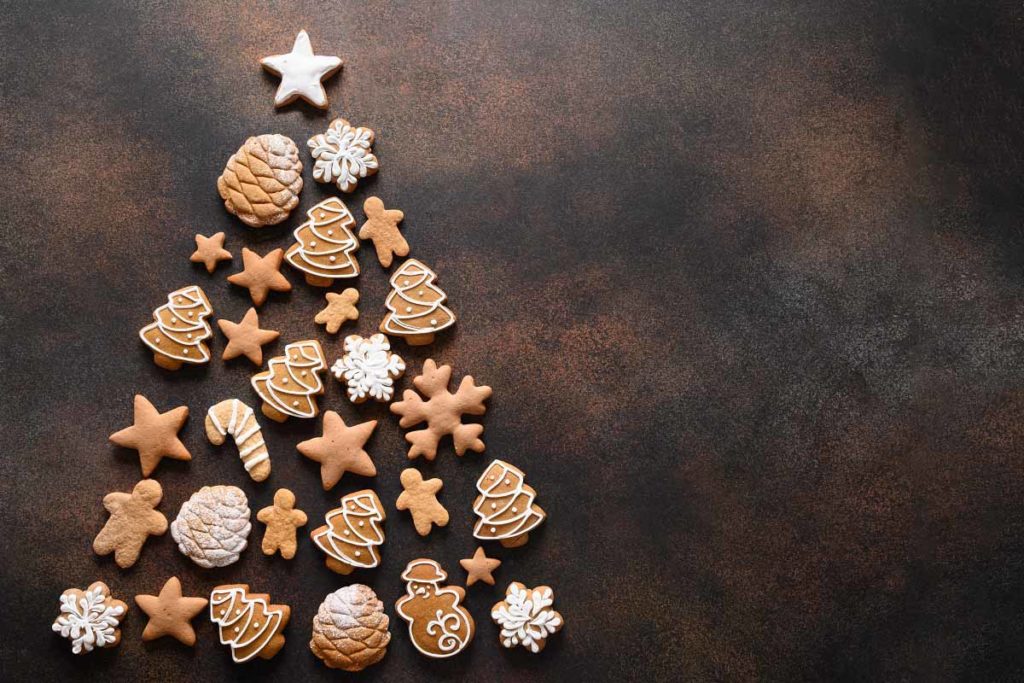 Types of Ginger Bread!
As the name implies, the true form of Gingerbread is a bread style loaf with spices and alcohol. The variation we have come to love however is the biscuit form we eat around Christmas. Many countries have their own derived recipe and while many of them are similar, each has its own signature and flavour. My favourite version are the following:
Mezeskalacs from Hungary is very close to the English biscuit. Traditionally only using ginger, cinnamon and cloves the biscuit relies on honey and sugar for its sweet taste and does not use molasses.
Lebkuchen from Germany on the other hand is a thicker and softer biscuit that also has more spices in the mix. The modern American version is quite close to this recipe. While it contains the standard ginger, cloves and cinnamon, it also containts cocoa powder, vanilla and allspice.
Pepparkakor from Sweden as the name indicates, add black pepper to the mix. This enhances the bite of the ginger a little. Not to be mistaken with:
Peperkoek from Belgium which is a loaf served with a thick layer of butter during breakfast.
American Gingerbread cookies, pretty much contain a bit of all the recipes above with the added Molasses.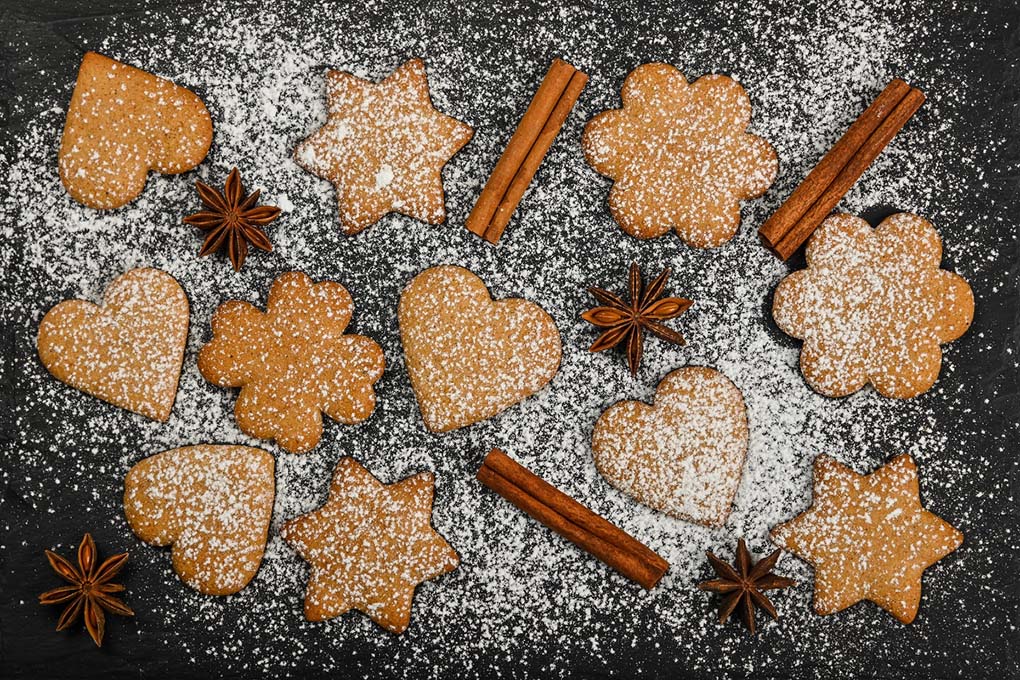 How to make Gingerbread Biscuits
The key to this recipe is temperature. Because the dough has a lot of liquid in the form of honey, molasses, treacle and eggs it is very soft when mixed. This is why we need to refrigerate the dough and keep it cool and firm when working with it. You will see that the moment it becomes a little warm, it gets sticky and is not workable. You also need to flour your working surface constantly. But lets start with the preparation:
Ingredients
This recipe has evolved over the last 20 years. I have basically "played" with the ingredients every Christmas until I arrived at todays version. A modern gingerbread biscuit with traditional flavour. So what are the secret ingredients you ask? While I still keep my mums basic spicing of Ginger, Nutmeg, Allspice and Cinnamon, I have changed the molasses to a mixture of black treacle, Honey and Molasses with a touch of Carob Syrup. The Black Treacle in this recipe can be completley swapped with Carob Syrup for a "healthier version"
So here is what you will need:
Unsalted Butter
All-Purpose Flour
Brown sugar 1/2 dark 1/2 light
Honey
Molasses
Black Treacle
Carob Syrup
Egg's
Baking Soda
Salt
Ground Ginger
Ground Cinnamon
Ground Allspice
Ground Cloves
Vanilla Sugar or Vanilla Pods
You will also need some patience, this dough must be worked cold. As soon as it gets warm, it will start to melt and stick to everything. So follow the instructions carefully to avoid any frustration.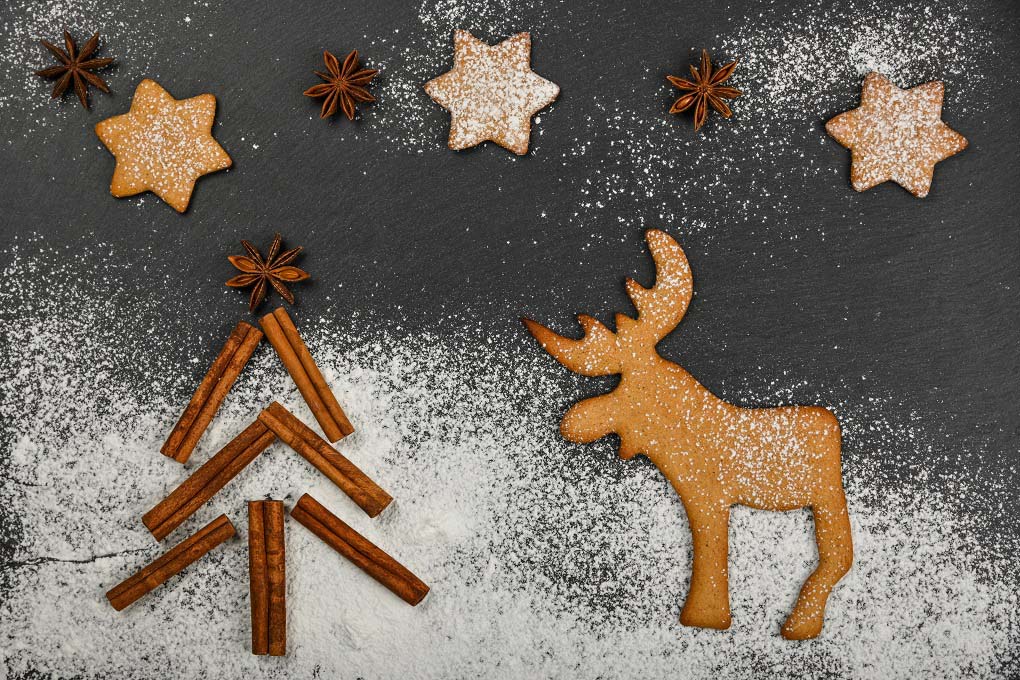 Dough Preparation
Prepare the dry ingredients in a bowl. Add the flour, salt, baking soda, ginger, cinnamon, allspice and cloves and give them a quick whisk to combine.
Cream the butter with the sugar, molasses, treacle and honey. Once its creamy and fluffy, whisk in the egg.
Combine the ingredients by adding the flour mix to the creamed butter mix while whisking in 3-4 spoons at a time. This will create a soft and sticky dough.
Wrap the dough in to membrane or clingfilm and place it in the fridge. Refrigerate for 2-3 hours until cold and firm. From this point forward, its important that you work with small portions of the dough at a time. This will allow you to produce a constant stream of cookies as the dough will warm up and you can work with another piece while it cools again.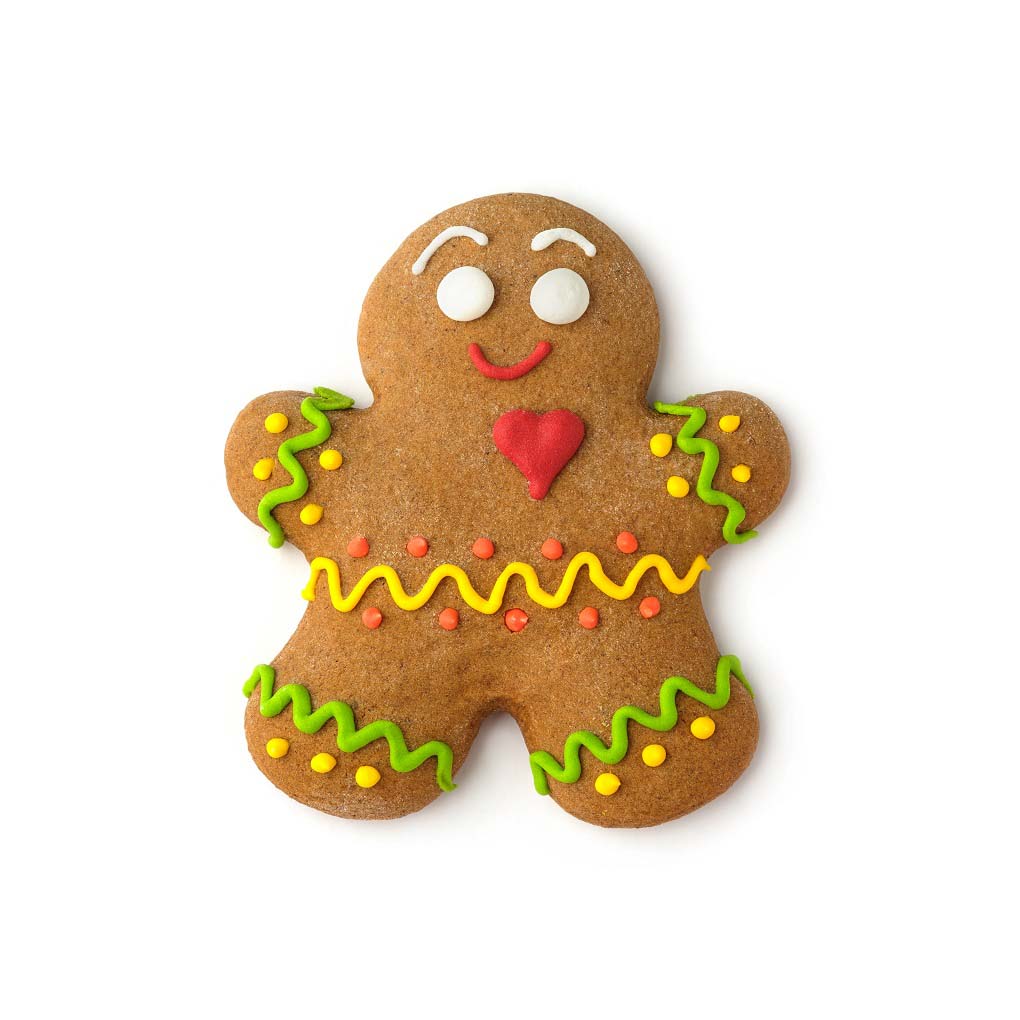 Cutting Cookies
Now that the dough has cooled and is workable, cut about a fifth of the dough off and leave the rest in the fridge.
Flour the working surface and dough and roll it in to thin sheet. Be quick and keep flouring both sides of the dough to avoid sticking. Now using a cookie cutter, stamp out the cookies and place them directly on a baking tray lined with parchment paper. Bake for 7-8 minutes until done.
Cooking time and temperature is essential to the final cookie texture. I bake the cookies at 175 Celsius or 350 Fahrenheit for approximately 7 minutes. A minute more in my oven makes them crispy so adjust accordingly.
Collect the remaining dough, knead it in to a ball. Wrap again and refrigerate. Grab another fifth of dough and repeat until all cookies have been cut and baked. Allow them to cool before decorating.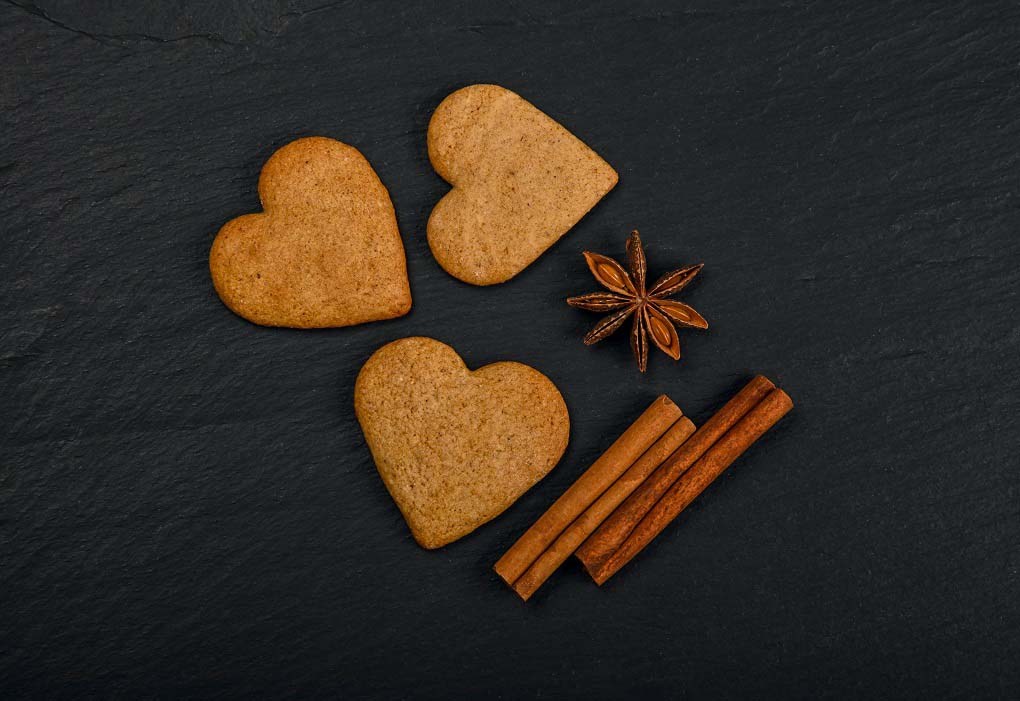 Icing & Decorating
Decorating Christmas cookies is a fun experience for the whole family. All you need is some easy cookie icing and a piping bag. If you don't have a piping back you can also use a condiment bottle. These are actually easy to use and don't make a big mess.
For easy cookie icing you will need:
1 Cup or 120g of Icing or powder sugar
1 teaspoon of Vanilla Sugar
1 teaspoon of sugar syrup
1-2 table spoons of water (add as needed)
and a tiny pinch of salt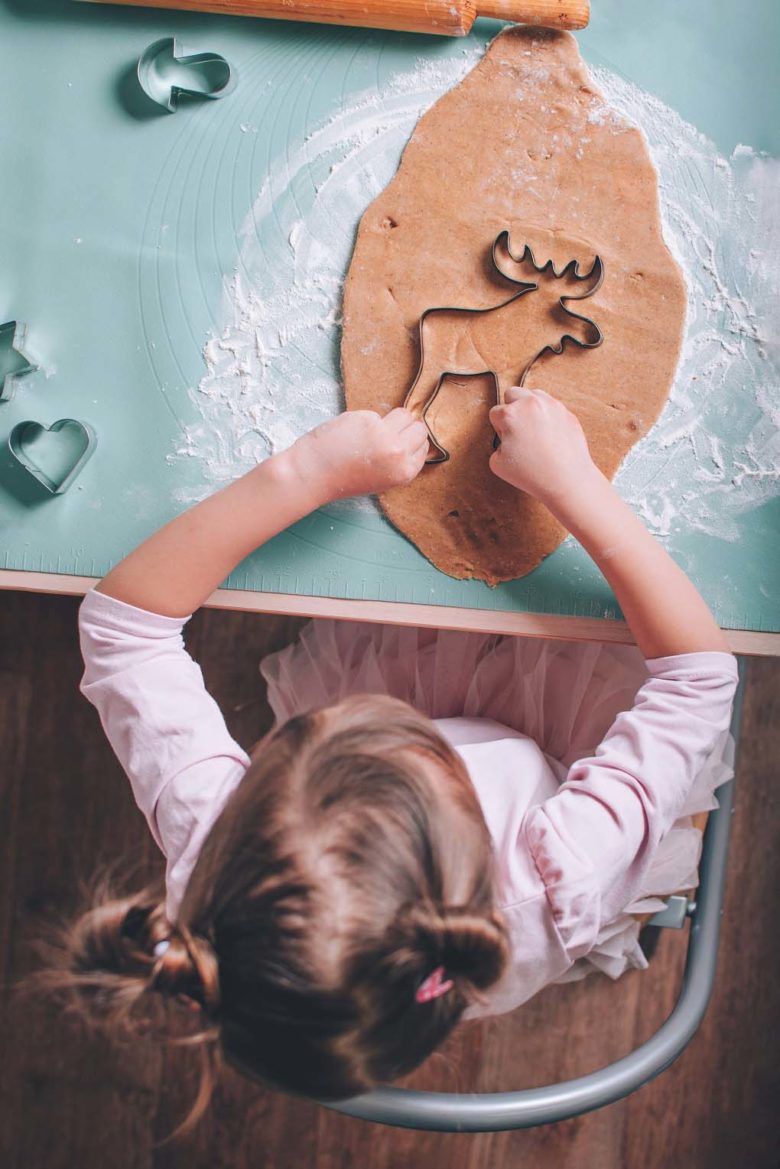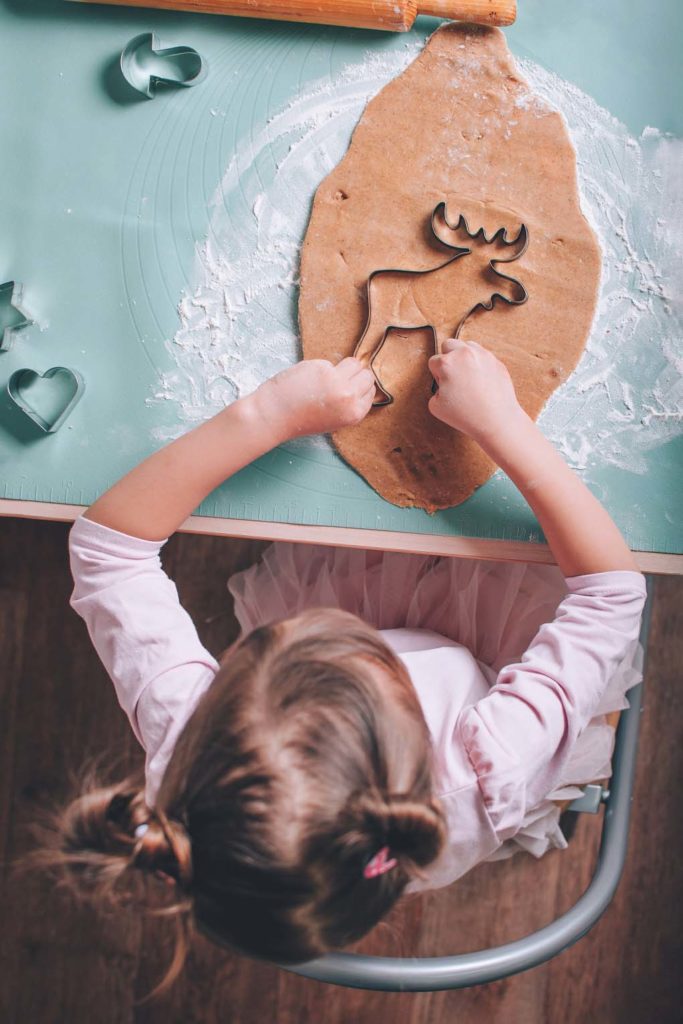 Mix the ingredients without the water. This will make a tough sugar mixture, add small amounts of water and keep mixing until you get a firm but smooth icing. Put in to your piping bag or condiment bottle and start decorating. To get other colours than white you can add food colouring of cocoa for brown.
Tips & Tricks
Some of the tricks are already mentioned in my recipe but lets summarise and add a few more that will help you get the perfect Christmas gingerbread cookie.
Keep the dough cold when working with it, warm dough will get sticky and it wont be malleable
Watch the cooking time, one minute difference can make the cookie crispy or soft.
Replace the black treacle with carob syrup for a healthier version, you can hardly tell the difference in the flavor and you will deduct quite a few calories from these cookies.
Use the right rolling pin. Now this was a game changer for me, I always used the traditional wooden rolling pin but last year I treated myself to a metal rolling pin with thickness spacers. By using spacers you can get an even thickness for all cookies every time. This is really awesome if you want the perfect looking Gingerbread cookies.
This is the Rolling Pin I use, I bought it on amazon and it was fairly cheap but well worth every penny. Please note that this is an affiliate link so if you choose to purchase this rolling pin via the link, I will receive a small commission which goes in t the costs of the blog. Thank you
Need more Christmas Recipes?
The Recipe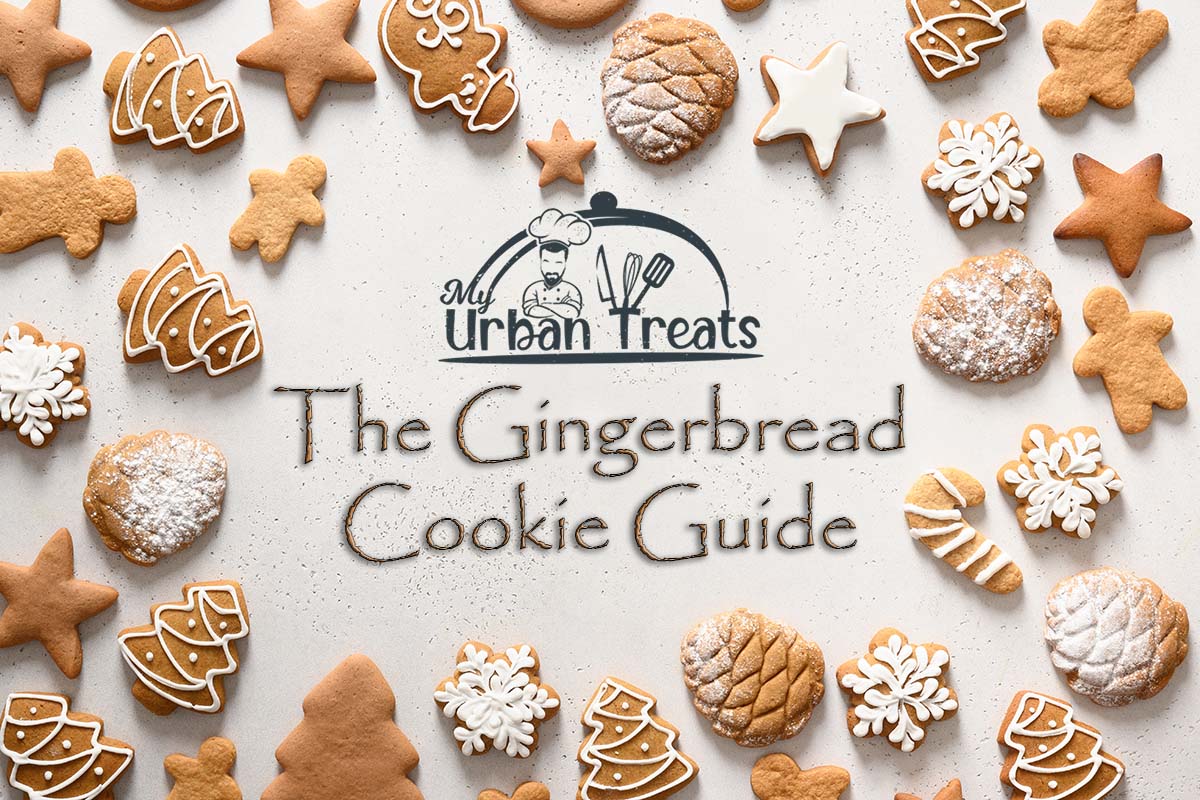 The Best Gingerbread Cookies Ever
My very own gingerbread cookie recipe, perfect to use with a cookie cutter and for gingerbread man cookies.
Ingredients
Cookie Dough
1

Cup

Unsalted Butter

Softened

1`

Cup

Brown Sugar

1/2 Light & 1/2 Dark Brown

1/3

Cup

Honey

1/3

Cup

Molasses

1/4

Cup

Black Treacle

3 ½

Cups

All-Purpose Flour

1

Tsp

Backing Soda

2

Tsp

Ground Ginger

1

Tbsp

Ground Cinnamon

2/3

Tsp

Ground Allspice

1/2

Tsp

Nutmeg
Cookie Icing
1 ½

Cups

Icing Sugar

1

Tsp

Vanilla Extract

1

Tsp

Corn Syrup

2

Tbsp

Water

1

pinch

Salt
Instructions
Gingerbread Dough Preparation
In a medium sized bowl, combine the dry ingredients and give them a quick whisk. Set aside.

1 Cup Unsalted Butter,

3 ½ Cups All-Purpose Flour,

1 Tsp Backing Soda,

2 Tsp Ground Ginger,

1 Tbsp Ground Cinnamon,

2/3 Tsp Ground Allspice

In a large bowl combine the butter, sugar, molasses, treacle and honey. Whisk with an electric mixer or stand mixer until creamy

1 Cup Unsalted Butter,

1` Cup Brown Sugar,

1/3 Cup Molasses,

1/4 Cup Black Treacle,

1/3 Cup Honey

Add the dry ingredients into the creamed butter mix 2-3 table spoons at a time while whisking at low speed. The dough will be sticky, that's normal.

Prepare a sheet of clingfilm, blob the sticky dough on the cling film and wrap it into a ball. Place in the fridge and let it cool for 3-4 hours or even overnight.
Cutting Gingerbread Cookies
When the dough is cold it will not be sticky but beware, working it too long and hand warmth can easily melt it. Therefore take cooling breaks and work in small batches.

Cut of 1/3 or 1/4th of the dough ball and place it on a lightly floured surface. Put the remaining dough back into the fridge. Using a rolling pin with spacers (if available) roll the dough in to a 1/4" inch sheet. That's approximately 6mm.

Use your cookie cutter or stamps to cut out the shapes and place them on a baking tray lined with baking paper.

Bake at 170C or 340F for 9-11 minutes. Keep an eye on the edges to avoid burning. Set aside to cool completely before decorating (otherwise the icing will melt all over the cookie)

Knead the remaining dough into a small ball and place it back into the fridge. This will allow it too cool down while you work the remaining dough. Repeat until all cookies are baked.
Decorating
Mix the ingredients without the water. This will make a tough sugar mixture, add small amounts of water and keep mixing until you get a firm but smooth icing. Put in to your piping bag or condiment bottle and start decorating. To get other colors than white you can add food coloring of cocoa for brown.

1 ½ Cups Icing Sugar,

1 Tsp Vanilla Extract,

1 Tsp Corn Syrup,

2 Tbsp Water,

1 pinch Salt
Nutrition
Calories:
192
kcal
|
Carbohydrates:
33
g
|
Protein:
2
g
|
Fat:
6
g
|
Saturated Fat:
4
g
|
Polyunsaturated Fat:
1
g
|
Monounsaturated Fat:
2
g
|
Trans Fat:
1
g
|
Cholesterol:
16
mg
|
Sodium:
6
mg
|
Potassium:
130
mg
|
Fiber:
1
g
|
Sugar:
21
g
|
Vitamin A:
190
IU
|
Vitamin C:
1
mg
|
Calcium:
35
mg
|
Iron:
1
mg