Our lemon trees are once again full of delicious lemons this time of the year, and when life gives me lemons, I make Lemon Cookies (or Lemon Pie). Well this week, after multiple requests from the family, I ended up making both. So today, I am happy to share my all-time favorite Lemon Cookie recipe, these are zesty, sweet with rich lemon flavour but are also crispy on the outside and chewy on the inside.
You can also checkout my grandma's lemon pie or my lemon pop tarts recipes.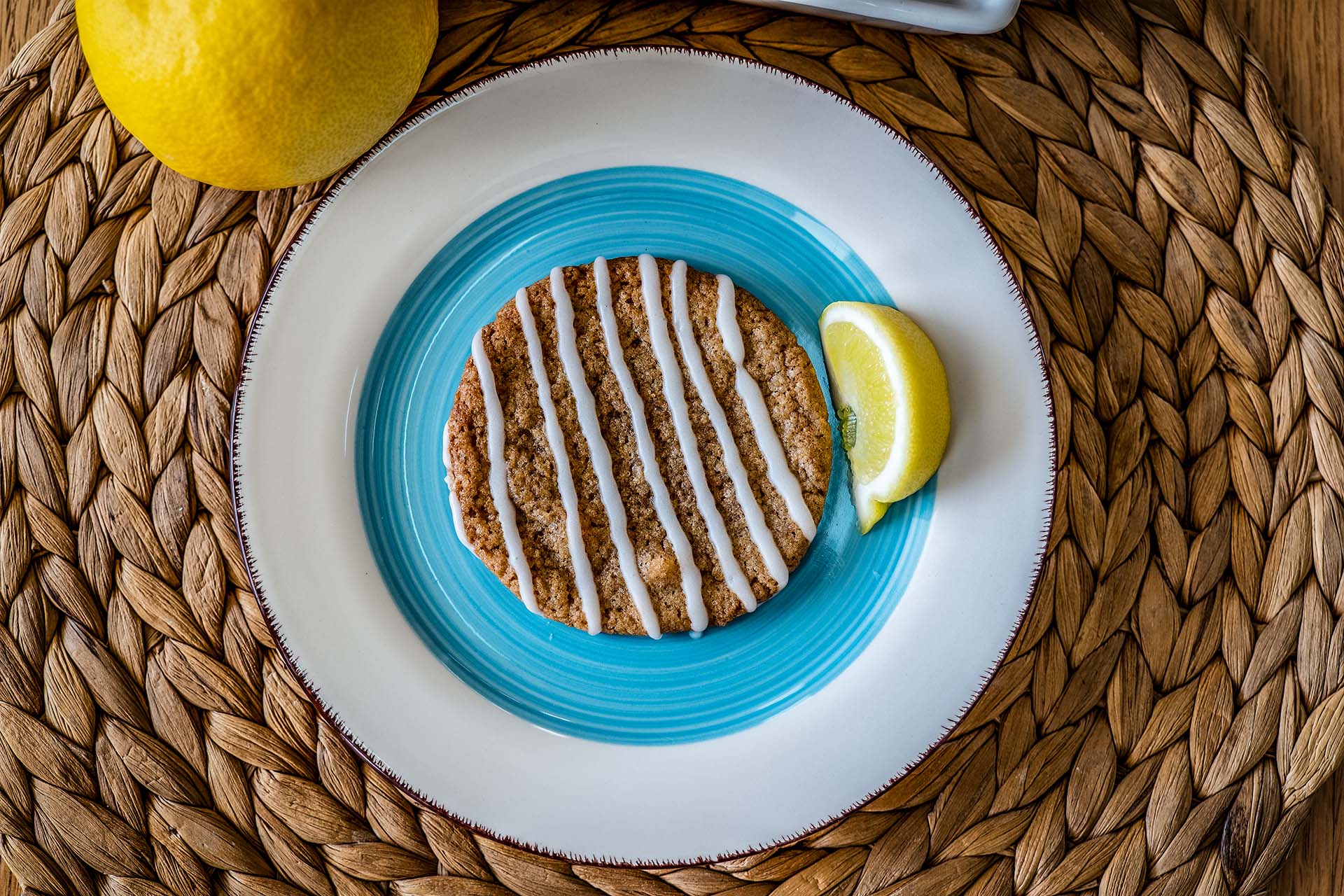 What are Lemon Cookies?
Lemon cookies are a popular dessert that combines the tangy flavor of lemon with a sweet, crumbly cookie base. They are typically made with a simple cookie dough that is flavored with lemon zest and lemon juice. The result is a cookie that is light and crisp, with a delicate lemon flavor that is both refreshing and satisfying. Lemon cookies can be enjoyed on their own, or they can be paired with a cup of tea or coffee for a sweet treat. There are many variations of lemon cookies, including soft and chewy, thin and crispy, and even gluten-free options. Whether you prefer your lemon cookies with icing, sprinkled with sugar, or simply plain, they are sure to be a crowd-pleaser.
How to Lemons get their tangy flavour?
Lemons get their distinctive sour and tangy flavor from citric acid and limonene, which are both naturally occurring compounds found in the lemon peel and juice. The high acidity of lemons provides a sharp, sour taste, while the limonene gives them a bright, citrusy aroma and flavor. The flavor of lemons can also vary based on the variety and the time of year, with the juiciest and most flavorful lemons typically being those that are harvested in late spring or early summer.
It's no secret, I am a big fan of citrus flavored desserts. Lemon pies, pop tarts, lemon mouse and Lemon Cookies often find themselves baking in my oven. A couple of years ago, tried to perfect my chocolate chip cookie recipe and thought, what would happen if I flavour this with Lemon instead of Chocolate? And my Lemon Cookie recipe was born. I had to make some small adjustments over time to balance liquid, fat and flour but right now they are pretty close to perfect.
Ready to make some tangy lemon cookies?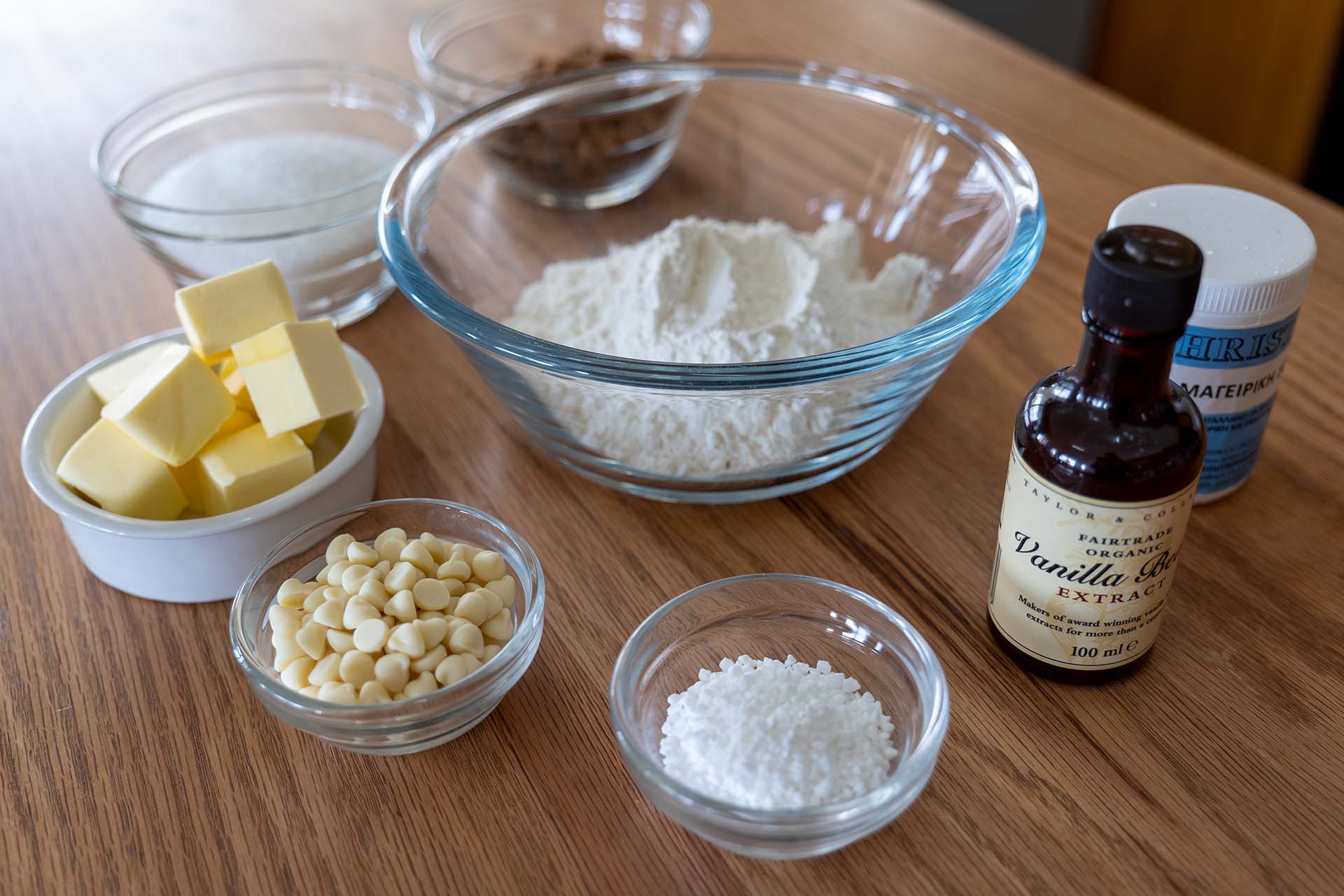 Ingredients
Making lemon cookies requires pretty much everything you need to make any type of cookie. Flour, butter, sugar and egg's along with the lemon flavour and a levelling agent to make them light, chewy and crispy. So here is what you will need.
Lemon Cookie Ingredients
All-Purpose flour works best for cookies, I have tried pastry flour, cake flour and self-raising flour but all-purpose felt like the best texture for cookies. I also had a decent outcome with self-raising flour, but if you do use this type of flour, avoid using additional levelling agents.
Unsalted Butter is a key ingredient in any cookie, is a cookie without butter really a cookie?
Sugar will not only sweeten the cookie, it will also caramelize the outer layer to make it crispy. I like to use a mixture of sugars that will give flavour and sweetness. Unlike my chocolate cookies, I only use 1/3 of dark sugar and 2/3 of white crystal sugar.
Eggs are a binder and levelling agent so you will need one in every batch. Double the recipe? Double the egg 😉
Vanilla Extract is optional, but I love adding a little dash it really enhances the flavour of the lemon.
Baking Soda & Salt is my preferred levelling agent for cookies. If you want to find out more about levelling agents for cookies, check out this article by handle the heat
Fresh Lemon Juice and Zest for the flavour.
Now before you carry on, take all the ingredients out of the fridge and let them rest for 30-40 minutes so they all reach room temperature. This will make mixing and creaming just a ton easier especially for the butter and egg. Cold butter will form little air pockets in the baked cookie and might cause it to deflate. So prepare all your ingredients now before you carry on reading the recipe 😉
Lemon Glaze Ingredients
Lemon glaze is super easy to make, all you will need is 1 Cup of Icing sugar and 3-5 table spoons of fresh lemon juice. Add the lemon juice one table spoon at a time and mix until you reach a thick yet slowly runny consistency. IMPORTANT NOTE: Don't rush with adding the lemon juice. It takes a while for the sugar to absorb the liquid so take your time mixing after each spoon of lemon juice.
I found the easiest way to glaze the cookies is by using a condiment bottle. Let the glaze run to the tip and then lightly squeeze and apply.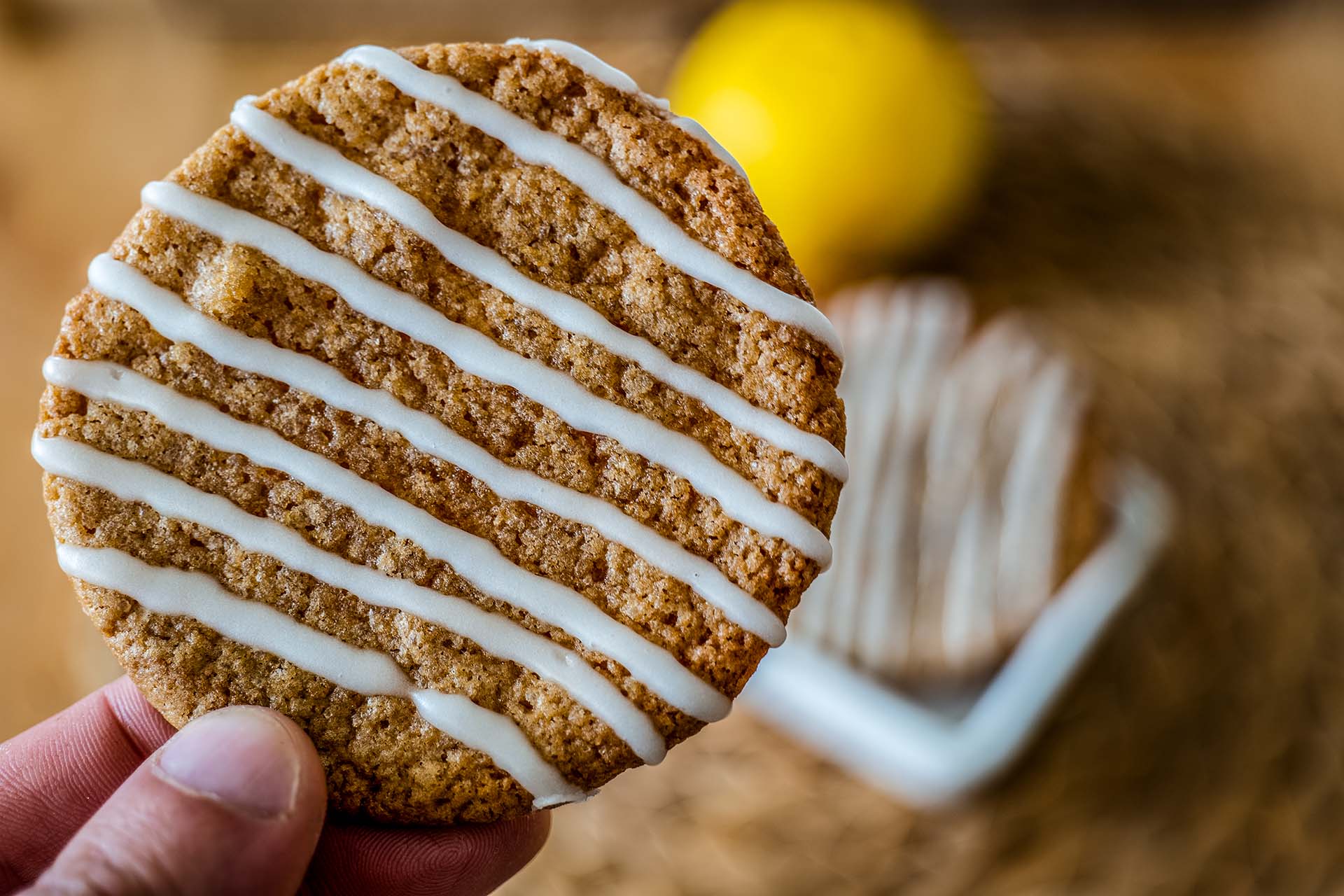 How to make Lemon Cookies
Lemon cookies are really easy to make, unlike other cookie recipes, we don't brown the butter as we don't want to taint the lemon flavour. The steps are super easy, here is what you do:
In your whisking bowl, add the butter and sugar and whisk at medium/low speed until combined and a little creamy. If the butter is at room temperature, this should take 3-4 minutes.
Add in the egg and vanilla extract, as well as the lemon zest and lemon juice. Check the recipe section of the ingredient list and details. They are available in Imperial and Metric measurements.
Now add the dry ingredients, sift in the flour, salt and baking soda and mix at low speed until combined. Don't over mix once the flour has been added, this will form gluten and make the cookies harder.
Form little cookie dough balls and place them on a baking tray lined with baking paper. These cookies will spread so give them some space. I use an ice-cream scoop to portion and cut each portion in half. This makes the perfect cookie size.
Baking with Convection: Preheat the oven to 350F or 175C. Place the cookies in the middle shelf for a more even temperature exposure and let them bake for 10 minutes. The cookies will be soft until they cool down so don't rush removing them from the tray.
Baking without Convection: Use the same temperature as convection but add two minutes to the baking time. The cookies will be soft when you take them out of the oven, this doesn't mean they are not cooked they just need to cool to set.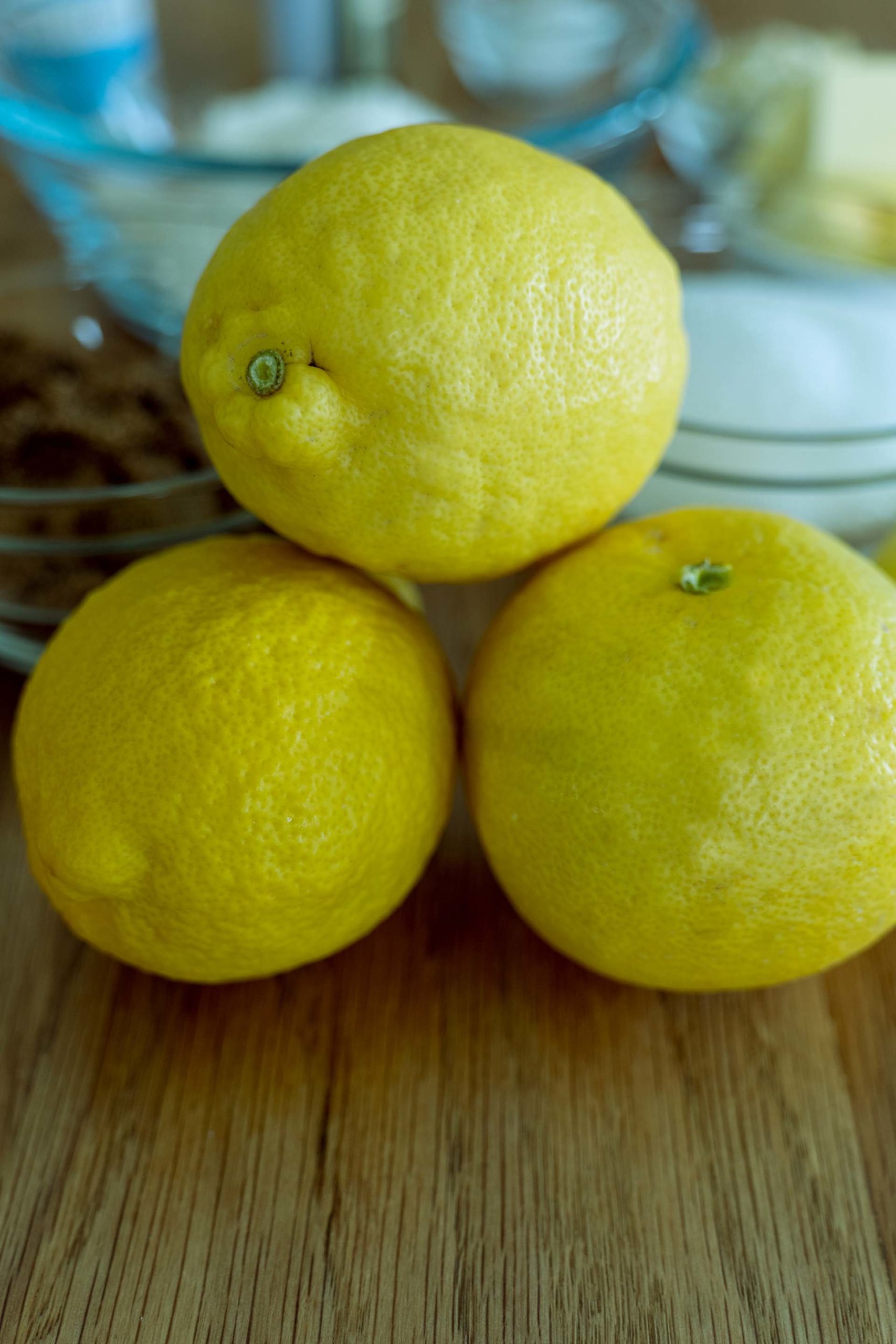 Storing Cookies & Cookie Dough
Freezing Cookie Dough
A question I often come across on the internet is, can you freeze cookie dough? The simple answer is yes. You can safely freeze cookie dough for 4-5 months. You can also bake cookies directly from frozen, no need to thaw at all. Just place them on a baking tray and bob's your uncle.
Storing Cookies
To store cookies, simple place them in an air tight container. You can line the bottom of the container with some kitchen paper towel to absorb any humidity. Cookies will keep for about a week but I doubt there will be any left for that long.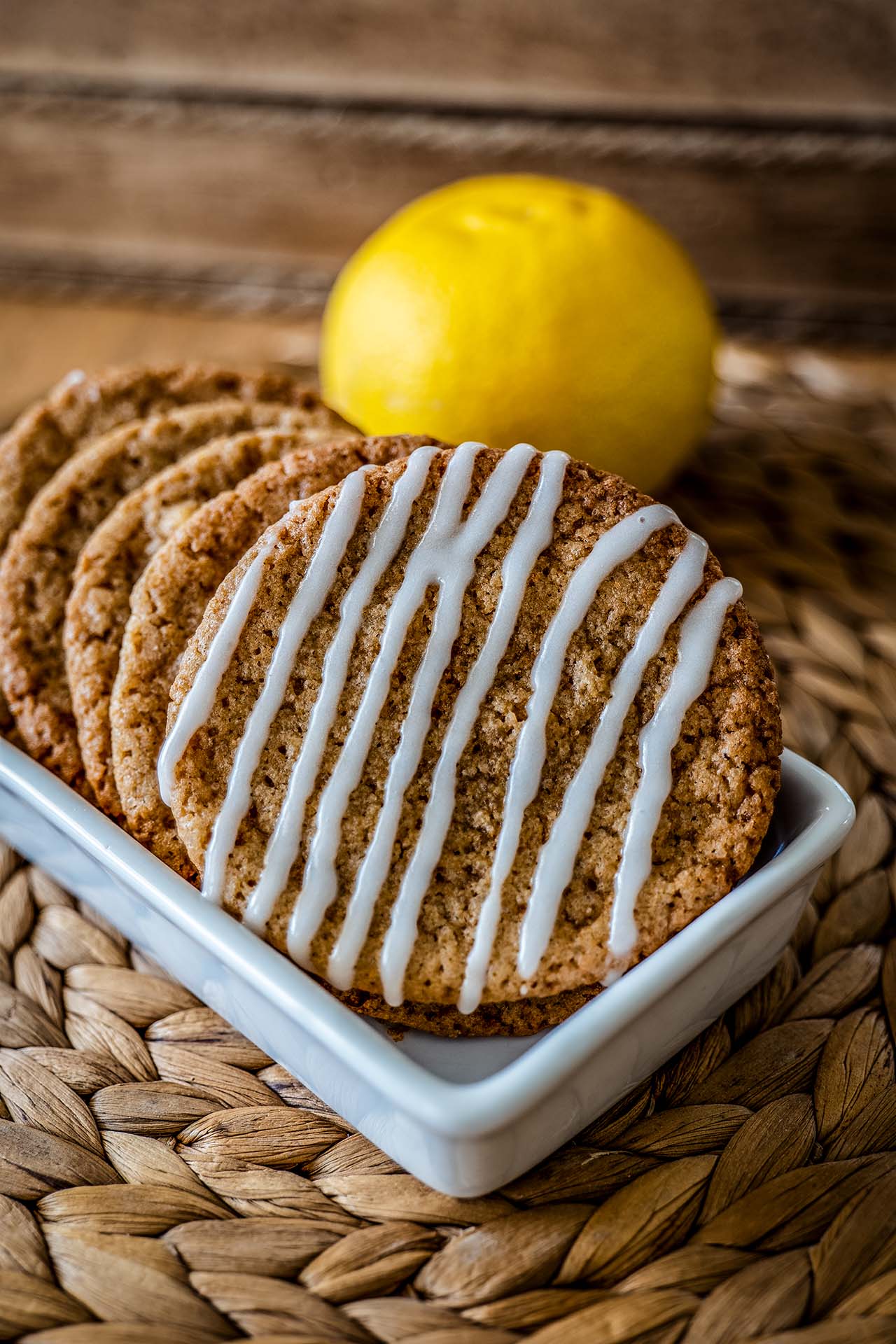 Lemon Cookies
Tangy Lemon Cookies that are crispy on the outside and chewy on the inside. Try my latest Urban Treats Lemon Cookie recipe.
Ingredients
Lemon Cookies
½

Cup

Unsalted Butter

1

Cup

Crystal Sugar

½

Cup

Light Brown Sugar

1¼

Cup

All-purpose flour

1

Large

Egg

1

tsp

Vanilla Extract

½

tsp

Baking Soda

½

tsp

Salt

3

Tbsp

Fresh Lemon Juice

1

Tbsp

Lemon Zest

Zest from one whole Lemon
Lemon Cookie Glaze
1⅓

Cup

Icing Sugar

3-5

Tbsp

Fresh Lemon Juice
Instructions
Lemon Cookies
In a mixing bowl, combine the sugar and softened butter. Whisk until smooth and well combined. Whisk in the Egg and vanilla extract lemon zest and the fresh lemon juice. Now whisk in the flour, baking soda and salt. Don't over whisk once the flour has been added, the ingredients just need to be well combined.

Using a spoon or ice-cream scoop, form little cookie dough balls that are approximately the size of half an ice-cream scoop portion. Place them on a baking tray lined with baking paper and set them in the fridge for 15-20 minutes. This will help them keep the shape in the oven. Now preheat the oven at

345

°F

Bake with convection for 10 minutes. If you are not using convection bake for an additional 2 minutes or a total of 12 minutes. Allow the cookies to cool before removing them from the baking tray as they may break when they are hot.
Lemon Glaze
In a medium sized bowl, add the powder sugar and gradually add the lemon juice while stirring. You should get a thick consistency that is a little runny and smooth.

Glaze the cookies using a condiment bottle or a small spoon.
Nutrition
Serving:
30
g
|
Calories:
137
kcal
|
Carbohydrates:
25
g
|
Protein:
1
g
|
Fat:
4
g
|
Saturated Fat:
3
g
|
Polyunsaturated Fat:
1
g
|
Monounsaturated Fat:
1
g
|
Trans Fat:
1
g
|
Cholesterol:
18
mg
|
Sodium:
76
mg
|
Potassium:
22
mg
|
Fiber:
1
g
|
Sugar:
19
g
|
Vitamin A:
130
IU
|
Vitamin C:
2
mg
|
Calcium:
8
mg
|
Iron:
1
mg