Tzatziki is probably one of the most known Greek dips and for good reason. Most of our meals are accompanied by pita bread and tzatziki salad. Dipping a grilled or toasted Pita bread in some homemade tzatziki is just Mmmmmmm. Now I have had a LOT of this dip over the years but my mom's Tzatziki easily beats them all. And, if you are busy looking for a quick, healthy dip, THIS IS IT.
Weather you are having souvlaki, gyro or Sheftalia, Tzatziki is a dip that accompanies almost every dish in Greece. Understandably, its delicious, healthy and easy to make.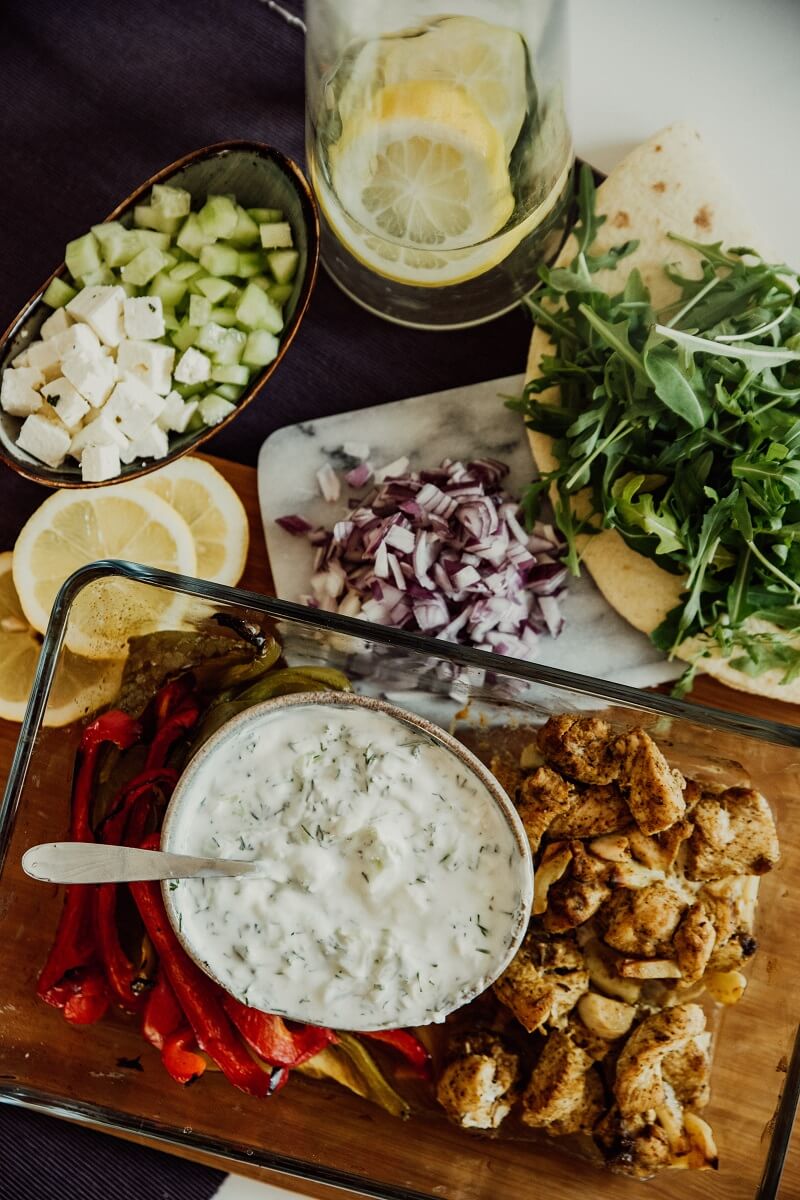 Is Tzatziki Healthy?
A 45 gram portion of Tzatziki has only 55 Calories and a small amount of carbs making it a healthy delicious dip. Mediterranean cuisine is well known for its health benefits, Greek Yoghurt is low in fat, Olive Oil is rich in antioxidants and monounsaturated fats. Garlic is well known for its anti inflammatory benefits as well as reducing cholesterol and blood pressure. So to answer the question, is tzatziki healthy? The answer is a loud yes.
Tzatziki Ingredients:
Greek Yoghurt is unarguably the most important part of tzatziki. Greek Yoghurt is thicker than plain Yoghurt, it is also lower in sugar and fat while containing more protein. This is why it is also considered a healthier Yoghurt but this also gives Tzatziki its texture. Thankfully Greek yoghurt is so famous that it is widely available around the world.
Cucumber gives it its fresh flavour and texture, the cucumber is strained with salt. This ensures that the dip is not too watery.
Garlic is a staple of the Mediterranean cuisine so no surprise here 🙂
Extra Virgin Olive Oil is another integral part of the Greek and Cypriot cuisine, you will need a couple of table spoons for this recipe.
Apple Cider Vinegar can be replaced with wine vinegar but try and use apple vinegar it makes a massive difference.
Spearmint gives the salad a fresh flavour but don't go overboard.
Dill is optional, I am not a fan of Dill myself so I usually leave this out. But if it tickles your fancy, go for it.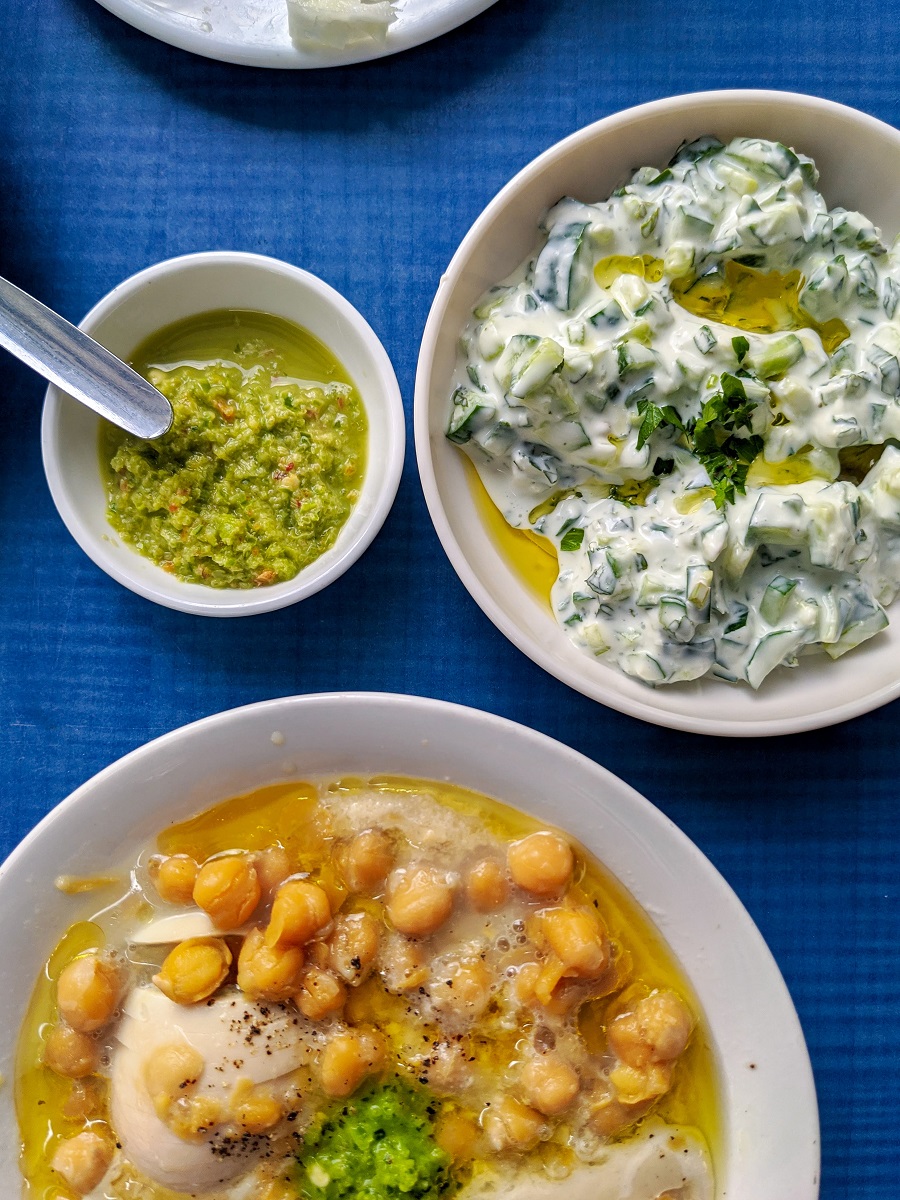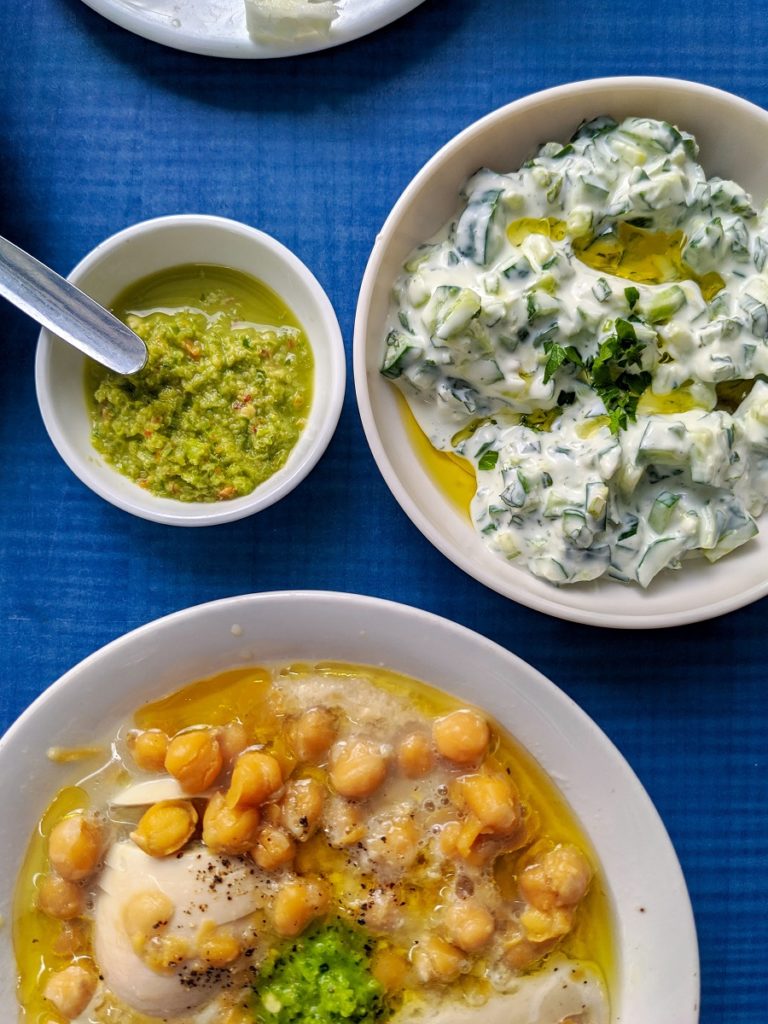 How to make Tzatziki at home:
This Greek dip is very easy to make but don't miss the first important step, grating and draining the cucumber. Here is how we do it in Cyprus. Use a large grater to grate your cucumber with its skin. Only cut of the end with the stem the rest can be used.
Now place the grated cucumber in a bowl and salt it. Use around 1 teaspoon of salt and mix it into the cucumber shreds. Set it aside and let it rest for 10-15 minutes. This will draw most of the liquid out of the cumber. Strain it and add it to a medium sized bowl. This step is important, if you skip it the tzatziki might turn out too runny.
Peal the garlic and crush it, add all the remaining ingredients and stir with a fork, now add salt and pepper to taste. You might think Go easy you can always mix in more. I like to keep a little olive oil and drip it over the top because it looks awesome.
Optionally, you can add some oregano on the top. My mom does this although its not considered "authentic" in Cyprus. Top with an olive for decoration and voila, your tzatziki salad is ready.
Tips, Tricks and Notes
This recipe is very straight forward and easy to make, not much can go wrong but here is a small tip, make sure you chop the spearmint finely, this will release the flavour better and wont make you accidentally chew on spearmint 🙂
How do you spell tzatziki? In English I often see people writing it as: Tzatsiki but the correct way to spell it is Tzatziki with two z. In Greek it is spelled: Τζατζίκι
This dip works great with an Authentic Greek Salad and some Pita Bread but can be added to virtually any dish.
Frequently Asked Questions
Is Tzatziki bad for you? No, Tzatziki is actually very healthy, All ingredients are beneficial in some way and there are no excess carbs, sugars or saturated fats.
What is the difference between Tahini and Tzatziki? Tahini is a dip made from sesame seeds. While served as a dip it is also added to certain other dishes and desserts. For example Tahini Pie is a sweet breakfast pie served in Greece and Cyprus.
What do you eat with Tzatziki? It is usually served with various meat dishes such as

Souvlaki
Gyro (rotisserie meat)
Sheftalia (minced pork wrapped in caul fat)
Bifteki (Greek Burger)
Kleftiko (slow oven cooked lamb)
Keftedakia (Greek Meat Balls)

Can you make Tzatziki Vegan? Yes, you can. My favourite Dairy Yoghurt substitute is Koko, they offer a range of plant based yoghurt which works great for tzatziki. Check it out here: Koko Dairy Free Yoghurt
How do you pronounce Tzatziki? Now I had a good laugh looking for a video on YouTube that would pronounce this correctly. Most of the videos got it wrong now maybe they were pronouncing the non-Greek versions but in Greece you pronounce it almost exactly as you write it. Tza Tzi Ki.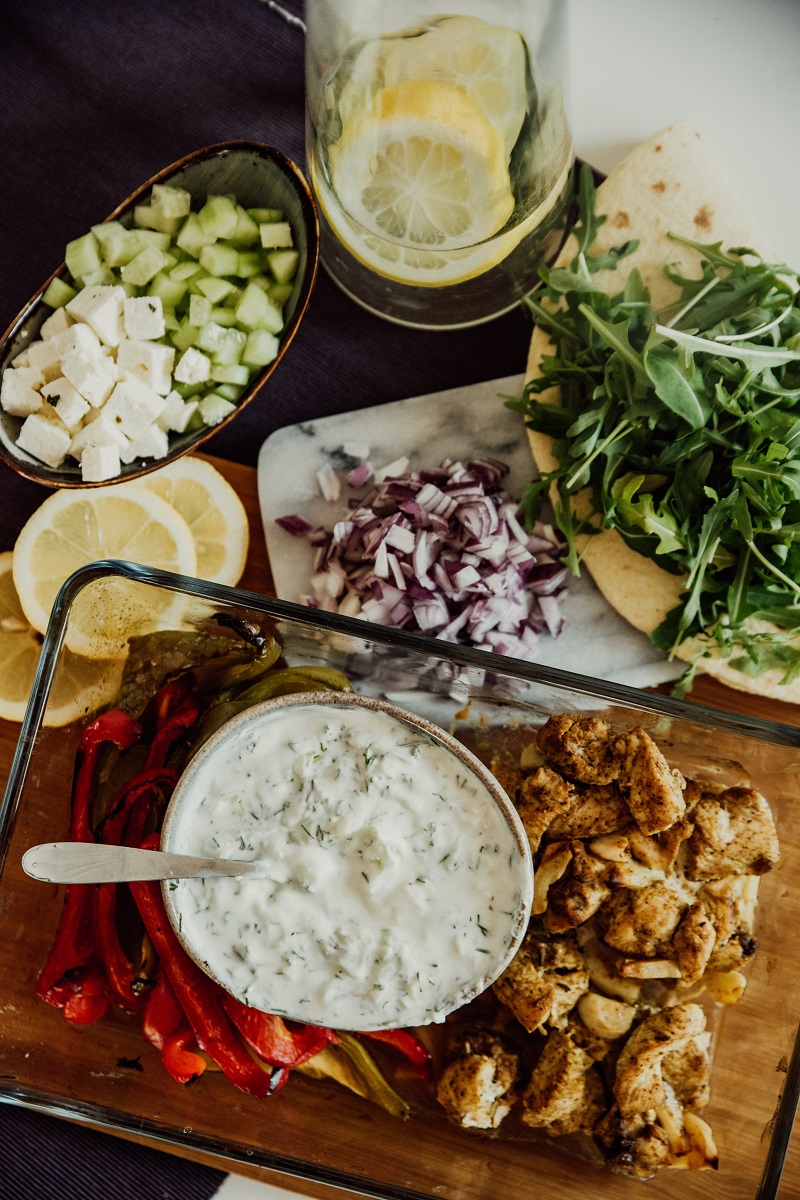 Homemade Tzatziki
My mom's homemade tzatziki recipe, easy, quick and amazingly delicious.
Ingredients
1

Cup

Greek Yoghurt

1

Large

Cucumber

with skin

3

Large

Garlic Cloves

minced

2

Tbsp

Olive Oil

2

Tsp

Apple Cider Vinegar

1

Tsp

Salt

1/2

Tsp

Pepper

1

Pinch

Oregano
Instructions
Cut the stem off the cucumber and grate it using a large holed cheese grater. Place in a small bowl and add one teaspoon of salt. Let it rest for 10 minutes then strain any excess liquid.

Combine the Yoghurt, Minced Garlic, Olive Oil and Apple Cider Vinegar then mix with a fork. Last add Salt and Pepper to your desire, taste and add more if needed. Top with a little oregano, olive oil and an olive.

1 Cup Greek Yoghurt,

3 Large Garlic Cloves,

2 Tbsp Olive Oil,

2 Tsp Apple Cider Vinegar
Nutrition
Calories:
118
kcal
|
Carbohydrates:
5
g
|
Protein:
6
g
|
Fat:
8
g
|
Saturated Fat:
2
g
|
Polyunsaturated Fat:
1
g
|
Monounsaturated Fat:
5
g
|
Cholesterol:
3
mg
|
Sodium:
607
mg
|
Potassium:
110
mg
|
Fiber:
1
g
|
Sugar:
3
g
|
Vitamin A:
85
IU
|
Vitamin C:
3
mg
|
Calcium:
82
mg
|
Iron:
1
mg