Last weekend, I had the honor of having my friend and master baker, Balázs, over to share his amazing Chocolate Glazed donut recipe with us. Without exaggerating one tiny bit, I can easily claim that these are the best donuts I have ever had or made. They are fluffy on the inside, and on the outside, they have an ever-so-slight crisp going on. Paired with a super-easy chocolate glaze, they look and taste out of this world.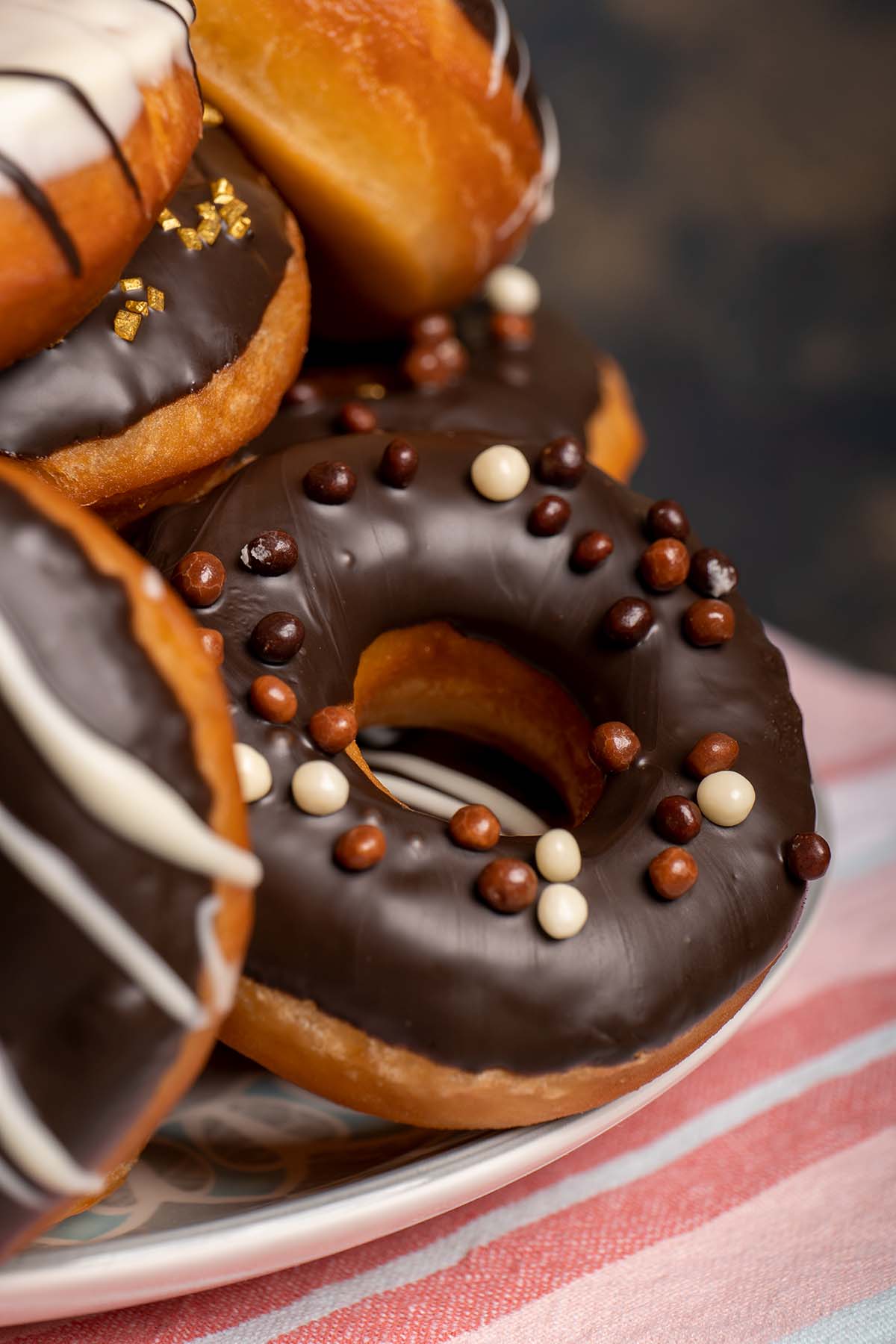 And this comes as no surprise: Balázs is a master baker with years of experience and has worked on luxury cruise ships and hotels, creating many fantastic creations. Make sure you check out his Instagram (@borzon.balazs) to see some of his amazing creations.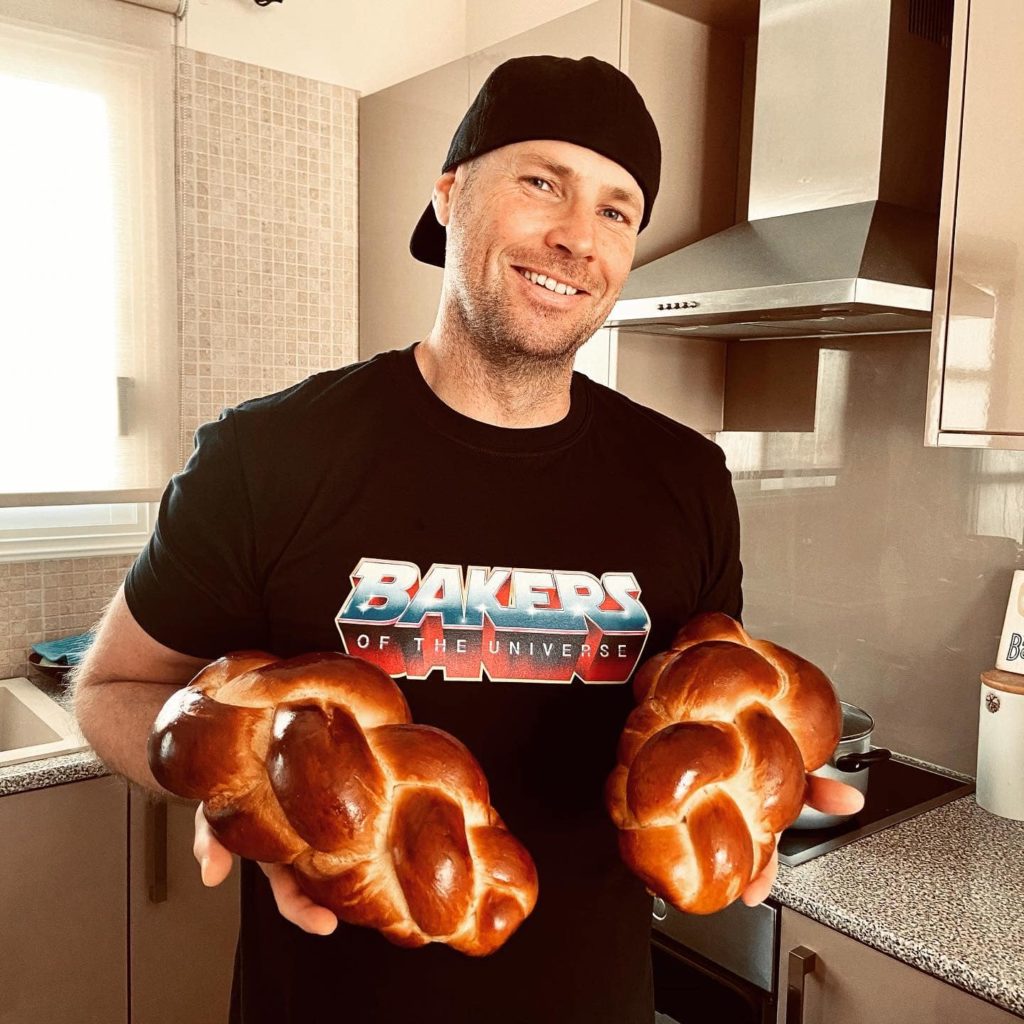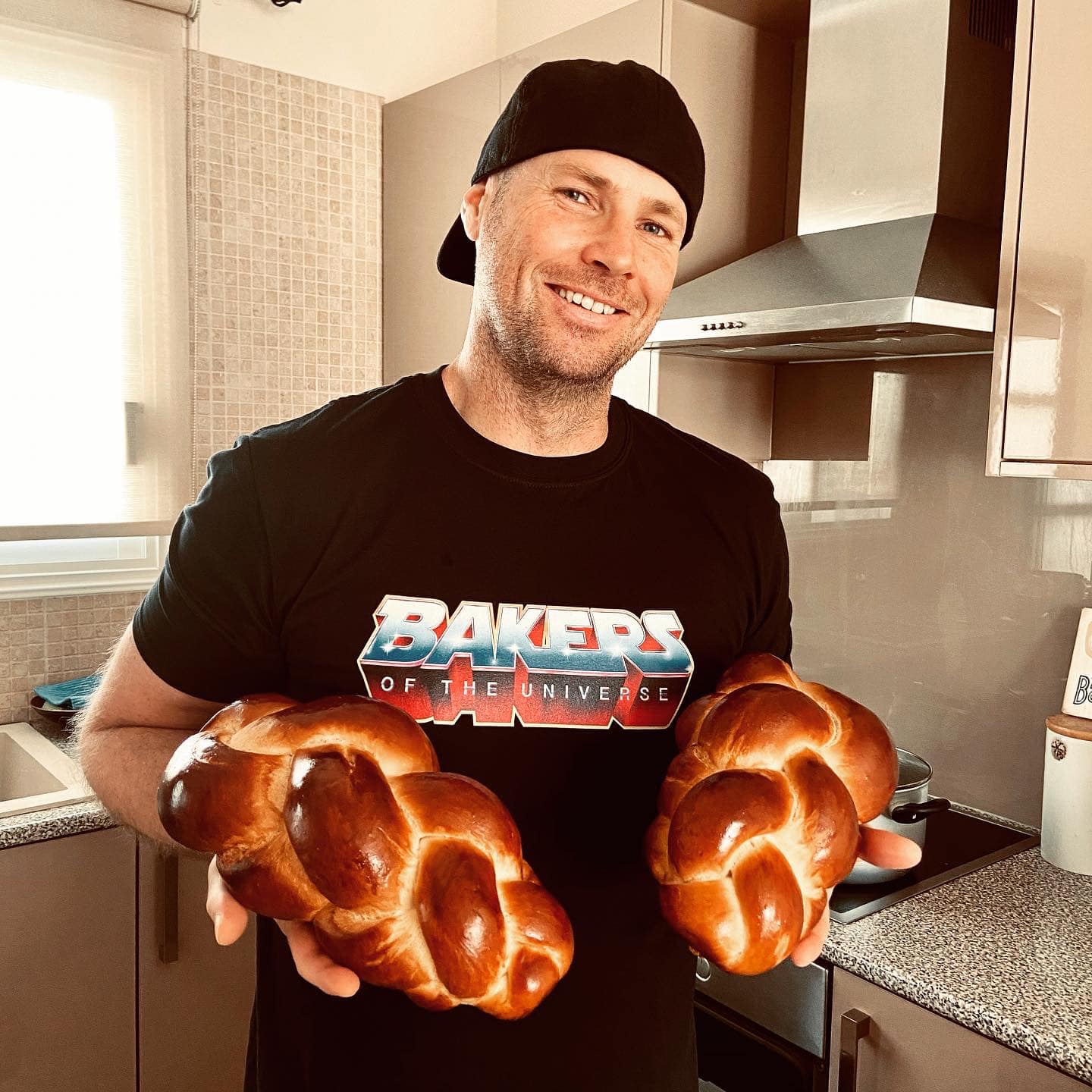 Fried or Baked Donut?
Firstly, let me say that baked donuts are awesome, and they're somewhat healthier. But is it really a donut if it's not fried? When I imagine a perfect donut, I picture a light, fluffy, fried piece of heaven with a thin layer of chocolate, and that is exactly what Balazs aimed for in this recipe. The difference between baked and fried donuts is mostly the texture and crust. A baked donut has a cake-like texture, while a fried donut has a fluffy, spongy texture.
But here's a little trick: you can actually bake these donuts WITHOUT a donut pan. Simply cut out the donut shapes, place them on a baking tray lined with baking paper, and bake until golden brown. Voila!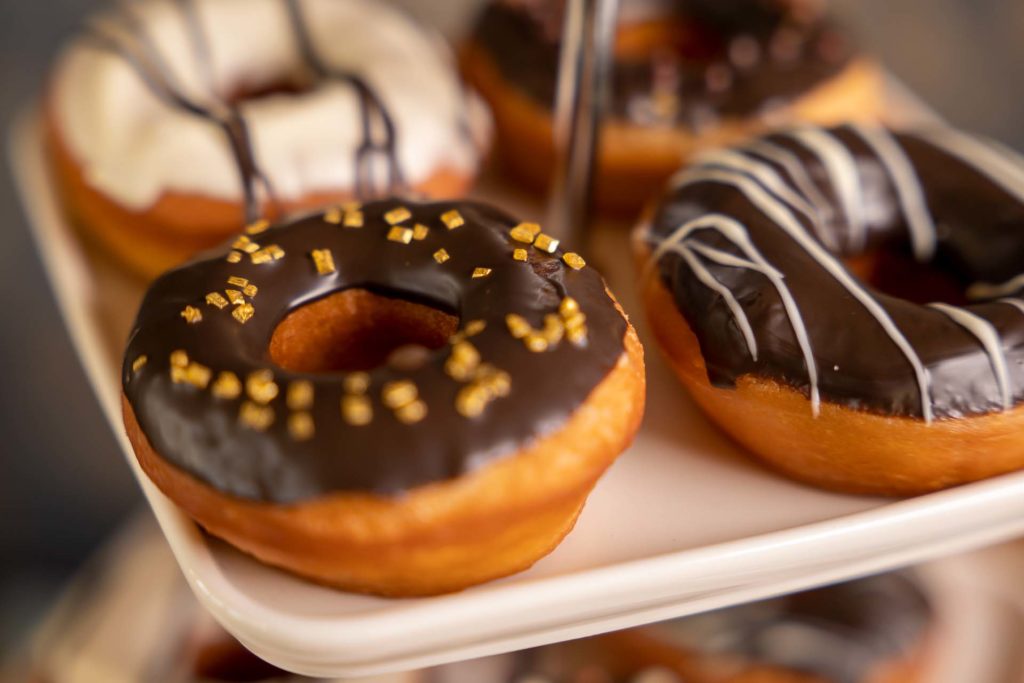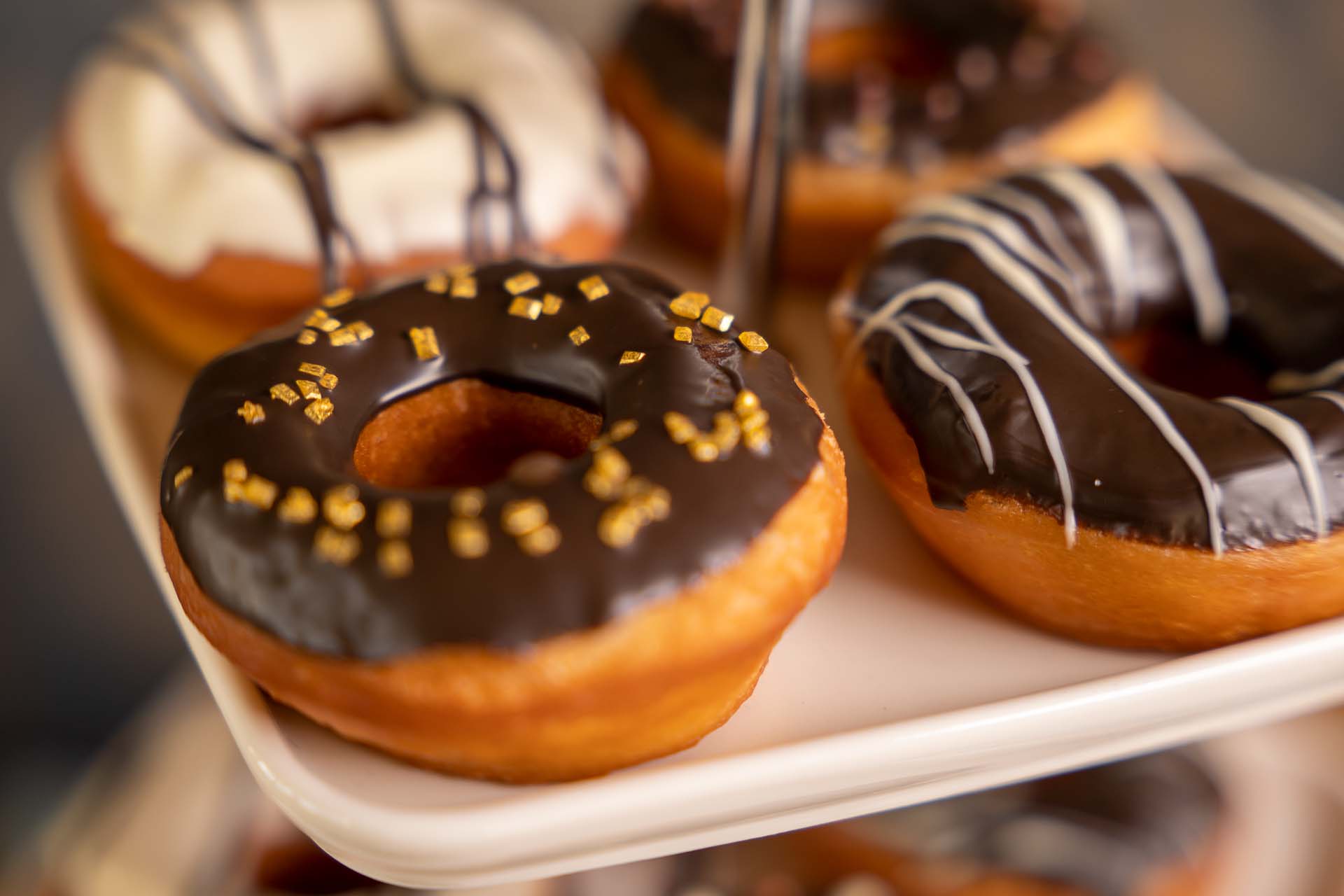 How to make Chocolate Glazed Donuts (Overview)
Since this recipe is based on a yeast dough, the process is fairly similar to my Austrian Donut recipe with a few different ingredients and ratios. But the steps are pretty similar:
Bloom the yeast by adding it into water and sugar
Knead with the remaining ingredients until smooth
Proof for 20-30 minutes in a warm place covered with a damp towel
Roll into a finger thick sheet of dough and stamp out your donuts
Proof the stamped out donuts for another 20 minutes
Fry at 180C or 356F until golden brown, flip and fry the other side
Set on a plate lined with kitchen paper towel to absorb excess oil
Glaze and Enjoy
See, all simple and easy to follow steps, you will find all the details in the Recipe section below.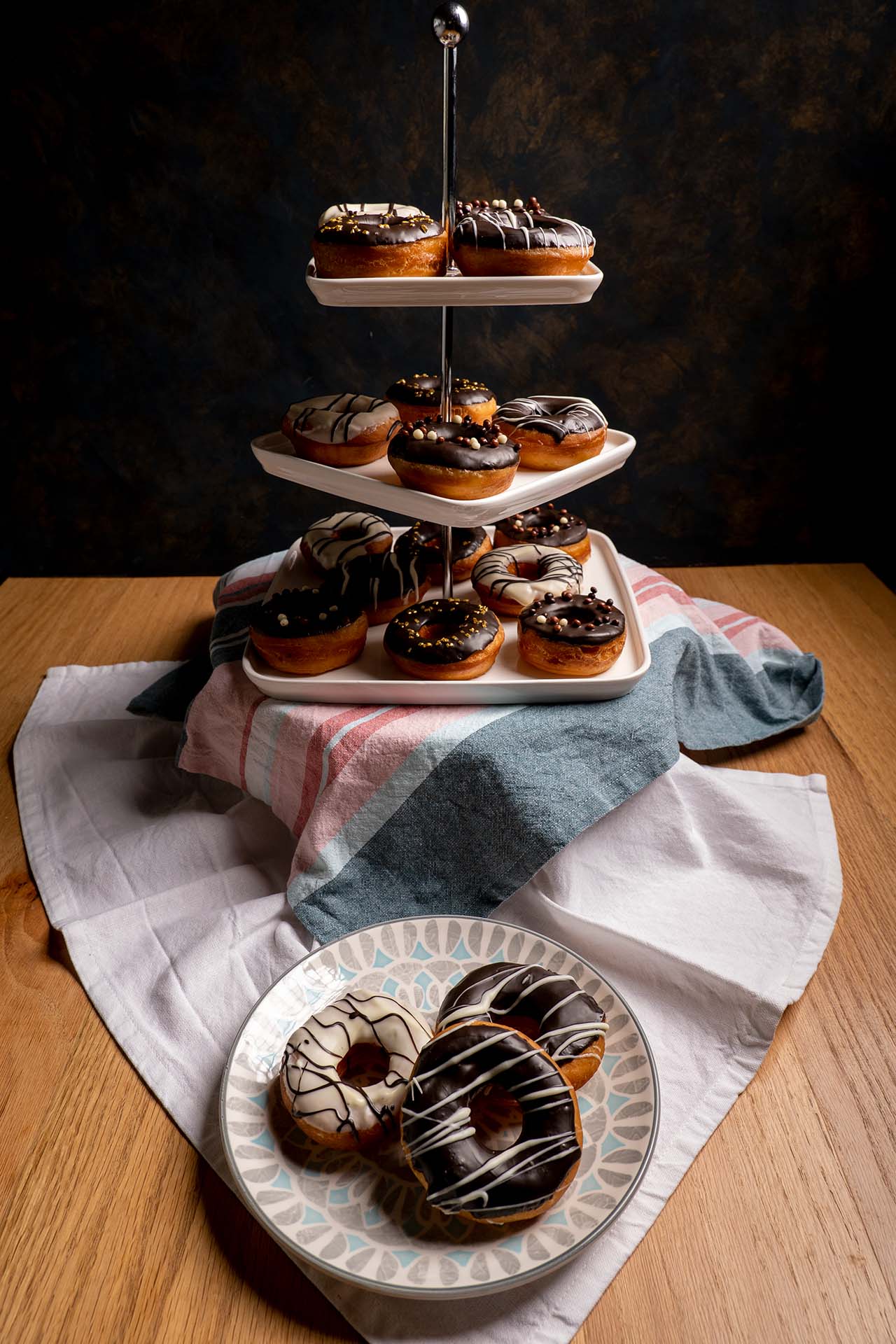 Tips & Tricks
Here are Balazs top professional inside tips for the perfect chocolate glazed donuts:
The best flour for this recipe is arguably plain flour or '00', but if you have all-purpose flour, it will work just fine with only a slight difference in the texture. The higher amount of protein in '00' flour makes it more suitable for yeast-based doughs, while all-purpose flour works best with chemical leaveners such as baking powder or baking soda.
Take your time kneading the dough. This is important to activate gluten, making a fluffy donut. You can tell if the dough is ready by performing a little stretch test. Grab a small piece of dough between your hands and stretch it slowly until it tears. The dough should be slightly see-through before it rips.
The proofing environment is important. In a professional kitchen, pastry chefs and bakers have a proofer which creates the perfect conditions for yeast to grow. However, we can replicate this at home. Choose a warm place for proofing. If you can, set your oven to 34°C or 93°F – that's perfect. Although, most ovens don't go under 50°C or 122°F. If that's the case, warm the oven to the lowest temperature, then switch it off. Wait 10 minutes, and then place the dough into the oven to proof. For an extra boost, add a little baking dish or ceramic dish with hot water – steam helps yeast grow even more.
The oil temperature is crucial for achieving the perfect golden brown donut. If the temperature is too low, the donut will be soggy, while if it's too high, it will be burnt on the outside and raw on the inside. The ideal frying temperature for vegetable oil is 180C or 356F. However, maintaining a constant temperature can be challenging without a fryer. The easiest solution is to use a frying or laser thermometer and take your time. Bring the oil to frying temperature, let it rest for a minute or two, and check if it remains at 180C/356F. Adjust as necessary. WARNING: Hot oil is extremely dangerous. Never leave it unattended and avoid introducing water or moisture to hot oil.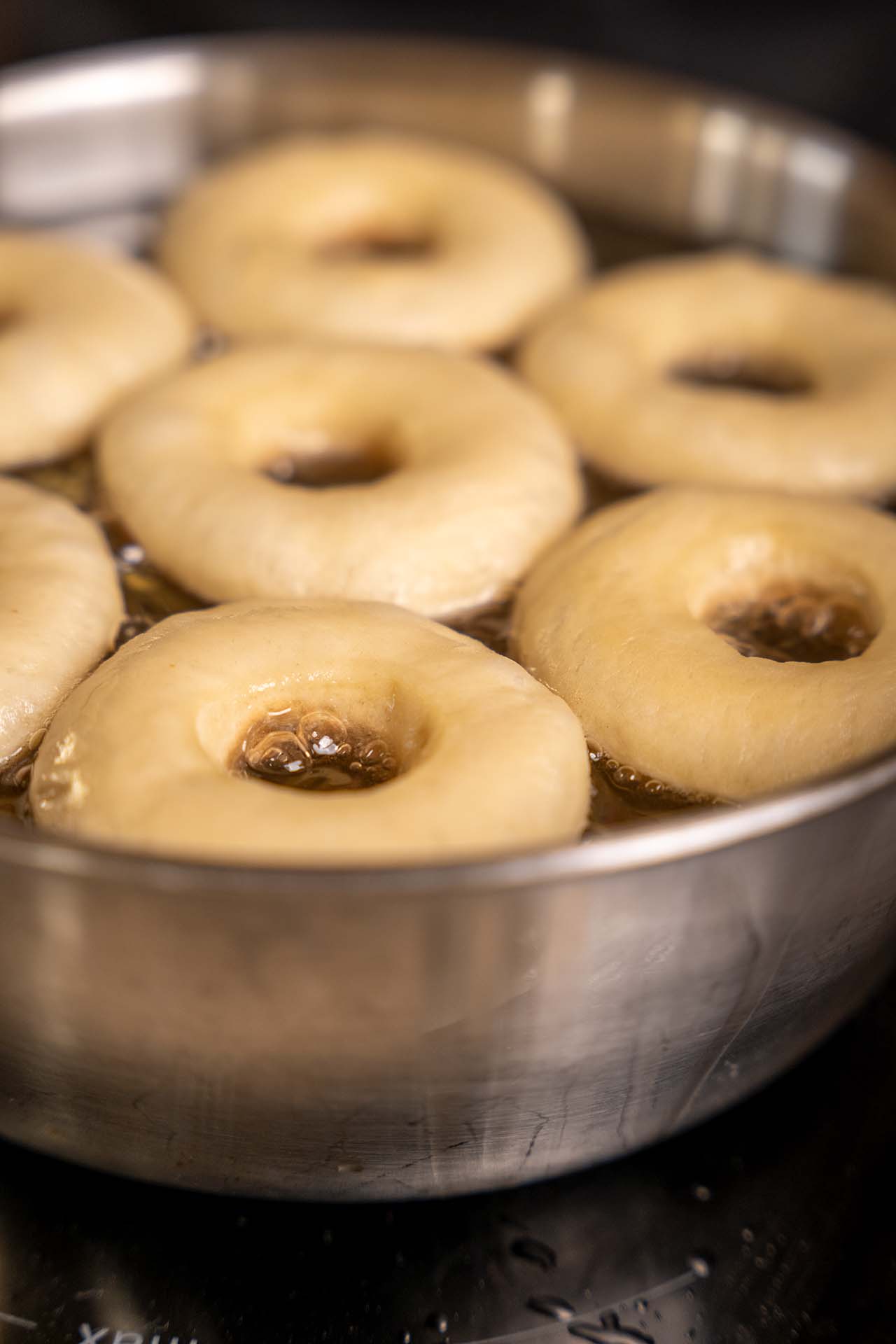 Ingredients
Making chocolate glazed donuts requires very few and basic ingredients that you likely already have in your kitchen. In fact, the ingredients are quite similar to those used for making brioche. All you need is: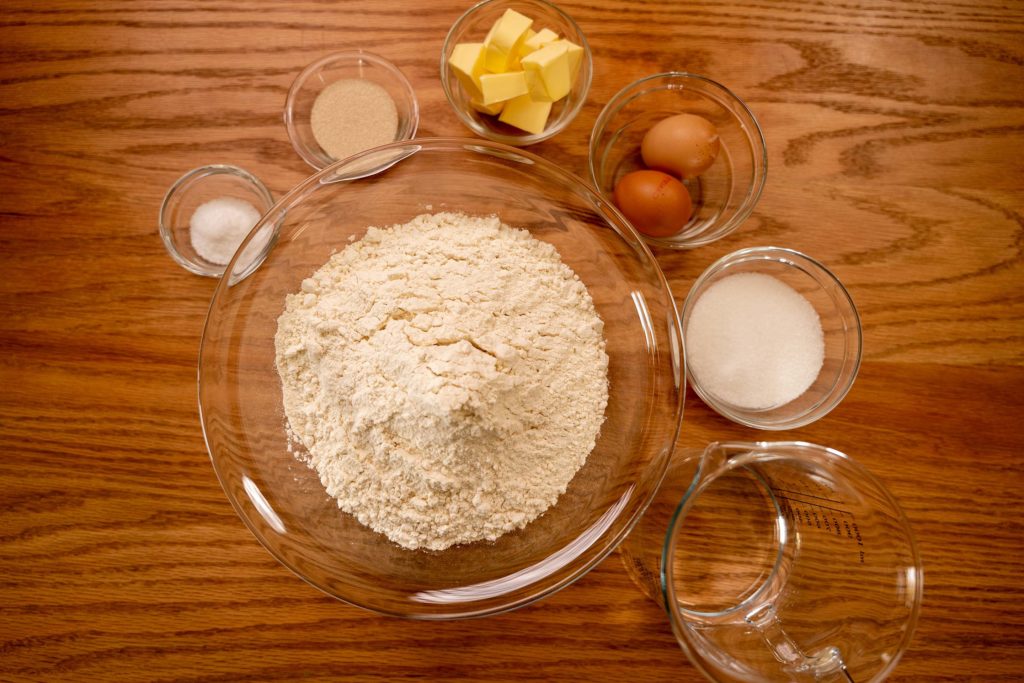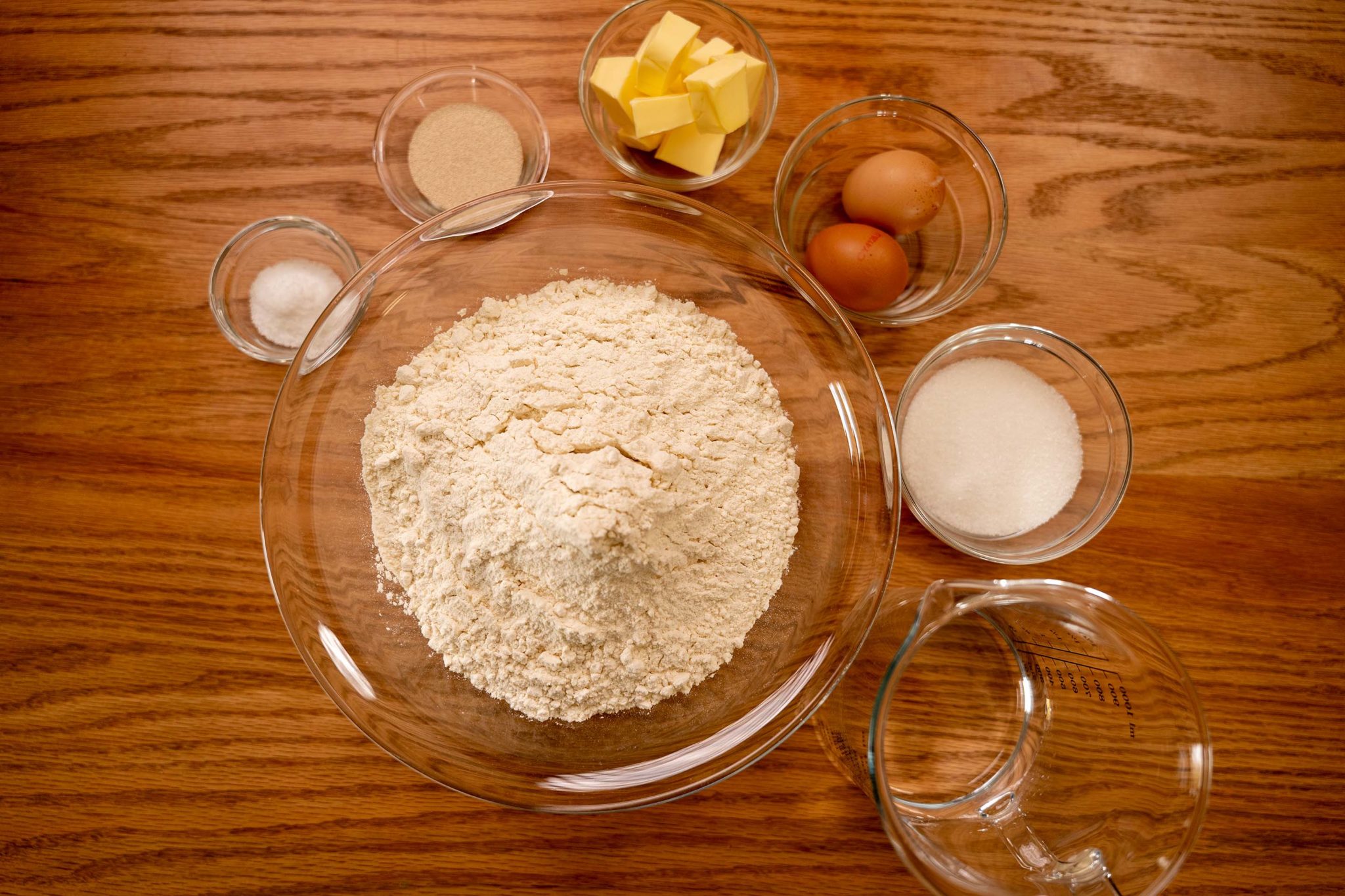 Plain Flour or All Purpose flour is the main ingredient for our donuts.
Yeast to activate the growth of the dough, I love to use instant yeast as it doesn't require any blooming but you can go with any type of yeast, just follow the right blooming methods.
Sugar does add sweetness but it also acts as nutrient for the yeast to help it rise
Eggs are a binding and levelling agent and are necessary for a perfectly textured donut
Salt doesn't just add flavour, it also tightens gluten strands making them stronger and more elastic. This helps form those perfect fluffy air bubbles in the dough.
Butter has a few effects on the dough, it makes the crust a little crispy, makes a softer texture and also helps with the rise of the dough.
Water is super important as it acts as a dispersing agent. It is necessary for fermentation of yeast.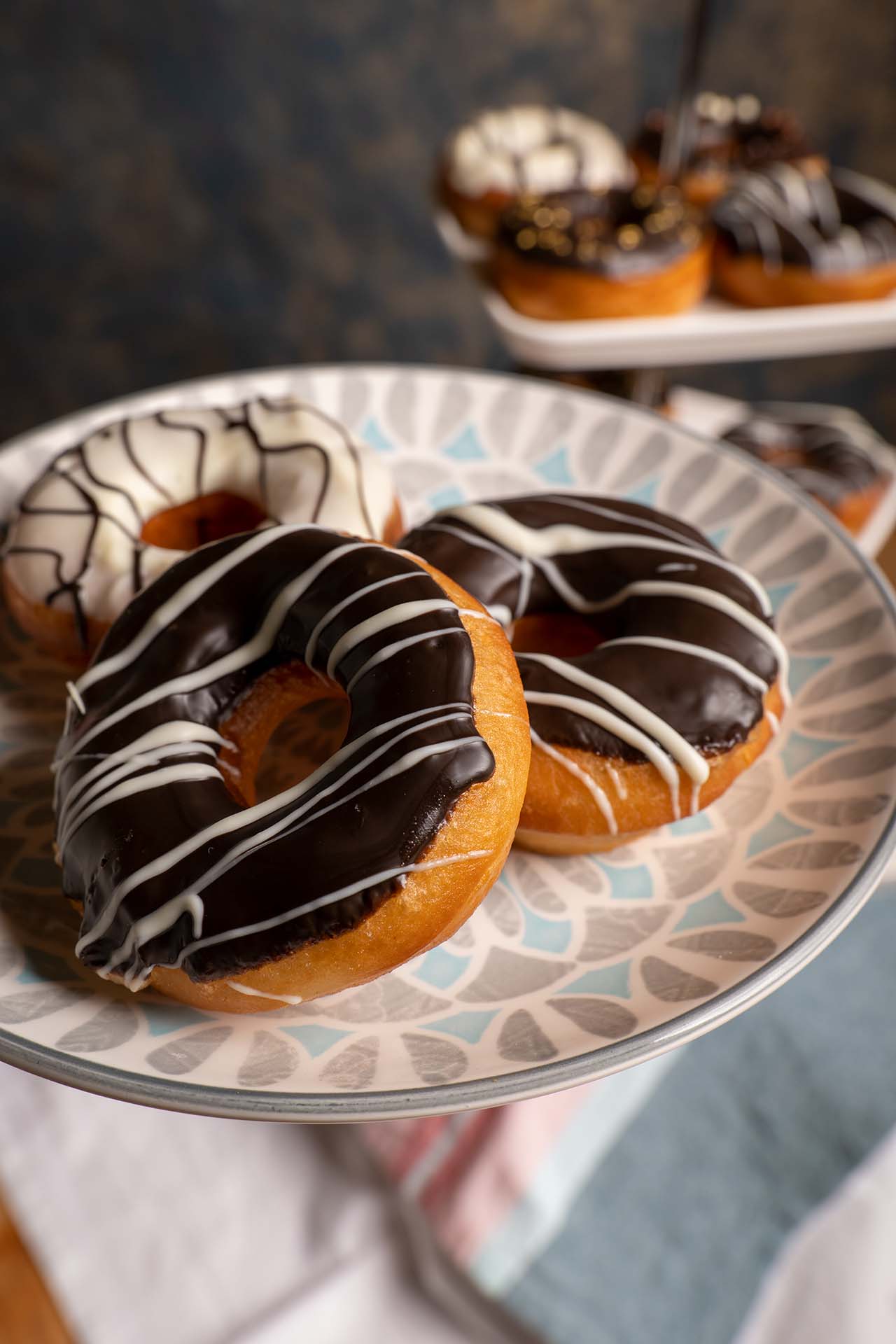 The Recipe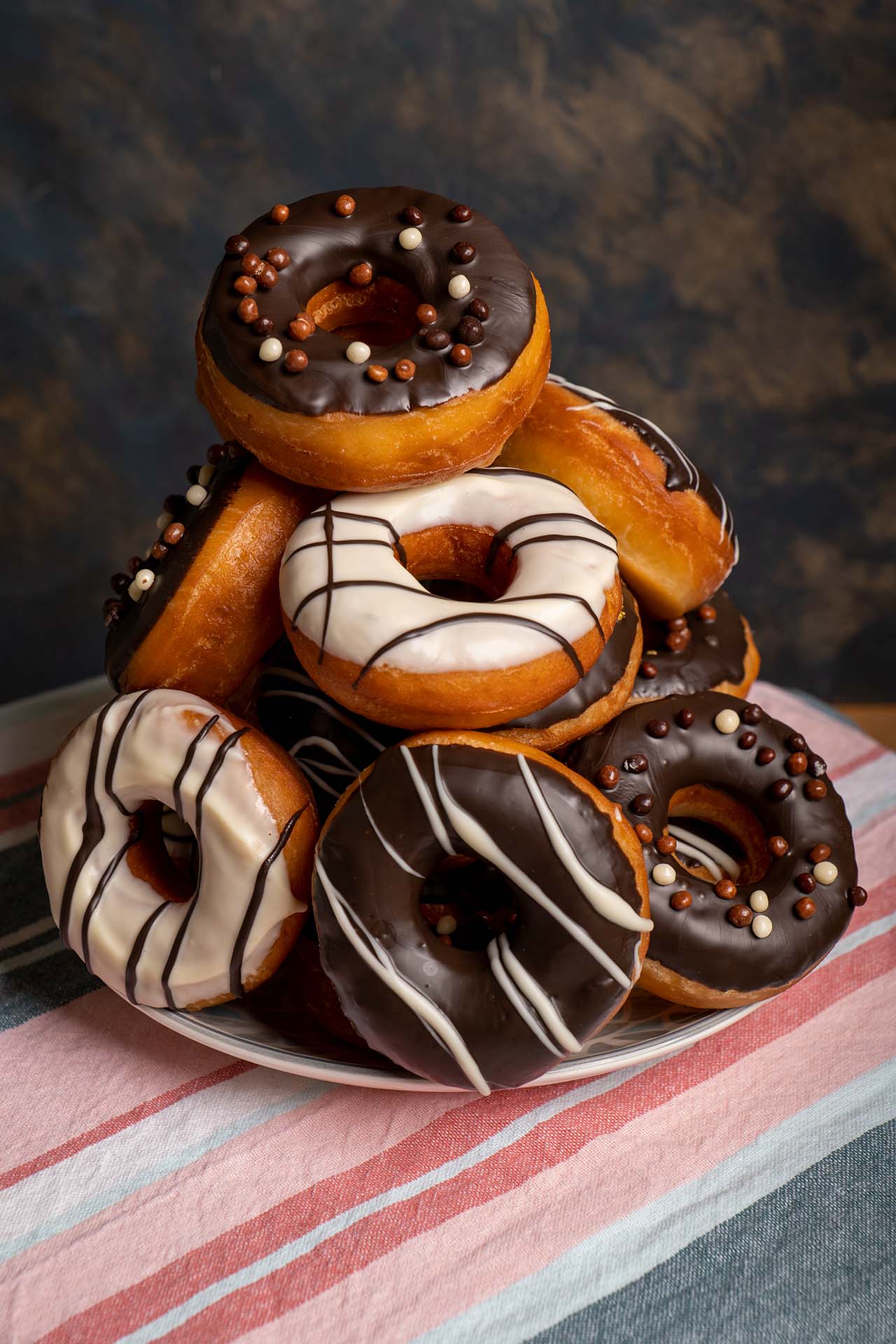 Chocolate Glazed Donuts
Professional Baker Balazs shares his amazing Chocolate Glazed Donut recipe with us. A yeast based donut dipped in a very thin layer of chocolate glaze. Simply AMAZING
Instructions
Donut Dough
In your stand mixer bowl, add the water, sugar, salt, eggs and yeast. Give it a quick stir and let it rest for 5-10 minutes until the yeast bubbles up. If you are using Instant yeast you can skip this step completely

1 Tsp Salt,

½ Cup Sugar,

2 Large Eggs,

7 Floz water,

1 Tbs Instant Yeast

Add flour and set the stand mixer to slow using a kneading attachment. As the mixture starts kneading, add the softened butter in small cubes until the dough is smooth and well combined. Knead the dough for approximately 10 minutes and then do a stretch test. (See tips and tricks section)

NOTE: You can repeat this process using your hands in case you don't have access to a stand mixer. It will just take a little longer.

3 Cups All-purpose flour,

4 Tbsp Unsalted Butter

Place the dough on a floured surface and using one hand work it by pressing it into the surface and forward. Repeat until it forms a perfectly round dough loaf. Watch the video for the technique. Now let it proof in a warm place for 20-30 minutes. Check the Tips & Tricks section.

When the dough has proofed, lightly flour your working surface and using a rolling pin, roll the dough into a rectangle that's approximately a finger thick. (1/2 an inch or 25mm) Use the Biscuit cutters to cut out the main shape and then follow up with a smaller size to cut out the hole. Place on a baking tray and proof again for another 20 minutes.

Prepare the oil by heating it up to 180c or 356F. If you have a deep fryer, even better and easier. You will need enough oil for the donuts to swim in to fill the pan accordingly. To check the temperature use a frying thermometer or laser thermometer.

Place a few donuts into the hot oil and let them fry for 2-3 minutes until golden brown. Check using a fork by carefully lifting them up. When golden brown, flip them over by pushing one side under. Fry for another 2 minutes and set on a plate lined with paper kitchen towel to absorb excess oil.
Chocolate Glaze
For the chocolate glaze, simply melt cooking chocolate using a bain marie or the microwave. If you are using the microwave, go with 30 second burst stirring in between until almost melted. If you have a few clumps of chocolate left, stir until they have fully melted.

Add 1 tablespoon of Coconut oil or vegetable oil, this will make the chocolate thinner and will make a thin light crust. Coconut oil will also give the chocolate a nice velvet sheen.

Dunk the donuts and set them aside to dry, at this point you can also add sprinkles or other decoration if you want. You can also melt multiple types of chocolate and create beautiful designs.
Nutrition
Serving:
25
g
|
Calories:
115
kcal
|
Carbohydrates:
19
g
|
Protein:
3
g
|
Fat:
3
g
|
Saturated Fat:
2
g
|
Polyunsaturated Fat:
1
g
|
Monounsaturated Fat:
1
g
|
Trans Fat:
1
g
|
Cholesterol:
25
mg
|
Sodium:
125
mg
|
Potassium:
30
mg
|
Fiber:
1
g
|
Sugar:
5
g
|
Vitamin A:
97
IU
|
Vitamin C:
1
mg
|
Calcium:
7
mg
|
Iron:
1
mg