If you want to make luscious and Rich flavoured Millionaires shortbread then you are in the right place. We have tested 10 recipes and combined the layers of our three favourite Caramel Shortbread recipes to create the PERFECT Shortbread squares. Find out how we did it.
What is Millionaires Shortbread?
Millionaires shortbread also known in Europe as Caramel Shortbread has a few other names such as: caramel slice, caramel squares or millionaires squares, and is a three layered biscuit dessert.
The bottom layer is made of traditional Scottish shortbread with a middle layer of caramel covered by a third layer of chocolate.
Caramel slices are very rich in flavour thus the name "Millionaires Shortbread"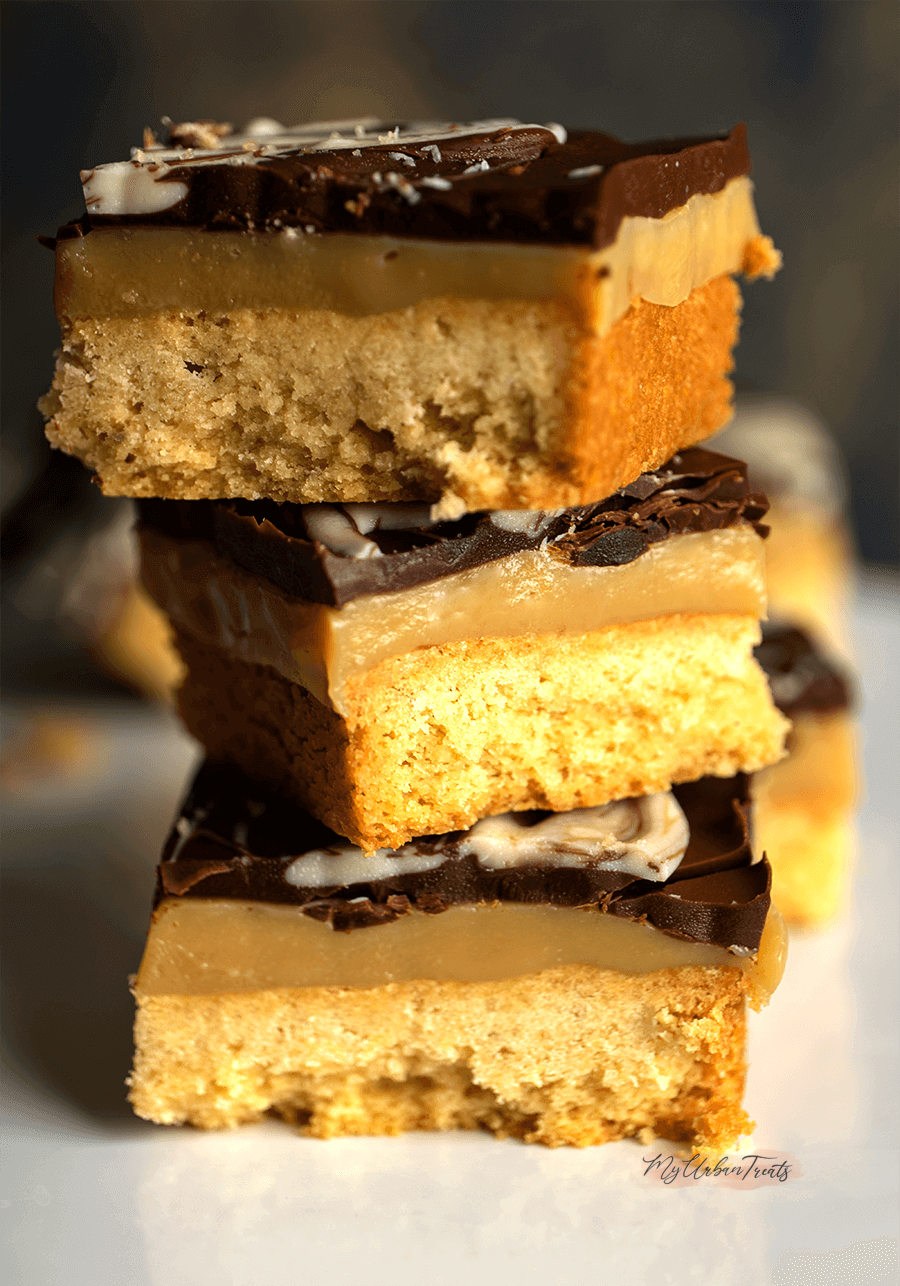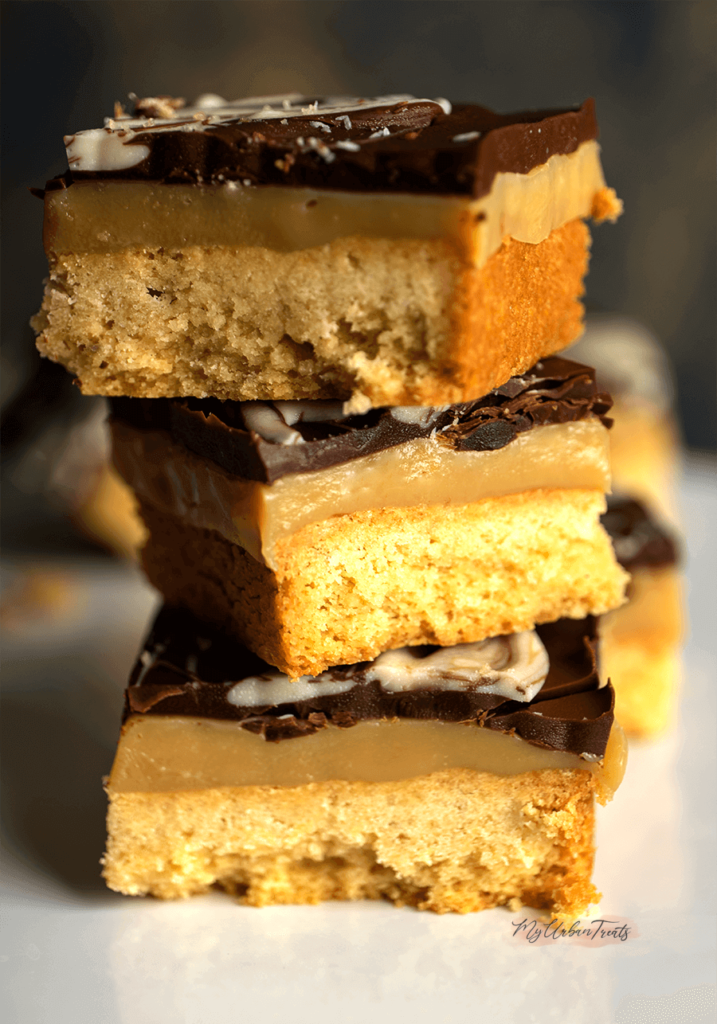 Shortbread
Shortbread is a traditional Scottish biscuit that is famous around the world. Shortbread relies on three main ingredients, Sugar, Butter and Flour. In addition to the main ingredients we add egg yolk which moisturises and helps emulsify the batter. The final ingredient is vanilla extract, Vanilla extract enhances the flavour of any recipe.
Easy Caramel Cheat
Caramel is a tricky subject, it's actually more a chemical process than an art. Temperature and conditions have to be correct to make caramel. But fear not, today we are using a simple cheat that will help you make delicious yet super easy caramel. In our Banoffee cake we used homemade salted caramel but that is a different more difficult method.
Caramelization happens when disaccharide sucrose is broken in to monosaccharides fructose and glucose. But lets leave the scientific jargon our of the recipe.
The easiest way to make caramel is by cooking sweetened condensed milk with butter and added sugar. We add brown sugar which will give it a richer flavour and darker colour and to round it off we add a pinch of vanilla extract. The whole process is in the recipe below.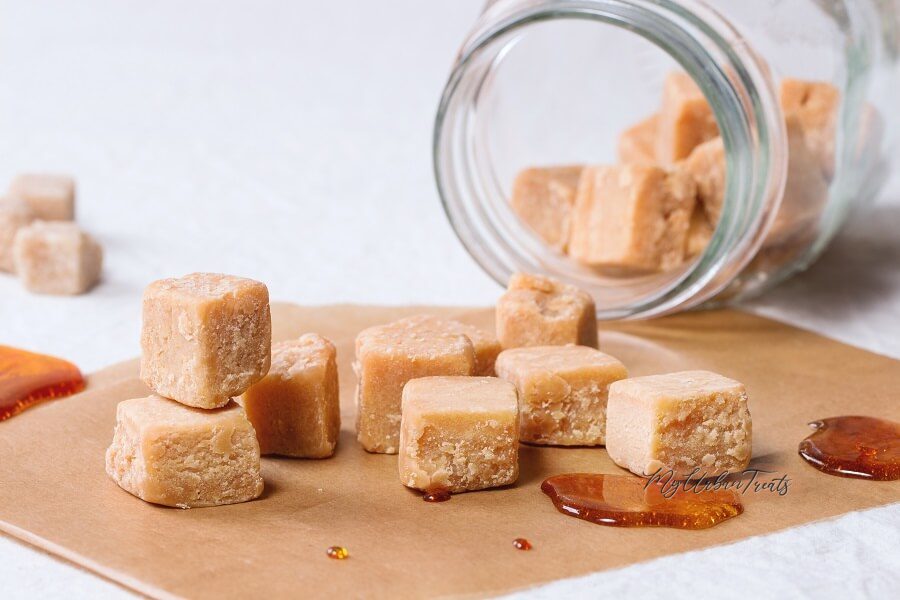 Chocolate top Layer
Chocolate is sensitive but today we will use a method that doesn't require complicated tempering. Instead we will microwave 70% our chocolate in 30 second intervals until it is fully molten.
Once the chocolate has reached its melting point we stir in the remaining 30% of the chocolate and keep stirring until it has dissolved. This will slowly cool the chocolate and avoid it turning white when it sets.
Caramel Shortbread Tips & Tricks
Avoid over mixing the dough, cream the butter with the sugar and vanilla extract but once you add the flour go easy, over whisking activities gluten.
Don't rush to cut your Millionaires squares. Even if the chocolate looks as if it has set, it can still be soft under the top layer. Patience make sharp cut squares.
Caramel can easily and quickly burn, to avoid burning your condensed milk caramel stir constantly. I like to use a spatula as it scrapes the sauce pan with every stir.
Cutting shortbread is a challenge, there are two ways we found work best.
a) Use a warm and sharp knife.
b) Use a long knife and use pressure to cut each line.
In both cases, clean the knife after every cut for a sharp edge.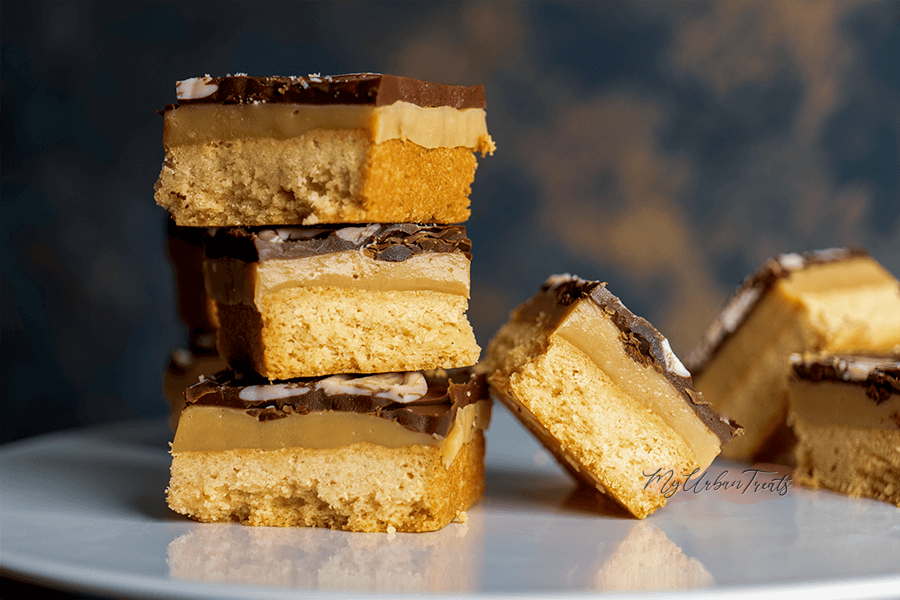 Millionaire's Shortbread
Millionaire's shortbread also known as Caramel shortbread in Europe is a three-layer dessert composed of Shortbread, Caramel and Chocolate. This dessert is relatievly easy to make and is super delicous .
Ingredients
Caramel Layer
1 ⅓

Cups

Condensed Milk

⅓

Cup

Brown Sugar

½

Cup

Unsalted Butter

¼

Tsp

Salt

1

Tsp

Vanilla Extract
Chocolate Swirl Cover
2

Cups

Dark or Milk Cooking Chocolate

keep 50 grams cool for tampering

¾

Cup

White Chocolate
Instructions
Shortbread Recipe
Before you cream the butter, make sure it is at room temperature. Then using a hand or stand mixer whisk at medium-high speed until the butter is light, pale and fluffy.

Now add both sugars, the egg yolk and vanilla extract and cream at medium speed until well combined.

Gradually whisk in the flour at medium speed adding one-third of the flour each time to avoid clumps. If you can press your batter without it sticking to your finger then it is ready. If it does stick add a little more flour until you get a crumble like texture.

Now bake the shortbread in a 9 x 9 baking pan lined with parchment paper for approximately 35 to 45 minutes until the top is golden brown. Set aside and let it cool to room temperature.
Easy Caramel Recipe
In a heavy saucepan, combine all the caramel ingredients except the vanilla extract. Simmer at a medium-low heat while constantly stirring. The caramel can burn at the bottom of the pan so I find it best to use a silicone spatula to constantly scrape the bottom and avoid burning. If you slightly burn the sugar you will get some small dark lumps, don't worry they taste great 🙂

Keep cooking until you get a light brown caramel colour and the consistency of the milk thickens.

Set aside to cool, you don't want it to set completely but if you add it too hot then the Shortbread will suck up all the caramel and you won't have a separated layer.

Now that your caramel is warm but still in a liquid state, pour it over the shortbread. Using a spatula spread it evenly and then shake the pan to get any trapped air out of the caramel. Place the two layers in to the fridge for 2 hours to cool and set.
Chocolate Swirl Layer
To avoid ghosting of the chocolate, we will temper it using a quick trick that doesn't need any special tempering experience. Place your dark or milk chocolate into a microwave save bowl. Keep 50 grams aside for tempering.

Microwave and stir the chocolate in 30-second bursts until the chocolate has melted. You don't want the chocolate to burn so be conservative with your microwave zapping. Now add in the 50 grams and keep stirring the chocolate until it has cooled down to almost room temperature.

Repeat the same with the white chocolate leaving 30% of the chocolate aside for tempering.

Pour the chocolate over the cooled and set caramel layer. Spread it evenly using a spatula and then shake the pan to distribute and settle.

Now randomly place dabs of white chocolate over the dark chocolate. Using a wooden skewer or chopstick draw lines through the chocolate which will create the marble swirl pattern. Set in the fridge to settle for at least 30 minutes.
Nutrition
Calories:
387
kcal
|
Carbohydrates:
44
g
|
Protein:
5
g
|
Fat:
22
g
|
Saturated Fat:
14
g
|
Cholesterol:
67
mg
|
Sodium:
80
mg
|
Potassium:
147
mg
|
Fiber:
1
g
|
Sugar:
31
g
|
Vitamin A:
615
IU
|
Vitamin C:
1
mg
|
Calcium:
101
mg
|
Iron:
1
mg