Salted Caramel and Banana sponge with a blend of Caramel buttercream… Yummy
A modern take on a classic flavour. Who doesn't love Banana with Salted Caramel? I clearly remember the first time I ever tasted Banoffee Pie, pure heaven. Caramel blending with banana flavour is just yummy. So I decided we need more Banoffee flavoured desserts, and why not a cake? The was born, combining the classic flavour of Banoffee Pie add my favourite sponge cake and buttercream recipe frosting. The Banoffee Cake was born.
What you will need to Bake Banoffee Cake:
Banoffee Cake is not much different from any other cake when it comes to the baking process so the requirements are pretty basic:
An 8 inch or 20 cm round cake baking form: Amazon (affiliate link)
A heavy saucepan to make Salted Caramel
A hand or stand mixer to blend you batter
A couple of mixing bowls
A rubber or wooden spatula/spoon
A stovetop and an oven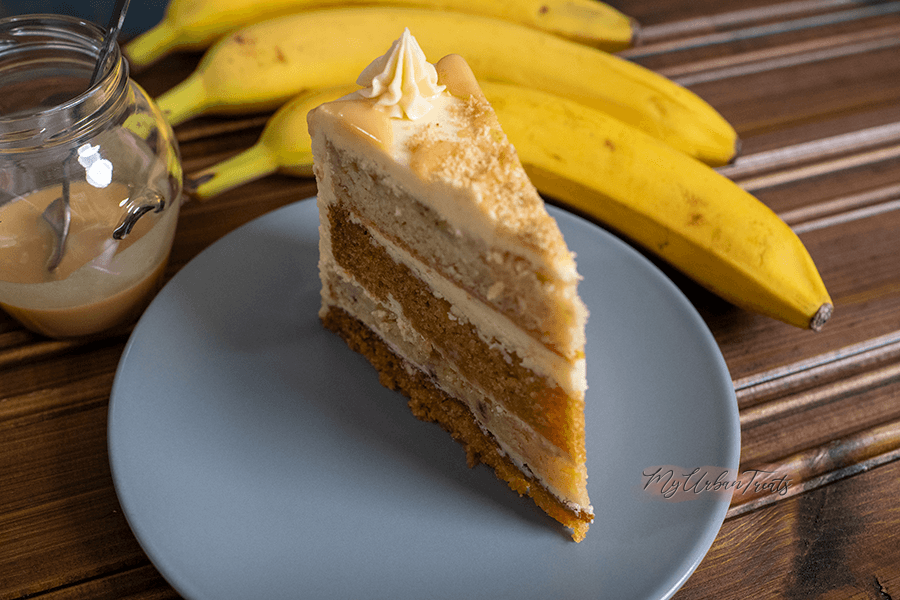 Optional Baking extras:
I recently picked up a couple of baking belts, these are simply fantastic. You soak them in water and strap then around your baking form. They keep the edges cool and give you an even bake. Your cake won't dome and the edges won't be dry and crispy, instead, you get a lovely spongy cake all around.
Another thing I recently acquired is an Induction Hob and I gotta say wow, first of all, you can set the exact temperature. This comes super handy with sugar or caramel cooking. And then there is the fact that it doesn't actually get hot it just heats up the pan very quickly. If you plan on getting an induction hob to make sure your pans are compatible as special cooking wear is required.
PME Baking Belt available here: Amazon (affiliate link)
Induction Hob available here: Amazon (affiliate link)
Making Salted Caramel for your Banoffee Cake
Salted caramel is not difficult to make if you follow some important steps. I have a full recipe for Salted Caramel here: Salted Caramel Recipe but the basics are:
Don't touch the sugar/water once the heat is on, the chemical reaction will crystalise the sugar
Watch your cooking temperature, you don't need a sugar thermometer but keep your heat on medium-low if you have an induction hob keep it between 165 C and 175 C
Have a kitchen towel ready. One of the key steps is whisking the heavy cream and hot sugar quickly together. This is difficult if your saucepan moves around, place it on a kitchen towel to keep it steady. CAUTION: Hot sugar requires careful handling as it stays hot for very long.
Let the Salted Caramel Cool before using it.
Banana & Caramel Sponge Layers
In this specific recipe, I use vegetable oil instead of butter. The reason for this is that it keeps the cake sponge moist even after its been refrigerated. While I just love butter flavour in all my cakes I choose my fat according to when and how fast the cake will be eaten ? Here are two more tips for a great cake sponge:
Use a baking belt for a more even bake, if you don't have one then you can make one out of aluminium foil and paper towels.
Don't bake too hot, most recipes call for 180C or 320F when baking cake, I prefer to lower my temperature to 165 to 170 and bake it a bit longer.
Check my Banoffee Cake Video Tutorial: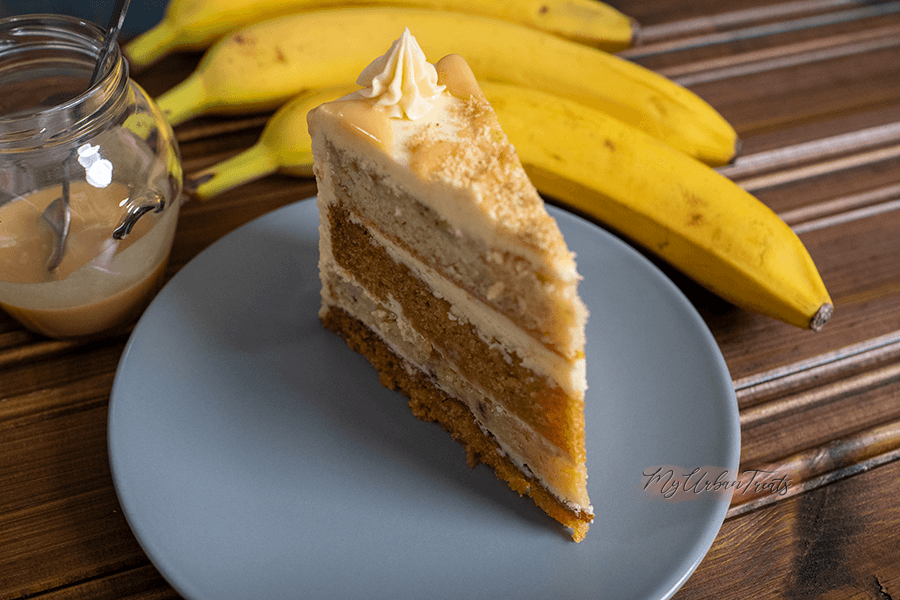 Banana Toffee Cake
Salted Caramel and Banana sponge with a blend of Caramel buttercream... Yummy
Ingredients
8

Large

Egg

2

Cups

Brown Sugar

2

Cups

Vegetable Oil

4

Cups

All-purpose flour

3

tsp

Baking Powder

1

tsp

Salt

3

Cups

Bananas

2

Cup

Salted Caramel
Makes:
8
inch
8
x
8
inch
round
,
3
inch
height
Instructions
Prepare the salted caramel first as it takes time to cool down and you will need it at room temperature before you can make the sponge or butter cream. Here it the link to my salted caramel recipe: Salted Caramel Recipe

Combine your wet ingredients and add the brown sugar, cream with a hand mixer or stand mixer. Combine the Flour, baking powder and salt. While mixing the wet ingredients gradually whisk in the flour mixture until well combined. Don't over mix to avoid activating gluten. Separate the batter into two equal parts.

Mash two cups or 450 grams of ripe bananas, add them to your cake batter (half of the portion) and blend with a rubber spatula or beater attachment. Flour an 8 inch or 20 CM cake form and place the batter in the form.

Fold 1 Cup of Salted Caramel sauce in to the remaining batter, place in a second cake form. Now bake both cake's at 180 C or 320 F for apx 45 minutes or until a toothpick comesy out of the center.

If you want a perfectly smooth cake then a cake turntable will definitely help, you can however get a nice finish simply using a palette knife or spatula. Alternate cake layers and connect them with a thick layer of buttercream frosting. When you are done cover the outer cake with a very thin layer of buttercream and place in the fridge for 20-30 minutes. This will lock in all the crumbs and allow you to get a smoother clean finish. When the buttercream has set, apply the final layer and decoration. You can add crushed digestive biscuits, caramel sauce and even some banana slices. Dip the Banana in caramel to avoid browning.
Nutrition
Serving:
1
Slice
|
Calories:
686
kcal
|
Carbohydrates:
77
g
|
Protein:
9
g
|
Fat:
40
g
|
Saturated Fat:
31
g
|
Cholesterol:
124
mg
|
Sodium:
374
mg
|
Potassium:
274
mg
|
Fiber:
2
g
|
Sugar:
40
g
|
Vitamin A:
204
IU
|
Vitamin C:
3
mg
|
Calcium:
125
mg
|
Iron:
3
mg