Hi All, today was a rather unexpected recipe. The kid's wanted burgers and I was thinking of a healthier option that would still be delicious. So I came up with this Chicken Burger & Avocado Recipe. What I love about this burger recipe (other than the flavour) is how quick and easy they are to make. I can actually make them during my 1hr lunch break because they are so easy and quick. Also, you can panfry or grill them and both taste great. So here is what you need
Chicken Burger Ingredients
Burger Patty
2.2 Lbs Minced Chicken ( use breast for the healthiest method)
1 Large Onion
2 Cloves Garlic
2 Tsp Paprika
2 Tsp Salt
2 Large Eggs
1 Chicken Stock Cube
1/2 Cup Bread Crumbs
Garnish
1 Large Tomato
1 Medium Red Onion
2 Large Gherkins Sliced
6 Slices Cheddar Cheese
6 Slices Lettuce
How to make it
You will need only one bowl for this recipe, and here is how its done.
Combine the minced chicken, diced large onion, minced garlic, paprika, salt and two large eggs. Using your well washed hands, knead it all together. Then gradually add the bread crumbs until the chicken patty mixture gets a bit firm but still easily malleable.
Using a burger press or by simply shaping the burger patties with your hands, form 6 chicken burger patties that are around the same size as the burger buns you will be using.
To make it easier when grilling or frying the burgers, I cut burger sized squares of parchment paper and layer them between each patty. This makes it easier to separate them and place them n the pan or grill. It also makes it easier to separate them when they are frozen.
Now heat the pan to a medium/high heat and add a teaspoon or two of vegetable oil. I use Olive Oil, probably due to my Greek roots 😀
Fry each patty until golden brown and well cooked then flip around and finish on the other side. This should take 3-5 minutes. Make sure there is no red/pink flesh in the centre of the burger patty. Just before the burgers are done, add a slice of cheese and let it melt. Alternatively you could also place the patty with some cheese under a grill.
Add some healthy Veggies
Slice some red onions, avocados, tomato's, gherkins and any other topping you might want to add. Add some lettuce, mayo or tomato sauce and layer all the ingredients on top of the chicken burger.
Pro-Tip: After frying the patties, fry the inside of the burger buns in the same pan. This will make them nice and crispy and will give them more flavour from the chicken.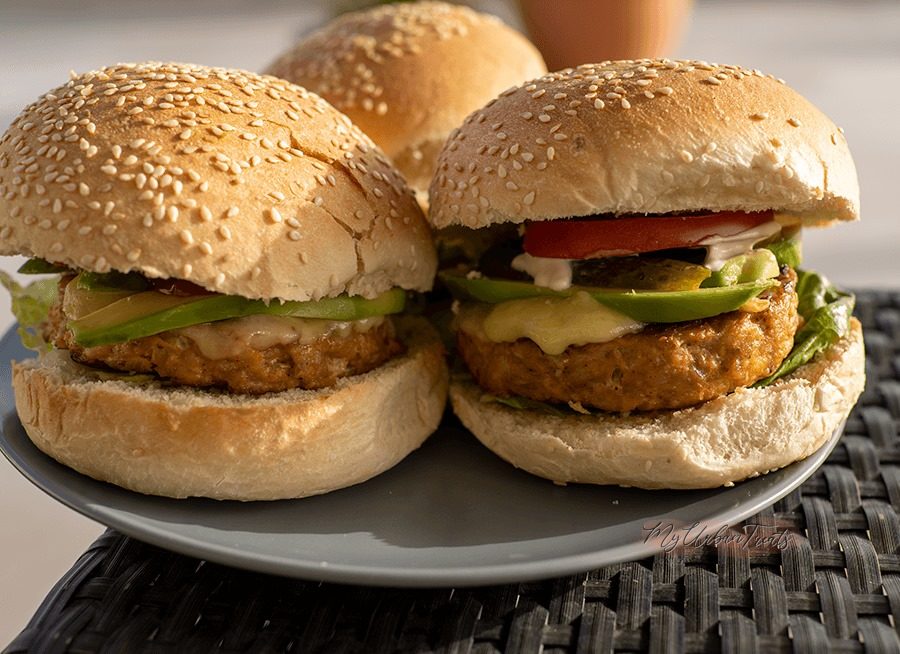 Chicken Burger with Avocado slices
These chicken burgers are easy to make, super tasty and carry a good portion of protein in every bite. This recipe will make 6 large burgers or 8 normal sized one. You can also charcoal grill them or simply pan-fry in a skillet with a lid. Either way, you will love these juicy burgers.
Ingredients
Burger Ingredients
2.2

Lbs

Minced Chicken

1

Large

Onion

2

Cloves

Garlic

2

Tsp

Paprika

2

Tsp

Salt

2

Large

Egg
Garnish
1

Large

Tomato

1

Medium

Red Onion

2

Large

Gherkins

Sliced

6

Slices

Cheddar Cheese

6

Slices

Lettuce
Instructions
Mix all the burger ingredients in a bowl and knead well until combined, if you have a burger form or press use it to prepare your burgers otherwise grab approximately two heaped spoons of burger mix and form it into a burger shape.

Heat a skillet that has a lid over medium heat with some olive oil, place the burgers into the skillet and cover. Allow the burgers to cook until the chicken meat is white on top and the bottom of the burger is slightly brown but not burned. Turn around and grill until the top is brown too.

Assemble your burgers, slice up the tomatoes, avocados and onion. Place a slice of cheese on the burger and place under the oven grill until melted. Assemble the burger with all ingredients. Add mayonnaise or ketchup as desired.
Nutrition
Calories:
361
kcal
|
Carbohydrates:
7
g
|
Protein:
36
g
|
Fat:
21
g
|
Saturated Fat:
8
g
|
Cholesterol:
223
mg
|
Sodium:
1552
mg
|
Potassium:
1055
mg
|
Fiber:
2
g
|
Sugar:
3
g
|
Vitamin A:
650
IU
|
Vitamin C:
10
mg
|
Calcium:
157
mg
|
Iron:
2
mg