In celebration of last weeks International Chocolate day I wanted to create something special. Something that is rich in chocolate but did not involve tempering. So the Triple Chocolate Impasto Cake was born. The great thing about this recipe is that all three layers have the same base batter. This means you can complete the first stage in a single batch and then blend the ingredients for the three chocolate flavours.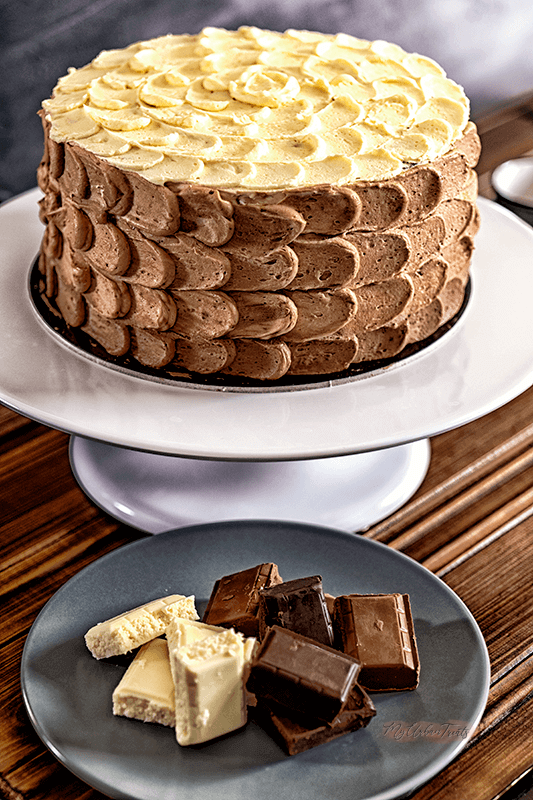 What is triple chocolate cake?
Triple chocolate cake is as the name suggests, cake made with three different types of chocolate. While some argue that white chocolate is not really chocolate, in my kitchen it will always have a place in the Chocolate section 😀
To make this a REAL triple chocolate cake, I have taken some extra time to make both the cake layers and buttercream layers in three flavours. Instead of baking three entirely different recipes, we make one general cake batter and then add in the different flavours. For the bottom layer I have chosen a brownie recipe, and while this is an additional step, its really worth it in the end result. Brownie cake is so rich and moist giving the overall recipe a fuller dark chocolate flavour.
Impasto Icing
I am not really sure if "Impasto Icing" is the official name of this Icing method but it reminds me of paste and palette style paintings so that's what I call it :D. This is probably one of the easiest and most beautiful Icing methods. You can see how it's applied in my video recipe but to give you the idea, you apply dots with your piping bag and then spread them out with your palette knife, voila.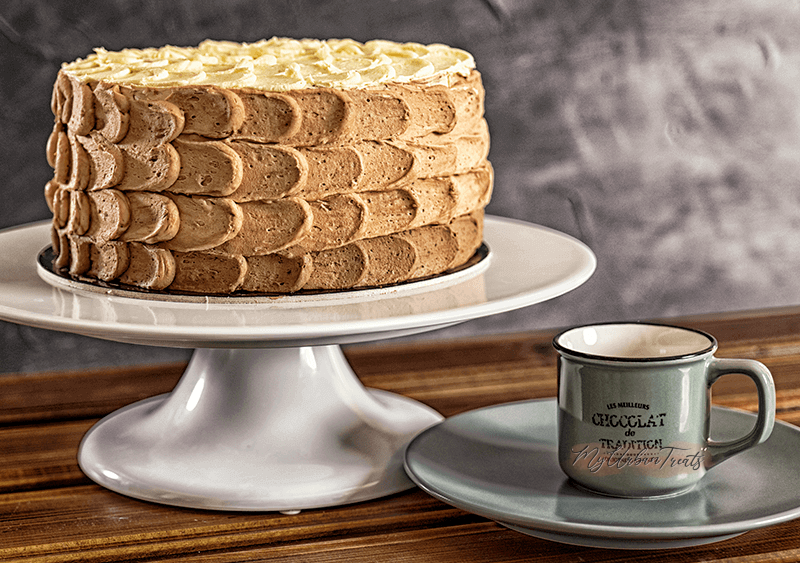 Important Note:
This buttercream recipe is fairly sweet as is quite usual in American Style Buttercream. You can do the following to avoid an over sweetened cake.
Add a pinch of salt to the butter cream, this will balance the sweetness a bit
Add some lemon juice (2-3 table spoons) which will also take out some sweetness
Add the sugar 1/2 a cup at a time, this way you can control the sweetness better
What you will need for this Recipe:
Below I am listing all the items I am using for this recipe, not all of them are necessary as you can have some workarounds to overcome their need. I will add more details in each line. I also provide a link to each item on Amazon. As an Amazon affiliate, I get a small commission for each purchase that helps me keep my blog running. This has no impact on your price of this item :).
Cake Sizing Guide
This recipe is designed for an 8 inch or 20-centimetre cake diameter. If you want to adapt it to larger cake pans then you can find the increase in percentage required below:
9 Inch / 23 cm pan increase by 30%
10 Inch / 25 cm pan increase by 58%
13 Inch / 33 cm pan increase by 128%
Note that this directly impacts the baking times in the oven, always make a skewer test and see if it comes out clean to ensure your cake is done.
Tips & Tricks
Here are some tips and tricks I had to learn the hard way.
Line your cake pans with baking paper. The chocolate in this recipe really makes a moist and sticky sponge. While this means an AMAZING taste, it also means it can easily break when you take it out of the pan. Cut a circle the same size of your form and line the bottom.
Let it cool before you remove it from the pan. Another trick to ensure you won't break your cake on the way out.
Mix the chocolate quickly. When adding the chocolate to the batter, make sure you are quick. As the chocolate cools it can form solid chunks so be quick but don't deflate your dough.
Also, make sure the chocolate has cooled down before you add it to the batter and buttercream.
The Recipe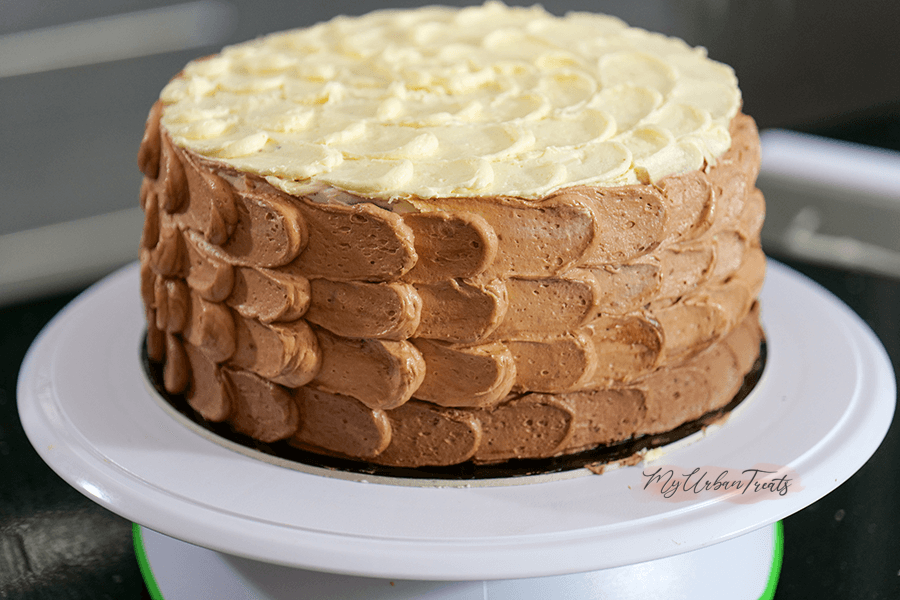 Triple Chocolate Cake
Chocolate, Chocolate and More Chocolate. Simply Delicious!
Ingredients
BROWNIE LAYER
¾

cup

Cocoa Powder

⅓

cup

HOT Water

1

Shot

Espresso
BUTTERCREAM
1 ⅔

cups

Butter

2

cups

Powder Sugar

½

cup

White Chocolate

½

cup

Milk Chocolate

½

cup

Dark Chocolate
Makes:
8
inch
8
x
8
inch
round
,
3
inch
height
Instructions
Combine all dry ingredients in a mixing bowl and blend for a minute. Then add your wet ingredients starting with the buttermilk, vegetable oil, eggs and vanilla extract. Whisk at medium speed for 6-7 minutes. Now evenly separate in three mixing bowls. I found that this equals about 500ml per bowl but feel free to measure and double-check.

These layers follow the same method so just repeat with each chocolate flavour. Melt the Milk and White chocolate in separate bowls. You can do this in Bermarie or in the microwave. If you are going to microwave your chocolate, do it in 30 seconds bursts. Stir and zap until all the chunks have dissolved. Let the chocolate cool to room temperature before the next step.

While folding the batter add in the chocolate and fold quickly. If your chocolate was too hot it can cause chunks but don't worry they still taste great in the cake ;).

This cake is sticky so line your baking pan with baking paper and bake at 175C or 350F until baked. This takes about 45 to 55 minutes depending on your oven. Do a frequent skewer test to ensure its cooked all the way through.

This layer is a little different. While mixing the base batter at medium speed, add the shot of espresso. Sift in the cocoa and then carefully add the hot water while whisking. The Hot water will dissolve and flower the cocoa powder for a great and rich taste. Espresso enhances the chocolate flavour. Bake at 175C or 350F until a wooden skewer test comes out clean from the centre.

Cream the butter until light and fluffy. Then whisk in the icing sugar in small batches. Whip for 5-6 minutes until your buttercream is smooth. Split into three equal parts, leaving one part in the mixing bowl.

You are best off starting with the white chocolate cream as this will keep the colour nice and clear and you won't need to wash your mixing bowl after every mix.

Melt your chocolate in three separate bowls using a microwave. Let the chocolate cool to just above room temperature. While whisking the buttercream on medium/high speed gradually add in the white chocolate. This needs to be rather quick to avoid chocolate clumps. Set the white buttercream aside and repeated the process with the Dark Chocolate and then with the Milk Chocolate.

To assemble your layers, simply add equal amounts of each buttercream between each layer. I used three full ice cream scoops for each layer. I started with White, Milk and then Dark but its really up to you. Add a crumb coat of buttercream and let it rest in the fridge to settle. Approximately 20-30 minutes.

As amazing as the pattern looks, it's super easy to achieve. Using a piping bag with a large open piping tip add a blop of Buttercream. Using a palette knife or even a butter knife pull the blog sideways starting in the middle lightly pressing down. Repeat in the equal distance around the cake. Then start with the next row, depending on how much buttercream you have you can add multiple rows of icing. Repeat on the top of the cake with the same methods but in and inwards spiralling circle.
Nutrition
Serving:
1
Slice
|
Calories:
959
kcal
|
Carbohydrates:
132
g
|
Protein:
16
g
|
Fat:
46
g
|
Saturated Fat:
21
g
|
Cholesterol:
52
mg
|
Sodium:
384
mg
|
Potassium:
456
mg
|
Fiber:
4
g
|
Sugar:
88
g
|
Vitamin A:
136
IU
|
Vitamin C:
1
mg
|
Calcium:
201
mg
|
Iron:
6
mg