I have loved bagel's for as long as I can remember. Actually one of my favourite sandwiches combinations is bagel with cream cheese, smoked salmon some lettuce and fresh spring onion (yummy). But since we moved to the country side, bagels are not easy to come by. So I had to find a fast and easy way to make delicious bagels for my smoked salmon sandwiches. Yeast based bagels are great but they take time to proof and I don't always have a lot of time during the day. So bagels without yeast are the perfect solution for me.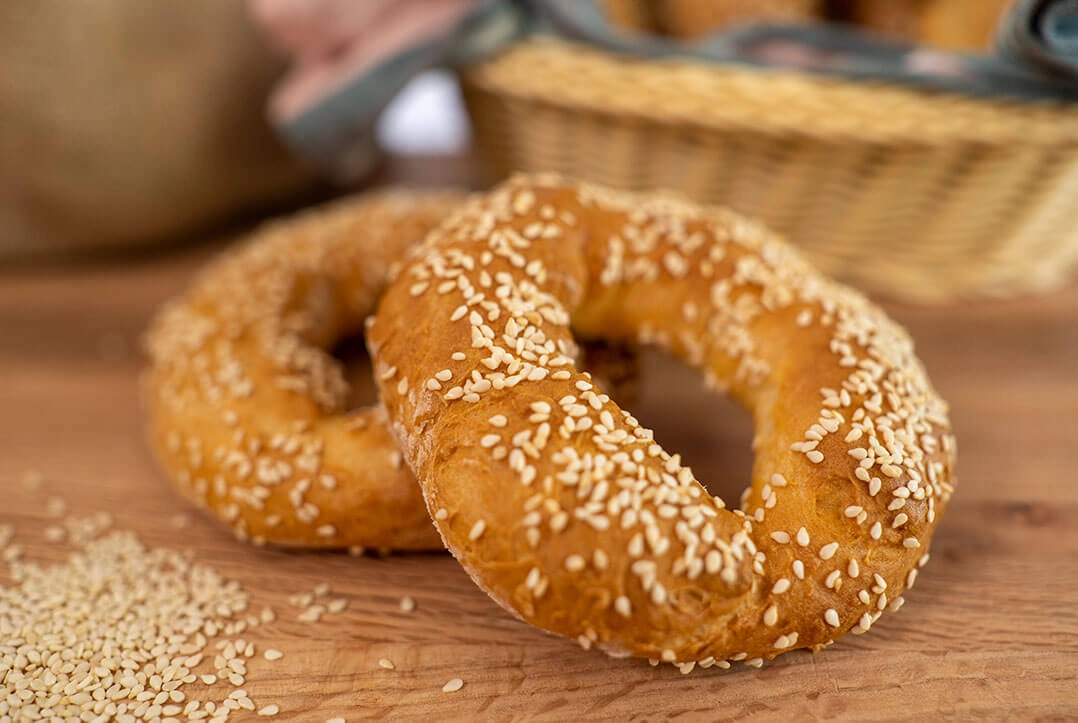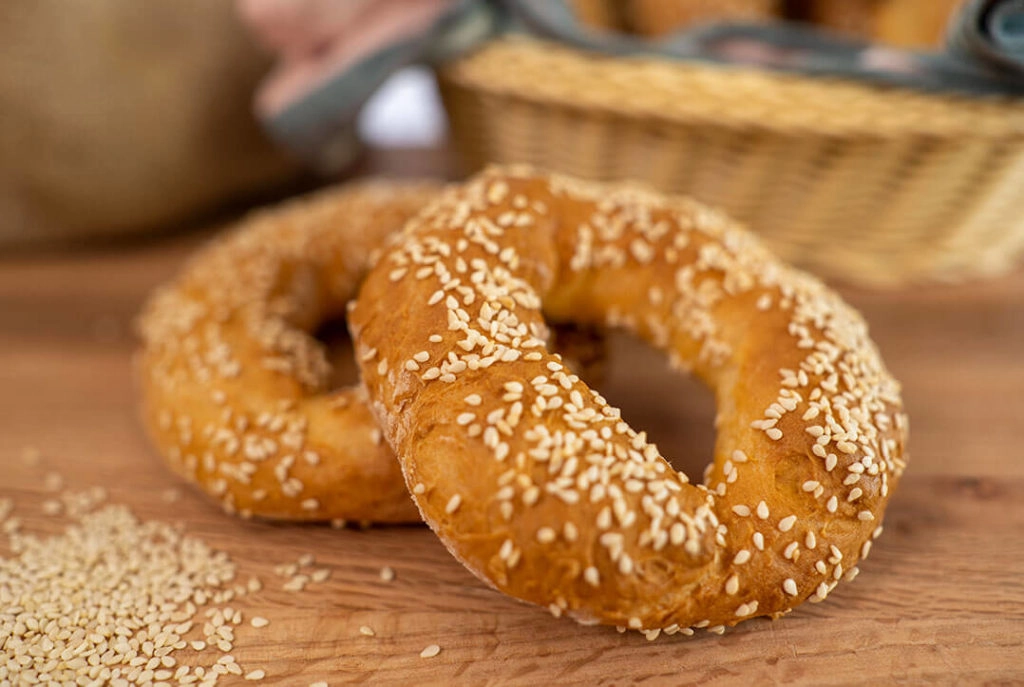 Surely you will think, bagels with no yeast couldn't possibly be as amazing as yeast bagels? How could they be fluffy? How can they be soft and tasty? The secret ingredient you ask? Greek Yoghurt and Baking Powder. Yes you read that right, Greek Yoghurt will make the delicious polish bread roll moist and tasty while baking powder will make it light and fluffy. And that's almost everything that goes in to my no-yeast bagels. So lets have a look at all the ingredients you will need.
No Yeast Bagel Ingredients:
It's really beyond easy, first of all you will need the following ingredients: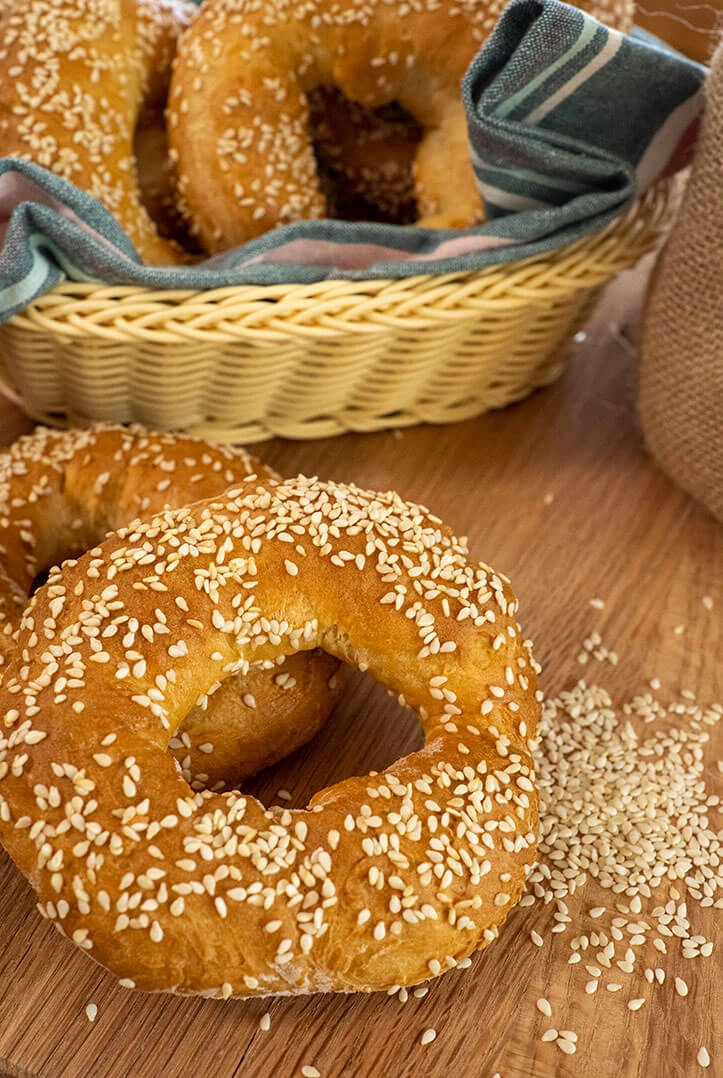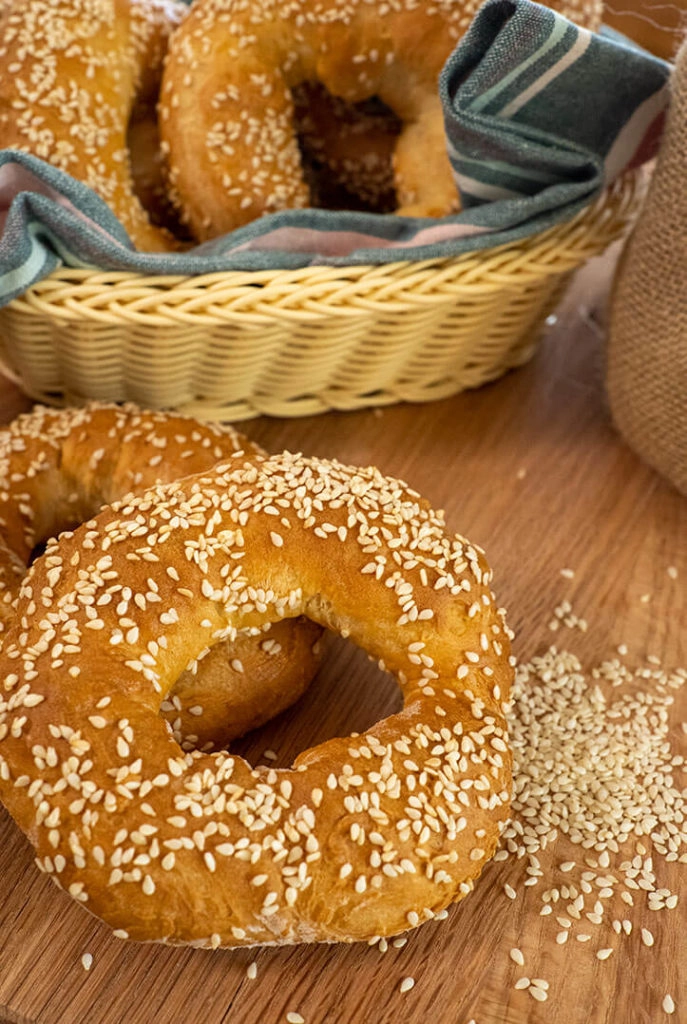 All Purpose Flour, I use a 00 flour as it gives the smoothest texture.
Full Fat Greek Yoghurt, those who follow my YouTube Cooking Channel will know, I'm an advocate of Greek Yoghurt in a ton of recipes. Its healthier than alternatives such as sour cream or heavy cream and it makes bagels just soooooo delicious.
Baking Powder will replace the yeast in this recipe, add 3 heaped teaspoons for a perfect raise.
A bit of Salt, or one teaspoon to be exact. Salt doesn't just add to the flavour of food in bread it also strengthens the gluten bond. So when the baking powder expands, gluten holds the expanding dough together keeping the little air bubbles from bursting and keeping the bagel fluffy.
A Large Egg for egg wash. This will brown the bagel and make the toppings stick to it.
Toppings, I'm adding sesame seeds but use your imagination anything from Poppy seeds, spring onion slices, grated cheese or even sweet chocolate chip bagels are all game.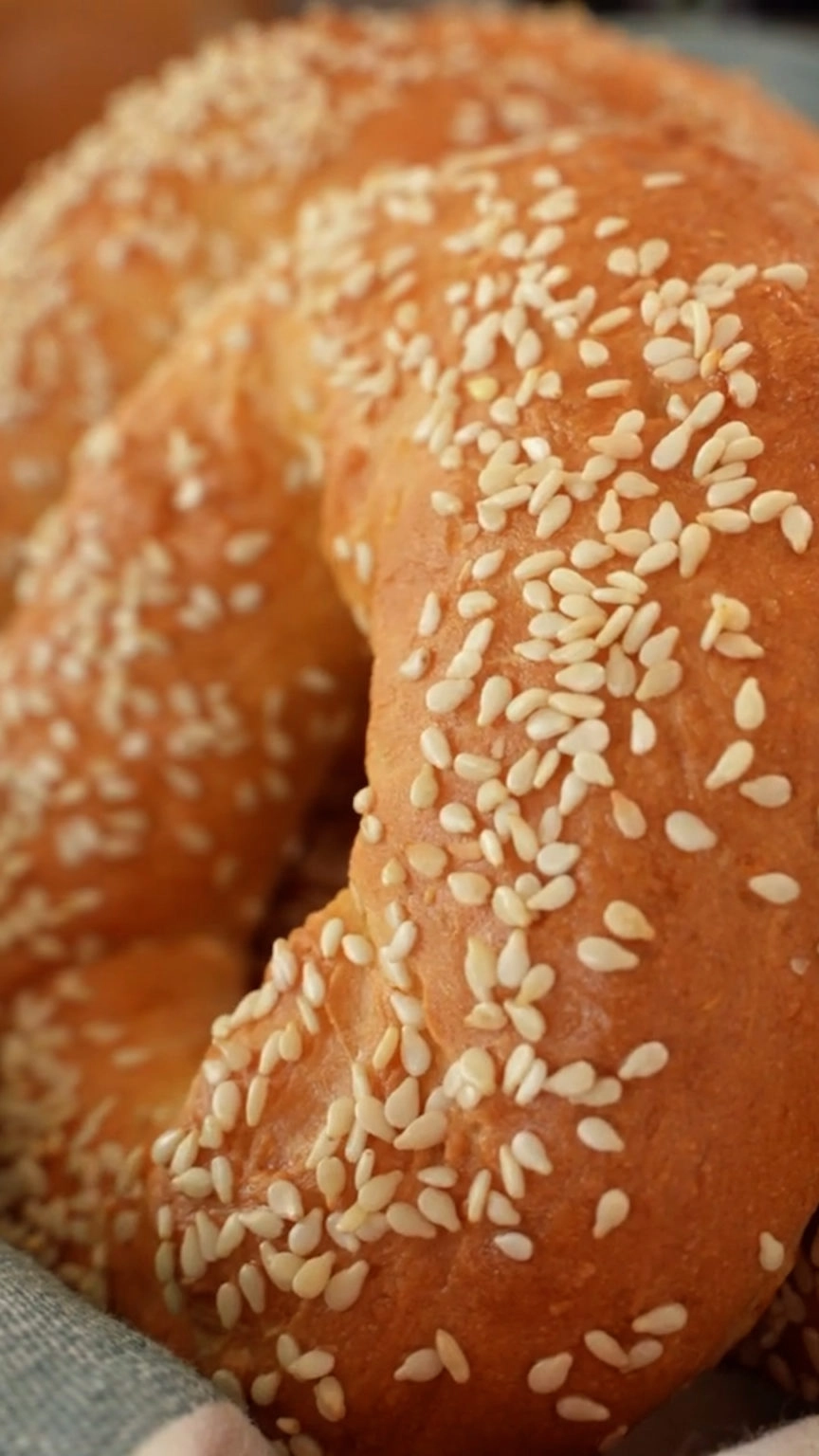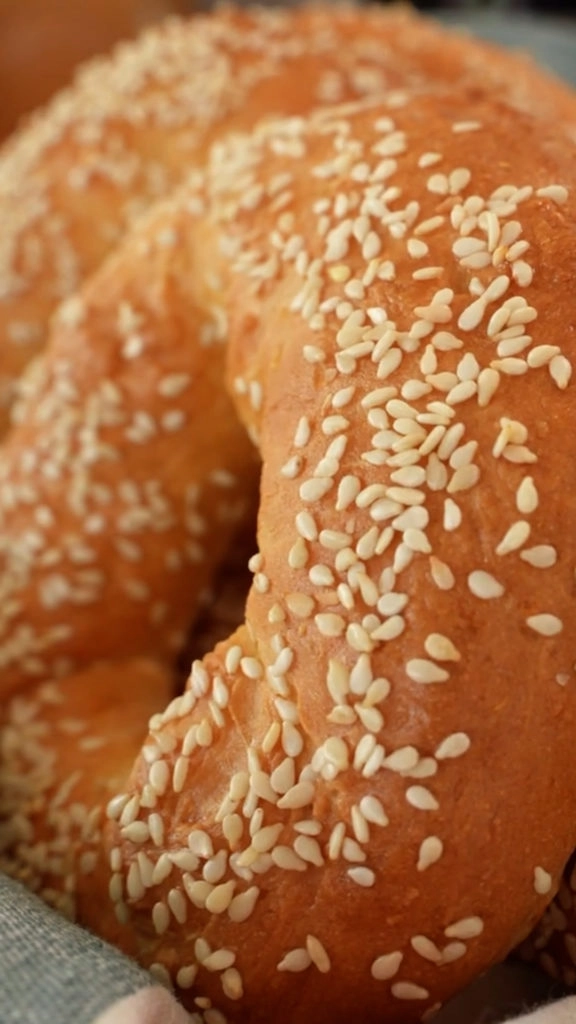 How to make bagels without yeast!
Lets get to the juicy part, how to make bagels without yeast. And you will see in the next steps that its just beyond easy. Here is how it goes:
Step 1
Preheat your oven at 175C or 345F. Combine the flour, baking powder and salt in a large mixing bowl. Now add in the Greek Yoghurt and roughly stir together using a wooden spoon or rubber spatula.
Now here is a little not: Yoghurt dough is sticky, so don't be surprised if the dough sticks to literally everything it touches. Keep your working surface and the dough lightly flowered at all time.
Flour your working surface and pop the mixture on it. Lightly flour your hands and start kneading. You will have to keep adding flour when the dough starts sticking that's perfectly normal with this kind of dough. Knead for 4-5 minutes or until the dough is smooth and there are no rough flour pieces. Roll in to a round shape and flour lightly, cover and let the dough rest for 10 minutes.
Step 2
Divide the dough in to 8 equal pieces, you can either use a scale and measure the dough, then divide it in to 8 equal parts. If you are not to bothered about the exact weight of each bagel, then use a large knife or bench scraper and split it until you have eight pie shaped slices. Check the image below.
Roll the eight dough pieces in to a small ball. Next we will shape the bagels and I will show you two different methods.
Step 3
Method 1 (my favourite): Using your finger poke a whole in to the centre of the doughball, the best way is to poke one side first, turn it around, and then poke the other side through. Add a little flour as the centre will be a little sticky. Now stick your index and ring finger of each hand in to the hole. Roll and pull away from the centre until you have an opening of 4-5 centimetres.
If you have some uneven parts, don't worry just press them evenly with your hand. But they don't need to be perfect, sometimes there is beauty in imperfection and this is one of those instances.
Step 4
Line two baking tray's with baking paper. Place the shaped bagels on the baking tray leaving adequate space between the bagels and the edge of the tray.
Combine the egg with 1-2 table spoons of water and whisk until smooth. Using a brush paint the bagels well and evenly. Now add your toppings. Place in to the preheated oven and bake until golden brown.
Set on a cooling rack for a few minutes and enjoy.
How long will these bagels keep?
Even out of the fridge, these bagels will taste amazingly fresh for at least 48 hours. I had to actually hide one for a week as they usually dont survive for more than 48 hours 😀
So out of the fridge they will hold a total of 3-4 days depending on the weather, in the fridge they will keep for almost a week but you will need to toast them or microwave them after the 4th day to make them soft and fluffy.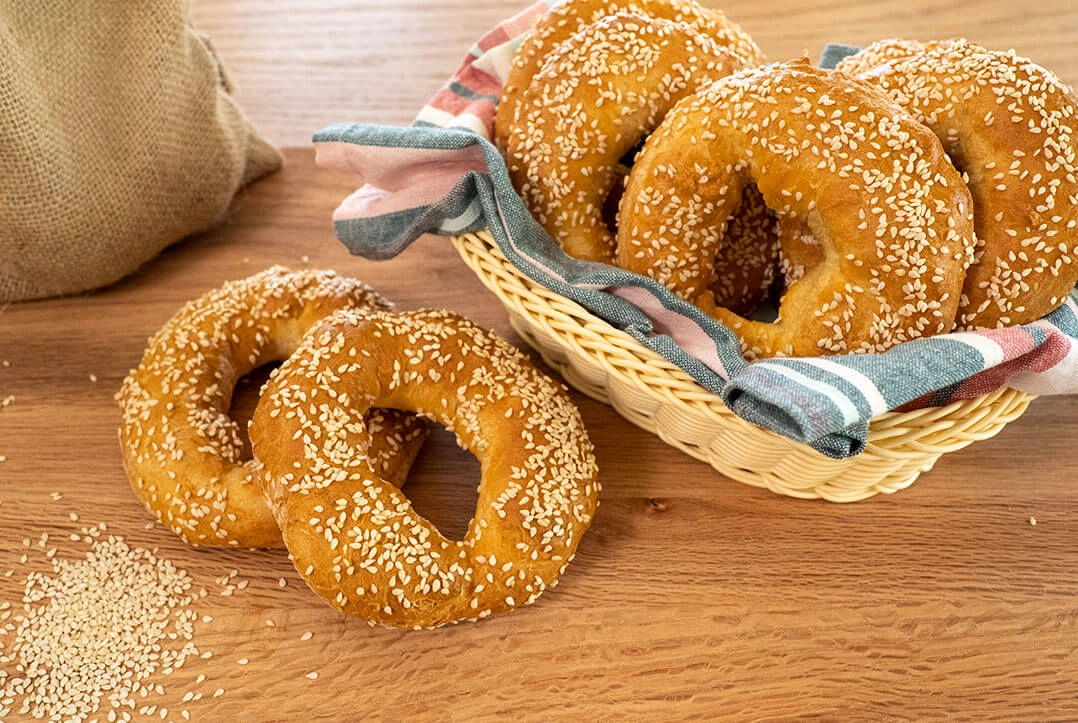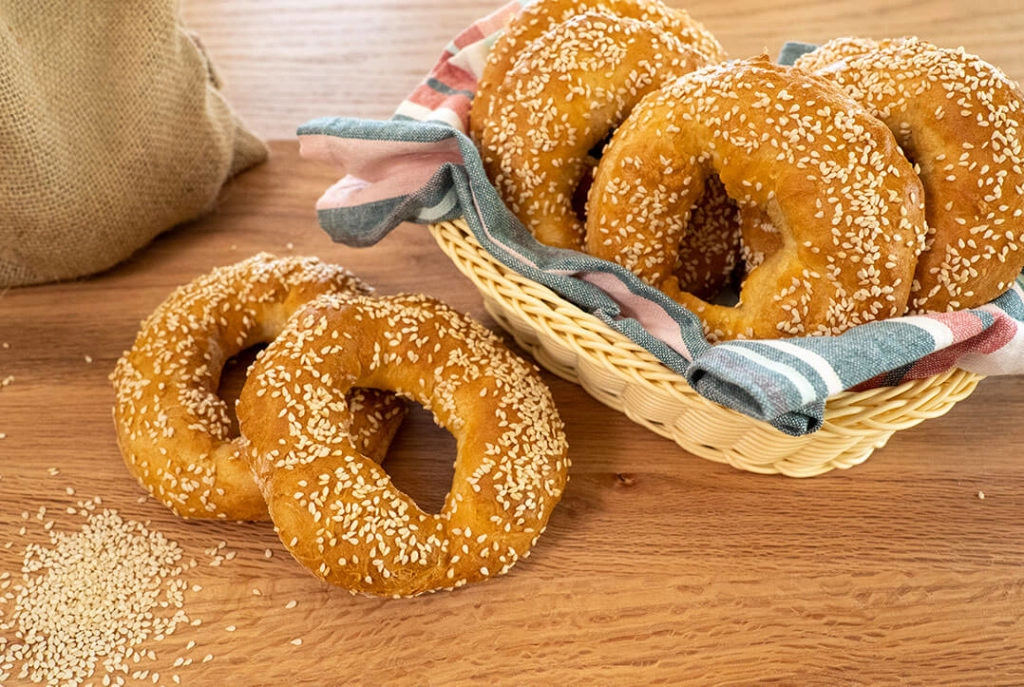 You can keep the dough in the freezer and bake whenever you have a craving although they are so easy to make that its really less hustle to just prepare the dough on the spot. You can also freeze the ready bagels and keep them for up to two months in the freezer.
The History of Bagels
No I didnt know this but I did a lot of research for this post and came across a lot of very interesting information. Bagels are actually of Polish origin and specifically stem from the Ashkenazi Jews in the 17th century. There are a few different ways bagels are spelled but as far as I found these are the acceptable versions:
Bagels
Beigels (UK Spelling)
The Yiddish name for Bagels is 'beygl', which came from Middle German 'böugel' or ring. So thats a nice piece of knowledge you can tell people when you amaze them with your fresh bagels 🙂
The difference between Yeast and No-Yeast Bagels
When we compare flavours, these bagels taste similar but not exactly the same. They both taste great but different. When it comes to the baking process, yeast based bagels are prepared a little different. First of all, they are based on yeast so they have a proofing and activation time. But on top of that, they are boiled in hot water for a short amount of time before baking them.
That is the step that usually goes wrong for hobby bakers. Let me know in the comments if you want me to make a bagel video for yeast bagels. Id be happy to post one on my YouTube Channel if you want me to.
I hope you enjoyed this recipe and as always, if you have any questions just ask in the comments ill reply as quick as possible.
Until next time
Roman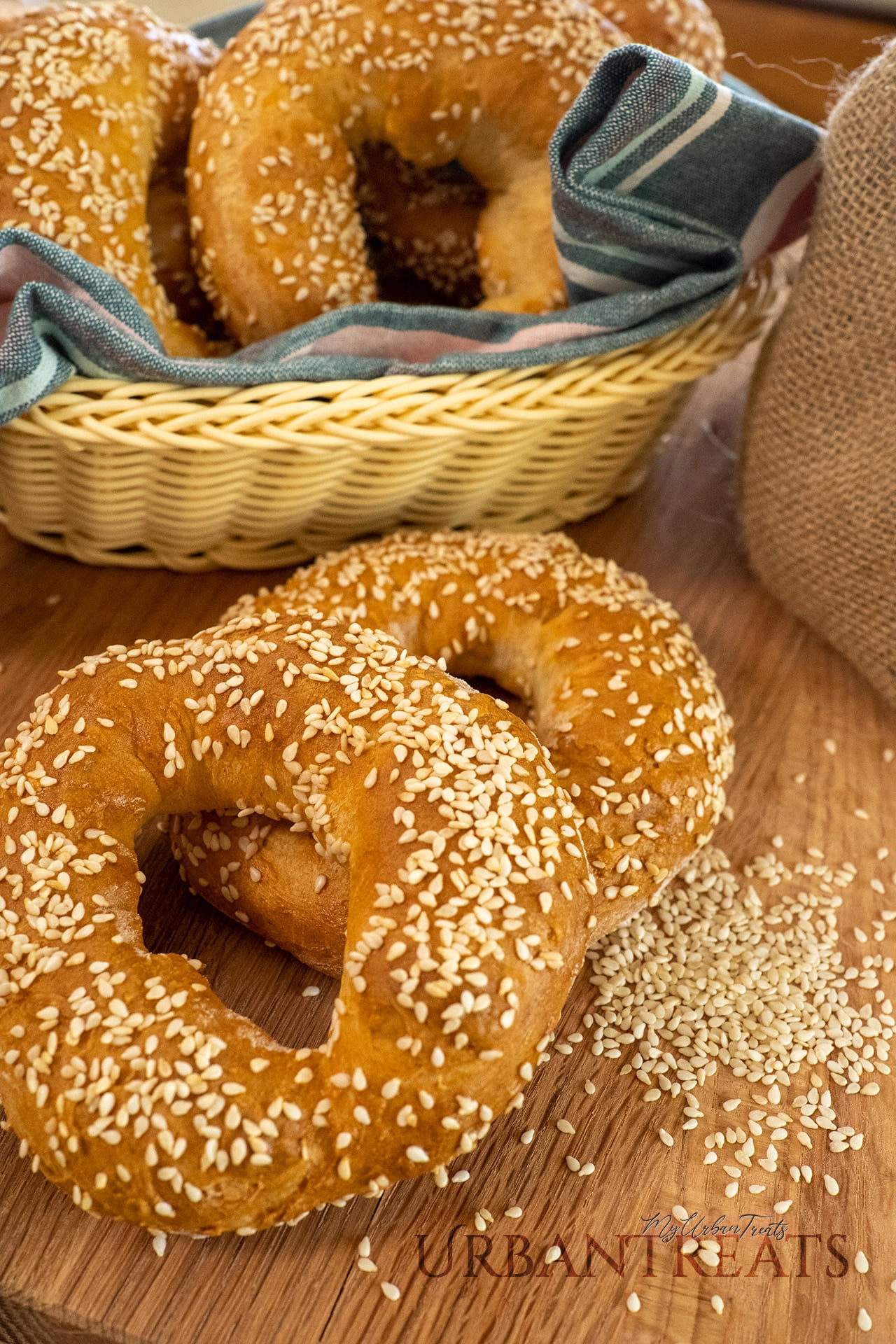 Bagels without yeast
Bagels are great, but they are not easy to make. You need to proof the dough and blanche the bagels before baking them. And believe me, it can go wrong in many ways. This recipe requires NO YEAST so no proofing time, and you don't need to blanch, just mix and bake. Here is how its done.
Ingredients
Bagel Dough
2

Cups

All Purpose Flour

1 1/2

Cups

Greek Yoghurt

Any fat percentage works

4

Tsp

Baking Powder

1

Tsp

Salt
Toppings
1

Large

Egg

For Egg wash

1/3

Cup

Sesame Seeds

Or other toppings
Instructions
Dough Preparation
In a large mixing bowl, combine the flour, baking powder and Salt. Give them a quick whisk and go to the next step.

Add the Greek Yoghurt to the bowl, use a fork or spatula and roughly combine the ingredients. When the dough becomes sticky and rough you have to start kneading by hand.

Flour your working surface, pour the dough on the floured surface, sparkle some more flour over the dough and start kneading. NOTE: The dough will be sticky throughout the whole process. Keep flouring when it gets sticky just to work with it easier. When the dough has a smooth surface we are ready for shaping.

Divide the dough in to 8 equal pieces, slightly flour and roll in to individual dough balls.

To shape the bagel, poke a hole with your finger through the dough ball, now using both hands put one finger through each side of the hole and start rolling and slightly pulling apart. You can add a second finger when the hole is big enough. Make the hole big enough as the dough will rise.

Now shape any uneven parts of the bagel, place on a lined baking tray. Space adequately ( I do 5 bagels in a large tray)
Add Topping
In a small bowl, crack the egg and add 2 tablespoons of water. Whisk well and then brush each bagel. Sprinkle your sesame seeds or topping over the egg washed bagel.

An alternative method would be brushing the bagel with egg wash and then carefully dunking it in a dish filled with sesame seeds. This will give you a more full and even cover so choose depend on how you want them covered.
Bake
Last but not least, bake the bagel at 175 C or 340 F until golden brown. For me this takes about 12 minutes but every oven is a bit different so keep an eye on the colour of the bagel.

Set on a cooling rack and enjoy once they have cooled to room temperature.
Nutrition
Serving:
100
g
|
Calories:
192
kcal
|
Carbohydrates:
28
g
|
Protein:
9
g
|
Fat:
5
g
|
Saturated Fat:
1
g
|
Trans Fat:
1
g
|
Cholesterol:
26
mg
|
Sodium:
530
mg
|
Potassium:
72
mg
|
Fiber:
2
g
|
Sugar:
2
g
|
Vitamin A:
59
IU
|
Calcium:
236
mg
|
Iron:
3
mg