Brownie cookies are a combination of the chocolate flavour of rich, moist brownies and the perfect bite size of cookies. Since brownies are soft and chewy (or at least they should be) a Brownie Cookie recipe is a little different so the cookie can keep its shape and can be handled without falling apart. This is my very own recipe in which I use some tricks that bring out the cocoa flavour and keep the cookies moist and soft.
NOTE: This post explains the recipe and what makes a good brownie cookie in great detail. If you don't want to read all the specifics, you can skip right to the recipe using the index below. Enjoy 🙂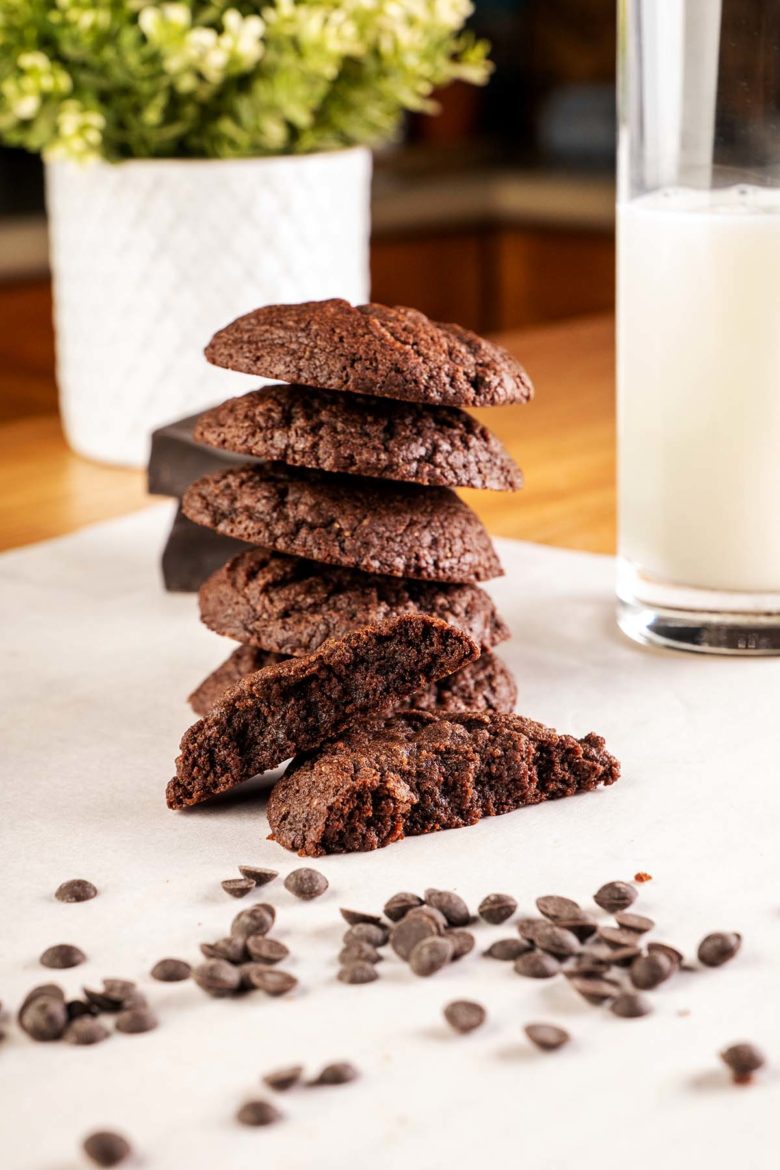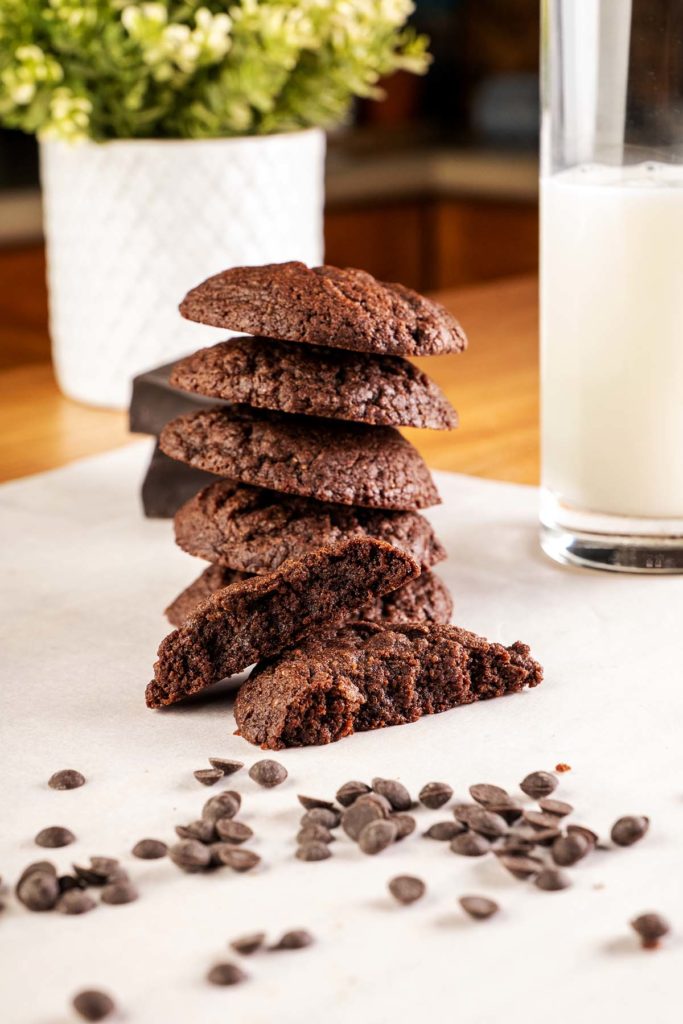 The Secrets of Brownie Cookies
Brownie Cookies and Brownies should share their main characteristic, and to achieve those we need to apply methods and ingredients for a specific outcome. So what are the three important characteristics of a great brownie cookie? Here they are:
A rich cocoa and chocolate flavor in every bite.
A chewy, fudgy and moist interior .
A crispy thin crust that cracks and crunches a little in every bite.
Baking is a lot like chemistry, every desired outcome has a process and formula, so instead of leaving the outcome to chance, I try to research what each ingredient does and how we can improve the ingredients and processes to make the perfect Brownie Cookie! So lets have a look at the ingredients and what they do to achieve a perfect bake.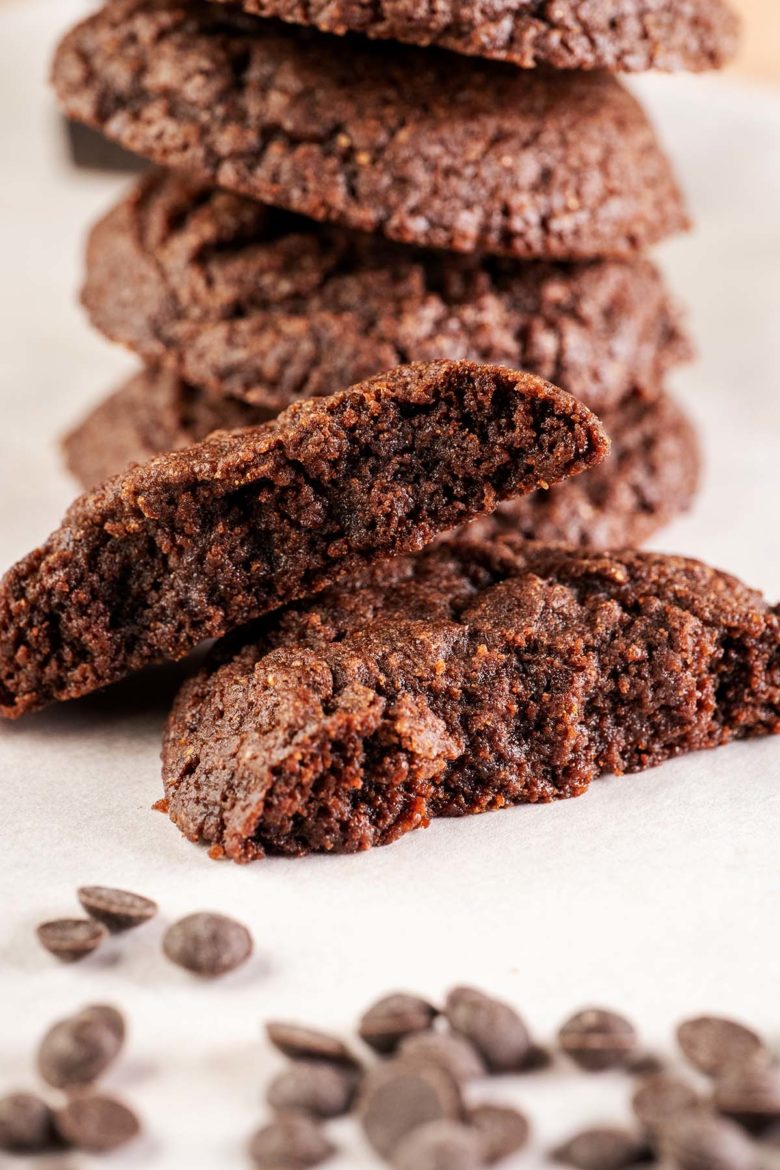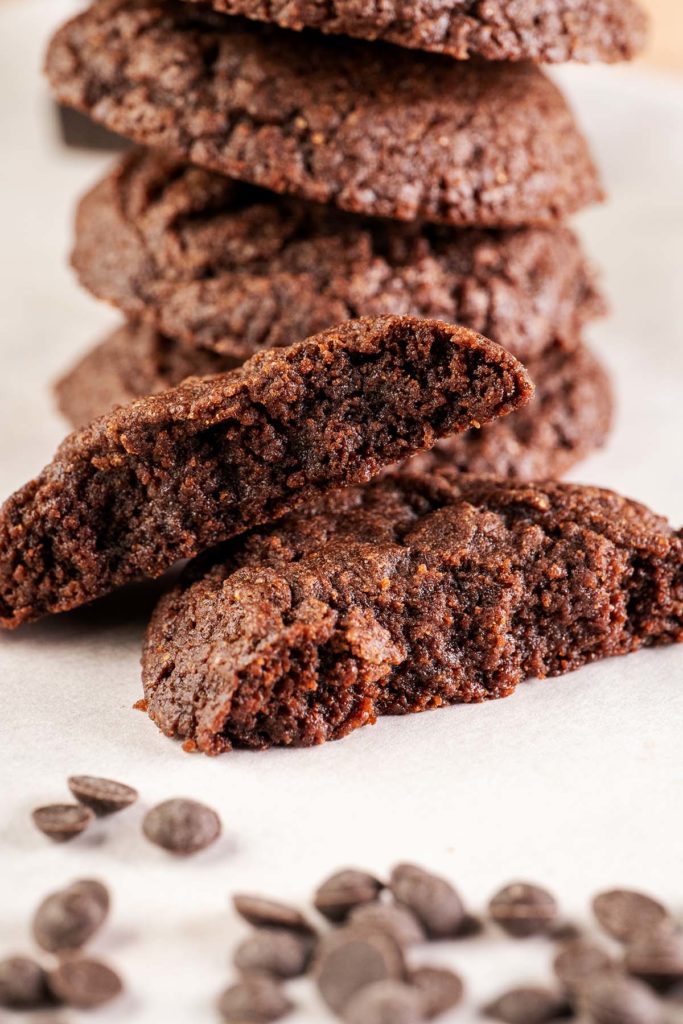 Brownie Cookie Ingredients
Here are the ingredients for a perfectly balanced brownie cookie, I always encourage my readers to use the metric system when baking, for a very simple reason. The metric system is a lot more accurate and easier to measure than the imperial system. Each ingredient has a different consistency and weight, I would even go as far as saying the same ingredients from different brands can vary in density and weight. The metric measurement system doesn't care about density, it cares purely about weight.
When measuring using a cup, the amount of ingredient you pack into the cup can change the weight and thus the final outcome of the recipe. So if you want to have an accurate and consistent outcome every time, use the metric system 🙂
Butter is one of the main ingredients of this recipe and in brownies in general, I always use unsalted butter, while you can use salted butter, its much easier to control the amount of salt you want to add into a recipe.
Coconut Oil (or Rapeseed oil) Is very important as it adds moisture to the cookie. You can use any type of vegetable oil but I prefer Coconut and Rapeseed Oil as they are lower in saturated fat than any of the other vegetable oils.
Sugar is such a key factor in this recipe, don't settle for plain white sugar, the best result is achieved by making a mixture of light brown, dark brown and white sugar. Why? Dark sugar contains a higher concentrate of molasses adding flavour, moisture and acidity
Eggs should be large and at room temperature, eggs are a binding and levelling agent and also add protein to the cookie which in turn changes the texture and flavour.
Cocoa & Chocolate give the Brownie Cookie its flavour but also add to the texture, the secret behind using cocoa and chocolate, is using the next ingredient to bring out all the flavours.
Espresso or Instant coffee, why? Coffee blooms cocoa and really brings its flavour to your taste buds. Whenever you bake brownies or fudgy chocolate cake, make sure coffee is part of the ingredients. If you are worried about adding caffeine, use instant decaf coffee.
Flour will interact in a few ways with your recipe, Gluten, which is something we usually avoid in baking, will make the texture chewy. The amount of flavour you add has a massive impact on the texture too, more flour will get a cake like texture while less flour will make the cookie runny and chewy. Balance is key here.
Baking Powder will add carbon dioxide to the batter, this in turn will make the cookie expand and grow evenly. The baking powder will also make the cookie surface crack giving it the signature look.
Salt has a double action, it helps balance flavour and activates the leveling agent which in this case is Baking Powder.
Vanilla Extract is also a flavour enhancer and also covers any egg after tastes.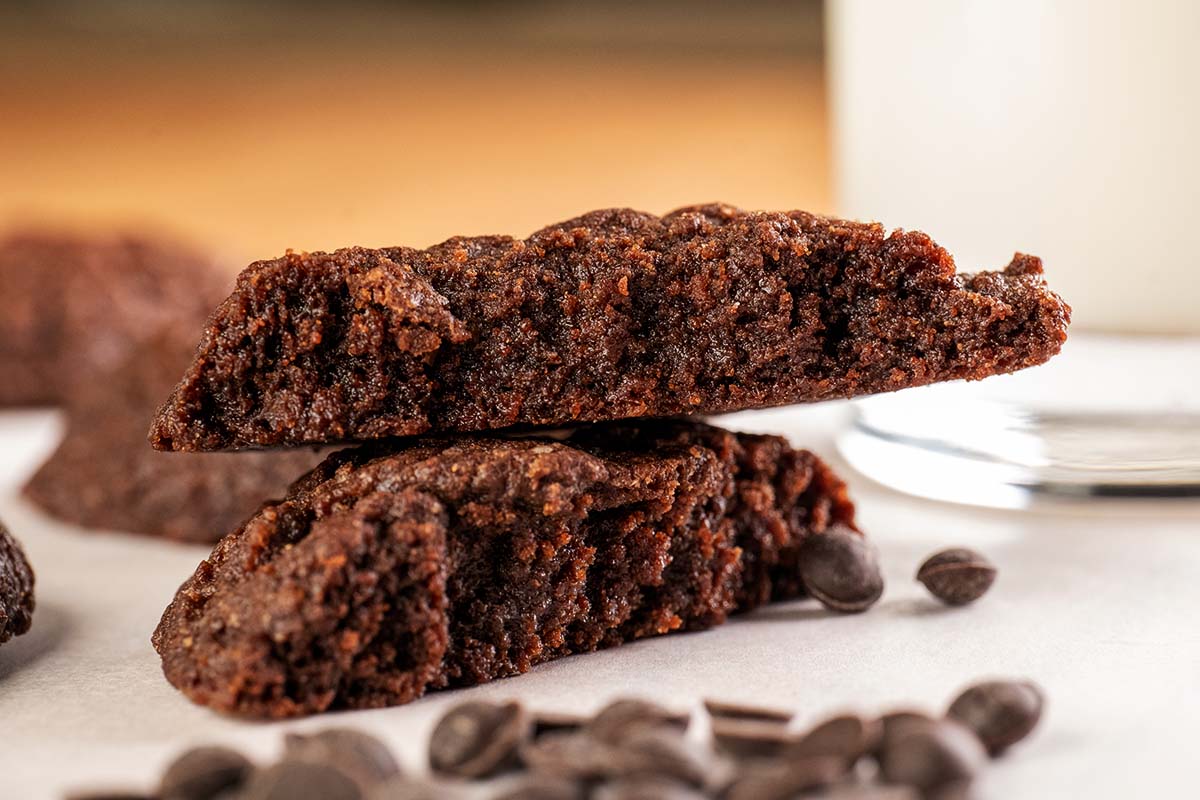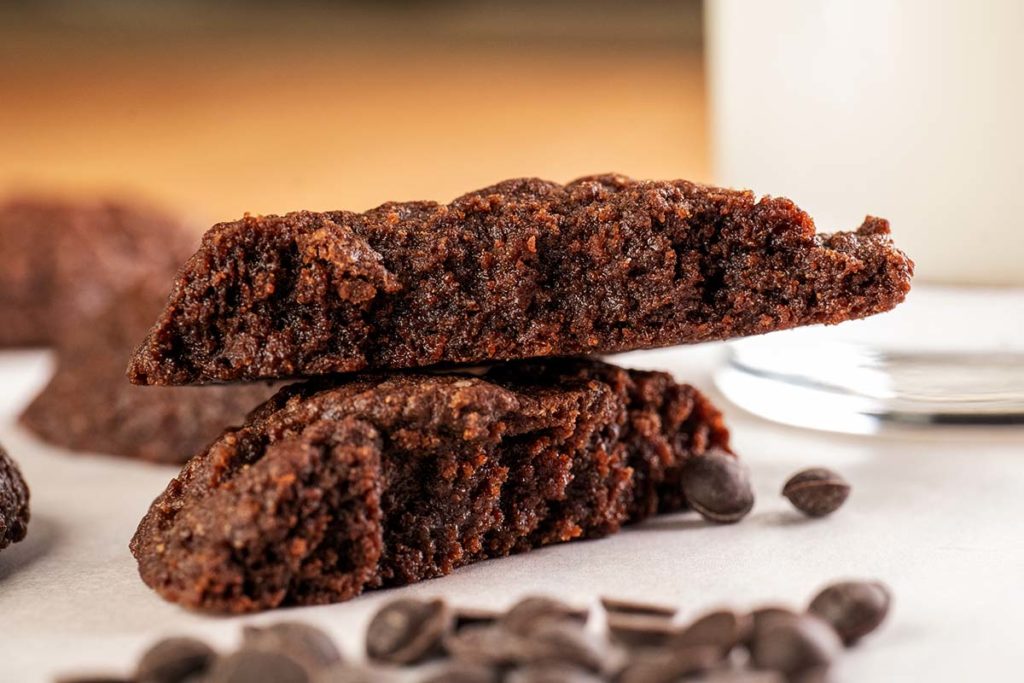 Important Tips (don't skip)
While the ingredients play a great role in every recipe, the methods and processes used are just as important. In this section I want to share my tips that I find really make a difference to the final outcome.
Cooling the batter before baking makes a great difference with the cookie shape. This batter is already a little soft, so baking it will spread the dough. To keep a nice rounded and thick shape, cool the scooped dough balls for 20-30 minutes before baking.
Watch the amount of Baking Powder you add to the batter, as much as 1/4 of a spoon can make a big difference in the result. More also means more cracks on the cookie.
Use fresh ingredients, this is important not only because of food safety but also leveling agents become less effective over time, this throws measures off as the effect won't be the same.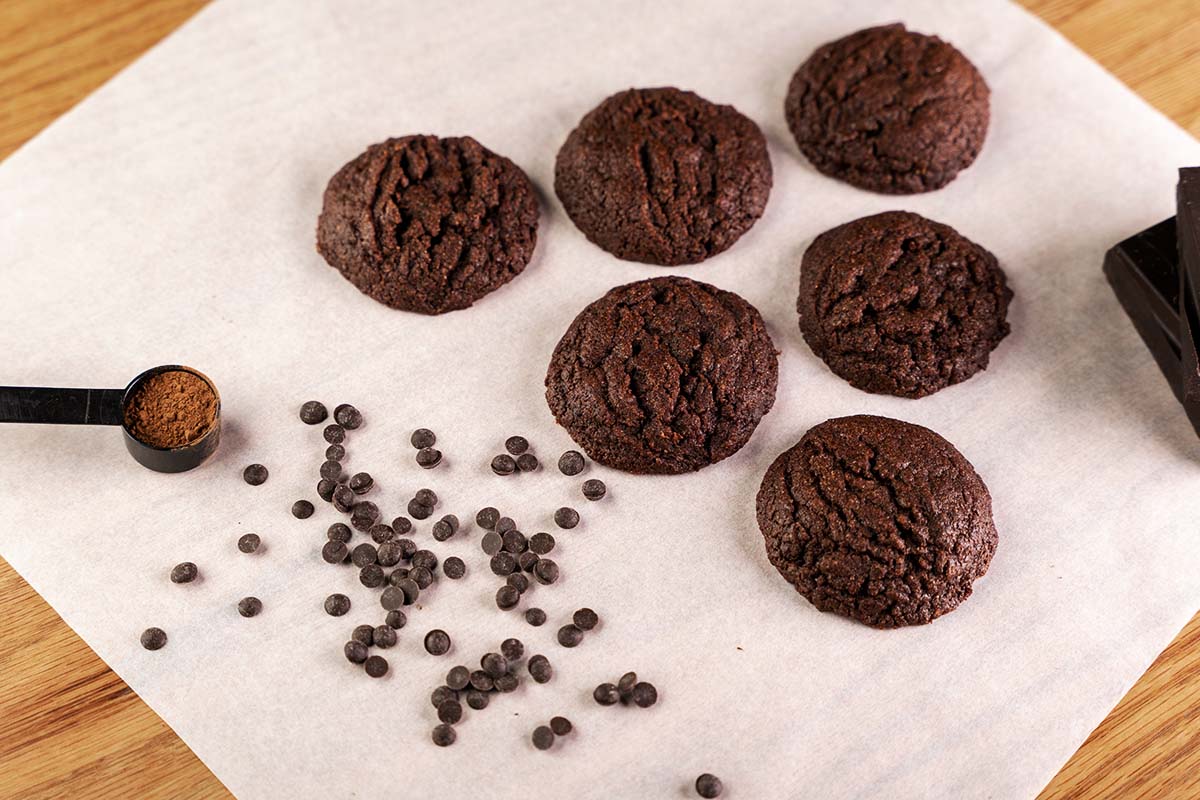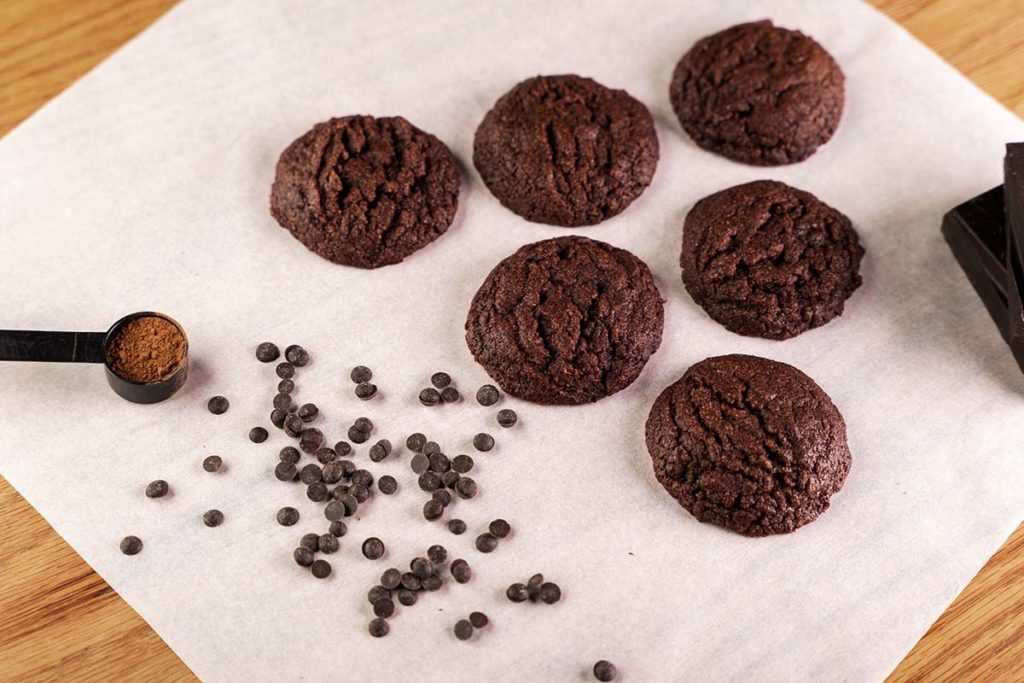 Frequently Asked Questions
Here are some of the most asked questions I get when making these cookies or explaining the recipe to others, if you come up with more questions, please leave them in the comment section, the best questions will be added to this section.
Do I need to sift the ingredients?
I have tried this both sifted and straight into the bowl, there was no visible or tasteable difference I could distinguish. Since the batter is fairly moist, all ingredients tend to mix without clumping. However, I still always sift dry ingredients as a habit.
Can I add chocolate chips?
Yes, I actually make these very often with Chocolate Chips or chopped baking chocolate. Works great and gives it an extra kick of chocolate flavour. You can also add chopped walnuts or even chopped pieces of white chocolate.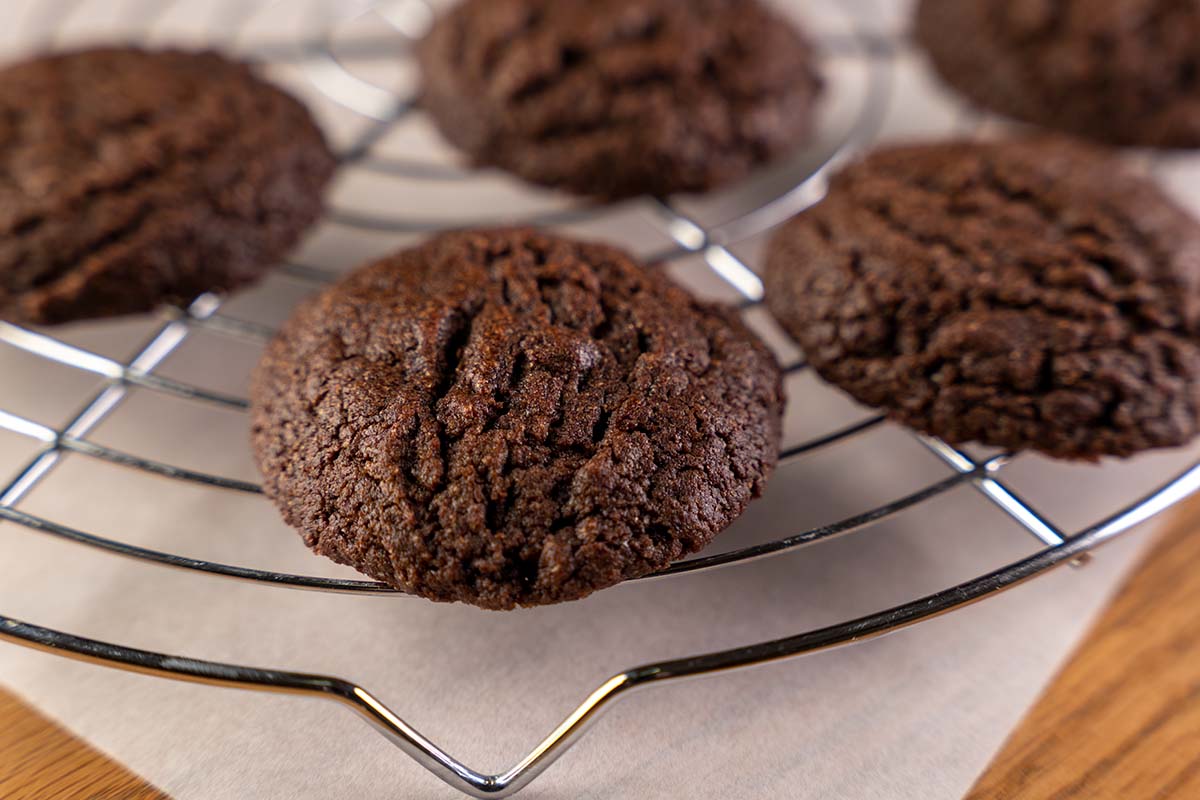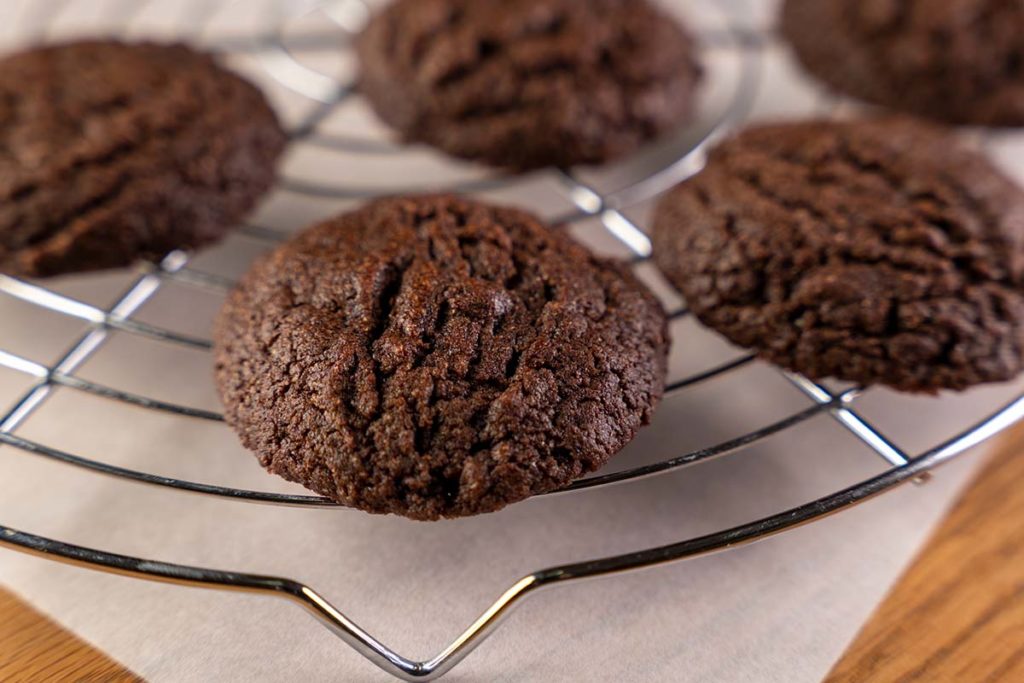 How to make Brownie Cookies (the recipe)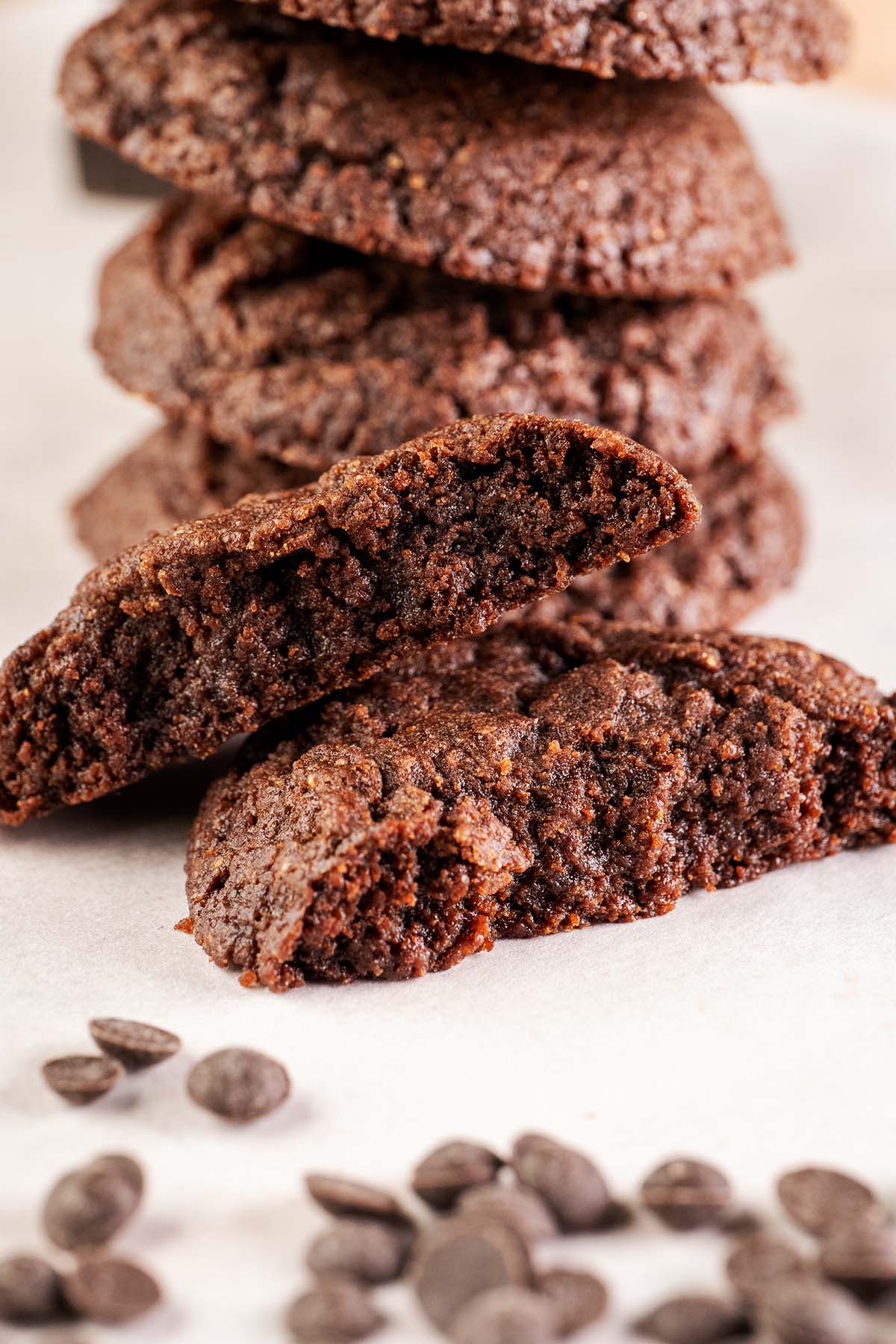 Brownie Cookies
This recipe has all the right ingredients for a perfect Brownie Cookie. Rich cocoa flavor, a crispy hull and a moist interior. And its amazingly easy to make.
Ingredients
1

Cup

Cocoa

Sifted

1

shot

Espresso

Or 1 Tsp of Instant coffee in a shot of hot water

1¼

Cup

Sugar

⅓

Cup

Light Brown Sugar

¾

Cup

Butter

1

Large

Egg

3

Tbsp

Coconut Oil

2

Tsp

Vanilla Extract

1¾

Cups

All-purpose flour

½

Tsp

Baking Powder

½

Tsp

salt
Optional Fillings
½

Cup

Chocolate Chips

⅔

Cup

Walnuts

Chopped
Instructions
Combine the cocoa, sugar, flour, baking powder and salt and whisk together. Melt the butter in the microwave in short bursts to avoid burning it. Let it cool a little and then add the melted butter, coconut oil and vanilla extract to the bowl. Whisk with a hand mixer until smooth and well combined.

1 Cup Cocoa,

1¼ Cup Sugar,

⅓ Cup Light Brown Sugar,

¾ Cup Butter,

1 Large Egg,

3 Tbsp Coconut Oil,

1¾ Cups All-purpose flour,

½ Tsp Baking Powder,

½ Tsp salt,

2 Tsp Vanilla Extract

Now fold in the optional addons, it doesn't have to be chocolate chip or walnuts, you can get creative and add any topping to your brownie cookies. Just make sure its roughly chopped so it fits into the cookie.

½ Cup Chocolate Chips,

⅔ Cup Walnuts

Line two baking trays with baking paper. Use an ice-cream scoop and place 9 equal portions on each baking tray. If you are using small baking trays, adjust so that each cookie has approximately 1½ to 2 Inches space around it.

Place in the fridge and cool for 20-30 minutes. If your baking tray doesn't fit into the fridge, place the dough on a plate and put it back on the baking tray after it has cooled.

Bake at 170C or 340F for around 12 minutes. Due to the sugar content, brownie cookies will be soft and brittle until they cool down. So let them cool in the baking tray or gently place them on a fine cooling rack.
Nutrition
Serving:
45
g
|
Calories:
257
kcal
|
Carbohydrates:
36
g
|
Protein:
5
g
|
Fat:
12
g
|
Saturated Fat:
4
g
|
Polyunsaturated Fat:
2
g
|
Monounsaturated Fat:
1
g
|
Trans Fat:
1
g
|
Cholesterol:
11
mg
|
Sodium:
84
mg
|
Potassium:
123
mg
|
Fiber:
2
g
|
Sugar:
20
g
|
Vitamin A:
22
IU
|
Vitamin C:
1
mg
|
Calcium:
37
mg
|
Iron:
2
mg